Strike Witches:Volume1 Chapter4
From Baka-Tsuki
"Weren't any of you ashamed by that at all!?"
Tomoko slammed the desk she was at as she shouted.
The squadron was in the same warehouse as the briefing room before. One of the rooms there had been walled off using spare building materials, forming a makeshift barracks.
Tomoko and the rest of the squadron were eating dinner in the mess hall, which doubled as a rest area.
It was a dreary room, with nothing but a few rickety chairs and tables, all worn from use, set up in the center of the room. Two sooty wood-burning stoves sent irregular drafts of warm wind circulating through the air.
Nine o'clock at night.
It was just before lights-out, so the squadron was off-duty.
After Tomoko's rant, the only one who had shown any sign of remorse was Haruka. Everyone else in the squadron just looked like they could go with the flow, no matter where it brought them.
As usual, Ursula was immersed in some extremely dense book. Katharine was sitting nearby listening to the radio, munching on a piece of bread she had stolen from somewhere. Beurling sat alone in the corner, playing with her dachshund familiar.
Faced by such apathy, Tomoko's tone sharpened.
"We're being labeled as misfits you know!"
"Now now, have some coffee..." F/O Elma said, as she placed a cup in front of Tomoko.
Tomoko grabbed the cup, and downed the entire contents in one gulp.
"But it was so hot..." F/O Elma whispered to herself quietly.
"Not hot enough!"
Tomoko shouted angrily.
"Um, I used boiling water though..."
"Not the coffee! You! All of you! How can you all be so lifeless!?"
With a loud tsk, Tomoko switched tactics. She headed straight to Ursula, pulled away her book, and spoke to the young girl directly.
"Hey Ursula. They're playing you for a fool, you know? They're saying you're useless! Don't you see that!?"
"Other people's opinions are of no concern to me. As long as it does not interfere with my research, I am fine with it."
She took the book back from Tomoko, and began reading once again.
"Well, Pilot Officer O'Hare."
"Please call me Katharine."
"Well then, Katharine, don't you feel anything from being ridiculed like that? Doesn't it get that frontier spirit your country is so well known for burning?"
"My daddy always said, 'Let people say what they want to say'."
"They're saying too much here though!"
"Well, me, I'm fine with anything. It's a bit cold here, but I can live with it."
Shaking her head slowly, Tomoko turned to F/O Elma next.
"Y-Yes! What is it, Pilot Officer? Ma'am."
Without thinking, F/O Elma had added a 'Ma'am' while speaking to Tomoko, who was lower-ranking.
"Ma'am, don't you think that the reception we're receiving is unacceptable, after all that's been done to bring our help to Suomus?"
"E-Eh, well... what I want to say is..." F/O Elma stumbled for words.
"We didn't bring the military prowess you were hoping for?"
Tomoko grimaced as if she had eaten a bug.
"I-I wonder why too... ahaha..."
F/O Elma suddenly laughed nervously.
"I hit the nail right on the head, didn't I? Let's not even give food to that useless 'help', huh?"
Tomoko pointed at the watery soup on the table.
"Or rooms!"
She pointed to the walls and the numerous gaps in them next.
"They think it's alright to treat us like this! Isn't that right!?"
Faced by Tomoko's threatening attitude, F/O Elma nodded by reflex.
"So it's not just the commanders on top, even you yourself think that!"
Tomoko shook in rage for several seconds, but then put on a determined face. She started shouting again.
"Hey, all of you! Doesn't this annoy you? We're being treated as unwanted trash by the very country that we came all the way here to help! Show some life! Don't you want to do this?"
As Tomoko finished, Beurling stood up, scratching her head.
"You know, it really doesn't make a difference if we want to or not."
"What do you mean by that?"
"I'm only here on orders."
"But, you're always insubordinate! And yet, you're saying that because it's an order you can stand this kind of treatment?"
"I have nowhere else to go."
And with that, Beurling resumed playing with her familiar once again.
"There's food, I get a place to sleep, and best of all, I don't get hassled day in and day out. There's really nothing for me to complain about."
Tomoko was shaking again, but she suppressed her rage.
For now, what she had to do was to make sure that the squadron was ready, and ensure that the squadron would not in actual fact be useless when the Neuroi came. She could never live with herself if that actually happened. She could never get back at the Karlslander detachment if that were to happen.
"In any case, starting tomorrow, we're starting flight drills every morning at 0600 sharp! I expect to see everyone ready on the airfield!"
Finished for the time being, Tomoko retreated to her personal room.
The room that had been assigned to her was ramshackle like the rest of the building. All officers were assigned rooms, but given the condition of the room, the enlisted troops' barracks were most likely more comfortable.
Her room appeared to originally be one of the storerooms in the warehouse. Half of the room was occupied by dusty wooden cases. Three of those cases had been set apart and covered with sheets and a blanket.
It was probably meant to be a bed.
Her familiar, Konbei, yawned, and curled itself into a ball on the floor.
Soon, it was snoring lightly. After the long journey, then the sudden mock dogfight, Tomoko was also exhausted. Her entire body felt flushed for some reason.
She stripped from her flight uniform, throwing the miko-like outfit roughly to the floor, and stood there in just her underwear. She unwrapped the sarashi around her chest, exposing her perfectly-sized breasts.
She unwrapped the traditional cloth-wrapped bundle she had brought with her, and removed an old-fashioned padded kimono.
She put that on over her bare body. It was a somewhat peculiar outfit, but that was how Tomoko always slept during the winter months.
She crossed the room, fell into her bed, and closed her eyes, but opened them again soon after.
"It's cold..."
It was hardly an unreasonable complaint. The gaps between the boards making up her floor let a strong draft of freezing air come into the room. The frigid gusts of snowy arctic wind were just cold enough that they could not be ignored. Tomoko broke apart one of the crates in her room, trying to cover the holes as best she could with the pieces, and just as she was contemplating nailing the boards in place to stop the drafts once and for all, she heard a small knock on her door.
"Who is it?"
"...It's me."
Haruka's voice came from behind the door.
"It's open."
The door opened, and Haruka peeked into the room from the gap.
"What is it?"
Haruka was wearing a hanten jacket for pajamas, which brought back nostalgic memories of home. Tomoko saw that Haruka was clutching an old pillow to her chest, which she must have brought from Fuso.
"Um... well, I was thinking of going to bed after all that, but, I couldn't fall asleep..."
"Come in."
Tomoko invited Haruka into her room.
"There's no helping you, is there? I'll let you sleep with me tonight then."
With a small nod, Haruka crept into the room and slipped into Tomoko's bed.
"I'm sorry."
Haruka apologized. Her short, neatly cropped hair gave her a very young appearance. Even if she was a witch, she was still only a 12- or 13-year-old girl. In an unfamiliar country, it was not surprising at all that she felt uneasy.
"It's fine. Don't worry about it. Anybody would feel uneasy in a foreign country."
"No... that's not what I meant."
"Hm?"
"Because of me, even you're getting this way, Anabuki Shou-i... Just because I'm useless junk, you're being treated the same as me, and..."
"It's not really your fault, you know."
Tomoko's words did little to put Haruka at ease.
"No... it is my fault... Even when I was with the Yokohama Flotilla, I was always getting in the others' way. That's why, when it was decided that only I would be going to Suomus, I was a bit relieved. I thought that at last I wouldn't have to pull down everyone else... but, but now..."
A soft sniff escaped from Haruka.
"But now, it's the worst situation imaginable, I'm getting in the way of the one person I respect the most... sniff."
"Like I said, it's not really your fault."
Tomoko spoke gently, trying to soothe Haruka.
"No... a quarter of it is my fault. That definitely counts as pulling you down."
"If that's so, then you just have to try your best. Just get even with those that were ridiculing you."
Haruka gave a small nod. Then, she looked up at Tomoko with heated eyes.
"What is it?"
"Ah, no! It's, it's nothing..."
Then, a tone of determination entered Haruka's voice, as if she had made some sort of decision.
"Um... Anabuki Shou-i..."
"Hmm?"
"People say that once you go to a foreign country, you start to miss miso soup, right?"
"I suppose."
I wonder what she's getting at, Tomoko wondered to herself.
"Um, well then... if you want to have some miso soup, then please have me."
"Excuse me?"
Tomoko stared at Haruka. She had pulled the blanket up, covering half of her face, and was trembling slightly. Below her short, cropped hair, she was blushing red up to her eyes.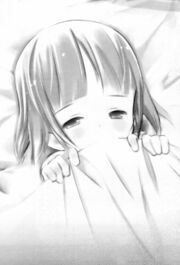 "By 'have you', you mean..."
"I, um... I'm really useless, so I thought that this is the only way I could be of use to you... Um, that is, if you're fine with me."
Seeing how serious Haruka was, Tomoko could not help but laugh.
"Y-You're laughing, that's so mean..."
"Sorry, sorry. That just got really weird..."
"I am serious."
"Now, look here, you're a girl, right? And you know, two girls, well... Whatever the circumstances may be, that's..."
"Then, have you ever done it with a man?"
"Well, no, but... wait, what are you making me say!?"
And, as Tomoko shouted, Haruka pulled the blanket over the rest of her head.
"Then, why don't you try it out and touch me..."
"Wha-?"
"Just try it... you might enjoy it."
With little other choice, Tomoko put her hand under the blanket.
Even if Haruka had said to touch her, Tomoko had no idea what to do, and tried moving her fingers as if she were playing a piano. Under the blanket, Haruka's body began to tremble softly.
Tomoko's finger reached a point close to Haruka's breast, where she started a staccato rhythm, and underneath the blanket, Haruka's figure tightened like a closing mouth. She was gripping the blanket tightly.
"Have you... always done this, with other girls?"
Tomoko asked in a surprised voice, but Haruka did not answer. Tomoko wondered if the navy was always like this... Or maybe because they were always on ships, they never did.
This is getting awkward, Tomoko thought, and she pulled away her hand.
She ducked her head under the blanket, and whispered into Haruka's ear.
"Go to sleep."
"Eh?"
Haruka replied, in a somewhat disappointed and surprised tone. So afraid, that she didn't want to see. But, she also wanted to see. That was the unforeseen dilemma that pervaded her thoughts.
"You've got a long day tomorrow."
"Y-Yes, ma'am..."
Haruka was left alone with her thoughts.
Even if I were to take all of the happiness I had experienced throughout my life, that would be nothing compared to those short, few seconds just now.
Ah, she's so magnificent...
With a feverish expression on her face, Haruka glanced sideways at Tomoko, who was sleeping beside her.
Her padded kimono, her disheveled sleeping posture. She was so pale, and beautiful... Haruka drank in every detail of the perfect symmetry of her figure.
The one person she had always admired was right beside her.
In a voice too small to be heard, Haruka mumbled to herself.
Her tone was dreamy, as if she no longer cared about a thing.
"Aah, Tomoko-oneesama... This body and heart of mine, will always be yours..."
As Haruka made her decision, she thought to herself again. Ahh, I can never let her see me like this. That thought welled up inside her becoming bigger and stronger in her heart, as she went to sleep.
"Mhgghhmgmmh, c'mon, ya cows, not thatta way, the coyotes'll come... mhhgmmghhhh."
As Katharine was deep in her dream about her hometown in Texas, the door to her room slammed open with a loud bang.
"It is morning, ma'am!"
"Wha-'s izit..."
As Katharine sprang awake, Haruka walked up to the foot of her bed and glared down at her.
"Haruka? What in the world is happening, now, hmm?"
"It is just as P/O Tomoko said! We will have training first thing in the morning, ma'am!"
"Well, yes, but..." Katharine pointed a finger towards the window.
"There's a blizzard today, so let's all just do it tomorrow, okay?"
"That is not possible, ma'am! Ready no matter the weather is P/O Tomoko's motto, ma'am!"
Katharine sighed, defeated, and slowly got out of bed.
Shivering all the while, Katharine headed toward the airfield, where she found Ursula and F/O Elma already waiting, looking miserable in an arctic weather uniform and matching hood.
Ursula, despite the drifts of snow falling from the sky, was reading a book as usual.
F/O Elma nibbled on her lip, making nervous glances up at the dreary sky.
"So, you're here."
Tomoko said, her miko robes spotless and pleated as if on parade, as Katharine stumbled sleepily onto the airfield.
"Tomoko, ain't you cold?"
"You only feel cold because you think you're cold. To those at one with themselves, the flames are but a cool breeze."
"What is that supposed to mean?"
"It's a saying from my country. Complaining of the cold when you have training to do is simply proof that you lack focus and the will to improve yourself."
"It's cold if it's cold!"
Katharine shivered.
"At least let me get some hot coffee first!"
Tomoko ignored Katharine's protests, and turned to Haruka.
"Where's the insane island savage?
"Do you mean P/O Beurling? Um, well, she had her door locked, and didn't come out..."
Tomoko's mouth flattened into a grin. However, the look in her eyes made it clear that she was amused. In fact, it was more of a predatory grin.
"OH! My, that smile! You're scaring me!"
Katharine exclaimed.
F/O Elma merely ducked her head into the protective cover of her own arms, shivering in fear.
And Ursula simply continued reading.
Tomoko stomped angrily into the barracks, and pounded her fists on Beurling's door.
"Hey, you! Get up, NOW!"
There was no answer.
Tomoko unsheathed her sword smoothly. The blade arced towards the door with a flash of light.
With a bam, the door was cut in two even parts. Tomoko stepped into the room.
However... the bed was completely empty.
Tomoko gaze darted about the rest of the room.
"Where have you gone now!?"
As she finished shouting, a voice answered from behind her.
"Over here."
As Tomoko turned around, she saw Beurling leaning against the wall of the corridor behind her, staring back at her. Tomoko made two quick and purposeful steps towards the other girl.
A metallic clang came from a point on the wall just beside Beurling's face, now occupied by Tomoko's katana.
"We have training now. Where were you?"
Tomoko glared into Beurling's eyes like a demon.
"I was taking a walk."
Beurling's expression remained as cool as ever.
"Everyone else is already assembled. Now hurry up and get over there!"
However, Beurling just stepped past Tomoko into her room.
"Where are you going now!?"
"To bed."
"To bed, you, you..."
Beurling paid no heed to Tomoko's words, and slowly stripped off her clothes. Then, she crept into her bed, and began snoring lightly within seconds.
With one quick swing, Tomoko positioned the blade of her katana exactly on the other girl's cheek.
"You will get up now, or I will cut you apart."
Beurling mumbled in bored tone in reply.
"Be my guest."
"Excuse me?"
"I've always wanted to end this pointless life of mine."
Tomoko bit on her lip angrily, but stepped back.
"If you want help killing yourself, ask someone else! You better be there tomorrow!"
As Tomoko, shaking in rage, returned to the airfield, Haruka scurried to her side with a worried expression.
"Did you find P/O Beurling?"
"Just forget about her. She is nothing but worthless."
"She's so talented, and yet lets it all go to waste."
Haruka sighed,
Then... Tomoko noticed that a number of people were missing.
"What's this? Where's Ursula and Katharine?"
Only F/O Elma, standing in one spot looking extremely nervous, and Haruka were left.
In a very apologetic tone, Haruka mumbled a reply.
"Um... they left."
"Left?"
"Yes ma'am... F/O Katharine said it was cold. Then, F/Sgt Ursula said there was a book she wanted to read..."
Tomoko collapsed to her knees.
"What is wrong with them! Don't they have any motivation at ALL!?"
"I-I don't think they do...?"
Elma murmured quietly.
Tomoko sprang to her feet suddenly, and shouted.
"Fine then! We'll do the training with just the people here!"
Haruka and F/O Elma were in for a world of trouble, training under a raging Tomoko.