Strike Witches:Volume1 Chapter1
From Baka-Tsuki
As she increased her altitude to 3000 meters, Anabuki Tomoko felt grateful for being born a witch. Staring down at the vast scenery below her only strengthened those feelings.
The Fuso Empire... Britannia in the west, and Fuso in the east, could both be placed under similar labels. One look at the landscape below was all that was needed to know why Fuso had journeyed out of its borders so quickly. In the valleys between the mountainous region, numerous villages and towns were nestled closely together.
"This country is cramped, isn't it," Tomoko said to herself.
However... to compare that crowded land with the openness of this sky!
Wrapped up in the embrace of the blue sky which seemed to stretch endlessly, it felt like it was a completely different world. Tomoko, the Ki-27 she had grown accustomed to on her legs, spoke out to her familiar which had united into her own body.
"Konbei, I wonder what Takeko will try today."
"Hm, that's right..."
The familiar's voice appeared in her head.
As a miko, a witch of the Orient, she had chosen a fox for her familiar.
The signs of that could be seen in the light brown triangular ears she had, and the tufted tail which flapped in the wind. Covered in a soft fur, the ears and the tail gave the girl's slender, disciplined body a decidedly feminine look.
Her long black hair reached to her waist, and a white headband was tied around her head, where the stern features of a warrior maiden from a country at war were stretched tight.
Below her skirt, shimmering whitely with a soft radiance, was the 'Ki-27'.
It was a Striker unit which was adopted by the Fuso Imperial Army as the Type-97 Fighter Leg. With the rising trend in producing high-speed units, its top speed would never amount to much, though...
"With her superior speed, Shou-i Takeko will try to gain the initiative over ojou-sama by using a height advantage and repeatedly diving and climbing, won't she."
"That would be the normal way of thinking, yes." Tomoko replied absently.
Her friend, Katoh Takeko would be using the newly adopted Ki-43... designated the Type-1 Fighter. Equipped with a 1000 spellpower 'Ma-25', it would have a speed advantage of nearly 30 km/h over Tomoko's Ki-27.
"...Well then, follow my lead, just like we've always done in our dogfights ."
The new Type-1 had speed, but in a dogfight, nothing could beat the Type-97. That was how much confidence Tomoko had in her favorite machine.
She unsheathed the sword she always had at her side. It was a family heirloom passed down through the generations, a noted 'Bizen Osafune' sword forged as a military katana. The sword glowed with a pale light as it absorbed Tomoko's magic.
"Wawawa, you're not going to use the gun-camera? Are you really planning on surpassing Tomoe-Gozen?"
Konbei was asking about the gun-camera slung across Tomoko's back, which was there in place of a 7.7 mm machine gun.
"Well... I'm sure Takeko also wants to find out which Striker will end up superior in a real 'dogfight'."
Tomoko replied with a smile. It was a warm smile, but at the same time it also exuded a sense of challenge. At Akeno Flight Academy, where Tomoko was stationed as a test pilot, that charming smile was the cause of the many noisy cries of 'Onee-sama!' by female cadets at the academy.
To the west, a small black spot could be seen in the distance.
There was no doubt that it was Katoh Takeko's Ki-43, which had taken off earlier. The challenge to this mock battle was issued just like that. This was going to go differently from the anti-ship warfare 'matches' that had been held.
As Tomoko approached, the black spot gradually formed into the shape of a mechanized air infantrywoman, her Striker shining with a metallic glint.
Facing each other head on, the two increased their pace, like two fencers eager to close the distance between them.
They approached closer and closer––––––––
At a relative speed of nearly 600 km/h, the two passed by each other in but an instant. The Ki-43 zoomed past Tomoko's side like an arrow released from a bow. The bare duralumin frame of the compact Striker matched well with Takeko's slim physique.
Takeko's smile could be seen behind her short, black hair. The next instant, Takeko's shrill voice came through the radio receiver.
"I may be in a new model, but I won't be holding back, Tomoko."
Tomoko raised her voice as well.
"Exactly what I wanted. I'll show you that nothing can beat the Type-97 in a dogfight."
Looking behind her, Tomoko watched as Takeko pulled the Ki-43 into a sharp climb, just as she had expected.
It was a bold ascent, just like that of a powerful bird of prey, a nickname Takeko was often referred to as.
"Exactly what I'd expect from you, 'Hayabusa'."
She most likely wanted to put pressure on Tomoko by increasing her altitude. Not letting her do that, Tomoko began her own climb a moment later. Like two intertwining dragons, their paths crisscrossed as they shot upwards into the sky.
Tomoko's engine began to give out with a loud whine first. Compared to Takeko's Ki-43, the Ki-27 with its Ma-1b magic engine, had only 80% the engine power, and was insufficient for such a steep climb. Takeko stopped her own ascent, and flipped around. She dived.
Tomoko glanced behind herself. Takeko's Ki-43 did another flip, as if to say that she had been waiting. She had managed to get perfectly on Tomoko's tail. Using her superior speed, Takeko began closing the distance between them.
"How's that? Look at the speed of the Type-1! It's on a whole other level from the 97!"
Takeko's voice came in from the headphones of the radio.
Following close on Tomoko's rear, Takeko headed towards the long white streamer trailing from Tomoko's waist, and flashed her drawn sword. It seemed that Takeko was indeed intent on not using a gun-camera.
Tomoko smiled, not disappointed.
There were two ways to decide who would win or lose in this match.
The first was to use the gun-camera to photograph the opponent. Once the required number of centered shots had been made, that would count as a 'kill'.
The other method... Use a sword, standard equipment for the Fuso Imperial Army, to cut off the streamer that each of them had attached to their waist. It had been decided that that would count as a victory, even without using the gun-camera.
Takeko did not have her gun-camera ready... in other words, she was also aiming for the second victory condition.
Tomoko licked her lips lightly. Her sparring partner was 17, and the two of them had been rivals ever since they entered the Akeno Flight Academy in the same training cadre. Two years ago during the Neuroi invasion of Fuso, which was most likely a reconnaissance mission, the two had competed in everything from the number of enemies they had downed to promotions, during a small skirmish known as the 'Fuso Sea Incident'.
They were the most competitive of rivals in the air, but the second they landed they would become the best of friends, who would share all their worries, joys ,and sorrows with each other.
And because of that, neither could stand to fall behind the other.
This mock battle, which was also serving as the debut of the newly adopted Ki-43, was being closely observed by high-ranking officers from the Imperial Army, and top officials from the government of the Fuso Empire. Even visitors from the Imperial Navy had come to watch.
All of them had only one thing on their mind... Could the world's best fighter, the Ki-27, win against the newly adopted Ki-43?
As 'witches', both Tomoko and Takeko were about as skilled.
So, in other words... it was a contest between the merits of the two Strikers. Not only was Takeko's and Tomoko's own pride resting on this battle, the very identity of each of their preferred machines was on the line. For two different reasons, this was a match that could not be lost.
Takeko took advantage of her speed, and narrowed the gap between the two Strikers.
The instant they were nearly close enough to hear each other's breathing...
"I've got you now!"
Takeko's naked blade sang through the air towards the streamer hanging behind Tomoko.
"Not so easily!"
Tomoko rolled to the side, and dodged Takeko's attack.
"Kuh!"
Takeko swung her sword again. Tomoko dexterously twisted here and there as if she were dancing, keeping her streamer just out of reach of Takeko's blade.
"Dammit, you've got some talent at running away!"
Takeko's irritated voice buzzed from the headphones.
"Come on now, what's wrong! New model! If you keep that up, they might decide to just throw the adoption plans into the cellar, you know!"
Tomoko shouted out to Takeko, tauntingly.
"Now you've made me angry!"
Takeko drew her sword back.
It was a master fencer's stance.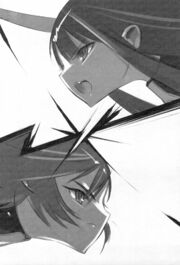 With that, she charged towards Tomoko.
Musoushinden-ryuu, Sora-no-Tachi. (Unrivaled Pantheon style, Sword of the Heavens)
An instantaneous stroke with a katana, cleaving one's opponent in two...
During the Fuso Sea Incident... Takeko had taken down two Neuroi craft with that secret sword technique.
Shiiing!
The bare blade flashed!
However, Tomoko was no longer there. Even her streamer had disappeared from Takeko's view.
"Ugh!"
Takeko grunted, and spun upward.
Tomoko was there.
With a complex movement of both legs, Tomoko flipped around in a somersault to face Takeko's rear.
At the same time as that somersault, the sword in her hand glinted.
"Kuh!"
With no time to escape, the streamer trailing behind Takeko was cut through.
'Tsubame-gaeshi' (Turning Swallow)
Using that maneuver, Tomoko had become the ace of the Fuso Sea Incident.
"You got me~~!"
Takeko let out a frustrated sigh. Tomoko, a huge smile on her face, was holding Takeko's cut streamer in her hand.
"You really are 'Tomoe-Gozen of the Fuso Sea', aren't you?"
That was the name that the newspapers had called Tomoko by after the Fuso Sea Incident, where she took down seven enemies. Reporters had compared Tomoko favorably with that legendary female samurai, after she had shown her skills as a modern-day master, dancing gracefully through the skies that day slaying the Neuroi.
"Ehehe. It's a mistake to think that there's anything that can defeat the 97 in a dogfight."
Tomoko twisted into a barrel roll happily.
"They might even abandon the plans to adopt that Ki-43 now."
"That won't happen."
Takeko promptly refuted that possibility.
"Why? Wasn't the whole concept of that new model based around making a better dogfighter than the Ki-27?"
"Air battles will be changing from now on. Dogfighting will no longer be the core of fighting in the sky."
"Oh? A sore loser?"
"I'm not being sore. The trend is shifting towards high-speed, formation fighting. Winning won't be a matter of individual skill, but instead cooperation will be the key to victory. The results from today... finally confirmed that."
Takeko said softly, staring off into the distance. Tomoko shook her head.
"No, the one thing that will decide the course of an air battle is without a doubt the dogfight. It's all about operating Strikers. Only a skilled ace who can maneuver behind the enemy can survive! You know that's how it was during the Fuso Sea Incident as well!"
Tomoko recalled her memories of the Fuso Sea Incident two years ago as she said that. Wasn't it all thanks to the Ki-27, with its tight turning radius, that the light Neuroi fighter weapon platforms called the Rallos could be shot down as they fluttered about?
The sluggish Rallos looked like enormous flies with propellers, and it had been impossible for them to target the Ki-27s used by Tomoko's squadron, which could whirl through the air like sparrows.
"It may be true that the Fuso Imperial Army Air Service puts a lot of emphasis on dogfighting. They rely on top aces like you. That's one of the reasons why they insisted on this Ki-43 being a superior dogfighter in the design requirements. But, that's a mistake."
Takeko fell silent, deep in her own thoughts. Tomoko tried to console her friend, and said,
"Hey, Takeko, c'mon have some self-confidence. You're not even close to being unskilled. Just wait, once the deployment to Europe starts..."
It had been decided last month that volunteers would be deployed to war-torn Karlsland, which was in ruins after the Neuroi invasion. Tomoko and Takeko were the first to volunteer at Akeno Flight Academy, and rumors were soon flying all over the Army about which of the elite pilots would be deployed. I wonder if those rumors are true, Tomoko would often wonder. I want to head towards Europe as soon as possible, and begin serving there. That was what she wished with all her heart.
"It's not even worth thinking about, the two of us will definitely be selected for the deployment. We'll show those Europeans the skill of the Fuso Imperial Army Air Service in dogfighting!"
No matter how full of energy Tomoko was, her best friend Takeko remained dour.
Is she really so shocked that she had lost?
Was it so surprising that she had lost even though she was using a new model Striker?
It may be true that the Ki-43 Takeko had been equipped with was a newly adopted model, but... because it's a new model there are sure to be a lot of things in a new model that she isn't accustomed to yet. And I was using the Ki-27, which I know as well as the back of my hand.
Even if the Ki-43 was faster and had a more powerful engine, Tomoko had had the advantage in that battle.
It's nothing to be so down about... Tomoko thought, as she shook her head.
Tomoko and Takeko made their approach to the airfield at Akeno Flight Academy side by side.
As they reduced their speed to below 150 km/h, small wheels folded out from a compartment at the foot of the Strikers.
They straightened out to a standing landing position from the standard horizontal flying position, and the wheels screeched as they made contact with the ground. Clouds of dust flew into the air as the two landed.
The first to make their way to the two were not the landing maintenance crews, nor the high-ranking visitors who had come to watch the test, but the throngs of female students clustered about the field.
The flight this time was also serving as the debut performance of the new unit. The airfield was filled to the brim with visitors chosen by lottery, who had come to watch the new Striker and the dashing mechanized air infantry in action. The majority of these tourists were in fact schoolgirls. They crowded around Tomoko and Takeko, each of them pressing dozens of postcards into their hands.
"Ace Tomoko-sama! It's Ace Tomoko-oneesama! Tomoe-Gozen of the Fuso Sea!"
Tomoko, who had shot down 7 Neuroi craft above the Fuso Sea, was widely known from the extensive coverage of her in the news. Whether she was known as 'Tomoe-Gozen of the Fuso Sea' or Ace Tomoko, she was the idol of schoolgirls across the nation.
Not only that, but Tomoko's was a beautiful young woman like a Fuso doll, and her small and sharp but courageous eyes, coupled with her languid atmosphere, only served to raise her popularity even more.
"Aaaah! Takeko-oneesama is here as well!"
With a face like that of an olden princess, Takeko was just as popular.
With loud cries and shouts, the schoolgirls rushed towards Tomoko and Takeko.
"I made some dango for you!"
"I've made ohagi! Please have some!"
"Take this, take this! It's called 'Chou a la crème'! It's a pastry from Gallia!"
Dozens of schoolgirls tried to push to the front to give their own gifts, pressing on Tomoko and Takeko like a stampede.
All the while, cameras flashed with loud snaps, competing with the commotion of the schoolgirls.
Reporters with large cameras had begun to gather around the group as well.
Some reporters began pushing their way through the schoolgirl crowd, pens in hand.
"A word about the European deployment decision, if you please!"
"What?"
Tomoko started.
I've been wondering for ages when the decision would come, but it's been released at last?
"Please tell us earlier if reporters will be coming."
Akeno Flight Academy, office of the Director of Research.
Tomoko frowned at Chuu-sa Washizumi, who managed the various flight-related experiments at the academy. Chuu-sa Washizumi was a middle-aged man in his mid-forties, with a receding hairline. He was dressed in a khaki uniform, which looked uncomfortably tight for his heavyset frame.
"Well, we only just received word from Operations Planning at Headquarters, that the official deployment decisions had been completed. It seems those reporters rushed here the second they received word from Public Relations at Ichigaya, just before noon. Those fellows are always quick to catch wind of any information."
"So, the reason those reporters are here..."
"That's right. Akeno will be deploying mechanized air infantry as well. As a vanguard, both of you will be sent to Europe."
Tomoko jumped into the air happily.
"Yes!"
"You seem quite happy, Shou-i Anabuki."
Tomoko straightened out, puffing out her chest.
"Of course, sir! This is the perfect chance to show those Europeans that the miko of the Fuso Empire are the best in the world!"
Shou-i Tomoko pointed upwards, a proud look on her face.
"Ohhhhh, I can't wait! I really really really really can't wait~~!"
Tomoko was so happy that it seemed she might end up rolling on the floor any second. Chuu-sa Washizumi looked at her uneasily, then shifted his gaze to Takeko.
Biting her lip softly, Takeko gave a small nod.
Chuu-sa Washizumi cleared his throat loudly, and nodded gravely.
"Then, I will give you your orders officially. Fuso Imperial Army, Akeno Flight Academy Testing Squadron, Shou-i Katoh Takeko. You are hereby ordered to report for duty in Karlsland."
Takeko saluted, a dignified expression on her face, and accepted the written order assignment.
Chuu-sa Washizumi Chuu-sa then turned to Tomoko.
"Fuso Imperial Army, Akeno Flight Academy Testing Squadron, Shou-i Anabuki Tomoko."
"Sir!" Tomoko vigorously saluted.
However, what came next from the director's mouth was completely out of her expectations.
"...You are hereby ordered to report for duty in Suomus."
"Suomus?"
Her mouth dropped open in surprise.
"Northern Europe. A country with many lakes. They seem to be afraid of a possible Neuroi invasion, but simply don't have enough mechanized air infantry, and so have requested support from super-power nations."
Suomus...
She had heard of the country before, but could not say exactly where it was. In her mind, it was a completely forgettable place.
Why in the world am I being deployed to some backwater country in the middle of nowhere?
"Afraid? Then, that means they haven't been invaded yet."
"I, I suppose. Yes."
"'Yes'!? Why am I not being sent to the frontlines in Karlsland, where the hardest fighting is going on!?"
Takeko stepped closer to Chuu-sa Washizumi.
"What in hell am I supposed to do in Suomus!"
"Well... You know? The Neuroi may invade them any day... a precautionary force. With so many other countries sending mechanized air infantry, it would not do for us to completely ignore their request."
"'Precautionary'! What is this? Are you telling me to go there and play around in a patrol squad? Deployment to Suomus, that's a job for second-line troops! Takeko's going to Karlsland, so why am I..."
"Shou-i Anabuki."
Takeko called her not by name, but by rank.
"It's an order."
Kih! Tomoko glared at Takeko.
"Takeko! What are you saying! Didn't you say that we'd fight the Neuroi together! That you and I would be the ones to chase the Neuroi out of Karlsland!"
Takeko shook her head.
"An order is an order. Accept it."
Hearing her best friend tell her that in so peremptory a manner, Tomoko was forced to accept the order assignment. However, she would never stand for it. What is the meaning of this?
Without another word, Takeko walked out into the corridor alone. Tomoko chased after her.
"Takeko!"
However, Takeko did not turn around.
"What was with your attitude back there? Hey!"
Tomoko reached out and grabbed Takeko's shoulder, and spun her around.
"You were acting like it was obvious that I would be going to Suomus. What's going on?"
Arms akimbo, Tomoko glared at Takeko face-to-face.
"That's right."
"That's right, I'm sure it's got to be some mistake that I'm going to Suomus... but it's not!"
"I have to pack my belongings."
As Takeko tried to walk away again, Tomoko stepped in front of her once more.
"Please move."
"You... you knew, didn't you?"
"About what?"
"That I had been deployed to Suomus. That's why you weren't surprised back there. Am I wrong?"
"Yes, I knew."
"What did you say? Then, you must know the reason, right? Why am I being sent to Suomus!?"
Takeko raised her head resolutely, and faced Tomoko.
"Have you read the details on the Neuroi which invaded Karlsland?"
The report compiled by military observers. Tomoko nodded. What does that have to do with my deployment to Suomus?
"The 'Neuroi' which invaded Europe are nothing like the small things that came to the Fuso Sea. With bombers making up the core of its weapons, this time it is an all-out invasion force... These aren't things that you can deal with through individual skill alone."
Tomoko began shaking. In her mind, she thought that Takeko was saying that it would be dangerous for her with her skills.
"You're saying I'm not good enough, aren't you?"
"No, that's not what I meant. I'm saying that it's dangerous if you don't change your way of thinking. But, you're always so stubborn... I realized that you wouldn't be able to change your tactics so readily. So..."
What is she saying?
Here at Akeno... No, in the entire Imperial Army Air Service, there was no who could match her skill in dogfighting.
Tomoko thought back to the match earlier that day.
"Stop making excuses for yourself. You're planning on just leaving me with the Suomus deployment, aren't you? You just can't get over the fact that my shoot-down count is higher than yours."
At that moment, a loud sniffle escaped from Takeko.
She was trembling lightly.
"I don't care about my personal shoot-down count."
Tomoko started.
"Takeko..."
"Become a real ace, Tomoko. I'll be waiting."
Her eyes brimming with tears, Takeko ran off. Tomoko was left alone in the corridor, looking hurt.
Sigh, what is happening?
It's been my dream to fight together with Takeko, my best friend.
I've always wanted to have the chance to compare our shoot-down counts fair and square.
It was always my plan for the two of us to show those Europeans, with their boasts of advanced flight technology, just what the Tomo-Tako combination can do...
I had to have been removed from the Karlsland deployment because of some conspiracy.
Tomoko rubbed a hand across her face. Having the stage for her chance to shine snatched away was so frustrating it was unendurable.
"Why do I have to be deployed to Suomus!"
One week later...
The Awamaru, which would be transporting the soldiers of the Fuso Empire European Expeditionary Fleet, was preparing to set sail.
There were crowds of people in the street to send the troops off, waving paper flags and cheering.
A joint Army and Navy band struck up a rousing march. The officers and troops lined up behind the railings of the ship saluted as one, and shouts of joy rang out from the assembled well-wishers.
"Go get those Neuroi!"
"Fuso Empire, banzai!"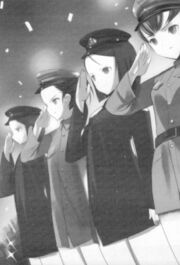 Those cheers reached their climax as the witches of the mechanized air infantry appeared. As the focus of the European detachment, these infantrywomen were assembled in orderly ranks of Army and Navy troops. They saluted.
"Kiyaaaaaaaah! They're so magnificent!"
"Wonderful!"
The mechanized air infantry were heaped in the jubilant praise of the crowd, cheered as loudly as if they were stars of a musical troupe.
Not everyone has the ability to use magic. In fact, because it depends on specific genetic factors, it could be said that not very many people at all can use it. Furthermore, the vast majority of those users are female, and it is an ability that disappears with the passing of adolescence. Because of that, young girls who can use magic are seen as ephemeral seasonal flowers, admired by young boys as idols beyond their reach, and thought of by young girls as the ideal paragon of what they want to be.
Numerous reporters were there to cover the event, the flashes from their cameras lighting up the area. However, standing a bit away from the festival-like commotion, on the opposite side of the ship, a girl stood sighing.
"Sigh... The main stars sure are lucky..."
It was Anabuki Tomoko.
While the crowds cheered, the troops lined up in orderly ranks along the ship. They were the infantrywomen being deployed to Karlsland. Tomoko unfolded the newspaper in her hands. The words 'Fuso Imperial Army and Navy to send troops to gasping Karlsland after Neuroi invasion' were plastered in huge letters at the top of the front page, and much of the rest of the page was made up of long lists of the names of the infantrywomen who were being deployed. Finally, in small letters below that... a few lines were left to write 'At the same time, a flight will be deployed to Suomus in Northern Europe'. Of course, the reporters had not bothered to write any names there, including Tomoko's.
"I guess that means I'm just part of an insignificant 'flight'..."
She mumbled to herself in a self-deprecating manner.
As she brooded alone... Suddenly, a hysteric cry startled her from behind.
"Uwaah!"
Turning around, she saw a short girl standing there, who seemed to be staring at Tomoko dizzily.
The girl stepped closer, and looked closely at Tomoko's face. After taking a long hard look...
"You really are Shou-i Anabuki Tomoko! I'm so moved, ma'am!"
The girl was a full head shorter than Tomoko. She was wearing a white sailor uniform under a water-proof coat. On her head was a hat with an anchor mark on it.
"...You're a sailor, I suppose."
"Y-Yes, ma'am! I'm Ittou Hikou Heisou Sakomizu Haruka, of the Fuso Imperial Navy Yokohama Flotilla!"
"Oh?"
Tomoko studied Haruka from top to bottom. A cute face. Maybe twelve, thirteen years old. She had neatly cut hair, and under her bangs, her big and round black eyes were sparkling. Suddenly, the girl brought a hand up to her mouth, flustered, and saluted once more.
"Ah, excuse me! Ittou Hikou Heisou Sakomizu Haruka, reporting!"
Tomoko smiled at Haruka, as she gave her name in formal Army style.
"It's fine. We're on a ship after all... Let's just do it how the Navy does it. Well, you said that you're a Flight Sergeant, so that means you're in the mechanized air infantry as well?"
"Eh? Yes, ma'am! That is correct!"
Haruka was still staring at Tomoko, her eyes sparkling.
"What's wrong? Is there something on my face?"
"Eh? No! Excuse me, ma'am! No, I mean, no excuse, ma'am! Um, actually, I am a huge fan of you, Shou-i!"
"Oh, thanks."
"Yes, ma'am! You were fabulous during the Fuso Sea Incident! Even when alone and surrounded by five Neuroi craft, you fought your way through!"
Haruka began getting more and more excited, words blurting from her mouth.
"It even became a movie! 'Flash in the Fuso Sea'! I went to watch that movie! Shou-i Anabuki, you were cast as yourself as well, I know!"
Tomoko recalled that time. The movie had gotten full cooperation from both the Army and the Navy. Even Tomoko had to go all the way to the Tsuburaya Special Effects Studio in Setagaya-Kinuta, in Tokyo, to take up her role as herself. The movie had been a huge hit, raising mechanized air infantry into stars to the people in one bound.
"After watching that movie, I wanted to join the mechanized air infantry! That's what I wished! Even if it would be hard, there are several witches in our family history, so I put all my effort into training... I actually wanted to join the Imperial Army Air Service, but... everyone in my family has been in the Navy..."
Haruka was explaining her entire history unasked. Since it seemed like it was not going to end any time soon, Tomoko began edging away.
"Really. Well, keep at it."
However, Haruka started following right after her.
"Um, um! Shou-i, are you being deployed to Karlsland?"
"Eh?"
Tomoko's face twitched.
That was still a sore subject.
"I'm sure the Neuroi will be kicked right out of Karlsland in one blow, with the aces of the Army Air Service heading there. Some of the elite pilots from the Yokohama Flotilla were selected to head there as well, it seems.
"'It seems'...? How about you?"
"...Ma'am. Well, actually... I've been a hopeless member of the Yokohama Flotilla ever since I joined. Marskmanship, dogfighting, navigation... if you start from the bottom, well, you could say I'm number one in all of those."
"Eh?"
"That's why I was removed from the deployment to Karlsland, where heavy fighting is expected, and instead assigned to a country called Suomus in Northern Europe."
"You're being deployed to Suomus?"
"Yes, that's right, ma'am. But, I'm relieved~~ If I were sent to some chaotic battlefield, I'm sure I'd get hurt really badly. No, not just hurt, I might even die. Well, unlike me, I'm sure you're deploying to Karlsland, Shou-i. I would be extremely pleased if you would do your best over there in my stead as well."
Haruka clenched both her fists in front of her chest as she said that. Tomoko felt miserable at those words, even though there was no malice behind them.
A worried expression appeared on Haruka's face as she noticed Tomoko's cold gaze on her.
"Um, I... Did I say too much? I, I'm sorry! I'm not sure why, but I'm sorry! If there's anything I can do to apologize..."
She had no malice in her words. Tomoko shook her head, as she decided to overlook it.
"I'm going to Suomus as well, you know."
"Eeeeeeeeeeh? An ace like you, Shou-i?"
Haruka's expression said that she was shocked to the core. Tomoko smiled stiffly.
"Let's do our best together."
"Y-Yes, ma'am! It's an honor, ma'am! Then, excuse me, ma'am!"
Haruka saluted, a huge smile plastered on her face. She spun around in a sharp about-face, and began to run off with a soft pitter-patter of her feet.
"Ah-ouch!"
However, just seconds later she slammed her head into a pipe extending from the wall, and crumpled to the ground.
Her eyes were spinning. She couldn't just be left alone, but it wasn't so bad that she needed to be taken to the medical center. With no other choice, Tomoko picked Haruka up in her arms, and brought the girl to her own room.
Because Tomoko was an officer, she had a personal room assigned to her. It was an extremely cramped room though. With an area of about 2 jyou (35 square feet, or 3.2 square meters), there was a single fold-down tatami bed attached to the wall. Under a circular window, there was a glass on a table, which was really just a shelf.
Tomoko put down the bed, and put Haruka there to rest.
The view of the harbor could be seen from the small window. In another hour, they would be out in the Pacific Ocean. The beginning of the long voyage to Europe.
Tomoko bit her lip softly as she watched her homeland begin to vanish into the distance.
Then... Haruka, who was sprawled across the bed, groaned and opened her eyes.
"Are you alright?"
"Y-Yes... I'm alright, ma'am."
As Haruka said that, she rubbed the spot where she had bumped her head.
"Isn't it a bit unbelievable for someone in the Navy to hit her head on a pipe on a ship, and collapse?"
Tomoko glanced at Haruka, who was blushing and looking embarrassed, and she fell deeper into her misery.
If they were sending girls as absent-minded as this...
In other words, it was the Navy's plan to send the girls they didn't care about at all to Suomus.
For her to be treated the same as a misfit from the Navy...
As she brooded in those thoughts...
Something flashed in Tomoko's mind.
Of course! That's right!
There's no doubt this is some conspiracy.
There must some group jealous of my success so far.
Otherwise, there's no way I would have been sent to Suomus.
Tomoko made up her mind.
No matter what... I'll make my mark in Suomus.
I'll accomplish something so important, nobody will be able to get in a word sideways. Then... that's when I'll have the last laugh against those that decided to send me to Suomus.
"Just you watch! I am Anabuki Tomoko. The ace feared far and wide as Tomoe-Gozen of the Fuso Sea!"
Tomoko muttered to herself firmly, as she looked out the small window.