Strike Witches:Afrika Chapter7
From Baka-Tsuki
The next morning, September 1st, we headed off to watch as Oberleutnant Marseille flew a sortie. I spotted her putting on her favorite Striker, the Bf109F4/TrOP, next to some trucks at the side of the airstrip cutting through the desert.
The F4/TrOP, with a higher maximum speed and better dogfighting capabilities compared to the E model, could undertake particularly challenging acrobatic maneuvers. It was also equipped with an air filter for use in the tropics.
Marseille had told me earlier that it was precisely because of the extreme maneuverability of this Striker that she liked it. Other Strikers would always move in small but unexpected ways, but the F4/TrOP would move exactly the way she wanted.
There was little change in the weather here in northern Africa as the first signs of autumn crept up on summer. It was just as clear today as it was yesterday.
Even though it was still so early in the morning, the sun was already blazing hot, hot enough to feel my skin burning. A comfortingly cool breeze blew over from the seaside.
Marseille drained a large bottle of milk as if it were just another day, and handed the empty bottle down to Matilda. Then, she took off the sunglasses she typically wore to protect her eyes from the intense sunlight.
Milk and sunglasses, two things that one could not do without in Africa. I've even heard that they raise good milk cows near the base specifically for their milk.
Finished with her preparations, Marseille slung a large ammunition case behind her back and picked up her MG34. Supposedly, the gun was specially modified with improved cooling for use in desert climates, but I couldn't see much of a difference from the appearance.
Nearby, mechanics bustled all over, making last minute preparations for the flight. Marseille, gestured with her left hand, and a mechanic started the air pump for the magic engine. The engine revved up into life, and a piercing whine flooded the area.
As the tachometer reading increased, a technician displayed the count on his fingers for Marseille to see. The air cut indicator flashed at 3000 RPM. The technicians immediately detached the electric supply cable and air hose, and pushed away the frame supporting Marseille at the waist.
A white flag was waved at the far end of the airstrip - permission to take off.
Marseille began to slowly approach the runway.
"Why don't you come visit me when I get back?"
I stared at Marseille as I tried to think of what she could want from me. However, with one last smile in my direction, she roared down the runway and into the sky.
Following right behind her was, of course, Leutnant Liesa. She took off waving happily in our direction.
It sure is a lot of effort just to go on a sortie here in Africa, where lift-off propulsion systems aren't used.
Marseille's long hair trailed out behind her like a airplane vapor trail, and even like a powerful eagle, flying upward higher and higher into the sky.
Long ago, I also aspired to fly through the skies like Marseille. Equipping a Striker unit, and heading to a different world, higher than anyone, faster than anyone. But, that world is closed to me now. I no longer had what it took to fly through those strife-filled skies.
"Are you alright?"
Matilda asked from beside me. I must have been crying. Marseille's flying form was just too beautiful, and could also be so fleeting, as I only knew too well. As I told Matilda this, she unexpectedly nodded gravely.
"The envoy of the Eagle is loved by God, and flies by God's side. And you fear that someday she will also return to God forever."
Yes, we witches are always in the gods' territory. The sky was the world of birds and the gods. And Marseille was the image of both.
"Altitude 3500, enemy sighted!"
Marseille's voice came from a nearby receiver.
"Liesa, we will intercept!"
"This is Liesa, enemy formation consists of small flyers, Hierax class, 10 units."
Lt. Liesa reported the details of the encounter for us back at base. The Hierax class's air combat worthiness was far below that of a Witch.
They could be an annoyance if they came all at once in large numbers, but they were slow and awkward in flight, and even I used to treat them as sitting ducks. With only those as enemies, it would be an easy victory.
"Element leader is circling to the left behind and below enemy formation, ah, direct hit!"
"0820, one enemy craft down, 8 klicks south-south-east of El Imad."
A huge cheer erupted among the crew at the announcement. Once again, their much respected leader had increased her victory count.
"Continuing, 0830, same location, another enemy down."
"0833, 1 klick south-east of Imad, yet another down!"
The next moment, Lt. Liesa's voice came from the radio again, this time with a tone of urgency.
"Six enemy craft, Chelidon class high-speed light flyers, coming in from 6 o'clock!"
The Chelidon class, with a streamlined design giving it a high maximum speed and excellent maneuverability, was a formidable enemy. With six of them heading towards them from the rear in a surprise attack, would they be alright?
"Liesa, get away from my rear."
Marseille's voice.
I was immediately reminded of what I had heard last night.
"So long as a keep an eye out on the enemy's cannons, I won't be in any danger. The only way I'll be in any danger is if I make a mistake and get caught by surprise."
Edging up close to the enemy, dodging at the last moment, and swinging back right behind the enemy... that was her specialty. I suppose that's why a wingman at her back would only get in the way.
"Hard left!"
Lt. Liesa's voice. Perhaps Marseille had overshot her target.
"0839, 2 klicks east-south-east of El Imad, enemy down."
"Remaining enemies are breaking off. We will return to base as well."
Marseille's calm voice came through the radio receiver.
In the mere twenty minutes since the beginning of hostilities, Marseille had shot down four enemy flyers. That must have been par for the course for her.
Marseille returned to base at 9:14. We waved, but she was as composed as she was yesterday. As the technicians came up to welcome her back warmly one after the other, the remaining technicians prepared for the next attack. The munitions technician handed her a new ammunition belt and gun, while the engineers inspected the engines and filled them with new coolant, and the electrical engineers checked to make sure all the circuits were working.
Matilda hurried over with a sun-shade, as Marseille prepared for the next sortie, still in her Striker.
"Just four down, huh. I'll bet that wasn't enough for you."
I walked up to her side and handed her a towel, which she accepted with a small self-deprecating grin.
"The day's only just getting started, and those Neuroi will be back. There's a long way to go yet."
"Refit complete!"
The technicians finished their work and backed away from the Striker. Marseille tossed the towel back to me, checked her preparations, and took off into the air again.
As we all watched her fly off again, the munitions team started murmuring among themselves excitedly.
"Look at this, the Oberleutnant only used 60 rounds!"
One of the techs pulled the nearly unused ammunition belt from the ammo case, and I took a picture of the surprised techs as they each inspected it in turn. I had forgotten to take pictures during the first flight, and while I had decided to make sure I took pictures this time around, I would still have quite a few shots left over for other things.
She only used 60 rounds to bring down four flyers. It was just like Leutnant Rall said: Fifteen rounds per craft, with machine-like precision.
"Right, 10 klicks, enemy sighted!"
"Enemy Hierax, numbering approximately thirty!"
The reports came from the radio receiver in quick succession.
Outnumbered 15 to 1, the exact opposite of Monty's ideal conditions. However, Marseille did not even break a sweat at the numbers.
"Follow behind me, Liesa!"
"Roger."
Only static came through the radio after that.
All the personnel at base waited for the results of the battle with bated breath, not even a single whisper going around the area.
"Enemy, in defensive ring formation!"
"We will break through into the center!"
"Roger."
The enemy was flying in a ring-shaped formation, so that they could defend themselves on all sides. However, if Marseille could punch through into the center of the ring, their formation would become useless. Of course, it would be impossible to actually fly straight into that mass of enemy craft without real courage.
"One down, and... that's another one!"
"Tch."
"Enemy formation, breaking apart!"
Apparently, the enemy had realized their foolishness in maintaining formation after getting two flyers shot down in quick succession. By scattering and laying down fire on Marseille from all directions, the Neuroi would have the advantage.
"Six of them to the left!"
"Alright, punch through there!"
However, Marseille was different. Even after the enemy scattered, she took the initiative and continued with her relentless attack.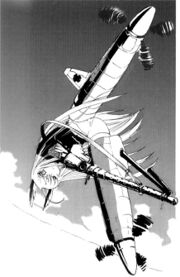 "Third one!"
"Enemy, shifting to the east! The rest of them are breaking formation too!"
She was most likely taking out the smaller detachment before the main formation could catch up. I could only gather a fragmented idea of what was going on from the sparse information coming in.
In any case, she had pursued the six flyers that had gone east, and apparently had shot down four of them.
"Enemy, out of sight."
"No, wait, below you."
They must have found them again.
"We're going in for a pass."
"Roger."
More static.
"Direct hit! That's another one down!"
Lt. Liesa's jubilant voice broke the silence.
"Alright, we should return to base soon."
"Yes, roger that!"
With that, everyone at the landing field began to move, ending the tense silence that had been there up to that point.
I also planned on taking a photo of Marseille coming in for the landing, and changed film.
As I was doing so, a report came in from the radio again.
"There's still one more."
"We must not have noticed this one, it's close."
The airfield went silent once more.
"It's down!"
In just ten minutes of fighting, Marseille had shot down 8 of the Neuroi flyers. Skill of terrifying proportions, so skilled that Lt. Liesa could not even get a single shot off. That's who Marseille was.
Looking up into the sky, I watched as Marseille returned to base with a relaxed landing. I captured every detail on my camera as she glided onto the runway, and was congratulated by the technicians who rushed forward to help.
As the cheering went on, I noticed a black car stop by the side of the runway. A general stepped out of the car.
Marseille, who was now out of her Striker unit, stood in front of the general and saluted.
"Sir, on this day, our squadron was deployed twice, and brought down twelve enemy flyers."
Hearing this, the general grinned broadly.
"Really now, and how many did you personally shoot down?"
"Twelve of them, sir."
A surprised look passed quickly over the general's face. He shook Marseille's hand, then got back into the car without saying another word.
In the end, there were two more sorties, and Marseille returned to base that evening with five more victories.
Seventeen in one day, that was Marseille's final total for the day. At noon, I had been brought to the location of the first crash, and took several pictures of the crater. The actual craft had already dissipated into light and disappeared, but there was still a great scar left on the land. However, I suppose the wind would blow again soon, and cover it all under the sand once more.
An ephemeral battle, leaving nothing behind, just like a mirage; that was the nature of these desert battles.
However, in this land far removed from civilization, one courageous person continued to fight on.
This fight of hers was like one straight from the realms of mythology.
And this one warrior had a motto: "Never look back, and keep moving forward."
Of course, even this record I've made is probably nothing but old history to her though.