Welcome to the N.H.K! ~Lithuanian~
From Baka-Tsuki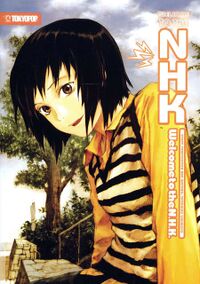 Welcome to the N.H.K! taip pat galima šiomis kalbomis:
Istorijos santrauka
22-iejų metų, iš universiteto išmestasis, anime pornografijos entuziastas Satas žino nedidelę paslaptį, ar bent jau mano žinąs. Tikėkite ar ne, tačiau jam teko aptikti neįtikėtiną sąmokslą, kurį surezgė Japonijos valstybinė televizija N.H.K. Vis dėlto, nepaisant jo priešinimosi, Satas tapo bedarbiu hikikomoriu, atsiskyrusiu nuo viso pasaulio.
Vieną dieną jis susipažįsta su Misaki – paslaptinga jauna mergina, kuri pakviečia jį prisijungti prie jos ypatingo projekto. Pamažu Satas išlenda iš savo atsiskyrėliško kiauto ir taip prasideda jo komiška istorija, su sumaišyta tapatybe, Lolitos kompleksais ir žūtbūtiniu siekiu sukurti patį geriausią kompiuterinį hentai žaidimą!
Vertimas
Norinčių prisidėti prie vertimo prašoma užsiregistruoti ties kuriais skyriais dirbate (dėl naudojimo taisyklių žiūrėkite į stiliaus ir vertimo susitarimus (ang.)).
Naujienos
Su vertimu susijusios naujienos gali būti randamos čia.
Sveiki atvykę į N.H.K! – Takimoto Tacuhiko
1 skyrius. Kario gimimas
2 skyrius. Džihadas
3 skyrius. Susitikimas
4 skyrius. Kelias pas Kūrėją
5 skyrius. Humpertas Humpertas dvidešimt pirmajam amžiui
6 skyrius. Malonūs prisiminimai ir priesaika
7 skyrius. Riedantis akmuo
8 skyrius. Infiltracija
9 skyrius. Pabaigos dienos
10 skyrius. Panirimas
Projekto dalyviai
Projekto administratorius: Onizuka-GTO
Projekto vadovas:
Vertėjai
Aktyvūs
Redaktoriai
Aktyvūs
Informacija apie knygą