Modern Magic
From Baka-Tsuki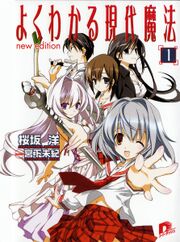 Yoku Wakaru Gendai Mahō (よくわかる現代魔法, lit. Comprehensible Modern-Day Magic) is a series of light novels by Hiroshi Sakurazaka (桜坂 洋), with illustrations by Miki Miyashita (宮下未紀). As of 2010 June 3, the series contains 6 volumes.
[edit]
Story Synopsis
"You too can become a wizard!" Thus begins Koyomi's story.
Wanting to change herself, Koyomi becomes a student of Misa, the modern era's strongest wizard. Koyomi is clumsy and short for her age, but it looks like she has magical talent... however, just as her first spell terminates strangely, daemons appear and start causing trouble.
[edit]
Translation
Those who wish to contribute are asked to first notify a supervisor beforehand via the forum.
Translators please register for chapters they want to work on
[edit]
Format Standards
Every Chapter (after editing) must conform to the general format guidelines.
[edit]
Updates
2010 mid June: only translator Thurhame goes on extended indefinite hiatus.
2010 June 3: teaser page created
2010 May 25: project revived; translation begun
2010 May 7: idea forms; fails to take off
[edit] The Modern Magic series by Hiroshi Sakurazaka
Teaser
If you enjoyed the teaser, why don't you tell us in the Feedback Thread
[edit]
Volume 1 (new edition)
Chapter 1: Code (50%)
Chapter 2: Wizard
Chapter 3: Assembler
Chapter 4: Layer
Chapter 5: Daemon
Chapter 6: Bug
Chapter 7: Dump List
Chpater 8: Virus
Chapter 9: Christmas Shoppers
Chapter 10: Deus In Machina
Chapter 11: Tub
Afterword
[edit]
Volume 2: Garbage Collector
[edit]
Volume 3: Ghostscript for Wizards
[edit]
Volume 4: Jini Tamer
[edit]
Volume 5: There's More Than One Way To Do It
[edit]
Volume 6: Firefox!
[edit]
Project Staff
Project Administrator:
Project Supervisor:
[edit]
Translators
A.F.K.
[edit]
Editors
NONE
[edit]
Series Overview
All volumes published by Shueisha[1] Super Dash Bunko[2] (集英社スーパーダッシュ文庫) in Japan.
All volumes © Hiroshi Sakurazaka.
[edit]
Project Status
Project Status: Teaser