Maria-sama ga Miteru:Volume15 Chapter1
From Baka-Tsuki
[edit]
Remaining Cuteness of Today's Enemy
[edit]
Part 1.
"There are no other candidates?" The voice resounds in the second-year Pine Group classroom. "Okay, moving forward, we'll take recommendations."
From near the podium, the speaker was a personality Yumi knew well. The room was filled with a strangely floaty atmosphere. In other words - there was one person in high spirits - Rosa Foetida en Bouton, Shimazu Yoshino-san . From out of the corner of her eye, Yumi had been absentmindedly considering that friend for some time. One way or the other, what...
It's Monday, after school.
The teacher had cut homeroom off early. Then suddenly, and with high spirits, Yoshino-san had materialized in front of the blackboard. And why, at her side, was Yamaguchi Mami of the newspaper club taking notes on the blackboard, completely unlike a ninja who would be erasing any signs.
"Okay, so coming up next week is the Sports Festival. We'll have to gradually look through all sorts of participation to choose the players for our team."
An unhappy "Eh-?" sounded throughout the classroom.
Yoshino-san glared at them evenly until it subsided into silence. Inside their hearts, everyone wanted to hurry back to cleaning, or to their club activities. If anyone had actually allowed that to come out of their mouths, it would only prolong this, so they remained silent, but it was written all over their faces.
Yoshino-san, Yumi had forgotten, along with Mami-san, was on the Sports Festival Executive Committee. Because there's a time limit on the work involved with this committee, even though it is given the name Executive Committee, it differs from the others. In that sense it's close to the School Festival Executive Committee or the Student Council Election Executive Committee.
Well, as far as each class has a distinctive personality, the second-year Pine Group was not very passionate about the Sports Festival.
Generally.
In each class, there were usually one or two people who were called all-around sports club aces, those people who would be sports heroes, no, heroines, that could be pulled into the Athletic Festival. But, unfortunately, there were no such people in this class. Not even their representative on the Executive Committee, since the person who announced her candidacy was the Yoshino-san who had never done any sports or exercise for seventeen years.
"Anyone who doesn't object, hold up your hand." As Yoshino-san spoke, those classmates who were talking lifted their hands. Yumi, confused, also lifted her hand. What the conclusion was, she didn't know.
Whatever it was, about half were in favor of adopting the resolution, so Yumi put her hand up. Later she'd ask Tsutako-san to explain the contents.
When, those around her put their hands down, she did too, as she pondered. One way or another, she would have to do something.
That was, about Hosokawa Kanako-chan.
After Tuesday's difference of opinion, in which Yumi's onee-sama, Ogasawara Sachiko-sama had gotten involved and broken up, they had essentially been separated. Yesterday's exhibition at Hanadera Academy, as part of their school festival, had been too loud and busy to allow time for proper thought. That noise and busyness, confirming the bond of sisterhood, a joy for which there was nothing greater, was something else she was chewing on well.
If you think that it's good that we're so happy, that would be incorrect. To the extent that we're are happy, there are other people who are helplessly anxious. Sachiko-sama said something similar, that it's good to let go.
But every time, night or dawn, that she asked herself that, it was something that she couldn't do. That was the answer she came up with. "But, I'm participating in the relay with my club, so doing it twice would be a little..." Suddenly, someone behind Yumi stood and spoke, so that she turned around to see.
"The teams for the relay have nothing to do with the clubs, so please contribute to the class efforts." Yoshino-san struck back from the podium with an intense expression. Somehow the conversation about who would be on the relay had unfolded. The speaker had been Karube Itsue, who sat in the seat behind Yumi, and who was on the track and field team.
"This class, class, you're speaking of, only Yoshino-san -san doesn't have to go out for it, isn't that right?" Itsue-san smiled nastily.
Suddenly, Yoshino-san looked disturbed. "M...me, go out for relay?"
"Since you've been operated on, you've gotten stronger. I wonder why you're disputing your chance to contribute to the class. Since you're talking about participating, it'll be good. If you do, I'll consent to do it as well."
She might have thought, then, that Yoshino-san would withdraw. However, such a thing would not break her, Shimazu Yoshino-san who saw a red light as a signal to move ahead. Yumi knew this well. But few of her classmates knew Yoshino-san's true nature.
"What will you do, I wonder? Will we fight together for the Green team?"
Oh, that kind of provocation will definitely have the opposite effect. Yumi desperately tried to reach Itsue-san behind her with telepathy, but the moment passed.
"...I understand. If we consider that recommendation, then it'll be my pleasure to participate."
Uh-oh. Yoshino-san's ignited at last. Then again, when a flame flares up into an even greater blaze, there's no way to put it out. "However, since I was born, I have had no experience in a foot race. So assuming that I'm the lowest possible rank, I'll still take on this responsibility. Will that be all right?"
"In that case, I think it's proper if we quote you on your participation."
Through the classroom, every student held their breath and watched. The tension spread through the atmosphere of the classroom. There was no sign of the atmosphere relaxing. No one was chatting any more, everyone was watching this one-on-one match.
Those two were staring at one another with menace. Maybe, one or the other was thinking "I want to withdraw" but withdrawing would be to lose. But if one did withdraw, would victory be obtained. That was probably not true.
Because of mutual obstinacy, Yoshino-san and Itsue-san had unintentionally removed the choice for who was on the relay from the rest of the class. In other words, the battle was for "Other than these two, who would be in the relay."
"I won't forget those words." Yoshino-san writes on the right side of the blackboard "Color Opposition Relay - (2 names)" and underneath, Shimazu Yoshino-san - Karube Itsue-san with a postscript, "Everything has already been decided. Thank you for your cooperation." With this greeting, she descended from the podium.
"Wa...wait, Yoshino-san -san. Are you sure that's all right?" Yumi came running up thrusting past the people heading for the door. "Yumi-san, you shouldn't worry about others more than about yourself."
"Eh?" Looking back over her shoulders she saw the form of photography club ace Takeshima Tsutako-san.
"So, I guess you didn't notice?"
"W...what?"
"Earlier, when you raised your hand with all your heart."
Tsutako-san pointed backwards at the blackboard with her thumb.
"Scavenger hunt race (5 names)...?"
"Below that."
Even as she spoke, Yumi's gaze dropped down to the previously decided line up of letters. At the bottom, number five, were the characters for "Fukuzawa Yumi."
"No way...."
Of all the things for her to have voted on.
[edit]
Part 2.
"Well?" Sachiko-sama asked, as they walked up the squeaky stairs. "What do you intend to do?"
"I'm going to do it. I don't really have a choice not to, do I?" After the stairs had finished squeaking, Yumi answered.
After her minor shock, from which she recovered during cleaning, Yumi was, as always, heading across the grounds towards the Rose Mansion to do her Yamayurikai work. As she came out of the school building she spotted the figure of her beloved onee-sama, who she rushed up to instinctively and began to speak frantically about what had happened in homeroom.
"You know, Yumi."
"I know. I was not paying attention in homeroom. I'll be sure to be careful from now on."
"Exactly. This is certainly you getting your just deserts. But," Sachiko-sama stopped as she ascended the stairs. "That wasn't what I was going to say."
"Huh?"
"About Kanako-chan. I was wondering what you were thinking about doing. I heard about the money issue."
"Money issue?"
"Yes."
Sachiko-sama lowered her bag and leaned it against the wall. Right in front of them was the biscuit door, behind which their companions in the Yamayurikai waited. For that reason, one shouldn't bring a conversation between sisters in. That was what was inside Sachiko-sama, one shouldn't wonder.
So, when Yumi reached the last stair, she did just as Sachiko-sama had done. Her bag was lined up with the other.
"That must have been very difficult." That morning, they had met in the entrance and Yumi had waved at Kanako, which she returned with calm disregard. At lunchtime, when she had gone to the first-year Tsubaki Group classroom, she had seen her smiling at someone, but when she saw Yumi, she did an about face and ended that. She had not been able to find a way to reconcile this with a discussion.
When the waving hand was lowered, and the smile disappeared from a cheek that looked like it had a cramp, Yumi was thoroughly confused. This was exactly the issue she didn't want to chew on.
"Huh?" But, Onee-sama felt that there wasn't any reasonable settlement to come to on this. Nevertheless, it seemed she meant just that. "Yes, exactly." Sachiko-sama looked down with a small smile. "My thoughts on the matter haven't changed, particularly. You don't have to abide by my words, just because I said something. In this case, I respect Yumi's desire to lose Kanako-chan's ill feelings."
"Onee-sama." Opposites as they were, in one thing they were the same - each's gaze projected upon the other the thought that she was an important person to the other.
"You want to reconcile, don't you?"
"Yes." Yumi answered clearly.
Although right now it was bad, and probably would never be the same between them, she wanted them to at least be able to greet each other naturally, and speak to each other naturally. She couldn't bear to continue as an invisible existence in Kanako's eyes.
"Then, put some effort into it. Don't just say that you want your feelings to be reconciled."
Onee-sama's fingers lay heavily on her shoulder. That she neither abandoned nor coddled her, gave Yumi a measure of courage. Magic in the palm of her hand.
Even if the words stay inside Sachiko-sama and are yet to be spoken, still, it's like they wash away any uneasiness from her spirit. Was there any way to pay her back for this, except to never stop following her with all her heart and, at that moment she stood ready to do just that, right?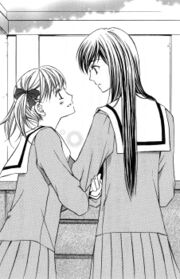 "Then, when you're done, you're welcome to come back. My arms are spread open, waiting for you." With her half-lidded smile, Sachiko-sama looked as holy and beautiful as Maria-sama. Just from looking at her, Yumi could feel herself becoming warmer. What kind of person am I to be thought so important by this person?
However, unfortunately, as there was neither equipment here that could measure this, or measurements for it, she couldn't truly say. Anyway, Yumi took Sachiko-sama's left arm and squeezed it tightly.
"I love you, Onee-sama." Then she turned away and looked over the banister.
"Ah, Yumi?"
"Thank you very much for the advice. I shall strike right away."
Informing her in a loud voice, Yumi ran down the stairs. Strike while the iron is hot. Today was a good day for resolution.
With Sachiko-sama behind her pushing, go Yumi. With oomph, go.
When she alighted on the first floor, she accelerated. Into the foyer, open the door and outside she went.
The other party. Standing at the top of the stairs, where she had been left Sachiko-sama was saying, "You left so suddenly, but you never said what you intended to do."
Phew, she sighed heavily and opened the biscuit door. Then she retraced her steps and picked up the two bags that had been left behind and brought them into the room.
[edit]
Part 3.
By now, it was likely that she had already gone home, she realized as she entered the school building.
Kanako had been in conversation with her classmate Noriko, not having club activities to do. She did not conclude that this was the method conceived for separating Yumi from her Haigorei[1] on Saturdays. It was simply the correct activity for the "going home club."
Yumi braked as she passed the first year Tsubaki Group classroom, changing her course. Her pace changed at the end to something more "hurry it up" than the first part, which had been more relaxed. Because it was time for many school events, both classrooms and hallways were visibly full with the figures of students. As she reached the shoe lockers for the First-Year Tsubaki Group, she spotted a figure she knew.
"Touko-chan."
"...Ah." With a loose expression, Touko added, "Yumi-sama."
"What's wrong?" Just before she had a loose expression her face had been grim. It looked as if she had been looking outside the entrance. "Nothing." She muttered curtly and made to leave. She was stopped by Yumi calling out.
"Ah, Touko-chan."
However...
Although she had been released from the issue with Kanako, Yumi was still uneasy about Touko-chan.
"Mm?" Touko-chan looked back over her shoulder, on the side she was called to stop from.
"Where is Kanako-chan's locker, I wonder?" Yumi inquired.
"Kanako, you say?" Touko-chan raised her face with decidedly ungentle muscles. In front of Yumi, although Touko-chan rarely shows any signs of carefree good humor, this seemed to be exceptionally hateful. "What are you bringing Hosokawa Kanako up for?" Again, the full name, with honorific omitted.
So saying, she remembered that Touko-chan and Kanako-chan are not particularly close. So, she's discussing a natural enemy. "Nothing. I wondered if she's already gone home, if I could find her shoes. ...It's fine, I can look for her myself, sorry for calling out and stopping you."
The god you don't touch can't curse you. Here, it's just better if Touko-chan isn't provoked. Yumi looked at the names written on the locker covers one by one to confirm the right one.
Noticing the situation, Touko-chan said, "Yumi-sama, it would really be better for you to stop concerning yourself with that person. That's the one. Oh, bother!" Turning towards the exit, she spat the words out.
"That's it? Oh...that one?"
There was no answer.
As Yumi said thank you, she ran off. Having flown away from the shoe lockers, she didn't notice until she was outside the entrance, that she was still wearing her indoor shoes. There was no helping it, she couldn't return to change them now. Having learned from Touko-chan with such effort, there was no excuse - this moment was "Go.".
The pleats of her skirts rustled, her sailor collar flapped. This is her opportunity. "Go - Go."
Slightly ahead of Touko-chan, turning from the statue of Maria-sama, walking towards the school gate, is a tall, slender figure with long black hair. Without actually looking for it, that figure is immediately apparent to her.
Yumi slowed her speed, watching from behind for a little while Kanako-chan walked down the tree-lined path. This situation is a complete 180 from previously. A few days go, Yumi had walked down this path, conscious that Kanako-chan was behind her. Before that, she had walked without ever being conscious of her.
Twenty meters, then thirty, then the distance was nothing and she was walking right behind her. And Yumi once again within her heart asked if she wants to make up?
The answer is yes. With no doubt. Therefore, she'll go with Onee-sama's advice, that if her feelings are not conveyed, there can be no resolution.
As the distance shrank, she gauged when would be the right timing to call out. However.
"Ah, Rosa Chinensis en bouton. Good day. Are you alone?" Unluckily, a group of first-years saw her, and Kanako-chan was made aware of her presence. Although she tended to forget it, Yumi is a school celebrity when she comes into view.
As she expected, Kanako-chan ran away. Maybe to say that she ran away is a faulty expression, but she did turn her head to confirm that it was really Yumi and having done so, increased her speed and the distance between them.
"Ah...Kanako-chan." She stretched out her hand, but couldn't reach. Right off, Kanako's legs were much longer, and then Yumi was surrounded by six or so first-years, making her unable to follow. She just managed to shake them off and run to the bus station when she saw the bus for M station. In the middle of the students getting on, she sees Kanako's figure.
She'd have to hurry. As she began the dash, Yumi noticed it again. Her hands were empty. She didn't have her pass, and to make matters worse, she was wearing indoor slippers. After another step, Yumi ceased to follow.
"...No way."[2]
In front of her, she saw the bus take off, and thought reproachfully that there was no way she could have done it.
[edit]
Part 4.
"Please, a favor..."
"Well now. What can I do for you, Yumi-sama?" Noriko-chan inquired in her usual cool tone.
The next day. Between the second and third hours is time for recess. In revenge for yesterday, Yumi is raiding the first-year Tsubaki group classroom. By coincidence, it was Noriko-chan who undertook the task of opening the door, hence her asking.
"I have come with some business for Hosokawa Kanako-san. Please let her know."
Today's Yumi is not the usual friendly, like a salesperson is friendly, Yumi. Stretching her spine, drawing her voice from her abdomen and her gaze firm. Her battle face is modeled after Ogasawara Sachiko-sama, playing the part of a powerful upperclassman, with no chinks in her armor.
"Of course. Please wait."
Quickly sensing this, Noriko made a small bow and returned into the classroom. Her sharp wits were a savior in such a situation. If she had required an explanation as to why Yumi was taking such great pains to affect a Sachiko-sama-like demeanor, Yumi was sure that they whole image would collapse with a clatter.
"Good day, Rosa Chinensis en bouton."
"Thank you for your hard work every day, Yumi-sama." The students entering and leaving greeted her as they came alongside Yumi.
"Good day." She answered, forcing herself to make a watery smile with her lips. This is one of Shimako's affectations. She probably hadn't executed it well, but she didn't have a mirror, so couldn't know. And with that, Kanako-chan unwillingly appeared.
"What?" Her face has "unpleasant necessity" written all over it. Because a classmate had intermediated, she couldn't ignore this or run away.
"I would like to talk with you."
"I have nothing to say to you."
"Maybe you don't, but I do. Please listen."
When an upperclassman asks something directly it's not that easy to not do it. Here, she couldn't just decide to blow it off. One should face the enemy. But she was not one to yield to authority peacefully. "Unfortunately, I'm getting ready for the next lesson, so now is a little..." Kanako-chan's glance looked back into the classroom - every one of the first-year Tsubaki Group was casually watching the turn of events, from the back of the room where out of the lockers or from the hooks on the side of the desks, they were taking things out of large bags. It looked like was gym next period.
"Then, let's make some time when it would be okay. Lunchtime, or after school, whenever you choose is fine." Yumi did not feel that the short recess between one class and another would be enough time to talk. The purpose of this visit was to extract a promise of a time to talk. Now wasn't good? Then when do you wish.
"Today?"
"Yes."
Here, "Whenever you'd like" would be a compromise, but now was the time to set the time and place, because otherwise with "soon" and "later" it would get postponed again and again.
"If it's convenient, how about tomorrow?"
"No." Kanako-chan was finally reaching resignation.
"Then decide. Lunchtime or after school. Which is it?"
"After school."
"The same place we met on Saturday?"
"Yes."
"I'll take that as a promise." Bringing the conversation to a close, Yumi turned and looked out over the classroom. "Everyone here is a witness. Don't forget." Although they all pretended to be busy with other things, the students could see everything. Those who were following the situation and forgot themselves carelessly nodded, "Uh-huh."
With that, if Kanako-chan tried to run away, it would be a major thing. Because of the soeur tradition in Lillian Girl's High School, relationships between upper and under classmen were rather strict. First-year Kanako-chan, having made a promise to a second year student, she couldn't just discard it, or the surrounding people wouldn't remain quiet about it.
"My apologies for the interruption. Do your best in gym." Yumi smiled and began to walk down the hall. In any case, the operation was a success.
Yesterday, when Yumi had watched as Kanako-chan had ridden off on the bus, she had felt really miserable. After that, it hadn't been possible to report everything from the beginning to Onee-sama and her companions. Why she hadn't been able to talk about it, she had been thinking over for a while; it was obviously because she had been timid about confronting Kanako-chan, she had concluded. Because she didn't want it to become any more complicated, she needed to see Kanako-chan's expression.
She didn't recall having done anything bad, but that wasn't a drawback. Once she realized that it would be better to take action, she had come up with this strategy. It was named "Operation I am an upperclassman, you are a under classman." As always, her naming sense was pretty pathetic. It had gone so unexpectedly easy that she felt a little let down.
At any rate, the real match was to come. As expected, Kanako-chan's heart was not opened. She'd have to wait until they talked after school for the rest.
Because she didn't know whether Kanako-chan might be watching, Yumi walked, mindful of the person behind her. When she reached halfway on the stairs and turned a corner, putting her in a blind spot from the first-year Tsubaki classroom, Yumi let her shoulders relax and sighed heavily. Playing the part of a graceful and refined upperclassman was no fun at all.
When her shoulders had dropped and she had returned to herself, Yumi walked back to the second-year Pine Group with small steps.
[edit]
Part 5.
It was the promised after school.
After cleaning was over, she went once more to the Rose Mansion, where everyone was gathered, to inform them that she had something to do, then she left.
"Have fun."
"Don't worry about us, take your time."
No one asked for a reason. Yumi assumed that they all somehow knew it was something important.
"Yumi," said Sachiko-sama, as she followed Yumi out of the biscuit door. "This time, I won't intrude." Meaning, you'll be by yourself - good luck.
"Yes." Yumi nodded. "But, Onee-sama, at that time on Saturday, that you showed up, made me very happy. I never thought it was an intrusion." In fact it was the exact opposite - she was thankful for having been rescued. At that moment, her onee-sama had appeared miraculously, from behind Kanako-chan, whose pointed words were causing her great pain. It had been about two weeks and she wasn't sure she was fully recovered.
That she was able to recover so quickly she completely understood was due in large part to Sachiko-sama's immediate first aid and subsequent care.
"I see." Sachiko-sama fixed Yumi's tie, taking the opportunity to gently stroke her cheek, then returned to the room. Yumi turned and went down the stairs. Was it because of onee-sama's encouragement that her every step down the stairs became more firm and energetic? With that confidence, she left the Rose Mansion, and by the time she arrived at the promised location, she was assured of victory. It was as if she had become Ivan and taken the pony of "The Hunchbacked Pony" as a good luck charm.[3]
There was already someone at the old greenhouse.
"Because Yumi-sama invoked the assistance of the people in the classroom, you must have been serious about reeling me in." From in front of the Rosa Chinensis plant, a person loitered, turning to voice her complaint first.
"Didn't you consider running away?" Drawing closer to her slowly, Yumi smiled.
"Yes. However, somehow I was led here. When I saw the reflection of a figure outside from the corner of my eye, it didn't relax me. You really saved me by being obscure about the place we were meeting."
Complaints, one. Gratitude, one. Score - one win, one loss.
So, even if there wasn't anyone else to see, their mutual conversation was coming into existence. Even more than yesterday, this was progress consisting of one step, then two.
"So, you want to talk."
"I don't want this to be just once with Kanako-chan."
"What do you mean?" Kanako-chan's eyebrows drew tighter.
Yumi continued as if she didn't care. "I know that we can't return to the relationship we had before, but I don't like the idea of going on as we are now."
"You're already not the Rosa Chinensis en bouton I admired. You thoroughly destroyed my ideal image. Despite this, even now, you expect us to talk and become friends, yes?"
"No. I don't want to coerce you into a friendly relationship."
"Then isn't this fine? Please don't care."
Having been scolded by Sachiko-sama, Kanako-chan still hadn't internalized that she needed to apologize. Even when Yumi is looking, she can turn her self-hatred outwards, and come to a conclusion that she is not to blame.
Of both of them which felt that they were not wrong. How much would either be willing to compromise - like passing along the train rail for how long, she wondered.
How long will we have to talk, Kanako-chan's turned back said honestly.
Although it wasn't reasonable, Yumi didn't want to sever her connection with Kanako-chan. "Have you stopped following me?"
If the answer was "Yes, I have" then it would be possible to go home, since that was what began this all. If she wanted an opportunity to speak to an underclassman, she would hardly need to coerce the situation.
"This whole situation makes me feel really awful. If you look right at me and you tell me that you hate me, then there's no help for it. This is for Kanako-chan's mental well-being. If that's the case, then I want to hear it clearly from your mouth. I'm sure you understand. What do you say? Are you going to run away by not looking at me?"
"...I don't care. Whatever you want is fine. What I think is worthless anyway."
"Inside Kanako-chan, people can only be classified into to two types - people you like and people you find trivial?"
"Two types? That's an oversimplification." Kanako-chan spoke coldly over her shoulder. "Because there is a third type, too - the person one hates enough to want to kill, right?" Three types is less of a sketchy categorization than two, apparently.
"And right now, my status has been downgraded into the trivial person category, right?" Yumi didn't consider that she would be seen by Kanako-chan as a person she hated enough to kill. But by even saying those words, clearly there was someone she felt that she hated enough to kill that existed in this world. But Kanako-chan seemed not at all like a "person who wants to kill."
Kanako-chan's likes and dislikes appeared to be wide and deep. Of the people who were indispensable to her heart, "people I want to kill" might possibly become "people I love."
"Could we possibly become trivial people we like, you and I?"
"Don't be ridiculous. Is it really okay to put it like that?"
"You're running away."
"Running away?"
"Are you really that scared of me?"
At Yumi's words, Kanako-chan's expression was distorted, as she repeated the words. "Scared of? Uncomfortable. The Fukuzawa Yumi I admired was abruptly usurped by a different personality that day."
"Usurped..." This time it was Yumi who repeated what had been said. She was the actual person in question and she didn't recall anything being usurped. "The real Fukuzawa Yumi has disappeared and been sent to space by an evil twin and is right now rounding Mars."
"Whah?"
"So I think, since all of a sudden you want to build a new relationship?"
"Please don't make jokes."
"I'm being totally serious."
From the point in time where Kanako-chan's imagined image of Fukuzawa Yumi was mistaken, she simply ceased to exist anywhere in this world. Something close to having died. But even if it is a little like that, is it okay to turn it into going out to the stars, she thought. You can't reach out your hand and reach the stars, even if there is life out there.
"The point is, don't you want to come and assist with the school festival? The Yamayurikai, the play."
"Why me?"
"You don't have club activities after class."
"I don't have any obligation. What is this - a penalty game?"
"Yes. Then it's a penalty. If you lose, you help us."
"Huh?"
"Um, what should the match be, I wonder. ...Um, right. Coming up soon is the Sports Festival, isn't it?"
This would be great, flashed into Yumi's mind. If they could conclude this during the Sports Festival, then there'd be plenty of time for the school festival.
However.
"Which contest do you want to make the target of this bet? We're in different years."
"Ah, true. But there is one event that all years have in common. The "Scavenger Hunt Race."
"Scavenger Hunt Race..." Kanako-chan's mouth just slightly lifted at the corners.
"What?"
"No, nothing. I was just thinking that that was very like you."
A high school Sports Day Scavenger Hunt Race. Saying "It's like you" about this contest isn't much of a compliment. Why then - maybe because it plays an indispensable, but supporting, role.
"And you are?"
"The Color Opposition Relay."
"That's like you."
This time, the words, "that's like you" were definitely meant as a compliment. With such height as Kanako-chan had, her legs were naturally long. Long legs were naturally considerably advantageous in such a thing.
"Which color is going to win, which will lose?" Tsubaki group's Kanako-chan's color is red, Matsu group's Yumi is green.
"My power alone may not be enough to take this."
"So, who would you bet on?"
"If I was going to bet, then I'd bet on Yellow."
"That's no good. Your own team is going to win, getting points little by little and keep going."
"I understand."
Kanako-chan was ready to bet outside her own desire.
"Then? I...in other words, if Red team wins, Yumi-sama has to do something I ask?"
"Eh - "
"I can't be the only one taking a risk in playing the penalty game, that would be weird. If we're talking a bet here, then doesn't there have to be two alternatives holding each other in balance?
"That would be the most plausible view." Two beads of sweat ran down Yumi's temple. She lifted the heel of her hand to wipe them away. Considering the proposal, she thought that there's no way out of it easily. "Understood. Anything Kanako-chan asks, with some exceptions."
"Except?"
"Ah, like, giving Sachiko-sama her rosary back or anything that involves a third person. Giving you a million dollars, something I cannot bring myself to do. If you say die, please, you'll have to forgive me."
"By all means, everything will be in proportion."
"The penalty should be in balance with the wish."
"I'll think it over then answer. Because of this, I'm actually looking forward to Sports Day." Smiling boldly, Kanako-chan left the greenhouse.
Left, behind, Yumi said, "What kind of outrageous promise did I just make...?" Any regret she feels now will just have to wait until after the festival.
[edit]
Part 6.
The following day, Wednesday, noon recess.
Noriko arrived at the Rose Mansion. As soon as she and Yumi had begun to eat their lunches, she turned directly to Yumi and asked a strange question.
"Yumi-sama, what on earth did you do?"
"Heh?" She was so startled by the sudden question that she dropped the tamagoyaki[4] from her chopsticks. Bad, but since it fell on her meal, it was safe.
"What did Yumi-san do? And since then, what happened?" Yoshino-san asks suspiciously, while opening the lid of a bentou box and beginning to eat. Whether she really had any hint or understood what was going on, this time Yumi really thought that she deserved the title of ESPer.
"Um. Yesterday after school, Yumi-san spoke with Kanako-san...isn't that right?" Gradually as she spoke, Noriko's self-confidence began to lag, so the last few words had the feeling of a fade out.
"I did. What of it?" Yumi inclined her head. Not Yoshino-san so much, what on earth did Noriko want to know?
"So then, that..."
"That?"
They followed Noriko-chan at a lope to the window, where they all looked down upon the same grounds, where mixed in with the various students spread out eating lunch were a group of students practicing baton hand-off. Standing in the center was Kanako-chan.
"She's taken the initiative in relay practice. Until the day before yesterday, she's shown an open dislike for the relay, and has blown off the combined three-year Red team practice sessions."
"Combined practice?"
"Yes. Touko was very outspoken about it. I'm not complaining, but it's like she's become a completely different person this morning. The rumor in class is that it's because of something Yumi-sama said."
"Um." It probably was. In order to gain victory in the contest with Yumi, Kanako-chan has started special training. The points given for the color opposition relay were higher than for individual effort, this had suddenly become advantageous. The scavenger hunt race with Yumi had suddenly become a side contest, since the points allotted to that weren't very high.
"Whatever it is, isn't it praiseworthy?"
"Not praiseworthy at all. Yumi-san, if the Red team starts really working hard at this, what do you think will happen? Our Green team will come in last place!" Yoshino-san said, flourishing her chopsticks.
"Why?"
"Because this year the Yellow team is the heavy favorite. The Red and Green teams are competing for last place. Wait, don't you check the 'Lillian Kawaraban?'" From her bag, Yoshino-san pulled out the school newspaper, and in front of Yumi's eyes slapped the pages, slap, slap.
"Even so, if I had seen it what would that do?"
"If you had seen it, you would know who the main members of that class are. That's the important thing here. Here, look."
The Yellow team was composed of the members of the first-, second- and third-year Kiku Group. Scattered within were the names of the long-and short-distance runners club. Also listed were regulars from the softball team, the captain of the volleyball team and several eminent members of the gymnastics team.
In light of this, the fact that Yumi and Yoshino-san were on the Green team and Kanako-chan on the Red team, seemed a little lonely. Of course, there were many other representatives from the athletics clubs, but the numbers were not inconsiderable. At the time the classes were split, some good words must have been said.
So the candidate for last place is practicing. The Red Team is acting properly, looking forward.
"But, the White Team isn't complete." Yumi muttered, looking at the data. There were the Green, Red and Yellow team as top three, but no weakest three.
Yoshino-san -san addressed this. "Tch tch tch , Yumi-san, don't you know about the White Team Jinx?"
"What, jinx?"
"White Team can't ever be last place."
"Can't be last place?"
"Look, White team is Sumomo (Plum) Group and Sakura (Cherry) Group combined team. Because the names are different, it's pretty weak. But every year they hold out."
"Um."
When it's put like that. It is kind of obvious. All three years in high school are broken into common plant name groups. Only the Sumomo group had only first and third year and Sakura Group took the place for second year.
"Speaking of that...why is it that only that group has a different name for second-year?"
"Okay, can we not worry about that right now?" More importantly, Yoshino-san clearly wanted to talk about "what Kanako-chan is doing." Noriko-chan also was leaning forward, her interest piqued.
"I just proposed a contest during the Sports Festival, that's all. Whether the Red team wins, or Green team wins."
"Why would you do that?" Noriko-chan blurted out.
Yumi repeated the words. "Why, you ask?"
"Perhaps Noriko-chan thought that Yumi-san had made Hosokawa Kanako-san her soeur?" Shimako-san said from behind them, having been in the room for some time.
"Yes. That Kanako-san was interested in getting the class to work hard, was a command she needed to comply with in order to get an onee-sama."
"And when you heard that, you thought it resembled Yumi-san?"
"Yumi-sama's actions yesterday stood out. My classmates and I were really puzzled by them and speculated as to their meaning.... That Kanako-chan would be in such high spirits just to beat Green team wasn't something we considered."
Well no, these high spirits weren't "just" for that reason.
"But that's strange. Isn't Kanako-chan a Yumi-san devotee? Why would she be so enthusiastic an enemy?"
"Hahaha. You must have misunderstood what you saw."
"So, what's left of all that cuteness? What an impertinent first-year." Yoshino-san wrung a nearby curtain, which caused Noriko to say, "I'm sorry."
There there, Noriko-chan. It's not necessary for you to apologize for the ineptness of your classmate.
After all, if the contest has created such a great uproar, how much better will the as-yet-unmentioned penalty game be?
"It's okay Yumi-san, right? There's no way we're going to lose to the Red team." Ignoring the only person here on the Red team (Noriko-chan) Yoshino-san grasps her hands and squeezes. "Now that we know, The Green team too, from tomorrow on, will gather for special training at the appeal of a leader."
Uh, Earth to Yoshino-san. Just as Yumi went to call out to her, both the Yellow and Red Rosa entered the room.
"Ah, you're full of vigor today, aren't you, Yoshino-san? The Sports Festival is going to be interesting, isn't it?" Rei looked very happy that her soeur seemed so energetic.
"You go over there, Onee-sama. The Yellow team is the enemy!" Like you would to drive away a cat, Yoshino-san shooed her away with light hand motions. "Ah, since Sachiko-sama is an ally, she's welcome to come over here. Let's work hard for the Sports Festival, shall we?"
"Eh? Yes." Pressed by Yoshino-san's intensity, Sachiko-sama nodded vaguely.
Thinking about it, both the Yellow Rose Family and White Rose Family were on different teams and would be fighting against themselves.
Second Year Fuji (Wisteria) Group Shimako-san was on the Purple Team, whereas first-year Tsubaki (Camellia) Group Noriko-chan was Red Team.
Third-year Kiku (Chrysanthemum) Group Rei-sama was on the Yellow Team, second-year Matsu (Pine) Group Yoshino-san was on the Green Team[5].
Alone of all of them, the Red Rose Family would not be separated. For one day, the members of the Yamayurikai, older and younger sisters, would be set to fight against each other, a very hard thing.
"Yoshinoooo--."
As Rei-sama's miserable voice reached her ear, Yumi was very happy that she was on the same team as Onee-sama.
[edit]
Translator's Notes