Girl Presumptive
From Baka-Tsuki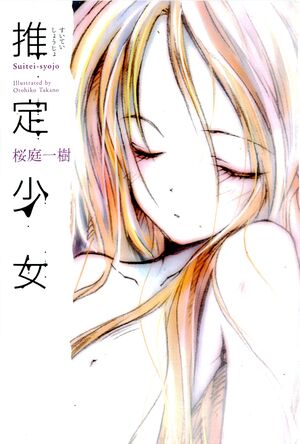 Girl Presumptive (推定少女 / Suitei Shoujo) is a light novel by Kazuki Sakuraba published under the Famitsu Bunko light novel label in 2004. It was later republished under the Kadokawa label of conventional literature in 2008.
[edit]
Story Synopsis
Kana Sugomori, a 15-year-old girl living in a remote town, suddenly found herself to be a wanted criminal chased after by the police. To avoid being caught she tried to hide herself in a garbage chute, but to her surprise and shock, there was already a body inside. Shivering in coldness and fear, what would she do?
[edit]
Translation
[edit]
Format Standards
Every Chapter (after editing) must conform to the general format guidelines.
[edit]
Feedback
If you enjoyed the teaser, why don't you tell us in the Discussion thread or in the Teaser Feedback thread and give the project a vote
[edit]
Updates
November 24, 2011 - Teaser page created. Forum translations by DNK uploaded.
[edit] The "Girl Presumptive" Series
[edit]
Girl Presumptive
Prologue - Girl A
Vol. 1 - As white as snow
Vol. 2 - Φ!
Vol. 3 - Lala's gun
Vol. 4 - Secret Base
Vol. 5 - Doll
Vol. 6 - "FOUND DEAD"
Vol. 7 - Syndicate
Epilogue - Battlefield
Afterwords
[edit]
Series Overview