Dantalian no Shoka:Volume1 Chapter5
From Baka-Tsuki
The awful silence was broken by someone asking, "Where am I?"
A maze was unfolding before his eyes.
This maze was made up of countless bookshelves, crammed full of books.
Endlessly overlapping hexagonal corridors with no end were going through it.
In place of walls, one could see nothing but thousands upon thousands of the backs of books.
There were no windows or doors in this maze.
Even when leaning one's body over edge of the stone spiral staircase, one could merely see endless corridors of bookshelves.
The corridors were drawing a light spiral and overlapped each other in several layers from the bottom to the top, holding a giant amount of books. It seemed almost like the Tower of Babel that had been lost during the age of the Bible.
This was the tomb of dark and bizarre knowledge.
And it epitomised the universe itself.
"---There's no name to this library. No one would call the world by a name, after all, right?"
At last, another voice replied. It was the voice of a girl who sounded still young.
"Is... that so?" the owner of the first voice said. It was a boy who seemed bewildered. He asked back, "Isn't that unpractical at times?"
The girl turned around upon his call. Surrounded by countless piles of books, she was reading a book laid open in her lap. Her pure white dress that consisted of silk and numerous laces waved like a petal dancing in the wind. She let out a long breath that sounded like a stifled laugh.
"Just call it as you want at such times!"
"For example...?"
"The first person that ever lost his way here called this world 'Labyrinth Library'."
"I see."
The boy nodded. Indeed, this place was like a labyrinth and at the same time, like a library.
But he was convinced there was a more appropriate name. Therefore, he asked again.
"What else?"
The girl erased her smile and told him silently,
"Bibliotheca Mystica de Dantalian"
"...Dantalian?"
"It's the name of the owner of this library," she said, and turned her eyes to the ground. Terrible loneliness was painted on her face.
Sitting in the depths of the maze of bookshelves, she returned her gaze to the book in her lap.
"'Dantalian' --- Is this your true name?" the boy asked with his glance turned to her.
The girl didn't answer his question. One could only hear the sound of paper. The frail sound of turning pages.
[edit] Chapter 4 - The Pop-up Book


Episode 00: The Harlequinade
[edit]
Part 1
This stone-built residence was half a day away from the capital, going by car and train.
However, the aristocratic owner of this cottage was just a come-down regional lord. So it wasn't all that palatial. It was just a very old building, really.
One could see the courtyard behind the thrown-open gate.
A wide range of flowers were blooming in all kinds of colours, and the morning fog had wet the grass that was growing thickly there.
The yard had probably not been cared for in years. It looked much more like a wilderness than a garden.
It was quite hard to believe that this place was occupied until just half a month ago, looking at this pitiful scenery.
A man was walking on the stone pavement of this garden.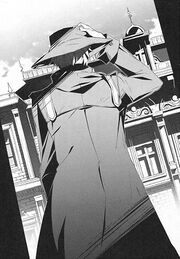 It was a young man wearing a frock coat. In his left hand, he held a small travel bag.
The face under the hat looked still young; he was probably about 18 or 19 years old.
His walk gave off the impression of a trained soldier, yet one could not sense any rudeness in the atmosphere enveloping him. His mien resembled the one of an earnest boy.
The young man arrived at the door at the end of the stone paving and stopped.
After gazing at the dilapidated mansion for a while, he laughed wryly at last.
"Did I inherit something troublesome there, I wonder...? Jeez, grandpa..."
He searched his pockets and took out an old key.
The key was golden with a rather strong tinge of red. A red jewel was worked into its shaft and the key was connected to a thin chain.
"I had always thought that he didn't care about others, but I didn't expect him to live at such a place," he murmured, mixed with a wry smile, and brought the golden key towards the lock of the entrance.
However, he instantly gave up on that and lowered his arm.
The key obviously did not match the shape of the keyhole.
"It's not the key to this door, huh... well, no big surprise I guess," he sighed lightly and hung the golden key around his neck like a pendant.
Then he searched his pocket again and took out an old bunch of keys.
They looked ordinary and weren't decorated in particular.
After trying out several of those keys, the door finally opened.
He slowly pushed the oak door open and entered the mansion.
After looking around in the dark with narrowed eyes, disappointment flashed on his face.
There was nothing inside.
The minimal things needed for living such as a leather sofa or a dining table were there, but other than that, there was nothing.
The book shelves were especially strange.
They were embedded in the walls of this mansion.
But not a single book was stored in them.
The young man touched the board of a shelf and stained his finger with the thick dust that had accumulated there.
This was proof that this shelf had not been used in years.
"What does that mean...?" he frowned suspiciously, and proceeded further to the inside.
The weak light shining in from the windows illuminated the dancing dust white. It looked almost like a deserted building.
The walls of each and every room next to the corridor were covered by giant book shelves.
But all of them were empty, without exception.
Not one book remained in this mansion.
Although there were no traces of them being carried out, they all had disappeared mysteriously.
Still confused by this fact, the young man finally arrived at the last room.
The room was inside a tower on the courtyard side.
The inside was small like a storeroom. The cold stone walls weren't coated with anything and an empty bookshelf was at the corner of the room.
The young man briefly looked around in the room. He was about to return to the corridor when he suddenly noticed something.
Below the thin cotton dust on the carpet, one could see something that looked like a rail.
"...I see."
A wry smile flashed on his face, upon which he lightly pushed the book shelf next to the wall.
The deep sound of gears resounded and the big book shelf slowly turned around.
A cavity appeared behind. It was a narrow staircase leading deep underground.
Taking a lamp that had been left in the mansion, the young man started to descend the dark stairs.
When he opened the door at the end of the hidden tunnel, he arrived at a broad basement.
The walls of the dark, damp room were dimly lit by faint lights. Furthermore, constructs that looked like half-destroyed pillars were scattered throughout the whole room and were casting long shadows.
At this sight, the young man flashed an amazed smile.
Those pillars consisted of books.
All those countless books of the mansion had been gathered and piled up in this basement, filling up half of its space. It was like looking at oriental grave stones, built by piling up stones.
It didn't seem like they were carried here for a purpose. It looked like someone had been reading books and had just thrown the ones he was done with somewhere, which finally led to this sight.
There were all kinds of books. Everything from cheap yellowbacks to complicated books about philosophy.
There were also many books written in old or foreign languages. It looked like someone had been reading through any paper with letters on it in reach.
Almost buried in those thousands of books, a small silhouette had bent its back without making any sound.
It was a young girl.
A little girl was sitting all alone on an armchair and had a book laid open on her knees.
In the basement of a deserted mansion, she was reading a book.
Upon seeing this unexpected spectacle, the young man held his breath, surprised.
The girl was so beautiful one could hardly believe she belonged to the living.
Her elegant black hair reached to her waist and was bound together by a lace headdress.
The colour of her eyes was as black as the night.
Her skin had a characteristic, oriental colour and seemed smooth like honey that was melted into milk; she looked almost like a valuable porcelain.
Her dress was jet black.
The dress reminded one of the ceremonial robes of medieval knights; an odd mixture that couldn't be called dress or armor.
Her skirt was layered smoothly with many frills and her waist was decorated with a ribbon and seemed as frail as a fragile article. The metallic protectors on the back of her hands and the unrefined tasset that enfolded these outlines of her were rather strange, as they didn't fit to the dress that was decorated with laces.
She didn't make a movement; her gaze was focused on the book. There was no change in her artificial-seeming expression either.
"A doll...?" the young man murmured spontaneously. But then, one could hear the sound of a turning page.
In the next moment, she had already raised her head and was directly gazing at him.
His own surprised face was reflected in her insensate eyes that seemed like a clear morion.
But still unsure whether she really was human, the young man stood there dumbfounded until she said,
"Hey... who are you?" Moving her jewel-like lips, she continued, "What business does a human have here?"
Her voice sounded as lovely as the chirping of a songbird.
"What did you... come here for?" the girl asked the young man once again.
Her choice of words was confident and brash, but her voice wavered slightly at the end of the sentence. Her expressionless black eyes seemed kind of fearful.
At first, the young man appeared slightly surprised, but then he took off his hat and bowed.
Her demonstration that she was a human made of flesh and blood and not a doll had apparently reminded him that such a gesture was a matter of course in front of a lady. Although she was a younger girl---
--- or possibly a diabolical figure.
"Please excuse my rudeness. My name is Huey. Hugh Anthony Disward. The grandson of the former owner of this mansion, actually."
He may have introduced himself politely, but that didn't change a thing about the girl's distrustful stare.
With the thick book in her arms, she stood up and carefully stepped backwards.
She was wary of Huey.
Or rather, she was afraid of him. Like a timid, shy child.
"You are... Wes' grandchild?"
She asked sceptically, upon which the young man, Huey, raised an eyebrow.
"Are you acquainted with grandpa? How have you been related?" asked the slightly confused young man, while being glared at by the black-haired girl.
When Huey came a step closer, she became startled and hid half her face behind her book as if it were a shield.
"You may not come even a single step closer." She tried to scare him off. "I was the first to ask."
"Huh?"
"Tell me... why does Wes' grandson come here after such a long time?"
The young man stood surprised for a moment, but then he got a grip and slightly shook his head. "I am looking for the library."
"Library?" The girl cocked her head slightly.
Huey nodded. "Ah, it seems to be some kind of odd private library of which no one knows exactly where it is. I thought I might hit upon a clue here by searching through grandpa's collection."
"What's the name of that... library?"
"Ahh... what was it again... oh, right, Bibliotheca... Bibliotheca Mystica de Dantalian, I think...," said Huey, pondering while searching his blurred memories with squinted eyes.
The girl's face tensed. Her eyes, resembling the ones of a fearful cat, quivered in surprise.
"How... how did you get to know that name?" For some reason, she seemed to be irritated.
Huey noted her excessive reaction with surprise. The girl stared back wordlessly.
The young man gave in with a sigh. "...it was written in his will," he said without beating about the bush any longer.
"His will?" She made a bewildered face.
Huey took a crumpled envelope out of his coat and showed the girl the names of the sender and the receiver. "Grandpa sent me this letter shortly before his death. It says that he leaves all rights for this mansion to me. Under one condition."
"Condition...?"
"Actually, that is a mystery to me as well. 'Take over the «Bibliotheca Mystica».' That's all it said." Huey shrugged.
The girl eyed Huey without a word. She seemed to ponder something. Finally, she lowered her stare and murmured by herself, "...there is no such thing here. Nor anywhere in this world."
"So there's no book here where I could find a clue, either?" Huey grimaced out of unease. He looked around, at the mountains of books that filled this basement, and then he asked with a slightly astounded face, "...How can you be so sure about that? Or do you even want to tell me that you've read all these books?"
The girl nodded without hesitation. Then, she briefly and succinctly declared with an emotionless voice, "I was bored."
Now Huey was completely bereft of speech.
The giant anthology of his bibliomaniac grandfather, who had collected these over half the time of his life, was placed in this room.
Among the books were quite a few written in old, no longer used languages or ones written in strange signs. Even ancient documents, which would have to be deciphered by linguists, were among them.
But the girl in front of his eyes claimed to have read them all.
He couldn't believe it. But the girl didn't convey the impression of talking nonsense, either.
"Who... are you?" asked Huey, puzzled. "Why are you all alone in here? How are you related to grandpa?"
The girl's answer was simple, "Wez and I were friends."
"Friends?"
"Yes. He... was, a good man. It is really unfortunate that he passed away." She spoke with an absent look. A slight undertone of loneliness was in her voice.
"Really?" Huey didn't seem to be able to share her feelings. "Well... in his own way, even he was a lonely old man. I'm sure he was happy that a little girl from close by like you kept him company," he said. "But I don't think it's good to just break into other people's cellars," he added with a slightly contorted face.
The girl however, kept quiet.
"Whatever. Tell me, might you have seen a cat or a dog around this mansion?" Huey composed himself and stated a question.
"No. I have seen no such thing around here," she shook her head indifferently.
Huey, puzzled, touched his cheek and said, "It might also be some kind of reptile... its name is 'Dalian'."
"Dalian?" The girl frowned.
Huey nodded with a sigh. "I actually didn't care about grandpa's will. I only came because I incidentally had some business in this town. But the annex of this letter had me a bit bothered..."
Out of the envelope he took out a crumpled sheet of paper, which was stuck between the will.
On the paper was a short text in messy handwriting.
"'Take care of Dalian', it says... since it's from that man, I guess he wanted to tell me to take care of his pet." Huey showed her the text with a serious expression.
"P...Pet?!"
"That's why I thought I should hurry and and find that poor thing. After all, it would be a problem if it raged around the house, or if it were hungry, not to think of the excrement---"
"You... idiot of a grandson!"
Before Huey could finish talking, the girl let out a deep, angry voice from her lips.
A moment later, the young man contorted his face in pain. The black-clothed girl, who had fearfully stood by the wall beforehand, had suddenly run up to him and kicked his shin with the heel of her boot.
"Ouch. Why suddenly...?" Huey immediately protested, but was interrupted.
"Dalian is my name."
"...eh?!"
Huey could not hide his surprise in front of her beautiful, but angry face.
Then confusion appeared in his face. He had finally noticed what a peculiar trinket the girl wore.
Placed in the chest area of the noble dress, which was made of countless frills and laces, It was shining dully at the place where a ribbon or an adornment of flowers was supposed to be.
A steel box, affixed to a black leather band by silver chains.
A big, old lock hung in front of the girl's chest.
[edit]
Part 2
That coarse lock didn't fit the girl's slender body at all, and rather reminded one of jougs used to shackle criminals and prisoners.
Huey looked at it with mixed feelings.
Judging from his face, he feared that his grandfather had locked her into that basement.
"Let me get this straight," Huey asked her with a serious mien. "You have not been confined to this basement, have you? Grandpa did not kidnap you here and... well, do something indecent with you... right?"
"The only indecent thing around here is your imagination," whispered the girl that had introduced herself as Dalian. Meanwhile, she had sat at the table in the corner of the kitchen and was nibbling on some fried bread like a small animal.
"I have merely waited in that room."
"Waited? For whom?"
"That is of no relation to someone as insolent as you."
Dalian looked up at Huey, who cocked his head, and sighed, disenchanted.
Then she lowered her gaze to her partially eaten fried bread and asked, "You should rather tell me where I can find the sugar."
"Sugar? Don't tell me you want to add sugar to that bun?"
"It is a firm tradition to sprinkle sugar onto fried bread," claimed Dalian point-blank. Huey seemed slightly flabbergasted, but refrained from arguing with her and instead, gave her the sugar pot from the cupboard. After sprinkling plenty more sugar on the already ginger bread, she nodded contentedly while Huey looked at her with an amazed face.
At first, Dalian was totally against going upstairs when Huey suggested so. One could almost believe that something terrible would happen if she were to go to the surface. She was that persistent.
She only followed him to the kitchen because she caught the scent of the bun in Huey's pocket. Apparently, she had actually been pretty hungry. It was only the remains of Huey's breakfast which he had bought on the train on a whim, but Dalian stuffed her cheeks without complaint.
Huey discovered tea leaves in the kitchen and put the kettle on for some black tea.
After the tea leaves had boiled long enough in the kettle, he poured the tea into the preheated cups. He did this with the aptness of a kitchen maid, and not anything like one would expect from a young noble.
At first, Dalian looked at him in wonder, but finally, she whispered without hiding her vigilance, "Have you been... a soldier?"
Huey only shook his head, "I am only a simple pilot, no career soldier. Apart from that, the war is already over, and fighting for my fatherland doesn't suit me anyways."
When he told her so, something like sadness flashed over his face for a split second.
"...Is that the reason you came to this manor?"
Dalian hesitatingly accepted the presented teacup.
"In a way, yes. Right now it isn't worthwhile to return to the university anyway, so I thought I'd laze around a bit and live off grandpa's inheritance... my uncle and cousins won't come close to this manor anyway, will or not."
Huey smiled weakly while dropping a sugar cube into his cup and stirring it.
Then the girl asked him, "Why not?"
"They are afraid! Of grandpa... or rather, of his collected books," said Huey, and smiled slightly mischievously, "As you may know, grandpa was a bibliomaniac. Apparently he once gave away half his property for a single, rare book."
"...so?"
"Um, there are rumours according to which there are also cursed books in his collection. Ones that teach their owner forbidden knowledge and ruin them that way. And sure enough, some incidents really happened close to grandpa which even the Scotland Yard had a tough time with."
"I see... so why did you come here, in spite of knowing that?"
"Well, I thought that maybe I might find what I'm looking for here."
"What you're looking for...?"
Dalian raised her face, still eating her bread. Her gaze was serious, but her neat face was full of sugar.
Huey could not suppress a quick laugh. Then he looked out of the window to evade her question and whispered, "...Dantalian is said to be the name of a demon. A demon with unimaginable knowledge, depicted with countless books in his hands. Since the library has such a high-strung name, I was a bit expectant, to tell the truth. But it looks like my hopes have been deceived."
"...this requires an explanation. How exactly have your hopes been deceived?"
Huey looked at her, slightly surprised, when she said so with an ill-humored voice.
"All of the books in grandpa's collection in the basement are ordinary. Sure, there are a whole lot - even valuable ones - but in the end those are just old books. It certainly isn't a private collection worthy of the name of a devil. The way things are now, it's also doubtable whether the stories about the strange events are the truth or not."
"It looks like you, as Wez' grandson, have an eye for books as well," Dalian said strangely haughtily, "But you really don't know anything at all."
"What do you mean?" Huey asked back seriously, "Do you want to say that grandpa had another, the real, library apart from the one in the basement? If so, where did it disappear to?"
"Just that it disappeared doesn't mean that it has never existed in the first place."
Dalian carefully sipped her black tea and pulled a grimace since she apparently had problems with the heat. She poked her tongue out like a child and blew into the hot cup.
"The Library of Alexandria in the ancient Egypt, the Library of Pergamum of the Attalid dynasty, the Library of Celsus of the ancient Romans... Phantom libraries that disappeared without a trace from this world are far from rare."
Huey burst into an amused laugh.
"I see... but I can't fathom where else in this mansion you could hide books."
Dalian sighed exaggeratedly.
"You really are incredulous... hey, do you know of the term 《vase world》?"
"The vase world? The tale of the Vaseman, right? It's written in, if I remember it correctly, the Biographies of Magical Techniques of the Book of the Later Han..."
Huey hesitatingly answered her question.
It was an ancient legend from the orient.
In the later Han dynasty, a man from Rǔnán found his way into the vase of a Xian. And what he saw there was a giant, solemn palace in a separate world. The world of the vase, in other words, the vase world---
"Oh, you are better that I thought. Well done," said Dalian with a disinterested voice.
Huey sullenly showed a crooked smile. "Oh thank you... but how is that related to grandpa's library?"
Dalian replied.
"The story of the Vaseman is not over yet."
"Eh?"
"When the imperial family of the ancient orient fell, the vase world as well left the possession of the Vaseman. From then on, the vase went over many generations from one owner to the next."
Dalian continued, with an oral fluency unbefitting her young voice.
For some reason, maybe because of this discrepancy, her words seemed somewhat lively, as if she had seen the events with her very own eyes.
"When the Mongolian shepherd people ruled over the continent almost a thousand years later, the vase finally got went from the Near East to Europe. And 300 years ago, the ruler of a certain country obtained its possession---"
"Ruler?"
"Emperor of the Holy Roman Empire, Rudolf II... The king of Prague, the capital of magic."
Huey listened, engrossed in her story, since it sounded strangely true to him.
Rudolf II, also called the "the eccentric emperor", was known as a fanatic collector of artistic objects and books and for his passion for alchemy and magic, in spite of being a strict catholic. The exhibition room in his royal residence was decorated with artistic objects from all over the world and consequently called "Wunderkammer".
One could say that, in a way, he had been the most appropriate owner of the vase world.
"That king tried to gain something outrageous through the power of the vase."
"Outrageous?"
"The knowledge of... the demons."
The girl in black raised her chin a bit haughtily. Huey showed a serious mien now.
"I see... the demonic knowledge, bound into the form of books by the demon Dantalian..."
The girl nodded.
"That is the way it is. The king thought he could gain infinite knowledge with the power of that vase world, what even the greatest sages and mages have failed to achieve. The king intended to collect any kind of rare and strange books in which demonic knowledge was written down. Books from the lost ancient libraries. The innumerable amount of books destroyed by the book burners. And finally, the forbidden Grimoires... even if it meant to invade different countries now and then, he wanted to collect all the demonic knowledge in the vase world... a foolish endeavour," Dalian whispered, and averted her eyes to the ground.
"How so?" Huey asked back with a sceptical mien.
Dalian looked at him pityingly and spoke with a dreadfully sharp tone, "There are things in the world that nobody should know, human."
For a split second, her voice led one to believe she had become something inhuman.
"Maybe so," Huey sighed faintly. "This reminds me: allegedly the collection of Rudolf II later triggered a war when the king of some other country got wind of it, which ultimately led to the downfall of the Holy Roman Empire..."
Boundless grief showed on Huey's face when he muttered "war".
Seventeenth century. It happened shortly after the death of Rudolf II.
Just before the end of the Thirty Years' War, the Swedes invaded Prague and forcefully intruded into the residence of the king there. It was told that as good as all of the collectibles there were stolen or went lost.
"Yes... and the vase taken from the castle was later sold to a noble from another country. To a dilettante on this island separated by the sea."
Huey looked up surprised.
"Don't tell me it was grandpa who bought this vase?"
The black-clothed girl nodded slowly.
For a while, Huey silently watched her. Then he suddenly held his belly and bent forwards. However, he was not able to completely suppress his laughter, so his shoulders started trembling.
"I see, so that is the Bibliotheca Mystica de Dantalian... Your fairytale was pretty amusing, I have to admit!"
Huey finally started laughing out loud, which was noted by Dalian with a surprised expression.
"...Fairytale?"
"Mhm. A horror story, just like one of grandpa's. Really not bad!" Huey nodded and wiped away the tears from his eyes, before starting to laugh again.
All the while Dalian watched him with big eyes - apparently she couldn't understand his reaction.
Finally, her cheeks turned red from anger surging up inside her. Her closed lips vibrated bitterly.
"...You moron..."
Dalian spoke with a deep, unaccented voice.
"Eh?"
Huey finally stopped laughing. But that didn't calm Dalian's rage by far.
"What kind of... irredeemable moron are you? Getting all haughty just because I showed a little bit of restraint, since you are Wez' grandson... It was foolish of me to expect for even a second that an impertinent character such as you could be the Key Warden. I haven't waited for you, but---"
Her train of words suddenly broke off.
Huey questioningly followed her gaze. Her shocked look lay on Huey's chest. On the key which could be seen between his clothes. A golden key, with a red gem embedded in it.
"That key... how did you get it?"
Dalian's expression was again full of fear.
Huey wordlessly produced the key.
Engraved on the dead-straight shaft was a line from an old poem.
《I ask of thee, art thou mankind?》
It was a strange text, somewhat like a magic spell.
"Do you know something about this key?"
Upon hearing his question, Dalian shook her head without saying a word. With her expressionless face, she seemed somewhat magical, like a delicate porcelain doll. Her appearance was groomed to that extent.
Just when Huey wanted to ask the silent girl once again, he heard a carriage stopping close by the mansion.
Dalian's face tensed when she noticed it as well.
She hurriedly turned her head around like a small animal looking for a place to hide.
Dalian stuffed the rest of the bun into her mouth, stood up and was about to start running. She intended to flee into the basement. Seeing that, Huey let his shoulders slump.
As if to calm down a timid child, he smiled gently. "Don't worry, that's probably my guide coming to pick me up."
"Guide?" asked the black-clothed girl, not reassured.
The moment she pushed the book in her arms against her chest, the bell at the entrance rung.
[edit]
Part 3
Huey was examining the key hanging around his neck while inside the carriage that had come to pick him up.
Next to him sat Dalian who was busy watching the panorama of the passing streets with curious eyes.
After hearing the name of the person who had sent for Huey, Dalian suddenly changed her mind and wanted to accompany him in spite of her refusing to leave the mansion even by a single step before.
She seemed very tense since she was not used to leaving the house.
With her right arm, she still held on to the thick book she had started earlier. And with her left, she clutched the seam of Huey's coat.
"I am very grateful for your acceptance of my master's invitation," the footman politely said to Huey, sitting opposite him.
He, Richardson in name, was a footman of an affluent figure that maintained a high-class hotel in this city.
Huey had made arrangements for a dinner with Richardson's master.
"My master, Henry Conrad, was an old friend of Lord Wesley Disward, which is why he was devastated by the news of the lord's passing...," said Richardson while wiping sweat off his brow.
In spite of his polite choice of words, he seemed oddly tense.
It was not Huey's gaze he shunned, but Dalian's.
It almost seemed like the footman feared the little girl.
Perhaps he had heard of some kind of repute the girl in black had. The fact that he did not rebuke her when she suddenly tagged along substantiated that idea.
"...Therefore it is our pleasure to be able to welcome you as the lord's son today. Please make yourself at home."
"Well, actually I am the grandson... not the son."
Huey softly corrected him and took an upright posture.
"The pleasure is all mine. I am indebted to mister Conrad for allowing my sudden visit. Apparently he shared my grandpa's... no, my grandfather's passion. I have been looking forward to an occasion to see his collection for a long time."
"My master will certainly be delighted to hear that. Furthermore, if you could please leave the accommodations for tonight to me. I have been told by my master to take care of it."
"Much obliged."
Huey showed the sincere-looking footman a friendly smile.
Dalian observed their exchange of words wordlessly, but after a while, she whispered to Huey. "Hey... what are you up to?"
"What do you mean?"
"What are you thinking, leisurely leaving for Henry Conrad's estate just like that? You can't tell me you don't know that it was him who killed Wez. In order to steal an old book that Wez had purchased in an auction, that man made it seem like a robbery and---"
"I am aware of that rumour," Huey shook his head without erasing his smile. "But there is no proof. Therefore, I thought I'd investigate it myself. The one thing we definitely can't rely on is the local police after all."
With those words, he touched the slight bulge on his coat. He did so without even noticing. This movement he had taken to resembled a soldier habitually checking for his gun.
"There is a proof."
Dalian quietly whispered. Her view was turned towards the sky beyond the window. It's been some time since sunset. A strangely red moon shone down from the night sky shrouded in darkness.
Huey gave Dalian a slightly puzzled look.
"Tonight there is a full moon. If it really was Conrad who stole that book, then he should currently be seeing what nobody should ever be allowed to see."
"...what are you talking about, Dalian?"
Dalian only calmly shook her head upon Huey's question.
"You will understand soon. As long as you are permitted to see..."
Huey listened to her enigmatic, auspicious words in silence.
He beheld her even face, lit by moonlight, as if trying to see through her character.
"You are quite a peculiar girl, Dalian," Huey finally said with a deep sigh, shrugging.
"And you are a truly rude man," she replied while staring at Huey from the side, pouting.
"It is the building that has come into view just now."
When the carriage finally left the forest behind, the footman pointed at a manor on top of a hill.
It was a large house, built in Tudor style.
The building itself was in no way inferior to the country estates of nobles. Most likely there were more than a hundred rooms.
"What a superb building. Is that Mr. Conrad's hotel?" Huey genuinely put his impressions into words.
The footman smiled contently. "Thank you very much. At this time we lodge only few guests, which is why not many employees are on hand. I ask for your forgiveness should you find something to your inconvenience."
"No problem. Is Mr. Conrad also living in this building?"
"Yes. In the tower over there at the northern front is the library. Above it is the office of my master."
"I see," nodded Huey, as he looked up at the hotel, upon which he wrinkled his brow.
The surroundings were already dark, shrouded in the veil of night. But one couldn't see a light in any of the rooms of this gigantic mansion. The same held true for the northern tower, in which the living quarters of the old man were located.
The carriage passed the gate and stopped on the carriage porch.
The outer door of the entrance was open.
But there were no traces of a butler or a parlour maid, which should should have welcomed arriving guests.
Richardson seemed to wonder as well. "I beg your forgiveness. Please wait for a moment."
With these words, he climbed out of the carriage. After telling something to the coachman, he entered the building.
And the moment his figure disappeared, "...maybe we're already too late," whispered Dalian. Then she forcefully pushed open the carriage door.
"Eh? Hey, Dalian...?" Huey looked up, surprised.
But she had already jumped off the carriage.
Her armour clanged. The girl ran into the mansion, her hair waving in the wind.
Huey had no choice but to follow her in.
He slipped through the open entrance and abruptly came to a halt.
The building was suffused with a stench.
The stench of fresh, thick blood, as well as the offensive smell of burning flesh was in the air.
Dalian stood in the middle of the room, still carrying her book under her arms.
Only her white skin glimmered faintly in this deep darkness.
"Dalian... do you know something? What on earth is going on here?"
Huey hurried towards the little girl with a tensed countenance.
What he saw when his eyes had gotten used to the darkness was a sight beyond his worst nightmares.
The entrance hall, which would do a high-class hotel justice, was completely devastated.
It was as if a giant beast had raged around. The stone pillars and marble statues lay shattered on the floor and the carpet showed burn marks.
The figures spread lying all over the hall on the floor appeared to be the employees of the hotel.
Parlour maids and servants, wrapped in pompous uniforms.
One could tell with just one look that they were already dead.
Some of them had been burned alive, others had been shredded apart by the claws of a giant beast.
A giant monster with three claws that no man had ever seen before.
"The northern tower."
Dalian turned around in the darkness.
In the current Dalian, one could see no trace of the timid girl he had met in the basement. Even with those batted corpses in front her eyes, she showed no signs of fear.
"The cause of this calamity... is probably in Conrad's office."
"In his office? Was it Conrad who cause this disaster?" asked Huey. But Dalian gave no answer and hurried ahead.
But even before she could reach the exit of the hall, a scream resounded from the cloister leading to the tower.
It was a voice they already knew. The voice of the employee who had lead them to this manor.
"...Richardson?!"
Huey passed Dalian to protect her.
He took a hand gun from the inside pocket of his coat, standing ready to use it.
It was a big, top-break revolver for military use.
"You're carrying quite a dangerous thing around with you, huh," Dalian admonished him. "Did you actually plan to take revenge for Wez with that thing?"
"I don't owe grandpa enough to go that far. It's more like a protective charm since you don't only hear good stuff about Conrad," Huey played innocent. "This one is also a memento of grandpa. I haven't taken it out in ages. So don't expect too much of my skills with it. I can't seem to like guns, you know."
Huey replied with with a tense voice and entered the corridor.
Right then his expression froze because he noticed the corpse at his feet.
It was Richardson.
The footman who had gone ahead of them to the rear part of the mansion lay in the corridor, covered in blood.
A knife was embedded in his head, which still shone brightly even in the darkness.
A throwing knife.
"Look ahead!" shouted Dalian with a sharp tone.
Huey immediately raised his head.
Further back in the cloister was someone lingering conspicuously.
It was a man in magnificent clothing.
Brightly coloured socks and a jacket with golden buttons.
The man held innumerable throwing knives between the fingers of both his hands. The same knives as the one in the forehead of the poor footman.
The man raised one of his arms, still dead silent.
Huey clicked his tongue when he noticed that the guy didn't aim for him, but for Dalian.
He didn't have time to hesitate. He aimed for the chest and pulled the trigger of his revolver.
For only a moment, a light flashed in the corridor.
Huey couldn't possibly miss at this short distance.
With accurate aim, the man was hit in the middle of his chest and was blown away.
"What was that...?" Huey breathed wildly without releasing his alarmed stance. "Was that man the one who laid waste to the whole mansion?"
"That is impossible. A simple knife-thrower couldn't possibly level the pillars in the entrance hall," murmured Dalian relaxedly, before proceeding down the corridor.
When she reached the place of the dead knife-thrower, she only shook her head.
"What the...?" After catching up with her, Huey also looked at the hallway floor, and held his breath.
There was nobody there.
There was no trace of the shot man, who should be lying right there.
Neither were there his knives nor traces of his blood.
Only ashen flakes were spread over the thick carpet.
Dalian bowed down and picked up one of them.
In her hand, the dry flake crumbled to dust.
"As I thought... so it was Conrad who has taken that book," the girl whispered quietly, while touching the lock in front of her chest.
Her voice was awfully cold and even resembled that of the grim reaper when he took someone with him.
[edit]
Part 4
On the way to the northern tower, they happened upon even more corpses.
Every single one of them had been killed in a gruesome way.
Someone had been wrapped by something akin a thick rope and had all of his bones broken.
Another one had been guzzled by the fangs of a beast.
And finally, one who had been squished to a pulp by a giant something.
Among them were also some who had apparently taken up arms and attempted to fight. But even they had failed in the end and passed away. However, what they had tried to defend against remained a riddle to Huey.
"It almost looks like... they've been trampled by an elephant," Huey grimaced while looking down at the squashed body of a pitiful maid.
"Yes. That seems to be the case," agreed Dalian terrifyingly easily, without hesitating for a moment.
On the contrary, now it was Huey who was surprised and turned around to her. "By an elephant...? In such an urban mansion?"
"What are you shocked about? You were the one who came up with it."
"Okay, but elephants don't eat human meat. How do you explain the corpse of the man earlier?"
"It just means that we are not dealing with just one beast... look, like that one over there." Dalian raised her armoured hand and pointed into the darkness.
On the landing of the stairs leading to the northern tower, supposedly where the office of the old man was, there glimmered golden eyes.
Then, a golden beast with black stripes in its fur emerged.
From deep within the blood-smeared snout resounded a thundering roar.
"A tiger...!? What is such an animal doing in this country?!"
"You must not avert your gaze. When you turn your back on it, you are history," explained Dalian with an apathetic voice, as if she were reading something from a book.
Huey had no time to reply to her words. With a tense expression, he took aim.
The giant tiger lowered its stance.
As if propelled by a spring, it lunged at the two, but one moment before reaching them, Huey pulled the trigger.
His revolver was loaded with .455 calibre rounds which were enough to instantly slay a human, but the shot sounded frighteningly unreliable with respect to a beast with a body mass exceeding 200kg.
After firing three consecutive rounds into the tiger, the body of the beast finally started swaying.
Huey shot once more, while his breath had gone wild due to fear and the recoil of his gun.
In front of his eyes, the body of the animal suddenly started trembling.
It swayed as if his body had lost all substance and broke into little pieces without a single sound.
Huey watched in total puzzlement at how the remains of the creature danced in the air like ashes.
"...a phantom book has crossed the boundary." While whispering to herself, Dalian looked out of the window, up to the moon
She went up to the landing and expressionlessly looked at the ash-like flakes.
"What's the meaning of this, Dalian? What on earth was that just now...?" asked a wildly breathing Huey.
"Do you still not get it?"
Dalian turned around and let her beautiful hair dance.
"A knife-thrower, an elephant and finally a tiger. Perhaps a giant snake and a clown were among them as well... that should be enough to put it together."
"... a clown?" Huey made a clueless face after hearing her minimalistic explanation.
"A circus," explained Dalian triumphantly. "It is the actors of a circus that are wandering around in this mansion. Hey, do you not even know the 'Harlequinade'?"
"...Harlequinade?"[1]
"The word stands for turn-up books. Look the things where you move the backgrounds of the figures through revealing or moving of flaps. Have you not played with such things as a child?"
Huey appeared clueless, but he let his gaze wander while searching in his memories.
"...I used to have a few pop-up books. Aren't those the kind where multiple sheets are glued together and jump out when you turn a page?"
Dalian nodded.
"Yes. The harlequinades, made in the middle of the 18th century by the publisher Robert Sayer, are generally considered as the origin of the turn-up books. They were called that because harlequin-pantomimes regularly appeared in them."
"Just a moment, Dalian... what are you talking about right now?" Huey interrupted the girl with a confused face.
Dalian's tone of voice turned sour. "Right now I am giving you the gist about the phantom book that Conrad stole."
"...phantom book...?"
"Look, Huey. This is the true form of the tiger you have just shot."
Dalian squatted down by the landing and picked something up.
Frail, ash-like flakes. The remains of the tiger Huey had shot.
He closely looked at the flakes after receiving them from Dalian.
"Paint?" he asked with a raspy voice.
The substance that crumbled into dust in his hands was dried, old paint.
No, one would have to say it was the picture itself that had been drawn with it.
The giant beast, which had brutally devoured the employees of the mansion and attacked the two of them, was actually a painting of someone.
"In the world there are illusory books that originally should not exist. The phantom books, created through the knowledge of the demon world or secret ceremonies of the devils..."
Dalian lightly clapped her hands and dusted the paint off her fingers.
"In the case when someone who can correctly read a phantom book gains ownership of it, he will enjoy immeasurable blessings. But should someone who is not worthy own it, then the phantom book will cross the boundary of the world and perturb logic as well as causality of this world. Therefore, in order to seal these dangerous phantom books, there is---"
"---the labyrinth library... the Bibliotheca de Dantalian, huh," Huey whispered with a frail voice.
Dalian nodded.
"Yes. And your grandfather, Wesley Disward, knew of the existence of the cursed harlequinade, which brought misfortune to its owner, and wanted to seal it. But the famous book collector Conrad had to let his sense of rivalry run wild..."
"And so he killed grandpa and stole the book... I see." Huey shook his head, a dark expression on his face. "But I still can't believe it. This is impossible, right? An actual pop-up-book, which projects its painted scenes into reality..."
"Are you still doubting it?" Dalian shot him a dark glare. "In the 《Lidai Minghua Ji》, which was written in China during the Tang-dynasty, an incident is mentioned where a dragon, which was portrayed by a gifted painter as a mural, slipped out of the painting and took to the skies. A bird, a fish and a tiger... legends, where animals drawn by master painters slip out the paintings, aren't rare in the least."
"I see..." Huey nodded with an expression as if he had chewed on something bitter. "So, a circus was depicted in the phantom book stolen by Conrad? Like in Meggendorfer's 《Internationaler Zirkus》[2]."
After mentioning the name of a famous picture book author, Huey sighed wearily.
"Like most other kinds of magic, the power of phantom books is affected by the phase of the moon," Dalian indifferently continued her explanation. "An illegitimate owner such as Conrad couldn't ever possibly control that power. Just imagine how it would turn out if all the beasts of the circus were able to cause havoc in this hotel..."
"Obviously there is no time to doubt your words... what is the plan?" He shook his head to take heart and looked at the small girl in front of him.
Her answer was short and simple.
"We have to find the phantom book and seal it. In the end, it's nothing but a simple picture book, so the mechanism should not be too complicated."
"Thanks for being straightforward. ...Dammit, grandpa sure left one troublesome thing behind."
Huey quietly clicked his tongue and strengthened the grip around his pistol.

After climbing the stairs, they reached a wide hall.
Along the way they had come across a clown and animals out of the harlequinade, but it didn't lead to a confrontation. Apparently, not all of the inhabitants of the phantom book had to be dangerous beings.
On the other side of the hall was the tower of Conrad's office.
But in the middle of the room, the twisted shape of a beast blocked their way.
When the two noticed, they stopped, completely aghast.
The figure was even bigger than an elephant.
Scale-covered skin. Pointed, deformed horns. Wings like the ones of bats, with veins protruding hideously.
And through the snout, past the tongue which was slit like a snake's, red burning breath leaked.
"...a dragon," Dalian said with an impressed voice.
Huey held his head, fed up with the events. "So that's the guy that has demolished the entrance hall... why would there be a dragon in a circus?"
"Did you not know that most circuses do have an exhibition shack for rare animals?"
Dalian answered his question easily.
"Oh, I've already seen such a thing indeed. But aren't those just animals like lizards from the tropics, which are disguised with bird wings and bull horns in order to trick people?"
"It is unexceptional when a real dragon is depicted in a picture book... by the way, what do you intend to do? Are you going to run?" asked Dalian, while looking at him searchingly.
"I guess he won't let us leave that easily..."
Huey wiped the sweat off his forehead.
As if the dragon had heard these words, he directed his bloodshot eyes towards them.
It was the eyes of a beast, stimulated by the smell of blood.
He briefly showed his split tongue and started moving his giant body with an unexpected speed.
"Run, Dalian!"
Huey caught the hand of the black-dressed, frozen girl and ran into the shadows of a pillar.
The dragon's flames passed right behind him.
The mortar of the wall brittled and some of the cement-reinforced stone pillars crumbled down.
Huey grimaced, bathing in a rain of rubble.
He grabbed his pistol with just his right hand and fired his remaining bullets, without bothering to aim exactly.
The bullets were deflected by the dragon's scales and only left a few bluish-white sparks.
The dragon didn't show even the slightest sign of pain. Huey's face tensed.
All the while, Dalian wonderingly looked at Huey's hand which held her slim arm.
Finally, her usual, cold expression returned. "We are trapped."
The stairs from which they had come had been buried by the collapsed wall.
The only way which could be called an exit was the stairs leading up the tower. But unless they overcame the dragon, they couldn't reach it.
"I know. But I'm out of bullets."
Huey opened the top-break barrel and let the empty rounds drop to the floor.
"With that thing you wouldn't be able to defeat it anyway," said Dalian with a weary voice.
Huey nodded, irritated. "Seems like it. Ohh, well... Dalian, are you a fast runner?"
"What do you mean? Do you want flee after all?"
Dalian shot Huey a reproachful glance.
Huey laughed with a self-ironic undertone and shook his head.
"I'd love to, if I could... but you' are the one to flee, Dalian. I will catch his attention. During that time, you will run up to Conrad's office."
"...do you intend to become a decoy?"
"You know how to seal phantom books, right?"
With these words, Huey picked up a handy brick. Against a human, that might count as an improvised weapon, but its effect on a dragon was debatable.
"I don't give a crap about 'noblesse oblige', but a book of my grandpa is at fault for this whole mess. Therefore, I can't simply ignore it. I don't even want to imagine what kind of damage such a monster could cause if it reached the city. We somehow have to deal with this issue within this mansion."
Dalian silently watched Huey's face while he spoke with a resolute voice.
Only now, a soft smile, fitting her age, appeared on the girl's face.
Meanwhile, the dragon seemed to have lost track of them and aimlessly destroyed the pillars and objects in his proximity, spitting fire. If they kept hiding, they would sooner or later be targeted by one of those attacks without a doubt.
And in spite of that, Dalian seemed calm and said, "Take out the key... human," she ordered with a rather pompous voice. Huey blankly stared at her.
"Dalian. Now is not the time to..."
"I have acknowledged you just now," she said with the demeanour of a sublime queen.
Within her dark eyes a strong glimmer shone, resembling starlight.
"Hmph...I am reluctant, but there is no changing it now. So, should you bear the qualifications to be the Keykeeper, read now the words of the pact."
"The words... of the pact?" Huey had subconsciously grabbed the key on his chest tightly with his hand.
The golden key, with a gem embedded that gleamed red like the freshly shed blood of a virgin.
The line of an ancient poem, which was engraved in its shaft.
That short line was the first thing to come to his mind when he heard the 'words of the pact'.
Right then, a thundering roar resounded and the pillar Dalian and Huey were hiding behind collapsed.
The bloodshot eyes of this malicious magical beast caught sight of its prey and narrowed.
"I ask of thee..."
Huey removed the key from his neck and held it in front of his eyes.
He read out loud the almost faded line of the prayer with a raspy voice.
"I ask of thee, Art thou mankind---?"
Dalian smiled contentedly.
But the answer to this question did not come from her.
The metal box, which was bound around the chest area of her armoresque dress.
The lock that was attached to the girl's choker with silver chains.
That lock faintly shone and declared with the raspy voice of an old woman:

《Nay. We art the Realm -- the Endless Realm within thine Vase》

A faint light leaked from the chest of Dalian, wrapped in black.
The source of the light was her skin.
Her collar, which used to be covered by several layers of frills, now revealed her white skin.
Once could see a slim neck and delicate collarbones, resembling the wings of a little bird.
Furthermore, a chest, devoid of bulges, resembling the one of a boy.
In the middle of it. Above her solar plexus, where her heart should be, there was a rough metal body.
This was the first time Huey noticed, noticed that the lock on her chest had not been attached to her dress.
It was lodged directly into her snow-white body.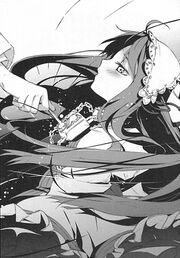 As if someone was calling him, Huey stretched his arm towards the keyhole.
He inserted the key into the girl's chest and slowly plunged it in.
"Uh...!"
The girl stopped any kind of movement whatsoever and only let out a weak sigh.
With a rattling noise the lock opened. It swung open to both sides like a gate.
Hidden behind it was a hollow space.
A hollow space surrounded by the faint light. An endlessly deep hole.
From the middle of her soft white chest protruded a big void.
A deep, deep, empty space, that seemed to pierce her slim body.
"---The labyrinth library, which seals 900,000 and 666 phantom books. The gate to knowledge hath been opened---"
The beautiful voice resounding from Dalian's lips cast a spell over everyone who listened to it.
In the next moment, the dragon concentrated fire in its giant snout and let out a deafening roar.
Their escape had been closed off. Aiming at Huey and Dalian, the dragon ruthlessly spit out his flames.
But Dalian was faster.
Without a second of hesitation, she reached into the void in her chest. Her arm was pulled in directly though the opened keyhole. As if running an invisible path, it disappeared further and further.
When she finally pulled her arm out again, she held a book in her hand.
An old book with pages made of parchment.
The magical letters in it were written with animal blood - it was a magical tome.
Starting with the 《Liber de Nymphis》 by the alchemist Paracelsus[3], there were quite a few works among the tomes of the middle ages that included techniques to control nature spirits. Most of them are thought to have been burned and even the remaining ones are mostly fakes.
But the book in Dalian's hands was a phantom book, which should not exist within this world --- a genuine grimoire.
When she opened the book, a thunderous shock wave was created next to her. She had summoned a sylph. The dragon's fire was repelled by the shock wave and reflected back at him.
The dragon bathed in his own flames and squirmed on the ground while letting out a roaring bellow.
"So that is... the power of a phantom book...," Huey whispered with a deep voice while watching the dragon's suffering.
Dalian hid her opened cleavage by hugging her book and turned around with slightly blushed cheeks.
"Come... we need to use this chance to seal Conrad's phantom book, Huey!"
Huey, who still stood there in a daze, blinked in surprise at Dalian's words.
Then he finally smiled wryly and nodded.
[edit]
Part 5
Conrad's corpse was in his office.
Probably, he had been killed by the carnivores shortly after the Phantom Book had crossed the boundary, without ever realizing what was going on. His lifeless body was still sitting in his armchair, exposing a ghastly, bloodstained sight.
Still, Huey and Dalian were spared from seeing his fear-distorted face.
His head had been totally bitten off.
"So this is Conrad's Phantom Book..."
Huey spotted a book on the desk of the old man.
It was a handmade picture book with a pompous binding.
A gilded, thick cover in Moroccan leather. On the high-class paper, one could see pictures by a masterful artist.
The author's name wasn't noted anywhere, but the pictures were unexpectedly beautiful for a nameless artist. The strokes were so precise that anyone would believe the pictures could come alive any moment.
The theme of the picture book was a circus group.
But the predators that should have been there weren't to be found anywhere in the book.
They had disappeared - as if they had slipped out of the pictures.
"The book is older than I expected. From a time, when paper-making still left imprints on the finished product... it is a work from the first half of the 18th century. Who knows? Perhaps, rumours about this pop-up book have been the trigger for the development of Robert Sayer's harlequins.
Dalian carelessly picked up the picture book and flipped through it.
Between the pages, one could catch glimpses of colourful sceneries.
"A real pop-up book, huh... I wonder whether the owners prior to Conrad have also met such a tragic fate," sighed Huey in exhaustion.
But Dalian shook her head. "Books and the people that desire them attract each other. Even a Phantom Book should be able to fulfill its original purpose as a book if it enters the possession of its rightful owner."
"I see... Conrad ended up like this because he stole the book out of his childish obstinacy as a collector. The innocent servants that got involved are just too pitiful...," noted Huey while he dusted the rest of the colour off Dalian's shoulders.
The black-clothed girl nodded slightly. "Yes. If he had not known of the existence of the phantom books, nobody would have had to lose their life..." She continued with a slightly melancholic tone, "There are things in this world that should remain unknown."
When she closed the leathern picture book, the mansion's ominous atmosphere disappeared as if it had never been there in the first place.
Dalian locked the clasp on the cover and handed the book over to Huey.
After receiving it, he hesitatingly stretched it out towards Dalian again.
The Phantom Book disappeared in her revealed chest without resistance.
Then, Huey's gaze wandered between her and his right hand.
The key, which he should have been holding, had disappeared.
Instead, a red gem was embedded in the back of his right hand. Almost as if Huey himself had become the the key of the gate.
"So the vase world was you, right... Dalian?" he asked calmly.
Dalian didn't reply. When she turned around after fixing her collar, the big, old lock hanging there in place of a ribbon was firmly locked again.
Watching that, Huey said, "I just remembered! Once, I had already lost my way into that vase world." He smiled slightly nostalgically. "There I met a girl called Dantalian, you know? She is the one who gave me the key..."
Dalian was startled and froze.
She looked down stubbornly, as if to escape Huey's gaze.
"At that time, I made a promise with her. I swore to become her friend and get her out of there."
"I... see..."
Dalian moved her lustrous lips and quietly whispered something. It sounded like 'So you did remember after all'.
The tips of her ears were a little red.
"Dantalian is the name of a demon. The demon of knowledge who is usually portrayed with a book in his hand," said Huey while clasping his right hand.
The girl in black silently looked up at him.
Her emotionless eyes seemed to deny any question.
While knowing that, Huey still asked.
"Dalian, is your name the nickname of Dantalian?"
Dalian didn't give him an answer.
Instead, she raised her chin and haughtily said, "What do you intend to do now, Huey? I'm hungry."
Huey smiled wryly and shrugged.
Then he looked around in the devastated office. "We should better leave before the people of Scotland Yard arrive. It should be rather difficult to explain the truth to them."
Dalian nodded greatly. "I agree... so?"
"Give me a moment... for now, I'll find myself an inn for the night. One that offers delicious, sugar-coated buns for breakfast."
He directed his eyes outside, where one could make out the blurred light of gas lanterns in the fog.
The black-clothed girl seemed content and nodded.
"Understood. Out of necessity, I will have to accompany you."
After fixing his disheveled hair, he reached out his hand to the girl.
Dalian tried to make an indifferent face and reluctantly took his hand.
Then the two of them wandered into the darkness of the fog-covered city.
What remained in the blood-soaked study was only a large number of books, which had lost their owner.