Index Calendar
From Baka-Tsuki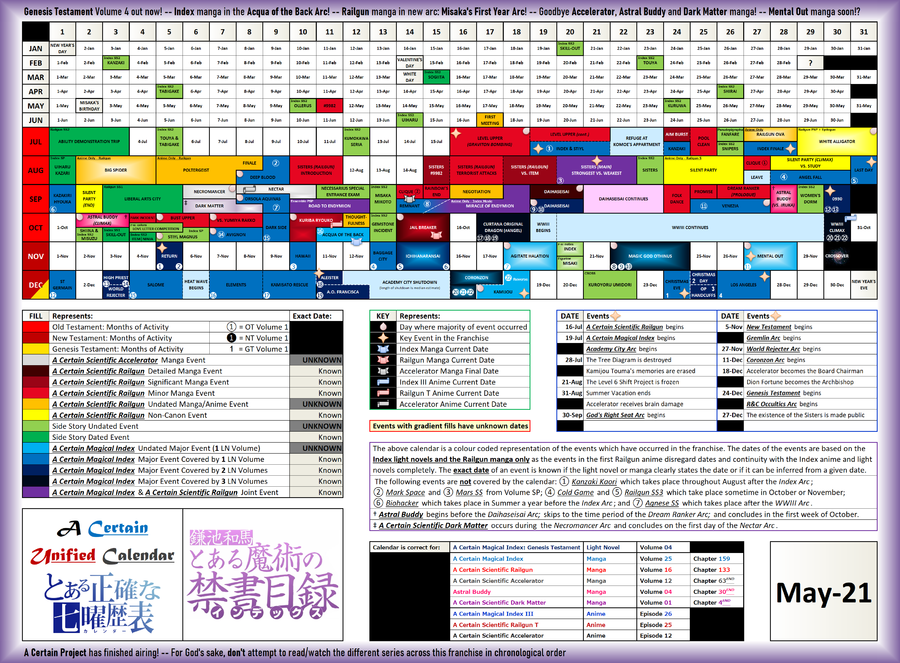 Current Dates Across Franchise
[
edit
]
| Name | Material | Issue | Current Date in Material |
| --- | --- | --- | --- |
| Toaru Majutsu no Index | Light Novels | NT15 | 6th of December |
| Toaru Majutsu no Index | Manga | Ch. 104 | 30th of September |
| Toaru Kagaku no Railgun | Manga | Ch. 84 | ~14th of October |
| Toaru Kagaku no Accelerator | Manga | Ch. 23 | 7-13th of September |
| Toaru Majutsu no Index | Anime | Ep. II-24 | 3rd of October |
| Toaru Kagaku no Railgun | Anime | Ep. S-24 | 2nd of September |
Brief Notes not currently in Calendar
[
edit
]
Index: Old Testament
[
edit
]
Railgun
[
edit
]
Ch. 81-83.5 take place on October 7-8th just before OT15. It has been titled Vs. Yumiya.
Ch. 83.5 timeskips 1 week after OT15. Ch. 84 current placeholder date is October 14th.
Accelerator
[
edit
]
Index: New Testament
[
edit
]
Misaki SS takes place between end of Agitate Halation Arc and beginning of Magic God Othinus Arc. Current placeholder date at November 20th.
Magic God Invasion Arc renamed to High Priest Arc for space.
World Rejecter Arc takes place on night of December 3rd.
Transfer Students Arc takes place on December 4-6th.
Return to Toaru Majutsu no Index Main Page.