Zero no Tsukaima:Volume9 Chapter8
From Baka-Tsuki
[edit]
Chapter Eight: The Ball of Sleipnir
A week later, on the Day of Void.
The Ball of Sleipnir was finally going to be held today.
It was supposed to be a day of rest, but the students of the Academy of Magic were restless all morning, even during breakfast.
"Who are you going as?"
"I'll try that."
It was what all the conversations were about.
Guiche crossed his legs, as proud as a peacock.
"I wonder who I should become? But, for someone as handsome as myself, is it not better to just remain as I am? Don't you think so too, Saito?"
"Yeah, yeah."
Saito replied idly, regarding Guiche as something that was little more than a breeze in the wind. Sitting across from him was Malicorne, who was hugging himself.
"What should I do... If it remains like this, it looks like I'm going to have to become a beautiful girl."
"Just do that already."
"Sigh... What should I do? Isn't that a crime?"
"Of course it's a crime. I reckon that it warrants a death sentence."
"Haa... A death sentence... Ha... Ha..."
Malicorne stammered as he held his trembling body together.
Imagining the fat boy acting in the manner of a young girl almost made Saito throw up his breakfast.
However... To get so excited over some masquerade ball, these people sure were easy to please.
It's only putting on a little disguise, did it really require so much thought?
Saito thought to himself, not knowing that they would be disguising themselves using magic.
It really only required a little bit of thought to realize that the Academy of Magic would never hold an ordinary masquerade ball... but, being completely uninterested in the matter, Saito never considered this.

Siesta was cleaning the room when Saito returned after breakfast.
"Welcome home, Saito."
"Yeah, I'm back."
Siesta was cleaning the room with a bright smile on her face.
"Today's the day of The Ball of Sleipnir."
"Is Siesta going too?" Saito asked.
"I'm going... because they are shorthanded..." Siesta replied shyly with her head down for some reason.
"I see..."
So, should I go or not? Saito pondered.
Siesta walked towards Saito and looked into his eyes.
"Umm..."
"Ah, yes?"
"I've been reading a book lately." Siesta said, as she pulled out a book.
"What's it about?"
Siesta can read as well, Saito thought.
"Oh, I forgot Saito can't read."
Siesta blushed as she explained the story to Saito.
"The name of the book is 'A Housemaid's Afternoon.'"
"Uh huh."
"It's a story about a young maid serving in an aristocrat's residence. And the master of that residence is a man who is corrupted to the core."
"Uh huh."
"Every night, he would coerce the maid into doing unpleasant things with him."
"Unpleasant things?"
Siesta muttered something into Saito's ear.
A painful sensation tingled in his nose, and a torrent of blood flowed out. Five seconds later, he finally held it in.
"...What sort of books do you read?"
"W-What do you mean by that? It's from a girl in my dorm. She let me borrow it!"
Siesta blushed as her hands shook.
So, this is the stuff Siesta and the maids read in their spare time... But, then again, the girl magazines in my world are pretty risque as well...
Saito accepted this with his strange justification.
"Well...?"
"I'd hate it if a person like the master from the story were to touch me like that… but, if it were Saito…"
"What are you-"
Siesta covered her blushing face with her hands.
"N-Never mind! I was only joking!"
"O-Of course…" Saito laughed.
Then, Siesta tilted her head towards Saito with a curious glint in her eyes.
"But… how about we give it a try?"
"Huh?"
"A little trying won't hurt."
Shocked and confused, Saito remained planted where he stood, as Siesta ran over to Saito with a look of distress, looking as though she had broken something.
"Ah! Oh no, I broke master's cup!"
"…"
"It's Saito's turn now." Siesta said in a serious tone.
"W-What am I supposed to do?"
Walking up to Saito's side, Siesta began to mutter in a slight whisper.
Pshhh~~
In that instant, blood spurted from Saito's nose.
"S-Siesta?"
"Please punish me! I wish to be punished by Saito! L-Like this!"
With a cry, Siesta melodramatically fell onto the floor. She tilted her head up towards Saito, her face as red as a ripe apple. An intense aura of abuse and neglect seemed to emanate from her.
Siesta gently lifted up the hem of her skirt.
"M-Master, please punish me as you see fit…"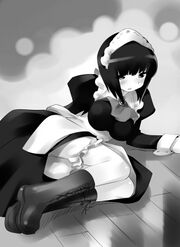 What is that maid rambling on about… and what's a guy like me supposed to do…
Only meaningless words passed through Saito's lips.
At the same time, Louise was quickly approaching by horse.
Saito hesitantly went to the shelf where the horse whip was hidden. Nearly fainting from all the blood rushing to his head, Saito could resist no longer.
At that instant, Louise opened the door.
In front of her eyes was Siesta, collapsed on the floor with her skirt pulled up and saying something about waiting for her master's punishment, and Saito, with the whip from the shelf in his hand. Louise promptly spun around and landed a kick directly on Saito's crotch.
"The two of you, stop this at once!"
Saito collapsed onto the ground with his hands between his legs. Louise planted her foot on his face and ordered,
"Maid! Familiar! The two of you, listen!"
"Yes!" Saito and Siesta replied in unison.
"There better not be a next time... You may be an incompetent familiar, but, your master has a task for you."
"W-What is it?"
"The Ball of Sleipnir is today. You know that, right?"
"Uh huh."
"Do you know what kind of ball it is?"
"Well, umm… is it a masquerade ball?"
"That's right. A ball where you 'masquerade' as your ideal. S-so, y-you must find me during the ball."
"Huh…?"
What is the meaning of this?
Siesta and Louise glanced at each other.
Huh—it looked like they were plotting something.''
Women sure are so superficial… Saito thought. The war had only ended not long ago, and already they are engrossed in something like a ball. Shouldn't they be more concerned about contributing to society or something?
"The two of you…"
Saito sighed, removing Louise's leg and pulling himself up, silently brushing off the dirt on him.
"Ehh? What?"
"Yes?"
"The two of you, sit here."
"What is it?"
"Listen up."
The two of them looked at each other before reluctantly sitting on the bed.
Saito faced the two of them.
"You two should be more concerned about this world and the people in it!"
Louise was shocked.
It seemed that a desire to help the world had suddenly awakened in Saito. It was probably because of Colbert. That teacher had always pursued his research for this same reason… Was he trying to succeed his dying wish? It seemed so.
So that's why he was so willing to pour everything into his duty in the knight corps.
In Louise's view, however, it was never his duty to begin with.
What Saito should be doing… is to find a way to return to his world.
It was only after doing this could Saito seriously consider the matters of this world. Whether to remain or not was up to him… Plus, even if there was a way, would one be able to travel freely between the two worlds?
Her mind raced back and forth.
"To change the world through the knight corps? Are you a fool?"
Louise spat out, angering Saito.
"What? Why do you insist I'm a fool?"
"There are other things you should be doing!"
"Like protecting you? Didn't I already tell you I'll do that too?"
"It's not that!" Louise yelled.
"T-Then what is it?"
"It's finding a way for you to return to your world, of course. To send you home, and relieve your family."
Idiot... But Saito had nothing to say.
"Looking at the you right now, it just doesn't feel natural. The matters of this world should just be left to the people of this world."
"B-But…"
"If we were to take the duty of the knight corps, for example, all there is to it is war, that, or protecting Her Majesty the Queen. Sure, it is without a doubt a duty of the utmost importance, but it is not one for you to take. Why are you so intent on this?"
...Saito lowered his head.
Everything no longer looked clear to Saito.
True, Saito had wanted to accomplish something.
Up until now, he had always lived a simple, ordinary life... And that's why now he wished to accomplish everything that he could. But it would be too difficult to explain this to Louise.
Louise sighed.
"Regardless of what happens... you must attend the ball today. You haven't forgotten what I said earlier, right?"
"Yeah, yeah."
Just when it seemed like she was done, Louise began to blush.
"If you do…"
"If I do…?"
"Then… I'll let you finish what you started that night, back in Albion…"
Siesta glared at Louise.
"To use such seductive methods..."
Louise angrily turned her face away, and left the room.
Left where he was, Saito slowly collapsed, his nose spouting blood like a geyser.
"Keep yourself together, Saito!" Siesta urged as she tended to him.
When evening came, "The Mirror of Truth" was drawn out from the treasure vault onto entrance of the dance hall in the second floor. A black curtain was pulled around the magic mirror. No one could tell what form the person within would transform into.
Miss Chevruse , wearing a butterfly mask, stood at the side of the curtain.
"Noblemen and Noble ladies, tonight I will guide you into a world of fantasy."
She enthusiastically announced to the line of students. Louise, who was also in the queue, was pondering who to transform into.
Doubt began to creep into her mind.
Will Saito recognize me after I've changed?
He should be able to…
It was Louise's turn. She walked through the curtains. There was only a mirror inside, which was roughly two meters high, installed on a simple frame, and covered by a cloth.
Miss Chevruse's voice echoed from outside,
"Please listen well. You must think only of the person you wish to become the most and not be distracted by anything else. This mirror will look into your heart's deepest desires, and grant you that form. Once you've prepared yourself, please remove the cloth."
Louise took a deep breath. "Okay." She lifted the cloth from the mirror.
A beautiful mirrored surface emerged from beneath it, radiating all the colors of the rainbow.
The reflection that graced the mirror's surface was gradually enveloped by the radiant glow.
The flowing lights suddenly disappeared, once again returning her surroundings to darkness.
However, it was no longer Louise in the mirror.
What had appeared instead was the reflection of a gentle, warm, pink-haired, twenty-three-year-old lady.
It was the figure of Louise's second sister, Cattleya.
Cattleya was her ideal. Her sister, who was kinder than anyone else… Louise gently placed her hands on her breasts.
Walking into the hall, it was filled with all kinds of people: heroes of legend, famous royals, renowned nobles, as well as old gentlemen and ladies. They're probably the students' parents. There were even fellow students, but they were probably not the actual people.
I didn't think there would be this many Henriettas. Louise smiled wryly.
It was only on this day that it was practically impossible to tell who was who. To wish to dance with a promised date, there was little else one could do apart from telling the other who you had become.
Saito should be able to find me, right? Louise sighed to herself.
I think he should be able to recognize me. After all, I took on Cattleya's appearance.''
Seeing that all the students were more or less present, Headmaster Osman walked onto the platform.
"Greetings, everyone. I would like to welcome you all. Tonight, we hold a ball to help our new students deepen their relationships and friendships. This ball is, of course, anonymous. This is so that not one person should be afraid to be discriminated against because of their family, status or nationality. It is also to let everyone know that everyone is equal within the walls of this academy. And I hope it will leave such an impression on you, as if it does not, it would become impossible for you all to study and develop harmoniously as one."
Osman then made a dense cough.
"If you wish to introduce yourself to your partner, simply introduce yourself politely. Do not be caught up in the other's appearance or status, or feel a need to introduce yourself in a dignified manner. This is one step of the decorum in the noble's code we do not need to follow."
The students who had gathered nodded their heads.
"Because of the alarm it might have caused everyone, it has yet to be announced... that Her Majesty, Queen Henrietta, is also here tonight."
The hearts of the students leapt.
"Moreover, in the spirit of this ball, Her Majesty herself has also changed. Let us all try to guess who Her Majesty is… I think this will be quite interesting."
The students grew restless. An opportunity to converse with the Queen like this did not come very often. There were already many people who were glancing left and right to spot any likely candidates.
Louise was surprised too. If you were coming, would it hurt to tell me first? Louise fumed silently.
"Carrying on… I would like to speak about the aim of this ball. Everyone, listen well. You have all now become an image of your ideal. I hope that in getting closer to achieving your ideals, you are not daunted by it, but rather are willing to study hard in the new term, so that you may one day become outstanding nobles that others will aspire to. That... is all."
The hall resounded with thunderous applause.
Headmaster Osman, with a grim face, left and passed through the mirror, then returned. He had transformed into a young, dangerously seductive young woman. Striking a pose, the woman declared:
"I'm Little Osman~~"
The students, still captivated by the speech earlier, instantly fell into a stunned silence, like a flame that was just doused. The teachers silently grabbed both of Osman's arms and dragged him aside.
"E-Everyone, make sure you enjoy the ball!"
The struggling Osman was swiftly escorted from the hall.
Music began to play… the Masquerade Ball had finally started.
Louise looked left and right, but could not see anyone who could be Saito.
It looks like it'll be a while before he gets here… Louise sighed as she leaned against the wall.
When Saito had arrived at the assembly hall, the ball had already started. It was because he had to take care of his horse that he was late. He had experienced how difficult it was to feed an animal, and wasted no short amount of time doing so.
As he walked past the curtain at the entrance, he didn't notice the mirror within it. Rather, it would be more accurate to say that he was completely unaware that the mirror had something to do with the disguises.
Saito walked into the grand hall, and was about to be questioned by the guard at the entrance before he noticed the Chevalier badge on Saito's mantle and nervously saluted him.
It was dim inside the hall, making it difficult to see clearly.
Saito remembered what Louise had told him earlier:
I'll let you finish what you started that night back in Albion.
They were such moving words…
To actually say such a thing… if I were to not find her after that… Without any time to waste, Saito frantically searched for Louise.
However, she was nowhere to be seen.
Since it's a masquerade ball, maybe she put on a mask? That's what I would think, except there isn't a single person here who's wearing one. And, there isn't anyone I recognize in the crowd, apart from the few students mingled within. Everywhere you looked, there were seemingly important people dancing and conversing.
Saito finally found Louise standing next to a wall and enthusiastically ran towards her.
Raising her head to see Saito running towards her, Louise blushed.
A promise is a promise. Saito began blushing as well.
"Didn't I find you pretty quickly? So... is it okay… to fulfill that promise?"
Louise squirmed nervously.
"…Promise?"
"What, have you already forgotten?" Saito asked back.
"I'm sorry, dear..."
"Dear? But you've always called me…"
"Saito-san."
"That's right."
Louise's face blushed and became redder. What's wrong with her… Did she fry her brain? But, it only made Louise even cuter.
"About what you said before... What were you trying to say?"
"What I said before?"
"Quit acting like you don't know! Isn't that what you said?"
"…What kind of promise was it?"
Why is she speaking in such an excessively polite manner… Is she just messing with me? Saito exasperated.
At that moment, the orchestra began to play a vigorous melody.
"It's so noisy… Let's go outside."
Saito, grabbing Louise's hands, led her to the veranda outside.
"…Ah!" Louise cried out in surprise, but, she obediently followed Saito.
Arriving at the veranda, Saito faced Louise,
"Geez… didn't I already tell you not to joke about those kinds of things? Did you think I wouldn't take them seriously?"
"…I-I'm sorry."
Louise appeared even more endearing as she apologized, making Saito want to just grab and hold her in his arms. I'll just think of it as revenge for everything she's put me through.
"If you won't apologize properly, I'm going to kiss you right here."
Louise silently lowered her head, but Saito raised it with his hand.
"…Ah."
Louise looked up at Saito, her eyes glistening. Such an expression seemed to stop his heart, drawing his breath away...
And, passionately wishing to place his lips upon hers, Saito tightly embraced Louise in his arms; Louise leaned her body against his.
It was like this that Louise was pressed against the wall of the veranda.
Although there was no one else on the veranda, if someone were to see this, it would become quite troublesome.
Saito decided to slowly separate himself from her.
"Nn…!"
But today's Louise was strangely assertive, continually pressing her body against Saito's.
"Louise…"
Could it be that Louise… has always been this lonely?
Saito's heart overflowed at Louise's act of affection. Unknowingly, Saito already had his hands on Louise's chest.
Completely unlike the Louise from the past, she did not express any displeasure.
"It was only a reward!"... When Louise had said that, my heart was deeply hurt… But, now I realize that it wasn't just a reward! To Louise, I am…
"Louise—"
Saito tightly embraced Louise. A warm sigh escaped Louise's mouth… Saito forgot me.
Meanwhile, at the entrance to the hall, the guard stationed there was questioning a very suspicious looking woman. Wearing a long black robe with long strands of black hair flowing from the opening of her hood, no matter how you looked at her, she didn't look like a student or teacher.
"Who are you?"
"I was sent from the Royal Palace to attend this ball."
"Royal Palace? Well…"
The guard began searching through the list of attendees.
"I'm afraid you won't find my name written on that list."
Before he could question her, the woman quickly revealed a small bell from her bosom.
"That's…"
I had seen this when I was patrolling the treasure vault…
"The Bell of Slumber? Why-"
Just as he suspected something was wrong, the small bell rang out. Cling… The sound made a clear echo.
A deep drowsiness overcame the guard.
Going to fall asleep… was ambushed against… But the guard was unable to resist.
His body fell against a wall, sliding slowly downwards along it… And he fell into a deep sleep.
"It was the Royal Palace… just not Tristain's."
After confirming that the guard had fallen asleep, the long-robed woman walked into the curtain, and, noticing the Mirror of Truth within, revealed a wide grin.
She lifted the cloth and gently touched the mirror…
The mirror emitted a bright light, and, at the same time, the long-robed woman's forehead glowed.
If I can't tell how they look like, this mission would be impossible.
Ancient runes began to shine on the woman's forehead...
She is Myoznitnirn…
Saito kissed Louise's lips.
Nn… Ah… it's like I'm in a dream… Standing on the tips of her toes, Louise wrapped her arms around Saito's neck.
She's different… more assertive than the usual Louise.
To actually be so…
A desire to love her even more emerged from within his heart.
Instinctively, he slipped his hand… onto Louise's small breasts.
"…Wha—?"
Saito immediately froze.
Her chest… was not small at all.
Actually it was… huge!
The full, soft and warm mound shifted and moved under Saito's palm. And each time he grasped it, Louise would pant ever louder…
"When did it become…"
Saito opened his eyes.
He gasped in surprise… in front of him was…
"Your Highness!?"
It was Henrietta.
What the — when did they change places with each other? The person I'm hugging is the Princess?
The frantic voices of students echoed from the hall.
"What the-!? The magic was dispelled!?"
"But the ball hasn't ended yet!"
Saito finally understood that this was no ordinary ball, but a masquerade ball, where one could transform into another person through magic.
Does that mean Henrietta became Louise?
"But, why did you become Louise…?"
Henrietta shamefully lowered her head when asked.
"Today is the ball where you could become your ideal."
"Your ideal?"
He still didn't understand.
"But, why Louise?"
"Well, that is – that is because I've always admired that girl… A girl who's always acted with her heart… A pure girl with a heart and mind no one can possibly taint… To possess the virtues I have none of… I've always envied her from deep within my heart."
"…"
"What kind of person am I, to tremble and waver, while that girl maintains her beliefs through thick and thin - her faith unshaken. I envy that about her. If I were to have even one-tenth of her courage, perhaps I wouldn't have committed those sins."
Seeing the pained look on Henrietta, Saito, wishing to comfort her no matter what, said,
"Sins…? Your Highness, you have done no wrong. So please don't talk about things like sinning."
"No… Just for my own personal revenge, I actually started a war. How many people paid with their lives because of that?"
"But it was inevitable anyway, that's just how war is!"
"So many died because of it!"
Saito recalled that the expeditionary army was practically made up of nobles and mercenaries. Furthermore, there were no citizens who participated.
"Even if you were to say so, but, still… no one was forced to go. Everyone went because of their own wishes to do so; Some for glory, others for gold. Therefore, you shouldn't worry yourself so much, Princess."
It was perhaps a cruel thing to say - to dishonor the dead like that - but, although there were exceptions, it wasn't wrong to say that the majority were either mercenaries who fought for gold or noble officers who cried out for glory… So, perhaps it wasn't too harsh in the end. Saito rationalized to justify his earlier words.
Henrietta was unresponsive.
To change the topic, Saito prepared to talk about Louise instead.
"So, why are you here today? Was it to find Louise? I'm looking for her too. Seriously, where did she run off to…"
Henrietta shook her head.
"I came here to see you."
"…Me?"
"I don't know why… but, whenever I hear your name… whenever I lay my eyes upon your face… for some reason, my heart... begins to…"
Henrietta looked up, the tears in her eyes slowly welling up.
"Do you still remember? That incident… that night at the small inn in Tristania…"
Saito nodded. That night, they actually pressed their lips together twice. Even now, his heart would race when he recalled it.
"Ever since that evening… every time I think of you, my heart aches. The heartache steadily grew deeper and deeper… by the time I noticed it, it had already grown to the point I could not worry about it… It was always lingering in my heart… I didn't know what to do about it anymore."
"…"
"In the midst of all the frantic frenzy and arduous planning, it was only your warmth that protected me. When I found your name among the list of those killed in battle… the grief was almost too much to bear. After that… when I found out it was you who had stopped the army of seventy-thousand, do you know how much of a redemption it was for me?"
For someone of Henrietta's eminence to so frankly express her feelings… Saito was at a loss, thinking 'what a frail person she was'.
But, it was because of this same vulnerability that Henrietta emanated a charm completely unlike Louise's.
Just as he was about to be overcome by that charm, Saito turned his face away and gently pushed Henrietta away from him.
"If we were to be seen like this here… nothing good will come to Your Highness and me."
Unexpectedly, Henrietta dragged Saito into the curtains, concealing them both within its shadows.
"Princess…"
"I understand that as well. But… even if it's only for a little while, all I wish is to spend a few more moments of happiness with you. Is that too much to ask? Are you not able to give me even this little bit of your time?"
"…"
"And, even though it will only be for a little while that I can experience happier times... If it was possible, I would remain by your side forever."
Henrietta cried like any ordinary girl. The once resolute Queen was actually shedding tears for my sake… Saito was dumbstruck.
Furthermore… Henrietta was more beautiful than anyone else in the world. Even Louise couldn't compare.
Henrietta once again lifted her face, edging ever closer to Saito.
Saito was utterly unable to resist those lips… and their lips pressed together.
After feeling out the kiss, Saito pressed his entire body onto Henrietta, pressing her against the wall.
As Henrietta panted tenderly, Saito slowly drew back his lips, watching her intently.
"Princess…"
Henrietta kissed Saito's neck.
As though he had been struck by lightning, a shock coursed through his body.
Saito tightly embraced Henrietta.
It was at that instant…
In a small opening in the curtain, Saito saw strands of pink hair and the brown eyes below them.
"Louise…"
He felt the blood drain from his body. Henrietta also turned to look.
Louise's entire body trembled as she watched the two of them behind the curtain, before suddenly running away, her hands covering the tears streaming down her face.
As Saito chased after her, he knocked into the students beside the curtain.
"Hey, that hurts!"
"Sorry! Excuse me! I'm in a hurry!"
However, not a glimpse of Louise could be seen within the crowd.
Because no one knew who dispelled the effects of the Mirror of Truth, the hall was in an uproar.
"What the hell?!"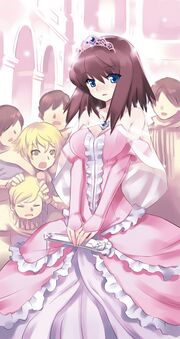 "Did the Mirror of Truth's magic backfire?"
Afterwards, Henrietta, her face visibly pale, also exited from behind the blinds.
The surrounding students at once exclaimed "Your Highness!" before rushing over to her.
Before he ran off, Saito glanced over at Henrietta to signal that he was going to chase after Louise.
Louise dashed out from the main tower, running in the night through the Academy grounds.
The pain and the shock tore her apart.
Saito and the Princess?
Why?
It was after they entered the curtains that Louise saw them. Having noticed them through the opening in the curtains by chance, she had walked over…
Remembering what they had said, the tears flowed down without end.
The two of them were so passionate… just like a pair of lovers as they made their vows.
And then… their lips met like long-separated lovers.
Don't tell me they've had such a relationship since a long time ago? Could it be they've been lying to me all this time?
To be betrayed by Henrietta, whom I had trusted so…
Louise could no longer trust anyone ever again.
That means… Henrietta had only knighted Saito to a Chevalier and swore him in as a knight captain so that she could be by the side of her lover.
During the last mission in Tristania, Saito had said he had kissed Henrietta. Of course, I was angry at the time… but, it was only for the sake of the mission. I didn't mind it much. But, it seems I was wrong.
Perhaps the two of them had kept this secret since that time.
"It's too cruel! It's too cruel! It's too cruel!" Louise kept shouting.
You've always been lying to me, what "I like you"? It was all a lie!
What Louise couldn't forgive the most was, The promise he made to me, the time we spent together, that sweet kiss… the things I had always trusted completely… were all lies he had made to me.
The things I most valued in my heart; the memories I most treasure in my heart… were nothing more than lies.
And the one to do this wasn't just anybody… but Henrietta, the person I had always held in the highest regard.
To be doubly betrayed like that, Louise couldn't bear it anymore.
Regardless, she couldn't remain here.
Louise slowly snuck out the gates of the Academy of Magic, before bolting outwards in a full sprint.
The guards that normally monitored the entrance, due to the commotion caused by the dispelling of the Mirror of Truth's magic, had all rushed to the hall. As a result, the place was empty. Without anyone to stop and question her, Louise headed along the small road leading to the city.
I don't want to stay here.
I want to go somewhere far away.
I want to go to a place where no one will recognize me.
With her heart bearing such thoughts, Louise kept running forward without any regard.
Running till she was out of breath, Louise kneeled and collapsed onto the ground, her face covered by the ground and tears flowing down her cheeks…