Zero no Tsukaima:Volume17 Chapter3
From Baka-Tsuki
Chapter 3: Meeting and Comrade
After about a week, Tristainia's palace gave a reply, at the same time, the Knight Corps of The Water Spirit began to gather together. Saito's letter "Have you seen Louise?" shocked everyone. Guiche used the dragon's cage to fly directly from Tristania's western end of the Grammont's territory so he was not late.
In the vestibule of the palace landing, 德杰萨尔, who had been promoted to captain for the whole magic guards, came out to welcome Guiche.
"Grammont-sama. Great timing."
"What happened? I heard Louise was missing or something like that……"
"I do not quite understand ... In all, you see, is she not a person related to the state secrets? So we are commanded to start secret investigations ..."
"So you are saying you haven't found her yet?"
德杰萨尔replied with a nod.
"Speaking of which, where's Saito"
"This, ah, you're talking about Vice-captain Saito……He is really giving us a headache"
"What do you mean?"
"He is currently undergoing a strange ceremony in the courtyard. He, himself is muttering "worry" something about yes or no ……"
Guiche wondered. Exactly how was even Saito not his usual self? In short, in order to be able to understand the incident in detail, Guiche rushed into the garden first.
When Guiche reached the courtyard, he saw Malicorne and Reynald. Their home was not far from here, and it seemed like they arrived here early.
"Yo, you two. What happened to Saito?" After asking, Malicorne pointed with his finger.
On his head wrapped in a white sash, Saito was sitting in the center of the courtyard in a straight position. Surrounding him were a few round standing stakes. A little distance away, Siesta, with a wondrous expression, was also sitting.
"What is that guy doing?"
"I also don't understand. He said it was for 'exercising the body and mind 'or something"
Time passed by a little. The observing Guiche and the others felt the tension in the air. The moment Guiche swallowed his saliva ……Saito's shoulders moved a little, his right hand reaching towards the left flank of the sword.
The moment his hand touched the sword ……Saito upper body was straight, his knees touched the ground. At the same time, his right hand vanished. Whoosh! The sound of air being cut, the four round stakes around Saito trembled. Lastly, "qiang" a clear sound resounded through the surroundings. He thought he had pulled out his sword, but the sword remained sheathed.
That really was fast, Guiche who was watching on the sides did not understand what happened.
"What? That!"
"That guy took out his sword with a speed the naked eye cannot keep up with, and broke the round stakes!"
What was surprising is that the upper part of the round wood stakes did not fall to the ground, it was still in the lower half of the above. It was hard to tell from the upper part and the lower half that the four round stakes were severed perfectly.
"He drew his sword? But, the sword is still sheathed?"
Guiche finished with a silly voice, Reynald shook his head.
"He drew the sword out, cut off the stakes and then kept the sword in the scabbard again. It is said that this is the sword skills of his country. "
Seemingly in the blink of an eye, Saito completed all this. He really is a 'sword master',said Guiche, deeply moved.
"Well. It is impressive but what has that sword skill got to do with worrying over Louise's disappearance?"
"Only God knows."
Next, Saito resumed the straight position. Siesta stood up and rushed up to Saito's side to wipe the sweat from his forehead.
It's about time, Guiche walked over to Saito.
Saito did not take a glance at his friends nearby; he just kept staring in front in a daze.
"Yo, Saito. What happened? It is said that Louise is missing?"
"Where is the sword you usually carry? I have never seen that sword on your waist before ..."
Saito bit his lips.
"Derf he……that guy……to protect me……Damn!"
"Protect you? What happened?"
"He……in the battle absorbed too much magic……"
"I beg your pardon! How inharmonious! Exactly who attacked you!"
The boys leaned nearer to Saito.
"Don't know. Just that they are a duo of magic users"
The boys nodded their heads at Saito's reply.
"Well, it appears to be a hired assassin. How nerve-racking, you seem to make enemies too much recently ..."
"He is a big celebrity"
"and what has this got to do with Louise's disappearance?" Gimli asked worriedly。
Everyone looked at Saito with a wondrous expression; Saito slams his fist into the ground. Siesta continued from where her master left off.
"No. Miss Valliere's disappearance has nothing to do with the incident where Saito-san was attacked"
Siesta thought her words carried some anger. She stole a glance at Saito before squatting down to peep at his face.
"Hey, Saito-san. How do you feel?"
"My mind is destroyed, my worry disappearing, my mind is destroyed, my worry disappearing, my mind is destroyed, my worry disappearing ……"
Saito grumbled constantly with a mutter.
"Looks like the person wearing pajamas is very powerful. That lady, after all, must be full of sexiness and touching. Her chest is much, much bigger than mine and her figure must be stunning"
Siesta tighten Saito's neck.
"If you want to cheat, you can always look for me! I have obviously told you that! We promised! Why does Saito-san only like noble girls! The aroma of the pitiful flowers by the roadside should also be carefully admired!"
"Speaking of which, who is the other person?" Guiche's seems to suspiciously inquire. Siesta's eyes turned into a one [一]sign and she started breaking out in cold sweat. If Guiche knew the truth he would most certainly faint.
The two did not answer, Guiche had no choice but to wave his hand.
"Well, whoever it is. You're a hopeless man. You should at least learn from me. At least"
Because Guiche uttered those words, Reynald spat at the ground.
"If he learns from you, Louise will definitely run away everyday"
Saito helped by Siesta, slowly stood up. Then, slickly (他唰地)greeted Guiche.
"Anyway, thanks for specially coming for me."
Saito expressed a smiling face that looked almost ready to cry out in pain. Making an effort to be happy——his voice revealed this kind of feeling.
"No, Well, I have nothing much to do anyway……"
"Speaking of which, Louise didn't go over to your side?"
"Nope"
"That means she hasn't been found temporarily……Siesta, Tristinia's inns have all been searched right?"
"Yes. Including monasteries, I have looked before"

These past seven day, after Saito prepared his practice of exercising his heart, he searched Tristinia's hotels again. The team of soldiers who had nothing to do was sent out to search, but they could not even find Louise's shadow. This is obvious, after all, Louise went to Torres Thalia, a completely different direction ...
The letter, 'Have you seen Louise?', that Saito mailed usually received replies such as 'have not seen her'.
Cattelya's letter has also been received. She did not intend to hide anything so she immediately said the truth. Her answer is "She did not come back.
In the letter, she said that she was worried about the safety of Louise; and had reported this matter to her parents, they said that 'that child will be back soon' kind of optimistic speech; However, on this matter, she does not think so, she hoped Saito can think of ways to find Louise as soon as possible...
When reading this letter, Saito cried. Nothing written on it blamed Saito.
'The mistake I made is causing so much trouble to many people', Saito's state of mind weighed heavily on his shoulders.
Even though Saito said "it will be okay if we search", he did not find Henrietta to discuss about it. Louise is not just a female officer. Firstly, whether it is Tristain or to Halkeginia, her presence itself is very important, a void user. If she was kidnapped by Romalia, things would be serious. Therefore, Saito put all the nobles who had nothing to do into the search team.
They searched the markets and streets along Tristainia.
Considering Louise's point of view, she will be more responsible for her own actions but this action of hers is taken too lightly.
Having said that, Saito and Henrietta was not blamed by Louise. He and Henrietta were obviously in the wrong ...
"Okay. If that's the case, she is not at Tristania ……then, we should search the street along the hotel next. Perhaps the search team missed something……"
After Saito finished speaking, Siesta nodded her head in agreement.
"We will help as well"
Saito held tightly the hand of the friend that said that sentence, who had a look of worry on her face.
"I'm sorry ... really sorry. Then, I'll be troubling you. I owe you a favour"
At this moment, a soft voice came from the corridor.
"Saito~~~~~~~!"
Turning his head to look behind, Tiffania, who was always dressed in a green dress, wearing a wide-brimmed hat on her head ran over.
"Huff huff, I heard that Louise went missing……is that true?"
Tiffania spent her summer holidays at the Tristainia's orphanage.
"While I was on a picnic with everyone, I received a letter suddenly and almost jumped up in shock. What happened?"

Great, just when everyone was thinking how to answer, Colbert-sensei and Kirche came from the direction of the main entrance.
"Aiya Aiya, I finally found out the use of the" tank "method after reaching Miss (Sheffield)'s house to reform but ... I received your letter of Miss Valliere gone. What happened?"
Saito painfully replied to Colbert's inquiry.
"I……about that, with another girl, that ……lips touching scene, she……"
Colbert, although stunned at that moment , folded his arms and nodded.
"I see what this is all about……You are still young, so if you can't control it's understandable, but……she is thus wounded in her heart"
Kirche put her hands around separately and said helplessly.
"Really, this is why I told her seriously. I said 'It's tough being a woman' "
Tiffania looked at Saito with a gaze full of wrath. Malicorne went over and greeted Tiffania politely.
"Girls, regarding this incident, please say your feelings"
Tiffania stated reasonably.
"Saito is really bad. Louise is pitiful"
Saito could not help but fall on the spot.
"Ah, AhAhAhAhAhAh……AhAhAh……"
"Use language to whip him again.An unpopular guy with the occasional set of achievements became slightly popular, then degenerated into this kind of junk. A momentously proud fool disclosing such a big basket!Hey buddy, don't forget what position you're in now…… You upstart jerk ……"
Malicorne lifted his eyebrows, trampling on Saito non-stop. Malicorne was picky towards popular topics. sob, sob……Saito cried in shame. Saito is 一头栽到底的 when he is depressed。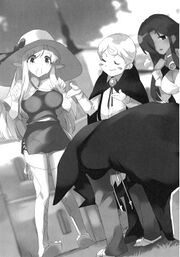 Kirche said with a tilted head.
"But……who is the rival?"
"This guy would not talk about that" Malicorne said while stepping on Saito's back.
"Ah, but that Louise ran away from home – it is said so, but even sweet-talking the servant wouldn't make her mad like this. That's why I am very concerned about it. It is possible that the other party is quite close to him ... sort of?"
At this moment, Guiche and Reynald's eyes had a sudden change.
"You, the other person couldn't be Montmorency right?"
"Can't be (Brigitte) right?"
"N-not Miss (Janice), right?"
(Gimli) interrupted Reynald.
"So you like that type of girl"
"No! That's not it! I'm only asking!"
Reynald whose face flushed red shouted. In such a commotion, Saito shook his head.
"……Not any of them"
"Then who is it! You're making people care more about this~~~~~!"
Seeing Guiche and the others surrounding Saito, Kirche tilted her head.
"What's wrong?"
Colbert, who was beside her, asked Kirche.
"No……Don't tell me. Even though this is my girl's instinct"
"Your instincts are pretty accurate. Let's hear it"
Kirche whispered the name she thought of into Colbert's ear.
"How can that be?"
"No……Because, if Louise can do this kind of thing, the other party must be a reliable person, no wonder I can think this up"
After Kirche used the sound of chewing something bitter to point this out, Colbert should not be beginning to think that it is not to be true right? But, it can't be ……
She is also this country's Her Highness the Queen, how could this be possible!
But looking at Saito's popularity that is not completely impossible. Although she is a queen, Henrietta is also just an eighteen year old pretty girl. If she steals the heart of the most popular of knights, we can't blame her.
Also……aren't Louise and Henrietta really close together? If that is the case, why would Louise run away from her home, Saito not mentioning the other party's name can be understood. After all, that name is not easy to say out.
Colbert felt the back of his head breaking out in cold sweat as he realized he might be witnessing a historic scandal.
If this incident is made public, someone will die. This so-called royal scandal cannot be overlooked.
Who is it! Say it! Watching the fired up boys, Colbert pretended to be calm while clapping his hands and saying,
"Ah——everyone. Right now the other party is not important, finding Miss Valliere is our most important task at hand. Don't you think so too?"
Well, that makes sense; the boys nodded and went towards the stables. Guiche was scratching his head while talking to Saito who was dusting dirt off his knees,
"Hey Saito"
"What?"
"We can search for her. If we find her, what do you plan——to do?"
"What do you mean?"
"No, it's nothing. Louise has her own way of thinking. If she says she doesn't want to be with you, what do you plan to do?"
Saito considered this for a while. Then he said in a voice filled with loneliness,
"When that time comes, we'll see. Anyway, I want to see and apologise to her now"
Although Guiche was silent for a moment, he said, with a not interested expression,
"Well, okay"

A change of view, at this time Louise was at修尔毕斯的『陆之白鲸』亭with Jeanette, waiting for her brother. Although『陆之白鲸』亭was not classy, it was also not a cheap inn, it was very suitable for hiding. They rented one of the rooms.
While Louise drank wine, she emptied out all her discontent to Jeanette. Like a burst dam, Louise flooded all her thoughts to her. Jeanette, too, looked happy as she listened to Louise speaking her mind.
"Then? Are you listening, Jeanette?"
Louise's voice had loosened up long ago. In two days' time, with the boost of wine, Louise had exhausted all her tension and suspicion.
"I'm listening"
"That guy, told me in this way. That the one I love is you! Like that! Numerous times! With an expression like this! It obviously is like that! Of all things, he kissed with my close friend, What——is——the meaning of this! Right!"
"Geez, that kind of cheater might as well die"
Jeanette giggled while Louise nodded.
"You also——think this way? A-a-a-about that pervert dog! When f-facing me, p-put on t-this kind of expression, w-wanting to say to do 'It'! Hey…hey!"
Louise was so angry that she choked and thus, coughed straight away.。Jeanette passed a wine bottle to her. After Louise drank finished, her eyes faint, she fell.
After about 5 minutes of being motionless, she suddenly leap up.
"He did the same thing with o-other women~~~~~! He said he would only do that with me! If I think about it now, I would have an earth-shaking headache! That liar~~~~~!"
Then she fell down again. Jeanette got up and took the water jug on the table, pouring the water over Louise's face. Thus, Louise leaped up once more and stared blankly at Jeanette.
"Hey Jeanette, why do I feel like I said a lot of embarrassing stuff"
"You did not" Jeanette's expression was candid.
"Then never mind"
After Louise deeply sighed,
"When are your brothers coming. I'm tired of waiting"
The siblings of Jeanette know a place to "live in seclusion ",so Louise waited. It was almost past two days.
"What's wrong? Let's just wait patiently"
A slightly drunk Louise told Jeanette her doubts truthfully.
"But, why would you be so affectionate to me, who you never met before?"
"Because I like you"
On Jeanette's face appeared a smile. A pretty face like a doll. Also, like a doll, a feeling of coldness ……
Then, Jeanette lifted Louise's chin with her hand.
"Because, you are so cute. Arrogant but easily hurt, as for those pair of straight forward eyes……you're not just cute, you also give people the feeling of wanting to violate you"
"Eh? Eh? Eh?"
Seeing Louise's wide round eyes, Jeanette grabbed a handful of Louise's hair, using it to itch her own nose.
"and this fine……beautiful hair. Just like a doll. A child like you should be called a real maiden"
The person just like a doll should be you, Louise wanted to say ……but she did not say it.
The doubt Louise felt before began to swell.
This girl……is really the girl that has a special interest in other girls foretold in the legend?
Obviously a girl and yet she likes girls. That kind of special character exists, Louise know. In the Magic Academy, such rumors can be heard more than once.
Hence that's why she is so affectionate towards me, isn't that so?
Well, she does not look like a Romalian minion ……the feeling surrounding Jeanette gave people the impression that she puts her faith in god in the furthest position.
Obviously is like that, she also treats me affectionately.
If that is the case……as expected……she is a person with this special interest?
"…………"
Louise looked at Jeanette with squinted eyes. Snow white skin like the dessert during late at night. Those two slender emerald eyes, like a moonlit oasis under the moonlight.
How beautiful, Louise was mesmerized for a moment. So Jeanette put on a serious expression.
"What can I enjoy??"
She asked something. Due to saying out her overly naive "What snacks can I enjoy?" feeling so Louise almost inadvertently nodded her head.
"No! Cannot! What are you saying!"
Jeanette laughed with a 'Hahahahaha!'.
"Ah——what a pity! To you, I would really do it! Well, You really are the type that does not rely on strategies. I like you more and more now"
Looks like she's playing with me. Louise argued,
"I'm naive anyway" she mumbled.
At this moment, there was a knock at the door. Jeanette's expression quickly switched to one that was alert.
"……your brother?"
Jeanette shook her head and without hesitation; put a hand on the wand that was on the pillar.
"We're the country's military patrol! Open the door!"
That voice made Jeanette stole a glance at Louise. Her expression showed that she had woken from her drunken state. With a smile on her lips, Jeanette opened the door.
Standing over there are two nobles with non-commissioned officers identities.
A noble "two groups, huh……" she whispered to herself.
"What's happening?"
Jeanette inquired,
"Nothing much……we are just searching for someone important"
From the wands in their hands, Jeanette guessed they were nobles so she used an elegant conduct to talk to these men.
"Someone important? (There really is discord in a troubled world) "
"Lady, what are you doing here?"
"I am waiting for the arrival of my brothers with my maid"
She said with a pretended expression that she knew nothing. The patrol looked at Louise. Then after comparing with a portrait,
"……in the portrait is a peach blonde haired noble girl"
"And the looks of a person. This lady with the maid"
Based on appearances, they deduce that this person what not what they were searching for.
After the "excuse me" and greetings, the noble patrol left the room. Louise was so assured that she cannot help but sigh.
That's right, those nobles from before were looking for me. Looks like dyeing my hair, doing such a degrading dress-up was not wasted. Sure enough……alas, Henrietta seemingly mobilized the search patrol to look for me.
Thinking this, Louise's built up cold anger began to increase.
If I had known this earlier……why would I think of striking him. At this time, are Henrietta and Saito regretting their actions?
I estimate that they are desperately searching for me, she imagined the two of them. Even so, as expected…… I still don't want to go back.
"Looks like you're not an easy person"
"Huh? What are you talking about?"
Jeanette muttered while playing with Louise's hair.
"You dyed before. The original color, what is it ……blonde? Red? or ……is it peach blonde?"
"……T-that is"
"Those people are looking for you, right? You ought to thank me. I helped you to smooth things over!"
Louise's feelings immediately surfaced on her face, she bit her lip and lowered her head.
"Forget it. Who you are doesn't matter to me. In any case, you escaped. Isn't that good? What I mean is, you need not bother. You don't have to care about what I mean"
She has no idea what to say up to this point. Louise weakly thanked her,
"Thank you"
Looking at such a straightforward Louise, Jeanette smiled.
"Geez, with such a natural girl like you he still cheated, I can't believe that man"
"I say, I'm not natural. Do not look at this, but I am the Vanessa who has experienced a lot of things..."
"I said it before; do not mention those trivial things. But, why do you want to escape? You're such a cute lady; any man will come back soon. Just like just now, didn't he put in a lot of effort in searching for you? "
Louise bent her head, closed her eyes and said in a lonely voice.
"……that person, her charm is better than mine by several times. So I admit it. Also, she has too many enemies. That person……can have many more superb means of protecting him than me"
Jeanette stared at Louise with sympathy.
"You really like him. Exactly what kind of person is he? I am very concerned ..."
Louise grabbed a bottle of wine, and poured its contents into a cup. Listlessly she supported her arm and elbow on the table, muttering
"I don't like him. Really, I don't like him one bit"
Tears welled up in Louise's eyes. Flowing down from the eyes of Louise.
"I don't like him. Don't……"
Jeanette hugged Louise's shoulder as she was sobbing.
"Such a weird child. Why do you have no confidence in yourself? Obviously so cute…and…"
Jeanette's lips neared Louise's neck. Then, she licked gently.
"... With taste I know. You really have an unimaginable power, no wonder I liked you from the start"
However, Jeanette's words did not reach the crying Louise's ears.