Utsuro no Hako:Volume4 Chapter5
From Baka-Tsuki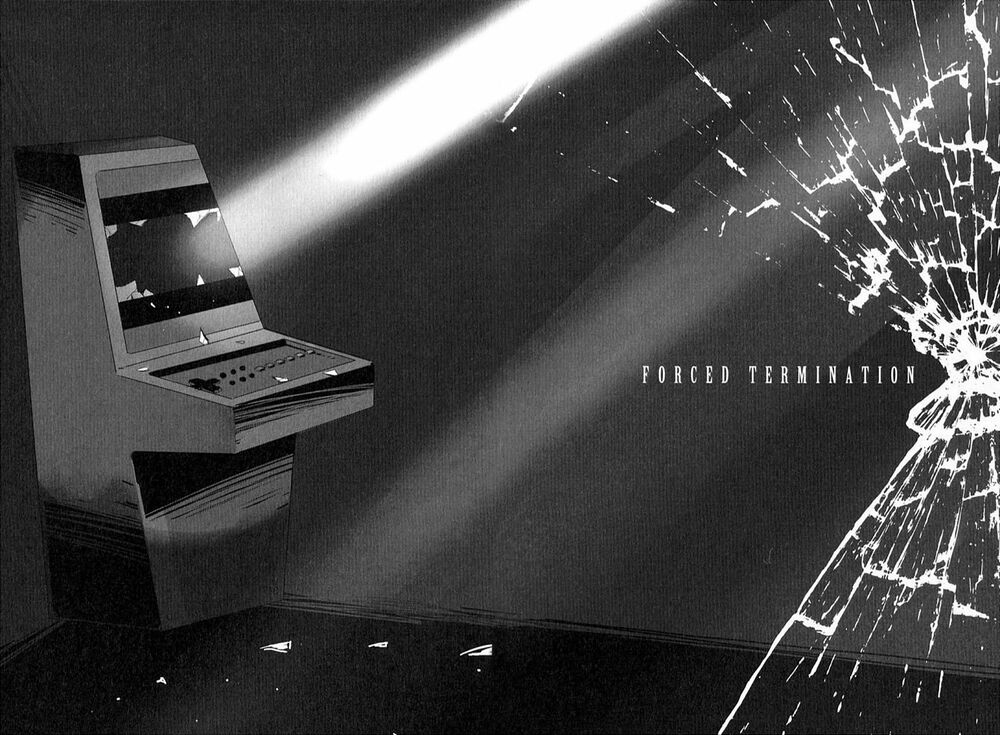 Because it had rained the day before, Koudai Kamiuchi's funeral was held under humid and uncomfortable circumstances.
It was so hot and humid that even the attendees were visibly affected, and seemed more uncomfortable than mournful. They almost seemed to have forgotten that they were there to mourn for the deceased.
There were still many attendees who shed tears at the funeral. From my conversations with them, I got a sense of Kamiuchi-kun's popularity. I only knew his ruthless side, so I was surprised at first. After taking into account his outwardly friendly behavior, I felt a little less surprised.
One young woman, apparently his mother, cried so hard that every last tear in her body seemed to be coming out.
Seeing her was heart-wrenching.
Somewhere deep within my own heart, I wanted to ignore the mourners and ease my own suffering. I wanted to justify his death by telling myself he was a hopeless cause anyway.
But naturally, even a man like Kamiuchi-kun remained dear to some people.
What Daiya and I had done was terrible, and I shared the responsibility for this terrible result as well.
Of course.
Daiya may have strangled him, but I also killed Koudai Kamiuchi.
Kamiuchi-kun's mother kept whispering that it was her fault, though she was clearly not the culprit who had strangled him. She seemed to be trying to curse herself to unhappiness through her frantic claims.
In his funerary portrait, Kamiuchi-kun had slightly narrowed eyes and the corners of his mouth were raised. Regardless, the smile in his photo just didn't seem like a true smile.
Standing next to me, Maria saw the look on my face and asked, "...did you know him?" Without hesitation, I shook my head and answered, "not at all." Maria was very silent and mourned for him sincerely, though she'd barely ever spoken with him. When we went to a café afterwards, she didn't even finish her strawberry tart.
I'm happy that Maria doesn't remember the 'Game of Idleness'. If she did, she would surely feel responsible for his death and blame herself.
--- the 'Game of Idleness', huh.
One could almost think Kamiuchi-kun had mastered his 'box'. But that wasn't the case. Just like Mogi-san and Asami-san, who thought their 'wish' could never come true and hence couldn't truly fulfill their 'wish', he had also failed to truly master his 'box'. One might even say that his was the greatest failure.
After all, the 'wish' behind the 'Game of Idleness' consisted of nothing but resignation.
So, I wonder, what was his true 'wish'?
I've been pondering and pondering... but nothing comes to mind.
I didn't get the chance to truly understand him, so I'll never know.
But after seeing his funeral portrait, I came to a conclusion.
Probably, Kamiuchi-kun was---
Lonely.
✵
The day before summer vacation arrived with Daiya still MIA.
The new murder incident caused another school-wide uproar, but I guess that will cool down by the end of vacation.
This bad aftertaste will probably recur forever in my own mind. I've come to accept it; I gave my tacit approval to this outcome, after all.
Anyway, summer vacation starts tomorrow.
"......alright!"
Let's shake off this melancholic mood!
I ignore the unpleasant feeling of my sweaty skin sticking to my shirt, smile, and enter the classroom.
"......Mh?"
For some reason Kokone is cowering in a corner. She's sitting there embracing her knees and squirms.
...what is she doing there?
"'Morning, Hoshii!"
"Good morning, Haruaki. ...hey, do you know what's up with Kokone?"
"Aah, that's Kiri's usual 'play with me'-illness, so just ignore her! But these annoying vibes you get from seeing her cling to herself in the corner of the room make her seem entirely like that certain black living thing!Let's call her Kirino Cockroane from now on!"
"Who's a cockroach!?"
Ah, she heard everything.
She turns around and scowls at us. Her hairstyle of the day has been involves a hair clip, exposing the nape of her neck. And also---
"Ah, glasses."
She is wearing glasses with a blue frame.
For some reason, Kokone winces at this word and curls up again.
"Usually I use disposable contacts... but I forgot to buy new ones. Hah... glasses don't suit me at all, so I feel so down..."
"...and you're sitting in the corner because of that?"
"Yeah. I don't want to show anyone my face. Uguu."
I think doing that just makes her stand out even more, though.
Well, judging from her expression she seems to be quite serious about not wanting to be seen wearing glasses. Personally, I think that from time to time a pair of glasses is fine too, but I guess that's just the way a woman's heart works?
"Don't worry, they suit you!"
"They don't! Have your eyes rotted?! If your vision's gotten that bad, you should put on some glasses right now, Kazu-kun! Ah, or are your eyes blind with love for me?! Good grief, you little deredere[1] rascal!"
"...no, not at all..."
"How dare you say 'not at all,' you crossdresser! You'd better take an interest in me!"
Isn't that a bit too cruel?! I mean, it's her own fault that she's so depressed in the first place...
"Come on Hoshii, tell her what you're actually thinking straight-out! Tell her that «Not only me, but the entire world population has no interest in you»!"
Haruaki says such unnecessary things...
"Mh! What did you just say, Haru!"
"I stated that neither Hoshii nor anyone else has interest in you."
"Ah, so it was just a roundabout confession."
"......how in the world did you arrive at that kind of conclusion?"
"You just wish it were like that, don't you? The translation of your Tsundere[2]-confession goes like this: «The oh-so popular Kokone-sama must be the center of attention of the entire world... I wish I was the only one that had an interest in her...». Well, it can't be helped. Because of your love, let me present you with a used oil-absorbent paper afterwards! Be sure to treasure it."
"I'll burn that thing with a lighter right away! It'll burn like crazy, after all. Jeez... your self-love sure knows no bounds. I bet even the sound of an opening door sounds like a confession to you, right, Kiri?"
"Well, I can't say you're wrong. Since I'm loved by the entire world, it's not a lie to say that every sound in this world is an expression of love for me! ......Aah, but I'm not loved by the entire world while I'm wearing glasses... at most, I'll only be loved throughout Japan..."
That's more than enough!
"Uuh... why do I have to wear such ugly glasses on the day of Kasumi's visit...?"
"Eh?"
Did she just say something that I wasn't supposed to overhear...?
"Kasumi...? You mean Mogi-san? Is she coming to school today?"
When I ask her this, Kokone makes a face that obviously says «Shit!» and immediately shuts up. She looks away and puts on a wry smile.
"...Ahaah, I would never leak something Kasumi told me to keep quiet about! I wasn't told that «It's going to be a surprise, so please don't tell anyone, Koko-chan»! Err... Kasumi is... Ah, right! Kasumi no Tamoto---in other words it's about a hermit!"
I've never heard of that word before...
"Your vocabulary is quite extensive, isn't it, Kokone? ...by the way, what kind of hermit is that?"
"E-err... a hermit that puts quail eggs on his hand and breaks them with a nunchaku."
What's scary is that such a hermit could even exist...
...anyway. Looks like I have to practice looking surprised.
Still... I'm really happy that I'll see Mogi-san at school today.
✵
Even after the closing ceremony there's still no sign of Mogi-san.
Maybe she'll come right at the end of school so we can hang out afterwards?
While thinking about Mogi-san and idly watching my classmates – noisily jabbering about their plans for the holidays and their grades -- my name was called.
"Kazuki-san."
The call came from Yuuri-san, who was peeking in from the corridor.
When our eyes meet, she smiled broadly. Her cheeks are slightly red, probably because she rushed right over as soon as her homeroom ended.
...I wonder what's up?
As I stand up, that question still floating around in my mind, someone put his hand on my shoulder.
"...Mh? What's wrong, Haruaki? Umm, Yuuri-san is calling me, so I have to go..."
Haruaki nods and smiles.
"Mh mh, I see. You call her «Yuuri-san»."
"...eh?"
"You know... I know that you talk with her from time to time, but how should I put it? This is a critical point."
"Aah... but, listen, Yuuri-san is---"
"As the representative for all the guys in our class, let me state our consensus."
The hand on my shoulder grips me even more tightly.
"Get bent."
He crushes my family jewels between my legs with his left hand.
"GYAAAAH!"
It-It's going to be crushed!
Though I haven't done anything bad!
But then I notice that the cold gazes of my classmates have softened a bit.
...Honestly, I have mixed feelings about what just happened, but I am a little bit relieved. Since that confession incident with Kokone, this kind of topic is pretty dangerous for me. The rest of the class doesn't mind Maria because they recognize that she lives in another dimension, but Yuuri-san... isn't so far out of reach.
Maybe Haruaki did this on purpose to protect me from the envy and hatred of the guys in my class? ...Nahhh, probably not. I mean, it's Haruaki. And he didn't restrain himself. And it really hurts. And it's seriously cruel to do that!
I stagger to the corridor while holding my crotch.
"A-Are you alright?"
Yuuri-san worriedly looks back and forth between my face and my crotch.
"M-Maybe... probably... surely... I should be alright... Err... I'm happy about your concern for my crotch, but what's up?"
Yuuri-san turns red like a tomato.
"'C-Concern for your crotch'... don't say such strange things!"
I didn't!
"U-Umm... there's something I want to discuss with you. Can you accompany me for a moment?"
"Mh... I don't mind, but can't we do it here?"
"No."
A serious subject, I guess....
"Okay. I'll come with you."
"Thank you. Please follow me."
She starts to walk, but because my pain is still intense, I stagger after her. Yuuri-san notices my strange walk right away and stops.
"A-Are you really alright?"
Saying that, she bends down a little and looks at my crotch. No... I don't think you can do anything just by looking...
Then, I notice.
"HII!"
Maria is right there.
Maria probably headed to classroom 2-3 right after homeroom as well.
And now Maria is, fixedly, watching Yuuri-san scrutinize my crotch.
Then, she turns her half-opened eyes to me.
...Oh. Maybe this is quite bad after all...
"D-Don't get it wrong, Maria! Yuuri-san simply worried for me, so..."
"Why are you trying to come up with a strange excuse? I know you well. Most likely you got attacked by Usui because he got jealous after seeing her come to your classroom, right?"
She hit the nail on the head perfectly, almost as if she witnessed it herself, so I nod repeatedly.
"But, with that in mind, let me tell you this..."
Maria says,
"Get unmanned."
WHY!?

Escaping from Maria's cold gaze, we walked to the stairway landing between the third floor and the rooftop.
After confirming that we're alone, Yuuri-san bows deeply.
"Thank you so much."
"Err...?"
What is she thanking me for?
Yuuri-san seems to have noticed my confusion and adds,
"For helping to reconcile me and Iroha."
Aah... that. Well, yeah.
✵

[Kingdom Royale] ended abruptly, like a paper balloon trampled by an elephant. Right afterwards, I found myself in my pajamas on my bed.
The first thing I did was check the time and date. Even though we had spent so much time in the game, only a few hours had passed.
Without wallowing in my complex mix of feelings, I called Maria. I wanted to confirm as soon as possible that she really had no memory of the 'Game of Idleness'.
I immediately realized that she didn't remember anything when she answered the phone with "What is it?" in an unusually deep voice.
I was so relieved that I couldn't respond. Then Maria got angry with me because of my sudden, wordless phone call in the wee hours of the morning. I had to laugh because this was such typical Maria-like behavior, and she got even angrier, again saying, "Why are you laughing on top of making me angry!"
And as soon I confirmed that she had no memories of the 'Game of Idleness', I immediately thought of Yuuri-san and Iroha-san.
I couldn't sleep that night, and looked for them at school the next morning. But I couldn't find them. Both of them had skipped school.
---Maybe they wouldn't come to school anymore.
Because of my concerns, I begged their teachers for their addresses while incurring their suspicions, and was able to visit them.
Their conditions were horrible.
Yuuri-san suddenly started crying in response to the tiniest of matters. Iroha-san punched holes in the walls of her room and randomly started shouting from time to time.
But I somehow managed to assess their current state anyway.
They had forgotten about the existence of the 'box', but they could clearly remember what they had done. They hadn't had a [vicarious experience] of the last game when I was the player, so they couldn't remember. That seemed to be their current state.
Yuuri-san only had memories up until the second game when she deceived everyone. Iroha-san only had memories up until the third game when she killed everyone. Neither of them remembered their reconciliation.
My appearance seemed to make them even more unstable. Well, that was probably inevitable since I must have reminded them of that game.
I also thought that it might be best for me to keep away from them entirely and allow them to recover naturally.
But in the end, that didn't seem right to me either.
I was the only one they could talk to about that incident. Sure, their condition would improve if time passed. But they wouldn't be able to truly recover that way.
I had to make them understand that their actions were inevitable. It was true that they had exposed the ugly sides of their personalities in that game. I could understand why they had trouble forgiving themselves.
But at least I forgave them.
That's for sure.
I kept visiting them for a week. One time, I was about to be chased away by Iroha-san's family, but Iroha-san herself stopped them. Yuuri-san's mother welcomed me, although she didn't understand what was going on.
It was almost completely one-sided, but I kept talking to them. I kept telling them about the last game when I was the player.
I could vaguely feel it:
That as soon their relationship recovered, they would have freed themselves of the 'Game of Idleness'. They would have won against the 'box'.
Therefore, I wanted them to completely rebuild that friendship they had shown me in the last game.
I don't know how much my frequent visits that week helped them, if at all. But they've started to come to school again.
Iroha-san just greets me cursorily when we meet, but Yuuri-san has started to visit me frequently during breaks to chat.
Neither of them believes that they reconciled in the last round.
Fair enough. Unlike the situation in the last round, their relationship was completely destroyed. It's not easy to repair something starting from that point.
But I believe in them nonetheless.
I believe that they can once again trust each other.
After all, I know how dear they are to each other.
✵

"...have you talked to Iroha-san already?"
Yuuri-san shakes her head slowly and bluntly answers, "No."
"...Yeah, I guess it's not easy."
She just smiles at my words.
"I sure envy Otonashi-san."
"...right, because she doesn't remember the game."
"But that's not all," Yuuri-san says with a smile.
"I'm a little jealous because you appreciate her the most, Kazuki-san."
Yuuri-san suddenly starts to cry. It's really sudden, and she can't seem to control her tears either, which further confuses her. Since the end of [Kingdom Royale], Yuuri-san randomly sheds tears as if some internal faucet has been broken. There are no traces left of the girl who used to be a pro at controlling her own tears.
Since I've gotten used to her constant crying jags, I no longer lose my composure in response.
Even as she smiles, Yuuri-san tells me:
"Uhehe, I'm crying again already..."
But there's nothing dark in her expression.
"I really do envy her. Because Otonashi-san is so dear to you, that's also why she has no memories of the game, isn't it? Because you gave your all to protecting Otonashi-san, she didn't have to become a player and get hurt in the process."
"......Maybe."
I guess my efforts weren't futile after all.
"She really is..."
She whispers and flashes a smile while wiping her tears away with a tissue.
I smile as well, relieved by her expression.
"Ah, you're smiling!"
"Mh? ...Well, yeah."
"Because you saw my tears? Umm, you can lick them if you want to, you know?"
...Huh? Did she just say something weird?
"You have a tear-fetish, don't you?"
"......did I ever tell you about that?"
"You did. You said you get sexually aroused by licking people's tears or something like that."
I definitely haven't said anything like that! And where does she get off suddenly talking about sexual arousal?! And what happened to her innocent personality?!
"Tear-fetish, huh. You're quite a pervert, aren't you?♥"
"W-Why are you teasing me even now!?"
"Eh? Don't you have a preference for girls that do with you as they please? Like Otonashi-san."
"That's a terrible misunderstanding! That reputation is always bothering me!"
"So you even have to act like you don't really want it in order to get aroused... this is getting serious..."
"W-What are you talking about?! Your personality wasn't like this before!"
"Mh! I... I know! But what should I do?! I have to practice teasing you!"
Now she's even firing back!
"But it's quite funny to tease you..."
This conversation is definitely going downhill.
"Ahaha. Well, let's move on to the matter I called on you about."
"Eh? Didn't you just want to say thanks?"
Yuuri-san shakes her head charmingly.
"I have a request."
"A request?"
"Yes. I'm still unstable and haven't completely recovered, so I'll be troubled if you stop visiting me from time to time. It would be problematic if you didn't visit anymore once summer vacation starts, so I wanted to request this from you in advance."
"...aah... okay, I'll come visit!"
"Please come alone because we'll talk about that game. You can't bring Otonashi-san with you, okay?"
".........Mh?"
This conversation is somehow moving in a strange direction.
"Ah, one more thing. Yesterday, my mom asked me about you, «Is that boy who visits you all the time your boyfriend?»!"
"......How did you answer?"
"I just giggled embarrassedly «Uhehe»."
"So she's misunderstood for sure!"
"I know?"
"Eeeeeh! What's with that «Please don't state that obvious»-ish answer?!"
Her character has changed too much... or, maybe she just became so frank with me because I've seen her true self in the game...
"...you're quite bold, aren't you, Yuuri-san?"
"Uhehe, did you only now notice? I won't give up so easily, you know? No matter how strongly your feelings are inclined towards Otonashi-san."
"...Umm, I was repeatedly deceived by you, you know? It won't be that easy to mess with me anymore."
"Ahaha, you reap what you sow, I suppose. But there are still ways for me to get what I want, even though you know about my calculating nature. Right now it seems like all my actions are intended to attract you, right?"
Yuuri-san softly touches my hand.
My heart automatically skips a beat from a girl's touch.
"Your heart beats faster although you know of my schemes, doesn't it?"
I hate to admit it, but she's right.
"I will try hard to win you over like this!"
She then brings her mouth to my ear and whispers,
"I'll make you think that my frantic efforts look cute."
As planned by Yuuri-san, my face turns red. Uah... why am I so easy to manipulate...
But I smile wryly.
Looks like she's going to be all right.
Yuuri-san walks away from me and starts to embarrassedly climb down the stairs.
"By the way, it seems that Iroha and that boy have been getting on well together recently! The boy she's always been in love with, that is," Yuuri-san says as she descends.
"...eh? Even though Iroha-san has a lot of other problems on her mind right now?"
"Because of them, actually. Since she's gotten weaker, she doesn't seem so perfect anymore! And that's cute."
Come to think of it, Kamiuchi-kun also said that self-reliant girls aren't cute.
Yuuri-san arrives at the bottom of the staircase and turns around.
"Um, it may have sounded like a joke, but really, come to my house, please. I'll be waiting."
"Okay. Honestly speaking, you've just frightened me a little, but I'll come. After all, I really am worried about you."
"Uhehe... Ah, I'll clear my schedule anytime if you just give me a call, but today I have an important appointment. Sorry."
"Hmm, what kind of appointment?"
Still smiling, Yuuri-san turns her back to me.
"I told you earlier that I haven't talked with Iroha yet, right?"
"Yeah."
"That's true, but actually we sent each other email. Right before I called on you."
I'm surprised.
Does that mean---
Yuuri-san turns around again and says,
"Today I have an appointment with my dear friend."
With a bright smile, she speaks the words I have longed for.
Aah... indeed, she was telling the truth when she said that they haven't talked yet.
✵
By the time I returned to the classroom, covering my grin with my hand, a crowd has formed inside.
Some of them have sparkling eyes, some of them wet eyes, but they are all smiling.
What's up? - I only wonder about that for a second.
---Ah, I see.
I immediately recognize the person in the center.
...geez, if Kokone hadn't said unnecessary things, I would have been able to be deeply moved...
While blaming her in my mind, I make my way through the crowd. An unfamiliar metallic frame and tire tubes come into view. And---
"------"
I take that back.
I'm glad I knew beforehand.
If I had seen her without knowing anything, I might have broken out in tears.
"Mogi-san..."
Mogi-san, in her uniform, is in the classroom.
My voice shakes just by that, even though I've been occasionally visiting her in the hospital.
"Hoshino-kun."
Mogi-san notices and smiles at me.
"Were you discharged already?"
"No, no. I merely got permission to go out. I can't live on my own yet. I was allowed to come after school and was brought to the classroom by my mom. Well, I can't do anything on my own, I guess."
She says that with a smile so that it doesn't sound too depressive.
"But I wanted to meet you even if I had to put myself to some bother."
Kokone grins and asks, "Who does this «you» refer to~?" upon which the flustered Mogi-san raises her voice, "T-To everyone!"
The surrounding students start to laugh just by that.
"What's tha~t, everyone, teasing me although it's been a while. ...ah, Hoshino-kun, let's talk a bit closer."
"While telling us not to tease you, you don't even try to hide your affection, huh."
"S-Shut up, Koko-chan!"
I approach Mogi-san as she told me. I open my mouth, thinking that I have to say something.
"...looks cool."
"Eh?"
"Your wheelchair."
"Why on earth do you tell me your impressions of my wheelchair with that timing? If it's about looks, there's something else you should praise!"
I was rebuked by Mogi-san...
Looks, huh... I look at Mogi-san a bit closer. Apparently she's a bit embarrassed being watched like that, because she blushes slightly.
Come to think of it, her physique has mostly returned to how it used to be.
"You gained weight, didn't you?"
"......I know what you mean, but no girl would be happy about those words, Hoshino-kun!"
The surroundings laugh again.
"Eh, err, what should I say, then...?"
"You ask me... not that I mind... umm, look, how about addressing my clothes?"
"Ah, yeah. Don't worry - I noticed."
"No, that's not what I mean. I was wondering how you like it, seeing it after a long time..."
Her school uniform seems to be brand new. It also looks like the length of her skirt became quite a bit longer. Probably because one could... umm... see it otherwise when she's on the wheelchair.
But what should I say? I can't praise that she's taking care that no one can see her panties, after all.
Mh, well, I'll dodge the question.
"Looks cute!"
"...Eh?"
Mogi-san widens her eyes. ...Huh? That's a different reaction from what I expected. I'll try again, just in case.
"You look cute in uniform!"
Mogi-san blushes to the roots of her hair.
She even averts her gaze and punches me softly.
Uuh...? I guess Maria would just say "So what?", Kokone would throw out her (E-cup) chest pridefully, "Of course!", and my big sis Luu-chan would act like she wouldn't want to know though she asked for it herself. So what is this reaction? That's a new pattern.
Suddenly, Haruaki puts his hand on my shoulder.
"I see. So that's how you do it."
"Huh?"
"Did you hear, my ladies? The trick of this man is to say such things without being embarrassed! Many females, starting with Miss Maria, have fallen for this natural philanderer due to this trick!"
What's with that way of talking.
But for some reason, the male students of my class nod deeply to Haruaki's performance and send me cold glances. What's with you guys, you're scary!
"The philanderer Kazuki Hoshino has to be punished with the maximum penalty! We shall punish you by thrusting socks in your mouth that have been worn by Kiri for a whole three days! This is truly the maximum penalty!"
"How is that a penalty!" Kokone objects. "That's rather a reward!"
"I heard they're deadly, really. And I also heard the theory that the poisonous substance called «trikokonethylene» emerges in the process."
"T-That's not possible. NPO requested my support because they can produce actin with my socks that saves the children in Africa!"
Wow, where is this going?
But my mouth relaxes unintentionally.
Although Mogi-san's sitting in a wheelchair right now, nothing has changed from the time when she used to be here. She's still popular while Kokone and Haruaki still fool around.
It's like I've returned to the past.
"......"
---Like I've returned to the past?
I reflexively look around in the classroom.
Return to the past? Why is that possible?
Something like that shouldn't be possible.
In a classroom without Daiya Oomine, that shouldn't be possible.
I look at Kokone. She is laughing joyfully.
I notice something.
Right.
Maria isn't here, either.
"...Mh? What's wrong, Hoshino-kun?"
...I wonder what this uneasy feeling is.
Unlike Daiya, Maria's merely not here right now. I guess she considered it hard to join our nostalgic conversation and either went back to her own classroom or just went home ahead of us.
That's all. It should be.
And yet I can't get rid of this uneasy feeling. It even gets worse. My chest feels almost as if something seized my heart.
"......Mogi-san."
"Mh?"
"Sorry, but I need to go out for a bit."
"Eh?"
Mogi-san widens her eyes.
"What's up Hoshii, going to take a dump?"
"No! It's just that Maria---"
---I have the feeling that I have to go meet Maria.
But I don't finish my sentence.
Because of Mogi-san.
Because Mogi-san's happy expression has changed into another one.
"...I'm sorry, Mogi-san."
"......Eh? Why do you apologize? Umm... it's not like you're leaving... right?"
"I'm sorry."
"......You know... I'll have to go back to the hospital shortly, so I have no time, you know? Let's be together until then? Please?"
"...I'll come back if possible."
When she hears these words she didn't wish for, her eyes become wet.
"Why?"
She asks in a shaking voice.
"Can't you stay here? You can meet Otonashi-san anytime, can't you? Do you not even see me off, although I went through all this trouble to meet you?"
It's not like I don't feel bad, accused by her sad voice and her expression.
Maria's just not here right now. I just have to hold down my urge to rush to her. There's no need to randomly hurt Mogi-san's feelings.
So can't I just stay here for her?
"------"
But I have decided.
To protect Maria above everything else.
Therefore---
"Sorry!"
I rush out of the classroom.
Ignoring the voice that tries to stop me.
✵

I couldn't reach Maria over the phone.
Maria ignores the school rules and usually comes to school on a motorcycle which she parks somewhere in the vicinity of the school. But her bike was already not there anymore.
Even though she usually waits for me.
After confirming that the bike wasn't there anymore, I immediately proceeded to the station.
While being irritated at the slowness of the train, I realize the origin of my uneasiness.
I'm deceiving Maria. I haven't told her about the 'Game of Idleness' and act as if I didn't know Koudai Kamiuchi.
And I haven't told her that 'O' may have lost his interest in me, either.
Therefore I'm always, unconsciously, thinking this:

Maria might suddenly disappear one day.

Probably, I became unable to suppress this uneasiness when I saw Mogi-san in her uniform.
Back then when Mogi-san was normally in our classroom, Maria wasn't here yet. She wasn't part of my everyday life yet. And that's not all. Just like I have changed due to Koudai Kamiuchi's 'box', Maria has changed due to Kasumi Mogi's 'box'.
Mogi-san and Maria form a set, like the two sides of a coin.
That's why I think like this, without any basis:
By the time Mogi-san returns, Maria might already be gone.
"......"
I shift my thoughts to Daiya and Kokone.
Daiya has disappeared. And yet, Kokone's not worrying about it at all. Daiya should be quite an important person for Kokone, but she just got a bit angry because he suddenly disappeared. That's all.
Why is that?
I try constructing a hypothesis.
---Perhaps, Kokone had a presentiment that Daiya would disappear one day?
Of course I don't think she expected him to disappear like that. She shouldn't know about the 'boxes'.
But maybe she did know that he would remove himself from her?
Maybe she did know Daiya's goal?
Hence, she gave up the thought that he could return so soon.
Because she was already prepared for Daiya to disappear.
I don't know what happened between them. Therefore, it's wrong to think that Kokone's cold for apparently accepting Daiya's disappearance.
But I'm not like Kokone. While knowing Maria's goal, while knowing that she's going to disappear, I won't give up.
I will definitely not let Maria go for her selfish reasons.

I arrive at the apartment complex Maria lives in.
When I try to enter, I immediately remember that one doesn't even get through the entrance as long as the occupant of the room's not here. I can't even arrive at the elevator like this.
What should I do?
I nervously walk about. I exert all the proper reason that's still left in me and take out my mobile phone.
I type in her number by heart and initiate the call. The signal tone sounds. Each time I hear this sound, I pray, «Please answer!»
Then---
«What is it?»
Maria's voice.
"------"
Aah---
Even though I heard her voice just a short while ago, even though it's her usual frank tone, I haven't even the composure to answer her.
«Hey? What's wrong? Are you trying to make a silent phone call though you haven't even hidden your number?»
"T-That's not it!"
I finally manage to speak.
"I'm in front of your apartment complex right now. Can you open the door?"
«What? Well, I don't mind... but why didn't you tell me in adva--- aah, you did. I'm sorry. I didn't notice because I was riding my bike.»
"No problem. Anyway, I'll come up, so please open the door."
«Aah.»
The call gets terminated and the door opens.
I head towards the elevator, almost breaking into a run. I can't calm down even while I'm waiting for the elevator and riding in it.
When I arrive at the fourth floor, I rush to the room with the number «403» even though it's not that far.
I ring the chime upon which the door opens.
Maria's face appears in the gap of the opening door.
Just that is enough.
I rush toward her into the room, already before the door's fully opened.
"...what's wrong, Kazuki?"
Maria is surprised by my strange behavior.
"Maria... why did you go home ahead of me without notice?"
"...I went home early because I feel uneasy around Mogi, of course. Why are you so beside yourself? And why are you so early? Are you alright with not talking a bit longer with Mogi?"
"Yeah, I'm alright with that!"
I say.
"You're the most important to me, Maria."
Maria widens her eyes even more---
But then they become soft again.
"I see."
Then, she gently brushes my head.
"Geez... you've been acting strange recently!"
Maria has noticed my change just a little.
"That's just you."
Therefore, I falsify.
I softly stroke her long hair in return.
But the embarrassed smile she flashes seems lonely to me somehow, which feels mortifying after all.
↑

deredere means "being all lovey dovey about someone."