Utsuro no Hako:Volume3 Round 3
From Baka-Tsuki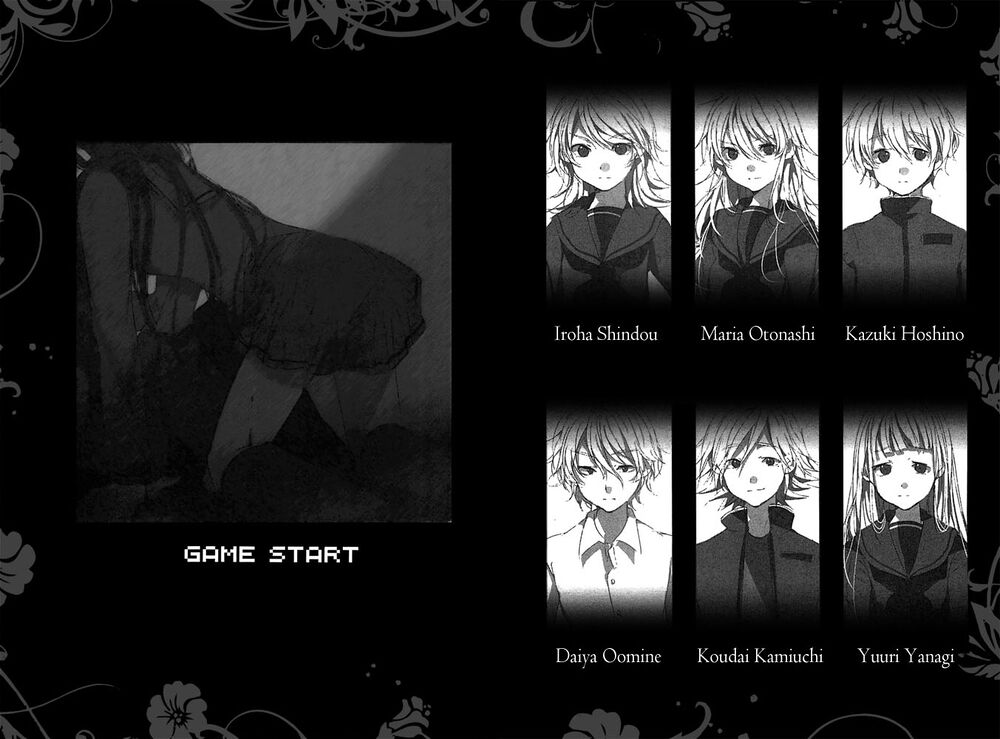 [edit]
▶First Day <B> Big room
I heard that it's a game about killing each other.
I think I also paid an appropriate amount of attention.
But there's no way I could ever deal with something like this! How should I have imagined that I would hit Game Over right away?
The knife found its way into the flesh of my throat. I was thrown down on the floor and could feel that blood was flowing down my neck.
"Stray thoughts."
The girl in front of me opened the mouth on her neat face.
"Stray thoughts arose in me when I noticed it's you, Kazuki-kun. It seems I would actually want to save you. I wonder, does that mean I'm still inexperienced?"
The girl mechanically said incomprehensible stuff, only blinking with her eyes, her empty expression unchanged.
She slightly loosened the pressure of the knife and continued,
"Well, I might as well teach you about me for the sake of your future! I only have time until that asshole Kamiuchi arrives here, so it won't be long. Tch, too bad he's going to live. I would have wanted to kill him the most."
What is that girl talking about...? Who's Kamiuchi? And in the first place, who's she? Why does she know my name?
"I neither have astounding physical abilities, nor do I have an outstanding IQ. I have no photographic memory either, nor do I have synesthesia. I have no evident special abilities at all. So, how can I be what I am?"
The blood-stained girl said, still devoid of any expression,
"It's because I can concentrate."
She continued plainly,
"For example, foot races. At first I erase all stray thoughts. I cut off thoughts like against whom I could win, how my chances are or what I might achieve by winning. Then I do some light analysis from the condition of the ground over the condition of my own body, like my white fibers, to today's perfect running form and make a simulation. While doing the crouch start, I only concentrate on the sound. I erase all stray thoughts and just concentrate on the sound of the starting shot. But at only 340m/s, the speed of sound is slow. As a matter of fact, I start sprinting exactly at the same time the shot resounds, but I mustn't imagine it like that. I try to get ahead of the sound in my mind. Then, I run like I simulated beforehand. I don't need any unnecessary thoughts. That's why I have no memories of the time I was running when the race is over."
After finishing she directed her emotionless eyes towards me.
"Aah, sorry. That turned out to be longer than expected. In short, one can evoke 'extraordinary' abilities if one focuses all energy on just one point. And it's just that I'm good at doing that; I'm no superman. Okay, this information will help you, certainly."
What is she talking about? Is she insane?
I noticed that the back of my head felt wet. While I could conjecture what kind of liquid it was, I was unable to confirm it. ...I didn't want to.
Instead my eyes found something different.
"Uh, aah---"
Maria's collapsed body.
And not only she was lying there collapsed. There were other slumped bodies as well.
"I think I'm a little angry. On one hand at Koudai Kamiuchi's inhumanity, but mainly at that bitch. She deceived me not only in this game, but just as easily in our daily life."
Despite her words, I couldn't see any anger in her face.
"Did you know? Yuuri went out with him, knowing that I had a crush on him. And on top of that, she didn't even like him herself. She did it just to make me suffer. Isn't that cruel? When someone tells you something like that, it's only natural that you can't do anything but leave a dying message."
I had already given up trying to understand her.
"But I think those emotions have no relation to what I'm doing here. Emotions aren't necessary to win this game after all. And well, I had already finished my preparations when the explanation of [Kingdom Royale] ended."
"......preparations?"
"Yeah---The preparations to maintain concentration until I've killed everyone I need to kill in order to win."
Then, without the slightest change in her expression---
---she killed me.
"I'll worry about emotions and regrets after everything's over."
My carotid artery was cut, whereupon my consciousness instantly started to fade.
And in my fading consciousness I had the feeling of hearing someone's wailing. I listened to that voice and finally remembered.
Right, that girl is the student council presi...
- [Kazuki Hoshino], carotid artery cut by [Iroha Shindou], dead
*********** GAME OVER ***********
Winners
[Iroha Shindou] (Player)
[Sorcerer], directly killed Yuuri Yanagi, Maria Otonashi, Daiya Oomine and Kazuki Hoshino on the first day. Alive.
* Victory conditions have been met because she brilliantly managed to survive.
[Koudai Kamiuchi]
[The Double], alive.
* Victory conditions have been met due to Kazuki Hoshino and Maria Otonashi's death.
Losers
[Yuuri Yanagi]
[Knight], carotid artery was cut by Iroha Shindou on the first day, bled to death.
[Daiya Oomine]
[King], carotid artery was cut by Iroha Shindou on the first day, bled to death.
[Kazuki Hoshino]
[Prince], carotid artery was cut by Iroha Shindou on the first day, bled to death.
[Maria Otonashi]
[Revolutionary], carotid artery was cut by Iroha Shindou on the first day, bled to death.