Tsukumodo Antique Shop ~Русский
From Baka-Tsuki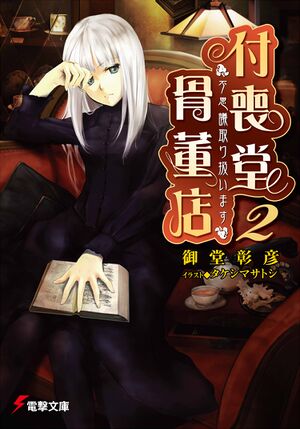 Tsukumodo Antique Shop: We Handle "Mysteriosities" (付喪堂骨董店―"不思議"取り扱います Tsukumodou Kottouten - "Fushigi" Toriatsukaimasu) is a light novel series written by Akihiko Odou and illustrated by Takeshi Masatoshi. The series is finished with 7 volumes.
---
Проект "Антикварный магазин "Тсукумодо"" также можно читать на следующих языках:
(Примечание: каждый перевод идёт с разной скоростью.)
[edit]
Описание
История рассказывает нам про так называемые "Реликты" - таинственные предметы со сверхъестественными свойствами от явно смертельных до обманчиво безвредных - и бедствия, которые они причиняют. Токия Курусу и Саки Маино, оба работающие в Антикварном магазине Тсукумодо (подделки), раз за разом попадают в переделки, связанные с реликтами. Почему их преследуют подобные инциденты и какая их ждет судьба?
[edit]
Работа над проектом
[edit]
Просьба согласовывать правки с переводчиком перед тем, как внести их.
(кликните на синий ник переводчика, потом в левом верхнем углу кликните discussion, затем в правом верхнем углу edit, напишите внизу свою правку и нажмите save edits внизу.)
Каждый переводчик обязан указать все главы, над которыми он работает (или планирует работать в скором времени), на странице регистрации переводчиков данного проекта.
[edit]
Оформление
Каждая глава после редакторских правок должна отвечать общепринятым требованиям, представленным в следующих документах:
[edit]
Новости
15 июля 2012 - завершен пролог 1-го тома
[edit] Антикварный магазин "Тсукумодо", автор оригинала Акихико Одо
Prologue
Silence
Self
Instant of Death
Make-Up
[edit]
Volume 7
[edit]
Участники проекта
[edit]
Переводчики
Активные
[edit]
Корректоры
[edit]
Редакторы
[edit]
Series Overview