Toaru Majutsu no Index:Volume5 Prologue
From Baka-Tsuki
Prologue: Night of Opening. Good_Bye_Yesterday.
August 31, 12:00 AM.
A nosebleed.
It was late at night. Kamijou was holding his nose in the bathtub, which had been drained of it's hot water and wiped clean of every drop of water. The reason for the nosebleed was likely having eaten too many peanuts. Just to be safe, he put away the cellphone he was using at the corner of the tub.
The bathroom was Kamijou's private room, and also his bedroom. Even though he lived in a student dormitory, in the next room, there was another girl who called herself Index.
That resident was the biggest problem for the healthy high school student Kamijou Touma. As a countermeasure against the girl who became a resident there without a care, Kamijou locked himself in the bathroom at night to prevent himself from doing something that shouldn't be done.
What was mentionable was that Kamijou had no idea why he was living together with a girl, as he had lost his memories. To Kamijou, they were living together for some unknown reason.
Normally speaking, in that situation, the one that used a lock was the girl… but whenever Index got to the point where she was in a deep sleep, she would open the lock, and go to Kamijou's side, so there was no point in telling her to lock up.
(Uu… tissue, tissue.)
Kamijou held his nose and opened the door. Index should have been asleep by now. All the lights were off. In the weak moonlight, he could only see the outlines of things.
From somewhere far off—probably outside the dorms—came the sounds of fighting, though it was not very clear when it reached Kamijou's room. Kamijou's attention drifted outside briefly, and then moved back into the room.
The room was very messy. Magazines and manga that were read halfway through were spread all over the floor. The books on the shelves were messily arranged. A dozen wires were plugged into a TV, connecting it to several gaming consoles. On a small glass-surfaced table was a laptop, and on top of that was a plastic bottle containing a half-finished drink.
A bed was next to the wall, and the box of tissues should have been somewhere close to the bed… Kamijou recalled the furniture arrangement and moved across the floor. When he got to the side of the bed, Kamijou's foot crushed something. It felt like a cardboard box. After picking it up, he found it to be a flattened tissue box.
"…Unlucky to the power of twenty. Ah, forget it; even if the tissue's flat, it's still usable."
Even though it would be kind of gross putting tissue that had been stepped on into his nose, he didn't have any other tissues available. Kamijou sighed, took out a tissue from the flattened box, and, after rolling it up, put it into his nose.
At that moment, light came in through the window.
Kamijou's dormitory was only two meters away from the next one; if they turned their lights on, even Kamijou's room would be lit up.
Though the curtains were pulled over the window, they couldn't block all of the light coming in.
The artificial light dimly lit up the room, turning the place where only silhouettes could be seen into one where the color and texture of things could be discerned.
The scene that Kamijou saw gave him some slight breathing problems.
The first thing that came to mind was the slight breathing sounds.
Following the breathing sounds, he saw the girl sleeping peacefully on the bed.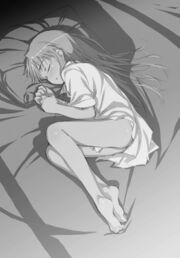 The girl had an age of about fourteen or fifteen, long silver hair, and white skin. She was tiny in stature and light in weight, but her body temperature seemed to be higher than a normal person's. Even though nothing like cosmetics were applied, her skin still gave off a sweet and light aroma—one of her personal traits.
This girl who was wearing only a loose shirt and sleeping soundly was called Index.
He didn't know if it was because she was feeling a bit hot, but the blanket had been kicked off the bed. The girl was sleeping on her side with bent limbs, and she looked like a baby asleep in a mother's lap.
The bed wasn't big to begin with, but for some reason, she was only sleeping in one corner of it.
The remaining space was almost like it had been specially left for someone.
(Uu… it's obvious who that space is for.)
Kamijou's face blushed in the darkness, but he shook his head. Index's casual actions stemmed from her trust in Kamijou—maybe slightly different to actual romantic feelings for Kamijou. The impression she gave people was that of a pure child, without an ounce of adultness in her.
And the one that she trusted wasn't the Kamijou standing here now.
Kamijou Touma lost his memories, but Index didn't know this. In other words, the one she trusted was the Kamijou Touma "before the memory loss", and not the Kamijou Touma "standing here right now".
And so, Kamijou told himself to not misunderstand, that those things didn't exist for his sake. Her defenseless way of sleeping, the thought of wanting to sleep in the same bed as him, the lips that faintly opened with her breath, the small chest that heaved slightly whenever she breathed, the soft snow-white legs that poked out of her loose shirt…
(…Uh… how to say this, yes, I know, this is a bit…)
Kamijou was sweating slightly, and stiffened up. At this time, the regular sound of Index's light snoring stopped. She started to twist and turn on the bed, and her breathing became more focused. And then, the eyes that were closed opened.
"Mm… mm… Touma?"
Index said while rubbing her eyes.
"Ah, sorry, did I wake you?"
"I woke up because it got too bright. Ah, the ones on the other side turned on their lights. Turning on the lights at this time of night, they really don't think of other people—"
Halfway through the sentence, Index suddenly stopped.
Just as Kamijou was getting puzzled, he saw Index starting to check if her clothes were messed up. Then, she held her shoulders while sitting on the bed, staring at Kamijou with a suspicious look.
"Uh, Touma, I have to ask you. What are you doing here?"
"What do you mean 'what am I doing here'? I'm just here to try and stop my nosebleed—"
Halfway through, Kamijou finally realized the current situation.
Index, who had been asleep, was covered only by a loose shirt, and with her legs daringly left out in the open, now found Kamijou with tissues in his nose and other traces of having a nosebleed.
First question: To a girl that just woke up, what would this situation mean?
Kamijou felt sweat unnaturally coming out of his palms. He had a very bad feeling about this. The eyes of the girl on the bed started to show signs of anger, which seemed to prove the bad feeling's accuracy. That was right, he shouldn't misunderstand, her being defenseless was only because of her trust in Kamijou Touma, and not because she was willing to give everything to Kamijou. Going into someone else's bed while half-asleep was on a completely different level compared to giving one's body to someone else while fully aware of things.
"Ah… Oi, oi, Index ojou-sama, don't misunderstand. The old cliché that a nosebleeds means excitement only appears in things like manga. It can't possibly happen in real life, that's only a kind of expression—"
"Touma."
Index cut off Touma's mumble.
Index's face had a first-class expression of danger that looked like something between crying and being angry, and she asked, "Can you swear to our Father in Heaven that you didn't have any thoughts when you saw me sleeping?"
Index stared at Kamijou.
"Uu…" Kamijou panicked slightly inside.
To be honest, Kamijou almost couldn't handle it when he had seen Index's sleeping expression. Index's sleeping expression had been extremely cute, and her pure-white legs had made Kamijou swallow his drool.
But facing this girl who could explode at any time, he couldn't possibly say those things.
The girl had a bad habit, and that was biting people. When she was in a good mood, she would bite lightly on the arms; when in a bad mood, she would bite viciously on the head. Though Kamijou hadn't seen her do the same thing to anyone else aside from him, no matter what, that bad habit had been giving Kamijou a lot of problems. A few of his clothes were already full of holes, and he now had to worry about scalp problems at a young age.
"Touma, can you swear?"
Index asked again, as if to double-check.
As part of the group that was against bad habits like biting people's heads, Kamijou could only pretend in an offhandedly manner and said, "Ha! What are you saying, little lady? Your sleeping expression can't possibly let people have those kinds of thoughts at all—"
Before he could finish, Index brutally rushed in and tackled Kamijou to the ground, then sat on him and began gnawing at Kamijou's head madly.
"'Can't possibly let people have those kinds of thoughts at all'?! I'm still a girl, and you have none of those kinds of thoughts at all!? I still have my pride as a girl!"
The girl said with a fiery aura of anger and tears welling up in her eyes. That attack style of hers, speaking while biting down, made Kamijou feel even more pain.
"Ah! So that's what you meant! I got it wrong! Sorry, Index ojou-sama! Actually, after I, Kamijou Touma, saw your sleeping expression, my heart is pounding madly!"
"Changing your answer now is too late!"
"No matter what I choose, I'd get bitten right? Dammit! Not even the Railgun Mikoto is this violent!"
At this moment, one of Index's eyebrows twitched.
"…Touma, who's this 'Railgun Mikoto'?"
"Ah—" The bad feeling just intensified. "A relative of the deity Izanagi. So? It has a Japanese air to it right?"[1]
"Liar! You're definitely lying! I may not know what a railgun is, but I can tell that it's not something from traditional Japanese culture!"
"Whatever, I forgot how to write the deity Izanagi in kanji anyway! What's wrong with a deity that can use railgun in Japanese folklore anyway—Ouch! Ouch!"
With the ferocious girl straddled on him, Kamijou wanted to escape as soon as possible, but his center of gravity was being restricted and he couldn't move away. Even though the right hand that was the Imagine Breaker had the power to negate any other supernatural power, it was completely useless for that situation, so Kamijou was currently a literal Level 0 esper. Kamijou could only move his head freely. Upon doing so, the tissue that was in his nose flew out of it.
A red liquid shot out from his nose in a torrent.
Maybe it was because she had seen blood that Index finally calmed down. Her eyebrows were slightly raised, and she didn't quite know how to handle it.
"T-Touma, your nose really is bleeding, how did this happen?"
"Ah? It's nothing much, probably just that I ate too many peanuts."
"…I actually lost to peanuts."
The silver-haired, green-eyed sister sat on top of Kamijou, and depressingly lowered her head. After carefully thinking about it, a girl wearing only a shirt and sitting on top of a guy wasn't something that happened in everyday life. Kamijou could feel something very soft on his stomach, but Index was so far gone in her anguish to care about it right now.
"Uu… Touma is actually the kind of guy that gets excited over peanuts. But don't worry, I can still accept Touma being this kind of person."
"Oi, can you please not twist things around like that?" Kamijou sighed and said, "Anyway, please get off me, I want to stop my nosebleed. Or just give me new tissues; I don't want to put the used tissues back into my nose."
"Tissue, tissue… Touma, where is it?"
Index looked left and right but seemed to not see the box of tissues next to her. She sat on top of Kamijou and, tilting her head slightly, thought for a moment.
After a while, she seemed to think of something, and said, "Touma, Touma, this is paper, too."
"Are you kidding me!? Sticking copy paper that hard into my nose will definitely hurt the inside of it. Just move off me, Index, I'll get the tissues—"
Halfway through, the sound was suddenly cut off from Kamijou's mouth.
Wearing a shocked expression, he stared at the words on the paper that Index had passed over.
"Ah… eh? Wait, what does it say on here?"
"Eh? Let me have a look… It says 'Summer Vacation Homework Math Problems'. Touma, can't you read that well?"
Kamijou's thought process completely froze.
That was right, homework. Summer vacation homework. This summer vacation had been very dramatic and fantasy-like for Kamijou to the point where it had been like a show. But of all his memories, not one of them had been dealing with the biggest obstacle: "summer vacation homework"…
With a thud, Kamijou, who still had the girl on top of him, turned his head around. In his sideways view, looking at the clock and calendar on the wall, he could clearly see the time and date.
August 31st, 12:25 in the morning.
There was roughly 24 hours left until the end of summer vacation.
"…Haha, everyone must now think I'd say 'such misfortune', right? But once someone reaches the limit of being unlucky, not even something like that can be said. Haha… hahaha…"
"Touma, why is your tone of speech a bit weird? And who are you talking to?"
References
↑

Izanagi is also known as Izanagi-no-mikoto; Touma is trying to pass it off as something like "Railgun-mikoto".