Toaru Majutsu no Index:Volume5 Chapter3
From Baka-Tsuki
Chapter 3: A Certain Misaka's Final Signal. Tender_or_Sugary.
Part 1
August 31, 5:20 PM.
The research facility Accelerator was entering was rather large.
There were 3 giant warehouse-like buildings in front of him. These buildings were the development facilities of the Sisters, the 20,000 Sisters who had been used in the experiment had all been nurtured here. There was a pile of metal platforms in the buildings, and there were numerous cylindrical plastic capsules that were stacked all the way to the ceiling. The place looked like a library shelf that was stacked with books.
Beside the 3 huge buildings, there was a building that was called a research centre.
It was a 2-storey rectangular metal and concrete building, and it was a lot smaller than the nurturing facility. It was hard to imagine that it was the core of the research centre.
Accelerator was standing in front of the research centre.
There was a visual scanning machine at the door, but Accelerator ignored it. His ID pass should have been ineffective now. Accelerator knocked on the door lightly, and the 'impact' gathered at the door, breaking the metal lock precisely.
"Creak..."
With this light sound, the door slowly opened, like in some sort of old Western style building.
The inside looked more like a computer simulation room than a research centre. A machine was arranged all over the walls and looked like it used a large cooler. It was said to be the latest quantum computer, but nobody could tell that it was just some outdated experimental-use tool. At least it didn't seem like it could replace the 'Tree Diagram's' functions. The numerous screens let out a mysterious light in this windowless room. Large amounts of information continued to be printed out from the printers, and the papers covered the floor. The only thing one could hear was the bellowing of a cooling fan.
Though this room didn't look like it was meant for research, it wasn't that much different. If this was used for an evolution experiment on artificial life or for testing a plane model's air resistance, maybe it was to be expected for them to have such a facility.
A woman was sitting in the middle of the research lab.
Before the 'experiment' ended, there had been 20+ researchers crammed into this room, but everyone had already disappeared. That woman seemed to have understood this, which was why she was not sitting on a chair, but on a table. She was holding papers of information from the printer, and marking them with a red pen. There was no need for courtesy in this room anymore.
"Hm? Ah, you came back, Accelerator. Your ID's still effective for 90 days, so you didn't need to destroy the door."
The woman hadn't noticed that Accelerator had walked into the room, but only lifted up her head and noticed Accelerator once her focus on the information was interrupted.
Yoshikawa Kikyou.
She was already over 25 years old, but she didn't have any makeup on. She was wearing a faded old pair of jeans and a T-shirt that was worn out after it had been washed too many times. Only the white lab coat that was draped over the T-shirt was as fresh and white as a new shirt.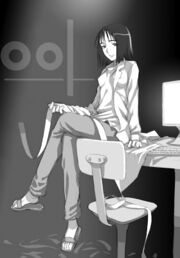 Accelerator stared at the papers in Yoshikawa's hand, and then to the thick stack of papers that were being printed out from the source. A large number of papers were scattered all over the floor.
Right now, the 'experiment' was paused; as this 'experiment' had been planned through the 'Tree Diagram' simulations, right now, people found that the simulations were wrong.
But the 'experiment' was merely paused and not ceased. They could restart the 'experiment' once they found the 'error' in the simulations and corrected it.
However, Accelerator didn't think that they would find that 'error'. The 'Tree Diagram's' method of simulation wasn't especially complicated, but the calculations were really too big. The '1 X 10 = 10' function that humans used would be calculated as '1 + 1 + 1 + 1 + 1 + 1 + 1 + 1 + 1 + 1 = 10' by the machine. To the machine, this may be easier, but to the one who calculated wrongly, this was a nightmare. It was likely that they would need several decades just to look through these vast numbers.
"Such a hardworking person. Is it really interesting to read all these?"
"Not at all. If possible, I really want to ask for your help. Your calculations and analytical ability are rather reliable."
"It shouldn't be good if I know of the contents of the plan, right?"
The main aim of the 'experiment' was to have 20,000 battles, and let Accelerator go through the plan and eliminate the 20,000 enemies. The skills of an esper could increase through battle, and the final aim of the 'experiment' was to use a controlled growth and let Accelerator level up from a Level 5 to a Level 6.
In that situation, if Accelerator knew too much, maybe the battles wouldn't go on according to the 'plan'. Thus, Accelerator had been warned not to touch the data of the 'experiment' if it wasn't necessary.
At this moment, Yoshikawa Kikyou looked up from the pile of data and said,
"Don't worry, I'm not checking the simulation figures of the 'Tree Diagram'."
"What? Do you have enough time to toss the large figures aside and handle everything else? Or have you abandoned the 'experiment'?"
"I suppose when the figures are analyzed completely, you may be at the end of a long life. So as for your question, my answer is a 'yes'. At least for me, the data here is more important than the 'experiment'."
Yoshikawa sounded rather anxious, But Accelerator didn't care at all. Right now, what he wanted was an incubator that could let Last Order develop her incomplete body, all the associated equipment, and the knowledge of how to use them.
He looked around. The folders, notebooks, discs, data reports and the like were all scattered on the floor. It was like a hurricane had just struck, nobody knew what was what anymore.
"Oi, where's the instruction manual to the Sisters adjustments? Physically and mentally...I want to learn how to install the nurturing and learning mechanisms. Also, lend me a working adjustment equipment. Don't ask me why, treat it as a favour because you didn't pay me after the 'experiment' got paused."
Hearing Accelerator say this, Yoshikawa seemed rather shocked.
"Hold on, how did you know about this? Even I only knew of this 3 hours ago."
"What?"
"Isn't it about this?"
Yoshikawa said as she waved the pile of printed papers in her hand.
It was the learning mechanism simulation script.
The Sisters were Misaka Mikoto's clones, made through unique nurturing tools, which needed approximately 14 days. The Sisters couldn't just 'learn' a personality as the time was too short.
Thus, their personalities and knowledge were from so-called learning mechanisms—basically, it was a brainwashing machine that introduced electrical flow into the brain; it was somewhat like inserting data into a hard disk.
In other words, what Yoshikawa was holding was equivalent to that of the Sisters 'Soul Diagram'.
"What are your researching this for?"
"Can't you tell? I'm eliminating errors."
Yoshikawa used the red pen to make marks on the paper and said,
"I only knew of this 3 hours ago, so I haven't finished yet."
Accelerator frowned.
After a while, Yoshikawa's red pen suddenly stopped.
"Right now, I'm picking out errors in the personality files. No, it's more like a human command code, or maybe I should call it a virus."
"...Hold on, what are you saying now?"
"Though not all the Sisters personality files were destroyed, if a Sister loses control, the virus may be spread to the other Sisters, so this is really dangerous."
Yoshikawa shook her head, and said,
"That's right, I haven't mentioned it to you before. The Sisters have a very unique unit called 'Last Order'."
Last Order.
Accelerator had a bad feeling about this, as if an electrical surge occurred in the back of his brain.
"What did you say...that brat is?"
"You just called her 'brat', seems like you met her before...so this means that the child never left this city?"
Yoshikawa twirled the red pen and said, "Alright, I'll spill out all the information regarding Last Order and the current situation to you. You may have heard about some of these. These things are important, so listen carefully."
After saying this, Yoshikawa got off the table and sat on the chair. She pointed at a chair for Accelerator to sit down, but Accelerator ignored it.
Accelerator didn't like Yoshikawa's style of doing things; it was as if she was a teacher in an ordinary world.
"In fact, that child wasn't created for the 'experiment'. Do you know that?"
"What did you say? I thought that those were inferior clones of the Railgun that were meant for me to kill them."
"That's right, but do you remember how many battles are required for the 'experiment'?"
"20,000, isn't it? I always wondered why the number is so exact—"
After saying this, Accelerator suddenly noticed the problem.
"That's right. That child's serial number is 20,001. Seems like you know this; the child isn't a unit that's to be used in the 'experiment'. Basically, she's a failsafe."
Yoshikawa sighed, and then said,
"Think about it. We created 20,000 espers. What if they revolt against us? We don't even have 20 workers, can we even handle them?"
"So that brat is your trump card? What is she? Some artificial Level 5?"
"We couldn't create that thing, and even if we did so, it's meaningless. Wouldn't it be useless if an artificial Level 5 joins in the revolt as well? Since she's a failsafe, we had to have a system of more trustworthiness to allow us researchers with zero attack to handle them."
"?"
"Have you heard of the Misaka Network?"
Accelerator frowned. If he remembered correctly, it referred to the phenomenon of linking all the Sisters through brainwaves. The Misaka Network itself had a large hive mind that could control every single 'Misaka'.
"Last Order is the opposite of the other Sisters. We just need to insert a special code in her to take control of the Misaka Network. In other words, it means that if an emergency occurs, we can handle 20,000 Misaka's by giving a stop signal to prevent them from betraying us."
"So it's like...a breathing keyboard?"
Accelerator wondered. Though it was cruel, it was basically how the researchers here did things. Even if it was the other Sisters, they were basically human-shaped targets that were abandoned.
It was no wonder that Last Order felt somewhat different from the others. So her body and mind were deliberately maintained at an immature stage.
"So what's with the error on that brat? You just called it a virus, didn't you?"
"After the 'experiment' ended, Last Order was still secretly kept within this incubator. A week ago, we suddenly detected that her brainwaves became abnormal, but once we hurried down and opened the warehouse, that child was gone. It was damaged from the inside.
Yoshikawa stroked the printed pages with her fingertips.
"At that moment, we didn't really know what was going on, so we just treated it as if she went berserk due to reasons unknown. The workers inside are in charge of looking for her."
"What? You haven't sought out Anti-Skill or Judgement yet?"
"We couldn't. Although we've gotten permission from the higher-ups, the 'experiment' still isn't something we can openly declare.
"So you just let her continue to run till today? An entire week? Don't you people lack a sense of danger? Isn't that brat the one controlling 10,000 Sisters?"
"It's because we were overconfident in our system that we were too careless. We never expected for her to escape. Besides, that child shouldn't be able to survive outside the incubator, and we really underestimated the seriousness of this situation...really, that child actually managed to live past 7 days, and that's already unexpected. We shouldn't have made her that sturdy...maybe it's because we unknowingly put all our feelings into her?"
Hearing this, Accelerator smirked.
Yoshikawa didn't seem to notice his expression.
"Thinking about it, this should be a self-defense mechanism on the child's part. Someone inserted some malicious process into Last Order's brain and caused her to leave the facility to protect herself. I suppose that child probably didn't know why she had to leave."
Even Yoshikawa herself had only realised this 3 hours ago.
At first, Yoshikawa had wanted to call up all the researchers and come up with a countermeasure, but she hadn't been able to get even one. It seemed like the researchers didn't want to admit the fact that they had been involved in this project.
"But that brat doesn't seem like she intended to escape. She even came to me for help and wanted me to contact the researchers."
"What did you say? Hold on, when did you last see her? How many hours ago? Also, why did she ask you?"
"Didn't I say that already? She pestered me. To be honest, no matter how much she begs or cries in front of me, do you think that I would automatically talk to her?"
"...What's going on?"
Yoshikawa put her hand on her forehead as she wondered and sunk into deep thought. Maybe it was because her brain was spinning so fast that her face looked as immobile as a statue.
"That malicious process you just talked about is—ah, I know it's something bad even without asking. Seeing how you're talking about this, that brat should be the administrator of all the Sisters."
Accelerator recalled the conversation at the restaurant.
—"The relationship between the brainwaves link and the 'Misaka' unit is like a sudden nerve touch and a brain cell."
"That's right. I printed out all her personality files in order to find the reason why she escaped and the destination. But looking closely, there are codes jumbled up all over the place. I managed to find a few, but these malicious codes have some fake codes scattered all around, so it's really hard to remove them. And as for these malicious codes..."
"What's in it?"
"I haven't analyzed it completely, so I can't be sure, but if I go by my hypothesis, the symptoms indicate that they will end up attacking any human without discrimination."
Yoshikawa paused, and then continued,
"I found the virus activation time, 01 September 00 hour 00 minute 00 second. When it's time, the virus will start to activate the system, and it will be complete 10 minutes later. The virus will be spread to the Sisters through the Misaka Network and cause them to go berserk. At that point, nobody can stop them. Though those children can't go up against you, they can easily wield a Metal Eater. Also, they have 10,000, so the number can't be underestimated."
"...Oi, this means..."
"That's right, it's exactly what you think."
Yoshikawa said with a stiff voice. She was not calm; her thoughts had already ceased.
Accelerator was now grasping the meaning behind Yoshikawa's words.
Right now, about 10,000 Sisters had been sent 'outside' Academy City—all over the world to have body adjustments. Considering the time and distance, it was impossible to use all the espers in Academy City and defense forces Anti-Skill or Judgement to stop them.

The Sisters that went berserk and attacked others would most likely have to be dealt with by the people of the outside world. And it would be impossible to cover up a terrorist attack that involved 10,000 espers attacking at the same time. Then, if they found out that these espers who had launched the terrorist attacks were clones, there would be a lot more problems. Even if a few of the Sisters were able to escape by a miracle, they would be mercilessly dealt with on the basis of being a dangerous threat.
As all the organizations all over the world 'outside' Academy City were helping them in the adjustments, this would drastically decrease their impression of Academy City. This was a scandal of 10,000 clones revolting. If such a thing ended up causing Academy City to lose the support of the outside world, no matter how big Academy City was, it wouldn't be able to survive on its own.
As for what would happen next, nobody could guess.
Maybe Academy City would dissolve, and the researchers who lost their jobs would bring this unknown technology to all the military institutes in other countries. Or maybe Academy City would be afraid that it would be dissolved and start a worldwide invasion with their latest weapons and espers.
No matter the outcome, it would cause a severe tip in the balance of world power and create a worldwide terror. In the worst case scenario, it could lead to war, and not simply a war between Academy City and the rest of world. It wouldn't be just a small shift, but a worldwide loss of balance. It would cause all the minor differences in the countries, races, religions, and thoughts to be a decisive trigger for a war and the map would be tattered, like a whole puzzle dropped onto the floor.
The end of the world.
Accelerator understood what these words meant. Because he also had 'the power to destroy the world', he understood it better than others.
No matter how the world was destroyed, Accelerator may have been able to survive. Even if the centre of the world was distorted, he could still remain unharmed on a street when the walls crumble around him.
But that was a world of nothing. No convenience store, no electricity, not even a can of coffee. He could only hunt or pick fruits, put it over a fire and live a primitive life. No, if they used a nuclear missile, maybe even plants and animals would be extinct. If that happens, he could only eat dirt to survive. At that point, he would regret that he was too strong and couldn't die. The limit of being too powerful was that he would become the lowest tier in the food chain.
Humans created civilizations. If there weren't any humans, civilizations wouldn't exist.
That was how the so-called zen was achieved.
"Ha! How interesting, way too interesting! To think that I will get involved with the end of the world. I've always thought that that was my mission."
Accelerator sneered and said,
"Oh yeah, it's not too late to send out Anti-Skill and Judgement now, right? Though this city is big, it's still a sealed one. They'll definitely find Last Order through a human wave tactic throughout every single inch of land. Besides, that brat isn't wary at all. She just followed me onto the streets and went to eat."
"I said it before. We can't call the cops. Think of what we did. Though the higher-ups did agree to our 'experiment', it doesn't mean that we can reveal the 'experiment' so openly. And also--"

"Also what?"
"In the end, this method won't be able to save the Sisters. If Last Order is caught and brought by people not involved in this, the fact that '20,000 Sisters may potentially go berserk' will be exposed. This reason will be more than enough to let them get punished."
"But you can't even catch that brat, right?"
"I can't talk back about that. Though that child doesn't have the instincts to run for her life, but her basic movements are based on the 'experimental extermination plan' in the Misaka Network. That child is basically living a street urchin's life, not using money and ID at all, so she won't leave any trace behind. There are blind spots on the satellite cameras as well, and if she can avoid the security robots' cameras, she won't be caught. Oh yeah, how long has it been since you last separated from the child? Have the other organizations realised this? In this situation, it will be troublesome if she gets kidnapped."
Her words seemed to imply that Yoshikawa was concerned about her own welfare, but she also did sound like she was really worried for Last Order's safety.
On seeing Yoshikawa like this, Accelerator slid his tongue 'tch'.
Among the researchers, she was one of the most naive. It was impossible to identify one Sister from another since they have the same genes, but she had still insisted on remembering every Sister's face. She had also tried to give each Sister an individual name other than their serial number.
But in the end, she was just naive, not kind. If she were kind, she would have stepped up to argue against the 'experiment'. That was right, like that boy and girl.
Yoshikawa didn't seem to notice Accelerator staring at her.
"However, it seems like this subconscious command to 'escape' is only against us 'researchers'. It seems like she's not wary against you...yes, if we can use that, maybe we have a chance of salvaging this."
The last sentences seemed to be some random muttering to herself, but it had reached Accelerator's ears clearly, causing him to frown. He didn't want to become a pawn of the researchers, so he immediately diverted the question.
"Oh yeah, you just said that it's a virus? Not an error? Is this some trigger set up by a secret agent sent by a warmonger? Or is this some smart move set up by a failing war factory that wants to pump itself back?"
"Amai Ao."
Yoshikawa just simply answered this question from Accelerator
Accelerator frowned. He did see that person when he went to eat at the restaurant with Last Order. But if the culprit was really Amai Ao, why would he still appear in Academy City? It had been a week since the incident happened, and logically, he should be 'outside' Academy City...
At this moment, Yoshikawa continued,
"After that incident, he's the only researcher who's still missing. We only received an email from him stating that he wanted to take a vacation."
"Just because of that?"
Accelerator looked around the entire room.
Most likely, only the weirdest of the weirdos would continue to come to work at a company that wouldn't pay money. Accelerators felt that it was not shocking for Amai to run to other organizations to promote himself or become a cashier at a convenience store, since pretty much everyone else was doing the same thing.
Seeing the suspicion in Accelerator's eyes, Yoshikawa explained,
"He was the superintendent of the First Production Plan that got bottlenecked, and joined us in the 'experiment' by deciding to use the Sisters as the experimental substitutes. His speciality is the writing of the self-learning personality files. Basically, he's the one that understands the Sisters' personalities best. In terms of the structure, there's basically no one that can sneak new codes into those children's brains. Besides, before he left, someone witnessed him installing a self-learning installation. But for some reason, he deleted the user history."
"Hasn't he revealed too much already? And why is he so kind to set the activation day as today? If he really wanted the end of the world, why can't he just let the virus activate once he installs it? Is there a need for him to wait for a week?"
"I suppose you shouldn't ask me, but him, right? But if I have to make a guess,"
Yoshikawa sighed,
"Perhaps he's waiting for the Sisters to mix into the environments of the 'outside' as they wait for their adjustments. In order to create a natural scenario of them 'going berserk after being peaceful', he has to allow the thought of 'the Sisters are reliable' sink into the people around them."
Accelerator remained silent for a while.
He then decided on what to do next.
"Alright, what do you want to do next? How do we prevent the virus from activating in the brat's brain?"
"I'm researching on that now."
Yoshikawa looked really anxious, causing Accelerator to bend down. With a self-learning device, they could modify Last Order's brain at will. The problem was that there was not much time till the virus activated. She had to find a way to override the virus, find Last Order and insert the code into her brain--to be honest, there's less than 50% chance of that happening.
If so, what should they do?
The answer was simple. If they couldn't find a way to solve this before the last moments, they could only 'eliminate' the infected unit to prevent the rest from getting infected. When that happens, the 9,969 Sisters 'outside' wouldn't be affected by the virus and would continue to live ordinary lives.
They would just need to sacrifice one.
As something was wrong, they could chuck her into the dustbin and erase her.
"...That's why I'm trying not to let that happen. Of course, you can help as well."
Yoshikawa seemed to understand what Accelerator was thinking in his silence.
"Who the hell do you think you're talking to? I'm the guy who killed 10,000 of that brat's companions. How can a bad guy like me save others? I can only kill, I can't save others."
"My answer is that, we're the ones who arranged for that 'experiment'. It's true that you killed more than 10,000 Sisters. But if we could have found a way 'not to kill the Sisters and still upgrade you to a Level 6', I believe you wouldn't have killed them.
"Do you think that I will trust you just because of those words?"
"I can't stop you if you don't want to do it. You can use the remaining time to do your own things, but you better pray that she dies before the virus activates."
"..."
Accelerator stared at Yoshikawa.
Without changing her expression, she continued to sit in front of Accelerator.
She maintained a straight face and continued,
"I alone can't catch that child. That child has the movement characteristic of 'running away from the researchers without knowing it', and she can detect the weak electromagnetic waves that we researchers give off. Even if we don't appear in front of her, she will run away when she senses it. On the other hand, if we can overcome that, we might be able to get close to her...but the problem is that I can't track her down while decoding the virus. But with you here, the situation is different. If we work together, we may be able to salvage this."
"...Damn you."
Accelerator narrowed his eyes slightly and sunk into silence. This woman was just that irritating. Anyway, she was too naive. She lacked the strength to take up large responsibilities, so her naivety would never grow into kindness.
Compared to the reason that '10,000 Sisters would revolt', the seriousness of which could never be fully realized, the reason that 'Last Order would die' was simple and easy to feel, and therefore much more likely to affect Accelerator. Accelerator was inadvertently amazed by Yoshikawa's psychological tactic. However, though his aim was to bring peace, the method couldn't be called 'kind'.
Yoshikawa held up 2 envelopes, each large enough to hold a large notebook.
"You can help me in 2 ways. The first way is to get Amai Ao out from his hiding place in Academy City and force him to explain the workings of the virus. The other way is to protect Last Order while the virus is still dormant in her. You can choose one. But perhaps you're better at destroying than protecting."
The envelopes slid across the table and stopped in front of Accelerator. Both of them weren't sealed, and their contents spilled out.
--A few photos slid out of the left envelope. They seemed to be taken from a highway speed camera. Among the photos, Amai was sitting in the driver seat of a low framed sports car. There was also a map with red markings all over it.
It seem like Yoshikawa had used all sorts of security facilities to investigate all of Amai Ao's possible hiding spots and movements. She had so much information, yet she couldn't capture him. Either it was because there was not enough manpower, or maybe Amai was too quick in changing hiding places.
--What dropped out from the other envelope on the right was a disk and super-light notepad-sized computer. There was a label on the disk, with the words 'serial 20,001 personality info/before infection' written on it. Maybe too much paper would be used up if she tried to print it.
This envelope contained all of Last Order's personality files. One could predict where she was going to run to through her interests, habits, thoughts, initiatives and actions, track her down and ambush her. However, with how she had looked in the restaurant, Last Order shouldn't be able to move on her own.
"Oi, you just said that you couldn't capture Last Order on your own, right?"
"Yeah. She seems to be moving according to the hiding guideline of the 'experiment' without knowing it. Besides, I'm alone in this, and I can't do all of these."
"But wasn't Amai the one who created these personality files? Since he's a qualified expert, he should be rather skilled in them, right?"
"Knowledge and skills can't be mentioned together. It seemed like he did try to hide himself, but his methods weren't refined enough, so I managed to get a trace of him. But the Sisters are different. They can process all the knowledge in their brains as skills, so Last Order's whereabouts are harder to trace than Amai's. Besides, money flow is another reason. Amai will leave a record once he buys something, but that child can completely disappear on the streets. It should be obvious which one is easier to track down."
"..."
It was obvious which one was more suited for Accelerator.
Accelerator's power was more suited to destroying than protecting others. No, perhaps this wasn't of a technical or theoretical problem now.
"Ah, it's here, finally here, Misaka points at the waitress with her finger. Wah, Misaka as Misaka's food is here."
He couldn't protect others. He didn't know how to protect others. He couldn't even imagine himself saving others through his power.
"Ohh, this is the first time Misaka's eating such a hot meal, Misaka as Misaka feels really excited. This is great, the entire plate is giving off hot air, Misaka as Misaka continues to stare at it."
This was no longer of reasoning, but concepts. His power couldn't save anyone. The world he belonged to wouldn't allow him to save anyone.
"But it's Misaka's first time to be eating with someone, Misaka as Misaka answers. Misaka as Misaka recalls that everyone should say 'itadakimasu' before everyone starts eating, and Misaka wants to try that, Misaka as Misaka tries to mention what she wishes for."
If he just used his power to save someone for once, the common knowledge about him would collapse. 'Accelerator' would no longer exist. The Accelerator who saved others wouldn't be Accelerator at all. One could even say that he got replaced by someone else.
"Yeah, that's right. Anyone can tell which side I will choose."
Accelerator continued to mutter to himself.
He was not that boy or that girl. There were many others who were more suited to be a saviour than him. And unexpectedly, the seats over there were taken, there was no way in.
His power wasn't suited to save others.
His power was only suited to kill others.
Accelerator's mind immediately thought of a certain person's face.
"Humph, laugh at me now, damned brat. I can only choose this side!"
Then, he needed to make a decision. He had to abandon one of the envelopes. Accelerator seemed to give up on struggling as he picked up one.
He took the right one.
The one that had the personality files disks and the notepad-sized computer.
He decided to save that man-made girl called Last Order.
From that moment on, Accelerator was no longer Accelerator.
He stepped up to protect others. He took action to help others. He was going all out to save others. The term 'unsuitable' didn't even describe him now. Anyone who understood him and saw this would think that something was wrong with him, or even declare that 'the Accelerator who says this is definitely a fake'.
His choice was this unbelievable.
One could even say that he had lost all reason to exist as Accelerator.
The boy who was no longer anyone weakly mocked himself,
"If you want to laugh, go ahead. Seems like at this point, I should hope for redemption."
"Alright, then I'll laugh for you then."
Yoshikawa stared at the boy as she said this,
"Seem like it's really worth celebrating that you still have such feelings remaining in you. Go ahead and prove that your power can be used to save those precious to you."
Accelerator didn't answer. He took the envelope with the disk inside and turned to head out the door. "That's why I hate this naïve woman," he muttered. Then, he said to Yoshikawa.
"Since I agreed to help you researchers, you have to prepare a satisfying reward for me."
"No problems. I'll take care of that child's body adjustments."
Yoshikawa Kikyou answered. Without saying anything further, the boy left the research facility.
Part 2
August 31st 6:00pm.
In the empty research lab, Yoshikawa Kikyou heaved a sigh of relief.
Accelerator appearing there at this critical moment could be said to be a miracle in itself. In fact, if he hadn't appeared, Academy City would have inevitably ended up being dissolved.
Since Accelerator had chosen to save Last Order, the objective that Yoshikawa had was to 'fish out Amai and force him to explain the way to remove the virus'. However, she chose to stay there. Instead of going about running when she was not used to it, she might as well try to decode it herself.
However,
The virus code had numerous traces in the vast personality files, and it was not an easy thing to find them all. Besides, if she accidentally deleted the normal processes, problems would occur. If it was just a memory code, then it would just be a loss of memory. However, if it was a nerve code type that was damaged, then Last Order would lose her life.
"...Ho."
Yoshikawa picked her face up from the stack of research papers. Though she had said it easily in front of Accelerator, it was not an easy thing to readjust Last Order's body. The problem wasn't the technique, but Yoshikawa herself.
The 'experiment' of the research group was just in stasis, not terminated permanently. In other words, they had to prepare to start the 'experiment' when it happened again. For the researchers, letting Last Order, the core controller of the Sisters, go free was not allowed. Once she did this selfish act, she would have to bear the responsibility.
Yoshikawa was just naïve, not kind.
For example, when the 'experiment' had been at it's end, the 10,000 Sisters had joined forces to manipulate the electric wind turbines all over Academy City and stop Accelerator's attack. If she had used Last Order to send a stop signal through the Misaka Network, she could have prevented the Sisters from taking action. But she hadn't done so.
However, it was not because she hoped they would continue to live on, Yoshikawa merely didn't have a reason to stop them. Her motivation wasn't of 'kindness', she was just afraid that if she stepped up to interfere with the Sisters in the experiment, she would cause irreversible damage to the experiment itself. In other words, she was just naively thinking for herself.
"However."
Yoshikawa Kikyou made up her mind.
Accelerator had given up his reason to exist in order to save others. That must have been quite the shock to him. 'Saving others with one's own power' may have been a simple thing, but that was the goal that he had already given up on. He originally intended to mock himself for 'only knowing how to kill others' and find a haven for himself by treating himself as a guy that was too late to be saved.
If the Accelerator now knew that he could have used his own power to protect others.
He would be really regretful about this.
Because the deaths of those people who he had defeated in the past were too meaningless.
He would regret not being able to save those people earlier.
But now, Accelerator had decided to face this truth and save a girl. Yoshikawa didn't dare to trample on his intentions. Even if he realised it, it was too late; even if he couldn't turn back now, Yoshikawa couldn't trample on his feelings.
"In the end, I'm just naïve, not kind."
She muttered to herself. That was right, if she was really a kind person, she wouldn't have asked Accelerator for help and caused Accelerator so much pain. A really kind person wouldn't rely on Accelerator, but would have chosen to settle this alone. Even so, that would cause her to sink into a deeper problem.
But Yoshikawa really hated the naïve her.
In her lifetime, she really wished to be kind for once.
"Seems like it's time for me to eliminate myself."
Yoshikawa sighed again. She took the pile of data papers and started to prepare the readjustments of Last Order's body. This risky act of saving others wasn't something the naïve yet unkind her would do. In fact, she would always feel pity for stray cats who were drenched in the rain, but she never took them back.
She hated herself for this.
Just once, she hoped to do something she never ever did.
Part 3
August 31st 6:15pm
He recalled something that happened a long, long time back.
This person called Accelerator used to have a normal name. 2 Japanese characters for his family name, 3 Japanese characters for his own name. It was a very Japanese name, a very ordinary name.
He hadn't always been the strongest in Academy City.
At first, everyone thought that he was just stronger than those around him.
However, when it rained, it poured.
And to him, the greatest calamity was that his power was a lot stronger than what he had thought.
The youths of the same age who rushed at him had their bones fractured on a single touch.
The teachers came to stop him, and their bones got broken as well.
The adults came over to surround him, and they were eliminated as well. In the end, Anti-Skill and Judgement, as if they were facing off against a bank robber, launched attack after attack at this boy who was only 10 years old with all sorts of powers and new-age weapons. However, these people were eliminated as well.
And he only felt fear.
Fearing that he would be violently treated, he frantically waved his hands about.
For a 10 year old child, this was a response that was to be expected.
However, it ended up like this.
The unmanned and windowless assault helicopters flew about in the air, and the armoured Anti-Skill reinforcements that looked like robots held their ground in order to protect their wounded comrades. It was like a scene in a monster movie shown on the television, except that he was the ugly monster that everyone so feared.
Thus he realised it. His young heart realised it. If he used his fingertip to touch, others will get hurt; if he felt irritated about something, people may die. This commotion would snowball until he ended up fighting against Academy City, the world, and then everything would be destroyed.
In order to prevent 'elimination', he had to seal his 'feelings' in his heart and not show them. Bad emotions were dangerous, and good emotions could bring jealously and bring about attacks.
The way to prevent hurting others was to prevent himself from being moved by anything. If he felt irritated, others may die, so he couldn't let his feelings show. Only when he was like an ice person could he prevent himself from losing control of his powers and endangering others.
But at that moment, the young child made a grave mistake.
It was because his method made him so cold that he became someone 'who doesn't care about whether others are dead or alive', a person who wouldn't grumble no matter how others treated him, a person who seemed uninterested in other people's lives.
Without realising this mistake, he chose his own path.
Just like that, he barely managed to prevent 'elimination'.
He, who lost interest in others, ended up surrendering fairly easily, resulting in him to be locked in a cell called the special class. However, a gear in a person's heart couldn't be stopped easily. As he continued to waver about without having any determination like a squid, he managed to come up with a solution.
Since he couldn't quarrel with others easily, he should just create an environment where there wouldn't be quarrels.
He just needed to be extremely strong and make others think that fighting with him was a stupid thing to do.
He needed to be not just the 'strongest', but 'invincible'.
Maybe this would prevent others from getting him, and prevent himself from feeling fearful. He would be recognized by others. That was what his weary heart yearned for.
He never realised that such a thought would end up hurting so many people in the days ahead.
"Such stupidity..."
After walking out of the research facility, Accelerator ignored the personality files disk and ran off to the restaurant where he had left Last Order. Though it had been a few hours, he felt that Last Order shouldn't be able to move.
He was running madly on the street.
The fragments of his memory that still remained there stubbornly continued to run.
That was right. He was recognized.
Even though he didn't become 'invincible', even though he was not the 'strongest'.
That girl recognized him.
It was true that this may be too late. Maybe it was too late to want to change anything now. However, he did get recognition. The girl treated him like a human, with a normal, fearless, equal standing attitude.
No matter what, he didn't want to lose a certain feeling in his heart.
And this feeling of not wanting to lose anything delighted him all the more.
It seemed like something was starting to change.
It seemed like something was hoping that it would change.
Even if he knew that it was too late, he didn't care.
Part 4
August 31, 6:32pm
Accelerator was running on the street.
It took him quite some time to walk from the restaurant to the research facility. And since he had spent quite a while talking to Yoshikawa Kikyou, the sky was now getting darker.
As he was running, Accelerator noticed all the sounds around him. For some reason, there were many Anti-Skill members around. Listening to them closely, it seemed like an intruder had forced his way through Academy City's safety net.
(Is this person related to Amai Ao? If so, did someone 'outside' request him to insert the virus into Last Order? Is that Amai really intending to escape 'outside'?)
Running at a speed faster than an ordinary car, Accelerator continued to think.
(No, if that intruder's aim is to help Amai escape, he shouldn't have created such a large commotion and caused Academy City to be on their guard. So it seems like they're completely unrelated, it's really dangerous to make such a conclusion.)
No matter what the truth was. Right now, it was more important to look for Last Order than to find Amai Ao. As for that intruder, since he didn't know whether he was related, it was better to leave it as it was.
Thinking about this, he saw the restaurant where he had separated from Last Order.
(Damn it, I should have brought that brat over to the research facility!)
The reason why he hadn't done so was because he hadn't known how they would treat Last Order. He had been afraid that she would get 'punished' by the research facility, which was why he had left her at the restaurant. However, he had ended up complicating things. However, it was useless to start cursing now. He didn't know whether Last Order was still in the shop or whether she had been taken out. Accelerator dashed towards the restaurant.
Suddenly, there was a ruckus.
The glass windows of the restaurant shattered in front of him.
"Ah?"
Accelerator inadvertently stopped in his tracks.
This restaurant window was facing the road. On the road, there was a 2m tall and burly man who looks like a sumo wrestler. This burly man, who was dressed in black Western clothes, slowly entered the shop with the glass-shattered window.
There seemed to be an argument in the shop.
After a while, a set of footsteps rang out from within the shop, through the glass-shattered window and onto the road. However, there was just footsteps, and he couldn't see anyone. It was as if he was seeing an invisible man, as the shoe-shaped imprints crushed the glass fragments and let out sounds.
This invisible man ran off in a completely different direction from Accelerator. On the way, he crashed into a black long-haired girl in a miko outfit. The contents of the stuff in that mysterious girl's arms spilled out, and it seemed to be cat food. As the bag was open, the invisible man got cat food scattered all over him.
Just as Accelerator was feeling weird about this person, a boy jumped through the shattered window and onto the road.
A person he was very familiar with.
"It's...it's that guy!"
Accelerator widened his eyes in shock. That boy was the Level 0 who had beat Accelerator down with a punch in order to save the Sisters and force the experiment to be frozen.
The boy dashed down in the direction where the invisible man had gone. However, to a bystander, the boy was running for his life instead of being chased. For some reason, it seemed like the man who was the shop owner and waitresses were chasing him from behind.
(What's going on? That restaurant had such a commotion...is it because of that brat? Cheh, can't tell at all. That idiot may end up treading into such waters.)
Accelerator hesitated for a while, not knowing whether he should pursue him. He finally choose to walk into the restaurant first. There was not much time left, and he couldn't mess around. Also, with his 'speed', he could still catch up to him after collecting information.
He walked into the restaurant.
The restaurant now looked completely different compared to when he had been there in the afternoon. The windows facing the road were all shattered. A table seemed to have been sliced into pieces as if by a laser and had tumbled onto the floor. Having seen this commotion, the customers in the restaurant didn't seem like they could recover, as they were standing far away from the sliced up table, chattering with each other as if they were watching a small fire.
Accelerator looked around the place.
The shop wasn't big, but he didn't see the familiar figure of Last Order.
(Oi, don't tell me she really got taken away? That brat shouldn't be able to go out on her own in that condition.)
Looking around, he exchanged glances with a waitress. She was a petite girl that did not look much different from a Middle Schooler. At first, she just stared blankly at Accelerator. Maybe she was so shocked that she forgot that it was business as usual. After about 3 seconds, the girl finally recovered and walked towards Accelerator. The waitress looks rather pale as she smiled.
"Wel, welcome. Is it just one person? No smoking is allowed--"
"I'm not here to eat, I'm here to look for someone. She should still be here."
"Eh?"
"A ten-year-old brat who's not wearing clothes and has only a light blue dirty towel over her. She came with me to your shop here. Do you have any recollection of her?"
If there was a need to discuss who could leave the biggest impression, there's nothing that leaves a deeper impression than Last Order's get-up. That was why Accelerator didn't specify much. He thought that it should be enough.
But the petite waitress seemed rather fearful.
"Eh, ah...I'm sorry, I don't remember. Do you remember which table she was sitting at?"
"...Are you kidding me? Is that get-up common in this age?"
The waitress who bowed politely and apologized looked like she was about to cry. It seemed like she really didn't remember.
(Cheh, is it because of this commotion?)
Accelerator muttered. It had been several hours since he was here eating lunch with Last Order, and they just had a huge commotion here, so it was possible to forget about 'a stranger wearing really weird clothes' due to shock.
Having suddenly lost his clue, Accelerator looked impatient. The petite waitress seemed afraid as she frantically hid inside the shop.
(Now what? Should I check the CCTV?)
Normally speaking, this kind of image record should be left to the security company; the shop wouldn't have the original records. But if he had hacking skills, he could retrieve the records from outside...
(Nope, this can't be compared to the outside.)
Accelerator shook his head.
He didn't have any skill in hacking at all. And besides, in Academy City where there were all sorts of research facilities and classified information, it was impossible to leave this to an ordinary security company. Normally speaking, the security system in Academy City should be flawless. Only a very rare breed of exceptional hackers could hack in through 'loopholes' that the starters of the system hadn't even discovered.
Thinking about this, Accelerator saw 2-3 staff workers walking out. That petite waitress was hiding behind them.
Maybe they think that I'm obstructing them from work, Accelerator thought. However, there was no time to properly explain it to them. Accelerator's eyes let out a dangerous gleam.
But unexpectedly, a 30-year-old male worker revealed a friendly smile and said,
"Are you a relative of that girl with the towel?"
"Ah?"
"That girl who came to our shop at 3pm didn't seem to be feeling well."
Accelerator let the male worker's words roll in his mind. At that time, Last Order's incomplete body had caused a malfunction and created multiple fever like symptoms. She shouldn't have be able to go out with her own power.
"Around 4 plus, we saw her lying on the table and felt that something's not right. The waiter tried to talk to her, but found that she lost consciousness. We thought that it was serious, so we called for an ambulance."
"So that brat's in the hospital now?"
"No. Before the ambulance came, a white-cloaked man came in saying that he's a relative of the girl. He said that the girl's illness occurs periodically, and is not in any danger. So we handed the girl over to him."
A white-cloaked man.
Accelerator grit his teeth. Maybe these clues weren't enough to make a conclusion, but...
"If you want to find that girl, why don't you try contacting that man? Do you know who he is?"
"--I can guess that with just a kneecap."
He said nonchalantly.
There was only one person who fulfilled that condition, Amai Ao. Accelerator saw him messing around at lunch. Besides, how could that Last Order have any 'relatives'?
Part 5
August 31st 7:02pm
After Accelerator walked out of the restaurant, he decided to call Yoshikawa with his phone.
"What did you say? Last Order was taken away by Amai?"
"I heard that as well, but I'm not too certain myself. What do you think about this? The virus will activate even if she's left alone, right? Why did that guy take the brat away?"
Dwelling on it more, it was weird that Amai Ao was in Academy City. Since he had hid himself in fear of being suspected, logically speaking, he should have tried to escape out of Academy City. No matter how strong Anti-Skill and Judgement were, they couldn't control the world 'outside'. Their job scope was merely limited to this city.
"On technical skill alone, Amai's a really talented researcher. There should be many organizations 'outside' willing to take the risk and hide him, right?"
"Yeah, I don't know why too. Maybe those are just some simple reasons."
Both of them remained silent for a while.
The sound of the keyboard being typed on could be heard from the other side of the phone.
After a while, Accelerator asked,
"I heard that Amai took Last Order at around 4. Do you think he's still in Academy City?"
"It's 7pm now, almost 3 hours have passed. If it were normal circumstances, it'd be hard to tell, but our luck this time seems to be good."
"Why?"
Accelerator concentrated on the phone. Yoshikawa seemed to be focused on something, as the sound of the keyboard being typed on could be heard.
"Some unknown individual from 'outside' broke through the city's security, and forced his way into the city. Also, there was a huge battle at a fast food restaurant, so the alert level was set to orange this afternoon. It's now at red alert. You should have heard of the 2nd level of alert, right?"
Orange alert meant that 'there may be terrorists who've invaded', while red indicated 'a terrorist has been confirmed to have invaded'. No matter what it was, once the alert was given, Academy City would seal its exits to the outside completely. Even the convenience store owners would be having a headache as they couldn't get their supplies.
If it was at orange alert in the afternoon, Amai, who had taken Last Order at 4pm wouldn't be able to leave the city. Accelerator didn't know which idiot had invaded the city, but it seemed like he had to thank the guy.
"Since that guy's still in the city, where will he be?"
At this moment, Yoshikawa continued to type on the keyboard.
"It's not easy to find him. However, he should be avoiding the crowds. A grown man with a naked girl wrapped in a towel will be too eyecatching. Right now, Amai Ao definitely won't want to become the center of attention."
Accelerator thought that this was logical, but there was a problem. Today was August 31st, so most of the students were locked up in their houses finishing their summer vacation homework. The entire city was as empty as a ghost city.
"Can you hack into the security robots or satellite image system? Doesn't the other envelope have the data of the city's security search for Amai Ao's hiding?"
"The mechanical security system isn't as convenient as what they say. Think about it, our numerous 'experiments' were conducted under such strict regulations, right?"
"..."
"So the security system can only be used to track information. I managed to track him through the money flow. Do you know? The paper notes now all have IC chips?"
"Ah, I heard of it. It's said that there were too many coloured counterfeit notes, so they installed chips to identify them, right?"
"There's actually another reason for the chips. By recording the personal information of the notes, one can identify his monetary flow."
Yoshikawa continued to type on the keyboard as she said,
"In this age, if you use a credit card or cash to buy something more than 1,000yen, your personal particulars will get stolen. But on the other hand, if it were that child, who lived an urchin's life and didn't use money at all, it's impossible to track her down."
"Alright, let me change the question. How did Amai escape in the past?"
"Basically, he drives his car around. It seems like he would park his car at the park or the dump and sleep in the car. But as for showering, food and oil, he needs to use money, so he can't completely hide himself."
Answered Yoshikawa casually, while continuing to type on the keyboard.
"Doesn't he have some housing facility like a hotel or something? Did he go to a friend's house, before?"
"I suppose he doesn't have anyone that can be considered a friend."
"...Seems like he's trash like me."
"When the research centre of the First Production Plan was forced to close down, as it was a private research organization, he got saddled with debt. Like a chairman of a company that closed down, once he's poor, friends aren't friends any longer."
'Tch', Accelerator pondered for a while, and then continued,
"He should be unable to leave this city now, right?"
"If he doesn't dare to be questioned, I suppose he won't even escape a school district."
"Alright, if that's the case--"
Yoshikawa answered in surprise,
"Hold on, that's weird. Amai Ao hasn't returned back there for a while. Normally speaking, he should be thinking about that place first--"
"The first place he thinks of will be the most dangerous place, so he definitely won't dare to go there. But once humans are forced into a tight corner, their way of thinking will become even simpler."
Accelerator revealed a cunning smile and headed down the road.
The place he was heading to was the place of a certain research centre.
The research organisation that had developed the Level 5 'Railgun' First Production plan.
Part 6
August 31st 7:27pm.
A sports car was parked at a certain research facility.
The air-conditioning in the cramped car was blasted to the maximum, but Amai Ao's hands were still sweating.
His sweaty hand was pressing down on his aching stomach.
At first, he had intended to enter the facility. As the building of the abandoned research facility was still left as intended, there were many places to hide the car, and it should be easy to hide from the satellite cameras. But right now, Amai was unable to undo the heavy lock and chain of surrounding the entrance.
The problem was that he couldn't leave this place. Once he moved the car, he may be interrogated. And if he left the car, he would be carrying the basically-naked Last Order around, and it would be even more likely that he would be stopped.
"DAMN IT!"
Amai had made the wrong move, and now he was really regretting it. He should have escaped 'out' of Academy City immediately after Last Order had the virus inserted into her brain. The force opposing Academy City was waiting for him 'outside'. And all he had to do was to follow their instructions and flee overseas. With his expertise on esper development, any country or research facility would have been more than willing to take him in.
But unexpectedly, Last Order had actually escaped after the virus was inserted into her.
At that moment, Amai Ao's 'plan' was ruined.
Last Order's body adjustments were still incomplete, so she couldn't possibly live outside for long. If worst came to worst, Last Order would really die before the virus was activated.
But if that happened, the Sisters all over the world wouldn't be infected by the virus. If that happened, it would mean that the mission had failed. The 'opposing forces' would definitely not forgive that. At that moment, they wouldn't just simply no longer help Amai escape, they may even give the order to kill him.
Amai had to capture and bring Last Order back, and even ironically, he had to protect her life.
But with the current situation, without an incubator with him, he wouldn't be able to fulfill his objective.
For the entire week, Amai had been like an ant in hot water as he went out searching for Last Order. Finally, he managed to find her with that savage Accelerator. It was a good thing that Accelerator had left and he was able to take Last Order away, but he had ended up in this situation.
"..."
Amai Ao turned to look at the front passenger seat.
Last Order, whose body was still undeveloped, was sitting on the seat. She was sweating profusely, and her breathing was weak. One couldn't possibly hear it if they didn't strain their ears.
There were many electrodes stuck on Last Order's face. The wires that extended out from the electrodes were connected to a notepad-sized computer that was placed near her thighs.
The screen was showing Last Order's pulse, temperature, blood pressure, pulse rate and many other values. Those figures and images weren't things that an ordinary person could read, but if someone who understood them were to see them, that person would be shocked. With such values, anyone could stop breathing at any time.
(Why am I so unlucky!? Why at this time...!)
Amai Ao had a reason to escape.
He had been the person in charge of the esper First Production Plan. That plan had been based on Tokiwadai's Railgun, but the clones that were created had low level capability, so they couldn't match the Railgun. The plan had been halted, the research centre was forced to shut down. Faced with a hefty debt, Amai had managed to meet a saviour. It was the Level 6 shift project for Accelerator.
However, even that plan had been nearly terminated completely.
Amai was unable to repay his debts.
There was no other place in Academy City that would keep him. What he had was an overwhelming debt that was enough to buy a submarine. The First Production Plan research group and the Level 6 shift research group weren't different. Both were privatized firms, and had forced him deep into despair. If he wanted to live, he had to abandon his debt and run.
Thus, he had linked up with a mysterious dangerous group. Under such a situation, if he angered them, he would definitely die. Amai Ao wasn't so optimistic that he thought that he could survive being between Academy City and an opposing force.
(Damn it! Damn it! Why must I end up in this situation!)
Amai's hand slammed onto the dashboard of the cramped sports car.
He had finally managed to catch the escaped Last Order today, but unfortunately for him, the alert level went to orange, and then to red, giving him no chance to leave Academy City. And right now, Last Order's condition was a lot worse than he had thought. If this kept up, she could really die before the virus activated.
(Please, I beg of you! Just a little longer! Hang on until the virus activates!)
Amai knew of a few places where he could get Last Order's body adjustments done. But as the alert level had become red, there were checkpoints all over the city. He would be unable to pass through the checkpoints with a naked girl wrapped in a blue towel. Besides, this girl was an artificial clone that didn't have an ID.
He couldn't even pass the next road, let alone get 'out' of Academy City. Right now, Amai Ao could only tremble in the narrow car and leave his fate to the virus which may be unable to activate.
Suddenly, there seemed to be something that flashed across the glass.
"!?"
Amai's eyes instinctively left the dashboard. But it was a crow that was unrelated to Anti-Skill or the researchers. A black crow flew from right to left.
"Ah..."
However, Amai widened his eyes.
There was nobody in front. Looking over, it was an empty street. There shouldn't have been anything that could make Amai feel afraid. From a 3rd person's view, maybe one would think that Amai was seeing an illusion out of fear.
"Ahh..."
But Amai was not looking in front.
He was looking at the rear-view mirror.
On seeing that small mirror that shows the back, Amai's face went pale. His eyeballs continued to move. He was sweating like it was raining, as if there was a layer covering his skin. His fingers continued to tremble.
In the rear view mirror, there was a boy.
The boy was slowly closing in on the yellow sports car, one step at a time.
A corrupted, psychotic, crazy Level 5 esper.
"...UWAAAHH!!"
A strange voice came out from Amai's throat.
In fact, Amai didn't know what Accelerator was doing over here. But no matter what Accelerator was planning, it was dangerous.
Accelerator was closing in on Amai's sports car without hesitation.
Amai stared at Last order, who was in the passenger seat.
Right now, Last Order was as weak as a snow crystal. He didn't know what Accelerator was trying to do, but if he handed Last Order over to that monster, that wish would be crushed within a second.
He definitely couldn't hand Last Order over to him.
If so, he could only take on that monster.
(The problem is, how?)
He had a pistol in his pocket, but that thing wasn't going to stop that monster. Trying to use a body of flesh to fight that guy was like racing a Lamborghini car or a type-90 Kyu-maru tank in a marathon
If that was the case, he could only run.
Amai gripped onto the car key tightly.
His hand continued to tremble, and even the act of putting the key into the keyhole was tough for him. He grimaced as he couldn't find the keyhole. Chk, the key was finally inserted in.
He twisted the key hard.
The engine roared loudly. As he was too nervous, the brakes failed, and the sports car dashed forward as if it had been kicked in the back.
Part 7
Accelerator saw Amai's car rush away from him. His obviously shocked look was revealing his mysterious smile.
(That brat...is in the car's passenger compartment. I thought she would be in the luggage compartment, but then again, if she dies, Amai would be really bothered by it.)
Accelerator casually thought as he crouched his body slightly.
BOOM! He stamped onto the ground.
Accelerator immediately jumped up about 10m into the air, and easily jumped past Amai's sports car before landing right in front of it. The man in the driver's seat who saw this immediately froze. He frantically turned the steering wheel around, but it was already too late. The cheap domestic sports car that had its gas pedal floored slammed right into Accelerator.
The sound of the metal being crushed was like 1,000 times the sound of a can being crushed.
But Accelerator hadn't budged at all. Not even a strand of hair was moved. The thing that got crushed was the car, as the force of the sports car was 'directed downwards'. The 4 tires had burst, and the rims were crushed into an oval shape. The height of the chassis was crushed to zero, and the car had dug several centimeters into the ground. Maybe the car body was wrecked too much as the windows on both the left and right sides had cracks in them.
Amai, who was in the driver's seat, revealed a smile.
The sports car got damaged to such an extent, yet he was actually able to remain unharmed even when sitting inside. He may feel that this was unbelievable, as even the safety airbag hadn't popped out. This perfect control of power clearly demonstrated the difference in ability between Accelerator and Amai.
"U,uuuAAHHH, DA, DAMN IT!!!"
Amai cried out as he continued to floor the gas pedal, but the rims of the wheels were already distorted and buried deep into the asphalt. In this situation, the car couldn't possibly move forward. After 10 seconds, Amai finally realized this. He then intended to carry Last Order away, so he started to force the car door open.
"Calm down, you middle-aged guy. Isn't that a little too ugly?"
THOMP! Accelerator stomped down on the bumper lightly. It was unknown how the impact was changed as the driver seat door was quickly shut. This act of shutting the door was like snapping a large trap on some prey. Amai was trapped by the door as he tried to get out. The air in his lungs was forced out, and he slid down onto the floor, unable to move.
"Ah, sorry for using such a crude way to beat you. But at least it's better than giving your life away, right?"
Amai didn't answer, and Accelerator wasn't hoping that he would. He looked at the seat beside the driver's seat. The impact had caused the entire driver's seat to get distorted, but in contrast, over there the girl was sleeping calmly and soundly.
"You really can make things difficult for others, you damned brat."
Having the load off his shoulders, Accelerator just said this and pulled out his phone.
"Yoshikawa? Yeah, I got the brat. She's safe."
There was still more than 4 hours left before the virus activated.
Part 8
August 31 8:03pm
Accelerator opened the side door of the passenger seat. Wrapped in the towel, Last Order didn't respond at all. Her limbs sunk weakly onto the floor, and were completely stained in uncomfortable sweat.
Just as Accelerator was about to carry Last Order out, he suddenly realised a problem.
"Oi, the brat has some things that look like electrodes. I shouldn't take them off, right?"
"Hm? Can you please describe that clearly?"
On hearing Accelerator's description, Yoshikawa said,
"That should be our equipment for checking the Sisters' conditions. It just shows the respiratory rate, pulse rate, blood pressure, body temperature, physical and mental conditions. It's okay to take the electrodes off.
A cable linked the electrodes to a notebook computer. There were several images on the screen. Besides that, there was a percentage display value that had the words 'BC functioning value' beside it.
"What's this?"
Accelerator asked.
"Oh, that's Last Order's brain functioning rate. Brain Cell is called BC for short."
Accelerator was shocked. It was not easy to monitor a person's brain functioning perfectly. One really couldn't tell that such a small computer had such a large function. However, the Sisters were electromasters, so maybe they used their abilities to make up for the lack of ability?
Either way, it was not a technology that Accelerator could understand.
"Oi, is there anything that can erase the virus from this brat's brain? It'll take some time to take her back."
"Impossible. That's just a detection device. If you want to enter it, you have to have an incubator and a self-learning installation."
"Oh."
Accelerator pondered for a while, and suddenly realised something.
For some reason, there was noise coming from the other side of the phone.
"Oi, aren't you at the research centre?"
"You just realised it? I'm driving over to you now. There's an incubator and a self-learning installation, so that should be much more time efficient than you going back to the research facility. Maybe she will want to run away when she sees me, but with your movement ability, you should be able to stop her from going."
So you just wait over there. Yoshikawa said.
"Of course, a huge quantum computer won't be able to fit into a car, but a DNA computer can fit it perfectly, so I brought one as well. The function may be a bit inferior, but at such capacity, it should be enough."
"...Oi, since you can use a machine to analyze, why did you use a red pen to make markings? That's just unnecessary work, right?"
"Machines are extremely dull, or too rigid. Sometimes, they might even create problems. Have you heard of video games? When the games are being debugged, they still need humans to actually play them. We calculate the data through a machine, correct it through human means, put it back into a machine to see if there are any more errors...and we continue to use such a method."
Accelerator reached his hand out, taking off the last electrode from Last Order's face and randomly asked,
"So you analyzed the code already?"
"About 80%. After I analyze it, I still need to write a code to override the virus, so we don't have much time."
But I believe that we can make it, Yoshikawa said confidently.
Accelerator frowned slightly, as such a style wasn't like her.. However, this made Accelerator heave a sigh of relief, as the situation seemed like it was all alright now.
(How irritating. How much trouble must you create for me, you damned brat?)
This was the first time Accelerator actually experienced what it felt like to 'wait for someone'. Every second seemed to be dragging on meaninglessly. This feeling couldn't be considered comfortable. He stamped hard onto the asphalt floor lightly, and just like that, it created a crack.
"Mi,saka--"
Suddenly, the girl's mouth moved.
Like a thirsty person asking for water, her lips were trembling.
"Misaka...as, Misaka is---"
Her eyes were shut, and only her lips were moving. The girl was moving crazily as if she was trying to say something. Accelerator didn't know whether he should listen to her words carefully. Besides, since the expert Yoshikawa hadn't arrived yet, Accelerator didn't know what he could do to ease her pain."
"Misa,ka—as Misaka is Misa! Ka! Misaka as Misaka as Misaka as Misaka as Misaka as Misaka as Misaka as Misaka as Misaka as Misaka as Misaka as Misaka as Misaka as Misaka as Misaka as Misaka as Misaka as Misaka as Misaka as Misaka as Misaka as Misaka as Misaka as Misaka as MISAKA AS MISAKA AS MISAKA AS MISAKA AS MISAKA AS MISAKA AS MISAKA AS MISAKA AS AJSNIOVJIOZXCHJJ23RIOHYWERIOSDHA FJKHUQEHYIRHKOSDHIOUCH89WEHYUIH!!"
"Ah?" Seeing Last Order shout out, Accelerator gasped.
This didn't look right at all. The girl's petite body was quivering in front of Accelerator like a fish on land. She continued to bend back. It was unknown whether her bones or muscles were cracking, but the girl's face did look like she was in pain. She was looking excited as if she was singing a carol.
There was one difference.
The girl's tightly shut eyes were giving out tears.
This point alone clearly indicated that it was not of joy.
But of tremendous pain.
The computer screen was showing a chaotic image. Windows of warning signs continued to pop out like rain on the windows, covering almost the entire screen. The unknown beeping sound continued to ring.
"DAMN IT! OI, YOSHIKAWA! WHAT THE HELL'S GOING ON HERE? IS THIS SOME SORT OF SYMPTOM?"
"Calm down, explain clearly! I can't tell what you're saying. Oh yea, do you have a camera function in your phone? It's best that you have an image capture camera--"
Yoshikawa stopped talking halfway through, maybe gasping because she was in shock. The phone wasn't cut, as Accelerator could hear her mutter. She seems to be muttering things like 'impossible, how can this be'.
"Oi, what's going on!? Is there any emergency function?"
"Calm down. Can you let me listen to what that child's saying?"
"HURRY UP AND EXPL--!"
"HURRY!!"
Yoshikawa started to sound serious, making Accelerator feel that something was wrong. But even if he didn't do anything, Last Order's cries could be heard through the phone.
"hiuashihcvjnxnuinweiniondfnizdNIncion whsioahjisdisjad8qwyrionjdklnckljiojdosfjljkl;sdjfi0jdsj!!"
The girl's cries weren't of any country's language now.
On hearing the girl's cries through the phone, Yoshikawa was so shocked that she couldn't breathe.
"...I see."
"WHAT? WHAT'S GOING ON?"
Accelerator was obviously anxious. Yoshikawa answered him clearly,
"This is a virus code that was encrypted. That virus seems like it's about to be activated."
On hearing this, Accelerator nearly froze.
The virus should be activated at midnight on 00 hour 00 minute 00 second. It was just past 8, and time wise, there should have been 4 hours left...
There was only one possible reason.
That was a fake signal.
The enemy Amai Ao had deliberately installed a fake activation code. The information that the enemy gave out shouldn't have been considered real at all. Accelerator had wondered before why Amai Ao would be so kind as to indicate the time for the virus to activate.
A simple game like trap, yet so terrifying.
Maybe Amai hadn't expected that this trap would work. Setting this trap up must have been an extra bonus within his capability rather than an insurance.
Accelerator started to wonder what would happen when the virus activated.
"Once the time starts, the virus will start to activate. It will be complete 10 minutes later, and then it will spread through the Misaka Network to all the Sisters and cause the Sisters to go berserk."
What would happen to the girl in his hands?
The boy recalled.
"I haven't analyzed it completely, so I can't be sure, but if I go by my hypothesis, the symptoms indicate that they will end up attacking any humans without discrimination."
Accelerator was unable to do anything.
Last Order continued to shout and cry. Numerous warning windows buried the notepad-sized computer screen.
He could barely see the 'BC operation rate' from between the gaps of the windows—which was the brain cell functioning rate.
The values continued to increase. 70%, 83%, 95%...even though the values exceeded 100%, they continued to increase.
That small body of Last Order arched backwards as if electrocuted.
Then, even the 'BC functioning rate' window was blocked by the warning signals.
It was as if Last Order's personality files were overwritten by some mysterious virus.
It seemed like Yoshikawa was trying to say something through the phone, but Accelerator was not listening.
It was too late.
Yoshikawa hadn't finished analyzing the virus, and hadn't found a way to debug it. Also, there was fake information present in the code she had analyzed. Even if she managed to debug it, she couldn't be certain that she was correct. Besides, it was impossible to ask her to move back to the facility where all the equipment was.
Amai, who had created the virus, should be clear about how it worked, but there was no time to interrogate him and write a code to debug it.
A mysterious feeling etched into Accelerator's mind, but before he could understand what that feeling was, his thoughts were interrupted by Yoshikawa's calm voice.
"Listen to me, Accelerator, it's still too early to sigh now. You still need to do something."
"...Something? Can we still save her?"
"It will take some time before the virus spreads out. Before that, the current virus will be converted into a 'superior code' that they can't disobey, rather than it appearing there right from the start. This is because if that's the case, the virus code would be obvious in the normal personality files. There's only 10 minutes, I suppose you should be able to guess it, but you can only do one thing— eliminate the girl. Kill the child, and protect this world."
Yoshikawa's words didn't have any intention of saving Last Order right from the beginning.
What she said as her justification was something higher than that.
Protect the world.
If he wanted to prevent all the Sisters in the world from going berserk, he had to kill this girl personally.
The girl who was struggling and rolling about, unable to make even a cry of help.
Accelerator mocked himself. His power that could only kill would actually work at this moment. And not even the minimum damage was allowed; he had to kill the girl.
If this dragged on longer, the command code that was input into Last Order's brain would break her. There was only one way to prevent that, and that was to take her life before it happened.
"Damn it."
No matter what he chose, she wouldn't be saved.
"At least smile to let her rest in peace", Yoshikawa Kikyou said.
"DAAAAAAMMMMMMNNNNNN IIIITTTTTTTTT!!!"
Accelerator grit his teeth. There was a sense of sharp pain deep within his chest. This pain was completely different from the time when he was beaten up by the Level 0. This couldn't even be compared. This was the pain of losing. Right now, Accelerator finally experienced it. He finally experienced the weight of the girl in his heart. Accelerator finally experienced this pain he had inflicted 10,000 times on others.
It was too late for him to experience it.
No matter what he did, it was too late now.
Accelerator roared out, but it was useless.
With his power, he wouldn't be able to delete the virus in Last Order's brain. He never had such a useful ability. Though he was said to have the strongest power, it was just the manipulation of 'vectors' like kinetic energy, heat, electricity and all sorts of energy and redirecting them. In application, he could only kill. He had such power, yet he could only think to use it to touch the enemy's skin and reverse the enemy's blood and electrical flow to form an explosion--
(…?)
Thinking till here, an idea suddenly flashed in Accelerator's brain.
He reminisced what he just thought.
Reverse the electrical flow in a human?
(Hold on, what attracts me to that so much?)
That phrase continued to appear in Accelerator's mind.
The time in his body instantly slowed down.
(There's less than 10 minutes left, so I can't call for help. I have a disk and a notepad-sized computer with me here. The disk has the personality files before infection. The self-learning device is needed. The Level 5 'Accelerator' can manipulate it. It uses electrical flow to control the information in the brain to control the electrical signals. To debug, I have to look through the huge personality files and find a way to find the code and delete it. If I can't find a solution, I have to kill Last Order.)
Accelerator tried to think quickly.
The rows of excessive words were gradually removed, forming meaningful sentences.
While focusing on his thoughts, the short few seconds seemed to become an eternity.
(If I don't want to kill her, I have to delete the virus. I need to do two things. First is to find the virus codes from that massive personality file in Last Order. The second thing is to manipulate the electric signals in Last Order's brain and accurately delete the virus codes.)
In Academy City, where the school curriculum included esper development, the strongest esper in Academy City also had the strongest brain. Having accurately calculated all the air particle flow in the entire city before, Accelerator used all his thoughts to find a way to solve this.
(The disk has the personality files 'before infection'. If I compare it to the one 'after infection' and find the difference—hold on, what attracted my attention here? Let's recall from those abusive words of mine. What am I able to do best? What can I easily think of?)

Thinking about this, Accelerator's shoulders jerked as if they had been electrocuted.
Human electrical reversal.
If Accelerator's power could redirect any energy 'vector'.
If he could let the blood and electrical flow in a body reverse on contact with the skin.
He looked up. It took a mere 10 seconds to think about this.
"Oi, if I can control the electrical flow in the brain, I should be able to correct that brat's personality file without a self-learning device, right?"
"What are you--"
Speaking halfway, Yoshikawa seemed to realise something.
The self-learning device controlled the electrical flow in a human, forcing in personality and knowledge.
"...Are you intending to become a self-learning device yourself? Impossible, though your power is to redirect any 'vector', controlling a brain signal is unheard of...!"
"Why not? I did use skin contact to reverse the blood and electrical flow in a human body in the 'experiment'. Since I can 'redirect', 'manipulation' shouldn't be hard right?"
Of course, Accelerator had never actually manipulated the brain signals of others before, so he didn't have confidence that it would work.
But this was the only way left. If possible, he hoped to use the self-learning device. If he could prepare an anti-virus code, it would be perfect. The problem was that the current situation wasn't that perfect. If he didn't want to give up, he could only make use of what he had here to break through the difficulty.
Through his own hands.
It was okay even though it was not perfect, he just needed to save her life.
"That's impossible. Even if you can you use your power to manipulate Last Order's brain, the anti-virus process isn't complete, and you can't even delete it completely."
"..."
It was true. Yoshikawa still hadn't finished analysing the virus. And since Yoshikawa hadn't detected the fake parts in the virus, it seemed like the research results wouldn't be completely correct.
"Listen, even I made the decision to kill her. I know the workings of that child better than you by at least 100 times, and even I feel that there's no other way other than to kill her. Do you know what that means?"
Yoshikawa said in an icy voice,
"Your ability alone isn't going to erase the virus from Last Order's brain at all. If you fail, you'll sacrifice 10,000 Sisters. And if the situation gets out of hand, Academy City will be forced into a war with the rest of the world. In order to prevent that, we have to give up on Last Order."
Yoshikawa sounded like she was lecturing Accelerator, but she was delivering the final ultimatum.
"Of course, it's a different case altogether if you can immediately write an anti-virus code. Can you do that? The virus will activate in a few minutes, can you do that?"
"Of course."
Accelerator replied without hesitation. Hearing this, Yoshikawa Kikyou nearly stopped breathing.
Accelerator turned his eyes to Last Order, who was lying limp on the passenger seat, and then looked into the envelope. The envelope had a disk that had the label 'serial 20,001 personality info/before infection' on it.
It had the personality files before infection. In other words, if he compared Last Order's brain now to this personality file and found the excess parts, he could erase the virus code. Once that was complete, he just needed to overwrite the corrupted data with the normal one to correct it. It was like using a hammer to smash an uneven metal floor to flatten it.
This act of smashing the protruding virus back in was what they called neutralizing a virus.
"Damn it...of course I can do it. WHO THE HELL DO YOU THINK I AM!?"

Yoshikawa seemed to be saying something through the phone, but Accelerator was no longer listening. He wanted to shut the phone off, but the phone slipped and dropped onto the floor. He didn't intend to pick it up at all.
Accelerator smirked.
He already knew the flaw to this method. He had the 'personality data before infection'. In other words, if this personality file was the base, it would 'overwrite most of the excessive information', and all the memory 'after infection' would be cleaned off. It was like painting a new image over a completed painting.
Including that meeting.
Including that conversation.
Including that smile.
Everything would be lost, and he would have to overcome that pain.
"...So what? It's better for that brat to forget about everything."
Thinking back, that was the case. The walk back down the alley and destruction of his room at midnight were proof that as long as she remained together with Accelerator, she would have the danger of being attacked by unknown people.
Though Last Order wasn't afraid to accept Accelerator, it was all the more reason that he couldn't let such a person exist in the same life as him.
She had to go back.
Back away from this monstrous, bloody and cruel world. Back into the warm and sunny world.
Lonely and weak, he laughed at himself, then inserted the disk into the notepad-sized computer.
A large amount of data appeared in front of him. He quickly scanned through the data that was scrolling at waterfall-like speed, reading all the data. It took him 52 seconds to finish reading, 48 seconds to close his eyes to remember, and 65 seconds to compare what he had memorized to the data on the screen.
The preparations were complete.
He was ready to put an end to this.
Clak. He crushed the notepad-sized computer. The fragments of the girl's internal design fell from his hands.
"..."
He shut off the 'redirection on his hand', using his fingers to touch the girl's forehead. The girl's skin felt slightly hot, as if she had a cold. He extracted the electrical flow of the human and continued to touch the 'direction' as if he was touching the insides of the girl with his hand. Through the 'direction' of the electrical flow in the person, he managed to grasp it.
Finally, the girl's internal workings were in Accelerator's mind completely.
The girl's thought process that appeared in his brain was ever so warm.
One that made people want to hug, and not lose it.
However,
He had to do this.
"You damned brat. Since I helped out so much, I won't allow you do die by yourself."
After saying that, he smiled.
If there had been a mirror in front of him, even he himself might have been shocked. It was a gentle smile.
Accelerator's hand was trembling.
Using the power that could only kill to save others was like tying a spoon on a tank cannon barrel to feed a baby weaned food; it was extremely difficult.
"...How interesting. Don't die of shock."
He said this.
He was inserting the 'power' and changing the 'direction'; the 'war' had begun.
The virus would activate at 8:13pm. There were still 52 seconds till the final moment.
Part 9
August 21 8:12pm 08 seconds.
"hjknasdpsjdofjkoxcvkliwenijosdmklmxc'mpml;dsm process 9jpnasidi load 9w..aea path A to w. Red wavelength of process 08 to process 72 is replaced by path C into A8 area D sealing process 56 through S wave blue changed to red..."
The meaningless language that Last Order was uttering was gradually changing into Japanese. Accelerator was sweating. There was a feeling that his brain was being burned. His vision was gradually becoming narrower. As all his calculation ability was gathered on one point, 'redirection' wouldn't work, and the uncomfortable sweat was sticking onto him.
Right now, he was comparing the 'infected' Last Order's personality files with the one 'before infection'.
The 'difference' between both of them was the virus codes. Though some of it included Last Order's memories of her interactions with Accelerator, Accelerator was unable to tell which were virus codes and which were memories.
The calculation of the amount of data required to be overwritten was complete.
The total was 357,081.
He could only delete all these processes to destroy the virus.
The BC value of Last Order was flashing on the screen, giving off numerous warning windows at a shocking speed.
Part 10
August 21 8:12pm 14 seconds.
"Turning the process 21 from red to orange and then through path D to A7, C5, F10 split zones area D seal removing and inserting process 32 into special authoritative process 89 till 112, and gather at path A, processes below 113 taken by path G through point D4..."
After understanding all the abnormal 'codes' in Last Order's brain, Accelerator sent a command to all the codes. There was only one line, 'overwrite'.
Zzzzzzz...
He could feel a mass amount of signals moving, and it was a feeling like the tide subsiding.
Last Order's body was bouncing about.
Her fingers were twitching, as if she was being manipulated by some invisible strings.
Accelerator couldn't tell whether they were viruses or memories, as the 'potentially malicious' processes were being deleted one line after another, like words from a black ballpoint pen being removed with white correction fluid. The remaining unrepaired processes totaled 173,542.
The warning windows that were popping up on the notebook screen started appearing less, and less, and less frequently...until finally, there weren't any more windows popping up. The reverse flow then caused all the warning windows to disappear one after another, as if it were a tape put on rewind.
Part 11
August 31, 8:12pm 34 seconds
"Processes through path K are converted through yellow wavelength as V2, H5, Y0 and split through process 201, process 202 to 205 wavelengths are registered under red paths G and linked to C, D, H, I, split into points F7, R2, Z0..."
I can do it, Accelerator started to feel confident. The virus that was preparing to start up was returning back. If this kept up, he would just barely erase the virus in time.
The codes left totaled 59,802. Thinking of these processes that were about to be erased, Accelerator revealed a lonely smile. Besides the virus, what else was he deleting?
The electrical signal was beating through his hand.
As if it was trying to make the final struggle before it was erased.
The warning screens on the display continued to disappear. The data that was being overwritten was getting faster. The gaps between the windows were becoming wider.
Last Order's forehead continued to shudder and sweat. However, she was not shaking as much now, and it seemed like her body condition was improving.
Part 12
August 31, 8:12pm 45 seconds
At this moment.
The strange voice of a person reached Accelerator's ears, who was removing the virus. He looked up, and saw that Amai Ao, who had been knocked unconscious by the clamping of the car door, was actually standing there.
If it were just like that, it would be nothing.
But he was pointing a shiny black pistol at him.
"Don't...you dare stop...me...."
With bloodshot eyes, Amai Ao groaned.
The remaining processes left were 23,891. Accelerator still couldn't let off. If the remaining processes caused any errors, Last Order's brain could be wrecked.
There were only a few warning windows on the screen. To Accelerator, it represented Last Order's health status. He couldn't leave any window open.
Part 13
August 31, 8:12pm 45 seconds
The two of them were only about 4m away from each other. The bullet couldn't possibly miss.
"Ugh!?"
Right now, Accelerator was concentrating all his power on Last Order's brain signal, so he didn't even have time to 'redirect'. If he decided to multitask in his 'redirecting', he wouldn't be able to accurately manipulate the electrical signals that were as fine as the microbits in an electron microscope image, and Last Order's brain would be wrecked.
There were only 7,001 process codes left.
There were only 9 windows.
The assignment wasn't complete, and time gradually started to slow down.
Amai definitely didn't understand what Accelerator was doing now. But to Amai, the fact that this monster called Accelerator was touching Last Order, who mustn't die was enough to make him panic.
"Don't...you stop me!"
Bubbles foamed out of Amai Ao's mouth, and his eyes were bloodshot.
Right now, he seemed to be unable to tell that it was stupid to aim a gun at Accelerator.
But right now, Accelerator didn't have enough power to 'redirect'. In this situation, he was unable to do anything.
Once that little bullet was fired, it would take Accelerator's life away.
Get that hand away from Last Order's head! His basic instincts were telling him. Restart the 'redirection'! It continued to tell him. It was true that he would definitely be saved. Not even a nuclear missile could scratch him, let alone a pistol.
Part 14
August 31, 8:12pm 58 seconds
However, he was still unable to take his hand away from Last Order's head.
It was impossible.
There were only 102 processes and one warning window left.
"Don't...sto—GYAAHH!!" Amai Ao screamed, trembling as he held the pistol aimed at Accelerator.
There was no way for him to dodge it.
Accelerator could only remain stunned as he stared at the finger placed on the trigger.
The clear and crisp sound of the gun firing rang out.
Before the sound reached his ears, a strong hammer-like impact hit Accelerator's forehead. The strong force that his head took caused him to arch backwards. His neck let out a terrifying sound. His body was unable to withstand the impact as it floated into the air.
But he still didn't let go.
Nor would he ever let go.
"Error: Break code No.000,001 to No. 357,081 superintendent codes are terminated due to incorrect processing. Serial no. 20,001 will restart as per normal."
With the last electronic sound, the last warning window disappeared. Hearing the familiar talking sound of that girl, Accelerator understood that he managed to overwrite the dangerous process with that hand of his.
His hand was gradually losing strength. The body that was forced upwards by the power of the bullet impact slowly left the warm girl.
While in mid air, Accelerator stretched his hand out.
But his fingers were unable to touch the girl.
No matter how much he prayed, he wouldn't be able to fulfill any wish.
No matter how much he desperately tried to look, all of it would slip between his fingers.
(Really, to think that up till now, my thinking was still so naive--)
His vision got blurry due to the speed, but there was no chance of recovering before it turned black. He landed hard on the ground as if he had just fell into Hell. His blurry consciousness started to erode, and his thoughts started to spiral into darkness.
(--I actually thought that I could start anew if I just saved someone...)
Part 15
August 31, 8:13pm
"...Did I get him? Why? Ha, haha, why...why am I still alive?"
Amai Ao was holding onto the semi-automatic pistol that was giving off white smoke, and sank into a daze.
The bullet hit the center of Accelerator's forehead, and he flew back by 1m, his head facing up as he landed on the ground. His forehead was cracked apart and fresh blood oozed out.
For some reason, Accelerator hadn't used the 'redirection'. If so, since his head was hit by the military grade 9mm bullet, he couldn't possibly have survived. Also, what Amai had used wasn't any ordinary bullet, but an experimental type from Academy City.
An impact bullet.
This unique bullet was able to use the air resistance on the bullet through the unique 'groove' on the bullet and create a 'shockwave gun'. The 'gun' would follow the bullet from behind and strike it. Creating a 'groove' on the bullet would increase the damage of the bullet by 5 to 10 times. The 'groove' that was created on the lead bullet would melt due to the air resistance. Even if the bullet head was taken by the enemy, they wouldn't be able to understand the trick behind it. It could be said to be killing two birds with one stone. It was the unique bullet they were enthusiastically studying to take on espers if they revolted.
The wound on Accelerator's head was caused by 2 consecutive impacts, once from the bullet and once from the air gun.
"He should be dead now. Ah! Last Order! My virus!"
Amai Ao looked away from the corpse collapsed on the road and turned to look at the girl that had lost consciousness in the passenger seat. It would be over if the virus hadn't activated. He would be the hunted target of both Academy City and the opposing force.
The girl lay weakly in the chair, her lips unable to move.
Her small mouth started to speak,
"Error: Break code No.000,001 to No. 357,081 superintendent codes are terminated due to incorrect processing. Serial no. 20,001 will restart as per normal."
Amai felt as though all the water in his body spurt out as sweat.
If the virus had activated, Last Order's heart should have automatically stopped and she should have died after she sent out the command to 'use weapons and esper abilities to kill all the humans that got in contact with you' to all the 10,000 Sisters. This was to prevent others from retracting the order.
But Last Order was still alive.
The virus hadn't activated. Amai Ao was clear about what that meant.
Though he knew it, he was still unable to accept it.
2 steps, 3 steps, Amai staggered backwards.
"Ha,ah,haha, uha...ha, AAAAHHHHHHHHHHHHHHHHHHHHHHHH!!!"
Amai Ao cried out in despair, raising the pistol at the person who made his own life a living hell.
The girl who was asleep in the passenger seat.
Amai pointed the pistol at her slightly beating chest as his finger was placed on her chest. Once this finger pulled back slightly, the unique bullet impact head would break that petite body into pieces. He didn't care where he would fire or how many bullets would he shoot, he just wanted to use up all the bullets. Thus, he squeezed the trigger.
The explosion of the pistol could be heard.
But the bullet didn't pierce through the girl.
"--Do you think I'll let you do that? You damned bastard!?"
The corpse climbed up again.
Fresh blood continued to pour out from the wound on his forehead. The boy reached his hand out and blocked the barrel of Amai's pistol. The bullet that had been 'redirected' accurately flew back into the pistol, causing it to explode from within. The hand that was holding onto the pistol was wrecked.
(Damn it! Wasn't he hit by the special bullet? Why is he still alive?)
The 'impact bullet head' was a modern weapon that used the special grooves carved onto the bullet and air resistance, creating a shockwave gun. Nobody that got hit directly in the head by that bullet would be able to survive.
But Amai made a mistake.
As this unique bullet converted the air resistance into a shockwave gun, the bullet speed would be burned by the air resistance, so the bullet would move forward like an open parachute.
The shockwave that was created followed the bullet, but it would be slightly slower. Though it was just a marginal error of 0.4 seconds, Accelerator had managed to finish the final treatment on Last Order and restart his 'redirection' at the last second.
Although the bullet with depleted speed managed to hit Accelerator on the head, he had blocked the remaining fatal impact.
But Amai Ao didn't know about that. The scene in front of him was like a nightmare.
Amai's remaining working hand, the left one, pulled out another pistol. However, he had never trained to hold a pistol with the weaker left hand, let alone shoot with it. He couldn't even prevent the weight of the pistol from causing him to tremble. Besides, Accelerator was a monster who had still managed to stand up even with a bullet in his head, so it was normal for his left hand to be trembling.
Accelerator was standing in front of Amai Ao.
He seemed to be protecting the delicate Last Order behind him, not caring about the blood that flowed down his forehead, not caring about his trembling legs, not caring that his eyes couldn't see the target clearly.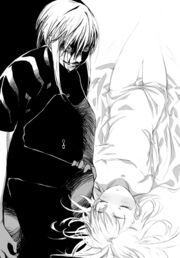 He just glared at Amai's gun.
Seeing Accelerator like this, the researcher in a white lab coat laughed.
Knowing that he was at a disadvantage, he still laughed as he gave up hope.
"Ha! What are you know? Can someone like you actually change something?"
"...I know. It's really stupid for scum like me to save others. I'm too naïve that even I think that it's funny."
If he saved others, he might be saved.
At first glance, it was a noble idea, but basically, it was just a thought that was thought just for himself. Those that used others' lives for their own benefit couldn't be called kind people. Such people had no right to be saved.
Basically, this world was full of people that were a lost cause. The naïve yet unkind Yoshikawa Kikyou, the man who had shot at the people who protected him without hesitation, Amai Ao, and the person who insisted that human life was precious after killing 10,000 people, Accelerator.
The people who lived on this corrupted world still wanted to ask for help from others, and that was unforgivable. Those who tried to save others were the dumber lot in the world.
Accelerator understood this clearly.
It was because he was a person of this world that he could understand it.
"However,"
He said this as if he was trying to deny everything.
"This kid here is innocent."
Accelerator smiled.
Fresh blood continued to gush out of the wound on his forehead, but he still smiled and said
"Even if we're the worst scum, trash that has no right to ask others for help--"
Some of the blood seeped into Accelerator's left eye.
His vision was becoming red.
Even so, he exerted all his strength into his legs that could buckle at any moment.
"But that's still no reason not to save this brat, right? DOES IT MEAN THAT WE CAN TRAMPLE ON WHAT THIS BRAT HAS JUST BECAUSE WE'RE SCUM!?"
His vision bloodied, Accelerator shouted.
He knew that it was hypocritical of himself, and how thick-skinned it was. Every word he had said could be used right back at him.
But he still shouted.
Did it mean that those without the right to save shouldn't save others?
Should the hand of a girl that was extended out be scoffed away?
What did the girl do?
What did she do to be rejected just like that?
"Damn it, isn't...that simple?"
He muttered, seemingly to himself.
Last Order had to be saved. Unlike Accelerator and Amai, she still had a chance to be saved.
It didn't matter who saved her.
That wasn't the problem. Someone had to give a helping hand to her, no matter who it was, or she would really die. It was just that simple.
Accelerator could roughly understand it. He could roughly understand the Level 0's feelings when he had gone in to stop that 'experiment'. No reason, no aim, he just stepped up to save the injured Sisters. On first glance, that person seemed to be a natural hero, one who lived in a world different from him, but this wasn't the case.
There was no such thing as a lead character in this world, there weren't those heroes who were conveniently available for use. Nobody could get help by shutting their mouths, and they may not get help even if they asked for it.
But if one didn't want to lose something important, not because of such a laughable reason that 'nobody helped even after we waited for so long', that person had to be the hero.
No matter how forced that was, how overconfident and how shameless he was,
He had to use his own hands to protect the things most precious to him.
The world was merciless; there weren't naturally born heroes.
So the bystanders had to step up,
And put up a performance worthy of a hero.
"THAT'S RIGHT, I KILLED OVER 10,000 OF THE SISTERS, BUT THIS DOESN'T MEAN THAT I SHOULD JUST LEAVE THE REMAINING 10,000 TO DIE. I KNOW THAT THESE WORDS ARE HYPOCRITICAL, I KNOW THAT I HAVE NO RIGHT TO SAY SUCH WORDS, BUT NO MATTER HOW MUCH OF A SCUMBAG WE ARE, NO MATTER HOW MANY EXCUSES WE PUT FORWARD, THOSE CAN'T BE THE REASONS TO KILL THIS BRAT!!!"
Accelerator's legs buckled.
The blood continued to ooze out of his wound.
But he couldn't collapse now.
Definitely not.
"...Gy...AAHHH!!"
Accelerator crouched his body down and jumped at the speed of a bullet at Amai. It seemed like Accelerator had an overwhelming advantage, but the one in danger was himself. He definitely couldn't let the battle drag on. If he didn't end it in one hit, Accelerator would lose consciousness. And also, even though he knew that he had to settle it quickly, he didn't have enough power to use stronger attacks. It couldn't be helped; Accelerator could only choose the simplest way of attack, and that was to close in to the shortest distance.
Amai seemed to know this, as he decided to only defend and not attack. Facing Accelerator, who jumped forward at the speed of a cannon, he knew that he would be caught if he backtracked. With this in mind, he jumped sideways. At that moment, the devil's claw glided past where he had been.
Accelerator turned his eyes to the left.
No, he tried to move over, but his legs buckled and lost balance. Accelerator tried to stand firm, but his legs weren't obeying. The pain of the wound on his forehead suddenly got worse, and the next moment, he lost all sense of pain. He heard the sound of collapsing, and at that moment, he realised that he was on the ground.
The horizontal world of vision showed a girl's figure. The girl that he had tried so hard to protect.
He seemed to be thinking about something, but his consciousness was swallowed by the vast darkness.
Part 16
August 31, 8:38pm
For quite some time, Amai Ao couldn't believe that he was still alive.
He stared at Accelerator, who had been collapsed on the street for a long time, before stretching his hand out to wipe the sweat off his forehead.
(I'm, still alive...haha, I actually survived...)
He laughed weakly, and then prodded the collapsed Accelerator's head with his finger.
(...There's no 'redirection'. Though it's really inappropriate to kill this monster personally, if I let him stand up again, I won't be able to escape next time.)
Amai Ao aimed the pistol at Accelerator's head.
BAM! The crisp gunshot sound could be heard. The killing sound didn't sound much different from a pop being pulled.
"..."
Amai Ao frowned.
The gunshot hadn't come from his pistol.
Amai felt a sizzling hot feeling from his waist that seemed like someone had opened a hole and poured molten lead into it. He could only turn around slowly, because he was unable to do anything else.
Slightly further away was a used antique car. It was so old that one may have questioned the owner's taste as it opened. A woman in a white lab coat got out. The woman was holding onto a pistol that was not much different from a toy, as it could only hold 2 bullets.
The pistol in the woman's hand was smoking.
"Yoshikawa...Kikyou."
Amai squeezed out his voice with all his strength. The lab coat wearing woman didn't respond.
Part 17
August 31 8:53pm.
Amai collapsed onto the ground.
He shook his head to recover his vision that was flickering out all of a sudden, before finally recovering. It seemed like he had passed out, but Amai didn't know how long he had been passed out for, a few seconds, a few minutes or many minutes.
A woman in a white lab coat was standing in front of him.
Yoshikawa Kikyou.
Her back was facing Amai as her antique car's luggage compartment was open. She seemed to be operating on some machine. There was a device in the car that Amai was extremely familiar with. It was an incubator.
(Ugh...)
Amai twisted his trembling neck and turned to look at his own car. Last Order, who had been in the passenger seat, was long gone. It seemed like she had been placed in the cylindrical incubator, but his view was blocked by Yoshikawa who was working, so Amai couldn't tell.
He tried to stand up, but his body couldn't follow what he wanted. He tried raising the Italian military pistol with a trembling hand.
At that moment, Yoshikawa turned around.
The work seemed to be over as she closed the luggage compartment up, and aimed her pistol at Amai. Yoshikawa seemed to be smiling, as she raised her pistol and slowly walked towards Amai.
"I'm sorry, it seems like I'm too naive. Not kind, but naive. I didn't have the guts to shoot at your vitals, but I didn't dare to let you escape. I ended up increasing your pain. Perhaps this naive method was the most cruel choice."
"How did you, find me here...?"

"The GPS function of the mobile phone. It's quite the old technology, isn't it? Haven't you realised it? That child's phone is still on the line."
Yoshikawa stared at Accelerator with a motherly look and said,
"I could roughly hear what happened around here through the phone. But at least there's no commotion 'outside'."
Amai's hand was trembling even more. The numbness spread to his fingers as if he had buried his hand in snow for a long time. The finger that was on the trigger continued to tremble, and the metal parts of the pistol could be heard rattling against each other lightly.
"Ah, don't worry about that child. I know of a doctor who's really good. Though that doctor looks like a frog and doesn't look to be really amazing, but he has the nickname 'Heaven Canceller', and I believe that he can cure that child."
The sound of an ambulance from afar was becoming closer. Maybe she had called for an ambulance before she shot, and even designated the hospital.
Yoshikawa looked at the pistol that could fire at anytime, not stopping as she walked forward.
It seemed like she practically ignored her own safety.
She had come there to protect these children. Ever since the 'experiment' had failed, everyone wanted to push the responsibility to others, but she seemed to have forgotten about protecting herself. Facing the pistol that could fire at anytime, she didn't feel fear at all. She had only one goal, and that was to return the children that were involved in the 'experiment' to the world they should be in.
Was it really just being naive? Couldn't this be considered kindness?"
"...Why?"
Amai squeezed his voice out,
"I don't understand. This isn't like you. You can't possibly do this. You always measure up the probability of chance and risks. Is the chance presented by this act enough to topple that balance in your heart?"
"If I have to answer, I'll say that I hate to use this method of thought. I don't want to see myself succeed like this. But ever since I was little, I've had a wish. Even if it's just once, I just wanted to do something really kind and not just naive."
Yoshikawa Kikyou gave a lonely smile as she walked forward.
Both of them were less than 3m apart from each other.
"Actually, I never wanted to be a researcher."
Yoshikawa added on, mocking herself,
"Unbelievable, isn't it?"
Hearing this, Amai Ao was extremely surprised, for he knew that Yoshikawa was really talented.
"I wanted to be a school teacher. But I didn't want to have that kind of inflexible position of being a lecturer or a professor. I wanted to remember every single student's face, and for every student to come to me if they had any problems. I wanted to run around for a student, not asking for any favours in return. To always smile and act strong, yet cry out loud during a graduation ceremony and get ridiculed by my students. I just wanted to be a kind teacher. Of course, I understand that someone naive yet unkind like me has no right to teach others anything, so I've already given up on that."
Yoshikawa smiled.
Both of them were only 1m away. At that moment, Yoshikawa knelt on one leg. She wanted to make herself reach Amai's level, who was sitting down on the ground, making sure that their eyes were at the same height, as if she was talking to a child.
"However, I thought, I won't be able to give it up completely. Just once, I want to do something really kind, and not just naive. Like a teacher, I want to run about for a child."
Yoshikawa said firmly,
"That's simply it."
Both of their pistols were pressed at each other's chest.
Actually, she knew that Accelerator was unable to return to the ordinary world. The fact that he had killed 10,000 Sisters remained, and that may not have been all there was to it. Although he had tremendous power, the wielder of that power had an unstable heart. If he was not careful, he could end up causing much more damage to humanity.
But Yoshikawa Kikyou still earnestly prayed.
The strongest esper whose real name no one remembered bet his own life to save a girl, and was even willing to take a bullet to the head. The boy knew that he wouldn't be able to live together with that girl, knowing that that girl who was living under the sunlight wouldn't have any reason to be with him, but he never gave up. No matter what, the boy wouldn't give the girl up. Until the end, the boy chose the kind option, and not to protect himself.
He knew that it was too late, but the boy had finally realised that he could have a choice.
The boy understood the significance of protecting others with his own hands.
Yoshikawa wanted to protect that kindness in the boy's heart.
Yoshikawa was unable to accept that the results of that kind action would be such a cruel ending.
"It's over, Amai Ao."
The two people put their fingers on the triggers of the pistols that were pressed onto each other's chest.
"You should be afraid of dying alone. If you want to drag someone down, bring me along. No matter what, I won't allow you to do anything to those children. This is my once in a lifetime request of kindness."
"Humph."
Amai chuckled.
Since Academy City and the opposing force wouldn't accept him, he had no hope for the future.
"It seems like 'kindness' doesn't fit you."
He happily muttered. The force of their fingers were exerted on the triggers.

"Right now, you can be called 'strong'."
The two shots hit each other's chest.
The bullets pierced through their bodies and flew out from Amai and Yoshikawa's backs.
August 31 8:57pm.
END