Toaru Majutsu no Index:Volume5 Chapter2
From Baka-Tsuki
Chapter 2: A Certain Ojou's Railgun. Doubt_Lovers.
Part 1
August 31, 8:00 AM.
Within the esper development institute "Academy City", which had 2.3 million students, was Tokiwadai Middle School, a famous girls' school ranked among the top five schools in the city. Focusing on only raising elite students, the student numbers did not even reach 200. In the school, there were currently two Level 5 espers and forty-seven Level 4 espers. Also worthy of note was that one of the entry requirements for Tokiwadai Middle School was "Level 3 esper or above".
Even during summer vacation, the morning life didn't change in the Tokiwadai dorms: wake up at seven in the morning, clean up to the level of "it doesn't look too bad" within thirty minutes, roll call in the dining hall at seven-thirty, and finish breakfast by eight o'clock.
What was notable was the reason the dorms let students have until eight to finish breakfast: Tokiwadai Middle School encouraged students to take the school bus. The deadline before being late was 8:20 AM, so if one didn't take the bus, they would have to sprint full-speed to school.
Today was August 31st; because it was still summer vacation, after 8 AM and aside from dinner, curfew, and lights-out time, students had leisure time. All across the world, students were now hurrying to finish their summer homework, but at Tokiwadai Middle School, that feeling of anxiety couldn't be felt in the slightest.
Misaka Mikoto, one of the Level 5 espers, was sitting in the majestic and also ridiculously spacious dining room, spreading her arms out and yawning widely. Even though it was summer vacation, she was still in uniform. According to Tokiwadai's school rules, the dorms were still part of the school, so students were forbidden from wearing casual clothing inside the dorms. Mikoto had shoulder-length hair, a stubborn look, and a mouth that, once she started talking, wouldn't stop for twenty minutes, all of which were traits far from the "Ojou-sama" stereotype.
Then again, these weren't traits that belong solely to Mikoto. The other female students around her had finished breakfast and were still sitting and chatting with each other; and, as a whole, they gave the same impression. Even though they had special circumstances, they were still middle school students in Japan. The classical Ojou-samas described in manga and novels with a hobby of equestrian riding and a specialty of the piano were extremely rare (on the other hand, those kind of people do still exist).
Manga, manga… Oh, right, today's Monday.
Mikoto suddenly remembered something, and stood up from her chair. Every Monday and Wednesday was when Mikoto stood at a corner store and read manga magazines. Though, she didn't know that her reading them left a lot of high school students able to buy only magazines with the edges messed up.
Normally, she went to the corner store and read manga only after school, but it was summer vacation, so she could go and do it right now. Mikoto wanted to know who the culprit was in a manga that had a closed-room murder, so she hurried and left early. Just when Mikoto was about to head off, a girl in a maid outfit who was gathering the cutlery realised her intentions. This girl was a middle school student for some home economics school who was working in the Tokiwadai Middle School girls' dorm for the purpose of gaining work experience. Practical work for the home economics school varied widely, and those that could get in to the Tokiwadai girl's dorms were supposedly the finest of the finest.
"Misaka, Misaka! Are you going to the corner store or the book shop?"
"Today's not the 10th, and it's a Monday, so it's the corner store. And Tsuchimikado, your role here is that of a practicing maid, after all; shouldn't you not be talking to me so familiarly?"[1]
"Misaka, Misaka! If you're going to the corner store, then buy a kinda strange manga for me- the kind of shoujo manga that's not R-18, but still has lurid descriptions."
"Ah, I remember, your interest is BL[2], right? And Tsuchimikado, your role here is that of a practicing maid, after all; shouldn't you not be making your patrons run errands for you?"
"Misaka, Misaka! Men pushing down other men isn't my hobby, but that of the head chef. I like the kind of manga where the brother and sister get into a messy relationship."
"Wouldn't that count as seinen manga and not shoujo, then? And, Tsuchimikado, your role here is that of a practicing maid, after all; shouldn't you not be admitting that you like your own brother?"
Misaka sighed, and walked out of the dining hall, past the excessively long corridor, and towards the main door. She came across no one else as most of the students were staying in the dining hall and chatting after eating breakfast.
Misaka went to the entrance hall, and opened the huge front doors.
From the student dorms and heading outside, the view changed from an old western-style building to the street in a near-future fashion. There were no power lines; replacing them were wind power generator propellers at the end of every corner. Barrel-shaped security robots that automatically patrolled the streets came and went everywhere. A zeppelin with giant screens on its belly floated across the sky. The views of this "city" were different from those of a normal city, but for the residents here, it was already very familiar, and they could no longer tell the difference between the two.
Right across the student dorms that look like a western-style stone building was an "open 24 hours" general store. The difference between the two made Mikoto smile slightly. Just when Mikoto was about to take a step onto the road… suddenly a man's voice came from the side.
"Ah, aren't you Misaka-san? Good morning. Where would you be going? Eh, I remember that you're not in any clubs, right? If you don't mind, would you care to walk together with me for a while?"
"Uu!" Mikoto instantly stiffened, tried to hide the look of "met up with somebody extremely troublesome" on her face, and turned towards the direction of the voice.
In front of her was someone a year older than Mikoto, a tall and slim man. Though slightly thin, he had the body build of a sportsman. His hair was smooth and fine and, unlike a Japanese person, his skin was very white. A man that started exercising from the basics. This meant that even if he was holding a tennis racket or typing on a laptop keyboard, it would look fitting for him- really very advantageous. The sweat that came out of him almost seemed to sparkle, and his face nearly always had a warm smile… he was that kind of person.
Unabara Mitsuki.
He was one of the people that Mikoto found hard to handle, and also the grandson of the director of Tokiwadai Middle School. In Academy City, where the main goal was "esper ability development", the power of that position was like that of the ruling family of a major corporation. Tokiwadai Middle School was a girls' school, so Unabara Mitsuki couldn't enter the school grounds or the dorms, but he was free to roam around everywhere else.
The reason Mikoto labeled him as a troublesome person wasn't because he was someone that liked to show off his influence, though.
"Hmm, even though you're not in a club, focusing on personal hobbies isn't bad. Misaka-san, what kind of sports do you like? If you're interested in tennis, equestrian riding, squash, or golf, you can tell me; in these areas, I may be able to give some pointers… eh? Are you alright? Are you feeling well?"
"Ah… It's… it's nothing."
From Unabara's tone, he really seemed to be worried; Mikoto couldn't help but give a small sigh.
Unabara Mitsuki understood clearly what kind of enormous influence he could bring about, yet he never flaunted it. He always deliberately matched Mikoto's values, talking to Mikoto as an equal. To Mikoto, the kind of "mature" personality that gauged the situation between the two made her feel rather uncomfortable. But since the other party was using a "mature" way to get close to her, she couldn't just deal with him the same way she does with the usual high school student and fire off a bolt of electricity as a response, because that would have made her feel like an immature child.
What made Mikoto feel like Unabara was hard to handle was that, whenever she met him, she always had to be careful and prudent. It didn't feel like a meeting between friends, but rather like fawning to a senpai at a school club.
Then again, this guy wasn't so bothersome a week ago, but recently, he comes to me on a daily basis… They say summer changes men… What a disagreeable way to change.
Thinking about it carefully, in the past, they were only at a level where they would greet each other if they walked past each other. They might have stood together and chatted, but they wouldn't have interfered with each other's plans. Now was different; he had become very aggressive- almost like he was tracking Mikoto's every move…
"Misaka-san?"
"Uu…" After Unabara called out, Mikoto had involuntarily shrunk back her upper body slightly. While Mikoto was deep in thought, Unabara had closed in, and bent down to stare up at Mikoto's face.
"Don't be so deep in thought; where were you going to go?"
"Ah… Uh… (Honestly, I'm one that laughs out loud while reading manga even if I'm in the store, so I try not to have people I know around me when I go read manga, but if it's Shirai Kuroko, that idiot, it wouldn't really matter.)"
"What?"
"Ah, nothing! Nothing, nothing! I didn't just accidentally say what I was thinking out loud."
"So there isn't anything that urgently needs to be done? Ah, if so, there's a restaurant around here whose seafood is quite delicious; do I have the pleasure of inviting you to there?"
At this time, right after breakfast? Mikoto thinks, but she doesn't let it show on her face.
"Ah… but… but… Thank you for your invitation, but I have some private business to take care of…"
"Then take care of it now. I'll come with you, too."
"Uu… ah… I do have some things to do, but…"
"…?" Unabara involuntarily frowned and said, "Is it somewhere that's inconvenient for me to go?"
"Ah, that's right, that's right!" Mikoto clapped and said, "I… I'm (uh…) right, right, going to the lingerie section of the department store now; boys would be uncomfortable there, right?"
"Don't worry, I wouldn't mind."
Without the slightest hesitation, Unabara unthinkingly answered with a dazzling smile.
The excuse got broken so easily?! the Mikoto in her heart cried out in anguish.
Uu, uu, what to do, what to do? Ah, right, I'll just pretend I already have a date with some other guy! In that case, no matter what he says, he can't really stick to me like this. Even though it's old-fashioned, fine, I'll just grab a guy, say something like "Sorry, did you wait long?", and improvise something to fake it through. Even though it'll give that unlucky guy some trouble, I'll treat him to a canned drink later, and that'll do!
Mikoto looked around, trying to find a guy to play along with her act. However, today just had to be August 31st. In Academy City where 80% of the residents were students, today was "a day to stay at home and rush to complete the rest of the remaining summer homework".
In other words, there wasn't anyone in sight.
Uwah… Is there no hope left? the Mikoto in her heart once again cried out in anguish. At that instant, almost like a gift from the heavens, three boys walked out from a corner and towards them.
Part 2
August 31, 8:25 AM.
Tsuchimikado Motoharu, Aogami Pierce.
The two that had met up this morning seemed to be classmates of Kamijou Touma; the key word being "seem" was because Kamijou had lost his memories, and had no recollection of going to class.
For the Kamijou now, he shouldn't have had the time to wander around on the streets. Before today, August 31st, his summer homework had been a complete blank. The him right now could be said to be in a state in which every second was of the utmost importance.
Kamijou, in the depths of homework hell, had reasoned that it would be a long-term battle that would last to tomorrow morning, so he had gone to the corner store buy some canned coffee. But today, the brand he normally bought had just gotten sold out, with not a single can left. Just when Kamijou had been thinking about which bastard had taken all the stickers that could be traded in for free stuff for himself, he got caught by Aogami and Tsuchimikado. The two classmates who had already finished all their homework wanted to play hard on the last day of summer vacation and make some good memories.
"Aaaaaaaaah! Today's already the last day of summer vacation, Kami-yan! Sigh, and this year, there's been no encounters with any girls that fell from the sky, no finding of a catgirl in a cardboard box on a rainy day, nor even a meeting with a beautiful fiancée behind our doors that we never knew was engaged to us. It's been an incredibly normal summer vacation, the kind that novels describe with only one line: 'That high school student had a summer vacation.'"
Aogami Pierce, being a pessimist, said that in a fake Kansai accent.
"Ah, I so want to be in love! Even though we're in a co-ed school, I still want the new semester to be like one of those enviable love comedies where senpai, kouhai, teacher, students, class rep, childhood friends, and dorm manager are all girls who have no experience with boys!"
Being an optimist, Tsuchimikado Motoharu said in a peculiar tone.
Facing the two and their completely unrealistic views, Kamijou held his head with his hands, and cried out in anguish.
"Oi, oi, you two, don't tell me you guys knew that I, Kamijou Touma, am putting my life on the line rushing to do my summer homework, and came to disturb me because of that? Please don't disturb me today! If you guys are my friends, then help me with my summer homework!"
"Isn't this good, Kami-yan? If you don't finish your homework, then you can get Komoe-sensei's special personal tutoring. Ah, then why did I finish my summer homework? Of course it's to get praised by Komoe-sensei. No, no, I've followed Kami-yan's example, and have an ulterior motive, too!"
"Even if we help Kami-yan, it's not like it'll get me into a love comedy, right? If the math problems can make a mysterious beauty fall from the sky, I'll definitely help!"
Facing the two classmates who obviously viewed someone else's misfortune as a joke, Kamijou involuntarily revealed a dark smile.
"You two, you have no right to call yourselves friends! What's this 'beauty that falls from the sky'? Do the girls you like all belong to an aviators' group or something!?"
Hearing Kamijou so loudly objecting, Tsuchimikado said, as if muttering to himself, "No, no, no, in this day and age, girls who fall from the sky end up on verandas, you know."
Kamijou didn't understand his reply though, since he had lost his memories.
Aogami Pierce on the other side even started to state loudly,
"Ha, you're too naïve, Kami-yan. I have a wide range of acceptance when it comes to women: not just heroines that fall from the sky, but also step sisters both younger and older, step mothers, step daughters, twins, widows, upperclassmen, underclassmen, classmates, female teachers, childhood friends, rich girls, blonde hair, black hair, brown hair, silver hair, long hair, semi-long hair, short hair, bobs, drill hair, straight hair, pigtails, ponytails, braided hair, wavy hair, messy hair, ahoges, sailor uniforms, blazer uniforms, PE uniforms, judo uniforms, archery uniforms, kindergarten teachers, nurses, maids, policewomen, shrine maidens, nuns, military officers, secretaries, lolis, shotas, tsunderes, cheerleaders, stewardesses, waitresses, white gothic, black gothic, china dresses, weak albinos, crazy day dreamers, girls with multiple personalities, dominatrices, princesses, kneesocks, garterbelts, crossdressing beauties, glasses, eyepatches, bandages, school swimsuits, one piece swimsuits, bikini swimsuits, slingshot swimsuits, ridiculous swimsuits, non-human girls, ghosts, animal ears, etc.- any female is within my area of acceptance."
"At least one of them isn't a female, right?"
Kamijou said with his last ounce of strength; he couldn't take much more of this. Then, Tsuchimikado, with a peculiar smile on his face, asked,
"Then again, what kind of girls does Kami-yan like?"
"…Dorm manager oneesans[3]- even temporary ones will do."
"We're in a boys' dorm; even the manager's an old geezer, you know?!"
"Shut up! Even I know that's impossible in reality! I'm an only child, so of course I'd admire oneesan-type girls! Get off my case, you two!"
"Hm, so you like manager 'oneesans', huh? Does that mean you have no feelings for imouto[4]-type girls, then? Seriously, basic characters like imouto-types are the best ones."
Tsuchimikado, who had an actual younger foster sister, nodded enthusiastically. At this point, both Kamijou and Aogami Pierce looked at him with pity. Kamijou, as the representative for his friends, stated,
"I say, as your friend, for the foster-sibling relationship between the two of you to last, there's something you need to know."
"Wh… What?"
"Your younger foster sister is someone that calls anyone she meets 'Oniichan'[5]."
"WHAT did you say?!" Tsuchimikado raged, and lifted both hands up high.
"Im… impossible! My younger sister, no matter the time, place, or reason, would never call any man other than me 'Oniichan'!"
"Really? The day before yesterday, in front of the station at the underground department store, I treated her to a meal at a restaurant there, and she said to me 'Thank you, Oniichan'."
"Yesterday, I met her on that street back there, and she said to me 'Good afternoon, Oniichan', too."
Along with the sound of something being snapped, Tsuchimikado's mouth made a sound as if something was being bitten apart.
"I'll kill you both! How dare you try to get your hands on my younger sister!"
Like this, the fiery fist of an older brother struck at Kamijou and Aogami Pierce.
Part 3
August 31, 8:35 AM.
In the ten whole minutes between her first seeing the three and now, Misaka Mikoto had been frozen solid. In this time, the three of them had continued to play out a crazy brawl worthy of something from the last fifteen minutes of a Hollywood movie. Unabara at times would carefully wave his hands in front of Mikoto's eyes while saying "Hellooo?". But Mikoto didn't notice, her lips were stuck on saying the "S" of "Sorry, did you wait long?", gaping at the chaos between the three of them.
Wait, wait, wait! Are those the only people that can act as a couple with me? Would Unabara really believe that one of them could be my boyfriend…? Uwaa, they're actually talking about real-life younger foster sister issues!
Mikoto finally unfroze, and held her head in despair. At her side, Unabara asked "Are you alright?", and Mikoto quickly turned around and squeezed out a smile before starting to look around again. No, apart from those three, there wasn't anyone else in sight. And even those three in their fighting were gradually moving away from where Mikoto was. If she didn't ditch Unabara now, she'd be stuck with him for the whole day.
There was no other choice. Even though they were still fighting a red-hot battle which didn't look like they were just playing or messing around, Mikoto still decided to choose one of those three.
So, who to choose?
The first one, with blue hair and piercings… No way! This guy spouts jargon that even someone that reads a lot of manga like me can't understand, and seems to use two-dimensional logic on three-dimensional girls!
Mikoto shook her head wildly.
Then the second one, with blonde hair and sunglasses… Not this guy either! From what they just said, this guy's a dangerous character that has issues with a real-life younger foster sister!
Mikoto shook her head even more, to the point where she was starting to get dizzy.
Then the third one… eh? Is this guy… N-no way! Definitely not this guy! Ah, but… if I don't choose him, then I'd have to choose the blue-haired one or the guy in sunglasses… Uu… This… Uwaaaaaaaaaa!
"Ah, wait up! Where are you going, Misaka-san?"
From behind comes Unabara's voice, but there was no time for him now. Distance from the target was about twenty meters. The boy was focused on the final battle and had yet to notice the incoming attack.
Part 4
August 31, 8:40 AM.
"Sorry, did you wait long?"
A girl's voice from behind made Kamijou and the other two stop their battle right before the climax, with their faces showing impatience from the interruption. Of course none of them had promised to meet up with a girl, so they were all bitterly thinking, Oh, is there a pretty boy idol around here or something? Either way, it has nothing to do with us, bastard!
But after thinking about it, today was August 31st, and there was nobody else around here…
"?" Just as Kamijou tilted his head in uncertainty,
"I asked you if you waited long; did you not hear me!?"
Kamijou's back, around the level of his waist, was slammed by a girl charging at full speed. After a loud boom, Kamijou and the girl both went rolling along the footpath.
"D, Dammit, who the hell did this to me… eh? Why does it have to be you, Misaka?"
"…(What do you mean by why does it have to be me!? Ah… no, anyway, please play along!)"
Mikoto's whisper made Kamijou's eyes spread wide open, and he said something like "Ah?". On the other hand, Aogami Pierce and Tsuchimikado's reply was…
"What? Ka… Kami-yan got hugged by a Tokiwadai student! After a miko, a nun, and Komoe-sensei, there's another new Kamijou legend!?"
"…Kami-yan, just how many hidden female characters do you have in your route?"[6]
The two's comments made Mikoto shake in anger. But she didn't reply; her actions were completely different from her usual demeanour. As a Level 5 Electromaster, she normally would send off many bolts of electricity when she got mad, regardless of where she was.
"Ah, uh… Misaka-sama, what's going on?"
"…(Shh! Don't talk… Oh, dammit! The distance is too far, so he didn't hear the talking over here. So these three weren't actually that loud? Fine…)"
Mikoto stared off somewhere, and softly clenched her fists. A puzzled Kamijou followed her line of sight. Standing further down the footpath and looking slightly lonely was a cool-type boy. He didn't know how to react to Mikoto's sudden and mysterious act, and had frozen.
"Get off already!" said Kamijou; he looked impatient on the outside, but his heart was pounding furiously. After a deep breath, Mikoto yelled,
"Ahaha! Sorry I'm late! Did you wait long? To pay you back, I'll treat you to something, so please forgive me!"
"…Wha?"
Mikoto was speaking loudly. Kamijou, was speechless. For Tsuchimikado and Aogami Pierce, time stopped. And the cool-type boy embarrassingly shifted his gaze away.
Suddenly, *Bang*, all the windows of the Tokiwadai Girls' Middle School Dorm opened simultaneously.
"Ah…"
Mikoto's smile froze. The students standing next to the windows were whispering excitedly to each other. The girl with twin ponytails, Shirai Kuroko, was in a state of shock, her mouth opening and closing but with nothing coming out. After a while, a mature woman's silhouette showed up in one of the windows- apparently the dorm's highest manager.
The mature woman seemed to be saying something, though her voice was too quiet and far away for Kamijou and Mikoto to hear her. But the two could imagine what the frightful statement was:
"Interesting, you dare to rendezvous in front of the dorm with a boy. That's some courage, Misaka."
"Ah… ahaha!" Mikoto's face was scarily contorted. "Ahahahaha! Uhuhuhuhu!"
Mikoto let out a strangled laughter, grabbed Kamijou's hand, and left the scene at a speed that was literally equal to that of flight. Kamijou, who had no idea what was going on, was dragged further and further away.
Part 5
August 31, 9:45 AM.
Just like that, Kamijou and Mikoto had run through the streets for an hour.
"Wait a sec! Isn't this setting a bit strange!? Why did we have to run nonstop for an hour?"
"Shut up! Be quiet! Give me some time to think this through!"
Mikoto cried out as she shook her head vigorously.
Kamijou looked around. They were apparently on a side road, tall buildings all around them, with another smaller building seeming to be another student dorm.
Mikoto took several deep breaths before finally calming down.
"Whoo… Sorry, I kind of lost control back there. Let's find some place to sit, and I'll tell you the current situation."
"Ah? What current situation? Hey, did you just drag me into something troublesome again?"
"Ah, it's almost 10; the stores are about to open now, right? Though we just had breakfast, how about we go for a hotdog?"
"Wait, wait! Don't just ignore my question! Did you drag me into something troublesome again? I haven't finished my summer homework yet! Not to mention you gave me so much trouble; do you think you can buy me off with one hotdog?"
"Hmm?" Mikoto put her index finger to her chin and said,
"Then that'll do."
"What?"
"We'll go for the most expensive hotdog in the world; that way, you won't have any objections, right?"
"Uh, that wasn't the point… Ahh, you're not even listening to me!"
Kamijou didn't even have time to complain before being dragged off by Mikoto.
Part 6
August 31, 10:15 AM.
One for ¥2000.
After seeing the price, Kamijou was speechless. Standing in a converted caravan, the vendor smiled half-heartedly after seeing the look on Kamijou's face; he probably saw that look on his customers' faces a lot.
"2000 yen… Just what do they put in it that makes it this expensive?"
"If they told you, could they keep the business going? Ah, two hotdogs, please."
said Mikoto. While ordering the food, Kamijou looked at the movements of the vendor. The bread and the ingredients didn't differ much from normal ones, and he couldn't see anything especially strange added in. To be brutally honest, if the hotdogs here were to be compared to another vendor's, there probably wouldn't be any difference. The slightly small hotdog couldn't even be called a proper meal- at most, it was a small snack.
Something like this can actually cost 2000 yen? Kamijou thought while feeling fatigued, not knowing what to say. Mikoto took the two hotdogs, and paid for the both of them.
"Ah, hey… The money…"
"Don't be so shocked, alright? Even hotdogs have difference in quality. Some vendors in Los Angeles actually have movie stars go to them in limos. Why are you scared half to death by the difference in price?"
"That's not what I mean. I'll pay for my own share."
"Ah? Don't mind the small change; besides, taking out your wallet can be troublesome, right?"
Mikoto said that lightly, so the short-in-cash student Kamijou could only laugh hollowly. Apparently, Misaka Mikoto, who attended Tokiwadai Middle School, was an authentic ojousama after all.
The hotdog seller, when choosing where to set up shop, probably had considered "places to eat" as there were benches nearby. The trees near the footpath stood against the sunlight like shields and the shade looked cool enough… but in reality, it was still hot; the heat wave of the Kanto district should not be looked down upon. Faint sounds of construction could be heard from afar.
"Here, take it."
Kamijou took the hotdog out of Mikoto's hand, carefully observed it, and then took a bite. Though he was somewhat unhappy about the situation, it was still fairly delicious. What made him even more unhappy, however, was that he couldn't really taste the difference between this one and one from any other store.
Mikoto bit into the hotdog, carefully making sure that the mustard didn't get on her nose, and started explaining the events to Kamijou. Unabara Mitsuki, that cool-type guy, had been sticking to her, and she had difficulty getting rid of him. She had been subjected to his invitations every single day for the past week, and to get rid of him, she needed someone to pretend to be her boyfriend- and the only choice available was Kamijou.
Kamijou looked around, and of course didn't see Unabara anywhere. After all, he couldn't be hiding behind trees twenty-four hours a day, spying…
"Though, now that we've lost that Unabara, there should be no need to act now, right? Even if we act in a place where he can't see us, it'd be meaningless."
With Kamijou's summer homework piled sky-high, he really didn't have time to get into other people's problems today.
"Hmm… though we've only lost him temporarily for now, I'd definitely be stuck with him next time, so I better use this chance to make sure he'll never come bothering me again."
"…Oi."
"So if I be with you for the whole day today, let as many people see us as possible- even better if Unabara sees us a few times- just so the impression would be more reinforced. If we can make Unabara stay away from me, then it'll be all good… What, why are you holding your head like that?"
"Nothing." Kamijou held his head, and sighed.
In other words, Mikoto was asking Kamijou to pretend to be her boyfriend for the day. Kamijou was very worried though, since if the plan succeeded, he would become "a total bastard that goes after middle school students." Though, since Kamijou was living together with Index at this point, he really didn't have to put up a self-righteous façade like that- but at least he didn't know how old Index was. Even a female teacher could look only twelve; a woman's age was unfathomable.
And most importantly, he still had his summer homework to do. Due to those various reasons, Kamijou really wanted to refuse to help Mikoto, but he noticed that Mikoto's eyes were starting to show some impatience, and this somewhat alarmed Kamijou. If she really got annoyed over this, he wouldn't only not have time to do his homework, but would also be forced into a 24-hour Ironman endurance battle (though for some reason, Kamijou was only worried about the fight dragging on and not the possibility that he would lose).
Seeing Kamijou keeping silent, Mikoto felt discontented, and said,
"Oi, if you have any questions or thoughts, then say them already."
"Thoughts, huh…? Do you want to rub the mustard off your nose first?"
"What?!" Mikoto blushed bright-red. She wrapped up the hotdog with a paper towel, put it on the bench, turned away from Kamijou, and took out her handkerchief, hastily trying to rub the mustard off the tip of her nose.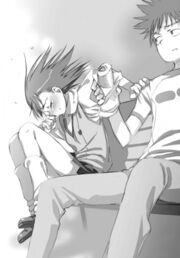 "Uu~~?!"
Then Mikoto held her nose, and kicked her legs furiously. Apparently, she had rubbed too quickly and accidentally got mustard inside.
"Ah… are you alright?"
Kamijou imitated Mikoto, wrapping up his hotdog in the same way and putting it down on the bench, before using his now-free hands to search his pockets, looking for tissues or handkerchiefs. At this point, Mikoto strained a smile, and said,
"I'm… I'm alright. Actually, nothing happened."
Looked like she wanted to hide at all costs the fact that she made a mess of herself with the mustard. Mikoto turned back to Kamijou, trying to fake as if nothing were out of the ordinary, but the mustard was still apparently affecting her nose. She was not only blushing, but her lips were also tightly pressed, as if she were suppressing the urge to let tears flow. Even her eyebrows were quivering.
"Get… get on with it already, any questions or thoughts?"
"Eh, are you really alright? Then again, this is so like you, crying over something this small. You actually cry a lot, don't you…?"
"Shut up! I said nothing happened, so nothing happened! Oi, don't put up a resigned face and approach me with that tissue!"
Mikoto shot vicious look at Kamijou, so he hurriedly retrieved his hands.
Fine, if she wants me to forget this, I'll just pretend this never happened.
"Eh?"
Kamijou involuntarily let out a slight sound.
In the small space between Kamijou and Mikoto were two tidily wrapped hotdogs. Needless to say, they were their hotdogs, but which one belonging to who couldn't be distinguished.
Mikoto also noticed.
"Eh… Do you remember which one was yours?"
"I forgot; it's probably the one on the right."
Kamijou went for one without much thought. However, Mikoto grabbed Kamijou's wrist with surprising speed.
Kamijou stopped and looked over at Mikoto.
"Wait… wait a minute, let me check."
"What?"
Mikoto grabbed the one in Kamijou's hand and compared the two of them. She peeled the paper towel away and looked carefully at the bitten parts.
To Kamijou's eyes, there wasn't much difference between the two. Both hotdogs were half-eaten, so there was no difference in size. The ingredients for both were the same too.
Then again, it was the exact same hotdog; Kamijou didn't understand why it should matter which one was which.
"Did you figure it out?"
"…"
"Did you figure it out?"
"…"
"Did you-"
"Ahh, I don't know! Fine, as you said, you take the right and I'll take the left! Seriously, you should at least care about this a little, baka!"
Kamijou took the hotdog from a babbling Mikoto, tilting his head in puzzlement.
"Sigh, I don't know what you are so uptight about; didn't we order the same thing?"
He then bit into the hotdog as if nothing's wrong. Of course, there wasn't any change in the taste either.
Mikoto, who until a moment ago was still making a fuss, suddenly became quiet. For some reason, even her movements froze up.
"What's wrong?"
"Nothing," Mikoto answered.
Then after staring at her hotdog for a while, she finally nibbled into it like a small animal. Her face seemed to blush slightly.
"…Back to the original topic, I need your help to 'act' with me to fool Unabara. Do you have any questions or thoughts?"
"I say, just what is wrong with you? You suddenly became so timid, does that means getting mustard on the nose actually has this kind of power–?"
"Shut up! It wasn't because of that reason… Wait, just what am I saying!? Anyway, say any question or thoughts you have already!"
Mikoto, with a red face, leaned over and shouted, their faces almost touching. Kamijou hurriedly leaned backwards.
"Uwaa! Uh… Uh… my thoughts are 'are you kidding me!?', and my question is 'just what do we have to do to act like a couple?'"
"Eh? What do you mean doing what…?"
"What I mean is, what do we have to do so that we appear as a couple to everyone?"
"…"
"…"
Neither Mikoto and Kamijou had any idea what to do next.
It wasn't just by doing an activity that two people became a couple. A true couple, no matter what they were doing, would always appear as a true couple; the inexperienced duo here had no idea how to portray that.
Part 7
August 31, 10:45 AM.
In the end, Kamijou and Mikoto decided to sit there and chat.
However, most students were focused on finish their summer homework, so the place was empty of people. The only one that could see the two of them talking was probably the hotdog vendor. The "let as many people see us as possible" part of the plan was failing miserably from what Kamijou could see.
"So yeah, after the 'experiment', there's less than ten Sisters left in Academy City; the rest of them got sent off to facilities 'outside' to adjust their bodies."
"What? Sent to 'outside' facilities, is that alright? If the people 'outside' examine the Sisters, wouldn't the contents of the esper development program be leaked out?"
"Some of the other companies and research facilities outside are also on the side of Academy City. Academy City can't survive by itself; things such as allocating resources, obtaining various information, dealing with legal issues… there are plenty of links that aren't seen on the surface."
"Oh, so I guess that means they should be doing alright. That's good, that's good."
At this point, Mikoto went silent for a moment, as if displeased with something, with a somewhat unhappy look on her face. Kamijou didn't know the reason for that, but he followed suit and also fell silent.
"Wait, this doesn't seem like what couples talk about, right?"
"Hmm, you're right. Research facilities, Academy City's influences, body adjustments, the things we're talking about are pretty weird."
"…(I meant we shouldn't be talking about other girls.)"
"What?"
Kamijou didn't quite hear her, but Mikoto only replied with a "Nothing".
Mikoto snuck a glance at Kamijou's, only to see Kamijou take out a pile of folded paper from his pockets with a bored look on his face. On closer inspection, it seemed to be a paper on old Japanese. Kamijou then took out an automatic pencil and started doing the questions.
"…Oi, do you understand the situation right now? How do we look like a couple right now? Just studying and leaving the girl at the side, do you think this is male-dominant medieval Europe or something?"
"Sigh, alright, alright, the Irewa Mikoto's so moe~"[7] "So by Irewa, you mean you never took me as a human?!"
"Uwaa! Alright, treat this as a study session between couples, then! Honestly speaking, I haven't even finished one section of my summer homework, this next 24-hour period is like a homework hell for me!"
"What's summer homework?"
"…Eh, Misaka Mikoto ojou-sama, you don't know what summer homework is?"
"Ah… come to think of it, I think I've heard of it before; it's something for students so that they won't slack off during the holidays and end up doing worse in their studies, right? Though even without these things, people shouldn't slack off or get worse in their studies, right?"
Kamijou was speechless. Tokiwadai Middle School actually didn't have a thing like summer homework?
"Uu, that's not fair, why does Tokiwadai have such freedom?"
"How should I know?" Mikoto shrugged off all responsibility with that one sentence.
"What kind of stuff do you get for summer homework?"
"Eh? You can have a look if you want, but these are questions for a high school student; a middle school student like you won't understand it."
"Just let me see already!"
Kamijou offhandedly looked to the side at Mikoto before hurriedly leaning back from her. Mikoto, who had leaned over to try and see his homework, was almost touching him cheek-to-cheek.
"Oh, is this for old Japanese? Though it looks like it's only simple revision."
Mikoto didn't seem to realise this. She then took the pencil from Kamijou and started writing down the answers, almost completely leaning on Kamijou while doing so. Kamijou could smell a slight faint scent of shampoo from her.
Uwaa… Not… Not good! I don't know why, but this isn't good!
No matter which part of his body he moved, he'd end up in contact with Mikoto's body. Kamijou stiffened up to the point where he couldn't move. After a while, he finally noticed something.
"…Eh? How come you know how to do this?"
"How come you don't?"
Mikoto answered as if it was only natural, without any negative overtones in her comment. Kamijou got a sudden urge to run away from her. Mikoto put her hands on Kamijou's shoulders, smiled gently and said,
"Don't worry, everyone has something they're not good at. Ah, right, I'll finish these questions for you in return for dragging you into this."
"As a high school student, I'm getting tutored by a middle school student…"
"Ah… ahaha, uwa, you're looking really sad about it. Do you want a drink to change the pace? I'll go get some, and after that, we can keep going with the homework."
"Ah? If we're going to buy some drinks, shouldn't I be the one that goes? Let me go walk around a bit to change the pace- not to mention I still owe you 2000 yen."
"If I said I'll go, then I'll go; if these small matters get refused, it gets kind of awkward, right?"
Mikoto smiled half-heartedly while getting up from the bench, and ran off, leaving Kamijou alone. It didn't look like there were vending machines around here, so maybe she was going to the nearest general store or something.
We're basically just eating and drinking constantly, huh…?
Kamijou looked in the direction Mikoto had ran off to before lowering his head and staring at the old Japanese homework again. To be honest, in Kamijou's eyes, the Japanese on the paper looked no different from English.
"…Sigh…"
Kamijou shook his head tiredly, and moved his gaze away from the paper.
All of a sudden, a small dog ran past Touma, and on its collar was a leash. Apparently, it had just ran away from its owner.
Kamijou was slightly surprised, looking at the escaping dog. At this point, a cool-type boy ran across Kamijou's view and went chasing after the dog. Kamijou still remembered that face; that person was Unabara Mitsuki. Not long after, he caught up with the dog, and held onto the leash.
A few moments later, a boy who looked to be still in primary school caught up to Unabara. Apparently, this boy was the dog's owner. Unabara handed the leash over to the boy, and also said a few things to him. This sight was almost like the cliché where one returned a balloon that was stuck in a tree to a child.
That was so cool, so elegant. So these people actually exist. In terms of rarity, it should be as rare as a girl that runs away from home and ends up sitting on the swings at a park while crying.
Kamijou thought, half-amazed and half-impressed. Truth be told, he was also one of those extremely rare people, the kind who saved girls being harassed from delinquents.
Kamijou and Unabara's eyes met.
Unabara apparently remembered Kamijou's face, too. After showing a slight amount of surprise, he smiled something that appeared similar to a grimace.
"Hello, may I ask what your name is?"
"Ah? I'm Kamijou Touma. You're Unabara Mitsuki right?"
"Eh? I am Unabara Mitsuki, indeed, but how did you know my name?"
Unabara showed an astonished look. He didn't know that Kamijou had already heard about him from Mikoto. Truth be told, Kamijou, who was busy with his homework, had been dragged into this mess because of him.
"Does Unabara Mitsuki have any business with me, Kamijou Touma?"
"Ah, no, there isn't really anything urgent." Unabara seemed a bit unbalanced, and said, "Uh, if you don't mind, can you tell me what your relationship with Misaka-san is?"
"Does it bother you?"
"…Yes; when a guy appears next to a girl I like, it obviously bothers me."
"Ooh…" Kamijou had a better opinion of Unabara after that.
This man was indeed really likable. Surprisingly, he was someone who spoke his mind. Kamijou respected this kind of person.
Hmm…
Kamijou thought a bit more, as he only just got asked by Mikoto to act out a scenario to make Unabara completely give up.
"What kind of answer do you want to hear: the answer that's expected or the answer that's unexpected?"
"No answer you give would change what I have decided," Unabara said without any hesitation.
From this, Unabara's resolve could be seen. He planned to increase his own worth in Misaka's eyes to gain the advantage rather than defeat his opponent. Maybe this perspective held some amount of stubbornness and recklessness, but Unabara amazingly did not give off the negative feelings normally associated with that kind of act; maybe this was because he didn't act hostilely to Kamijou or hold resentment towards Mikoto.
Part 8
August 31, 11:02 AM.
After chatting with each other for a bit, Kamijou discovered that Unabara Mitsuki's personality wasn't that bad.
Kamijou had originally thought he was just another rich guy since he was the grandson of the director of Tokiwadai Middle School, so he must be one of those unlikable upper-class people- though Kamijou turned out to be mistaken on that.
"So I feel Misaka-san should be clearer when saying whether she likes or dislikes someone. Ah, the answer to that question is (3)."
"It's (3)… (3)… Is it? But I feel she's fairly direct when it comes to her feelings. Once, I forgot her name before, and I got attacked by her thunderbolts because of that."
"I think for her being 'direct' here, it probably involved a certain amount of shyness and acting. To be honest, I don't think I ever heard what she truly thinks, not even once. Ah, the answer to that question should be (4); (2) is probably a trap."
"Thanks. Hmm, after you said that, it seems to be the case."
"Yeah, it's like that. She doesn't say what she thinks clearly, so someone like me is forced to go chasing after her continuously. I'm being direct, so why can't she be direct as well and give me a clear-cut answer? Ah, that question's (1)."
"Ah, it's not (4)? Though you sure are brave. What you're doing right now is like getting a pistol while not knowing how many bullets are in it and playing Russian roulette with it. Even though there are only two outcomes, it's not like the chances are exactly 50% each way."
"I understand. I'm afraid that if I hear refusal from her mouth, I myself wouldn't know how sad I would be. But…"
"But?"
"...I still can't. I can't do something that I know would make her cry, and still forcibly take possession of her. If I can't let her obtain happiness, then there would be no point."
Kamijou suddenly wanted to root for him in his endeavour, but unfortunately, he already knew the outcome.
Ahh, youth.
Kamijou sighed. To be blunt, Kamijou couldn't help at all when it comes to a thing like this. And after hearing the words from the bottom of Unabara's heart, Kamijou didn't know whether he should still put on the "act" to try and fool him.
Suddenly, from the side came the sounds of footsteps.
Kamijou turns and looked. Mikoto, who was holding two plastic bottled drinks, was standing right in front of him, staring with a shocked expression.
"Hmm? What's wrong with you…?"
Before Kamijou finished asking, Mikoto strode out towards him, gesturing for him to stand up with her chin, as if to drag him away from Unabara.
"Come with me for a moment!"
"Ah… Oi!"
Kamijou looked over at Unabara. Unabara seemed to be hurt from Mikoto's actions, but he still maintained his smile. His expression became forced, though.
Mikoto looked at Unabara and said,
"Sorry, I have some business with this guy today."
"Ah, is that so?"
"Yeah, sorry. Goodbye."
Mikoto said with a smile. To Kamijou who understood her to some extent, Mikoto's actions were unnatural to say the least. Unabara also seemed to notice, and didn't try to argue with her. Then, Mikoto turned and walked away.
Kamijou was troubled as to which side he should stay with, not knowing who to choose. Unabara smiled and said, "Please stay with her."
Part 9
August 31, 11:20 AM.
After wordlessly walking for a while and ending up at a deserted side street, Mikoto finally stopped. Kamijou almost walked into her at her sudden stop.
She turned forcibly and, with an expression filled with amazement and anger, said,
"What the hell is wrong with you? Don't you know the reason why you have to act along? If you and Unabara became friends, wouldn't it all have been meaningless?"
"…"
"Listen, right now, you're now my… my… 'lover'! All this is for Unabara Mitsuki to no longer come harassing me! Could you please not forget this basic goal?"
"…"
"What, why aren't you saying anything?"
"I can't," Kamijou honestly said. "Because that guy's serious. He already knows that doing so would only get him hurt in the end, yet he still honestly came out and stated his feelings for you. And he already decided that even if he's hurt because of it, he won't end up resenting you. I can't trick someone like him, nor do I want to."
"What…?"
Mikoto seemed surprised, looking stunned at Kamijou.
Kamijou didn't realize Mikoto was slightly trembling.
"On the other hand, I want to ask you: what don't you like about Unabara Mitsuki? Does he have some sort of serious flaw? Of course, if you don't like him, it's not right to force you to go out with him, either, though I do want to know the reason behind this."
"…"
Mikoto stared at Kamijou, as if she wanted to say something. But her lips were tightly pressed; not a word was able to be emitted from them- even her breathing seemed to stop.
Kamijou and Mikoto prolonged the silence.
After some time, Mikoto finally said,
"You…"
"?"
"…Mm, nothing."
Mid-sentence, Mikoto seemed to change her mind and didn't continue. She put up a smile that said there was nothing wrong, but her eyes showed a bit of loneliness- at least that was the feeling Kamijou got.
Part 10
August 31, 11:45 AM.
In the side street, there were only Mikoto and the boy.
From the words that had come out of the boy's mouth, even from what was seen on the surface, what the impact of those words do to Mikoto was clear. She didn't know what "that feeling" that pulsed through her heart was. But, she subconsciously felt that "that feeling" shouldn't be shown- no, it could even be said that there was a force inside her that absolutely could not let "that feeling" out.
On the other hand, this also meant "that feeling" was so powerful that if she was not careful, it would erupt from inside her. Mikoto was trying with all her might to suppress "that feeling", which was running around inside her like steam in a kettle.
It was unbelievable.
Even though she knew "that feeling" shouldn't be shown, suppressing it was making Mikoto feel painful beyond her belief. Does this mean that deep down, Mikoto wanted to let out "that feeling"? No, that was not it either. Just thinking about the aftermath of letting "that feeling" out made her blush bright red.
In such complicated confusion, Mikoto didn't even know what "that feeling" was.
Mikoto herself didn't know what was going on, and could only suppress all thoughts before they left her mouth.
Mikoto now dimly realized something.
Mikoto had always thought she was someone special. She believed that her distance with this boy was closer than that of anyone else around him. If the boy had had a list with the names of a thousand people and, while he was browsing through it, came across the name "Misaka", he should have been slightly interested in that instant and looked at that name a bit longer.
However, in reality, that was not the case.
It was such a small realization, but it gave Mikoto's heart a large shock. Why something this small hurt her so much, Mikoto didn't know- nor did she have a way to solve it. If possible, she really wanted to run away. Mikoto wanted to run away from this inexplicable pain so much.
But Mikoto couldn't do that.
She didn't know why, but she couldn't turn her back on him; she couldn't leave the boy and not come back.
That would be very painful.
Compared to the pain now, it would be a lot more painful.
…Ahh, I'm such an idiot.
Mikoto sighed in her heart.
The boy seemed to not notice the internal struggle of Mikoto, only asking with a puzzled voice,
"What are you smiling about?"
Part 11
August 31, 12:00 PM.
Kamijou and Mikoto walked to the main road, discussing what to do next about Unabara.
"Alright, what do you plan to do now? Do you want to continue the 'act'? Or do you want to give it up?"
"…Sigh, what do you think we should do?"
"I'm planning to withdraw from the 'act'. There's really no point in continuing. And anyway, Unabara's not the kind of person you think he is, right? Even if he's rejected, he wouldn't be angry at you."
"Maybe so, but recently he changed; it's like he's a different person… Anyway, why are you helping him? What happened?"
"Nothing much, just asked him for some help on my homework."
Mikoto frowned, so Kamijou passed the old Japanese homework over for her to have a look. After Unabara's help, most of them were correctly answered.
But after Mikoto took a look, her expression became serious.
"Indeed… the answers are correct."
"Hmm? What are you trying to say?"
"Was he this smart? From what I remember, he shouldn't be this good."
"What? But he got the correct answer, didn't he?"
"Mm… His grades at school are indeed top of the class… but his ability is Level 4 Telekinesis, a kind of unseen power that can control objects from a distance."
"Does that have anything to do with his grades?"
"Of course it does." Mikoto crossed her arms and said, "According to that nosy Shirai Kuroko's behind-the-scenes investigations, he actually got his grades through cheating. His method is to put a thin layer of his ability on the computer screen for the exam, feel the minute heat and radiation, and reverse-engineer the correct answer… Simply put, it's like a stethoscope. So, his grades and his knowledge have no connection."
"Uwaa…" Kamijou was speechless. He had heard of a special kind of machine that could measure the slight magnetic field released to decode the electronic flow of information. But for a human to be able to achieve the same thing really surprised Kamijou.
"How come you can just stand there and say it like it's nothing special?"
"It's not that rare, is it? As an Electromaster myself, I can do similar things- for example, stealing information from a credit card's magnetic strip."
Looking at Mikoto saying it as if it was nothing special, the Level 0 Kamijou Touma could only choose to keep silent.
Part 12
August 31, 12:12 PM.
Lunchtime.
Maybe it was because he already had a hotdog that Kamijou didn't feel that hungry. But he just remembered that Index was left alone in the student dorms. The kitchen had some food, like bread, that didn't need to be cooked before being eaten, so she shouldn't starve. But knowing Index, she would probably not do anything and just wait for Kamijou to get back.
"Alright, so the act stops here. To repay you, I'll treat you to something. What do you want to eat?"
"You still want to eat? No, thanks, I'm not that hungry."
"It's to repay you, so just accept it already. Ah, the extra-large sized 'hell's fried rice' that's free if you can finish it in an hour! Do you want to try?"
"You're just messing with me now, aren't you?"
As it was now time for food, many students came out looking for a place to eat, and the place started to get bustling.
Kamijou followed Mikoto in the crowd, being careful not to lose her, and said,
"Wait, if we end the act now, how are you going to deal with Unabara?"
"I'll handle that myself. I might get in some trouble with the director, but… Forget it, that's my problem."
Mikoto's tone seemed to show that she was resigned to whatever would come after that. Kamijou decided not to press the issue any further.
The two of them went to various places looking for a place to eat lunch, but all the restaurants were full. In the end, the two decided to buy some cheap hamburgers and just eat them outside. But even with this compromise, all the fast food retailers had long queues; it looked like they would be lining up for a while.
"I'll go stand in the queue, you just go stay somewhere for a while. I'll decide what to eat; there's no problem, right?"
"Ah? We can just line up together, right?"
"Don't worry. I'm the one that dragged you into this, so I should be doing some of the more boring stuff."
After that, Mikoto went off and joined the queue. Maybe it was because this shop was exceptionally popular that many more came soon afterward, and Mikoto disappeared into the crowd.
If he tried to force his way into the crowd to join Mikoto, it would probably be rude to the others around them, so Kamijou gave up on trying to go in and stayed outside by himself.
Uu, in the direct sunlight of summer, it's probably worse out here than inside. Ahh, come to think of it, what am I going to do about my summer homework?
Kamijou looked up and stared at the sun with an expression like a slowly drying potted plant. At this time, a familiar face showed up next to him.
Unabara Mitsuki.
"Eh? What are you doing here? And by yourself? Did you finish what you two were doing already?"
"Hmm? Ah, Misaka's in there." Kamijou pointed inside. "Do you want to go and talk to her? She should be calm enough now to be able to talk to you."
"No, don't bother; just then, she still seemed unhappy."
Unabara said this with a troubled look on his face.
Part 13
August 31, 12:15 PM.
At the takeaway, it was as crowded as a train carriage during rush hour.
Mikoto in the crowd looked tiredly at the ceiling.
Summer, the crowd, the heat… Uu… The air conditioner is on, so why is it still so hot!?
Looking at the unmoving line, Mikoto considered whether to change to another shop. But looking back, there was also a wall of people behind her. If she tried to go out now, she would also cause trouble for people.
Mikoto dryly laughed a few times. At this moment, someone pushed forcibly into the crowd from the back, amid the annoyance and displeasure of the people who moved aside like the tides parting.
Then, the crowd in front of her parted aside.
From the crowd, someone she was very familiar with fell onto the ground.
"Eh? Hey, why are you-?"
"Run!"
He cut off Mikoto's sentence.
Covered in sweat, his right hand, for some reason, was covered with bandages.
The boy with bloodshot eyes yelled crazily.
Part 14
August 31, 12:15 PM- the exact same time.
"Ah, thanks for helping me with my homework,"
said Kamijou, who was standing on the hot summer sidewalk waiting for Mikoto. In comparison, Unabara, in the same position, still managed to give off a cool atmosphere, smiled, and said,
"It's nothing; I only did what I could with all my power."
…'with all my power'?
Kamijou felt that something wasn't quite right. Unabara also felt a slight pause in the conversation and asked,
"What's wrong?"
"Mm… I want to ask you something."
"Go ahead."
"Are your grades good?"
Unabara paused slightly before saying,
"Ah, sorry, did I get something wrong on the homework?"
"T, That's not it…"
How could he ask 'Didn't you get your grades by cheating?' in front of him? Kamijou hurriedly looked for some way to change the topic… Suddenly, his mouth stopped moving.
"What's wrong?" Unabara asked, slightly confused, but Kamijou didn't answer. Actually, nothing was wrong with Unabara; what Kamijou was looking at was behind Unabara.
Behind Unabara Mitsuki. The fast food shop Mikoto was lined up in, due to it being lunchtime, was packed with people; plus, the students walking by made it seem even more crowded.
In this view full of people… Kamijou saw another Unabara Mitsuki.
The man whose face, height, clothes, and everything else looked exactly like that of "Unabara" was soaked with sweat and has bloodshot eyes as he rushed into the fast food shop.
Seconds later, Unabara seemed to notice where Kamijou was looking and turned around to look at the fast food shop. But that man had already pushed himself into the crowd.
Kamijou was very suspicious. Was it only someone who looked a lot like Unabara…? If it's like that, then it's too similar. Even though they felt slightly different, they looked exactly the same on the outside… yes, just like Mikoto and Misaka Imouto.
"Hey, do you have any siblings?"
"No, I'm an only child. Why do you ask?"
"Uh… I just saw someone who looked a lot like you entering that shop."
Kamijou pointed at the shop, and Unabara turned back and looked once more.
"Mm… I didn't see, so I don't quite understand what's going on. You only got a glance at him, right? Could it be that it's only the hair and clothes that looked the same? Anyway, I don't have siblings."
After that was said, it seemed to be right. Kamijou hadn't looked that close, so he was really not sure on the details. Now Unabara seemed a bit anxious, taking a look at Kamijou before looking back at the direction of the fast food shop.
"Excuse me, but did that person really look like me that much?"
"Eh? Ah, mm. Not just like you, but almost… exactly the same, though it's probably just someone that looks a lot like you; don't be so worried."
"That person who looked a lot like me went into the shop, and Misaka-san's in the shop, too, right? I'm a bit worried."
Unabara had a troubled expression on his face as he looked at the entrance to the fast food shop.
"Among the espers in this city, some supposedly have the 'Metamorphose' ability. Just like its name, it can make somebody's face or body similar to someone else's, though it's apparently impossible to change it at the genetic level."
Looking at the slightly nervous Unabara, Kamijou thought that maybe he was just worrying too much, though maybe it was natural for him to be that way, since he liked Misaka.
"Hmm, it doesn't matter if it's someone that looks similar; we can just go in and check, right? Even though I think it may just be nothing, it's good to clear things up as fast as possible."
Kamijou walked towards the fast food shop, but Unabara instead took a step back.
"Ah, no… I just made Misaka-san mad; if I really am just worrying too much and see Misaka-san like this, I'll be troubled."
"Why do you have a lonely smile when you say things like that? You just care about her, right?"
"Caring about her and being nosy are two different things. Sorry, if possible, can you go in and have a look if there's anything wrong?"
"Alright, I get it, though even if this isn't something I should intrude in, I feel that you don't have to be so timid at this point. Just in this past week, she has already refused several of your invitations, but you didn't give up, right?"
"Uh, I don't get what you are saying."
"Ah, I meant…"
"All this week, I was at a club practice. I know she was avoiding me, so I thought that maybe I should let both sides cool off a bit first. Today's the last day of summer vacation, and I wanted to see Misaka-san after I haven't seen her for a while, so I came to look for her."
Kamijou was surprised. According to Mikoto, "Unabara Mitsuki" had been harassing her all this week- but "Unabara Mitsuki" himself said he had been at club activities. If that was the case, then who was it that had been going to Mikoto all this time?
Unabara didn't seem to know this. Kamijou didn't want to cause more unease for him, so he just ran past him and headed for the fast food shop.
But after running halfway there, Kamijou thought of something. If Unabara cheated to get his grades, then how had he gotten the answers to his homework so easily?
As Kamijou questioned this, from behind suddenly came Unabara's voice.
"It looks like nothing ever goes as planned... When you lie to deceive someone."
With a *Don!*, the center of Kamijou's back was hit by a strong impact. A few seconds later, Kamijou realized it was from a fist. Just like when a plastic bag full of air is suddenly stepped on, the air inside his lungs was pushed out of his body, not to mention yelling in pain- he couldn't even breathe.
Kamijou turned his head around, looked behind him, and saw Unabara Mitsuki with a cold stare looking back.
Kamijou didn't understand what was going on; due to the lack of air, his head blanked out for a moment. Unabara put his hand behind him and took out something similar to a knife.
As Unabara stabbed forward with his knife, Kamijou also stepped forward hurriedly.
Kamijou felt the knife almost slash across his back, and started sweating. But he still forced himself to breathe and opened some distance between himself and Unabara to prevent a fatal blow. In such a large crowd, everything below the chest was blocked from sight by other people, so rather than covering Kamijou's mouth and stabbing him, this was less obvious. If Unabara killed Kamijou this way, he could still blend into the crowd without anyone noticing his acts.
This wasn't a suicidal attack that took the opponent down with him, but an assassination technique that put one's own safety first.
An act of violence carried out in broad daylight amongst a crowd of people.
But there were no screams or disturbances; from this, one could see how skilled Unabara was.
Could it be…?
Kamijou felt himself losing his balance. He tried to stabilize himself, but his stumbling feet couldn't stop. As if using "Unabara" as the center of a circle, Kamijou moved continuously.
Could it be… that this one is the fake…?
"Unabara Mitsuki" smiled slightly, as if seeing through Kamijou's thought from his eyes.
Kamijou looked at "Unabara Mitsuki's" hand, and saw him holding a knife made of black stone. It didn't look like it was made by cutting, but instead by chipping the rock itself.
Because it didn't look like a weapon, people around it didn't panic when they saw the stone knife.
Kamijou kept trying to focus, blinded by the pain in his head, and asked,
"…Dammit… Why… are you doing this…?"
"You're asking me why? Because now is the crucial period of infiltrating… even if I explain it, you wouldn't understand the importance of it, right? Then again, the real deal actually escaped. Guess this half-assed way of just imprisoning him was a mistake; I should've just killed him in the first place. Ah, just so you know, I'm not his brother or someone that looks similar to him. Apart from science's 'Metamorphose' ability, there are other ways of changing one's image into someone else's."
"Unabara Mitsuki" said this before pointing his stone knife at the sky.
Boom!
Something invisible flew past Kamijou's cheek.
Something like an invisible laser had been shot from the knife's edge, hitting an illegally parked car behind Kamijou. Almost like it had been branded, a complicated seal appeared on the door of the car. From the seal, something invisible was spreading out. Just like an evil look at somebody else, it couldn't be seen, but it could be felt. It seemed that this phenomenon couldn't be explained by science- almost as if it symbolized the existence of a power outside science.
That was magic.
After a second's pause, a huge clatter was heard. The car's doors, glass, frame, wheels… every part was disassembled.
Not "destroyed" by a rough cutting or pulling, but "disassembled" like a toy model being returned to the state it was in before being built.
Kamijou's face went white after seeing that.
If that incomprehensible attack hit the human body, what would happen… could easily be imagined.
A disturbance spread among the crowd like a wave, but nobody screamed, nor did they panic. From their eyes, this was only an "unordinary phenomenon", and nobody thought of it as an "attack".
"Unabara Mitsuki" didn't even look at his surroundings.
Once again, he raised his knife.
"?!"
Kamijou started to sweat profusely on his back.
Unabara's attack was fearsome. Though Kamijou's right hand had the ability to destroy any supernatural power, but to be able to predict this kind of attack where it couldn't be seen by the eyes was just as hard as trying to see and dodge bullets.
Mikoto's electricity attacks may have been similar in attack style, but after all, the electricity attack could be blocked by extending out his right hand and using it as a lightning rod to attract the attack and then negate it.
But that wouldn't work against Unabara's mysterious attacks.
And the most frightening thing was that the accuracy of the attack was very low. Kamijou was only five meters away from Unabara, without any defenses, and the attack still hadn't hit him. It had low accuracy, but its power was enough to destroy a car in one blow.
There were plenty of passersby who were surprised by the car being disassembled, but nobody thought that it was an attack on someone. Unabara didn't care about dragging somebody else into this mess. If this magician was allowed to rampage in this situation, a lot of people would be hit by stray shots.
"Dammit!"
Kamijou risked the danger of turning his back to Unabara in order to find a deserted place. He dashed into a side street, running frantically down the twisting and turning path.
The sounds of the invisible-weapon-wielding "enemy's" footsteps could be heard closing in step by step.
Part 15
August 31, 12:24 PM.
Dammit! What the hell is going on? Why would a magician appear here?! What is he after?!
Kamijou cursed in his head while running through the side streets.
First, he needed information on the enemy's attack traits.
Kamijou took out his cell phone while running. Fortunately for him, the enemy's attack didn't have rapid-fire or much accuracy. But even so, being in a situation where the enemy's attack was continuously fired from behind still made Kamijou feel pressured. The fingers holding the phone shivered involuntarily.
The ringing started. Once, twice, three times, four times, five times, six times, seven times, eight times, nine times.
"Ah, uh, Hello! This is the Kamijou residence, yes!"
"Too slow!"
Kamijou shouted meaninglessly, and after hearing that, the girl on the other side also started to get mad.
"Ah, is this voice Touma? Touma's the one that's slow! When can we eat lunch? Or should I go to Komoe's house for help? If you don't clearly say beforehand, I'm not going to know what to do!"
"Sorry, Index! We can talk about food later! I have something important to ask you right now!"
"What do you mean later?! Why does Touma always-?"
"Enough already, are you alright over there? Some magician showed up, and I don't know what they are after, but they could be coming after you again! Tsuchimikado, that guy… he might be back at the dorms by now! Oi, Index! Go next door right now and take a look! That guy is on our side!"
"Touma… are you… being chased right now?"
Index seemed to understand the situation, and her voice became quiet.
"That's right! I'm running madly for my life right now! If possible, please give me some advice that'll let me turn the current situation around!"
"…What's the magician's traits? Things like clothes, weapons, the way of speaking, or the way they act."
Kamijou then mentioned everything he knew about "Unabara Mitsuki" to Index, including how he had changed into somebody else's appearance and the stone knife he wielded. After three seconds of short silence, Index replied,
"The black stone knife is obsidian, right? A spear made by using a mirror to reflect starlight… that should be the Spear of Tlahuizcalpantecuhtli."
"Tlah… what?"
"Spear of Tlahuizcalpantecuhtli. It's the name for the Aztec god of Venus and disasters; supposedly, his Spear can kill anyone that is under the light of Venus."
Kamijou froze. No matter what that legend was, it was way too preposterous. If that stone knife had that kind of power, humankind would've been gone from the world by now.
"What Venus… Index, you can skip the introduction. Anyway, what do I do now? I want to quickly–"
A loud *Boom* cut off Kamijou's whining.
The mysterious attack went past Kamijou's side and hit an air conditioner. Kamijou involuntarily broke out in a cold sweat all over, and swiftly turned a corner.
"Touma! If you don't listen carefully, the one in trouble is going to be you!"
"Sorry! Index-sama! I won't complain to things experts say again! Please tell me some suggestions now! Immediately!"
"Mm, first, that 'Spear' is made from the light of Venus, remember that."
Kamijou couldn't help but look up. In the sky between the buildings… Venus couldn't be seen. But that didn't mean "Venus didn't exist"- just that "the sunlight was too bright to be able to see Venus".
"But that's unreasonable, right? Everybody in the world is under the light of Venus. If the power of the 'Spear' is as you say, no one can escape its power and humans would be extinct now, right?"
"Yeah, that's why it's classed as god-level magic- but that's also its flaw, as humans can't completely control magic used by gods."
"What does that mean?"
"Simply put, humans can only use a replica of the 'Spear'. If the real 'Spear' was used, all humans would die. I think the theory behind the replica should be using the obsidian knife as a 'mirror'? The light of Venus from the sky gets reflected by the 'mirror' and reaches the enemy as the 'Spear'. On the other hand, if you don't get hit by the light, then you can avoid the attack by the 'Spear'. If properly handled, Touma's right hand can block the attack, too; the main point is how to find the unseen path of attack."
"Light that can't be seen… basically, a laser weapon roughly the size of a pistol?"
"What's a laser?"
He could imagine Index tilting her head in puzzlement on the other side of the phone.
Maybe it's because he was splitting his concentration that Kamijou kicked a bicycle accidentally. Kamijou tilted forward, and barely avoided falling down onto the ground.
*Boom!*, behind him came a frightening sound.
Kamijou looked back, and the fallen bicycle had already been disassembled by the unseen attack into frames and wheels. Looks like the accuracy of the magician's "Spear" wasn't really that high. Kamijou saw the magician behind him raising the knife once more and quickly turned a corner.
"Dammit, that guy's actually shooting something like that… At least look at the surroundings, you idiot!"
"Mm… the spell technique is like a 'blueprint'; magic itself is only a 'phenomenon'. As long as the technique isn't leaked out, even if the magic is seen, it wouldn't matter. Even if people without magic knowledge witness the 'phenomenon', they can't reverse-engineer the 'blueprint'."
"Uh… that wasn't what I was trying to say."
Kamijou sighed, and turned down an even narrower side path.
Even though every second counted right now, there were still questions left to ask.
"Dammit, so that means how this guy turned into Unabara is also a kind of Aztec magic?"
"That's right, the Aztec priests have a technique that skins a sacrifice alive and allows them to wear their skin; this magic should be derived from that technique."
Kamijou gasped.
Even though he knew that the situation right now was dangerous, Kamijou was still shocked enough to almost stop running.
"What… did you say about the skin?"
"Cut it off with a knife and wear it, though if it's just for changing appearances, there's no need to go that far; just cutting off 15 cm of the skin from the forearm and turning it into a charm is enough to give a certain amount of transformation effect."
A horrible feeling started creeping from Kamijou's fingertips. The pursuer behind him now felt even more frightening.
"That's way too scary, actually skinning people to change appearances. Magicians really are all lunatics!"
"Oi, Touma, what you're saying is job discrimination–!"
With no time to hear her babbling on, Kamijou turned off the phone.
The small side street was a lot shorter than Kamijou had expected, and he was now back on the main road. Kamijou hurriedly ran towards the side street across the road. Behind him came a few more frightening sounds of the "Spear" disassembling something.
Should I run into a building? No, if the outer walls are gone, I'll be buried alive! Not knowing the attack range is a problem. If I run into an underground street, I might still be buried alive!
As Kamijou ran, he tried to understand the situation. The reason the magician was after him probably had something to do with Index, right? She was a library of grimoires, with 103,000 of them in her memory. The possibility of magicians from all over the world coming after her wasn't exactly low.
Though if that was the case, there was still something hard to understand. Why had that magician transformed into 'Unabara Mitsuki'? Unabara was Mikoto's friend, and had no direct connection with Kamijou and Index. If he wanted to assassinate Kamijou, then shouldn't he have transformed into someone closer to Kamijou…?
Kamijou rushed to turn another corner.
"Dammit!"
Kamijou cursed. The path in front of him was blocked due to the building next to it being under construction. Spades, bags of cement, and building machinery fill the narrow path; it was impossible to pass. On top of the half-constructed building was a crane, moving materials overhead.
Even so, Kamijou still headed towards the working site, and turned around to look. The "enemy's" footsteps were closing in from the corner behind him. There was nowhere to run.
What now? What now?!
In that instant Kamijou looked around, 'Unabara Mitsuki' stepped out from around the corner. As soon as he saw Kamijou, he raised his black stone knife.
The distance between the two was only five meters.
But Kamijou didn't choose to swing his fist at "Unabara Mitsuki", instead grabbing a spade next to him. During this time, "Unabara Mitsuki" waved his black knife in the light, adjusting the angles bit by bit. Kamijou felt sweat covering his palms, and swung the spade down hard.
But his target wasn't "Unabara"; it was the cement bag next to him.
With a swish, the spade stabbed through the bag. Kamijou continued the swing, and spreads the cement dust around them.
"Unabara's" view, surroundings, and the sky were swallowed by the gray dust.
"Unabara" ignored it and swung the knife. At this point, he noticed something.
The "Spear" didn't activate.
The link between "Venus" and the "mirror" was blocked by the cement dust. In this situation, the "Spear" made by the light of Venus couldn't be used.
*Swish!* Something heavy flew past "Unabara Mitsuki's" cheek.
He lowered himself, thinking it was probably the spade.
"Oooooooooohhhh!!"
Kamijou's fist pierced through the gray curtain and reached for him. "Unabara" reflexively bent down and avoided the fist. There wasn't any reason- just instinct. Sweating, "Unabara" raised the obsidian knife, which was now only a normal weapon, and tried to slash it across Kamijou's face. But "Unabara" hadn't stabilized himself beforehand, so the attack wasn't very powerful. The tip of Kamijou's foot swung with the sound of the wind, and impacted the stomach of the bent-down "Unabara".
"Unabara" jumped back, trying to minimize the damage.
He noticed that battling in the cement dust was disadvantageous for him, and decided to move back.
"Unabara" continued to move back another few steps, but Kamijou, moving faster, caught up to him instantly. From the structure of the human legs, their speed going forward was obviously faster than moving back. Kamijou was about to swing his fist once more, so "Unabara" hurriedly raised his obsidian knife to try and counter it.
*Whoosh!*
At this instant, a sudden gust blew through the small alley.
The gray mist that covered everything was suddenly gone. The sky, partially blocked by the surrounding buildings, was once again visible. The grace of the "light of Venus" once again descended onto "Unabara".
Unabara raised his knife and corrected the angle.
Kamijou, who was closing in, now showed surprise.
"Hmph! Accept your fate!"
The angle's set, connecting Venus, mirror, and the target. Focus the mana, chant the incantation, and the starlight will turn into a spear that can't be seen and pierce directly through the enemy!
The symbol of Venus and disasters, the Spear of Tlahuizcalpantecuhtli.
Kamijou, in his panic, raised his right hand,
But was unable to determine the unseen path of attack.
Theoretically, this blow would move through the gap in the right hand's defense and pierce the heart.
But nothing happened.
"What…?"
"Unabara Mitsuki" said involuntarily. To release the "Spear", several conditions had to be met simultaneously- but the strike just then should have met those conditions; there was no reason for failure. The "Spear" should have been released, gone straight through Kamijou's heart, and split his body cleanly like meat at the butchers.
"Unabara" looked at his obsidian knife with an expression like examining a torch that had ran out of power.
"Unabara" was astonished.
The obsidian knife in his hand had a layer of rough gray dust sticking to its surface. Just like a blackboard duster thick with chalk dust, its original color couldn't even be seen.
The role of the obsidian knife was to be a "mirror", aiming to adjust and reflect the light of Venus that descended from the sky.
If the "mirror" was no longer reflective, it couldn't connect the target with the light of Venus.
Pah! The sounds of Kamijou's footsteps rang out.
He was now right in front of "Unabara".
"?!"
If "Unabara" had discarded the obsidian knife and changed his tactics, then he might still have had a chance to win. But "Unabara" couldn't help but try and wipe off the dust on the obsidian knife. It wasn't hard to understand. Comparing an equal chance of winning or losing by hand-to-hand combat with the sure-kill magic, anyone would choose the latter option. "Unabara" lost to the temptation of "just wiping off the dust with a single sweep".
The result was that he couldn't react to the Kamijou's attack in time.
A *Don!* sound bursts out. "Unabara" was smashed into the ground, and the obsidian knife that he clung to until the last second finally left his hands.
Part 16
August 31, 12:36 PM.
Kamijou looked at the "Unabara Mitsuki" that was now fallen to the ground.
After "Unabara's" face had been punched, the surface of his whole face had turned to dust accompanied by the sound of glass cracking. Underneath it was a magician's face, looking younger than the real Unabara, and also with a darker skin tone. There were still pieces of Unabara's skin left on his face, making it look surreal- almost like skin that had been burnt black by the sun being ripped off unceremoniously.
"Alright, now speak honestly," Kamijou said while panting. "Why did you transform into 'Unabara Mitsuki'?"
"Ha, even if I don't say it clearly, can't you understand it?"
"Understand it, my ass. Transforming into 'Unabara' wouldn't help in attacking me, right? Why did you go after Unabara? Just to get close to Misaka? Is it because she's my friend, so you'd finish her off as well?"
"…"
"Answer me. I've heard that your transforming technique is by peeling off Unabara's skin; did you plan to do the same thing to Misaka? Misaka has nothing to do with the Magic side; why do you magicians want to drag her into this?"
Kamijou seemed to be agitated, but Unabara's tone was somewhat calm.
Plain and emotionless, the words flowed slowly from his mouth.
"Unabara should have been erased."
His voice wasn't cold like ice, but rather more like lukewarm water where emotion wasn't fluctuating.
"But at the point of death, he used his esper ability… Telekinesis. He changed every particle in his body into a solid block, going into a false death– maybe cryogenic stasis is a better term. Stabbing his heart was like stabbing a frozen slab of meat; no damage could be done. Not even the 'Spear' could take him apart. I had no other ideas, so I could only tie him up and lock him in the room…"
It looked like this magician had done a lot of research on Academy City to be using scientific jargon such as Telekinesis and cryogenic stasis.
But what surprised Kamijou more was the overly plain voice. It sounded like forcing an old cassette to play that had nearly fallen apart.
Unabara seemed a bit satisfied looking at Kamijou's face, and his voice gradually gained emotion.
"You ask what my aim in coming here is? I didn't think that this would be your first question in this situation."
Unabara seemed to laugh at Kamijou from the bottom of his heart, and continued to speak. "Looks like you have no idea how dangerous your actions are."
"What are you saying?"
"You don't just have the 103,000 grimoires of 'Index Librorum Prohibitum' in your possession; you also have magicians of the English Anglican Church, Tokiwadai's Level 5 esper, the trump card against vampires, and all sorts of other people gathered to your side."
The magician said in a tone like he was laughing at himself,
"The Magic side and the Science side were originally two worlds that could not coexist, but you are building an organization that incorporates both worlds. The 'Kamijou Faction' can now almost be called a separate entity. The 'Organization' that I belong to is afraid that a new organization like yours will destroy the world's balance of power."
Organization.
Like Academy City, the Christian Churches, a Magic Cabal, or some other major country?
"That's why I was sent here, though my mission in the beginning wasn't to transform into 'Unabara' or to eliminate anyone. I've only been in this city for a month, and transforming into 'Unabara' was also only a week ago. The original mission was just surveillance. All I needed to do was to make sure that the 'Kamijou Faction' had no influence to the balance of power, report to my superiors that 'there's no problem', and finish the mission."
The magician clenched his teeth.
"But you are too dangerous! From the bits and pieces I've gathered, in just this summer vacation period, you've already destroyed several 'organizations'! Not only so, this 'Faction' of yours can't be bought off by money or controlled by brute force. The movements of the 'Kamijou Faction' depend solely on your own emotions and whims! With such a huge unstable power, how can those 'above' possibly leave you alone?!"
"Wait… that that means…"
"That's right. My target isn't just the person known as 'Kamijou Touma', but all members in the 'Kamijou Faction'. At this point, even if only you are killed, the bonds between the various members can't be dissolved."
The aim of "transforming" into a friend was this.
"Transform" into one of Kamijou's friends, do some bad things, and lower the trust between members. When there was no further use, "transform" into another friend and do the same things, using such methods to make the "Faction" collapse from the inside.
Even if the fact that "someone is disguised" was discovered, it wouldn't matter; as long as "who's been replaced" was not known, it would only drive each member apart, to the point where they no longer trusted each other.
Internal collapse.
Such methods employed by spies had brought down countless dynasties throughout history. Even regimes that looked robust could fall abruptly. A kind king could suddenly turn into a tyrant, manipulated by aides in the shadows. Because of the efficiency of the method and also its cruelty, myths about foxes and demons had been born in some countries.
"I was going to leave you last, but I guess it can't be helped. As the mask of 'Unabara Mitsuki' has been found out, I'll have to borrow your 'face' next!"
After that sentence, the magician literally flew towards the obsidian knife on the ground, swiftly wiped off the cement dust, and turned from the ground to release the "Spear".
But maybe the position of shooting was too forced that the place the "Spear" ended up shooting at was nowhere near Kamijou. The magician clucked, stood up, and raised the obsidian knife once more.
But now Kamijou was right in front of the magician.
"Che!"
The magician wanted to release the "Spear", but Kamijou's fist was faster. Kamijou's right hand impacted the obsidian knife. Maybe Imagine Breaker had worked, as the obsidian knife turned to powder with a sound like glass breaking.
"Did you think I would just wait for you? That's stup-!"
Kamijou's words were cut off before he could finish.
The roar of metal clashing together came from above him. Kamijou looked up involuntarily, and saw the steel beams falling from the half-finished building.
Apparently, the "Spear" that missed had hit the building next to them.
That building hadn't been filled up with concrete yet, so it looked like a giant metal cube. The power of the "Spear" was to disassemble the physical form, so the steel beams had been released from the nuts and bolts holding them together and were starting to rain down onto both Kamijou and the magician.
"?!"
Kamijou and the magician both moved backwards. A metal rod weighing several hundred kg stabbed between the two, almost like a holy sword.
Seconds later, the whole building that was under construction started to fall like an avalanche. Using common sense, they should have been running for their lives. But if they ran, the chance of capturing the magician would be gone, and the magician once more would turn into someone else and harm someone close to Kamijou.
Kamijou and the magician came into eye contact.
The magician looked into Kamijou's eyes, and showed a peculiar smile.
Dammit! My life is so unlucky!
Kamijou cursed inside, staring at the magician who also didn't plan to escape.
"Even though it's a cliché line… I thought we could've been friends."
The workers who had been doing the construction were now escaping and roaring in anger. All the sounds from the workers were coming from ground level; apparently, nobody had been working on the building at the time. It looked like there shouldn't be anyone that wouldn't be able to make it out.
"That thought has never crossed my mind."
The magician answered without hesitation. A metal rod stabs into the ground next to him, but there was no change in his expression.
"It's a shame, really such a shame." Kamijou sighed and said, "So the thoughts about Misaka that came from your mouth are also false. Only this point makes me feel that this is such a shame… because now, this gives me a reason to beat you to a pulp."
This sentence froze the air.
A silence colder than darkness enveloped their surroundings.
"…?"
The magician seemed to have said something in a soft voice.
Before Kamijou even had time to frown, he repeated once more,
"Can't a fake have those kinds of thoughts?" The magician grinded his teeth and said, "A fake can't wish for peace? Does a fake not even have the right to have the thought of wanting to protect Misaka-san?"
"Ah…?"
The frightening sound of the collapsing building was now tossed to the back of Kamijou's mind as he stared at the magician's face.
"That's right, I didn't want to do this."
The magician continued his words without care of the building that could fall any moment, and said,
"I didn't even want to harm 'Unabara'. Nobody being hurt in the end is the best conclusion, right? I like this city. From the time I came here a month ago, even though I can't become a resident of this world, I still deeply loved this world that Misaka-san lives in."
The magician continued on.
"But I have to do this. Because the results are out, the Kamijou Faction has been judged by those 'above' as a dangerous force. Can you understand what I felt when I turned into 'Unabara'? To be forced to destroy the world that Misaka-san exists in, can you understand what I feel?"
The magician now showed raw emotions on his contorted face.
"You couldn't possibly know! Because you ruined everything! If you were milder in your actions so that I could report back 'there's no problem', I could've left here in peace! That way, I wouldn't have had to attack Unabara or trick Misaka-san! That's right, I am your 'enemy' now. But who did you think made things turn out this way?!"
An invisible killing intent radiated from the magician.
As if in reply to his roar, the topmost floor of the building started falling with a *Boom*.
Kamijou looked into the magician's eyes.
As for the collapsing building, he didn't even glance at it. He said,
"Do you truly like Misaka?"
As a spy that was planning to use Misaka, these words came from his mouth.
"Yeah," the magician said.
The topmost floor of the building turned into countless steel beams, falling down to the ground one by one.
"You want to protect the world that Misaka lives in?"
Even as the spy that had been planning to use Misaka, these words had come from his mouth.
"Yeah," the magician said.
The countless steel beams smashed into the floors beneath them, resulting in more sections breaking apart.
"But now, that is a dream that can't come true. Now, I am your enemy. I don't want to do this, but I have to. I have no other choice, no other path to choose. Or do you want me to be like a hero in the movies, fight against the whole organization by myself, and lose my life for nothing? I can't do that. I'm not you; I can't be a hero such as yourself."
The magician said this, and incredibly showed a plain and weak smile.
"So that's it." Kamijou Touma finally understood.
Those were the thoughts of that magician. This man hadn't wanted to become his "enemy", but was forced to. This man was forced to destroy what he valued most in this world with his own hands. Such tragedy was what had twisted his heart.

There was a man named Tsuchimikado Motoharu.

When he had first called himself a spy, his casual demeanour really made an impression on Kamijou- but the truth wasn't that simple. Tsuchimikado had paid a large price, risking the danger of going against his orders in exchange for his freedom.
The magician in front of him now wasn't willing to take that risk.
It was because he knew clearly how much of a coward he himself was, that it was harder to quench his anger. He hated Kamijou who had destroyed his dream, but he hated himself more for not being able to protect his dream.
Those were the thoughts of that magician.
This man had poured all his twisted thoughts out, and was standing in front of Kamijou to block him.
Kamijou thought that if so, then he must also fight with all his strength.
Kamijou could live his life freely, with nobody to restrain his movements, and could protect whatever he wanted to protect at any time. The Kamijou like this had to bring a lot more pain to the magician. In the magician's eyes, Kamijou radiated so much dazzling light that he couldn't look at him directly.
"Hmph, so the only choice left for you is to choose to kill her with your own hands?"
Even so, Kamijou still decided to fight with all his strength.
Against someone who spoke his thoughts, Kamijou couldn't just deal with him half-heartedly.

"Apparently, I'll have to kill that fantasy of yours first."

The avalanche at the top of the building was almost like a giant's hand crushing the whole structure.
Steel beams fell down like raindrops, but neither Kamijou nor the magician looked up or tried to retreat. They only clenched their fists and charged, attempting to shrink the distance between the two to zero in as little time as possible!
"Uwaaaaaaaaaaaaaa!"
Kamijou's fist impacted the magician's face. The magician from the start didn't seem to plan on dodging; he unhesitatingly grabbed Kamijou's chest with both hands, and slammed Kamijou into a wall. With a dull sound, the air inside Kamijou's lungs was forced out.
The magician pushed Kamijou into the wall before using both his hands to strangle him. Kamijou aimed for the magician's stomach and kicked out. Maybe the magician had been relying on magic too much and hadn't trained his body that he doubled over after the kick.
Suddenly, a huge sound erupted from the steel beam stabbing down next to Kamijou. What was more, another steel beam struck that beam, resulting in a sound like a church's bell ringing next to Kamijou's ears.
"Uu…?!"
Kamijou's body slightly shook involuntarily.
"Aaaaaaaaaaaaaahhh!"
The magician, who was also shaking, instead tackled Kamijou. Kamijou fell over, and due to the loud noise that hit his brain, his movements had become sluggish. On the other hand, though the magician was moving about like a drunkard, he could still aim precisely, and went to position himself above Kamijou.
Kamijou tried desperately to escape the magician that was trying to subdue him.
"Ah!"
At this time, Kamijou saw it.
A rain of steel beams was falling down, and one of them would pierce through both Kamijou and the magician immediately. It was less than twenty meters above them. There were only a few seconds before impact. The magician was staring at Kamijou beneath him, and didn't realize the existence of the beam about to come down on top of him.
"Dodge it, you idiot!"
Kamijou kicked the magician, who was about to hold him down, in the stomach, and then slapped him once across the face.
The magician's body rolled towards Kamijou's left side, to a lying position… and then he realized the situation.
Then, Kamijou and the magician glanced at each other.
Facing the rain of steel beams, the magician didn't seem like wanting to dodge it. He only smiled- a slight, lonely smile. He understood clearly that even if he won this battle, he wouldn't get anything from it.
Kamijou had no duty to save the magician.
Kamijou wouldn't have been blamed by anyone if he left the enemy for dead.
But…
"A fake can't wish for peace?"
Even so…
"Does a fake not even have the right to have the thought of wanting to protect Misaka-san?"
Ah, dammit! This guy is just too devious!
Kamijou tried to grab the hand of the magician who was still on the ground. The magician showed a shocked expression, and it made Kamijou even more annoyed. Kamijou knew it was already too late, but he still clenched his teeth.
A large number of steel beams dropped down from the sky, shaking the whole place.
Part 17
August 31, 12:47 PM.
A large amount of dust obstructed the visibility at the scene.
The people around there had heard the noise, but no one was curious enough to come and see what was going on. If ordinary people wanted to come and look, then they would want to look from a safe place. In a situation like this where nobody knew where was safe, nobody was reckless enough to come close.
"…Haha."
In the middle of all the commotion, Kamijou smiled half-heartedly.
Kamijou ended up sitting on the floor, with a steel beam planted between his legs. Not only that, there were countless steel beams surrounding Kamijou- a lot like a small cottage seriously flawed in design and with a roof full of holes. The steel beams had a delicate balance, as if they would crumble if blown by a breeze. But anyway, Kamijou had escaped the fate of being buried alive.
Am I just lucky…? That can't be; my luck's one of the worst there is. If that's the case… oh, yeah, that Level 5 esper; if she uses the power to control electricity, controlling magnetism shouldn't be a problem for her.
That was right, it wasn't good luck at all. The path of the beams had been aligned to pierce through Kamijou. Apparently, some sort of power had changed their path slightly before they fell on Kamijou.
Kamijou, who was afraid that the roof would collapse any moment, looked around. He saw the magician lying between two of the steel beams that held the roof together.
One of the magician's hands was stuck in the gap between two steel beams. Though the magician's hand hadn't been crushed, but was instead stuck in a natural gap, it was like a super-heavy handcuff had been put on him.
The magician was incredulous at the fact that he was still alive, and was stunned for a few moments.
After a while, he finally said,
"Did I lose?"
"I don't know, I didn't create this situation."
Kamijou said while scratching his head. But the magician shook his head. No matter the reason, he now couldn't even move an inch; fighting on in this situation was impossible.
"Guess it's my loss." The magician smiled slightly. "That way, my part in all this comes to an end. I don't have to kill Misaka-san, or kill anyone else now, right?"
"…"
Kamijou didn't answer; he just looked at the magician.
Carefully thinking back, maybe in his heart, the magician had always been conflicted. Even though he had been serious about trying to kill Kamijou, his heart had been clouded and that may have held him back unconsciously- because once he emerged victorious in this battle, he'd have to kill Mikoto with his own hands.
If he had used the "Spear" as his first attack, Kamijou wouldn't have had time to dodge and would have died then and there. When chasing Kamijou in the straight streets, after carefully thinking about it, he probably had several chances to accurately hit Kamijou in the back.
This magician didn't want to hurt Misaka Mikoto.
He didn't want to destroy the world that Misaka Mikoto lived in.
But his selfish wish was hard to make come true. If it did, then his own life would be in danger, so he needed an excuse. Something like "I tried my best, but due to obstacles, I failed to complete the objective".
The enemy organization treated the "group led by the amateur Kamijou" as a very dangerous group, so even though Kamijou was an amateur in combat, but his position, almost like the boss of an organization, definitely qualified for the "I tried my best" excuse.
"I think…" the magician said, "The attacks won't just stop here. One failure by a small fry like me won't be enough to convince the 'above' to give up. Instead, this will make them even more sure that the judgement of 'Kamijou Faction is very dangerous' is correct. My allies might appear next to you or Misaka-san; in the worst-case scenario, I might get the same order again."
Kamijou silently listened to the magician's words.
"Can I ask you to protect her?"
The magician asked.
"No matter where, no matter when, no matter who your opponent is, no matter how many times, as long as something like this happens, you'll have to be a hero and go to her side to protect her. Can you promise me this?"
It was what he dreamed of but could never bring into reality.
It was his dearest wish, but he didn't have a choice other than to give the opportunity to someone else.
And then…
Kamijou only said one sentence.
And then nodded.
"That's the worst possible answer," the magician lying on the ground said lightly while smiling.
Part 18
August 31, 12:37 PM.
Misaka Mikoto held the hamburger-filled paper bag in her arms, leaned her back on the wall around the corner from the two, and listened to their conversation.
Mikoto didn't hear everything in their conversation, though. When Mikoto found out that there were two Unabara Mitsukis and one of them had started fighting with Kamijou, she had chased after the two of them. Then she had seen Unabara's face fall off like a mask, showing a completely different face; and after that, the half-finished building had collapsed, incomprehensible things coming one after another. Also, Mikoto was pretty far away from the two, so she could only hear parts of their conversation. Mikoto, who had spent much effort a moment ago to change the path of the steel beams, might have been the one out of the three of them whose emotions were most in turmoil.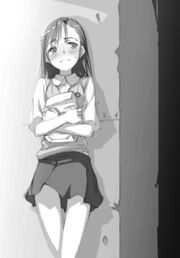 But even so, Mikoto still understood vaguely.
Mikoto understood the reason they were fighting.
Why they had fought.
And for whom they had fought.
Mikoto shook her head vigorously.
I… I can't misunderstand! I must be getting the wrong idea! His words definitely don't have those meanings to it! He's that kind of person; it's not like he's treating me as someone special!
But her head that was shaking vigorously to deny this still stopped moving involuntarily.
Even though she knew she shouldn't get the wrong idea, her head still stopped.
Uu…
Mikoto leaned her head on the wall behind her. She knew that she was blushing bright red without having to look in a mirror. It's really unforgivable, Mikoto thought. After hearing that kind of conversation in this situation, what kind of expression was she going to have when she walked out of here?
Especially the last sentence Kamijou had said.
…I know I'm misunderstanding, but the way you said it is too easy for it to be mistaken otherwise, you big idiot!
Mikoto sighed. She didn't know how long it would take for the blush on her face to finally subside.
August 31, 1:04 PM.
END
References