Toaru Majutsu no Index:Volume3 Chapter1
From Baka-Tsuki
Chapter 1: Imagine Breaker. Level0(and_More)
Part 1
August 20, 6:10 PM.
It was twilight at midsummer, and Kamijou Touma was walking home alone, worn out from his extra classes. Even though there was a reason for it, he still found that going back to school for extra classes during summer vacation was threatening his sanity.
Since those so-called "summer classes" usually started on the very first day of summer vacation, Kamijou probably was supposed to go to those classes from July 19th to July 28th as well.
Or at least, that was only the most likely case. Kamijou had no memories of events prior to July 28th, so he felt like he was being punished for lessons that he did not skip himself.
What was up with that?
Kamijou stood motionlessly in front of a lone juice vending machine that stood along a path with a shocked expression.
(No way, come on, please.)
He didn't want to give up on it so soon. Kamijou Touma was sure he had inserted a 2,000-yen bill into the vending machine. Yet why did the vending machine not respond in the slightest? Well, he knew very well that 2,000-yen bills were rare nowadays, but that was his hard-earned 2,000 yen. For a machine to take from him such a large amount of money and not respond… what machine empire was rebelling at the moment!? As Kamijou frantically jiggled the money return lever in vain, his heart screamed.
(Such misfortune!)
He knew without a doubt that if he, in a fit of rage, shook or kicked the vending machine, the alarm would go off.
Even in Academy City, a city opposed to the supernatural that had been built in western Tokyo, a skeptic who saw Kamijou could only possibly think "So there really are such supernaturally unlucky people in this world, huh." Kamijou was that luckless.
Crestfallen, Kamijou heard footsteps of a pair of loafers from behind him.
"Hold it… Don't stand so idiotically in front of the vending machine. If you're not buying anything, then get out of the way, move it. I need to rehydrate or else I won't be able to function anymore."
Just as Kamijou heard the sudden voice from behind him, he was gently pushed aside by a girl's soft hand on his arm.
Living in a city full of students, that would probably happen now and then, but even so the unlikely contact surprised Kamijou.
(What, what?) When Kamijou turned his head around, he saw a middle school girl. She had shoulder-length light-brown hair, good looks that didn't need make-up, a short-sleeved white blouse with a summer sweater, a gray pleated skirt… he guessed that it was the famous Tokiwadai Middle School uniform. But calling her "Ojou-sama" in front of her would be somewhat awkward. Complaining about the summer heat, she somehow resembled a shell-shocked salaryman getting off a fully-loaded train rather than a refined young lady.
(…Who is this person?)
Was she an acquaintance of his, or an overly familiar stranger? Kamijou was a bit worried. With memory loss, discerning acquaintances from strangers was the hardest thing of all. He didn't know just how far to step into someone's territory.
Kamijou's instinct told him that she was an acquaintance. Maybe, if she wasn't a stranger, he should just tread lightly.
(Ehh, let's just get this over with…) Kamijou gave up.
"…Then, who are you, girl?"
"It's me, my name's Misaka Mikoto! Try to remember, you total blockhead!!"
The instant the girl shouted, she unleashed a pale spark from her light-brown bangs.
(Shit, she has no sense of humor?)
The instant Kamijou instinctively put himself on guard, a pale lightning bolt jumped out from the girl's forehead, and quickly rushed at Kamijou.
Though he couldn't possibly have reacted fast enough by eyesight alone, Kamijou's body instinctively moved even before he was hit. It was as if his body, having been repeatedly attacked by lightning, knew from experience exactly how to respond.
As if shaking off a winged insect in front of his eyes, Kamijou swung his right hand horizontally like a backfist.
That alone totally repelled and dissipated the lightning bolt, which approached a billion volts, like it was a mere column of water.
Imagine Breaker.
No matter if he was facing espers, magicians, anyone wielding unknown powers, or even divine miracles, anything supernatural was negated when his right hand touched it. That was the Imagine Breaker's special power.
"???"
Kamijou looked at the scowling middle school girl, who he thought should be arrested for attempted homicide.
His body had moved on instinct and avoided the attack as if he had previous experience with this phenomenon. Against the flame sword unleashed by the person called Stiyl Magnus, Kamijou had also survived on instinct. But then…
Kamijou lost his memory.
However, despite losing his memories, his knowledge remained, and that was strange.
Sometime before, Stiyl must have tried to strike him with the sword, though he couldn't remember it anymore. That was probably why his body was able to move on its own.
(If that's true, then she, too, must be an acquaintance…? That's right, my acquaintance. Dammit, are these people only my acquaintances!?)
"What are you crying there for?" asked Misaka, her hand on her hip. "If you have no use for the machine, then move it. I'm gonna bust it up."
"Ah…"
Kamijou looked back and forth between the machine and the girl called Misaka Mikoto.
While he thought that not warning somebody that the machine gulps down money would be unforgivable, the girl had assaulted him. Wait, no, it would be worse to see her lower her head burst out in murderous rage… that would be scary.
"That vending machine somehow keeps on eating bills."
"I know that already," Mikoto replied.
"You know it eats bills, yet you're still gonna pay? Is that machine an offertory box or something?"
"You're such an idiot. There's a trick for this machine, an underhanded one that will have it spit out juice for free."
"…"
He had a bad feeling—a really bad feeling. That "underhanded trick"… He thought about this trick that she has been using every day. He also thought about his feeding 2,000-yen bills into the machine.
It couldn't be that this vending machine was broken!
"Legendary amongst Tokiwadai Middle School students, a granny-like oblique kick at a 45-degree angle will restart any malfunctioning machine!"
"Choi-sa—!" With that yell, she sent a skirt-level kick into the side of the machine.
*Bang!* A painful clatter of something falling reverberated inside the machine, and then a can popped out.
"You know, since it's worn down, the springs holding the juices have loosened. You can't choose which juice comes out, though—Hey, what's the matter?"
"Nothing," Kamijou monotoned.
Underneath her skirt were gym shorts. He felt that some of his dreams had just been destroyed.
"This Tokiwadai legend, does every young lady from Tokiwadai do it?"
"Most of the girls can't do that! Most girls wouldn't even dream of doing it…"
"…" Kamijou thought. "That's not what I mean! I'm asking if you brats have been joining forces daily to destroy vending machines with that technique!"
"It's fine, isn't it!? What are you angry for? We didn't directly harm you, did we?"
"…"
"Eh? Oh, speaking of which, you look like you keep losing money against this machine—" Stopping midway, Mikoto went silent. "…By any chance, did you already buy something?"
"…"
"Hey, did you drink something? Did you really get something? Hey, answer truthfully, or I'll shake you down; is it that you're dumbfounded because you've been robbed blind by this vending machine?"
"…And if I answer that question?"
"Of course, I'd send a cell phone pic of your stupid face to the entire world—I'm kidding! Just kidding! Don't drag your feet like that, you look really scary!"
Kamijou sighed, letting out all his tension from his body.
No matter how angry he'd get, he'd never get the 2,000 yen back. He had meant to use the money to buy fireworks for that freeloader of a white-clothed nun waiting in his dorm room. In fact, he should have saved it instead of buying anything with it, but it was no use worrying about it now.
(I guess now I should act like the loser I am—) thought Kamijou as he drooped his shoulders and turned away from Mikoto.
While looking at Kamijou's slouched back, Mikoto gave off a disinterested sigh with her hands on her hips.
"You, hold it! Tell me, how much money did you put in it?"
"…Shan't say, can't say, won't say."
Kamijou looked at her. He may have just met her, but he already realized that telling her "I lost 2,000 yen" wouldn't lead to her saying "Well, that's too bad!" It would be more like a "Gahahawahahah!!!" like a commanders from the Sengoku era.
Mikoto took on a more serious look for a bit, as if she felt a sense of responsibility for losing him the money.
"I won't laugh, I promise. While you're at it, I'll take back your lost money!"
(What's with her being this kind!?) thought Kamijou. This wouldn't have happened in the beginning had Mikoto not kicked the vending machine; Kamijou hadn't thought of this in the first place.
He was a bit scared, though, of being labeled "The Idiot Who Lost 2,000 Yen to a Machine", but Mikoto's words of "I won't laugh, I really won't laugh, I really, really won't laugh" assured him it was alright to confess.
"...2,000 yen."
"2,000 yen? You put in so much?" Mikoto asked.
"Wait, '2,000 yen'? Did you mean a 2,000-yen bill? Wow, I wanna see, I really wanna see it! A not-yet-destroyed 2,000-yen bill! Heheheh, ahahahahahahaha! So that's the vending machine's bug! Not even convenience stores accept 2,000-yen bills anymore, hahahahahahaha!"
Watching Mikoto heat up to ridiculous levels, he shouted at wit's end, "Liar!!!" He shouldn't have told her about that 2,000-yen bill. He should have exchanged it earlier. Who knows, he even might have, just for a moment, gotten a nice smile from the department store clerk, though more likely just an "Ooh."
"Hohoh. Well, then, let's hope that it'll spit that 2,000-yen bill back out. I won't accept it if this piece of junk spits out two 1,000-yen bills."
While standing in front of the vending machine, Mikoto slowly placed her right palm over the coin slot.
Suddenly, Kamijou thought of a question.
"Hey, you, how are you going to get the money back from this machine?"
"'How', you say?"
Mikoto gave him a blank look, and then,
"Like this..."
A pale lightning-like spark jumped from her right palm and instantly struck the vending machine.
*Bam!* The heavy vending machine shook from side to side like a sumo wrestler. Black smoke from the machine's inner workings billowed out through the seams like those clouds of smoke seen in manga.
Kamijou paled.
"Huh…? That's strange, I didn't want to strike it that hard. Ah, lots of juice cans came out somehow. Hey, your 2,000-yen bill didn't come out, but at least 2,000 yen's worth of juice came out; is this okay-? Hey, why are you running away!? Oi!"
Kamijou didn't dare turn around. He ran at full speed to get even just one millimetre farther away from the vending machine. Kamijou could usually tell when misfortune would strike; he'd get a feeling about a second before whenever something was about to go wrong. But not this time.
(Sh, shit!! Somehow, I didn't expect this, but I should have at least noticed it sooner...!!!)
Usually, even kicking the vending machine would only yield a silent alarm, but instead it screamed out at full power, as if letting out all of its pent-up energy.
Part 2
He couldn't remember why he was running. All he knew for sure was that he had been running for about ten minutes.
By the time he noticed, Kamijou was already sitting in a bus stop in the business district. As he sat there dead tired, he gazed up at the August sky lit by the flaming-colored sunset. A blimp floated in the orange-dyed sky, the X-Vision display attached to its belly showing the Academy City news: "Mizuho Organization Withdrawing from Muscular Dystrophy Pathological Research."
"Don't go off into some kind of happy dreamland, and carry some juice. Wasn't this originally meant for you?" sighed Mikoto as she sat down beside him, tossing can after can into his lap. She looked peacefully at the wind turbines turning round and round nearby.
She was probably feeling a bit down from messing up with controlling her power.
"...I'm scared that the moment I accept the juice, I'll become an accomplice. What should I say, don't throw it at me—Ow! Hot! Why is this hot shiruko[1] mixed in?"
"When there's a malfunction, so you can't even choose what juice will come out!"
"Do you feel clear malice in black soy bean cider and soy milk?"
"Huh? That's nothing. You should be thankful. We're lucky that the two juices from hell, guarana green juice and strawberry oden, didn't even come up."
To put it another way, Academy City is also "Experiment City".
With numerous universities and research labs sending out test models of their products, the streets overflowed with experimental items like garbage disposal automatons and autonomously running security robots. That meant that the product line-up in both convenience stores and vending machines were different, but…
"…In spite of this, it's a fact that students still pay with the same money, so I'd like to ask why the bigwigs don't know about this."
"Fine, fine; even a small step towards achieving your dream means that you're full of ambition. Ah, I want that plum cider," said Mikoto as she took a can from Kamijou's arm without warning. "You know, even if it's only one can, you shouldn't always be running away. Even if I happen to be really strong, can't you just think of me as some weakling and look down on me? Try to see it that way and call me Mikoto-san, okay—?"
"…What's with this girl, saying such nonsense while acting so proud?"
"What?" Misaka looked at Kamijou, sporting a bad drunkard's look. "…Hm, maybe I shouldn't say that. But as long as the weak whimper, the strong will swagger… that's what I believe. Why are you different? There are only seven Level 5s in Academy City, so why were you chased all over town by street rogues on the level of an unleashed chihuahua?"
"???"
Despite all of Mikoto's confidence in her words, Kamijou couldn't remember anything like that.
If that were the case, were Mikoto's words wrong, or did she know some of Kamijou's unknown past? Unable to ask either question, Kamijou let it slide.
"You, you shouldn't have shown off the fact that you defeated me, Misaka Mikoto, the Railgun. But since you did, you shouldn't have apologized publicly in front of me. But now you did that, right? From then on, everyone will always remember it. They'll say, 'Ah, that Misaka Mikoto, wasn't she defeated by a boy who looks like he's been chased by a chihuahua?'" said Misaka as she downed the plum cider.
"Because you defeated me, you should take responsibility as the winner. I, one of only seven known Level 5s in Academy City, was defeated by such a boy… I could stick to that and announce it openly, you know."
"What the hell is that? This isn't the Edo period with its Bushido spirit…"
But once he began to say that, a single phrase stuck in his mind made him uncomfortable.
(You defeated me?)
(While I have no memory of it, exactly what did I do that would make a girl tell me 'you should take responsibility'—!!)
"Uh, uhhhhhhhhhhhhhhh…"
"Why are you groaning like that?" Mikoto asked, exasperated. "Then again, you must be irritated, too. After all, it seemed like it was pulled from some shounen manga."
Mikoto folded her arms angrily and sighed, though Kamijou didn't see it.
"I never intended to actually hit you, but you guarded perfectly against all attacks as if expecting them to hit you badly… such great technique. Putting aside my being snobbish and annoyed, the fact that it has an effect is unforgivable."
"…Uhhhhh… huh?"
Again taking notice of Mikoto's words, Kamijou groaned.
(She never expected to hit me? Does that mean our power relationship is like that of a parent laughing while he's calming down his child who is recklessly flailing his hands?)
Even though he was facing an electromaster, he never once surrendered to this girl?
…
…Too bad, Kamijou Touma.
"Somehow, you're the kind of person who loses confidence under pressure," said Mikoto disinterestedly. "Hey, enough already, drink it up. If you were a kouhai who was presented with Mikoto-sensei's personal gift, you would have swooned in delight."
"'Swoon'? As if anyone would gratefully accept this barely-hygienic juice! This isn't a shoujo manga; there's no way we're in a girls' school-type romance—I think."
"—No. It would be lovely if it were a shoujo manga." For some reason, Mikoto averts her eyes. "It would be more varied, you know—rather, it'd be muddled?"
"Onee-sama?"
A girl's bell-like voice unexpectedly resounded. Mikoto's face looked as if she had been hit from behind with ice.
Onee-sama? Onee-sama!!
"Guh" went Kamijou's as he was muted by the shock. (What the hell...!?) Turning around as quickly as he could, he saw a girl—probably a freshman middle schooler—standing a short distance away, wearing the same uniform as Mikoto. That twin-tailed brunette, with both hands together in front of her and eyes sparkling,
"Well, Onee-sama! Well, well, well, Onee-sama! Just when I was wondering why you're no longer into summer classes, this turns out to be the reason, eh!?"
As Kamijou looks at the girl beside her, Mikoto has her hands on her head, greatly troubled. But for a powerless Kamijou, he feels that Mikoto's heart is mysteriously telling him to forget the tsukkomi routine.
As Mikoto's piercing her head with her hands to ease her headache, she begins talking to the mysterious girl.
"Weeell, I want to make sure, but I was wondering whether you're saying 'because of this' or 'because of him'."
"Of course I'm referring to you secretly meeting with that gentleman over there, right?"
A spark emerged from Mikoto's hair, but the twin-tailed girl didn't seem to mind. Dumbstruck, Kamijou watched as the sweetly smiling girl approached the bench at a frightening speed.
(Oh, shit, it's coming here!) But before Kamijou could move away, she strongly grabbed Kamijou's hand with both of her own.
"Nice to meet you, sir. I am Onee-sama's squire; call me Shirai Kuroko."
"Wha?" Kamijou looked down at the hand she was holding, worrying about his reaction.
"By the way, is this degree of nervousness a warning sign of flirtatious tendencies?"
"Pfft!" Kamijou burst into laughter. Mikoto who was sitting beside him slowly stood up, and…
"W—H—Y— Y—O—U—! This weirdo is not my boyfriend!"
Accompanying the words of an injured heart, a lightning bolt leapt from Mikoto's bangs.
Shirai Kuroko let go of Kamijou's hand and stepped back, the bolt hitting nothing as she vanished into thin air.
"Tch, and she had to use teleportation at such a bad time. If this rumor ever spreads, I won't acknowledge it, dammit!"
Mikoto furiously attacked the empty space with her explosive lightning attacks, looking hell-bent on giving somebody a good electrical shock. Dammit, how am I supposed to calm her down? pondered Kamijou, when suddenly a voice came from behind the bench.
"Onee-sama?"
(Again!!!) Kamijou turned around…
And saw standing behind the bench another Misaka Mikoto.
"Wha?"
From what he could tell, the girl behind him looked no different from "Misaka Mikoto". Shoulder-length light-brown hair, good looks and features, a white short-sleeved blouse, a summer sweater, and a pleated skirt. From features and uniform to accessories, there could be no doubt about it: "Misaka Mikoto" was standing there.
But…
Kamijou returned his gaze to the girl sitting beside him. Shoulder-length light-brown hair, good looks and features, a white short-sleeved blouse, a summer sweater, and a pleated skirt. While not unexpected, he was looking at a seated "Misaka Mikoto."
There were differences, though. The girl standing behind the bench had what looked like night-vision goggles on her forehead like unused swimming goggles, and her eyes seemed emotionless. Her unfocused gaze fixedly followed the back of the seated Mikoto's head.
"…Eh? They've multiplied!? It's Misaka number two!"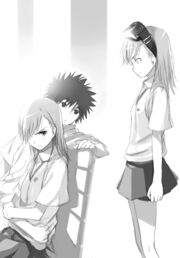 Kamijou startledly looked back and forth between the two "Misaka Mikoto"s. Compared to the also surprised face of the one sitting beside him, the one standing behind the bench was staring back expressionlessly.
"So," murmured Kamijou as he looked back, "who might you be?"
"Imouto, says Misaka in a flash."
"…"
(That's one strange way of saying it,) Kamijou thought to himself. There were too many people around Kamijou who talked strangely for him to even tell if they were strange or not.
"You, Misaka, refer to yourself as 'Misaka' when talking about yourself? I don't refer to Misaka as 'Misaka' since we don't use our formal names. Wouldn't it cause chaos even at home if you call yourself 'Misaka'?"
"But Misaka's name is still Misaka, answers Misaka immediately."
"..."
There's no way Misaka would call herself "Misaka"; there must be an unwritten rule for this. Kamijou looked to Mikoto sitting beside him for assistance, but he was surprised once more; Mikoto was glaring at her silent sister.
"I, I see, Imouto. But you two sure look identical—identical as in same height and weight, right?"
Mikoto kept glaring at Imouto.
"Our genetic makeup is the same, answers Misaka. Moreover, inquiring about a girl's body weight is rude, says Misaka while speaking her mind."
Mikoto was still glaring at Imouto.
"…"
(What a strange person,) thought Kamijou.
"Then I guess you must be twins. Hmmm, it's the first time I've seen identical twins, but you two really do look identical. Well, what are you going to do, Futago-chan? Return to Nee-chan?"
Mikoto had been continuously, continuously glaring at Imouto for some time.
"How overly naive of this shallow rascal, so Misaka will answer your question so that you may catch on. Misaka came to see and confirm the one with the same power detected within a 600-metre radius of Misaka…"
If they were identical twins, then their similar powers manifesting was plenty enough to think about.
And though he thought about it… Kamijou was especially scared of Mikoto's gaze.
(Oh, shit, she's the type who hates her family being seen by her friends on parents' day,) Kamijou thought.
"...And in this place, I find a destroyed vending machine and you two carrying large quantities of juice. I never would have thought Onee-sama would take part in petty thievery, as Misaka would say with a tut-tut," Misaka-imouto continued while standing at attention. "Just what method will make Onee-sama change her ways? as Misaka would ask in a just-to-be-sure police interview."
Because of the strange accusal, Kamijou had no choice but to continue.
"Hey, she's the culprit, and I'm only an eyewitness, you know."
"Lies only prove crime, as Misaka would answer. From the measurement results of the outcome made on the front of the vending machine by the electric shock, it is established that the more recent fingerprints belong to you, as Misaka would thrust the evidence at you."
"Lies! I didn't expect an electric shock until then!"
"That's a lie, as Misaka would frankly answer."
"…"
"…"
Please help me! As Kamijou looked at Misaka-imouto, he continued to pull on the shoulder of Mikoto as she sat beside him.
But Mikoto didn't react at all.
(That's weird,) Kamijou thought. (We've met Imouto for only about ten minutes, but Mikoto's the type who would continue speaking automatically on her own initiative. Does Mikoto probably have something unspeakable about her?)
"…?"
Kamijou casually turned to the Mikoto sitting beside him. Then…
"…You! Just why are you loitering around here!?"
Without warning, the previously silent Mikoto raised her voice in explosive anger.
"Uwaaah!" went Kamijou, taken by surprise by the deafening scream from the side.
(This high-pitched scream unique to girls is piercing my eardrums; it feels like the pain I'd get after eating large amounts of shaved ice!)
Mikoto only shouted once before resuming her silence.
It's as if she's waiting for Misaka-imouto's view.
Just like after lightning strikes, empty silence enveloped them.
The blimp floated through the night sky. In the X-Vision attached to its side, today's news of "New Virus [HDC. Cerberus] Rampages Through Network" was repeatedly reported, its voice-over strangely making noise.
Within that state, as Misaka-imouto stood at attention and looked absently at Mikoto's eyes,
"One question or the other… training, as Misaka would briefly answer."
"'Training'."
Mikoto cut her breath short as if she were struck from behind, and turned her eyes away. She murmured something, but it didn't reach Kamijou's ears.
"??? If it's training, is Imouto-san entering Judgement?"
If a student's status is "vacant" and "in training", the first thing to come to mind would probably be "Judgement".
As one looking at Mikoto's power would understand, such a faculty would be far better at killing than a lowly knife. For the 2.3 million students under Academy City, there are special organizations that deal with the inevitable berserk esper.
There are two positions that take down berserk espers: the users of next-generation weapons, the teachers' corps called Anti-Skill, and the students chosen from every school called Judgement.
Both Anti-Skill and Judgement are originally ranked no higher than teachers and students, respectively. Accordingly, to join their professional ranks, one must sign nine contracts, pass thirteen different types of aptitude tests, and complete four months of training.
Mikoto clapped her hands in front of her and averted her eyes from Kamijou.
"Ah, aaah, Judgement? Ah — ah — that, that. You've been doing this because of that, lots of problems, eh, the lot of them—or, should I say, worn out?"
She said in a lovely, yet suspicious tone of voice.
"Hey. Somehow, you're talking as if you're suddenly dismissing information like it's only from a crank call."
"Heh, I'm not dismissing it; I'm merely stating it clearly, properly, exactly." Mikoto then looked at her own imouto. "We've got lots of talking to do, lots of it. Hey, Imouto, can you come with me for a bit?"
"Ha? No, even Misaka has a schedule to stick to and—"
"Enough already." Mikoto looked at Imouto dead-on. "Get over here."
That strange, flat voice… Kamijou somehow sensed it.
Mikoto had no reason to do something special. She only saw her imouto's face and had said only a word with a laugh.
But that single word. He'd taken into that point, that swirl of suspicious feelings going through Kamijou's heart.
Mikoto looked at Kamijou. At that point, she was already back to being the ordinary noisy middle school girl.
"Well, then, we're going this way. You have to mind your dorm curfew, too, you know!"
Mikoto left a sitting Kamijou behind and wrapped her arms around her imouto's shoulder. The two ordinary-looking girls then began to walk onward down the wide avenue lane.
Kamijou instinctively began to follow after Mikoto—but stopped himself.
Sitting back down on the bench, he mindlessly muttered while gazing at the blimp floating through the night sky,
"How complicated…" he softly breathed. "What kind of family are they, I wonder…?"
Part 3
There was a problem, though.
"Ah, yes, right, right, what am I going to do with this much juice?"
Kamijou dazedly looked at the large pile of nineteen juice cans (Mikoto only consumed one can of plum cider), but in the end, he had no choice but to carry them all back; that's an estimated 350 g * 19 = 6.65 kg mass of garbage or something. As Kamijou did that useless calculation, he felt himself slip further into sadness. His state of mind was the same as that of an acrophobic inadvertently looking below a suspension bridge.
With that, Kamijou Touma began to head back unsteadily through the crimson twilight with his hands full of juice. The residential road leading to the student dorm was narrow, too narrow for even cars to go through; but, just when he thinks that "cars probably won't go through here", he was almost sent flying by a car suddenly backing out from a garage.
But no matter the bad luck of Kamijou, he had yet to experience the misfortune of dying with a smile by being run over just five minutes from the dorms.
"Returning home is an adventure in itself," said Kamijou as he lifted up the cans again.
The cold juice cans would considerably lose their coolness while they remained in Kamijou's arms. But in this shitty hot Japanese summer, how was it that he could not help but feel driven to the verge of frostbite!? Kamijou's heart grieved.
And, as Kamijou was thinking of that, he noticed a tennis ball suddenly rolling in front of his foot.
(Someone playing must have neglected it,) Kamijou thought.
"Hey, hey."
Kamijou, aware of the danger of stepping on the tennis ball, stopped his raised foot and moved it a bit horizontally to avoid the ball.
(Hey, that's dangerous; what'll I do if I step on it and fall?)
As he thought of that…
A sudden gust of wind appeared.
As if the rolling ball were calculating, it slid into the gap between the ground and Kamijou's foot.
"Hiii! Hey, hey, wait—!"
With his entire weight already on his foot, it was too late to stop. Kamijou, having stepped on the ball full force, flopped onto his back.
Thanks to the large pile of juice cans, he couldn't balance well. Kamijou, his back totally flattened, coughed up air, squirmed, and rolled. Bad luck, and even the air didn't tell him that.
The juice cans that should have been in his hands rolled and scattered about with a clattering sound as a sprawled Kamijou breathed deeply.
(Well, I think I won't care if the juice cans are somewhat dented,) he thought.
"Sh, shit. Dammit, just what the hell have I done…?"
"Ze-ha," as he said that, he finally got himself up. As he gazed at the nineteen juice cans scattered about, he became desperate.
(I still have to walk while carrying a little over 6 kg of baggage,) a reeling Kamijou felt as if he were speared; having said that, there's no way around it. In the end, only a lonesome person would have to pick them up.
And as Kamijou, shoulders hunched, picked up the juice cans, a shadow fell over him.
(…Clouds?)
(Oh?) And Kamijou instinctively raised his gaze upward.
Misaka Mikoto was standing in front of him.
(Uoo!?)
Feeling the pressure of a middle school girl looking down silently at him from above, Kamijou instinctively stepped back.
"Y-you—eh? I thought you were off carrying your imouto somewhere else? Now what? If you want more juice, you're gonna be taking two or three of them this time, though."
"…"
Mikoto did not respond to Kamijou's words.
(Something's weird,) Kamijou thought. Then he remembered, Mikoto said something along with an unintentional flash of lightning. Should he win, the winner has a responsibility to fulfill, she had said. I would make sure I stick to it and announce it openly, she also said.
And how about it? After all, the Kamijou Touma in question had stepped on a tennis ball, flipped over on the road, scattered his carried juice all over the ground, and had to gather them alone and with hunched shoulders.
(Gah! Dammit, she approached me way too closely, her skirt—speaking of which, it was short pants a while ago; why did she change into panties!?)
He thought anyone would be angry at the one looking at them even when chaos is in progress.
Mikoto was already looking down at Kamijou with her expressionless eyes.
"If it's important, help is in order, as Misaka would propose with a sigh."
"???"
Far from being a sigh, even by breathing suspiciously quietly, Mikoto made Kamijou doubtfully look at her; at that point, he finally noticed the pair of NV goggles hanging from Mikoto's hand.
"Ah, right, it's the Imouto-type. You, you really look like Mikoto."
"...Mikoto, is it? as Misaka would ask back. Aah, you mean Onee-sama, is it?"
"Who else?"
(As always, she's setting her own pace,) Kamijou thought. "…Ah, right, it's Imouto. Indeed, it's from the short pants; you must have done a class change."
"Short…?"
"Nah, just talking to myself! Wh-what should I say—that's it! What are those tough military goggles for?"
"Misaka doesn't have the skill to follow Onee-sama's different electric or magnetic fluxes, so this device is important for visualizing them, as Misaka would explain thoroughly."
"…"
(Don't think that anything becomes polite when you use honorifics,) Kamijou's heart grumbled.
"Temperature and humidity were high, so I took off the equipment, but when necessity is felt, it will be put back on, as Misaka would suggest."
As Misaka Imouto muttered alone, she hung the goggles back onto her forehead.
"Hm, eh? But you, weren't you carried off by your sister a while ago?"
"Misaka came from that direction, as indicated."
Misaka Imouto pointed at the direction of the street. Somehow, it was an entirely different direction.
"?" Kamijou bent his head.
"But apart from that, what will you do with the scattered juices? as Misaka would ask. At this rate, you run counter to the road traffic rules and you may be fined no lower than 150,000 yen—or possibly more."
"…That would be bad. I'm picking them up fast and going for it."
Even Kamijou knew that this different Misaka Imouto didn't speak in a disagreeable or sarcastic manner, but "quickly destroy the surrounding troubles" was, for some reason or another, becoming irritating.
And, as Kamijou was silently picking up the juice cans one by one,
"If necessary, Misaka, too, will lend a hand, as Misaka would propose."
"Hah? It's alright, I can do this. Generally, your help is not required anytime—I think."
But at that moment, a light truck came through the residential area. The truck stopped rudely in front of Kamijou, and really honked at him with ill humor.
"—"
Misaka Imouto started to gather up the scattered cans silently. Having an unknown girl clean up after his clumsiness made Kamijou feel ashamed, but he couldn't say anything with the truck honking at him to hurry up. It couldn't be helped, so they each picked up an equal half of the pile.
Nonetheless, Kamijou whispered something after collecting.
"Sorry, I guess I'll have to indulge you with some dessert from the convenience store, sorry about that—!!"
As Kamijou said that, the instant he saw Misaka Imouto's figure again, his breath involuntarily stopped.
The defenseless, squatting Misaka Imouto wasn't worried about her short skirt. He was secretly peeking at something white and blue in-between her legs.
As Misaka Imouto squat, she looked up at Kamijou expressionlessly.
"…What is it? as Misaka would ask for confirmation."
"Hi…!! No, well, it's nothing, you know? Nothing to see, you know?"
"In comparison, your dilating pupils, restless respiratory action, abnormal pulse, and the like are detected, as Misaka would show her objective assessment. In conclusion, aren't you under mental strain? as Mi—"
"No, it's nothing! It's really nothing! I'm really sorry!"
"??"
Whatever is he apologizing for? With that impression, Misaka Imouto vaguely nodded her head.
As the light truck's horn depressingly blared, Kamijou, urging himself on, hastily picked up the juice cans.
With the recovery completed, the truck violently pressed forward, apparently very angry. Incidentally, as the truck ran past, Misaka Imouto's short skirt flutters, but the girl didn't even bother to push her skirt down.
(Somehow, I feel like I know how to differentiate between the sisters.) Kamijou sighed. Mikoto, even with shorts beneath her skirt, probably wouldn't have let that pass by.
"Well, then, to what place will these juice cans be transported to? as Misaka with hands full of juice cans would ask."
"Ah? It's alright, I can carry them myself."
"Well, then, to what place will these juice cans be transported to? as Misaka would demand."
"I told you it's okay, it's okay; no need for you to carry them…"
"Make it quick."
She sharpened her voice. Kamijou gave up and let Misaka Imouto carry the load.
Luckily, the student dorms were only five minutes away. The identical buildings all stood in a dreary location, but since the building winds all converged in the same direction, it was also the spot of Academy City's number one wind farm.
The buildings stood a little over two meters apart. Slipping under the back alley-like opening, Kamijou and Misaka Imouto passed through the emergency entrance and headed for the dorm elevators.
And, just ahead of Kamijou, a cleaning robot came up—one with tires and a rotating mop attached to a drum eighty centimeters long and forty centimeters in diameter.
Up to this point in Academy City, even the mysterious was harmless, but it was a little different from here on. Atop the cleaning robot, a maid about thirteen or fourteen years old was sitting seiza-style.
"Whee, Kamijou Touma!"
Her name was Tsuchimikado Maika, and was Kamijou's neighbor. She, as a sister's promise to Tsuchimikado Motoharu, went to a home economics (maid) school and was now wearing a maid outfit as her uniform. Something disagreeable and a change of pace made her escape from the girls' dorm and come there as a runaway girl. But even with his memory lost, for Kamijou to constantly encounter her in this place, it appeared that there was nothing he could do to stop her from slipping into the boy's dorm constantly.
"The air con's damaged today, so I'll be coming over. Also, I think my brother will be making noise tonight, so please pardon us."
"…I see, home economics school must be dreadful; they don't even have summer vacation."
"Yes. 'A true maid never rests,' my school precepts say. Not even on Saturdays and Sundays can a maid apprentice rest, and had I not taken a guerrilla weekly leave for two days, I'd be down and out."
"Will it be the ice age when maids with truant habits are in demand?"
"But of course; maids that complete the course are in greater demand than drop-outs, they say. By the way, Kamijou Touma, did those spoils of war in your hands come from the lottery?"
"I paid for them all (maybe). The cans may be dirtied up a little bit, but take one if you want."
"If there's green tea, I'm taking it—"
"…Then milk with powdered green tea would be fine for you."
"Thank you," as Tsuchimikado Maika stretched out her tiny hand and grabbed the milk tea from Kamijou's hand. Then, the cleaning robot changed course, leaving Kamijou and Imouto behind. Maika waved her hand vigorously to say bye
"Finally, trick number one for hiding a runaway girl: never leave the girl behind in your room during daytime. Make them loiter around peacefully in the city; then, at nighttime, recovery by baiting them is the easiest option. Leave her behind 24/7, and the sounds of someone living in your room will escape just like that and the neighbors might just notice. I mean, isn't that sister making too much slapstick noise?"
The cleaning robot with the sitting girl went somewhere else.
"Do you have preferences for confining other people? as Misaka would inquire a little seriously."
"It's nothing serious; it's only hiding a freeloader."
Kamijou said clearly. He clearly said it… but no doubt about it, what will the law nut say? Kamijou was clearly hoping it would not be underage kidnapping- or worse.
(If a yokozuna gets on here, the cables would snap.)
A worried Kamijou got on the dilapidated elevator with Misaka Imouto, and ascended to the seventh floor.
*Kinkon* went the cheap electronic sound as the elevator arrived at the seventh floor. As Kamijou's dormitory was rectangular in shape, there was no way to go but straight ahead when leaving the elevator.
Just ahead, in the vicinity of Kamijou's room's door, were mysteriously new metal handrails. Kamijou could recall no matter how much he tried, but some idiot had apparently used fire to blow them off. Here and there, if one looked closely, the walls and floor, too, were mysteriously new.
And, in front of Kamijou's home's door, Index and Himegami Aisa were facing them, both of them squatting, hands stretched, and playing with a calico cat. Interposed between the two of them, the calico cat was being stroked by four hands and was pleasantly rolling along the floor.
"…Hey, what are you doing, the two of you? Hey! What's the matter, have you been locked out even though you don't need a key?"
As Kamijou raised his voice, the two looked up at him.
"Ah, it's Touma. Well, fleas got onto Sphinx, so we're picking them—eh, what! Touma brought an unknown girl again!"
It was Index, a fourteen or fifteen-year-old girl, who shouted that. A girl with a 100% false name, she was wrapped in a plainly extravagant porcelain-white gold-embroidered nun's habit. Somewhere, there was a certain world where someone called "Index" existed, but for Kamijou, she was insensitively treated as a "girl who became a freeloader without me realizing it".
"Perhaps that is his fate: to raise other people's flags, and go down their story routes." (! )
It was Himegami Aisa, a sixteen- or seventeen-year-old girl, who said that. She had long, black hair and the appearance of a normal miko, but hanging from her neck was a, strangely floating, huge silver crucifix. It was no surprise, as that was the barrier created to seal Himegami's power, Deep Blood.
Kamijou remembered Index's words a while ago about the crucifix.
"Touma, Touma, didn't I tell you not to touch Aisa's Celtic cross? That's the cross from the Walking Church that can generate and preserve only a minimal barrier. Well, if it were an ordinary church, I wonder if this would be the equivalent of the cross high up on its spire?"
"Hah. Then that means if my right hand touches it, it'd be gone."
"…Yes. Just like what happened with my habit…"
"Ha? I can't hear you, what is it?"
"It's nothing! I didn't say anything, so forget about it!"
After that, Kamijou was chomped on and bitten by a somewhat furious blushing Index. The point was, that crucifix must not be touched at all costs, probably.
Incidentally for Himegami, because that crucifix had sealed her powers, she had been judged as a Level 0 from a private elite school, and was urged to drop out. Even Kamijou could enroll in that private school; their minimum requirement was being a Level 2. An athletic scholar dealing with a debilitating injury would probably have understood Himegami's circumstances easily.
Right now, if the crucifix were removed, Deep Blood would probably manifest again; that made Himegami vow never to do so.
With those circumstances, Himegami had been automatically expelled from the girls' dormitory. However, if she left Academy City, she might be a targeted by magi out for her power. To an aimless Himegami, it was unbelievable that Kamijou's advisor, Komoe-sensei, had picked her up, and turned her into a freeloader.
For them to easily meet fortuitously in this wide town, there were reasons, too; the truth was that there were certain locations where runaway girls spontaneously went. Komoe-sensei, a specialist in social, environmental, behavioral, and communicational psychology among other things, had a knack for going around to such places, finding runaway girls, and taking them in. Acting on good intuition at the area around the flag, and then triggering the shock of transfer students at the opening of summer vacation… Kamijou was feeling bad about something.
And that Himegami glanced at Kamijou's pile of juice cans.
"What's with that pile of goods you have there? Are you a weakling that cannot drink tap water?" (?)
"That's not it at all. Generally, juice will not make you sick," Kamijou sighs. "Here, Index, you're in charge of the stuff."
"Uh-huh. I like juice, but I hate 'pull tabs'. Touma, open a can for me, will you?"
Since she was only barely familiar with modern civilization, Index probably couldn't open the pull tab. It wasn't that she didn't know how or have the power to do it; it was more like, "If I overdo it, I might somehow break a nail or two, so it's scary."
As a pull-tab-phobic Index gave her can back to Kamijou, her gaze landed on Misaka Imouto.
"Huh? Really, there must be a reason why Touma's encounter rate with girls is way too high. Anyhow, I don't think I wanna listen to it. Well, then, who are the parents of this child?"
"This is only my personal opinion: I only see a poor, unlucky girl being pursued by some mysterious organization."
"You're noisy, pipe down; not one person should mistreat the people around me for any reason," Kamijou said as he carried the juice. "...Let's overlook that one for now. Didn't you say something? What do you mean by 'fleas attaching to the calico cat'?"
"Yeah," Index nodded tiredly. "When I woke up one morning, I found Sphinx with fleas all over. I think I'm certain Touma's futon is in bad shape."
"'I think', my ass! Didn't I tell you brats 'no cats on the futon'? Even fallen cat hair will make it bad-! Wait a minute, so this is why I'm itchy all over! Aaaaagh!" Kamijou screamed. "And that's why you left the room; it's turned into a hotbed for fleas! That's why you brats are here, dammit!"
Kamijou's eyes landed on the doorknob, but he hesitated to open it.
Ignoring the hesitant Kamijou, Index put her hands into her sleeves, and began to rummage for something.
"…Eh, Index, why are you pulling out a green leaf from your pocket?"
"It's called a sage plant! I found it unexpectedly outside, didn't you know?"
"…"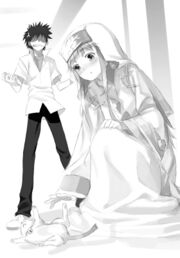 In Academy City, drug use is the norm for esper development. Medicinal knowledge has long been chronicled.
Sage plant: of the "Labiatae" family, perennials, native in the Mediterranean region. Used for medicine, the leaves are called Salvia leaves, and they are also cultivated as spices or ornamental plants… where they are found.
"Then what are you pulling out that medicinal herb for? You gonna chew it for HP recovery?"
"'Ecchi-pi'?" Index tilted her head. "I really don't understand Touma's strange language, but sage plants have purifying effects, you know. I'm going to use these to drive away the fleas like magic."
"…I've got a very bad feeling about this. That herb, are you going to feed it to the cat, or is it for the fleas?"
"Uh, nah. Burn up the leaf, then place Sphinx near the smoke to drive away the fleas."
"…"
"As always, lighting a fire inside the room would be suicide."
"…"
Kamijou was looking dead-serious at the straightforward-answering Index.
(Well, I know that fleas hate smoke, I know that, but…)
And, as Himegami was unexpectedly flapping her hands,
"Don't remain silent; this is where you interject. At this rate, the cat would end up thoroughly broiled."
Himegami's words brought Kamijou back from his thoughts.
"…Ah! Yes, that's right, that's right. Didn't you know, Index, that fire is one of the things cats fear the most? If you smoke the cat to get rid of the fleas, the cat would end up dead, too!"
(I'm so glad that Himegami's normal at least,) Kamijou thought, feeling thoroughly relieved.
She suddenly thrust her hands into the sleeves of her miko outfit and started rummaging around.
"…W-wait, Himegami. What did you just pull out from your sleeves?"
"Hm? If you ask me what, I must reply 'magic spray'."
No matter how he looked at it, it could only be pesticide.
"—Errr. What are you going to do with that?"
"I am merely going to point the magic spray at the pests, and spray them."
"…I told you, fleas are living animals, and cats are, too, so don't bring out that Academy City trial product that will kill cockroaches in two seconds! Are you two the sort who would spray pesticide on their own faces the instant a mosquito lands on them—!?"
"…?" Watching the two of them stare in confusion at each other, Kamijou would have been seriously clutching his head if his arms hadn't already been preoccupied. The thing that really bothered him was the course of action these two thought to take just because they had been seriously worried about the cat.
Just then, the previously silent Misaka Imouto suddenly opened her mouth.
"If discussion is in order, how efficient is it to first put down the juices? as a burdened Misaka would suggest."
"Hm? Ah, right, just put them down on the floor. Sorry, and you can take one from the pile as gratitude."
"It is not important, as Misaka would reply. Well, then, it doesn't matter if I put them down here on the floor, but please just make sure that they don't fall seven floors down, as Misaka would warn of impending tasks ahead."
Index and Himegami suddenly stopped in response to Misaka Imouto's well-mannered top-class sommelier acting; they must be shocked at being compared to as troublemakers.
"…Uwaah. Touma, Touma. She looks like she's a Royal Guards' Lady (Queen of Honor) from Windsor Castle."
"…More like from medieval times. Possibly made to follow the maid robot project."
Misaka-imouto didn't even raise her eyebrows at their words.
"Well, then, how to deal with that cat—"
"Uwaah, nice follow-through… Forget it, you know of something?"
"—Even if you know them, using an over-the-counter anti-flea medicine is honestly recommended, as Misaka would suggest. There should be an anti-flea powder that can be sprinkled onto the cat."
"…Well, it's a medicine, alright. Won't it be harmful in the end?"
Academy City students including a timetable (curriculum) for administering medicine… what the hell are they saying? Even with this opinion, whatever you think of it, the kitty is less than a year old. Resistance against such medicines, whether they're "harmful" or "harmless", varies greatly with age.
But Misaka Imouto didn't appear especially worried.
(Well, she's been expressionless from the beginning.)
"There is no such thing as harmless medicine, as Misaka would reply promptly. In comparing damage against fleas to damage from the medicine, the former should be more serious, as Misaka would add a supplementary explanation."
"…"
"Damage from fleas or ticks would not only be merely dermatitis, as Misaka would add. At worst, there's a possibility that it would be a trigger for a severe life-threatening allergic diathesis, as Misaka would worry."
(Uh-huh,) as Kamijou became silent.
Well, surely they say that abuse of antibiotics (cold medicine) leads to lowered immunity, yet when they hit 40°C, they have no choice but to drink them. That, he could understand well… but looking at the purring and rolling calico cat, he couldn't accept anything unreasonable. Well, of course, something had to be done quickly to the purring cat to make the fleas drop off.
"(Is there something that can be done without resorting to drugs?)" Kamijou mutters softly as he folds his arms, deep in thought—and with that, Misaka Imouto suddenly begins to speak.
"In short, taking off the fleas from the cat's body without resorting to drugs is better, as Misaka would confirm—of course, without also resorting to either smoke or pesticides."
"…Well, just because even those two have some evil intention or two doesn't mean that they're serious about it, I think."
"Or is it rather that there is no help without malice? as Misaka would answer in amazement." As always, Misaka Imouto would answer with no expression whatsoever. "Anyway, you should be supervising the two of them, as Misaka would advise. If you do not separate the girls from the cat as soon as possible, I think container destruction should be applied at this very moment, as Misaka would add in advance."
"…You're legally treating an animal's life as a container? Come on."
(As if it's okay to legislate new laws,) Kamijou half-thought.
"And then we're back to square one. Well, then, smoke and pesticides… since those options are rejected as a matter of course, how will Misaka Imouto drive away the fleas?"
*Piku*, both Sister and Miko's shoulders moved at the same time.
"Hooo. Touma only just met a girl much later than me, and yet he relies on her more than me, hohoho."
"This is it. This is a plan to make former characters disappear rapidly. Fufufu. We're not going to be rescued."
"…"
Kamijou was already ignoring them.
Looking at a stiff Kamijou, Misaka Imouto expressionlessly muttered,
"Repeating the question, pesticides and smoke are forbidden, and any method that doesn't rely on drugs and can make the fleas drop off is fine, right? as Misaka would confirm with finality."
"That's right, but how?"
"With this, as Misaka would immediately reply."
Misaka Imouto went up to the curling-up cat and placed her palm on it.
In an instant, a *pachin*-like sound of static electricity being unleashed exploded from Misaka Imouto's palm. The fleas' corpses fell off the cat's fur like dust being shaken off. Sphinx, with its fur hair standing up, struggled noisily; Himegami grabbed it by its scruff before it could dive seven stories down.
"The pests are killed by a specific frequency, as Misaka would inform. This type of insect repellent equipment is commonly sold at major discount houses, so it should have no safety issues."
Misaka looked at the doorway for a moment. "While indoors, using a fog-type pesticide would be easier for pest extermination, as Misaka would advise in advance."
(In any case, work's over,) thought Misaka Imouto as she turned around and departed without even hearing a word of gratitude.
Index, her eyes following the retreating figure, slowly murmured, "Touma, Touma, that one for sure is a perfect cool beauty, I think."
Taking the opportunity, Touma, too, murmured, "I agree; it's an unreasonable order, but it's a request, so please follow that one's example, even for a little bit."
Notes
↑

Sweet red bean soup