Toaru Majutsu no Index:Volume22 Proclamation of Armistice
From Baka-Tsuki
Proclamation of Armistice.
We can't let this meaningless war continue.
Our side has clearly examined the conditions proposed by Academy City, and we will continue to discuss this. We'll negotiate about the details, but we can assure that Russia will not end up disadvantaged.
In the past, we ignored the advice of the public, followed the suggestions of a few people and were unable to undo our choice. As for how tragic the situation was, I suppose everyone knows it better than I do. Regarding this historical error, we can't make any excuses.
At least what I can do is to end all these abnormal situations as soon as possible, and let the world regain the peace that it should have had.
Before all of these end, we shall be punished.
So before that, please give me some time.
A minority may be unhappy with this result, and may feel that putting down our arms isn't what we should do. However, I want everyone to calm down and think: what were we fighting for? If it's to fight for our family, our friends, our lovers, all the people that are important to us, this is the time, the moment to get all of 'these'. Continuing to fight will only cause you to lose 'these'.
The thing that made us recognise this were the actions of everyone on the battlefield.
Facing the supernatural disaster near the end of the war, we chose a 'correct' move that was way above us, helping everyone, enemies and allies, without any difference. I believe that we can accept this ending.
From now on, I declare that all fighting will cease.
I hope for everyone to agree with this decision, and will be recorded for a future peaceful world to see.
30th, October
Archbishop of the Russian Orthodox Church
Klaus R. Shiarutsky
Battered and bruised.
His right hand had been cut off.
Exposed to the cold snowstorm that was like blades, being unable to move even a finger. At this rate, he would be buried under the snow.
At that moment,
Snowy footsteps could be heard. Thinking about this as he faced the sky, he saw a human shape. Instead of saying that they walked near, it was more like they both had appeared at the same time, an unnatural way of appearing.
An enigmatic duo.
One of them was a blond woman. She had goggles on her forehead, a thick material dark-coloured jacket and an apron used for work. It looked crude, but on closer inspection, it was rather tasteful, and it gave off the feeling of an English maid.
The other person was a blond man. His aquamarine thin shirt was accompanied by a camel-coloured lambskin vest.
Though it's not good to talk bad about others, both of them were wearing clothes that seemed ill suited for moving through the harsh snowstorm. Not only that, the duo's expressions had not changed.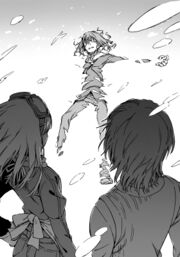 The woman spoke first,
"At least he looks like he's breathing."
"It's purely because of his ability. There was no need to hold back then,"
The man replied, and then looked at the face of the man on the ground.
"Now then, I'm sure you do not want this to end without getting back at him. At the very least, we're about at our limit. ....We will give you a place to live and ensure your safety for now. In exchange, we want you to tell us what you saw and heard. We may able to read between the lines of the Aeon of Osiris you are from to see Crowley's Aeon of Horus which comes after."
"Wh, who...?"
He,
Fiamma of the Right, asked in a hoarse voice.
"Ollerus."
After that, the answer was simple.
His words conveyed the entire message.
"I am a pathetic magician who once should have become a Magic God, but had that position stolen by One-Eyed Othinus."