Toaru Majutsu no Index:Volume17 Chapter1
From Baka-Tsuki
[edit] Chapter 1: The Incongruity of Casual Conversation. Irregular_Spark.
[edit]
Part 1

Morning of the 10th of October.
Even though not long ago the El Niño effect had caused the sweltering heat of the summer to have been delayed in its passing, a cold fog had descended upon London's Japanese Street.
In the morning rush hour, regardless of where you looked, there was a sea of people. As for why there was not one tourist there, even if you mentioned it, no-one would turn their head and respond. For everyone knew the reason.
The teenage girl from the Amakusa sect, Itsuwa, was also in that Japanese Street which was empty of tourists.
Like the Chinese and Indian streets, the main attraction of the Japanese Street would be 'food'. To be able to eat familiar food and speak a familiar language even in a foreign country, that was why people with the same language naturally gathered together, creating all sorts of cuisine.
In reality, faced with the enormous flow of people through Japanese Street, sushi restaurants, hotpot restaurants and other shops of all kinds had popped up alongside the streets.
The first floor of the apartment complex Itsuwa resided in had also become a bento shop. Not just the Japanese living in London, but also numerous busy British commuters, who had adopted the "convenience is luxury" creed, bought lunches there. The strong point of the Japanese was "punctuality"; able to carry out shop business with the speed of a pit stop team in a Formula One race, they had earned the respect of the community.
In the past, Itsuwa too has been called to help out in the shop, but now she was not helping out. Her uniform was also different from that of the shop. The impression the Itsuwa in London gave out was charming with a hint of maturity. On top of Itsuwa's beige sports shirt was a jacket like a short overcoat. She was wearing light brown, form-fitting trousers. If you inspected her clothing more carefully, because she was from "Necessarius", even though Itsuwa was underage, she would be able to go into a bar without needing to be interrogated by police. Right now, in the depths of the shop, Itsuwa was in the break room for the shop workers, staring at the Japanese writing displayed on her laptop screen.
["The key to success in a long-distance relationship is to remain in the mind of your partner! Those who are as shallow as a shadow will break off the relationship!? Those who succeed and those who fail will be separated!!"]
Itsuwa scrolled down with a quivering finger, reading,
["Rule of Success! Capturing tactics!? Use the overpowering charm of a woman and capture his heart!"]
Or something along those lines. At that moment, memories from a few days ago resurfaced in Itsuwa's mind.
To protect Kamijou Touma, who had been viciously pursued by Acqua of the Back, Itsuwa had stayed close to Touma. After all her efforts, it had seemed to Itsuwa that the roughly halfway around the world distance between Britain and Japan had shortened a bit, as well as the distance between her and Touma… but who would have predicted that the reinstated female Pontiff of the Amakusa Catholics, Kanzaki Kaori, would have arrived out of nowhere! Not only had she caused a ruckus, but in the end the Pope had unleashed her "One-hit KO Secret Technique"…
E-Erotic Fallen Angel Costume…!! To prepare such a horrifying secret weapon, as expected of someone as formidable as the Priestess! To wear such a thing, wouldn't all the memories of that battle against Acqua of the Back be gathered at one point…?
The frustrated Itsuwa gripped her head with both hands.
Looking at herself, who was only charming with a hint of maturity…to put it in other words, "an absolute flawless costume". Itsuwa let out a disappointed sigh.
This is the unbridgeable divide between commoners and genius, huh. Just like how a normal magician can never aspire to become a Saint. That Tatemiya, calling me the "hidden giant breasts" was just him trying to comfort me, compared to Kanzaki of the "normal giant breasts", I truly have no chance
It was painfully obvious to Itsuwa that, compared with the sensual curves of the breasts and butt of that long-haired ponytail wearing priestess, she was far out of her league. At this moment, Itsuwa almost gave up on the spot. Tentatively, to comfort her troubled heart, she reminded herself it was not as if there was already a special relationship between herself and Kamijou; at this level, everything would have been fine already. As they say, a teenage girl in love is blind in all aspects.
Hmph, not only does it accentuate her perfect bust, but to use the Erotic Fallen Angel costume as a lethal final blow… A bold strategy that unites soul, technique and body…the Pontiff is truly a formidable person. With just one move, I have been totally defeated. There is no chance for me to turn the game around now…
With a sigh of despair, Itsuwa's eyes flickered towards the suspicious news webpages. Then her eyes fell upon it. In the "Weekly Mini News 10" section, separate from the usual news, she saw "that".
["The name of the legendary new product: Great Elemental Fairy costume! Guaranteed to have an attack power only equaled by slicing apart the brains of a working class man in a Z pattern! Determine any delicate requests at this autumn sale!"]
In Itsuwa's mind, time had frozen. Had she not been chasing after that Saint? No, was this not now the only chance to get ahead of the Saint? Faced by this once in a thousand years opportunity, Itsuwa fell silent as she thought about it…
"Ooohh... H–How could I ever think of wearing this sort of attire!!!"
Furiously, Itsuwa messed up her hair with her hands. She had chosen the rational decision. However, suddenly hating herself, she collapsed on her desk. Perhaps hesitation in place of bravery was the difference between an ordinary and an extraordinary person? What if her hesitation was the proof of her inferiority? Faced with those thoughts, Itsuwa couldn't help herself and started to sob.
…Voices traveled from the ceiling of the break room,
"No~!! Itsuwa, we've already given you a push, waa~! No!!"
"Why don't we just buy the costume first and put it in a box in front of Itsuwa's room?"
"Substitute Supreme Ponti… No, wait, Tatemiya-san! You should have already gotten an idea of Itsuwa's measurements through the massage battle right?"
"Of course! To witness the battle between the Erotic Fallen Angel priestess and the Great Elemental Spirit priestess, we need to shed some blood and sweat, too!"
"Okay guys, I think we should get back to work…"
…and other related whispers. Surprisingly, Itsuwa heard none of it.
——
[edit]
Part 2

The rumored erotic fallen angel maid, Kanzaki Kaori, trembling as if she sensed a mysterious resentment from a long distance, shuddered slightly and looked troubled.
Presently, she was walking down the streets of the Buckingham Palace outskirts. To Kanzaki - or rather, to the Anglican Church, one of Great Britain's three factions, this place which housed the Royal Family was an unfamiliar area. The other two factions, the clout of the Royal Family and Knights of England had too strong of an influence.
...Kanzaki had come here to collect some documents from the Ministry of Home Affairs that was near Buckingham Palace, but unexpectedly, she met someone familiar.
The leader of the knights, Knight Leader.
Looking somehow young, he was actually in his mid-30s - more than twice Kanzaki's own age. His well-kept blond hair, looks, body build, the quality of the suit worn, and even the dignified way of walking were stained with the format of royal castles and palaces.
By the way, Kanzaki wasn't really good at handling the Knight Leader.
It was not because of the aristocratic atmosphere.
"As far as October's events are concerned, be it the evening party at Windsor Castle or the onboard party at Liverpool, the best would be Senator James's birthday party along with the ball at the Queen's House, I suppose. The guests may be rowdy, but to save the face of the guest of honour, there shouldn't be any men harassing women in secluded places. If something happened because of the party, it will bring disgrace to Senator James."
"Well, that, umm..."
Holding that large envelope containing the documents, Kanzaki looked flustered.
Seeing this woman's face, the Knight Leader frowned slightly.
"Hm. If it comes to a higher class then, you can go for the Halloween disguise ball held at the Buckingham Palace, but at the first party, you need to conceal your face and name. Or do you not like the audience? If you can't stand the lewd stares from them, then a far place like Edinburgh would be a perfect invitation..."
"... L-Like I said, that's not the case..."
As if she had something difficult to say, Kanzaki averted her eyes from Knight Leader.
"I-In the first place, this kind of evening party or ball dance that you mentioned is... feels like something like a date, right...? Somehow, as the leader of a group that's working under the Anglican Church, it's better for me to avoid this..."
"However,"
Knight Leader interrupted.
"In the first place, weren't you the one who asked me to teach you British manners?"
"T-That..."
In the midst of the numerous people going back and forth from work and school, Kanzaki murmured something as she stood still.
Knight Leader put a puzzled expression on his face while watching this situation.
"I am sorry for delaying the meeting, but regarding that, I had to take care of it till the end, that is true. Certainly, please ask me about the mannerisms of the high-class society as much as you need to."
"N-no, that was when I came to England. Because of the Amakusa-Style's ceremonial methods, I had to learn the British etiquette and geography. Otherwise, I might not be able to fit into the high-class society."
Needless to say, with the help from a fellow Japanese, Tsuchimikado Motoharu, she not only already learned the basics of English, but also studied the dialects of various places in England. There was nothing she could learn from Knight Leader now.
"However, you actually don't appear much, be it at evening parties or balls. Perhaps it's because you don't do well with nobles?"
"... As a member of the Anglican Church, I don't feel a necessity to attend, let alone get familiar with them."
"It isn't contradictory to walk on the right path and try to showcase the elegance of a lady. Also, beauty and tomfoolery do not share the same meaning. If you are perfect to that extent, you will still be perfect wherever you go. Wouldn't it be like the legend of Saint Agnes who was brought into a brothel, and with a flash of a shining light it turned into a missionary? Doesn't that show the strength of the heart?"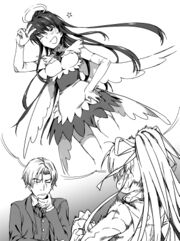 "... Using brothels as an example, you're still inviting me even after being aware that an evening party is dangerous to females?"
(There's also that invitation to a ball with a flower from him while I was absent)... sighed Kanzaki.
Seeing that reaction, for some reason, Knight Leader tilted his head.
"Speaking about that, isn't this the first time you're asking about the ways of life as a lady?"
"Where did that rumour come from?"
"Hm, how weird. So that Erotic Maid Fallen Angel was a rumour...?"
Hearing Knight Leader mutter those words to himself, "GOBAHAA!!" Kanzaki let out an exasperated breath.
"That is not a lady-like behaviour."
"Wa, w-w-w-w-w-w-what are you...!?"
"Well, as a British gentleman, it would be a lie if I were to say that I am not interested in erotica and maids... but a fallen angel is unacceptable. A lady's beauty must not be measured based on the bewitching exterior. Rather, it is the inner persona which must be beautiful--"
"Please wait. Please wait a minute! Please hear me out a bit!! That was just a brief irregular phenomenon, it is not like I am planning to wear that stupid costume again in the future!!"
[edit]
Part 3

Completely ignorant of that dangerous conversation, a completely normal and unfortunate high school student with spiky hair, Kamijou Touma, had just finished his last lesson for the day and was enjoying the short break before homeroom began.
He was in Japan's Academy City.
That was a psychic power development institution that covered a third of Tokyo and had just under 2.3 million residents. It was a city of students with schools at every turn and the preparations for the large cultural festival held in November, the Ichihanaransai, were approaching like small waves announcing the coming festival. As the midterm exams had been cancelled due to various circumstances, the students must have felt they had more spare effort to put into the festival.
The students had formed small groups around the classroom and seemed to be in a fairly festive mood. Two primary examples were Aogami Pierce and Tsuchimikado Motoharu who were next to Kamijou.
"Yeah, the high school Ichihanaransai just seems different from when we were in middle school. We get a much bigger budget and there are so many more things we can do."
"Nyah. They're having the festival double as an open campus time, so they've gotta give a lotta money to places that aren't very proactive. And our school is really mediocre and doesn't have any of that burning desire or anything."
Those two quickly got off the topic of money and a female student who had black hair, a large forehead, large breasts, and always had to be on the committee in charge of events (and not because she had a thing for a guy on the committee), Fukiyose Seiri, crossed her arms and snorted.
"Now that the world's largest cultural festival, the Ichihanaransai, is coming, my season is finally here. If you people are just going to waste time, could you do something worthwhile instead? You might find a new side to yourselves. …Hey, you! Mr. Pointy Hair who is rolling up eraser crumbs and playing with them!!"
Kamijou Touma jumped at being singled out.
"E-ehhh? I don't need a new me. And I'm sure all I'd find out was that I had always thought I loved maids but it was actually waitresses I loved."
"Nyaah!! That's a very serious matter!! Did you forget that a maid can do the job of a waitress, but a waitress can't do the job of a maid!?"
"Heh…you fool. There's no rule saying someone who loves maids can't fall in love with waitresses. However, there's nothing wrong with the pure feelings causing one to stand up for the honor of one's favorite genre," added Aogami.
The three different reactions from the three different idiots trampled on Fukiyose's responsible spirit that was burning with excitement over the coming festival and she exploded as usual.
"I'm telling you to change that messed-up way of thinking, you stupid moronic idiots!!"
"Actually, this kind of discussion is necessary to determine whether a normal café or a maid café would be bett—gkh!!"
As Kamijou replied, he was knocked back with a head butt.
He rolled across the floor and finally came to a stop near his classmate Himegami Aisa's seat. She also had long black hair (but not the large breasts) and she was flipping through the pages of a thick book with a serious expression on her face.
Kamijou stood up and wondered what she was reading, so he tried to follow the small print with his eyes over her shoulder.
"So that you are not buried among those with overflowing power, you need to emit a light that pushes the others aside. That's right, you need attack power. And the one certain way to get that attack power is with individuality. Having some kind of special ability is best, but, if that's too difficult on short notice, you can always join a school club or committee. Just by changing the rhythm of your lifestyle, you can change yourself inside and out."
"……………………………………."
Kamijou Touma's questioning eyes turned to Himegami's back.
"…Hey. If there's something bothering you, you can talk with me about it."
"No thank you. I will deal with this alone."
"I-I see. But let me give you one piece of advice. I'd say you have a peaceful bit of individuality in your excellent cooking skills."
"!?"
"Hah hah hah. Isn't making your own bento everyday quite a bit of attack power already? I cook for myself too, but you're miles ahead of me."
"A-are you saying…that what I wished for was within me all along…?"
"Yeah, yeah."
"My era starts now. I will use magic bentos to put an end to the era where I was the expressionless person shoved to the side…"
"U-umm…yeah, I guess…?"
And then their homeroom teacher, Tsukuyomi Komoe, entered the classroom.
"Okay, it's time for homeroom. Today we're going to decide everyone's role for the Ichihanaransai. Anyone who is going to put precedence on their club or committee activities, please notify me."
"…"
Himegami Aisa suddenly stopped moving.
That teacher was 135 cm tall, looked around 12 years old, looked like she should be wearing a randoseru and yet couldn't resist beer and cigarettes, had undergone special studies on the topics of pyrokinesis and a variety of other powers, and her earnest research on AIM diffusion fields earned her special treatment even among the scientists. She didn't just have one or two bits of individuality; she was an irregular monster made up of nothing but individuality in every aspect. And now Himegami had seen all of that once again.
"…Ahh."
"H-Himegami? Why did you just collapse into dark despair? Himegami? Himegamiiiiiiiiiiiiiiiiiiiiiiiiiiiiiiiiii!!"
Her shoulders trembled and she did not respond.
[edit]
Part 4

Misaka Mikoto was feeling restless.
She was in a shopping district during the period where twilight had mostly reached night. She wasn't out later than usual; the change of season had changed the daylight hours. It wouldn't be long before they moved up the time when everyone had to have left school.
The reason for her restlessness was clear.
(…I-I can't believe I said that!! I wasn't thinking of the consequences at all when I said that!!)
Replaying in her head was the conversation between her and the boy with the spiky hair that had occurred in District 22, Academy City's largest underground mall.
At the time, it had looked like Kamijou Touma was going to die and yet he was still dragging his near-dead body to stand in the center of some incident. As such, Mikoto hadn't been able to remain calm. In an attempt to stop him, she had willingly and selflessly blurted out all the words in her heart.
(Th-this is bad. When I think about it, the area around my armpit feels really itchy! This is bad!!)
Her roommate Shirai Kuroko had grown suspicious of how Mikoto had been writhing around for the past few days, but the one thing that had saved her (although it may been due to her own defenses) was that she hadn't run into Kamijou around the city.
If she met him now, she felt sure she would pass out.
She was planning on waiting for her to take care of the problem in her heart and then meeting him once she could do it the same as usual.
But then…
"Hm? Oh, it's Biri Biri. What are you doing here?"
"!!!???"
Mikoto gave a large start at the voice that suddenly called out to her from behind.
She cautiously turned around and saw a head of spiky hair.
"Wh-what? Do you have a problem with the things I do? I'm just kicking the vending machine like usual!!"
"Um, well, that is kind of a problem," responded Kamijou dejectedly.
Mikoto tilted her head questioningly.
…It wasn't as bad as she had thought it would be.
She had gone over it in her head again and again, and she thought she would die from embarrassment once she ran into him. Even if Kamijou hadn't said anything, she had expected to make it incredibly awkward on her own.
However, it was nothing much now that it was here.
In fact, she finally felt relief about the conversation from a few days back.
"Um…are your injuries okay?"
"Yeah, more or less. Ah, I see… My consciousness was kind of in and out back then, so I don't remember too much, but you really did know."
Kamijou had a slightly lonesome expression on his face.
Mikoto didn't think she had ever seen that look on his face before.
"It'd be a huge help if you didn't tell anyone else about that. My memories are just gone, so making a big deal about it isn't going to change anything. I'm just living my normal life, so I'd prefer if we could just go on like we always have."
"I-I see."
While Mikoto's feelings were still a jumbled mess, Kamijou changed the subject.
She wasn't able to follow the quickly changing conversation (or at least that's how it felt to Mikoto whose head was spinning its wheels making no progress).
"Oh, and about the vending machine. You should be a little more careful about kicking so high in front of people while wearing a skirt. Even if you have shorts on underneath, we can still see all the way up your thighs."
"…"
"Huh? …It's surprisingly honest of you to actually put change into the vending machine, Misaka."
Mikoto couldn't say anything in response to that. Just when she had thought she had built up thick defensive walls around her heart, she found out they were made of sponge so they did nothing but soak up water. Mikoto's eyes began spinning.
"Wh-what's gyoing on… This is where I usually reject him and run off. Why do I feel so... feel so comfortable here!?"
"Hah? Wait, why are you getting all biri biri? H-hey, you're going out of control. You're sending sparks everywhere…no, this is more than sparks. Did I do something wrong!?"
"Funya."
"Funya? That's not an answeeeeeeeeeeeeeeeeeeeeeeeeeeeeeeeeeeeeeeeeeeeerrrrrrrrrrrrrrrrrrrrrrrrrrrrrr!!"
The sound of sparks that must be bad for the heart rang out.
[edit]
Part 5

Due to the incidents with Himegami and Mikoto, it had been an odd day.
Kamijou was overwhelmed with fatigue as he opened the door to his dorm room.
"…Don't tell me Index is going to be acting weird too."
"??? About what, Touma?"
A girl in a white nun's habit lying in the living room responded to Kamijou's muttering. The young girl had long silver hair, green eyes, and a perfect memory which meant she never forgot anything she saw. Using this special ability she had every letter of every line of 103,000 grimoires stored in her mind making her the grimoire library known as Index Librorum Prohibitorum. However, she had been completely useless of late. It seemed she still didn't even know how to open a can of pork stew and the can opener was lying on the floor nearby as if she had given up and tossed it to the side. The small three-colored cat sitting next to her was punching her cheek as if to say, "Don't give up! It's too soon to give up on that pork!!"
Seeing that, Kamijou breathed a sigh of relief.
"Good. Index is the same as always."
"You're clearly making fun of me."
"No, I'm not," immediately denied Kamijou.
He put his cheap school bag on the floor and decided to turn on the TV. A special 2 hour commercial was running. It seemed to be a collection of stories about miraculous rescues from around the world. It was currently talking about a British undersea operations unit that had rescued all 370 people trapped in a flooded undersea tunnel.
"…It's getting pretty cold, isn't it? The cat's even got its winter coat, so maybe it's about time I brought it out."
"Wh-what!? Brought what out!? Ah!! Are you going to bring out the rumored fugu nabe!?"
"Don't get worked up before you know what it is!! That may warm you up, but it would send our finances into an ice age!! I'm just saying it's about time to bring out the kotatsu, Index-san."
"What's that? What do you put in a kotatsu nabe? Seahorse?"
"Get your mind off of food, Index. This is what a kotatsu is!!"
As Kamijou yelled, he pulled that combination of a futon and a table from a small storage space along the wall. He set it in the center of the room in place of the glass table and Index started trembling.
"Kaki peanuts!!"
"The snacks on top of the kotatsu aren't the point!! Please, just stick your legs under it! Then you can experience the wonder of special Japanese-made heaters!!"
"?"
Index questioningly stuck her legs under the futon.
"Ahh… It makes me want to fall asleep."
"It's scary how it didn't even take you 5 seconds to realize the truth behind a kotatsu, Index. But that sleepiness is a trap that brings on colds, so don't lose to it."
It seemed Index was enjoying the kotatsu. The cat sat in the very center of the kotatsu as if to announce, "This warm and cozy area is my palace!!"
(Good, good. After bringing it out so confidently, I didn't want to have to explain it away as something she wouldn't be able to understand because it's just part of Japanese culture.)
As he was thinking, Kamijou stuck his own legs in the kotatsu.
Then Index reached over to the basket on top of the kotatsu and pulled out a bag of kaki peanuts looking half-asleep all the while. She opened the clear bag and…
"Here, this is your share, Touma."
"…!?"
It was a miracle.
That girl who could not even make instant ramen (because she couldn't wait 3 whole minutes when there was food before her eyes) had passed food in her hand to him!!
"What? Why do you look so surprised?"
"O-oh, no reason."
"?"
Index looked a little suspicious, but it seemed her interest in the kotatsu won out. Perhaps in an attempt to resist the sleepiness, she took her legs out from within the kotatsu and then stuck her head inside to inspect the inside. Kamijou relaxed since he was glad she seemed to be enjoying it so much.
But then an odd noise came from Kamijou's butt within the kotatsu.
That very instant, Index forcefully stood straight up while her head was inside the kotatsu and she lifted it up with both hands like a barbell for weightlifting.
"Toumaaaaaaaaaaaaaaaaaaaaaa!!"
"E-eeeeeeeeeeee!! I'm sorry, Index, that was my fault!! Please don't swing the kotatsu down! The cat doesn't like being on top of Sky Fortress Kotatsu!!"
That was when Kamijou's house phone began ringing. In the age of cell phones, it was rather rare for the house phone to ring.
(Good, now I can get away from Index…no, wait. This could be an emergency message.)
Kamijou grabbed the receiver as he tried to pacify Index.
Tsuchimikado Motoharu was on the other end of the line.
"Nyah. Kami-yan, are you free for a fairly long conversation?"
"Hah? You live next door. Why are you using the phone? You can just come on over."
"Well, given the situation, I really have no choice. And this is rather rude for a time zone where dinner comes early."
"I actually have a lot to pay you back for so…wait, what time is it!? Oh, crap! I haven't made dinner yet!! Tsuchimikado, I've got something to do, so keep this short!!"
"Hm? Oh, I see, I see. But, well…Where should I begin? It'd be a bit too sudden to start with the Eurotunnel bombing. I really need to go back and explain the situation from before that first…"
"Keep it short!! Index has sensed that dinner is probably going to be late, and I can feel flames of anger wrapped around her!!"
"I see," said Tsuchimikado in an unsatisfied way, "Then I'll get right to the point. You need to come to England right now."
………………………………………………………….
"Ah, um, uh… What?"
"I've prepared a plane for you. When you reach District 23, take the luggage from locker #3293 in the cloakroom at the international airport's 3rd reception desk. Your passport and everything you need is in there. They'll hand you the luggage if you show them your Academy City ID, so you just have to tell the receptionist that you're Kamijou Touma."
"Eh? W-wait! You cut too much out and I have no idea what's going on!! England? Right now? There are tons of things you should be explaining!!"
"But Kami-yan, you're the one that told me to keep it short."
"Well, yes, but aren't you being a little too blunt today!? And why do I need to go to England anyway? …Wait, I have a bad feeling about this. With Chioggia in Italy and Avignon in France, I get the feeling that bad things happen to me when I go overseas!! And this time it's a country full of magic cabals and the headquarters of the Anglican Church!! There's no way in hell I'm going there!!"
"Nn, Kami-yan. Your guesses aren't too far off actually, but it's too late."
After those words, Kamijou heard a high-pitched clang from the veranda as if a metal pipe had fallen to the ground. Something must have been thrown over from the room next door.
Looking over, he saw a small can about the size of a can of hairspray.
He then heard the sound of gas leaking from it.
"Ubfh! Cough cough!! Knockout gas!?"
"Oh, right. One more thing. Don't bad things happen to you whether you go overseas or not, Kami-yan?"
Kamijou wasn't able to speak in order to provide a rebuttal to those words.
Kamijou and Index (+ the cat) were overcome with an excessive drowsiness as if from a full-body anesthetic and they were forcefully put to sleep.
[edit]
Part 6

"The effects of the accidental explosion in the Eurotunnel connecting England and France have spread to the air routes. Due to a number of airplanes being mobilized to transport materials and personnel between the two countries, there are possible delays to the normal schedule. For detailed information on expected arrivals and departures, see the proper reception desk."
Kamijou Touma awoke to that announcement.
He realized he was on a bench in the airport lobby.
"…Aren't they being a little too dynamic this time?"
When he shook his oddly heavy head and stood up, he felt something crinkle in his hand. It was a small memo.
It read: "Nyah. It's already too late for the last train and the last bus and I took everything out of your wallet, so you can't use a taxi to get home. There's some British currency in the luggage at the cloakroom, so use that and have a fun trip."
(…That motherfucker.)
Kamijou thought of retrieving the luggage from the cloakroom and then leaving, but he couldn't hire a Japanese taxi with British pounds. Exchanging the pounds for Japanese yen would have worked except that the banks wouldn't be open at night.
(Wait, if I'm going outside Academy City, doesn't that mean I have to have a nanodevice with a transmitter in it injected inside me and my legal guardian with me? I get the feeling I've been doing things in various unofficial ways a lot lately…)
Still wondering what was going on, Kamijou grabbed Index's shoulders and shook her as she lay asleep next to him on the bench.
"Hey, Index. Wake up."
"M-mhohhh… I feel like I could just sleep for 3 days straight."
"That unusual drowsiness should be making you worried. Hey, you too, cat."
The small cat's front legs were twitching along with its dream and Kamijou succeeded in waking it up by poking its nose. Index was being as lazy as ever and Kamijou forcibly dragged her along as he headed for the 3rd reception desk as instructed.
"Kamijou Touma-sama, you said? Yes, we have your luggage in #3293. Is this it?" asked the young woman at the reception desk, but he had no idea if that was all of it or not. He simply nodded, took the large suitcase and opened it in order to check the contents.
Inside was foreign-looking money, passports, flight tickets, a pile of papers that looked like written orders, and a few days' worth of changes of clothes that looked like they had been bought at an extremely cheap chain store.
Kamijou took out the flight tickets, read the details written on them, and cried out in surprise.
"…Really!? These really have the name of a London airport on them."
"Why do we have to go to England now?"
"Um…this all looks pretty complicated."
Kamijou looked down at the written orders, but he was still a little shaky from the knockout gas. Normally, he might have been able to focus a little more and read it, but the text wasn't entering his head as he read it so he didn't understand very much of it.
"…Hmm. Something about some major magic trouble in Britain and having to formally call you in, Index."
Kamijou's lips continued to move and he mumbled while reading it.
"And so your current guardian, Kamijou Touma, has to…Ah, so I have to go with you."
"I don't like how they think you're my guardian, Touma."
"You have no right to say that after I've been making you meals every day. Sigh…I guess we have to go. What a pain in the ass."
Since this magic trouble was major enough to have to call in Index, he really didn't want to go, but, if he just went back to the dorm, he had a feeling someone like the flame magician Stiyl Magnus would attack him for real. Whatever the problem was, it seemed it was so big it couldn't be ignored.
(Wait, isn't England where they had that huge tunnel explosion recently? …I have a really bad feeling about this.)
Complaining about it wasn't going to change anything, so they had to go through the boarding procedure.
Putting the pet cat in a tagged cage and passing through the metal detector gate (just like when they went to Chioggia, Index's safety-pin covered nun's habit caused problems here), ate up a lot of time.
"So we're going to England," said Index who was now wearing a plain dress that had been one of the cheap changes of clothes in the suitcase.
Kamijou looked over at her blankly.
"Oh, right. Since you were called in by the headquarters of the Anglican Church, you're going back to your city of birth."
"Yeah, but it doesn't really feel like it because I don't have any memories from before about a year ago."
Index didn't have any trouble saying that and she didn't have any special emotional attachment there. She even left the written orders on what they were to do in England to Kamijou.
(…So she has no memories.)
Then Index asked Kamijou a question without realizing what he was thinking about.
"Touma, where's the plane we're going to get on?"
"Hmm? Tsuchimikado said he had it specially arranged for us."
One wall of the arrival and departure lobby was made of glass and the night view of the runway could be seen through it. There were several large passenger planes. The work vehicles were driving along between them.
"Umm, this says it's Flight 0001 at Gate 4…"
Kamijou looked in that direction and then froze.
A passenger plane stood at the other end of his gaze.
Its top speed was over 7000 kph.
It was that monstrous type of passenger plane that could make its way from Japan to Western Europe in about 2 hours.
Kamijou and Index both recalled the nightmarish emergency trip back from Chioggia with the odd suffering from having ones organs crushed from the horrible pressure of the G's and Index ordering an inflight meal and having it all fly back behind her.
"…"
"…"
As they were recalling all this, the supersonic passenger plane was continuing its takeoff preparations. The container being carried to it with a forklift must have held the cat. They then both spoke.
"Hey, Index."
"What, Touma?"
"…Let's abandon that flight and get on the next plane even if we have to wait for a cancellation. We'll get on a normal plane that doesn't damage the human body."
"As long as the plane doesn't make your food fly backwards, I'm fine with it."
Kamijou and Index exchanged a firm handshake and silently watched the supersonic passenger plane leave.
It almost felt like they could hear the cat yelling back calling them heartless.
[edit]
Between the lines 1

It seems France has finally started moving.
Even if the Roman Catholic Church is pestering them from behind, that was a rather obedient response. Blowing up the sole land route connecting England and France is going to do quite a bit of damage to France's economy. And yet they still blew up all three undersea tunnels.
Even so, they're better off than England.
True enough. True enough.
For an island country like England, having its sole land route destroyed is like having half its life line severed. They're currently increasing the travel over the sea and air routes to prevent a shortage of materials, but the costs that brings will bring their debt over the limit before long.
It's because taking the same amount of luggage by plane costs significantly more than by train.
Some optimistic critics are saying they can solve this by using sea transportation, but that's impossible. When the Eurotunnel opened, a number of ports were destroyed in order to give precedence for using the undersea tunnel. If they tried to go back to only using sea transportation, they would find themselves oversaturated with luggage to transport. Things would end up as congested as the area around the cash register at a department store during a good sale and the pure amount of luggage would make it all fall apart.
It'll probably take at least 3 months to repair the undersea tunnel. Until that's done, the store shelves just aren't going to be the same. Also, there are many different complicated ideas about how the repair work should be done, so it would be surprising if that didn't get stalled somewhere or other.
Hm? Yes, yes. That's exactly right.
France is backed by the European countries under Rome and Russia's control. In response, it seems England has asked Academy City and America for help.
Ah.
You mean the war between the Euro and the Dollar.
America took the brunt of the economic blow caused by the C-Document incident in Avignon. Because of that, investors have already moved their attention elsewhere. Because they realize what a crisis they're in, they're extremely afraid of the Euro and Yuan markets becoming active. Enough that they're even willing to sabotage their enemies.
That's the idiotic result caused by that incompetent Terra of the Left.
You know the details, right?
You did finish him off yourself, after all.
This incident was directly caused by the hundreds of years of antagonism between England and France. However, now that an Americentric economy has come into conflict with a Eurocentric economy, that antagonism has gone into a cold war between England and France.
Europe is certainly in a rough state, isn't it?
This isn't a simple war between two countries that's starting here.
It won't end there.
It seems there's something that bastard Fiamma wants badly enough to turn Europe into a sea of flames. And what really pisses me off is that it's that very same Fiamma that has almost complete control over the forces of Rome and Russia. Even if you or I gave an order, no one would obey it. We have no authority left.
Are you still going to go?
It's true that you are fairly powerful. In a straight fight, you'd be stronger than me.
But will your power be enough to deal with a calamity that can destroy entire countries if not the entire world? You will have no enemies, no allies, and no direction. You will be attacked evenly from all sides like in a disaster film. Will your power be enough to deal with a situation like that?
Well, if you say you're going to go, then fine.
I have no right to stop you and I have no reason to care if you die.
I just want to tell you my own plans. I won't be going. Ah? Don't mock me. This isn't because I'm afraid. I can't use my Divine Punishment spell anymore. And you may be a bit different, but God's Right Seat can't use normal magic and spiritual items. I'll just be going from place to place making the proper preparations.
My plan is going to shock Fiamma a lot more than just going straight there.
You can't order me around.
You go on your path and I'll go on mine.
Hm?
What happened to my never saying never?
Who cares?
I just said that back then because I felt like it. Do I really look like someone who would restrict myself like that?