Toaru Majutsu no Index:Volume13 Chapter10
From Baka-Tsuki
Chapter 10: Their respective battlefields. The_Way_of_Light_and_Darkness.
Part 1
His time limit was 60 seconds.
He had to kill Kihara. It did not matter if he had only 10 seconds left after the fighting was over. Esper mode used orders of magnitude more power than normal mode. Even a few seconds of battle time would leave him several dozen minutes of time back in normal mode.
A Testament modified to be portable lay in one corner of the abandoned office.
With that, he could heal Last Order's brain at the very least.
If the virus really had been inputted here, Kihara most likely still had the original script. In that case, it would not be hard to create an antivirus program.
(So I'll kill him. I'll fucking kill him! This will all be over once he's dead! I don't have to think about anything else. I can't return to the path of light either way, so I just need to focus on dragging Kihara down to hell with me!!)
With his mind focused on only that, Accelerator charged toward Kihara like a bullet. He spread out the fingers of his right hand. With his vector reflection ability, he could reverse the flow of blood throughout someone's entire body just by touching their skin. That demonic hand would cause the person's blood vessels and organs to burst. As Last Order was on this same floor, he did not want to use too flashy a method, but this was more than enough to kill.
He sent his hand flying sharply upwards toward Kihara's face.
Kihara simply swung his head to the side to easily avoid it. He showed no fear or tension over how deadly even a single touch would be. His face was proclaiming that it was no problem as Accelerator would never hit him.
After Accelerator missed, Kihara threw a cross-counter.
With precision on a level dozens of times greater than a jab in boxing, he pulled back his hand just after he threw it.
The strike slipped past Accelerator's reflection wall and slammed mercilessly into the bridge of his nose.
"Ah…!!"
The dull sound of something being crushed rang out.
This was not a flashy and heavy blow like from a hammer. Taking it to the nose shook his vision, but it was not enough to knock him unconscious.
However…
When Accelerator stopped momentarily due to the pain, a string of light blows assaulted him. Face, chest, shoulder, gut, and then face, face, face. When Accelerator swung his arm, Kihara would step back. When Accelerator tried to pursue, Kihara would move closer and attack.
"Gya ha ha!! You piece of shit! Aren't you ashamed to stand before me like this!?"
Another impact shook Accelerator's head along with Kihara's shouting voice.
His reflection was not working.
That absolute wall was supposed to ensure not a hair on his head shook even if he took the brunt of a nuclear blast.
Accelerator tried to move away.
Kihara stepped further forward and threw another punch at his face.
"!!"
Accelerator's reflection did not create a thick bulletproof shield in front of him.
It only redirected any force heading toward him. He protected himself from any and all attacks by altering any force moving forward so it moved in the opposite direction.
In other words…
(If my reflection acts on a force moving backwards, it sends it forwards!!)
With blood trailing down from the corner of his mouth, Accelerator was now confident he knew what was happening.
Kihara Amata would reverse the direction of his punch just before it hit Accelerator. He would do so in the instant when he was just barely touching the thin protective film of Accelerator's reflection. That forced Accelerator to pull the backwards-moving fist forwards.
This just meant he had to alter the vector control ability protecting his body, but Kihara's fist made minute adjustments in the direction of its turn as if the man had predicted the changes Accelerator would make. It seemed the intellect that had directly developed the esper power known as Accelerator was quite something.
"What's wrong, kid!? I thought you came here to save that brat!"
He had lost his timing, had the rhythm of the battle taken from him, and was being led around by the nose. Each individual blow from Kihara seemed weak, but it gradually built up in his body like alcohol. As Accelerator's movements grew duller, Kihara started taking bolder and bolder actions which only quickened the rate at which Accelerator grew "drunk".
"Gh…Aahh…!!"
More time heartlessly passed.
This much of a gap existed between them even when he was using his full power as Academy City's strongest esper, but once the protection of the electrode was gone, he would have difficulty even standing on his own two legs. The passage of time caused him to grow more and more impatient.
(You little shit!! You don't have time to be stopped by Kihara here! You're going to lose the time you need to heal that brat with the Testament!!)
"This is too easy, you scrapped murderer!! Have I already won!?"
A great roar rang out.
Accelerator had started to change his train of thought, but his mind was truly shaken this time.
Kihara Amata's actions were growing larger. He had decided Accelerator could not keep up with his speed after the damage the boy had taken.
The gap between strikes grew as the weight of each punch grew.
"Did you think you were a total badass or something?"
A strike to the face caused Accelerator's legs to waver. If he had not been paying attention, they would have gotten intertwined and he would have fallen to the ground.
"Did you think you could make up for everything you've done by standing up to a giant evil organization to save a poor kidnapped brat?"
While Accelerator was focused on keeping his balance Kihara let loose another punch. He tried to protect his vitals with his arms, but Kihara always managed to slip through a gap in his defenses and land the punch. As the damage grew, more blood began dripping from his closed lips.
"Gya ha ha! What a fucking joke! You're never escaping the mud! You can crawl around and try to crawl out of it all you want, but that mud isn't ever coming off!! You should just give up and sink in! If you start walking around, you'll only get everything else dirty!!"
An especially great impact sent Accelerator to the floor. His knees gave out and his forehead fell down to smash against the carpet that had practically fused with the dust.
(…Damn…that bastard…)
But Accelerator placed his hands on the steel desk and avoided completely falling. The damage from Kihara's attacks had torn out all of his stamina. His entire body was screaming for a rest as if he had just finished running a marathon.
(I know that. I know this mud is never coming off. You reminded me of that well enough, so I have no regrets about that. That isn't what I want…)
He gritted his teeth, forced back the pain, and pushed down against the desk supporting him. He used his arms to stand up on wobbly legs.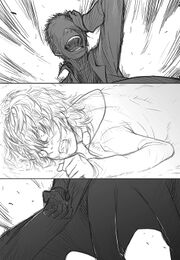 (Give it a goddamn rest already. All of you are working together against that brat. You and I are the only ones that need to go to hell. Don't get her involved in this, you piece of shit.)
But his determination was in vain.
He heard a quiet electronic beeping.
That tiny final notification had come from the choker-style electrode around his neck.
That mechanical sign indicated the end of his 60 seconds.
In other words, his battery was dead.
All strength left Accelerator and he collapsed to the dusty floor in front of Kihara Amata.
Part 2

A *boom!!* thunderous roar reverberates.
Anytime now, the overwhelming sparks will bridge across the [Angel's] gaps between the wings.
"HAHAHA!!"
Vento of the Front, gigantic hammer in one hand, rushes for Kamijou's position from the front.
And Kamijou is trying to throw his clenched fist, which aims at the incoming Vento, at full strength.
A *zoom!!* whooshing sound resounds.
That isn't the sound of Vento swinging her hammer.
**It's the sound of Vento's body flying just three metres above him.**
She's evading not through below, left, or right, but above.
Probably a variation of magic that uses the air.
Her merciless counter of a flying kick struck towards the face of Kamijou, who had missed his strike. And along with a *crack!!* thick sound, his body tumbles onto the wet asphalt.
(G–Gah!? This bitch...!!)
Kamijou gets up in hot haste as he applies pressure to his nose.
And Vento is right in front of him.
Her raised hammer vigorously swings down towards Kamijou, who's on the road.
The *jariri!!* sound of the chain grating can be heard.
Looking closely, the bloodied, red-dyed chain on her tongue aims at Kamijou's face, tracing out a helical lance.
A deadly weapon of wind comes out, following that chain.
"Gaaah!!"
Kamijou pushes out his right hand as he screams. Vento's attack is repelled, the whirlwind scattering into the surroundings. This greatly disturbs the direction of the raindrops for only several seconds.
Neither of them noticed it.
Vento breathes in, and again recklessly swings her hammer. The chain in her tongue wriggles like a living animal. Kamijou gives up on blocking it with his right hand, and rolls backwards to evade. He thinks he can't ever turn around his disadvantageous position if he keeps relying on his Imagine Breaker. As he uses the rolling momentum to fall back, he immediately stands up from the ground.
The blunt-air weapon that missed him plunges into the asphalt, and those asphalt fragments are revolving about in mid-air.
Vento's ear-piercing voice flies at Kamijou, who is using both his arms to protect his face from the stony storm.
"*Cough* ...Shit, as I thought, her strength output is weakening..."
Coughing out blood from his mouth, Kamijou glares at the angel behind his back.
While swinging her blood-strewn chain, Vento raises her voice,
"HAHA, IT'S BEEN A BOTHER SINCE A WHILE BACK EH!! SWINGING THAT DISGUSTING ARM OF YOURS AND PROTECTING THAT SICKENING [ANGEL], HOW FAR WILL YOU MAKE ME LAUGH 'TIL I'M HAPPY!?"
"DON'T MESS WITH ME, YOU BITCH!! YOU THINK THERE'S ONLY YOUR PERSPECTIVE IN THIS WORLD!? WHY WON'T YOU TRY TO ACCEPT PEOPLE APART FROM YOURSELF!!?"
Going through the storm of stones, Vento again comes rushing for Kamijou's gut.
Strangely, the asphalt doesn't hit her body. He sees the illusion that they're quite avoiding her. Kamijou surmises that this is some kind of magic that uses air.
Swinging her hammer, she shouts,
While thick blood escapes from her mouth,
"BECAUSE I ABHOR SCIENCE! I HATE SCIENCE!!"
Just as Kamijou is about to knock away her hammer with his right hand, it suddenly disappears into thin air. As Kamijou's fist cuts through thin air, the hammer once again appears at its own discretion in Vento's hand.
Vento *wham* forces the hammer's end into Kamijou's defenseless gut.
And the chain in her tongue wraps round and round at its handle.
"I HATE THE SCIENCE THAT MADE ME INTO THIS!!"
Immediately, the blunt-air weapon blows out from the hammer's tip.
Kamijou immediately twists his body; nevertheless, the blunt weapon grazes his flank. With only that much, his body *gurun!* whirls like a taketonbo. With any form of landing impossible, he just crashes into a crumbled wall.
"I HATE THE SCIENCE THAT LET MY YOUNGER BROTHER DIE!!"
Hurling an indecipherable one-sided verbal assault, Vento again sweeps down her hammer. With that much, the entwined chain unravels before one is aware. A blunt weapon of air is generated, and unleashes right for Kamijou. The stuck-to-the-wall Kamijou vigorously jumps to the side and avoids it.
The building wall smashes down like a toy.
Kamijou shivers at that power, but his movement suddenly stops.
Opposite of the destroyed wall is a collapsed man, about the age of a college student.
"Wai—!!"
Kamijou tries to stop, but then,
A *BOOM!!* thunderous roar overwhelms Kamijou's words.
It's the sparks from the wings of the [Angel].
It's way past a thunderous roar, it's already close to a shockwave.
"!!!"
At the sheer shock, Kamijou instinctively covers his ears with both hands and reveals a pained expression. As he averts his eyes from Vento and looks back, the spark that draws the bridge at the gap between Kazakiri's wings has finally been unleashed beyond the tolerable level.
*BOOM!!* Something that exceeds the sound barrier pierces through.
It draws out a snake-like line, and in an instant it beaks through as far as the area outside of Academy City. In spite of the distance close to possibly being hidden by the horizon, it certainly appears that a wave is raised due to the blasted-up soil.
Perhaps the angel's attack was again unleashed to attack an [enemy].
(Dammit...)
His head hurts intensely.
Even as he understands that he has to stop Vento or they will drag collapsed people into their battle, he cannot move his body well.
Meanwhile, Vento, with a pain-ignoring expression,
"THAT THING'S PART OF SCIENCE!! YOU ALSO ARE A PERSON OF SCIENCE!! DOES THAT MEAN YOU DON'T THINK OF THAT THING AS DISGUSTING!?"
Vento, with her mouth continuing to spew blood, waving her hammer as much as her strength allows, determines the alignment of her tongue piercing, and the extra-large blunt weapon of air smashes the concrete down into very small pieces.
All to deliberately drag that ordinary person into their battle.


Part 3

He can't get a hold on his general balance, and he can't even [calculate] where to direct his power in order to get up. He can't even count how many fingers he has in his outstretched hand even while following it with his eyes.
Because the battery is out, Accelerator's neck electrode has lost its effect.
Now he can't use his ability, understand language, or even calculate the answer by bending his fingers. Far from able to clench his fist and snap it at Kihara, because in the first place he cannot even control his own body weight and centre of gravity, standing up is flat out difficult.
With his cheeks on the dust-stained office floor and dust-entwined carpet hair, Accelerator is feeling this so-called [discomfort] status but,
(...What...can I do...to eliminate...this [discomfort]?)
Even as he can passively receive information, he can't actively show a response. It's because that the necessary intervening [calculation] has been sealed.
A voice pours over from above the head of Accelerator in such state.
Kihara Amata's.
"**Is sleep finally coming onto you fine and the least of your many problems!?**"
He cannot understand at all what is being said.
What did he want to do here in the first place? Even as he asks it himself, he cannot answer. Surely Last Order should be here. He's sure he should be taking her out from here. That he understands. If it's only outputting the previously input information to his consciousness, then Accelerator can do it without any [calculation].
But then,
How to do it concretely?
(.........................................................)
Accelerator's movements stopped there.
It's plausible that even with his perfectly working thinking ability status in the first place, deriving this answer is probably impossible. Even as he fully uses Academy City's strongest power, Kihara Amata would see through it first, and in a puff of smoke, would contrarily strike back with a severe counter after he had restrained Accelerator's power. In contrast to Kihara, who would dance around his world-destroying blow as if it was nothing, the current Accelerator lost the benefit of the choker-type electrode and only has the locomotive ability to rely on a stick to barely stand up. With this, deriving the prospects of winning is too harsh. The output solution would come out at, in one word, 0 percent—even if [Tree Diagram] is used.
**However**,
"——?"
At that moment, the mouth of Kihara that spews out harsh contemptuous words stops.
In his expression full of insults, some bewilderment is added in.
It's probably understandable. It's all the more when one sees the machinery on the back of Accelerator's neck, and almost accurately deduces its functions and weaknesses.
*Creak.*
Accelerator again tries to stand up, clinging onto the office desk and jarring it.
It is simply not a fighting condition.
He cannot even support his own body weight. Right now, both his hands are holding onto the desk, but if he lets go, it's expected that he'll immediately collapse onto the floor. The focus of his eyeballs won't come together, and his irregular, loosely shaking black eyes projecting onto something is a level he himself can only understand.
Far from standing before a mighty opponent, he's an Accelerator that's being defeated by the Earth's gravity.
But even so, he's confronting Kihara Amata.
Looking at Accelerator's unsightly state, Kihara laughs like an idiot,
"**What are you giving that's the same as repelling a bombardment company?**"
He's definitely hurling unreachable insults.
'What are you even going to do with the battery out,' is the words' meaning, but it's impossible for them to reach Accelerator now. And so, even if they did reach him, his actions would definitely not change.
The current Accelerator cannot do any and all calculations.
Even as he understands this hopeless situation, the chances of successfully overcoming it will not go up.
However,
Conversely, the current Accelerator cannot reckon his total defeat.
Therefore, he is definitely fearless.
Even if driven into this situation, even as he realises that the next blow would kill him.
Until the final of the final moments.
He is dead set to continue fighting, even if he's unable to do calculations.


Part 4

Both of Kamijou's eyes open.
His right hand that hides the Imagine Breaker did not reach in time.
In the middle of the downpouring rain, Vento's unleashed attack smashes the concrete wall like a bomb. Including the unconscious person there, everything is wiped out into ashen dust.
It's on the same level as attacking a battlefield hospital, shoving the gun muzzle one by one onto the heads of severely wounded awaiting treatment and then pulling the trigger.
No matter what one thinks, there's no way that the person dragged into that attack would live.
Only scattered, shredded human flesh should remain after the ashen dust is cleared away.
Meanwhile, Kazakiri is continuously unleashing *BAM!!* *BOOM!!* the lightning-like attack.
Unnecessarily crushing down Kamijou's heart.
"YOOOOOOOOOOOUUUUUUUUUUUU!!"
The scream unleashes quite later from Kamijou's mouth.
The scene before his eyes is that of gruesomeness, enough that his mental processes slow down.
A *whoosh!!* storm blows by, suddenly taking away the dust.
And then,
Within it is the unconscious, yet uninjured civilian.
"Wh...?"
"Ah...?"
Kamijou and Vento look at the collapsed college student.
Surely the attack should have scored a direct hit.
(What the hell is this...? Shit. To thwart the ordinary person in front of me, it should have taken a bit of shaking up from its emotions.)
Vento ponders this, but then,
Gently,
Like a cotton that gave off a soft light, it slowly descends from the night sky.
Turning their heads, both Kamijou and Vento confirm it.
Some glittering scales are lightly floating about, surrounding the uninjured college student. It's proof of an unusual power so weak one cannot spot it without straining his eyes for it. However, they are hovering and covering the area around the student, as if to thwart the attack. It appears that much is the real form protecting the civilian from Vento's attack.
Where did it come from...? Kamijou scans the surroundings.
The glittering scales lightly drift about in the surroundings, unmindful of the downpouring rain.
Kamijou and Vento are preoccupied with totally different matters when it comes to the survivor's situation.
It's scales of light.
Kamijou knows of this radiance.
And he turns back around.
There, is Kazakiri Hyouka, scattering the scales from the countless wings.
"Haha..."
He laughs.
Kamijou instinctively laughs at the scene before him.
The surrounding rubble makes sounds. Appearing from within the rattling wreckage are normal people buried with the university student. Men and women, children and adults—it's a crowd.
The scales wrapped in a hundred, then a thousand of them. All are set on continuing to protect them.
And there aren't any injuries.
Not even one of them.
*Zaa!!* The surrounding place is being illuminated by the glittering scales.
Her emotions are wiping away away the darkness!!
"Hahaha..."
He doesn't know who the person who made Kazakiri into this is, but it's unlikely that the person has concern for the survivors' safety. If that's the case, apart from the destructive acts, these glittering scales that helped out the survivors should be in contrary of the orders of someone lurking in the shadows.
As far as it's concerned, this is a phenomenon caused by this girl's intentions.
Even when made into this form and totally robbed of her freedom, as a result of her desperately resisting, she spares no effort defending the final line to the end.
The pencil-shaped rods installed in the angel halo above Kazakiri's head move *click!crack!click!* at high speeds. And the light meant to guide her body *flash!* consecutively blinks on and off.
Perhaps these were commands to stop Kazakiri's independent action.
*Snap!* A strange sound is heard from Kazakiri's right arm.
At the excessive restraining force, her right arm conspicuously destroys the outline.
Even so, the scales drifting about in the surroundings are never lost.
She'd definitely never give up.
Along with a *dogaa!!* thunderous roar, the lightning-like attack is fired in succession from Kazakiri's wings towards the outskirts of Academy City. However, the countless scales take the attack, obstructing their path. The scales are lightly blown away at the sheer destructive power, but Kazakiri does not stop resisting. No matter how much bodily injury is inflicted on her.
Destruction and protection, those two reciprocal actions.
Right now, Kazakiri Hyouka is showing both of them.
Even if she cannot run away from someone's control or cannot stop the attack toward others, Kazakiri does not give up.
She's resisting to the point of jarring her own body,
To diminish even a little a person's sorrow,
She exerts all her strength with a very serious resolve,
**To fight alongside.**
"DAMN—THIS—HYPOCRITE!! What the hell is it doing!?"
Vento shouts as her face turns bright red, but her screams do not reach Kamijou's ears.
"Haha..."
Thank goodness, he thinks.
For Kamijou Touma, he was right in taking action to defend Kazakiri Hyouka,
But only that fact is clear to him.
"Hahahahaha!! This is madness! Unbelievable!! Normally I'd be saying "such bad luck", but **this is perfect for a blessing**, right!?"
"W–What... What the hell are you saying!!?"
Vento, who up to this point was still continuing to seize the initiative, instinctively steps back at Kamijou's aberrant laughter. The blood-stained chain in her tongue leaves a trail in her wake. In contrast, Kamijou totally doesn't care to answer her question. For he is already satisfied. He doesn't need ask for answers beyond this, and so he has no need to answer to Vento's words. Since an answer was given, Kamijou's heart will never give in, no matter what Vento says and does to him.
"Just hold on, Kazakiri."
This time, convinced that "it will reach her", Kamijou Touma talks to her.
Toward the girl who's unleashing the destructive attacks, and the one who keeps on resisting from it with defensive scales.
"Index is now on the move to save you. You don't have to worry about leaving this troublesome matter to her. It's because she's your friend, no matter what you say. She'll fulfill your hopes."
And so, Kamijou told her as he applies power into his right hand.
Forming a strong and hardening fast fist that is way beyond with what he did before.
"Rest easy. Until that happens, I will absolutely hold everything back right here."


Part 5

"ENOUGH MONKEYING AROUND, YOU CRIPPLED FUCK!!"
Kihara Amata shouts, then with all his might knocks Accelerator, who's been staggering and leaning onto the office desk off his feet. Accelerator already cannot use his powers. And so there's no problem hitting him with all of Kihara's strength without resorting to the special [fist reversal] strike.
As a result, Accelerator's body is about to dance about like wastepaper.
However, just before it happened, he grabbed Kihara's wrist. Due to the simple and stronger-than-expected dog- or cat-like instinct of [grabbing anything that flies], Accelerator's body suddenly stopped.
"Tch!"
Kihara tries to shake off Accelerator's hand, which had grabbed itself to his fist, but it does not go as he expected. Meanwhile, Accelerator is already clenching his other loose hand and smashes it into Kihara's face.
Only a soft *pashin* sound came out, almost painless.
Until Accelerator **grabs the hair just above Kihara's ears, on the side temples, and rips them out with all his strength**.
"GAAAAAAAAAAAAAAAAAAAAAAAAAAAAAAAAAAAAAAAAAAAAAAAAH!?"
Blood sprays out along with Kihara's scream.
Because it was pulled out like weeds, scalp is ripped apart along with the hair. And just like earth entwined with grass roots, lightly sticking along with what Accelerator is holding as [hair] is flesh-colored skin and pink-colored flesh.
Totally without sympathy.
Totally without mercy.
Accelerator smiled a mouth-splitting smile right in front of Kihara, who's expression is breaking down.
He, close to fighting purely by instinct, reveals a facial expression of an extremely primitive [exhilarating] feeling.
"WHY—YOOU—LITTLE—SHIIIT...!!"
Kihara pulls back further while holding the side of his head with one hand.
However, Accelerator clings on Kihara quite like a zombie, and just like that he pushes him down onto the floor. "YOU BITCH!!" Kihara shouts, but this completely does not reach Accelerator, who has no language faculty at this point.
(He's taking me down...!!)
Kihara tries to shout, but at that moment, Accelerator went to grab for Kihara's ear to rip it apart.
"Ooooh!?"
In hot haste Kihara swings his head and avoids Accelerator's fingers; he then punches Accelerator's face and gets away from being pinned down. He moves on the floor, rolling his body along.
(Fuck you for messing me up, I'll fucking kill you right here and now!!)
Kihara, downed, spots a handgun rolling on the floor. A weapon from one of the [Hound Dogs] crushed by Accelerator.
I'll use that to punch holes in his body, thinks Kihara, but then,
"——"
Accelerator grabs that hand of his.
And Accelerator jams his other hand into the solar plexus of Kihara, who's going to bring his own hand closer to the gun. As Accelerator does it twice, then thrice, Kihara gives up the gun for a moment, drives his shoulder into the face of Accelerator who's leaning on him, and tries to gain distance from him.
It might have been instinctive movements, but even so, Accelerator collapses, separating Kihara from the gun.
(Goddamned shit for a brat... with the faculty he lost, he's fuckin' startin' to go berserk with his actions!?)
Kihara breathes roughly while glaring at Accelerator, who's wriggling and squirming about on the floor.
Suppose Accelerator still has his normal thinking abilities, he might have noticed this physical malaise.
And it's strange that a monster that can easily deal with Academy City's strongest Level 5 would be this nervous up to this extent.
There's a twist in here.
After all, Kihara overwhelmed Accelerator only because he [personally developed Accelerator]. Therefore Kihara, having gathered all sorts of data on Accelerator, like personality, ability, and kinetics, has acquired only sure-kill tactics [effective for Accelerator only].
Of course, to make it succeed requires a sense for excellent body kinetics more superior from those of normal people and a genius brain able to incorporate extensive research data into battle tactics. But even as he realises these, they are not enough to take down the only seven Level 5s of Academy City.
In the first place, Kihara wouldn't have employed [Hound Dogs] as lackeys if he really could crush Level 5s without any trickery. And he should have personally and quickly dealt with that woman full of piercings when she appeared.
However, that mask was torn off right here.
With the fact that Accelerator has turned from a Level 5 into a Level 0 that's unable to use any powers.
Because all of his tactics up to his point were discarded, Kihara's [countermeasures] have lost their significance.
(He's fucking making a fool of me. I'll fucking kill him, I'll so fucking kill him. Shiit, why did this have to happen. I should have overwhelmed this brat through and through. There's really no reason that would come up for him to crawl on the floor...)
Kihara, grumbling in abusive language, suddenly felt an unusual phenomenon outside the windows.
There something strange with the [Angel].
Just where exactly the [unusual phenomenon] is occurring, Kihara has no idea. For the moment, he feels something's out of place. Had he done it in a vague style of speaking, the stabbing ill-omen would have disappeared.
(Strange...event...?)
Kihara thinks, dumbstruck.
(Certainly, a problem even Aleister himself didn't think through...)
Wiping off sweat from his forehead and trying to stand up, Kihara looks at the face of the nearby Accelerator.
His mouth is moving, forming words.
However, those words do not reach Kihara's ears. Even if they did reach him, the current Accelerator is not in a condition to be able to speak human language. It should be impossible for Kihara to decipher what Accelerator wants to convey. Even so, Kihara feels the blood vessels on his forehead pulsate ominously.
He was made into a fool only because he was made to realise them thoroughly, only from expressions and mood.
(Making fun of me...)
Kihara Amata's eyes become bloodshot at once.
(Killing him isn't enough. Even if I stop his heart, this brat has the luxury to die. I must take it away. I must take away from him the significance of his death. I'll do anything for that!)
His thoughts swirl around in a flash. What's the weakest point, the vital spot, something to be destroyed that's most painful to Accelerator. Then the production, screenplay, special effects — all will come together to compose the worst scenario.
Aha! Kihara grins.
He quickly thrusts his own hand into his white gown. What he brought out is a single chip. Inside it is the original script of the virus jammed into Last Order's brain.
This data is absolutely important when using the Testament to treat her head.
Without this, Last Order is definitely out of help's reach.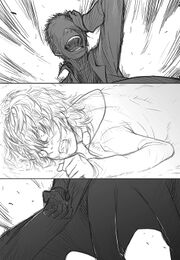 And that chip,
Kihara wraps it in his hand and crushes it in front of Accelerator.
"GYAHAHAHAHAHAHAHAHAHAHAHAHAHAHAHAHAHAH!!"
A roar of laughter full of insults jolted the abandoned office.
Plastic fragments fall down and scatter onto the floor. Accelerator does not move. For him, who cannot do any calculations, he cannot show the answer on what will bring about with that chip's destruction. Nevertheless, Kihara is satisfied. He is extremely pleased to destroy everything before Accelerator's eyes.
"See what happens! SEE WHAAT HAPPENS!! NO MORE WIN CONDITIONS! Now regret it, you little shit!! I HAVE DESTROYED WHAT YOU BITCH HOLD MOST PRECIOUS! You brat can't take everything back now!! AHAHAHAHAHAHAGYAHAHAHAHAHAHA!!"
This is the world where Accelerator and Kihara Amata live in.
A world without compromise, mercy, sympathy, or relief.
It is where even good and evil die. Where the weak are merely turned to prey in turn. For getting lost in this world, people like Last Order definitely won't survive. It's a fundamental underworld rule all too obvious and inexpressible with words. For getting involved with that, yet another life is lost.
Nothing more and nothing less.
However, that should only be the case.
Kihara kicks Accelerator's flank as he shakes himself with laughter. He's not letting Accelerator get away with only taking away the latter's hopes: he's beating Accelerator to death on top of it. Deeply engraved on Kihara's face is the face of a pillager's joy.
"Heeeeey now—it's your turn next. Whether or not there's a heaven, time to consider that useless question!!"
Hope is already lost.
However, help does not abandon Accelerator and Last Order.
"There!! That child!!"
It's incoming footsteps into the abandoned office.
A girl's voice that feels surprisingly nostalgic, even though he only just heard her voice a few hours ago.
The head of Accelerator, who's being kicked around the floor, turns to the source of the voice.
And there,
Stands Index, dragging her soaked white nun's habit.


Part 6

With the gigantic angel that unleashes a lightning-like discharge at his back, Kamijou Touma rushes for Vento.
And at an arrow-like speed. It seems that his movements a while ago were all ruses. Well, it might be the opposite. The survival of people buried alive had been ascertained, and so is Kazakiri's mind. And he simply knows that she did not quickly and simply treat other persons as [hostiles]. And then the fact that Vento's chaotic attack would no longer expand towards the surroundings. With this Kamijou, freed from all worries and fears, is unshackled, and is able to fight at full force.
He only has to defend.
He only has nothing but to defend his own cherished friends.
That simple.
And because of that, Kamijou Touma is liberated from just about everything.
"Shiiit!!"
Vento swings her hammer as she cursed, but by that time Kamijou is already onto her. His right hand pushes out forward on and on, and with a single *BAM!!* blow the blunt-air weapon is blown away, and what's more it's going to grab Vento's hammer at the place where it is not wrapped with barbed wire.
"!!"
Just before his hand touches it, the hammer vanishes from Vento's right hand. With the hammer immediately moving to her left hand, Kamijou's hand cuts through thin air.
Aiming for his exposed body, Vento's hammer goes for Kamijou in a sideways attack.
Kamijou bends down and dodges the attack. The *BOOM!!* thunderous roar passes way over his head, and he hammers his elbow, bent at a sharp angle, right into Vento's gut.
A sick *crack!* sound explodes.
"Ghhh!?"
Vento's body bends forwards; moreover, her foothold slips and she tumbles on the ground. Kamijou then was about to sink his heels like a stake into her gut, but before that could happen, Vento, lying down, swings her hammer with all her strength.
The blunt-air weapon shoots out, going for Kamijou's face.
"!!!"
A dangerous weaponized wind *WHOOM!!* pierces through, right beside the spot where Kamijou had jumped back to in hot haste. Eating through the downpour of rain, it leaves a particle-like afterimage.
Kamijou starts over, but there's a smile in his face.
This is going well.
(Vento is preventing her hammer from being caught by my right hand.)
Kamijou opens and then closes again the five fingers in his right hand,
(In other words, this means I can negate it with my right hand. What's more, it's unlikely that a destroyed hammer can return to its original state. Once I wreck it, the hammer's sealed.)
"Of course I have to get near her, or it's unlikely that I'll win...."
*Heave*, she wraps her hand onto her long hammer, and shoulders it.
Thick blood, escaping from her lips, drips along the thin chain, getting the crucifix at the tip wet.
Kamijou readies his fist again, smiles fiercely, and says,
"I don't have to worry about those around me; now I can go free-for-all against you."
"Hah! As if it looks like you have the monster behind you helping you."
"It's not 'looks like'. She is really helping me out!!"
"THE HELL ARE YOU SAYING?!"
Vento at once swings her hammer downward from its rest position at her shoulders, and Kamijou vigorously rushes for her.
The succeeding second shot of the blunt-air weapon that was fired and is coming in head-on is blown away with Kamijou's right hand, and it falls on his feet. Asphalt is blown away into small bits, and large quantities of fragments assail Kamijou.
He presses on forward while bending his body to reduce the number of fragments that would hit him as much as possible, and on top of it, crossing both his arms to cover his face from those fragments that go there.
As he does that, he screams,
"THIS IS AS FAR AS YOU GO, BITCH!! THE POINT WHERE YOU CAN'T USE HUMAN SHIELDS!!"
"DON'T YOU DARE MOCK US, THE [GOD'S RIGHT SEAT]!!"
Vento shouts, and then again swings her hammer to try create a blunt-air weapon.
That attack was already seen through.
Using that hammer creates that [weapon], and is shot in accordance with the trajectory of the cross in her tongue. That was the repetitive pattern. That can be dealt with Kamijou's right hand.
(No, maybe the real Vento shouldn't be doing that.)
She has the magic of [everyone who's hostile toward her will all be crushed] in her. With that and her air manipulation attacks, almost everyone is no match for her. **It's because the [hostility] of the opponent springs out just from her being aimed at with a deadly weapon, even though the opponent could not hit her.**
However, Kamijou's Imagine Breaker keeps off Vento's big favorite, the [Divine Punishment Magic].
At present she can only use the [blunt weapon] for diversions.
(I'll win this!! I'll end this right here!!)
Kamijou's right hand tightly clenches into one hard mass, and goes for Vento's gut.
Before his hand reaches her, Vento swings her hammer horizontally.
A blunt-air weapon is created.
But before she unleashes it, Vento rolls her wrist and again raises her hammer from below upwards. And along with a *BOOM!!* thunderous roar, a second blunt weapon of air is created.
The two weapons don't fly in different directions.
When they clash into each other creating a single mass, they explode quite in a fan shower-like shape. Several hundreds of sharpened air-drills attack, aimed and launched at Kamijou at once.
This is too much for just his right hand to defend against.
"Aaaaaaaaaah!!"
Forcibly bending his forward foot, Kamijou rolls sideways with all his strength. Along with a thick *BOOM!!* sound, the asphalt several metres behind him is turned inside out in lumps. His uniform is ripped away at the arms, and his skin has been ripped along with it.
Vento then again raises her hammer towards Kamijou, who had just bent over immediately after tumbling. Swinging consecutively in every direction, this time three blunt weapons are vigorously created.
Kamijou stiffens.
(Oh shiit!?)
Kamijou, currently unable to get up properly, cannot move fast. If the shower blast that headed for him a while ago was tough to avoid, this time there's no guarantee he can do dodge it.
"Dammit, I'll be blown away...!!"
Kamijou immediately sets up his right hand, but then...
*Cough!!*
He thinks he sees Vento suddenly bend her body, and blood clots explode out from her mouth.
The three blunt weapons, with their control lost, explode on her spot. Along with a *BOOM!!* roar, Vento's body is flung backwards.
"Vento!!"
Kamijou instinctively shouts at his enemy.
He's sure Vento must have coughed up blood some time ago.
"...What's with you, speaking in a stupid-sounding voice."
As she spits out blood that gathered in her mouth, Vento unsteadily sets up her hammer.
Due to the explosion just now, her yellow outfit is in tatters, and blood has started to stain it.
"You and those who side with science, you set this up, right? You have forcibly inflicted a magic-like pressure to the entire [area] along with the appearance of that [angel]. In other words, you're causing an imperfect circulation of magical power. Damn that Aleister, for him to consider this disgusting move..."
As Vento's tone is faint, one cannot fully understand what she's saying.
However, Vento now seems to be in a fix where she vomits blood every time she uses magic.
Even her way of continuing to create numerous blunt-air weapons may have added unnecessary burdens onto her.
Even so.
She again continues to brandish her hammer while coughing up blood.
Kamijou's expression has changed.
"You idiot!! You have a reason to fight even at your state now!?"
"To strike you shitty bastard dead! I don't have to say those very obvious words!!"
The hammer dances from vertical to horizontal in rapid succession, creating three blunt weapons; those swirl together, changing into a single long pointed stake which then launches itself for Kamijou.
And along with a *BOOM!!* thunderous roar, the stake goes through to the immediate side of one of his ears.
Kamijou did not dodge it immediately.
She couldn't react. Her missing him is because Vento's aim was shaking against her will.
She can't sustain her physical strength any longer.
(Striking hard on air at multiple spots, multiplying those vectors, beating on the air from really different directions and power...)
"That attack just now...wasn't it an application of fluid mechanics!?"
"You annoying brat. Sorting out on your own human magic as if you know them...! The very fact that you use scientific terms disgust me!!"
She shouts, but her strength doesn't catch up with her intentions.
Her overarching hammer, along with her arms, fall to the ground with a crash. Both her hands are loosely hanging down, but the flashing hostility does not disappear from Vento's eyes.
"GROOAAAAAAAAAAAAHHH!!"
She clenches her bloodstained teeth, and swings her hammer upwards.
It's an unsteady swing, as if she feels the limits of her physical strength.
The unleashed blunt-air weapon doesn't even hit Kamijou, and directly strikes the road right beside him.
Upon seeing this, Kamijou says,
"Um, do you need to be rescued?"
"Don't...bullshit...me..."
"Excuse me, but even you've had your hands full. I'm bringing you to the hospital quickly!!"
"SHUT IT!! I'm never again entrusting my own body to science!!" Vento howls.
Kamijou suddenly raises his eyebrows at her lines now.
"'Never again'?"
She instinctively grumbles, then an even deeper anger engraves onto Vento's face.
As she spits out the blood clots gathering in her mouth to the side and wiping her lips with the back of her hand, she says,
"...My younger brother was killed by science."
"What?"
Gritting her blood-stained teeth and raising her hammer with all her strength, she continues.
Gritting her blood-stained teeth, she raises her hammer overhead, before continuing.
"And it's thanks to a malfunction that occurred during a theme park attraction test run (monitor). A young me, with my younger brother, us two ended up in a wrecked mess. 'Scientifically speaking, there should be no problems,' we were told! Loaded with safety devices, the latest in lightweight reinforced materials, fully automatic speed control programs! Just those trustworthy words were lined up!! Virtually nothing would go wrong!!"
"You..."
"And so I won't believe science will save man. The same goes for that angel there! That will protect people? As if it won't resort to destruction behind its back!!"
Kamijou is at a loss for words.
Vento sticks out her tongue at him, and says,
"Surprised? And for that reason I'm fighting as a member of the world-controlling [God's Right Seat]. But you know, I so hate science I'm willing to use even the [God's Right Seat] to destroy it!!"
The attack did not immediately come, even though she is so enraged.
Vento herself must be feeling with her body that it's at the limit of its physical strength.
She's probably timing her instant kill, as she slowly shifts her feet horizontally.
Lolling out her blood-stained tongue, she says,
"Type B Rh negative. The blood I spat out now, the doctor said it's a pathologically rare blood type. It simply can't be found in a blood bank. So what do you think happened after we were brought to the hospital?"
"...."
"**They couldn't prepare a blood transfusion for both of us.** They contacted many people but they gathered enough for only one person. We, on the brink of death as we continued to wait that far, heard despairing voices from the doctors. They can only save one, they said. And so only I survived! And they left my brother to die as he said 'please save my sister!'!!"
Blood seeps through her teeth, but even so Vento does not attack.
She's taking her time to kill him absolutely, she's implicitly declaring.
"Science took our lives away, and on top of it made a mockery of even the Bible that teaches the means of salvation! After all, this is the true nature of science. Nothing but a pest for man!!"
Breathing deeply to regain her strength, she then voices a shout that makes even the air shake,
"AND THIS IS WHY I HATE SCIENCE—I ABHOR SCIENCE! IF SCIENCE IS THAT COLD, THEN I WILL DESTROY IT AND FILL THE WORLD WITH AN EVEN WARMER RULE. THAT OBLIGATION IS MINE, WHEN SCIENCE HAD TOTALLY TAKEN AWAY MY YOUNGER BROTHER'S FUTURE!!"
"—."
It might very well be as she says, considers Kamijou.
In the end, Vento is so full of remorse with the fact that her younger brother died because of herself. Perhaps for her, she's her own worst enemy, not science. And with that hand, and it should be Vento's own, she made someone she tried to protect die so she could live up to this point.
Divine Punishment.
A magic where anyone who shows hostility toward the caster is struck down, no questions asked.
When he first heard of it, he felt that it was a convenient power. However, conversely speaking, that magic is really useless **without an environment where she's being constantly being bombarded with hostility from numerous people**.
Vento chose a life where everyone in the world has a grudge against her.
There's no result or even value without the animosity she receives from other people. To make that work, she can only bring herself into the world's darkness. Quite like a way of life where even the possibility of receiving good will from others is suppressed.
The woman walks that path of destruction precisely because of her dead younger brother and because she believes in "that".
Kamijou thinks it's something he could not simply imitate.
Regarding it, he says,
"Enough with the bullshit!"
What? Vento furrows her eyebrows.
Kamijou continues,
"What kind of science that killed your younger brother? That doctor has since decided from the beginning that he didn't want to cause any deaths. He's dead set on saving you two!! It's also the same for the attraction where the accident occurred! It was not run to injure people! It was run to create smiles in people!!"
"Shut up..."
"Your younger brother who was about to die, said with all his feelings 'please save my sister'!! He knew everything of what he's into, and yet he still wished to save you!! That person didn't wish for revenge against science! That person wished for your happiness more than anyone else!!"
"I SAID SHUT THE HELL UP!!"
Full of rage, Vento swings her hammer in a blind effort.
It's as if she didn't do any calculations. The chaotic blunt-air weapon is easily blown away by Kamijou's right hand.
"There's an injured blood relative in front of a child less than 10-years-old who's dying and losing consciousness! If a child in such a condition states his decision, anyone would have shook their head!! At a small child's words! As if there's any worth in it!! If there was not enough blood, everything should have been given to my younger brother! If it suited them, they should have even used my blood!!"
Kamijou's expression did not change for a bit.
Amidst the heavy rain, he focuses squarely onto Vento's face and says,
"There's worth in his words."
Spitting out, he continues,
"Even if it was a child's view, if that were his decision, then you would be alive until now! That means his views have value!! Aren't you the one who has to understand that value in the first place!?"
"Madness!! Are you consoling me with such words!? I'm here to destroy other people's future!!"
"A person with quite the same circumstances as you have wouldn't shout out what you've shouted now!"
"!!"
Vento chokes.
Kamijou presses on forward with his questioning words,
"I myself can't do that! And that's why I'm against you!! Your way can't be right! I don't know what kind of a person your younger brother was. But then, he did what I could not! That time he did what the world considers the best!! And you're smearing it in mud!? You're making his efforts come to naught with such words even as you die, hating science through and through!!"
"—You make me laugh."
Vento of the Front says, her lips almost shaking.
"You try to change my path with those words? I've decided on this path. And there's no way I'm simply changing it just because I've heard your shitty talk right here!!"
Backing a step, mustering what's left of her physical strength, she raises her heavy hammer, setting up. The blood from her mouth flows through the thin chain in her tongue, staining the tip of the crucifix.
In response, Kamijou hardens his fist, focusing on Vento.
They're separated apart only by five metres.
For Kamijou, it takes two steps to get his hand in range. And for a weakened Vento, a single successful blow might be enough to knock her out.
However, Vento will unleash her attack during that time. It would be her killer attack as a result of several blunt-air weapons going together, their form and their vectors being changed quite in accordance with fluid mechanics.
It's a one shot, no frills fight.
And it starts in a flash along with the sound of crumbling rubble around them.
""!!""
Kamijou's body rushes forward.
Vento vigorously waves her hammer continuously; as she spits out blood, seven blunt-air weapons are created all at once. Those join together, their vectors changing, their swirls winding clashing, and those swirls change into a single gigantic spear.
Kamijou didn't react even at the spear that came from three bundled up blunt weapons.
Were it to be over twice the number, it would be unimaginable how much power is generated.
But even at that Kamijou does not hesitate.
He's not shifting to evasive action. He's attacking head-on with his fist, putting more power into it. When there's just centimetres of gap between fist and head, Kamijou's head surely should have exploded. He knows that fact, and still Kamijou's eyes do not even shake.
(The critical situation Academy City and Kazakiri Hyouka are in,)
Or possibly, he might be calculating his strike using Vento's eye movements and breathing timing. Utilising the raindrops of the downpour, it's also possible to read the wind attack.
(The hatred against science where Vento is imprisoned at,)
However, Kamijou throws all such calculations away.
The end of this battle is not decided by such trickery.
His entire heart throbbing, and looking at the woman who's about to launch her strongest attack, he determines,
(I'll definitely crush those illusions right here!!)
"OOOOOOOOOOOOOOOAAAAAAAAAAAAHHH!!"
Both Kamijou and Vento scream.
Both fist and spear are launched at almost the same time.
And along with a thunderous *BOOM* roar, the spear pierces through the space between Vento and Kamijou; the raindrops are smashed up, blown away into fine particles. The raindrops, blown into tiny mists, block their fields of vision for an instant. They're scattering into the surroundings quite like steam.
The sound vanishes.
Immediately after,
A primitive *CRACK!!* sound explodes, as Kamijou's fist catches the air spear's tip, conclusively smashing that attack.
"...!!"
Vento tries to raise her hammer again, but it seems she has no physical strength left.
And so, Kamijou rushes to her.
"You may not be a big deal compared to younger brother..."
Kamijou's fist clenches and hardens to its limit.
And glaring at Vento's face,
"But at least I'm going to save you! Now come here and start over again, you big idiot!!"
*BAM!!*, Kamijou's fist slams into Vento's nose.
And her body flies back several metres, then tumbles onto the rain-soaked asphalt.


Part 7

Index found a tattered and collapsed Accelerator as he was being kicked around by a white-cloaked man. Strangely, he resembles someone she spotted at that time near the entrance of the underground shopping complex.
(The person from that time...!! Do these people also have a connection with that!?)
Although, she has no time to face them.
As far as she is concerned, her primary objective is the kid who's in control of the [Archangel].
However,
(!!?)
Index's eyes open. The white-cloaked man stands in front of a downed Accelerator, and kicks his head with all his might. Accelerator's body tumbles unopposed on the floor.
Index instinctively starts to rush for him, but then,
"GRRRRAAAAAAAHHH!!"
Letting out a hard-to-identify screaming sound from his voice, Accelerator *BAM!* slams his hand onto the desk and gets up. He places himself precisely as Index's shield.
Index is a bit apprehensive, but she has a lot of things to do.
She grabs a disconnected telephone that was on the top of the desk, and throws it towards the white-cloaked man. And as she looks back at Accelerator launching himself at the same time, along with the thrown phone, and Index shifts her focus onto a 10-year-old girl lying on the desk.
This is the person Accelerator was looking for, and was shown to her only once by a mobile phone image.
This girl is the key to everything.
(This place won't do. And even if I can do the [work], I must take her to a more secure place...!)
Index tries to carry her limp body and get out of the abandoned office, but looking at her weak state she decides that carelessly moving her is perilous. Index thus slowly lowers her from the top of the desk onto a hidden spot to avoid getting dragged into the battle.
"YOU BRAT!! I'M NOT LETTING THAT IDIOT DO ANYTHING!!"
The white-cloaked man screams, but Accelerator is forcibly holding onto him.
Index again surveys the girl's body from head to foot.
From a magical point of view.
(As I thought, this child is the [Core] to everything. The basis is in the angel's architecture. Like a balloon figure, it's a creation of a silhouette where the formless [Telesma] is forced into a [Pouch] in the image of a person. The kind of magic even the magical group [Golden Dawn] where Crowley belonged to would perform.)
*Zaaaa!!*, In the blink of an eye, the 103,000 books of knowledge unravel the magical enigma.
However,
(...I don't know what to do from here...)
*Grrr*, a grinding sound comes out from Index's molars.
(Even when I can see the entire picture, I can't comprehend what parts were used to create it!!)
Metaphorically speaking, it's like asking a violin craftsman who specialises on wood to make an electric guitar out of electronic parts. Because the instruments' handling are different, even though they're both musical instruments, the craftsman can only grasp the situation [somehow].
And [somehow] is out of the question when it comes to precise work.
Alone, Index is at her limit here.
And for this reason, she unhesitatingly seeks help.
"Hey short-hair, I have a question!!"
Index's words are directed toward a mobile phone in her hand.
Connecting on the other end is a single girl.
["Call me Mikoto-sama!! Well, a 'question'—*bzzzzzzzzzt!* *crackle!crackle!* what is it?"]
Explosive sounds *BAM!BAM!BOOM!!* can be heard frequently from the other party on the phone. However, Mikoto doesn't feel those. It's as though it's a bother to deal with it.
Index decides to depend on that goodwill.
"What's this 'electronic network that uses brain waves'!?"
Mikoto fully answers with the knowledge she acquired at Tokiwadai Middle.
On hearing that answer, yet another question comes out from Index,
"What do you mean by the 'AIM diffusion field that is spreading in Academy City'!?"
The two girls, one from science and the other from magic, lack the knowledge of the other.
And so, they totally cannot understand the answers that tries to guide them about each other.
"What's the safety devices for the electrical network that uses brain waves for its basis?"
Even so, the two girls press on without concern.
For them to solve the problem. Even if they can't understand the solution along the way, it doesn't matter as long as the right answer is given. In a way, by casting aside pride and being aware even of matters outside the box, they continue with their actions, hoping just for the situation to recover.
(In other words, by restraining the mind of this girl who's in control of the special power that the town is full of, this special power is distorted, creating the [angel]! That's it!!)
"I only have to unravel the [knot] inside this girl's head!!"
For the girl from the science side, that is probably called a [virus].
(But then, what to do to make this idea a concrete measure...)
For Index, she isn't using magic.
Using magic is not important in saving Last Order.
Index will use a [word] to unravel that [knot]. Tampering with human minds surely might have a special reputation, but so is study through reading books. Man uses it from the start for the very reason of opening [windows]. By choosing the word that corresponds to the [knot], just hearing that is enough to [unravel].
Hence, the concrete method is,
"...A song"
Index considers that.
"It can be easily handed down even with simple languages. Even for a man unmoved by an hour of preaching, it only takes a tenth of this time for a song to bring him to tears. Using rhythm and musical interval, a multitude of emotions can go back and forth. And so,"
However, Mikoto, on hearing that, objects with a somewhat confused tone,
["Hey, hey, is that an OK conclusion!? For overriding the human mind, repetitive study is the basic, and what's more, the brain's memory and adaptation may not be very good at that!! On top of that, to interfere with an electrical network, digital input from a [Testament]-class personal equipment is required? Aren't voice and songs primitively analog forms!?"]
Unable to comprehend the meaning of the scientific terms Mikoto is spitting out, even Index has no positive proof. She knows of mind intervention attacks, like [Spell Intercept (Compulsion Aria)] and [Sheol Fear (Voice of Magical Destruction)], but this kind of method is the first time for her.
"We can do this..."
Even so, Index answers with that line.
"Our prayers will go through. Men can be saved with those. For I, as a nun, will spread those teachings!"
Unhesitating, she just looks on ahead.
"With our prayers we will save everyone. This child, Hyouka, and Academy City!!"
Part 8

Thrashed, beaten, and crushed by Kihara Amata, Accelerator rolls on the floor.
Right now he's in no condition to fight.
It was due to brain damage in the first place that he can't even stand up on his two legs. Even Kihara is wary of his fighting style, where he would grab onto the former's body with a move that would make him almost collapse, and is avoiding it by keeping his distance when fighting.
"AHAHAHAHAGYAHAHAHAHAH!!"
Kihara's throat-tearing laughter continues.
It's totally unlikely for a man whose skin on his head was torn off at full strength.
Accelerator is grabbed by the collar, dragged up from the floor, and back-slammed onto the office desk; there Kihara's fist again hits him. A sickening *CREAK!* sound can be heard from his cranium, and his facial skin is tearing apart. He's aware of his brains being shaken, his strength leaving him from his fingertips.
However, only his consciousness does not go out.
That's the only thing that definitely won't be shaken.
"——,"
A girl's smooth melody reaches Accelerator's ears.
For Accelerator who had lost his language functions, he doesn't know [what language] just from [hearing a voice]. However, the girl's aria has emotion. Accelerator surely feels its sympathetic feeling for Last Order going across the language barrier.
He doesn't know what the voice signifies.
Perhaps it's taking Last Order's hand and is relieving her of her pain.
However, that is an admirable helping act.
For Last Order didn't receive those until now.
"GRRRRRRRRAAAAAAAAAAAAAAAAAHHHHHHHHHHH!!"
A conspicuously heavy fist is launched along with Kihara's scream, and Accelerator rolled about on the floor, kicking about office desks. Pain shoots out from everywhere in his body. To the point that getting up is annoying.
Even so, Accelerator faintly smiles.
The young girl's smooth singing continues.
It is an aria that has a warm light within it. Perhaps it itself is a voice that only a person who lives in Last Order's world can create. Accelerator nevertheless hears it. A voice he himself will definitely never create. Create with his mind totally without any operation faculties.
The brat who looks like Last Order shouldn't be coming here to do that towards the likes of shitty bastards like Kihara Amata and Accelerator. It's fully proper that the warm people of the world of light should be helping out their own kind.
However,
Why this?
Why, why should Accelerator show weakness at that. Why, when the dark ones like him must be concluding that they keep their hands off something that radiant.
Should only upright people do what is right? Should only good people do good deeds? Indeed, that sure is right on the mark, that for sure is the logical path.
However,
In the first place, what is the reason for having to go through the logical path.
Accelerator wants to save Last Order.
He wants to save her, who's been continually oppressed with unreasonable violence.
What is wrong with thinking that?
Light and darkness, it doesn't matter for both where to stand. Accelerator doesn't want to protect her because she came from the world of light. Accelerator does want to protect her with his own hands no matter what world she lives in.
And the world's differentiation has no say in that.
As if there's wrong with villains reaching out towards good people.
As if there's complaints against villains wanting to defend the world of light.
The strongest villain in Academy City today, who had behaved impudently up to now, had now come to this stage, and where it is important that he has to faithfully guard it.
"..."
*BAM!!*, A steady Accelerator reaches out for the office desk.
And he slowly stands up, making a grinding sound.
He has his conclusion.
He'll throw out his chest with pride, evil as he may be. He'll push on for the world of darkness, and yet he'll save those who dwell in the light. He's no longer ashamed that his path ahead is different from those around him. He'll be the bad guy, to the extent that he's proud of the darkness within him.
**All rules are out of the window.**
**He'll redefine what is possible and impossible.**
**He'll change the list of conditions in front of him, and demolish those barriers.**
"KI—HA—RA!"
A voice is let out from the mouth that shouldn't have any language faculties.
His feet are slowly supporting *creak!creak!creak!* his body.
"KIIIIIIIIIIHAAAAAAAAAAARAAAAAAAAAAAAAAAA!!"
At that instant, Accelerator uses his feet—which should be immovable—and rushes out.
Right for his natural enemy, Kihara Amata.
Even if he fights all reality, get wounded, or lose so much,
He'll fight on to protect to the end that single illusion.


Part 9

A great and growing ferocity is being engraved in Kihara Amata's face.
That Accelerator has stood up.
Even if injured to that extent, even if severely knocked off his feet, he still rushes for him, shouting his own name all along.
It's as if he's trying to defend the space behind him.
As if he's trying to help the two girls secretly hidden at the office desk.
"...Interesting..."
Kihara says it about his un-killable enemy.
His face is full of ferocious delight.
"THAT'S BETTER!! IT'S BORING WHEN YOU GO DOWN THAT EASY! YOU SURVIVE THROUGH YOUR SPIRIT FULL OF VIGOR, ACCELERATOR! RIGHT NOW I'M GETTING PISSED THANKS TO YOU, BITCH! I AIN'T USING GUNS!! I'LL SEND YOU TO THE BOTTOM WITH MY FISTS BEFORE I'LL KILL YOU!!"
It flies out from within Kihara.
A monstrous roar. Both Accelerator and the strange girl's singing are unshaken. With their utmost concentration, they're already seeing nothing from around them — that girl has probably entered a meditative state. Just about everything is shining (full of enemies). This is the best for a scene.
(It's fine and dandy if there's a corpse after — but why the fuck are you still alive, you bitch!!)
Kihara attacks back the oncoming Accelerator.
Gripping both his hands, the finger joints crick.
And hardening it into steel, he mercilessly drives them smack in the middle of Accelerator's face.
A *BAM!!* enormous sound echoes.
A small groaning sense is sent through Kihara's arm.
Even so,
Accelerator's movements do not stop at at all.
"GGRRRRRRRRAAAAAAAAAAAAAAAAAAAAHHHHHH!!"
Unmindful of his face being crushed, Accelerator counters with a hand that catches Kihara's face. Kihara's nose is broken, inducing more pain. It was quite a blow. And it merits no explanation to be understood.
(...Gh–ghack!!)
*Creeaak!*, As if he's pushing back the hand, Kihara forces his head back upright.
He again hardens his clenched fingers.
"OHOHO, YOU CALL THAT NOISE, KID!!"
He smashes into Accelerator's thin face, sending the latter rolling down to the floor. For some reason Accelerator is restlessly squirming about, but Kihara stamps his foot down with all his weight.
Like a fat stake being struck using an iron hammer.
A *BOOM!!* roar explodes. As Kihara repeats with his indecipherable screams, he rapidly tramples Accelerator here and there. Something being broken is heard, and red liquid flies about.
"All right, I'm in the mood!! Finally I'm warmed up like an engine, but how 'bout you, bitch!? Too bad, perhaps you were really thinking that bitch can save you, eh?"
Accelerator did not reply at all to his cheerful words.
Lying broken on the floor, only the glint in his eye definitely did not fade away.
So he can help, and protect the lives of those girls.
He's never disheartened.
"HAH—!! HAH—!!"
The trampling Kihara is obsessive to the point of running out of breath.
HAHAHA, he laughs as he looks around.
Lying here and there on the floor are the incompetent [Hound Dog] lackeys, all downed by Accelerator. And all of them carry the same set of small arms. Kihara, getting pissed at various stuff, gets near one of them and bends down.
"...Just to make stuff more interesting, show me more of your guts!"
He chuckles as he picks up one object from within. With an expression of a runner who had finished a marathon.
Kihara Amata lightly flings something in his hand at a currently down Accelerator.
An anti-personnel grenade, minus its pin.
With at best part of brain functions lost and beaten by Kihara, the collapsed Accelerator has no time to evade and flick back that grenade.
Along with a small *tock!*, the grenade strikes Accelerator's forehead, bouncing up slightly.
The small lump doesn't even have time to lightly float.
Along with a *BOGAAM!!* blast, the hand grenade explodes. Shrapnel are scattered along with the shock wave, and gray smoke blows violently. Due to the short-range explosion, even Kihara's cheek is grazed by one of the Shrapnel. Even from that much, his skin is deeply cut like a chisel. However, Kihara laughs. Only with feelings of exhilaration.
Silence comes.
Only the sister who's getting into meditation is continuing with her soft and lengthy aria.
"Hii..."
He's victorious.
"GYAHAHAHAHAHAHAHAHAHAHAHAHAHAHAHAHAHA!!"
Kihara bellows out loudly from his gut.
He's dead. That thing's dead. At any rate it exploded a few centimetres from his head. There's no way human flesh can withstand that. Right now it is covered smoky dust, but after it clears away the unrecognizable and destroyed corpse should appear in front of Kihara.
The ashen dust blown up by the grenade is spreading out onto the surroundings as it taints them. Like a billow, it flows right through Kihara onto his back, clouding his vision.
When this smoke clears away, Accelerator's corpse should appear.
And on seeing that unsightly end, Kihara's battle is complete.
(Aleister told me not to waste that mass-produced brat, but other than that anything goes. Well then, I'll jam this gift of a corpse immediately at that sister who's continuing with her weird songs and crush her ego!)
"Haha!"
Just as he thinks of that, Kihara's face is,
**GRAB!!**
Grabbed from the front by someone's hand.
"...!!"
Someone is standing in front of Kihara Amata's very eyes.
He can't clearly see that someone with all the dust in the way.
(Gh–gah—!?)
Normally thinking, chances are good that someone is Accelerator. However, Kihara doesn't get it. As long as Accelerator did not use his abilities, he's even weaker than a normal highschool student. Without any trickery, there's no way he could even endure a grenade blast.
Kihara finds it improbable that Accelerator's [Reflection] reactivated on its own for some reason. Dust is sticking on the arm used to grab him. If [Reflection] is working, even tiny dust should have been blown back.
"Why this..."
However, surely it's Accelerator standing there.
White-haired, red-eyed, well-ordered looks, prominent skin, thin framed, has a neck choker, grey-dyed clothing, somewhat skinny hands and feet, shiny black shoes,
**Kihara is screaming as he ignores all these.**
"What is happening here, he has pitch-black wings growing from his back!?"
It's more close to jet-stream than so-called wings.
Unidentifiable plumes of jet-stream that's so dark, even light is being swallowed by it.
Kihara's witnessing an [Angel]. Even he can understand he had a hand in its appearance. Nevertheless, he can't for sure recognize the phenomenon occurring before his very eyes.
(D, damn you, bastard...)
Accelerator's power is [putting all vectors under his control, regardless of type]. And so he's probably using some sort of power that exists within his space for his language and locomotion functions and supply of [new powers].
Scientifically, since Accelerator right now cannot operate on the physical laws, controlling those powers is impossible.
However, that's if other laws don't apply.
To begin with, even if he can grasp the unscientific theories, is there a relation with the existing operating faculties?
It's the occult.
**It's just like an irregular law** which one can only look in the face among the piled-up tens of thousands of experiments, and is, on the contrary, hard to understand if one is not on the level of Kihara.
(An acquisition for an expansion [clearance] of a new control area!? Damn this brat, just what numerical values did he input into his [personal reality]!... How the hell did he establish communications with someone or somewhere!?)
Even he says the paragraph he remembers.
Even the representative of the powers in Academy City says it.
(**Hey... it's AIM. Don't tell me that's the true nature of that power and that angel form of yours!?**)
However, Kihara's opponent is having none of it.
Accelerator furthermore *mekii!!* applies power to his arm, applying pressure to Kihara's skull,
"——,"
Kihara is smiling. He is quietly smiling.
Even as Kihara Amata's arms and feet are loosely hanging down, he still instinctively smiles back.
He asks on,
"B, behind you... you haven't noticed it, you monster."
"**ihbfKILLwq**"
The black-colored wings *BOOM!* explosively spray out.
An invisible, unexplainable power shoots out from Accelerator's palm strikes Kihara Amata.
Kihara's body is separated from Accelerator's hand, goes across the abandoned office at a terrible velocity, is thrown outside through the broken window, and cuts through the night sky at many tens of times the speed of sound. In the wake of the excessive speed, an afterimage of orange-colored plasma remains.
There's no need to express confirmation that Kihara is dead.


Part 10

In the middle of the downpour, Kamijou is sitting down on the road. His entire body was wet from the start, so he doesn't mind the water-soaked road surface. Finally being able to rest, he exhales.
The angel's wings are silent.
The enormous sparks that were continuously being severely unleashed until a while ago are completely dormant.
(...Index must have...)
The other side is probably doing all right. Kazakiri's wings and her angel halo hasn't totally disappeared yet, but their outlines are gradually shaking.
(It's still really dangerous, but at least not that much. Last Order... that fellow on the phone, it's good that they're saved as well.)
The phone, he remembers.
Kamijou takes out Last Order's mobile phone from his pocket. Academy City is still in the middle of a situation, but it's better if he tries to call an ambulance. He feels shy about using other people's mobile phones, but now is not the time to be shy.
Sure enough, the person who answered the phone said it's probably unlikely that it be dealt with as expected. Even so, it's far better rather than doing nothing at all.
Placing the mobile phone back into his pocket, Kamijou scans his surroundings. The area for as far as he can see is reduced to rubble along with Kazakiri's appearance... but along with it, due to her powers, the residents are probably safe. Even now in the darkness here and there, he can see the shining scales drifting about.
In contrast to his consideration whether he better help out, those scales might be rendered ineffective thanks to Kamijou's Imagine Breaker. For now it looks like it's better if he leaves them be.
"Even so..."
Kamijou looks at the downed Vento.
On all accounts she's unconscious.
He's trying to ask her for a way to wake up the collapsed people that are stricken by the [Divine Punishment] magic in Academy City, but no matter how many times he slaps her face, there is no indication of her waking up.
What will happen to Vento after this?, Kamijou starts considering. It's unlikely that Academy City would leave an existence alone that drove its city functions into an almost complete suspension. And there might be no talks on a power balance between the science and magic sides. In the first place, the magic side went ahead and destroyed that balance.
Lines might probably be crossed.
For Academy City, not only will they kill Vento — they will try to erase the dangerous arts from the world. On the other hand, the [God's Right Seat] and the Roman Catholic Church will not simply or quickly let go of such a high-powered magic. So far it seems unlikely that they've managed something like several times of [science and magic conferences]. At worst, the danger of this battle might serve as the trigger to Armageddon is also something to consider.
(Dammit...)
For sure what Vento had done is probably serious when looked at from a historic view. However, for Kamijou, having known her circumstances, can not approve of her simply being executed or be turned into a living weapon. Those methods are the worst, even with compensation.
(With both science and magic sides antagonizing over everything, she can't continue running for eternity in this small world. But something has to be done. At the very least until the situation is resolved, she has to go underground temporarily. Perhaps Tsuchimikado is the right person to talk to about it. Even so, how to do this right...)
Simply placing her in the care of the Church of England is also not an option. Vento's existence is too much when doing that. At most, it's unlikely that a mere high school student can do something like [resolving] a world-class problem. Even so, something has to be done. As it is, leaving Vento alone would leave a bad aftertaste in his mouth.
"For the time being I'll wait until she wakes up. She's been beaten real badly..."
Now Kazakiri... Kamijou shifts his focus from Vento to her, but there's no reaction from her as usual. There's no change in her state. Like somewhat vacant eyes and lots of gigantic wings growing out of her back. The outlines of the wings are becoming more transparent little by little as time passes by. The comparatively smaller wings are almost losing their shapes. Perhaps, Index is performing some kind of interference.
However, it looks it will still take some time until the wings have completely disappeared.
Kamijou looks at his right hand. If he uses the power residing there, he can negate ten or twenty of those wings just by touching them... perhaps. However, they'll lose everything due to Kazakiri herself being dragged along with that. He's a bit bitter about the uselessness of his own power for that time.
(All the same...)
More than Vento's hatred for Kazakiri, he thinks that is probably a phenomenon Academy City created. Those on the top, just what are their objectives? It's unlikely that Kazakiri was created just for nothing more than a defense and counter-attack weapon against the likes of Vento if they suddenly came in. There must be other objectives in mind.
The questions keep piling up, Kamijou mutters to himself.
At that time,
*BOOM!!*
Suddenly, the concrete in front of him breaks, clouding Kamijou's vision with ashen dust.
"!?"
Kamijou covers his eyes with his hands and instinctively jumps back.
The dust in the air is slowly washed away by the downpour.
Standing in the middle of the explosion is a propeller from a wind-powered generator. Torn off casually then thrown, it stands in the middle of the crater where the rubble was blown away, half of it buried. It's a giant of a pole like that for power lines.
What the hell has the strength to do such a thing? Kamijou is terrified, but then,
(!!...Where's Vento!?)
In hot haste, he searches his surroundings.
The downed Vento, who was nearby until a moment ago, is missing.
However, Kamijou discovers another person instead.
A lone man stands on a spot not too far away from him.
"Who are you!?"
Kamijou suddenly shouts offensively at the man, as he is carrying a limp Vento with one arm.
He's wearing a white short-sleeved shirt on top of a blue long-sleeved shirt. His trousers are slacks made of light and breathable material. He has a sporty, but vigorless look. Which makes him a man in his prime who prefers the fairways. Together with a chic umbrella, he's full of quite and unshakable demeanor not even a highschool student like Kamijou can show.
However, the fact that he did not show even a bit of nervousness when he sees this level of destruction is, on the other hand, eerie. Everything, even his white skin and blond hair, is seen as a sharp knife.
"Pardon me."
The man says, in fluent Japanese.
"I too have business with this woman. I was hoping to have you turn a blind eye to avoid violent behavior, but it seems I've offended you."
"I said who are you!?"
"Acqua of the Back. A member of [God's Right Seat], just like Vento."
Kamijou takes on more precaution than expected upon hearing him easily say out the name. He totally doesn't know the pecking order within the [God's Right Seat], but this is quite bad if he assumes Acqua simply holds the same powers as Vento. If an exhausted Academy City takes on a second wave, this town would not recover anymore.
Acqua chuckles at Kamijou stiffening. An expression quite unlikely for a brawny-looking man.
"Worry not. I'm doing this to avoid a soldier's pointless death. As of today we're turning back. Surely going against you with the [Fallen Angel] as your backup is reckless. At least until preparations are in order."
Conversely speaking, Acqua is saying that he'll take both of them on as long as he's prepared.
Kamijou's eyes become sterner, but as he takes that Acqua can't suppress his emotions.
"It seems so far the effects of crushing magic and making Vento suffer have long since gone, but the source is here."
As he takes a breath, he casts a look towards a lingering Kazakiri Hyouka who's located nearby.
Speaking of angels, they're the only existence even able to take on Kanzaki Kaori on equal terms. Even for an irrational group like [God's Right Seat], they're probably strategic material.
In any case, keeping silent and turning back doesn't matter at all.
Provided that,
"Step back from Vento."
Kamijou thrust those words before Acqua.
"...You want to hear the way to save the casualties in Academy City, don't you?"
"Well, that too."
Kamijou answers. He meant, "apart from that."
"The woman's hostility towards science is a mere misunderstanding. Even she herself knows that is true. If the [God's Right Seat] had been here, she wouldn't have surpassed her emotions no matter how much time passed!"
"Vento's darkness is easily negated."
Acqua uninterestedly replies.
"We, the [God's Right Seat], don't sympathetically hold out our hands towards a mere unhappy girl. We exist to change the world. And now Vento has decided to use even that power for her own reasons. Do you know how much in kind she has paid up to now? As if you can imagine how much in kind for that power."
Now that he mentions it, Vento's reasons for her actions didn't include the results as an organisation. Conversely thinking, to be in that organisation means she has to continue making those advantages on her own.
Kamijou considers about those just for a bit.
Even as he thinks about it, there's no way he can simply understand her feelings.
"...So, what now?"
"What is it?"
"Since I couldn't make you listen to my words, I have nothing more to say to you; we're going around in circles here."
Kamijou looks Acqua straight in the eyes.
However, unlike Kamijou, Acqua is extremely composed.
*Sigh*, Acqua exhales.
"If I separate from Vento and if she was ever captured by the science side, she'll be executed, no doubt about it."
"!!"
Kamijou's body hardens at Acqua's words.
Acqua widens his smile at Kamijou's state. Quite like an adult who's reading their wishes written down on a Tanabata tanzaku.
"I'll let you have this."
*Tick!*, With Acqua moving only his fingers, he tosses something at Kamijou.
Upon receiving it, it is the chain, along with its crucifix, accessory that was attached to Vento's tongue.
"Either way, it doesn't matter that it be destroyed with your right hand. It's just another useless accessory. Destroy it, and Vento can't use [Divine Punishment] any longer. The people suppressed by it would immediately recover. Rest easy, for through that you could be able to defend Academy City's peace."
"Hold it!! I didn't agree to this!!"
Kamijou clenches his fist, but Acqua pays it no mind.
"Let me tell you one thing."
Acqua turns around in a dignified manner, and then says,
"I am a Saint. Pick any unreasonable fight with me and I will shorten your life span."
An *BAM!!* uncanny sound of earth being kicked is heard.
By the time Kamijou blinked, both Acqua and Vento were nowhere to be seen. He can't find out which direction they're heading. Or perhaps they're probably flying above. In any case, Kamijou knows it's only a matter of a very incomparable speed.
Even with the battle over, there are still questions yet to be resolved.
But on the other hand, he feels that would only bring in an even bigger battle.
(...I'll put an end to this.)
The Roman Catholic Church.
And Academy City.
(Damn it all. I'll definitely put an end to this.)
In the downpour of rain, Kamijou looks up at the night sky and grumbles.
There's no indication of the dark clouds clearing up.