Toaru Majutsu no Index:Volume11 Chapter5
From Baka-Tsuki
Chapter 5: Queen of the Adriatic Sea. La_Regina_del_Mare_Adriático.
Part 1
"It's going to be over soon."
From the bottom of the ship, Biagio Busoni looked up at the ceiling.
"This work is about to be over. Really, to work so much just to destroy a city. 'Queen of the Adriatic Sea'…before the end, I'd like to reexamine this place from an antique point of view, and not on practicality."
On first glance, the room was a 20m side perfect square. But on closer look, the four walls were tilted inwards. It wasn't a cube, but a pyramid.
Looking up at the walls which gave off a white light, one could see the tip high up in the ceiling. Though the depth from the sea to the deck was only 20m, the ceiling looked like it was over 100m.
"…Humph, hasn't it quietened down?"
As if responding to his voice, the flagship 'Queen of the Adriatic Sea' trembled slightly. The tremor didn't just occur once, but occurred once every few seconds. The surrounding escort ships were being destroyed like animals killing each other, getting hit by friendly fire. But the cannons continued to fire, which meant that the enemy continued to cross the ships. Even in the deepest part of the flagship, which was surrounded by thick layers of ice, the explosions continued to ring.
Here was the problem.
The male caretakers of the 'Queen's Fleet' were different from the nuns in the Agnese's Forces: they were not suited for combat. It was not because they were not suited for it, but because of their job scope. No commander would hold a weapon and stand on the frontlines, so because of this, there were only some supervisors.
Up till now, though it was still in acceptable limits, what made it a bit harder was that the nuns, who were used to working with their hands and feet, weren't used to ship-to-ship combat. They had only come here on the premise of being labourers, and they had never been trained on the ships. For things to turn out this way was to be expected…
(That's why I requested for a special force different from the supervisors…and yet this request was…)
The higher-ups only focused on the capability of the 'Queen's Fleet', and made such a judgement, "No need for more troops; there won't be any problems with this fleet". They didn't consider everything completely, and may have caused this battle situation to change.
(…The higher-ups are as useless as the subordinates, huh? Trash.)
Biagio glanced aside.
"So exciting. The barricade surrounding you, isn't it not so thorough?"
"…"
The one being asked this was a girl in the same room.
There was an iceball-like structure that was 7m in diameter in the middle of the room. Though the middle was like a soap bubble, when the 'Appointed Time of the Rosary' activated, the inside would be filled with ice. This was to freeze the nun who was suitable for the task, and destroy it magically together with the ball. This nun was now leaning on the outer curved surface of the ball.
Her name was Agnese Sanctis.
This nun was wearing torn and tattered nun's robes that were somewhat revealing.
She didn't answer Biagio.
Or was she unable to answer? From her expression, one could tell that she was wondering why there was a need for wars, who were they doing this for, and for what reason? She completely didn't care about what was happening outside.
"It's this expression."
Biagio continued.
The four necklaces and the numerous Crosses on him made some sounds.
"So irritating. So far, you've been making a shameless expression as if you're waiting for others, as if you're standing in the light. You have no right to make that expression. You're a sinner, and yet you look like you're enlightened; that look infuriates me. Animals only need to crawl on the floor — only humans have the right to adjust their appearance."
He said with a smirk and a tinge of malice in his cruel words.
Agnese glared at Biagio's face.
"…Then let's hear it: what do you think I'm hoping for?"
"I don't have to ask that question for you to know, so I'm not going to ask it. Humph, I was really angry when those guys came in. Since you're making that look, I'll beat them up in front of you."
Agnese turned her body away in disgust.
Biagio saw her reaction with delight and said,
"I'm going to crush that hope of yours, because parts have no need for any feelings."
Part 2
There were about 50 of the Amakusa members.
In contrast, on the Roman Catholic side, there were a total of 250 nuns. Normally speaking, in terms of numbers, they would lose. But this was a ship, and not all of them were gathered at the same place. Besides, the basics of ship combat were different from land combat. In order to pull the distance closer, the Amakusa concentrated their fire on close distance. Even in this chaotic situation, they could still move about nimbly. In contrast, the Roman Catholics, who outnumbered the Amakusa, were obstructed by their comrades and their weapons. The Amakusa knew how to fight back with less people. This was the force of these few Amakusa members, the techniques they had learnt to fight against many enemies.
Coincidentally, it had been the same during 'The Book of the Law' incident.
There was only one thing that was different.
Was Agnese Sanctis the one they should be protecting? Or was she the one they should be beating?
"Hurry up and go! No matter what, we must save that kid! We'll delay the main fighting force here!!"
Being prompted by Tatemiya, Kamijou ran on.
Three more ships and they could get closer to the flagship.
While the Amakusa continued to delay the nuns, Kamijou, together with Index and Orsola, headed off from one ship to another. Of the trio, only Orsola could use the wooden bridge spell. She carefully read the spell, even more so than ordinary magicians, and released the bundles of paper one after another.
The flagship 'Queen of the Adriatic Sea' was right in front of their eyes.
The mastermind that was being protected by all the escort ships, imprisoning Agnese Sanctis, and wielding the large-scale magic facility that could destroy Venezia in one shot. If that was the command point, Biagio Busoni, who hadn't appeared, should be there as well.
"Let's go, Index, Orsola!!"
Kamijou shouted as he ran past the wooden bridge and stepped onto the ship.
It was a huge deck.
In the middle of the 'Queen's Fleet', where the ships could easily be over 100m in length, this ship was easily twice the size of the other ships. The ice walls were a lot more glamorous than the other ships; the entire ship looked like white gold basking under the moonlight. In terms of decorations, if it could be said that the other ships were heavily focused on military functions, then this ship was more like a magnificent palace. Even the door handles and pillars had an artistic sense to them, and on the edge of the ship, there were figures of Angels and the Virgin Mary. Though Kamijou didn't head off to the front end of the ship, the thing placed there should be some grand artistic item.
"Seems like…no one's around…"
Orsola held onto the Angel Staff as she looked around.
"This ship feels like it's imitating the Doge, which is when the governor steps on the ship. It's a ship that's used during the National festival of 'Marriage to the Sea'."
"Just like a magic ship. This ship controls all the ship functions of the 'Queen's Fleet'. It continues to make ice decorations and setups. It's also a ship that controls and deploys the other ships."
Hearing Index say this, Kamijou carefully looked around.
"So the nuns won't be here and the cannons won't aim here? This ship looks like it can't be easily repaired by using seawater. If it could, there would be no need for so many escort ships around."
In order to enter the ship, Index reached her hand out to the nearest door, but even with this, the door wouldn't open. Looking closely, the keyholes of the doors and the walls were all stuffed with ice. This was basically just like part of the wall.
"Wait a moment; I'll remove the magic lock…"
Her words were interrupted.
Kamijou steps forward.
"…No need to be so polite. I feel that it's already too troublesome to worry about all these!!"
With this irritated cry, Kamijou clenched his fist and smashed it into the middle of the door.
BAM!!
The door and even the surrounding wall were blown away. Where Kamijou had punched, there was a 3m square hole in the wall.
"Really amazing."
"That's because this is different from the escort ships; there's magic on even the walls and floors."
The lock and even the other constructs were destroyed as well.
The crumbled entrance revealed an inside similar in appearance to the outside of the 'Queen of the Adriatic Sea', like an interior cruise pathway. But the space 3m inside was also cut, eradicated cleanly. Seemed like the hit just now hadn't just been limited to a square, but a cube. There's even only half of an Angel-figure wall light.
"This is a block structure."
Index explained clearly,
"This removes the bare minimum required to minimise the damage. So even if it's Touma's right hand, it can't destroy everything in one go."
On an escort ship, even if he touched the ship, this wouldn't happen. Kamijou thought that with this, their explanation of the flagship continually changing shapes and using this to control the ships should be correct.
But he had no time to ask his question.
"BAM!!"
The ice blocks rose up from below the deck, surrounding the group from left, right, and behind. The ice blocks immediately adjusted themselves, removing the unnecessary parts, transforming into 3m tall western golems.
And it was not just one or two.
20 to 30 of these ice sculptures surrounded Kamijou's group instantly.
"Inside!"
Orsola shouted,
"They should be here to protect the ship, this should prevent them from destroying the inside!!"
Before Orsola could finish speaking, Index had already grabbed onto Kamijou's hand as she ran off. Kamijou originally intended to use his right hand, and because of this unexpected situation, lost his balance as he ran off.
The numerous western golems started to move their swords and axes, which were made of the same material.
With the sound of a WHOOSH!, the air was cut.
BOOM!! With a terrifying sound, numerous slashes collided with each other. The strikes grazed Index's swaying hair, nearly pierced Kamijou's face, and missed the top of Orsola's head, who was ducking down as she ran. Kamijou was so terrified that his breathing nearly stopped, but his feet wouldn't stop because of this.
Before the next wave of attacks, the trio rolled into the damaged hole and into the ship.
The interior design was exquisite as the outside — seemed like they had spent a lot of effort to make them. Angel statues lay left and right, and the lights on the walls continued to change their shape slowly. Forget about a handle, one could even feel the painstaking effort that the artisan and the artist had put into even a small screw. However, there wasn't really any need for a screw on an ice ship.
"This…"
Orsola, who was sitting on the floor, barely managed to open her mouth before the large number of golems rushed inside.
"DAMN IT!!"
Kamijou got up from the floor and pulled Orsola and Index, who was lifelessly lying on the floor, by their hands. It was more like swinging them inside though, instead of pulling.
Blunt sounds could be heard.
The numerous golems entered the entrance and were stuck there. These golems couldn't move, so spikes appeared on their chest and abdomen, breaking those ice sculptures. The new golems stepped on the ice sculptures and into the passageway. Like a storm blowing, the huge golems reached where Kamijou's group was.
"THEY'RE…CHASING US…!?"
Index shouted, and Kamijou could already guess the priority of the ice golems.
(…Looks like they want to destroy my right hand, huh?)
The entrance and wall were only destroyed once, at the same time. Even if they didn't know the reason, the enemy should be able to guess the threat that the Imagine Breaker brought.
(If that's the case…!)
Just as Kamijou reached the intersection of the paths, he clenched his right hand.
"INDEX, ORSOLA! MOVE AHEAD FIRST!!"
He pushed the two girls into the side path, and ran to the furthermost place.
"TOUMA!!"
Before Index could take the next action, the numerous golems chased after Kamijou, and some of them chased after Orsola's group.
"WOOOOHHH!!"
As Kamijou pretended to use his right fist to destroy the wall, the golems immediately turned to the boy. All the ice security guards raised their weapons and chased after Kamijou.
Part 3
"Sister Angelene, are you alright?"
Lucia said as she gathered the broken pieces of the exploded wooden wheel to her hand and headed off in the opposite direction.
"…Mn."
Angelene leaned on the ice pillar. As her bags had torn, she used her nun's cap and stuffed it with coins, wanting to fight on.
Normally, she would be unable to fight. Even on a real battlefield, she should retreat to the back. Even though Lucia got the escape ship spell from the leader of the Amakusa, the nuns wouldn't allow them to use it. Lucia was unable to carry the injured Angelene in order to get away from them.
Lucia placed the large wheel in front of her to scare the enemy.
Seeing her do this, the enemy's barricade backed away slightly. There were about 30 nuns, and considering that they were facing just one enemy, this may have been the most intense battle area. To attack the weaker side, and then slowly defeat everyone else one by one was their strategy. Lucia and Angelene were both clear about this.
(How do we get away from them?…)
As this group of nuns knew about Lucia's attack power, they didn't dare to approach her so easily. However, because this group of nuns knew how she attacked, Lucia couldn't bluff them into retreating.
"All personnel on ships 12, 17, and 19 are to retreat immediately. If you can make it, jump! Like the previous ships, we'll rebuild it after sinking it!!"
It was the audio broadcast that they were so used to.
At the same time,
"What a hassle! You shouldn't fight alongside the injured!!"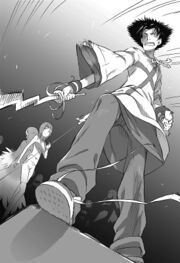 There was a wooden bridge linking here to the neighbouring ship. The Amakusa members, with Tatemiya leading them, got onto the ship. The situation changed drastically. The circle surrounding Lucia's group was gradually breaking. The girl named Itsuwa was fighting alongside Lucia, using a Friulian spear like that the Navy uses.
If they wanted to change the situation, now was the time.
"Sister Angelene!"
"Ah…yes!"
Angelene shakily left the pillar. Lucia stood in front of her and exploded the wheel at the nuns, cutting a way out.
Part 4
Kamijou Touma was definitely not some whiz kid.
Because he was more or less used to fighting in the night, he roughly knew his ability. He definitely knew that he could win if it was a one on one fight; it would be dangerous if it was one on two, and he should run away without hesitation if it was one on three. This wasn't because he was exceptionally weak, but rather, in a fight without rules, numbers were more important than skills.
If he fought seriously, it would take about 5 seconds for him to be defeated.
But.
That was just for a human vs human fight.
"WOOOOHHH—!?"
Kamijou's fist ripped the air.
If the enemy was a human, both sides would probably fight until one lost consciousness. But if it was an enemy that would disappear on being touched, Kamijou still had a chance.
The numerous golems continued to squeeze into the narrow path. Kamijou's right hand was almost swinging about and hitting the incoming enemies. He didn't care how strong the fist was — no matter how light it was, as long as it could touch the enemies, it was good.
The golems moved like their gears were dropping.
Before Kamijou could confirm it, the golems from behind were using their spears and hammers to smash the ice that had become an obstacle in order to move forward.
"WHAT!!"
Kamijou frantically moved back. Even if the golems stopped moving, the ice remained there. If he was to stay there and fight, he would be buried alive under the ice.
But,
"A DEAD END!?"
Kamijou, who continued to back away, finally realised that his back was against the wall while confirming his rear path.
He turned to look back.
The golems looked like humans packed together as they continued to fill the entire corridor and close in.
This was unpreventable.
Though he could defend a hit, the pursuers would not let up.
"WOOOHHH!!"
Kamijou suddenly jumped sideways. The aisle was extremely narrow, and there was only a wall formed by ice.
He extended his right hand out.
There was a pit in the wall.
Like Index and Orsola had guessed, the walls of the flagship were different from the escort ships.
Kamijou leapt inside, and at the same time, the numerous golems crashed into the dead end. With their huge momentum, the golems that crashed into the wall broke into pieces that scattered all over the place.
The little bits of ice danced about like smoke.
However, Kamijou had no time to confirm that.
He looked around the room and tried to grasp the landscape, only to stop midway.
This place was like the second level seats of a theater. In contrast to the glowing translucent seats that extended several metres, the depth was only about several centimeters. Near the carefully crafted pillar, one could see the bottom. It looked like a grand ornate Opera house, but far below, there was not a stage or an auditorium, but a fan-shaped array of many tables and chairs. It was like a Parliament meeting that one sees on television.
This obviously didn't fit a navy ship; these kinds of things weren't needed for a command relay system. Maybe the situation with the magic side was different, or maybe this was just a symbolic magic symbol, and they didn't use it as a meeting place. Either way, Kamijou couldn't tell which it was.
And he had no time to check it out.
With a loud bang, the ice golems rushed into the hole that Kamijou had opened.
"…!!"
If this kept up, he wouldn't be able to escape. After realising that his back was against a pillar, he clenched his fist before leaping towards the ice golems.
The ice golems swung their ice swords horizontally.
Kamijou discovered that a block of ice more than 3m tall was hacking towards his abdomen from the right.
"WOOOHHHH!!"
In order to counter, just as Kamijou was about to use his right hand to knock the broadsword away—
The ice golem's legs crumbled on their own.
From its thighs, the golem started to tilt backwards greatly.
The trajectory of the swinging broadsword changed.
The broadsword, which had been aimed at his abdomen, tilted as it swung up, aiming at Kamijou's neck.
As if it was about to avoid the right hand that was protecting the abdomen.
(Damn…!!)
The wind pressure caused by the broadsword caused cold sweat to emerge from Kamijou's face.
"WOOOHHHH!!"
Kamijou tried his best to dodge. Maybe his hair touched the broadsword, but it didn't get cut without any resistance. He felt a sharp pain from his hair being ripped off, and could even hear a terrifying cracking sound.
However, he still managed to dodge it.
Kamijou endured the pain as he maintained his ducking position, as if he wanted to stay down before swinging his right fist again. After that, before the ice golem could land backwards, he slammed a punch into the chest. The golem, which had stopped moving and had its legs broken, crumbled as it lands.
"…It's…over?"
Kamijou alertly assessed the situation and tried his best to adjust his breathing. Seemed like this was the last one, but considering the possibility of an ambush, he carefully moved toward the exit, but he didn't really need to.
Kamijou entered the hole that he had opened and ended up back in the aisle.
(Damn it, is Index's group alright? I feel that breaking the walls and floors will be a lot quicker if I want to meet up with them.)
On the other hand, this kind of destruction might reach the enemy. The ice golems appeared because of this feeling. According to Index and Orsola, this ship's regenerating ability was extremely slow, and because of the ship control and ritual facilities, they couldn't fire cannons or send the nuns over to stop them. But that was only the current situation. If the flagship was really about to sink, they would have to send people over no matter the risks.
Kamijou considered the situation.
(No matter what, the main thing is…if I can get near Agnese, the leader of the enemy will deal with me as the priority, and this would be a matter of time. There's no reason to hesitate about using my right hand!!)
He quickly made this resolution, and just as Kamijou was about to smash the wall with his right fist, an electronic noise could be heard from his pants pocket. It was his handphone ringing.
(…My handphone?)
Kamijou surveyed the surroundings, confirming that no one was around before taking his handphone out. He was somewhat astonished that he could use his handphone out at sea. How far away was this place from land?
As he looked at the screen, what surprised him even more was that the call was from Index.
He pressed the button and placed the phone near his ear. As he had to defend himself with his right hand, he could only use his left hand. Though the handphone had ordinary functions, his fingers felt unfamiliar with the phone.
After that.
"Ah, it's connected."
"…Is that Orsola? Why are you using Index's phone?"
"I thought the fastest way to contact you would be to use this. Where are you?"
"Even if you ask that, I don't know…"
He turned around to look, but there didn't seem to be anything that he could use as a landmark. It was more like there were some extravagant art pieces all around, and there was even the possibility that he was buried by them.
"I was fighting off 20–30 ice golems, now I'm not sure where exactly I'm at."
"…You can still say such scary words so casually. I'm…escaping with Index. There seems to be more of those ice guardians at the other places…"
"—"
Index and Orsola didn't have Kamijou's power, the Imagine Breaker. Also, they didn't excel in magic combat. If they were to take the ice golems head on, it would be tough for them.
"Orsola. I'm…at the road where I broke off from you. Which direction did you two go?"
"Direction?"
"Yeah. Just a rough one will do. Tell me."
"About that…I suppose, north."
"Got it."
Kamijou replied.
"I'll head over."
He held the phone with his left hand and swung his right hand about at the walls. With the sound of things breaking, a square-shaped hole appeared on the wall and the decorations inside. Kamijou passed through the wall that he destroyed, and continued to destroy the walls inside, ignoring the sight of paths or walls.
"Hold up, Index has something to say to you…"
"Gimme gimme! Touma, can you hear me?"
That familiar voice could be heard from the phone.
"Touma, I just heard from Orsola that the 'Queen of the Adriatic Sea' requires some other spell called the 'Appointed Time of the Rosary', is that true?"
"That's supposed to be it…wait, didn't I mention it during the strategic meeting?"
"Maybe I didn't hear it. Do you suspect my memory?"
Hearing the other party say this, Kamijou was speechless. This was the girl who managed to memorise 103,000 grimoires flawlessly, so she shouldn't be mistaken.
Kamijou again destroyed the ice walls as he got onto another path.
"This…I didn't ask. I heard that Lucia and Angelene weren't certain of it as well."
After saying this, Index's voice could be heard.
"I heard they said that to activate this 'Appointed Time of the Rosary' is to crush Agnese's mind."
At this moment, Index, who was on the other side of the phone, let out a frustrated voice.
It was rare for her to let out such a voice because of magic.
"…Touma, the activation of the 'Queen of the Adriatic Sea' doesn't need such an additional spell."
"What?"
Kamijou inadvertently stopped.
He cautiously looked around while still focusing on the phone call.
"The 'Queen of the Adriatic Sea' is an ancient level spell, and I explained before that it's originally a large-scale spell that can suppress an enemy and was created in case the seaside country Venezia decided to revolt."
"And after that?"
"Just think carefully. In other words, they can't spend some time just to activate it. To select a suitable person and preparations would take quite a lot of time. Would they be able to defend against Venezia's attacks if they waited like this?"
Kamijou couldn't help but let out a surprised 'Ah'.
Now that she mentioned it, it really seemed so. He had been tricked by the size of the fleet, and basically, this was a counterspell. It would be useless if it couldn't react to the enemy's attacks, unable fire immediately.
"The 'Queen of the Adriatic Sea' can already fire on its own. If so, does that 'Appointed Time of the Rosary' really exist? At least according to the 103,000 grimoires, not one mentions the need for it. Basically, I can't think of any reason why the Roman Catholics would attack Venezia now."
Index paused for a while, then continued.
"From the time it was completed, the 'Queen of the Adriatic Sea' was said to be a large-scale spell that was too powerful. As it affected Venezia heavily while Venezia was the world's trading landmark, they could have caused a huge commotion within. But in the beginning, when it was needed the most, it's really hard to think of who would do such a thing."
"But Lucia and Angelene didn't look like they were lying."
That was right.
Right now, the Roman Catholics were planning to use Agnese as the crux of their plan. If the 'Queen of the Adriatic Sea' could be used anytime, the reason why they would be delaying was because the 'Appointed Time of the Rosary' wasn't ready.
The 'Appointed Time of the Rosary'.
Though Lucia and Angelene said that this was the key activating it, even they weren't too sure about the 'Queen of the Adriatic Sea'.
"What do you think they're trying to do by using that with the 'Queen of the Adriatic Sea', Index? Do you know what kind of spell the 'Appointed Time of the Rosary' is?"
"Mm…instead of saying that it's the official name of the spell, it's more like the name of a plan that's limited to the inner group of the Roman Catholics. It may be hard to understand with just that, but 'Appointed Time' and 'Rosary' are just basically timing."
Kamijou stepped on the small fragments of ice and used his right hand to destroy another wall.
"The Cross, you're talking about the Cross that nuns wear on their necks, right?"
"Actually, besides the Cross, the necklace is also important. There are 59 beads on the rope chain, and this is something of old Catholicism. People who travel to all kinds of Holy places would use these beads and count how many times they have prayed."
"…In other words, regarding this 'Appointed Time of the Rosary', isn't it like a countdown? Or something like that?"
It was unknown whether Kamijou's muttering reached Index and Orsola's ears.
The reason was,
BOOM!!
With a sharp sound, the ceiling collapsed.
"Eh!?"
Kamijou instantly backed off.
But just this alone was unable to let him escape from the falling ice. The area around the centre of impact was also affected, and the surrounding ceiling became a huge weapon that was like an inverted pyramid.
"DAMN IT!!"
Kamijou moved his right hand up from the side of his abdomen.
Seeing the ceiling that was carved out in a square shape and about to crush him, Kamijou tilted his body slightly to avoid it. The ceiling slammed hard onto the floor, the impact affecting his ears and the tiny fragments hit his back. The force was a bit unexpected, and the handphone in Kamijou's left hand let out a weird sound.
Right now, he didn't have time to even press a button.
Kamijou violently folded the phone back into his pocket and took 2–3 steps back.
The tiny frost-like pieces of ice replaced the smoke as they swayed about in front of his eyes.
At the centre, there was a man standing there. He just swung a sledgehammer down at where Kamijou was standing.
It was a forty-plus year-old Caucasian man who was wearing a luxurious Holy robe.
Though his clothes were luxurious, they didn't have the cleanliness that Index's clothes had. All the clothing gave off an upstart presence. The four necklaces on his neck were overlapping each other like age rings, and there were ten Crosses on each of them. The Crosses were shining really brightly and were likely made of highly polished gold or silver. The shine of these Crosses was really persistent, like thick fat that seeps into meat.
Like a psychotic move, the man stroked a Cross that was hanging on his neck.
Though he was staring at Kamijou, his black pupils were moving about.
"…That right hand."
Unexpectedly, he spoke in Japanese.
"Ha, are you envious?"
Hearing Kamijou's reckless response, the man frowned. He silently showed some slight disgust and anxiousness.
"You're not convinced? If rejecting God's grace is your nature, then using that as a weapon is even more of a sin. If you have heard of God's teachings, you should immediately cut off that hand and immediately beg for God's grace."
Such chilling words.
What was scary wasn't the content of the words, but the concentrated amount of emotion, that was like crushed yellow fat, in those words.
"Besides, Pagan monkeys can't understand human words. I specially spoke in your language, and yet this is the answer I get? Then let me, Biagio Busoni, open your eyes, you enemy of God. I really can't stand monkeys acting like humans."
"You're Biagio? Then, you should know where Agnese is, right?"
"I know, but that doesn't mean I'll tell you."
The man called Biagio folded his arms.
A little metal sound could be heard.
Each of his hands was holding a Cross that had been hanging on his neck.
He tossed the Cross in front of Kamijou's abdomen.
"The Cross reveals the rejection to evil."
BOOM!! The two Crosses expanded.
The rate they were expanding was like a cannon firing. They instantly became 3m long and 40cm thick as they attacked. It was like a storm of metal muscles attacking.
"WOOHH!!"
Kamijou used his right fist to knock aside the Crosses that had become a wall, but he only managed to destroy one side. Meanwhile, the sharp end of the other Cross on the other side, that was like granite, sent him flying back.
The blunt sound caused by this intense impact could be heard.
Kamijou was knocked to the ground, and rolled back about 2–3m. Just as he was about to use his hand to lift himself off the floor, the ice wall reacted to Kamijou's right hand. With a cracking sound, the floor was carved up in a square shape, and Kamijou fell onto the path on the floor below.
As he was inside a ship that was made completely of ice, there was nothing to cushion the impact. Kamijou gritted his teeth as he endured the pain, carefully using his left hand to support himself.
From the large hole above his head, Biagio's voice could be heard.
"When St. Margaret was swallowed by the evil dragon, she expanded the Cross to stab the evil dragon's stomach from the inside. The Cross that the Church erects can also be used to eliminate enemies and create a safety zone—just like this."
From the hole in the ceiling, 2–3 Crosses were tossed down like grenades.
The Crosses immediately expanded in the air.
Instead of saying that these were Crosses, they were more like laser weapons flying all around. Kamijou immediately got onto the floor and rolled, as the Crosses that were like metallic muscles scraped past the tip of his nose, the four sides of the Crosses stabbed into the floor and walls. As the arrangement was really messy; it was hard to tell which direction the attack was coming from. Just like that the straight path was sealed off.
(Damn it…got to find an exit before my movements are sealed—!!)
Just as Kamijou was about to swing his right hand, another sound could be heard from above.
"On the other hand, the Cross has the ability to correct people's prideful nature, no matter the weight of it. The Virgin St. Lucia was pulled with ropes by 1,000 men and 2 bulls yet didn't move. And the young St. Christopher who was famous for his strange powers, yet fell under the weight of the 'Son of God'—that'll be like…this."
CRACK!! The ceiling split apart.
What were falling down from the broken ceiling were several Crosses that were only several centimetres long. However, they were as fast as a cannon shot…not only that, they were rather heavy, as if gravity had increased by several thousand times.
Kamijou used his body to slam into the giant Cross and extended his right hand out. Before confirming whether there were any obstacles breaking, he rolled to the front, and the huge weight of the Cross narrowly grazed past Kamijou's shoulder. Just like that, his joint felt painful, as if it nearly popped out, and the pain immediately spread around.
"…! GYAAAHHH!!"
Even so, he continued to use his right hand to destroy the walls, jumping from the aisle into a cabin. He intended to take action and try to avoid Biagio's aiming.
"Don't destroy it too much. It'll take quite some time to repair it."
The ceiling broke again, as numerous Crosses fell down from above Kamijou. The unexpectedly heavy Crosses turned into metal stakes as they destroyed the Cabin. Kamijou didn't really jump aside, but rather managed to avoid them by pressing his back against the wall.
Biagio leapt down the hole in the ceiling.
Small pieces of ice flew like frost when he stepped onto the cracked floor.
Kamijou kept his back onto the wall.
"Preaching about 'don't destroy', yet aren't you the one destroying it recklessly?"
"I know which parts need to be destroyed, and which shouldn't. Your method is too messy. Oh yeah, it's like letting an amateur without knowledge take care of some antiques. I know you're working hard, but you have to learn."
Biagio's proper and speckles expression was starting to show some signs of anxiety.
Index said before that this flagship controlled the other ships. Once the ice decorations continued to change shape, the escort ships would move with the signal given…if so, Kamijou's right hand had more or less done some damage to the controls of the ship.
"Humph. Looks like this broken ship repairs itself a lot slower than the other ships. Worked so hard to get into this main ship, yet this place is weaker than the other ships. So disappointing."
"The 'Queen of the Adriatic Sea's original defense is a good 200 times stronger than the other escort ships. But because the power was separated to the other ships, it affected the completion rate there."
"The 'there' you're talking about is?"
"The 'Appointed Time of the Rosary'. It's too soon already, stop acting dumb."
"…"
The 'Appointed Time of the Rosary' again.
Index said before that this additional spell was unrelated to the 'Queen of the Adriatic Sea' spell meant to suppress Venezia. Though Biagio's words may not be completely true, to continue to try and do such a disadvantageous thing, was there any important significance behind it?
"No matter what, as long as I beat you and save Agnese, it'll be all over. I'm not thinking too much, so let me settle this simply."
"Those words show that you're going against God's will; this is quite heretical."
Biagio pulled off 7 Crosses from his neck,
And tossed them into the air like he was saying farewell.
"—Then, my Cross will reject this evil."
Part 5
On the same ship, nobody could stay put for even one minute.
Tatemiya Saiji used the wooden bridge that he made to get off one sinking ice escort ship onto a neighbouring ship. Before his eyes, a newly formed ice ship emerged from the water, replacing the ship that was just destroyed.
"Ah! Damn it! Why is it endless!!?"
He used the side of his Flamberge to knock down 2–3 nuns from the Agnese Forces as he shouted out. He pulled out some bundles of paper from his pockets. After using the paper bundles, boards that looked like surfboards appeared out of nowhere. The number of boards matched the number of people, as they stuck onto the back of the nuns.
The ship was quickly sunk by the cannon fire. Even so, considering the number of people, it was impossible to carry all the unconscious nuns and move about. Thus, the Amakusa could only prepare such a 'floating ring' to prevent the unconscious nuns from drowning. If they created a huge wooden ship, it would end up being fired at.
(Though we would definitely save them, it's really unsettling to leave the sinking ships like that.)
Tatemiya lowered his jaw as he heard the audio broadcast echo throughout, saying that they were about to bomb this ship.
Seemed like most of the controls of the ship were automatic.
Thus, no matter how many people they beat, it was ineffective on the fleet itself. In terms of pure fighting power, the more than 200 nuns were terrifying, but the large number of cannons was even worse. If they couldn't settle this current problem, they wouldn't be able to change the situation.
The Amakusa could only endure it until the end.
(Cheh, if possible, I want to hurry up and destroy that flagship, even if it's a little bit.)
But Tatemiya didn't do so.
If the main forces of the Amakusa moved towards the flagship, the nuns would come after them as well. The battleground would change, and Kamijou's group would end up getting involved.
The base under the floor was the real base.
Tatemiya gently swung his wave-bladed longsword.
"Can't be helped. I can only take care of this side, and let the proceedings be smooth!!"
With this cry, he rushed towards a group of nuns gathered in a corner.
Part 6
"—Then, my Cross will reject this evil."
The seven Crosses suddenly expanded as if they were exploding.
The metal sparks that the Crosses made flew about freely in the air.
Kamijou used his right hand to forcefully press onto the wall behind him, and immediately, he fell through the square hole and onto the other side of the wall.
The thick and huge bone-like Crosses stabbed hard into the floor, walls, and ceiling. Kamijou continued to roll on the floor.
"To think that you'd come up with such a thing, damn it!! You guys don't have any right to do this to Venezia!!"
"A pity, you've guessed wrongly. That isn't my target."
From where the barrage was coming from, Biagio smiled.
"WHAT DID YOU SAY!?"
"Then, I'll say it to you for free. What's the point of me doing that? But never mind…at least it's a lot more interesting than what you thought."
"!!"
Kamijou gritted his teeth as he used the momentum caused by rolling to get up.
He clenched his right fist, retraced his escape path, and rushed at Biagio.
However, before that,
"All sorts of meanings exist for the Cross, and most of them were added after the 'Son of God' was executed. The Cross itself already existed before that, but all the purposes that existed before that time were wiped away by Christianity, because those were of evil pagan beliefs."
Biagio continued on.
He chose a favourite Cross of his from among the numerous Crosses in front of his chest, psychotically stroking them with his fingertips, and said,
"Among them, only one has the remaining meaning that exists from the ancient times. That's the most important thing to Christianity, and the most ancient use that has relation to the 'Son of God'. That's—"
Kamijou used his right hand to destroy the huge Crosses that were between him and Biagio. Just as he was about to leap at Biagio, the man in a luxurious Holy robe pulled the Cross down as if he was pulling his clothes up, and raised it above his head.
"—a tool of execution."
Biagio used a low, yet mocking sound that lacked seriousness to say,
"—Simon bears the Cross of the 'Son of God'."
CRACK.
Hearing this, Kamijou's vision suddenly changed drastically.
"…Ah?"
He was hit somewhere near his right shoulder, and a sense of pain struck. After shaking his head, he found that his vision was tilted upside-down, as if his body was hung upside-down by the tail. After his face touched the floor, Kamijou realised that…he was upside down. It took him several seconds for him to realise this phenomenon.
(What just…)
He had been attacked?
But he didn't understand what just happened.
In the past, he knew that 'he was attacked', so he could defend and avoid. But this time, it was different. He couldn't even tell when he was going to be attacked.
A sure kill.
In Kamijou's confused mind, this phrase lodged tightly into him.
Even if he wanted to get up, he didn't have any strength in his hands. Even if he lay down and tried to get up, he would be crushed in an instant.
His mind started to go blank.
At this moment, a little metal sound could be heard, turning Kamijou's consciousness outside.
It was the numerous Crosses colliding in mid-air that was letting out this sound.
"—The Cross reveals the rejection to evil."
With a low sound, the sounds of flesh being hammered and the ice floor being destroyed continued to echo throughout.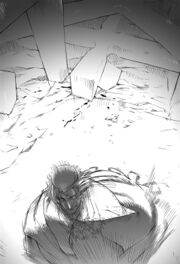 Part 7
Index and Orsola were running about in an aisle of the flagship 'Queen of the Adriatic Sea'.
From the outside, the flagship looked more than 2 times larger than the other escort ships, yet the width of the pathways didn't seem different…but that wasn't the case. There were ordinary statues of Angels on both sides of the path, and even a door was intricately carved in the form of a fairy tale scene. The huge number of art pieces suppressed the originally wide aisle.
Not even a deluxe palace and majestic palace were enough to describe this scene. Only an exaggerated comparison like a palace made of gold or a diamond pyramid would be suitable in describing it. In reality, this scene made one feel really uncomfortable.
Orsola held onto the silver Angel Staff with both hands as she ran down the path, looking around as she said to Index,
"…This place is so quiet it's frightening me."
"That's because their work was already assigned."
Index softly replied,
"Nobody expected the enemy to get inside the flagship in the first place. Before that—the enemy had removed all the enemies, thus the enemy ship has to specialise for the escort fleet to work smoothly…or something like that."
"If that's the case…"
Orsola continued to make sounds of footsteps while she continued to run.
"The other nuns aren't here because even though they're of the same kind; they're not allowed to step onto the 'Queen of the Adriatic Sea'. This is to prevent the nuns from defecting."
After running for a while, they reached the entrance to a staircase.
The staircase led both up and down, yet Index ran downstairs without any hesitation. Orsola seemed rather panicky as she followed her.
"Wait, do you know where Agnese is?"
"Of course!"
Index immediately replied,
"I roughly know the functions of this 'Queen of the Adriatic Sea' ship. Though I don't know what kind of thing the 'Appointed Time of the Rosary' is, the place most suitable for the spell in the 'Queen of the Adriatic Sea' is fixed. Thus there's only that place!!"
The stairs were extremely long, as if they were surrounding a large tower.
After running down the stairs for a long while, both of them finally reached the bottom of the stairs.
"This is…"
Orsola lowered her voice.
The place was like a hall. In this overly spacious place, ahead of them were double doors that were twice the size of Orsola. It was unknown how thick the doors were, maybe even thicker than Orsola's body.
The entrance to the hall didn't just link to the staircase Index's group came from. There were numerous staircases linking here, as if all of them were linked here.
What an intriguing design.
Someone completely ignored the basics in shipbuilding. Assuming that to even barely get past this design, one had to swim around all the pillars and beams, if they really had to do this—
"Instead of saying that they prepared a room in the ship…"
"It's more like they decorated the surroundings of this room in the shape of a ship."
Index got near the main door.
She placed her face near the door, and wanted to touch it, only to stop midway.
"The door here…has a defensive spell placed on it. Most likely, it's based on the legend of St. Blaise. When the pagan army chased after the Saint who crossed the lake, they weren't able to walk on water, and sank into the water."
"This means…you're saying that those without entry permit will be dragged into the water once they touch the door?"
Even on the flagship, Index and Orsola hadn't met anyone.
Looking at the entire situation, the only ones who could open this door were Agnese and Biagio.
Index glanced at Orsola.
"Hm, if it's a direct method."
"That should be the case."
Index was the keeper of 103,000 grimoires, while Orsola was a grimoires and spells analyst. Facing this difficult scenario, both of them first thought of the same thing.
Index brought her nose close to the door and reinvestigated it. She was analyzing the components of the thick ice wall. Orsola continued to stand aside, holding the Angel Staff, wary that Index may be taken down by the defensive mechanism.
But,
On the floor around them, there were ice pillars that were larger than humans. There weren't just one or two, but 10–20 of them. The ice pillars started to form shapes as if an invisible blade was carving them out.
"This…"
"They're here to replace those nuns!?"
Besides the ice golems, there were two carriages with cannons on them. The golems and even the cannons were slowly aiming at them.
"!"
Orsola immediately raised the Angel Staff in front of her.
Though she was not used to combat, Index didn't have a weapon with her, and couldn't use magic. Thus, Orsola felt that she had to fight against the golems.
"Aim at the centre!!"
Index shouted before leaping sideways.
The golems and cannons turned towards her. It was more like they were forcefully pulled by magnetism rather than it being a defensive mechanism.
Index jumped into a lane, and said,
"Go and save Agnese! I'll divert their attention here!! Don't worry, these guards can sense a person's will, so I can use my 'Spell Intercept' on them!!"
According to Index's hypothesis, these ice guards were made from the 'keeper' of the 'Queen's Fleet'. Thus, they couldn't let their guard down completely. Approximately after every few minutes, the keeper would prepare a 'battle report' and 'point of intervention' to see whether there was a need to correct it.
Just like Sherry Cromwell and the stone golem that she controlled, Ellis.
If it was not completely automatic, she could intervene.
No matter how advanced the magic was, the one operating it was still human.
"But!!"
Before Orsola could rebut, a strong wind blew.
All the guards passed by Orsola and rushed after Index, who had disappeared in the lane. Like a gravel truck rapidly moving past, the air was compressed to form wind.
With a *BOOM!!* sound, Orsola instinctively closed her eyes.
When she opened her eyes again, she couldn't see Index, the golems, or the cannons.
"INDEX!!"
Orsola, who was holding onto the Angel Staff with one hand, shouted.
But no matter how much time passed, there was no reply.
Part 8
Agnese Sanctis was leaning on the ice ball, listening to the sounds outside.
"…"
The sound of cannons being fired, the sound of blades colliding with each other, the sound of ships being blown up, the sound of angry cries of humans—and the sound of people fighting outside the room just now.
All these were because of her.
To take away Agnese, to protect Agnese: the fight continued for these reasons.
What's with this? she thought.
It felt like everyone was worried for her. This shouldn't be the case at all, yet they caused a misunderstanding in her.
She thought that this was the highest point.
Even if she left here, she could only go down.
However,
Could she still continue to rely on others?
Could she still continue to have this hope?
(…)
Agnese Sanctis continued to let her mind wander.
After that,
She shook her head left and right.
There was a cracking sound.
The double-sided doors that were sealed perfectly and unnaturally started to make an opening sound. Agnese turned to look at the doors. It was not the boy she met on the escort ship, but it was not like she hadn't seen this person on the 'Queen's Fleet'.
"Orsola…Aquinas?"
The nun in black habit was supposed to be chased out of the Roman Catholic Church, yet she was still wearing that nun's habit. For some reason, she was holding Agnese's staff with both hands. It was not hard to remove the defensive spell on the doors, but maybe because Orsola had focused too much in her casting, her breathing was somewhat hot and erratic.
Even so, she didn't look tired.
Seeing the face of Agnese, who was leaning on the ice ball, Orsola gave a radiant smile.
"You…"
Orsola said.
To Agnese's ears, these sounded like words of a saintess.
"It's great that you're alright…"
For her to say such words, was it because she knew of the circumstances surrounding Agnese? She knew as much as Agnese did? Maybe even more. Because of this, seeing Agnese's unscathed face, Orsola could make this expression.
She definitely did that.
And because she did that.
"…Wh…Why?"
Agnese asked in a dazed tone.
"You should know what the situation is like right now, right? Don't you really want to leave the 'Queen's Fleet'? You said that you don't want to stay in this dangerous place. You know that there are so many unreasonable facilities, so you promised to leave. But why did you come back with this expression?"
"You really flatter me."
Orsola laughed bitterly,
"I can't just see everything based on first glance. Even the layout of the 'Queen of the Adriatic Sea', I needed Index to teach me this in order to understand it. I'm not so sure about the 'Appointed Time of the Rosary."
Orsola held onto the silver staff tightly with both hands, and said,
"…And even if I do, nobody will teach me how to escape from here. We can't just help everyone and leave you behind when you're not telling anyone of your pain."
"So…"
Agnese softly replied.
She felt that the Orsola who was in front of her was a lot different from what she had thought her to be.
"That's why I say that you're strange. I actually wanted to help Lucia and Angelene using myself as bait, but that's it. As long as the results are perfect, the steps taken don't matter. Aren't you satisfied?"
Every time she said a word, Agnese felt that she was really even more pitiful.
Even so, she continued on,
"Do you still remember what I did during 'The Book of the Law' affair? The one who forced you to Japan, arrested you and abused you WAS ME! One would not even care about that sort of person! To be bullied to this extent, HOW CAN YOU NOT HATE ME!?"
"Do I really have to say the answer to that question?"
Orsola silently said,
"Because you knew about all these, you would hide it from us and divert the attention to Lucia and Angelene, right? You knew that if we knew about this, we'd stop you. If you still want a clear answer, I'll deliver it to you myself."
She stared at Agnese's face,
"In actual conclusion, I don't know the answer. I'm still undergoing nun training. I have no confidence about myself, always thinking that I know what's right and what's wrong, or have wisdom and conscience to decide this for others, and for myself."
She continued,
"At least, Lucia and Angelene decided that they have a duty to save you."
"…"
Agnese turned silent.
"Even when Lucia escaped to a safe place, she said that she wanted to save you, and came back. Angelene said that she was afraid of hurting her comrades, so she was hesitant in making her weapons…I don't think there's a false sense in their words. In that situation, the ones who were even more perfect than anyone were them — I can't match them."
Word by word, these slow words had no coercive force in them.
Even so, Agnese stopped breathing.
"Are you unsatisfied with Lucia and Angelene's words?"
Orsola said to the petite nun,
"Even when they only saw despair and were chased by many, they still wanted to smile and laugh with everyone. Don't you think these words are enough?"
"—"
Agnese slightly glanced at Orsola's eyes.
Her lips were trembling, as if they were trying to say something.
"That's impossible. Are you so naïve to think that the Roman Catholics will sit by and do nothing?"
A man's voice suddenly interrupted,
"That would be an inconvenience for me, Sister Agnese; you can't escape your responsibility. It's true that the Roman Catholics have 2 billion people. Even if you die here, the plan will still go on. We'll just find another suitable person. But do you know how hard it is to find a suitable person among these 2 billion people? Troublesome, isn't it? I really hate troublesome things the most."
These light words destroyed all goodwill.
Orsola turned to look behind her, where the voice came from.
The forty-plus year-old man was wearing a luxurious Holy robe. There were 4 necklaces on his neck, each full of Crosses hanging on it. His face revealed a distorted asymmetrical smile.
Biagio Busoni.
Also, his hand was dipped in blood.
That likely wasn't his blood. There didn't seem to be any visible wound, and there was no look of pain on his face.
"…What's with that blood?"
"So cold, you don't have to worry about me. I'll answer your question because I hate troublesome things. So, in other words, I settled it."
"…"
Orsola tightened her grip on the Angel Staff.
Even Agnese, who was standing nearby and watching all of this, was clear that Orsola wasn't familiar with fighting at all. She was the type of nun that would fight on the table and was of a completely different breed from Biagio and Agnese. Before talking about strengths and weaknesses, the basic premise wasn't the same at all. It was like someone in desert get-up trying to cross Antarctica.
Biagio probably saw through it right at the start. He continued to have an expression of leisure.
Not even a defensive stance.
"If possible, I'd like to avoid fighting here; there are a lot of delicate things here. Why do you think I prepared all the defenses around the 'Queen's Fleet'? It's because that it would be troublesome if things were going to be destroyed here."
"…To use a large-scale spell on Venezia. Are you trying to let an outdated antique regain its glory?"
"Humph, this seems to be a common misunderstanding. However, that is wrong. We're not going to use this on the marine country, but something bigger."
"You're still so carefree."
Orsola said.
Agnese thought that this wasn't good. Biagio's common tactic was to have a conversation with the enemy without the enemy realising that he was estimating the distance between the enemy and himself.
"Yes. It's alright even if I say it to you. This is still within my ability, after all. Also, since this is a ritual that one must do for a person who's about to die, of course this is acceptable. Oh yes, I said the same thing to the boy just now. No, it's more of an explanation. It'll be even more troublesome if you continue to resist, but this is still acceptable, so I hope that you'll allow this level of stubbornness of mine."
"—"
Orsola instinctively took a step forward.
In contrast, Biagio didn't do anything.
It was like there was no need to notice the enemy's movements.
"Where was I? Oh yes, the 'Queen of the Adriatic Sea'. I suppose you know that that was originally a spell intended to be used against Venezia. Though it could destroy Venezia in one shot, there wasn't any use other than that. The reason is simple: if it landed in the hands of the enemy, it would be bad if it was used back on us."
Biagio stroked a Cross on his neck.
"The 'Queen of the Adriatic Sea' was completed in the 9th century…when the remains of one of the twelve Apostles, St. Mark was brought into Venezia. At that time, Venezia wanted to create a religious environment like how the Vatican protected St. Peter's remains. Wary of this, the Roman Catholics created such a spell."
Hearing him say this, Orsola suddenly frowned.
She knew this wasn't the time to ask this, but she still asked,
"Are you lying? Venezia's development began in the 9th century. If the 'Queen of the Adriatic Sea' was already capable at that time…"
"That's right. After that, Venezia, at its prime, conquered Padova, Vicenza, Metz, Chioggia, all these surrounding countries. You should know about this history, right?"
"…Are you trying to bait my thoughts with this level of knowledge?"
"There were actually many reasons, and it's said that one of the reasons was the 'Queen of the Adriatic Sea'. At that time, the Venetian government was unable to determine where this large scale super weapon was, and thus could only destroy those suspicious places. It's not unexpected for the Roman Catholics to plan on using the 'Queen of the Adriatic Sea' after what Venezia did… in the end, they were afraid and didn't use it. Though Venezia's power was great, if they lost this land, it was hard to predict the impact it would have caused economically."
"…"
"However, Venezia spent a lot of money to finance these invasions and finally ended up in financial distress. The country crumbled, and thus, you can't ignore its strength. Of course, this wasn't just because of the 'Queen of the Adriatic Sea'…just looking at the results, I suppose our aim was achieved."
"Even when you didn't use it, you could destroy a country by just using the fear of a large-scale super weapon…but,"
Hearing Orsola say this so softly, Biagio grinned.
"Yes, that is it. The 'Queen of the Adriatic Sea' can only be used on Venezia. No matter how attractive it is, there's no point if we don't remove the targeting limit. Right now, Venezia is a clean tourist destination, and the Roman Catholics now have no reason to separate themselves from Venezia."
Then why is it? Just as Orsola was about to ask this, she stopped.
There was a little possibility in Biagio's words.
"That's right, you discovered it."
Biagio Busoni concluded,
"The aim of the 'Appointed Time of the Rosary' is to remove the targeting limit of the 'Queen of the Adriatic Sea'."
Orsola stopped breathing.
Agnese's eyes widened. Maybe she hadn't heard of this.
The Bishop continued on without caring about this, a smile appearing on his face.
"That was so long. No, actually, the one who set up the 'Appointed Time of the Rosary' wasn't me, but them. Really, it must have been really long, huh? We have such a great weapon in the 'Queen of the Adriatic Sea', yet to use it more, we had to spend quite some effort! That was the reason why this was left alone for so many hundred years!!"
"No way…"
Orsola inadvertently let out a sound.
"Then, you want to use the 'Queen of the Adriatic Sea' to destroy any city that's an eyesore? To use a large-scale spell so that you can brag that you can destroy the marine country called Venezia that was also famous for its strong magic!!?"
"You're misunderstanding. We're not talking about cities, we're talking about the world."
Biagio said delightedly.
As if it was like the fairy tale of 'The King's ears are donkey ears'.
"Hoho, the 'Queen of the Adriatic Sea' doesn't just destroy cities, but also everything related to the city. Like, if Venezia is destroyed, whether it's all the art pieces or sculptures, all of them will be destroyed! This Venetian Sect knowledge will disappear. Hm? Something like this, what if it's used on the city that controls the enemy world?"
The enemy world.
The city controlling it.
From these words, Orsola at least got what Biagio's trying to say.
"Don't tell me…Academy City!?"
"That's right, Sister Orsola. The 'Queen of the Adriatic Sea' can destroy all the influence that a city brings. All the science and technology is affected by Academy City, even the trivial stuff!! If we can destroy all those, which would include half of the world, the detestable force called the Science side WOULD ALL BE PURGED WITHIN A SINGLE NIGHT!!!"
Such chilling words.
Biagio's words indicated a tone that he believed only those he sees exist. The people that didn't exist in his life were just background silhouettes. The destruction of the Science side wasn't as easy as cutting the world in half, but rather, people would die. "Do you really think that everyone will be happy if Academy City is destroyed?"
"I don't think so. There are also parasites among the Magic side. The English Anglicans, the Russian Orthodox, Islam which took away the Cross, Buddhism and Norse Mythology. We just need to continue on and destroy all the obstacles! ONE DAY, ALL THE IMPURE THINGS WILL BE REMOVED, AND ONLY THE ROMAN CATHOLICS WILL BE LEFT!!"
"You…!!"
The 'Queen of the Adriatic Sea', which was meant to prevent Venezia from revolting, didn't need a second shot. But from Biagio's words, this may have been overcome.
(Maybe Lucia and the other nuns were forced to do those weird things…those were preparations to remove the limitations…)
Orsola thought, but didn't utter a word.
On the other hand, Biagio seemed irritated with her trembling as he continued.
It seemed like he lost all his enthusiasm as his speech was a lot slower.
"It isn't thorough enough. Since when has religion become a cheap tool? Sodom and Gomorrah were definitely burned, yet science pointed out that a religious trial is an error. This is the real misunderstanding. Why must God endure this for humans? If there are people who are bad to God, there's nothing wrong with erasing them. This is nothing different from burning weeds, even if people are burnt in the process, it can't be helped."
To use a spell of such a scale with such thinking, how much damage would be caused? Just to burn an enemy, it may end up with the entire city getting burned. This would end up as the greatest tragedy in Christian history.
Biagio glared at Orsola.
Seeing the trembling nun, the Bishop was drunk with delight as he let out a trembling and excited voice,
"This is the Roman Catholics' wish, so we'll be really troubled if you trouble us here. Besides, I'm not going to let you take Agnese away from here."
"I should be the one saying that!"
Orsola said as she waved the Angel Staff.
Biagio sighed in an uninterested manner,
"I told you not to trouble us."
The moment he said this, the winner was decided.
Orsola started to chant spells in order to activate the Angel Staff, but it was too late. It could be said that she was too careful. In battle, one only needs to convey the meaning, but Orsola focused as she started to create a spell, as if she's trying to carve a face out. She wouldn't be able to make it.
In contrast, Biagio just stroked the Cross on his neck.
"—The Cross reveals the rejection to evil."
As he muttered this, he easily pulled 30 Crosses and tossed them at Orsola's feet. Orsola got wary as she tried to knock away those Crosses with the staff.
BOOM!!
Before she could do anything, the little decorations expanded as if they were exploding. That was a real explosion: the speed at which they expand was like a storm expressed by metal. As if a metal rod broke past a door, one of the Crosses was able to knock the Angel Staff from Orsola's hand.
Agnese, who was behind Orsola, gasped.
Another 20 Crosses attacked an unarmed Orsola.
The second volley expanded above her shoulders, hitting downwards as if the Crosses were about to dislocate her joints. Just as she was recoiling from the impact, the third volley exploded above her as she bent down. The loud sounds of a mauling echoed throughout the room, as Orsola's legs turned limp and collapsed hard onto the ice floor.
Even so, she unsteadily tried to get up.
"Hoho! Stop it, Sister Orsola!!"
Biagio didn't even move a step.
Maybe because this plan that had taken quite a while was about to be completed, he was smiling.
He pulled another Cross from his four necklaces and tossed it. The Cross arced greatly over Orsola's head as if it was a bouquet of flowers thrown into a crowd by a bride.
"—The weight of the Cross corrects the haughty."
In an instant, the Crosses in the air let out a vibrating sound.
The Crosses that were instantly affected by numerous of thousands times of gravity flew near Orsola's rear. The ice floor exploded on impact and the floor was flipped up. Orsola was in a crouching position as she felt the impact, and rolled sideways.
Even so.
Even though she had lost her weapon, she felt the hits all over her body. Orsola tried to move her fingers slightly.
Just to resist.
"Humph, I said before that you should stop. I didn't become a Bishop by skin-deep impressions. I can release all the multiple meanings of the Cross and use all kinds of power. If you want to kill me, be prepared to explode a Cathedral! The English Anglicans have the 'Walking Church'. Even without that, I alone can match against a sanctuary!!"
After that, Biagio looked away from Orsola.
He said to Agnese, who was standing behind him,
"It's a bit early, but let's start, Sister Agnese."
"Eh…?"
Hearing these words, Agnese looked surprised as she stared at Biagio.
The Bishop didn't look disgusted.
"The Amakusa on the deck, and Sister Orsola who's over there; though they're really unsightly, they won't really affect the 'Appointed Time of the Rosary' that is meant to remove the limitations of the 'Queen of the Adriatic Sea'. Hoho…I've awaited this for a long time. Are you people trying to suffocate me to death? PREPARE TO LEAVE YOUR NAME IN HISTORY, SISTER AGNESE!!"
With Biagio's words, the ice ball that Agnese was leaning on started to change.
"It's beginning to adjust. You just need to let your magic synchronise with the 'Appointed Time of the Rosary' and the 'Queen of the Adriatic Sea'. HURRY UP AND SETTLE THIS AND REPORT THIS TO THE VATICAN!!"
A large hole appeared on the ball as if a pupil in an eye expanded.
It was like it was trying to tell her to hurry up and go in.
"…! HOW CAN I…LET YOU DO THAT!!"
"You still want to resist with that body of yours? Or do you wish for me to continue to rob your freedom?"
Biagio didn't even look at Orsola's face.
He used his fingers to stroke the Crosses on his neck, and said,
"It's about to start. Be happy, Sister Agnese. You'll go down in history as the one who buried the most enemies in Christian history. This is your long time wish, right when you first used that Angel Staff!"
"…"
On hearing Biagio's words, Agnese nodded her head in a dazed manner.
Looking down, she could see the Angel Staff rolling on the floor.
His words couldn't be wrong.
In fact, before 'The Book of the Law' affair, this was also the reason why she had wanted to kill Orsola. To bury the enemies of the Roman Catholics, it was for that reason. If that boy hadn't shown up and stopped her, Agnese would have definitely killed Orsola and been delighted.
Removing her own enemies was what Agnese had always wanted.
But,
"You…the 'enemies' that you mentioned include Agnese…!"
Orsola, who had been nearly killed by Agnese once, moved her body and actually tried to protect Agnese.
Even when her body was covered with wounds and she couldn't move properly.
She still dragged her body that was unable to stand up.
On seeing Orsola like this, Agnese froze.
Hearing Orsola's words, Biagio snarled,
"Right now, you're no longer a part of the Roman Catholics, but of the English Anglicans, that's why you're so anxious. If you were a Roman Catholic, you wouldn't be so afraid even if you're facing the 'Queen of the Adriatic Sea'."
"You can say this because you based your actions on suspicion. This is a characteristic of us Roman Catholics. Because we can only weigh between benefits and damages, we can't understand why people would act based on their beliefs. No, even if they can understand, they won't believe it."
Agnese heard those same words.
She knew that the Sister named Orsola Aquinas hadn't changed since that time.
"I said that I can't accept it. Agnese is about to be sacrificed for this useless thing! Why would you not believe this! I can't stand the fact that a lot of people are going to be killed!!"
"…Is that so."
The smile on Biagio's face silently vanished.
He played with some of the Crosses on his neck, and after that, used his finger to flick one of them.
"I changed my mind. Even if it's a small obstacle, it should be removed completely."
Hearing those words, Orsola froze.
It was not just because of the actual danger, but because this nun was unused to the murderous intent that others would release. Her normal life had nothing to do with this world.
Agnese thought,
(What's her reason for doing this? If she was from Academy City, I could still explain this. If she was living in the Science side, I could also understand it, because that'd be a danger to her. If she doesn't stop Biagio, forget about her normal life, even her life would be endangered.)
But Orsola was different.
Even if Academy City was destroyed, she wouldn't die. If Biagio aimed at the English Anglicans, she just needed to switch to another sect like how she abandoned the Roman Catholics. At least if she didn't stop the 'Appointed Time of the Rosary', she wouldn't be killed immediately under Biagio.
Even so, why must she obstruct him?
Didn't she want for even one second more?
"Christians love all neighbours, but are merciless. You should be clear if you read the calendar of the Saints' legends."
Biagio said as he stroked the Cross on his neck.
The force exerted by his fingers was like a snake, slithery yet firm. One could feel an unprecedented seriousness.
She will die, Agnese thought.
Thus, Agnese said behind Orsola,
"…Please…move away. No matter what, you'll die; you can't stop Biagio. You won't die if you don't resist."
Agnese thought, Such irritating words.
It was said that before Saints were executed, some pagan officers would tempt them to abandon their faith.
But,
"How can I do that…!!"
Orsola Aquinas firmly replied, as if she was a Saintess from a legend.
An immediate answer.
Her voice was trembling. Maybe it was because of pain, maybe there was some anxiety, maybe there was even fear, but Orsola still answered Agnese immediately. Maybe she didn't think through it too much, but because she believed that it didn't require much thought, she could say it immediately.
"It's over, Sister Orsola."
Biagio said.
This was another voice that had no hesitation in it and of a completely different resolution. Biagio Busoni would likely kill Orsola just like this. He believed in what was internal, and believed that it was definitely the correct thing. He refused to listen to others.
Orsola would die.
"In that situation, the ones who were even more perfect than anyone were them; I can't match them."
Maybe even if she didn't resist, she would still have died.
"Are you unsatisfied with Lucia and Angelene's words?"
Orsola said to an extremely weary Agnese,
"Even when they only saw despair and were chased by many, they still wanted to smile and laugh with everyone. Don't you think these words are enough?"
Not just Agnese, even Lucia and Angelene were concerned.
The one who said these words was about to be killed in front of her.
"Hahaha! Laugh on, Sister Agnese, see how your dream is about to be crushed!"
Hearing Biagio's words, Agnese's consciousness exploded.
The sound of metal colliding could be heard.
"…What are you doing?"
Agnese didn't answer Biagio's question.
She was holding the Angel Staff which was supposed to be on the floor. Agnese pulled Orsola behind and reached her arms forward, grazing past her nose as Agnese let the base of the staff stick into the ground, not moving at all.
The front tip of the Cross that suddenly expanded slammed hard into the Angel Staff. The Cross was originally aimed at Orsola. If she were hit, her entire forehead would have been blown off. Agnese, who was holding the staff, bit her teeth as she couldn't endure this strong impact.
Agnese spit onto the floor. She roughly swung the Angel Staff around before holding it horizontally to the ground. That was unlike Orsola, who did it so carefully.
"EverythingTutto il paragone is taken care of. The fifth Il quinto dei cinque elementi element of the five elements. Open up,Ordina la canna che mostra pace ed ordine symbol of Peace and Order, 'Staff of the Bishop'."
It was as if these rough actions represented faith in her staff.
The wordless meaning was that she believed her staff wouldn't be broken because of something trivial like this.
"OnePrima of the idols! That obeys theSegua la legge de Dio ed una croce Son of God and the power of the Cross, connectingDue cose diverse sono connesse to foreign bodies and people!!"
In contrast, Biagio completely didn't mind the weapon being pointed at him.
Before that, before his question was answered, he was angry till his brain was full of blood.
"SISTER AGNESE!! WHAT ARE YOU DOING!!?"
"Oh, just as you suspect."
Agnese glanced at the passionate Biagio, coldly dishing these words.
She revealed a villain-like smile.
"You're mistaken. I still want to take care of Sister Lucia and Sister Angelene, AND THE OTHER NUNS! TO THINK THAT THEY HAVE TO FIGHT BECAUSE OF THAT USELESS ORDER OF YOURS, I'M RAGING INSIDE!!"
Agnese concluded, her feet not moving back.
Seeing her attitude, Biagio's temples jumped unnaturally.
"Stop acting…"
He bit his teeth, pulled a Cross from in front of his chest and held it up into the air.
"…SO HIGH AND MIGHTY, YOU SINNER!!"
Pacha, a strange sound echoed.
After that,
"AH…Ugh!?"
An anguished cry came from behind. Agnese frantically turned back to see that Orsola had fallen. Orsola was sitting down, cold sweat breaking out of her as her neck swung left and right. As if she lost to this action, she collapsed onto the floor.
"You were just a monkey, and yet you wanted to talk like humans…"
The Bishop's lips curled.
"—SIMON BEARS THE CROSS OF THE 'SON OF GOD'."
Biagio's bellowing sounded like thunder.
Before Agnese could think 'what happened', her vision started to distort.
"Wha…t!?"
Just as she was trying her best to suppress this vomiting feeling, she lost her balance and kneeled with one knee. If she hadn't do so, she would've been on the ground like Orsola.
At this moment,
Biagio moved near Agnese, who had a knee on the floor, and kicked hard into her jaw. The sharp tip of his hard shoe gave an irritating touch. Her body flew backwards, and collapsed.
"GHA…AAAH…!!"
She held onto the staff as she tried to get up, but she couldn't exert any strength. It was like she was so weak that she couldn't pull herself up, she couldn't even move her body up. The Angel Staff that she was so used to using couldn't work at this moment.
(That attack…was…a spell.)
Even so, Agnese didn't give up.
She tried her best to analyse her situation.
(It's…it's…)
From the contents of the spell, right now, Biagio should be using a spell that was based on the legacy of how the 'Son of God' died on the Cross. However, the 'Son of God' was killed by having nails hammered into his hands and feet, yet Agnese and Orsola didn't have these injuries.
If that was the case,
(Before that, there was the legend of the 'Son of God' and the Cross. When the 'Son of God' was forced to carry the heavy Cross that he was going to be nailed onto on his back as he walked up the hill…)
"…That's right, at that time, the 'Son of God'…should have had no strength to carry the Cross…there was a man called Simon…who helped him carry the Cross onto the execution hill, wasn't it?" (Teh_ping: Nope, Jesus here did carry the Cross up the hill himself.)
Biagio's eyebrows twitched slightly.
After that, he smirked,
"Have you figured it out?"
"'Forcing the enemy to carry a heavy weight'…this…is the real…form of the attack…on us. This shouldn't be…just your own weight…it should be…of all the people…on the 'Queen's Fleet'. An attack…that focuses all the weight…of the equipment…on a certain point. Is that right…"
Being hit by an attack that had at least 250 people's weight, one would feel like they'd been flattened. But what was on them was only the 'weight'; the 'speed' didn't exist.
It was like an interrogation method of 'putting a heavy weight on the stomach'. What was surprising was that the record was more than 400kg. If it was placed slowly, humans were able endure this weight.
"The reason why Orsola fell faster than me was likely because the attack came down from above. Like a consciousness being drained, it normally starts from the head."
"Brilliant. As expected of one different from those pagan monkeys."
For someone who had his attack method revealed, Biagio's voice was too relaxed.
"BUT EVEN IF YOU KNOW, YOU CAN'T STOP IT!!"
He pulled down another one of those Crosses on his neck, and the moment he raised it high, the shrunk 'weight' collapsed down on Agnese.
Her consciousness was about to break.
Once she fainted, everything would be over.
As Agnese was the crux to the plan, she couldn't be killed so easily. But Orsola was different: if Agnese didn't resist, Orsola, who had no use to the plan, would be killed.
She knew that.
Even if she did.
The attack was aimed at the highest point of the body—so she raised the staff above her head to block it. Because of the enemy's one attack, it was as if her bones were breaking as she felt this sharp pain, and the Angel Staff fell onto the floor. As her hands recoiled, she got hit in the head.
Seeing her little resistance, Biagio mocked her,
"HAHA, WHAT DO YOU INTEND TO DO, SISTER AGNESE!!? USING SUCH A PATHETIC WAY TO STOP MY ATTACK? GET SOME STRONGER ARMS IF YOU WANT TO DO THAT!"
"Ugh…!!"
She had no strength left to resist. Agnese gritted her teeth, as if she was ashamed that she couldn't do anything. Biagio again flicked a Cross on his chest and exerted more strength on Agnese' head. Even so, Agnese's continued to reach her hand out for the Angel Staff.
"Is that so? Then, how about this right hand?"
*Crack!!* The sound of things breaking could be heard.
The sound came from behind Biagio, from the double doors of the huge square pyramidal room. A square opened in the door, or rather, a cuboid. Someone stepped into the room.
That person raised his right hand up.
He knocked away the weight attack that came down from above.
Biagio turned around and roared at the intruder,
"YOU LITTLE…PAGAN MONKEY DARE TO—!!"
"Idiot. You should at least confirm that there's a corpse. My right hand isn't as simple as you thought!!"
This boy didn't ask Agnese anything. Why had she become Orsola's shield? What was with this scene that didn't fit the situation?
He didn't mention this at all.
Maybe because since Biagio was in front of him, he had no time to ask.
This one strike from the boy, it would be even more natural to say that it was meant to save Orsola rather than Agnese.
However,
Agnese felt that she had salvation.
She felt that this Kamijou who was in front of her had saved her.
"WOOOHHHH!!!"
Kamijou shouted as he dashed to Biagio.
Biagio flicked a Cross on his chest, silently anxious as he backed away and lowered his jaw.
He again released another heavy attack.
Maybe this was reliance on the trump card, and with the sudden surprise of Kamijou suddenly coming over, this was probably an instant judgement. To choose the method of attack according to the danger level, this way of thinking was rather suited for actual combat.
However, there were exceptions.
"TOO SLOW!! HOW CAN I BE DONE IN BY THE SAME TRICK TWICE!!!!"
The boy immediately raised his right hand to reflect the heavy attack and rushed in front of Biagio.
"Damn it…!?"
Biagio frantically reached his hand out to the Crosses.
But Kamijou's right fist slammed hard into the centre of Biagio's face first.
CRACK!!
The sound of flesh colliding with each other, and the sound of bones colliding with each other echoed throughout the place.
Part 9
After confirming that Biagio was unconscious, Kamijou finally relaxed his shoulders. He turned to Orsola and Agnese.
"While Biagio's unconscious, hurry up and tie him up and confiscate his Crosses. If they're still fighting on the deck, the situation there would be very unsettling. Oh yeah, Agnese."
"Um…yes."
The petite nun seemed like she thought she would be scolded as she stammered. Kamijou laughed and said,
"Thanks. If you didn't protect Orsola, the situation would have been much worse."
"…"
He was definitely saying thanks, but after Agnese revealed a look of surprise, she couldn't say anything.
Kamijou revealed an awkward expression.
"(…Damn it, did I praise her the wrong way?)"
"(…If you really think so, you're really a cute boy.)"
"(…Ah, what? Ow, it hurts. Why did you hit me?)"
Orsola placed a hand on her face as she continued to smack Kamijou with the other hand. Kamijou furiously tried to block her attacks.
"Oh yeah, the 'Queen's Fleet'…not just that, but how do we destroy this larger scale 'Queen of the Adriatic Sea'? Agnese is the important person required to use the 'Appointed Time of the Rosary'. If so, I want to destroy its value, whether it's the 'Appointed Time of the Rosary' or the 'Queen of the Adriatic Sea', I want to destroy them to prevent them from being used again. Is there something like a nucleus?"
"That…"
Agnese pondered for a while before turning to Biagio, who was unconscious on the floor.
"The flagship 'Queen of the Adriatic Sea'…strictly speaking, it's this square pyramidal room which we're in, this can't be replaced. This is because current technology can't replicate it anymore, so once we destroy the functions here, the 'Queen of the Adriatic Sea can't be used again."
"However, the 'Appointed Time of the Rosary' is an additional spell that the 'Queen of the Adriatic Sea' never had, right? If this huge square pyramidal room is the core of the 'Queen of the Adriatic Sea', the core of the 'Appointed Time of the Rosary' should be somewhere else."
Basically, it was time for the right hand to appear. Kamijou slowly let his vision fall on his fist. His job wasn't to think of any questions related to magic.
"Alright, whether it's the 'Queen of the Adriatic Sea' or the 'Appointed Time of the Rosary', there's no problem once we destroy them. Since this place can't be replaced, let's start here."
After he finished saying, Kamijou turned to Agnese and Orsola.
"First, let's destroy this 'Queen of the Adriatic Sea'. The ship will sink…or rather, the ice will turn back into seawater. After that, we'll ask our Amakusa friends to bring us aboard."
"Um…the Amakusa's here as well…"
Agnese slightly coiled back.
Orsola glanced at her, and continued,
"However, the biggest problem will be after we alight the boat. I can't direct everyone back. You have to think about what to do next—"
Orsola didn't manage to finish.
Agnese suddenly kneeled down.
"Agnese?"
Kamijou frantically reached his hand out as he wanted to carry her, but her body seemed to dodge Kamijou's hand as she lay prone on the floor. The Angel Staff in her hand let out a 'clank'.
"Gah…"
Agnese, who was lying on the floor, curled her limbs up like a baby.
"…Ih…gih…GAAAAAAAAAAAAAAAAAAAAAAAAAAAAAAAAAAAAAAAAAAAAAAAAAAAAAAAAAHHHHHHHHHHHHHHHHHH!!"
She bit her teeth as she let out this shout.
It was unknown what happened.
But from her painful expression, it was obvious that this wasn't a joke. It was unknown how painful it was, but sweat squeezed out of Agnese's face like mud.
"Agnese!! Wha—"
Saying this halfway through, Kamijou suddenly noticed something strange in a corner.
Biagio Busoni.
The Bishop that was supposed to be still unconscious staggered as he glared over. The bloodshot eyes that were turning about crazily didn't seem focused. Highly viscous saliva continued to ooze out of the corners of his mouth.
After that.
As if he was about to rip his chest apart, Biagio's right hand grabbed all the Crosses on the four necklaces. His hand was trembling unnaturally.
Orsola, who wanted to lean over and carry Agnese, shouted,
"The 'Appointed Time of the Rosary'…don't tell me…HE DID SOMETHING TO AGNESE WITH THAT SPIRITUAL TOOL!!"
Were the preparations for the 'Appointed Time of the Rosary' complete? But if so, why had he let Agnese move about, and not executed the plan? Without any magical knowledge, Kamijou couldn't tell. But from this situation, it was more likely that the preparations were complete.
But Biagio laughed.
With excitement and anxiety, he let out a fiery breath as he declared,
"Ha, the 'Appointed Time of the Rosary'? It wasn't adjusted, so I can only use the 'Queen of the Adriatic Sea'."
He used an uncomfortable look to glare at Kamijou,
"If 'power' is needed, I have it here. Have you ever thought about it before? The Roman Catholics feared that the cannons would be pointed back at them if this was be taken, so they put in lots of efforts to create limits on the targeting and the 'Queen's Fleet'. If it really falls in the hands on the enemy, what do you think they'll do as a last resort?"
Self-destruction.
The Bishop of the Roman Catholics was basically happily saying that he was to be swallowed up in this as well.
"BIAGIOOOO!!"
Kamijou couldn't help but shout out.
It didn't matter what the specific reasons were.
The main point was that since his plan failed, he was going to bring everyone down along with him.
Also, that would burn Agnese's heart or turn her into a cripple.
"!!"
The surrounding lights started to shut off one by one, as if right before a film shown at a cinema. The square pyramidal room seemed to lose all the light, and one could hear the sounds of things chattering. The source of this noise came from above Kamijou, the equilateral triangles blocks that formed the wall were slowly moving out.
A ray of light descended down from the far ceiling of the square pyramidal room.
The light touched the numerous triangular pillars that emerged, and after reflection, inflection, diffusion, and reforming, it created a large patterned path in the air.
The light didn't form a flat surface, but a dome-shaped canopy.
It was like a planetarium—a starry night shine that one person created for his own benefit.
"…Don't ever think that you can escape."
Biagio stared at the ceiling and mocked,
"This is a magical tool that is enhanced by alchemy and has a fleet of 250 sinners. Destroying those walls or floors isn't going to stop it so easily!!"
As if in response to his voice, the distorted canopy increased in brightness.
As if it was coldly showing people this tool's standby mode.
Orsola frowned,
"This is bad…if this attack spell that can destroy an entire country is used…just ignoring purely on the explosiveness of the magic effects alone, the range shouldn't be less than 10km in radius."
10km.
Orsola's words filled something that couldn't be imagined.
"…I don't know where this is, strictly speaking, which part of the Adriatic Sea this is. If it was north of Chioggia like just now, this should be near Venezia…everything would be engulfed. Besides that, the surrounding cities of Adria and Padova are in danger as well…"
"Not only that."
It was unknown what would happen if there was a magical explosion.
But assuming that this was a tactical nuke that could incinerate anything that was within 10km radius.
If so, the affected areas wouldn't simply just be in the explosion. A large amount of seawater would become steam, and the high temperatures would destroy everything within the place. The several hundred degrees of steam, when carried around for numerous kilometres, could easily cook people alive. After that, the steam would cause the temperatures to increase drastically, causing changes in air pressures. Simply put, gigantic hurricanes would form. The hurricanes would engulf all buildings and deliver the final blow to streets that had been cooked by the steam.
This was a double, no, triple-chained destruction.
What 'Queen of the Adriatic Sea'? Kamijou cursed. Couldn't you guys have destroyed Venezia like this without having to use this thing?
"Ah, AAHH…!!"
Agnese's scream echoed throughout.
She looked a lot worse. Maybe it was because she was under the cold light similar to the starry night.
Kamijou used his right hand to stroke Agnese's back while she was struggling in pain, but it didn't seem to completely alleviate the effect. Seemed like if he didn't destroy the Cross that Biagio was holding onto, it wouldn't be interrupted.
CRACK!!
The noise didn't come from Agnese, but rather, from the entire ship.
Biagio's selfish request seemed to cause a huge burden to the ship. Once the burden reached the limit, everything may explode together with the 'Queen's Fleet'.
"Orsola, get Agnese away from here and to the deck! Isn't there a ship or something? Get our Amakusa friends to hide there! If possible, get the Roman Catholics as well!!"
"Oh, okay. Then what about you?"
Even if she was a bit rickety, Orsola carried Agnese's body with both hands. Ever so careful, she even carried the Angel Staff.
Kamijou turned his eyes from Orsola to Biagio.
"I'll just have to stop that guy. I'll meet up with you guys later. Hurry up and go, Orsola!!"
"But…!?"
Orsola inadvertently let out a cry, but Agnese's groan overlapped her voice. Besides, Biagio was slowly moving his fingers to the Cross on his neck.
There was no time.
"Definitely…you definitely have to meet up with us later!"
Maybe because she felt that she couldn't do anything useful in this situation, and she couldn't do any emergency procedures to Agnese, Orsola ran out of the room after saying this.
Only Kamijou and Biagio were left inside the huge pyramidal room.
Inside the cracking ship, the Bishop said,
"…This is why I hate this."
With those bloodshot eyes, he got up from the kneeling position. That chest injury that had just been inflicted shouldn't have recovered, but even so, with that distorted strength of his, Biagio used his hands and feet to support himself.
Seeing this starry phenomenon that he created himself, he said,
"Damn it, that bastard…what leave a mark in Roman Catholic history? That's why I said that it was too early when I heard of the plan. I'm wrecked; I can only be destroyed as a sinner. The 'Queen of the Adriatic Sea' is the pride of the Roman Catholics, one of the 'Ten Holy Artifacts' that includes the 'Apostle's Cross'…I have no chance of making a comeback now that I lost it."
"So you're going to drag everyone else into your grave? What can you change? There's no benefit to what you're doing in the end, it's just for your own consolation!!"
And because of this little consolation, he was going to drag everyone down along with him.
The nuns of the Agnese Forces that were ordered by Biagio to fight, the Amakusa teenagers who were trying not to kill them as they tried to stop this, Lucia and Angelene, Orsola and Agnese, Tatemiya and Index, everything.
Because of this order that came from under the artificial canopy.
Even if they want to use this huge flagship to destroy all these.
"What are…you saying?"
Biagio Busoni smirked.
That was a sad smile.
"To fight with so many people, and sink such a large fleet, and to bury Bishop Biagio Busoni. In this situation, nobody will feel endangered…this single group of fighters and the members, they're confirmed to be a threat to the Roman Catholics. Anyone would agree with me. This is the last flower I'm going to give in my life journey. To remove these enemies, it's alright even if I destroy the coast of the Adriatic Sea, right!?"
This was completely different from what Kamijou Touma thought.
Not to move forward, but to see the past and do his best.
Not to gain satisfaction by protecting others, but to gain satisfaction by robbing others.
Not only to get injured himself, but to deal this harm to others.
"Biagio…"
Kamijou silently gripped his right fist tightly.
The Bishop didn't care, opening his arms wide as he said,
"…That's the look. This look that doesn't yield to threats is the greatest threat to us. Thus, I'll completely destroy you here. THIS WILL BE MY LAST CONTRIBUTION TO THE ROMAN CATHOLICS!!!"
"BIAGIOOOOOO—!!"
Kamijou roared as he dashed at Biagio with full force.
Biagio didn't back away, but placed his hands on the Crosses on his neck. It looked like he was going to pray, but there was no Holy feeling to it. There was just a stubbornness that felt like it was as sticky as a marsh.
Kamijou leapt into Biagio's arms, slamming a fist into his flank.
"—THE CROSS REVEALS THE REJECTION TO EVIL!!"
The Cross in the Bishop's hand expanded as if it was exploding. Instantly, the metal block that was larger than a coffin became a shield, preventing Kamijou's fist from moving.
Because of the power of the right hand, the Cross-shaped shield got blown away like sand.
Biagio, who was behind the Cross, pulled off another five Crosses and released them above Kamijou's head.
"—THE WEIGHT OF THE CROSS CORRECTS THE HAUGHTY!!"
The little decorations that were accelerated by heavy gravity shot down like cannons. But Kamijou didn't bother to look at them.
"WOOOOHHH!!"
He took another step forward.
He had already gotten in front of Biagio. This extremely close distance, however, was a safety zone.
Kamijou released a punch.
He exerted all his strength into his fist, only aiming at the face.
"!?"
Biagio blocked his face with both hands. He could feel hard bones colliding with each other, but the damages reflected from within the enemy.
This wasn't an instant defensive movement.
Biagio still had a 'shield' formed by a giant Cross.
If so,
"—THE CROSS REVEALS THE REJECTION TO EVIL!!"
The Bishop crossed his hands, each holding a single Cross.
The Crosses expanded right before Kamijou's eyes.
BOOM!!
Like a counterattack, the metal-frame-sized Crosses each stabbed into Kamijou's right shoulder and abdomen respectively. Kamijou didn't even have time to bite his teeth as he was sent flying back. His body bounced on the ice floor twice, thrice before rolling a few more rounds.
"Ugh…ooo."
His breathing became irregular, and just one second later, he was already sweating. Before he could feel the pain, he felt like vomiting. Even if he stood up, his body feels like he was standing upside-down.
Even so, Kamijou continued to stand up.
The pain in his right shoulder could spread through his entire arm with just a single touch.
On seeing this, Biagio grinned. His expression and feelings couldn't be directly related at all. The ominous smile made the opponent understand that.
"Impressive, you can actually stand up…you definitely got hit such that there was even a visceral impact…"
Biagio was unharmed as he gently stroked the tip of his nose that was hit.
"How can you still struggle? This simple thing like Sister Agnese, is it really such a meaningful reward!? That Sister will definitely die! HOW CAN SHE BE AN ENEMY AGAINST A HUGE ORGANISATION THAT HAS 2 BILLION FOLLOWERS AND ENCOMPASSES 131 COUNTRIES…NO ONE WILL ACCEPT THAT WOMAN!! WHY DON'T YOU UNDERSTAND THAT, YOU PAGAN MONKEY!!
"…Who wants to know about that?"
Kamijou bit his teeth as he said this.
In order to protect Lucia and Angelene, Agnese specially gave up her chance to be saved. Though he didn't know the specifics, she had protected Orsola from Biagio's clutches, using the Angel Staff to shield Orsola. She really tried her best to resist.
What 2 billion followers, what 131 countries, what large organisation; Kamijou didn't even care about these minor details at all.
Kamijou would definitely not allow this, because that guy had basically ignored the intentions of the Roman Catholics by doing a desperation suicide attack, causing Agnese's heart to shatter, and even engulfing everyone on the 'Queen's Fleet' in the explosion. He wouldn't allow this worst result to happen.
Biagio Busoni's words didn't even measure up to a whit.
If there was anyone who would give up on hearing these words, there wouldn't be anyone coming here in the first place.
"Damn it, who would accept…!!"
Thus, he only said this.
A meaningless argument didn't start: Kamijou and Biagio weren't in the mood to let the conversation continue. With Kamijou's unilateral words, the conversation was over.
Kamijou Touma ignored the pain on his shoulder as he spit onto the floor, clenching his right fist.
Biagio Busoni placed his hand on the countless Crosses hanging on his neck.
The first breath became the signal to start.
Both of them immediately dashed towards each other.
"WOOOHHH!!"
Within 3 seconds, the fist was already within attack range.
Biagio pulled down a Cross from in front of his chest.
"—THE CROSS REVEALS THE REJECTION TO EVIL!!"
He used a hand to block Kamijou from the front.
Furthermore, he used the other empty hand to stroke another Cross.
Even if he could knock aside the first hit he saw, Kamijou was unable to block Biagio's consecutive attacks. With one attack after another, the power of the Cross was definitely greater than Kamijou's fist. If he took attacks consecutively, he would definitely fall.
(I can't decrease the distance the normal way.)
In this extremely close space, Kamijou was conscious that he was clenching his fist.
(I can't just have one hit, I need to stop this guy's attack pattern…!!)
Even if he thought this way, he couldn't make it even if he prepared for it.
In the end, Kamijou could only bet on this fist.
The palm blocking him was holding onto a Cross, and it started to expand.
"BIAGIOOO—!!"
Kamijou attacked the decoration in accordance to his roar.
Not with his right fist, but with his left.
To come up with a left hand strike that he was not used to, even an amateur could tell that the power was a lot weaker. Compared to the right fist that Kamijou normally used, the speed was a lot slower.
However, the left fist had something that the right hand didn't.
It didn't have the power of the Imagine Breaker.
"!!"
The Cross that Biagio was holding onto was knocked away by Kamijou's left fist. With a little sound, the decoration that the Bishop was holding onto changed direction slightly in mid-air.
However,
The Cross seemed to expand in a way that Biagio didn't expect, expanding like it was exploding.
BOOM!!
The tip of the Cross that Biagio was holding onto slammed into his jaw from below.
"GYAHH, AH!?"
Biagio's body jerked upwards.
(This…bastard—actually used my own attack…!!)
Even as he was thinking this, he was unable to make a sound. A blunt pain filled his mouth.
During this time, Kamijou took another step forward.
'WO—"
Right into the deepest part of the enemy.
This time, he exerted all his strength into the right fist that he always used as a weapon.
"—OOOOOOOOOOOOOOOOOOOOOOOOOOOAAAAAAAAAAAAAAAAAAAAAAAAAAAAAAAAAAAHHHHHHHHHHHHHHHHH!!"
With this roar, he released all his power in this one fist.
CLANK!! The sound of metal breaking could be heard.
He was not aiming at Biagio's face, but below—right in the middle of his chest.
As Biagio's body was moving upwards, Kamijou let out another punch that nearly seemed to pierce through the Bishop's chest.
His fist hit the four necklaces on Biagio's chest and the large number of Crosses on the necklaces, as if he was about to pierce through Biagio's chest. All at once the four necklaces snapped and landed on the floor, and the numerous decorations scattered about with the sound of a crystal ball breaking.
The Bishop lost all his strength as he finally fell.
Seeing Biagio roll on the ice floor, Kamijou adjusted his breathing and said,
"Of course, I want to fight…"
He continued,
"…No matter whether you guys have 2 billion followers, or 131 countries, if you still dare to do anything to Agnese and her group, I'll deal with all of you no matter how many times."
He looked up at the roof.
In this vision far away, the starry phenomenon that was supported by countless number of triangular pillars swayed about before vanishing. Like a home electric appliance that was cut off, only the ice construct was left.
The cracking sound echoed throughout this room that had lost all forms of light.
The 'Queen's Fleet' was gradually breaking.
It was because the core Cross was destroyed.
Just as Kamijou was confirming that he had prevented a destruction that would have engulfed everything.
The triangular room crumbled, the flagship split, and the boy again fell into the Adriatic Sea.