Toaru Majutsu no Index:Volume10 Chapter6
From Baka-Tsuki
Chapter 6: Resumption of Pursuit with an End. Accidental_Firing.
Part 1

"Really! It's because of Himegami that sensei lost sight of Kamijou!"
Komoe-sensei was walking along an area full of student dormitories as she exclaimed to a girl beside her.
In comparison, the black-haired girl clad in P.E. attire who was following her homeroom teacher, Himegami Aisa, was holding a transparent plastic cup that had fruit juice in it. She was surprisingly laid back as she said,
"But sensei, the next match is about to start soon."
"Humph! I know. That's why I wanted to settle this quickly, finish lecturing him, and bring him back to the other students!"
The duo walked along an area that was close to the boundary of the seventh district. Besides the park where Kamijou and Stiyl had escaped from a moment ago, there were many constructs here, like shopping streets and student dormitories. The difference in height between these buildings was huge, as they looked like the teeth of a comb.
Maybe this place was somewhat far away from the schools — or we should call it arenas — as the people here were looking for souvenirs. Several tourists were looking at the stores selling key-chains and puzzles strangely. Basically, the citizens of this city wouldn't even look at these things.
Komoe-sensei sighed,
"I know, let's assume that Kamijou is waiting for us there. Himegami, you have to be faster!"
"Nn."
Himegami sipped some of the fruit juice and responded. Himegami sounded like something was on her mind, as Komoe-sensei tilted her head.
"…Himegami, is there anything troubling you? Sensei is willing to hear out your troubles!"
"It's not exactly troubles."
Himegami removed her lips from the cup,
"Kamijou-san seems to be a bit weird. It's like he's distracted."
"Hgn. Now that you mention it, he did seem a bit anxious. However, isn't it because the next match is starting?"
"…But, that feeling…"
Himegami paused for a while.
She had personally felt this especially tense atmosphere before. It was when a certain boy with just a fist faced an alchemist that had almost god-like powers and was trying to kill him. For those that he wanted to protect, for victory, he'd even let his right arm get cut just to turn it into a fighting force.
But—
"Maybe I'm thinking too much."
"??? What's that supposed to mean?"
Himegami stared at Komoe-sensei, who gave a puzzled look, and thought rather irritatedly,
(But if it's just about Daihaseisai, this shouldn't be happening.)
Komoe-sensei looked up and stared at the black-haired girl who was drowning in her own thoughts. She tugged at Himegami's shirt from the bottom, saying,
"In other words, you're mindful about Kamijou."
"—"
Himegami suddenly froze.
The fruit juice in Himegami's hand nearly dropped out, as she revealed a rare look of panic, and grabbed it again.
"This is true, but the way you're saying this is too direct, and may cause a misunderstanding."
"Isn't it like this?"
"…Then, is Komoe-sensei mindful about Kamijou-san?"
Komoe-sensei nearly fell on the ground, when there was nothing around. The miniskirt of her cheerleading attire nearly flipped up, but luckily, nothing was exposed. She forcefully looked up,
"Wha…what are you saying, Himegami! As Kamijou's homeroom teacher, sensei has to educate Kamijou! Eve…eveeven if I'm mindful about Kamijou, it's because I'm worried for his future. The way you say it may cause a misunderstanding instead—"
"This is what I meant."
"…"
Komoe-sensei kept quiet. Himegami extended the hand of hers that didn't have the drink and grabbed Komoe-sensei's thin arm. She confirmed whether Komoe-sensei, who fell onto the floor, was injured, and after doing so, seemed to feel relieved as she squinted her eyes.
"However, it's better to prevent saying it like that. My relationship with Kamijou isn't that good. If misunderstood, Kamijou would be troubled."
Eh? Komoe-sensei's face changed slightly.
"Haha, it's because Himegami thinks like this, that you avoided talking about the night walk in front of Kamijou? You already read through the tour guidebook that was handed out seriously. To a certain extent, a night walk is an exciting war for students that can be compared to the day events."
During Daihaseisai, there would be a large lights festival held after sunset, which involved neon lights and lasers. Also, there would be a decorated car and mobile stage procession after the matches. As Daihaseisai accepted television sponsors, the scale of this procession couldn't be underestimated. Also, there would be several actors participating as well.
The board of directors of Academy City would normally ban anyone from going out at night, and had set all traffic to stop when school had completely closed. But for today, they even promoted night tours. Though it was not like those large-scale events seen on Christmas day or Valentine's day, it was still an event favoured by the students.
But,
"It's impossible."
Himegami denied it flatly.
"For someone like me, even if I suddenly invite him, Kamijou-san would be surprised. It's not suitable. So I guess I shouldn't ask him."
When she slightly squinted her eyes, Himegami looked rather gentle. At the same time, she seemed to be somewhat depressed.
For Komoe-sensei, she loved to see students having such a troubled expression.
"It's not like that. Kamijou may be a bit surprised, but it's a pleasant one. Kamijou would be happy to see you happy, and he'd be sad if you're sad. He's that kind of a child. Sensei is very clear about this."
She looked up at the student who was much taller than her.
"So, if you invite Kamijou to an event which you'll feel happy to be at, he'll be happy as well. as long as you say that it's the night walk, there wouldn't be any problems."
Hearing this, Himegami blinked her eyes.
Her normally emotionless face now looked rather surprised.
Himegami gently shook the transparent cup that had fruit juice in it. Then, she faced Komoe-sensei and squinted her eyes to form a smile that couldn't be detected easily.
"No, I don't want to."
"Humph! Sensei is trying her best to encourage the cowardly Himegami-san, why are you so stubborn?"
"Anyway, I won't invite him."
Seeing Komoe-sensei go red with anger, Himegami silently let go of the pressure on her shoulders.


Part 2

Kamijou Touma and Stiyl were running on the streets.
There were various competitions being held at various arenas, as match reports were aired through the audio speakers and big screens all over the place. Kamijou's school was about to begin the 'Boys only: Cavalry war, preliminary group A' match. Too bad he couldn't spare the time to take part in the event.
"Kamijou Touma! If we're heading towards an auto-bus stop, it'll be faster for us if we take this lane!"
"No, I checked the bus schedule. It'll be faster to take a train! There's too many stops if we take the bus, and though we have to wait a while for the train to move, once it starts, it'll overtake the bus!!"
The duo exclaimed loudly as they turned into an alley, and dashed down a staircase that lead to the basement. Through the narrow concrete path of the station, Kamijou placed his handphone on the auto-ticket gate blocking him. In Academy City, it was not uncommon to see handphones functioning as ID identifiers and cashcards.
However, these automated gates could only respond to phones of Academy City. Stiyl slid his tongue back as he headed towards the ticket vending machine. The reason why he didn't force himself past the ticket gate was because in this situation, he felt that it was better not to arouse any trouble. He seemed to find carrying coins irritating, as he slotted a 1000-yen note into the machine, grabbed the change and ticket, and returned.
At last, Stiyl passed through the gate.
The train in the subway was about to move as an electronic alarm was heard. Kamijou, who had arrived first at the platform, ran into the train, while Stiyl, who arrived later, stretched his hand out just as the door was about to close. Due to the safety functions of the door, it opened, and Stiyl squeezed into the train. The station personnel seemed to be staring at him, but he didn't bother about such a trivial thing.
The train was starting slowly.
Kamijou leaned his back onto the train's door, and said,
"…There're still 2 stops to Seibu Hill Station that Tsuchimikado mentioned."
Kamijou looked up at the electronic bulletin board, and muttered. Stiyl, who placed his coins into his wallet, suddenly searched through the inside of his clothes, and pulled out a new cigarette pack.
Kamijou exclaimed,
"How many packs do you even have!!??"
"None of your business."
Stiyl ignored Kamijou as he pulled out a cigarette from the box.
"Ah! You can't smoke inside the train. This train will stop if the sensors sense any smoke."
Kamijou frantically stopped him, and Stiyl clicked his tongue with frustration. Normally, he'd ignore Kamijou's words, but as he knew that there was an urgent need to track down Oriana, he frowned as he placed the cigarette back.
After this, he pulled out another pack from his coat. It was as big as a cigarette box, a box made of old wood. Stiyl pulled out something from inside, and started to chew on it like a cigarette.
"This is a chewing-type cigarette."
"…You really like smoking, huh?"
"A world without nicotine and tar is no different from Hell. For such a pious man like me, how can I fall into Hell?"
"You might want to reflect on your life before saying that."
Just as the two were rebutting each other, the train arrived at the first stop. Some passengers alighted, and the new passengers who boarded the train were shocked by Stiyl's strange attire.
The train doors closed and moved off.
There was still one stop left.

"Next…"
Oriana Thomson was at the fifth area, saying in a rather relaxed tone.
She knew that the attention of the pedestrians was fixated on her. There were many foreign tourists here for Daihaseisai, and thus, having blond hair and green eyes wasn't rare. What attracted their attention was the remarkable symmetry of her body and the matching clothes which emphasises her beauty. Though the fashion sense of this country was rather liberal nowadays, it was still rather rare to see someone revealing her beautiful legs through a skirt that had vertical slits. It was also rare to see someone needing to wear a Sarong skirt when she was not wearing swimming attire.
But Oriana did not care about the people looking at her.
As a person being pursued, it was highly unnatural.
(Well…we may need to spend some more time. Never mind, I'll hand this over to Lidvia. Now, what should this nee-chan do. Hmm…)
Seemed like Oriana wanted to attract attention as she continued to walks on the streets.
She looked confident.
She didn't care about whether she might be spotted by her pursuers.

The train stopped again.
The second station.
They finally arrived at Seibu Hill Station.
As doors on both sides of the train opened, Kamijou and Stiyl dashed onto the platform. They immediately ran towards the nearest exit. Stiyl stopped halfway to spit his chewing-type cigarette into the dustbin and said,
"Damn it, where's Tsuchimikado? We can't use that searching 'all-around reality array' if he's not here to prepare it!!"
He exclaimed as he operated his phone. Though it was the underground, maybe it was because it was near a communication base, the phone connected.
"Tsuchimikado!!"
"Nya. I'm sorry. The auto-bus I'm on is near the station…there seems to be a 10 kilometre race in the vicinity. Because of the changes in schedule, the event was brought forward. Right now, the bus is stuck in a jam."
Stiyl slid his tongue back without trying to hide it.
"What's the distance!?"
"If I have to get off the bus and run, it'll take 10 minutes."
Kamijou thought, this is bad.
3 minutes passed when Tsuchimikado contacted Kamijou, saying that he found Oriana. Another 5 minutes was spent arriving to this station. Then they still needed to wait for another ten minutes before they could start preparing the searching magic. It was hard to imagine where she might be now. He had heard Tsuchimikado say before that the searching spell used to seek out Oriana, the 'all-around reality array', had a search radius of 3 kilometres. If Oriana found out about their movements, they might end up letting her escape again.
Tsuchimikado probably understood this, as he said in a bitter tone,
"Stiyl, do you still remember what my 'all-around seeking array' looks like?"
"Impossible."
"Can you draw it if I instruct you through the phone?"
"It's impossible. For me to learn the procedures, it's useless for me if I don't know the theory behind it. I have absolutely no concept knowledge on Eastern magic. Especially since that 'all-around reality array' that you prepare uses the pulse flow of the place and space; Western magic and Eastern magic are vastly different. I'm not that child as well anyway. Do you intend to teach me the essence of yin and yang all in one go?"
"…Then are you going to use your Western method to search?"
"Even so, I'll request you to do it. I'm a complete amateur at doing this."
"So…never mind, you're right."
The bitter sigh reached the microphone, creating noise.
After feeling a bit troubled, Tsuchimikado said,
"Alright, I'll activate the 'all-around reality array' from here."
Hearing these words, Kamijou was shocked.
"What are you scared about? A ten minute walking distance may cause a fatal error. Instead of spending time running to the station, I should do this anyway. Oriana may be taking a subway train or an auto-bus nya. It's better if we do the search earlier."
Before Kamijou said anything, Tsuchimikado gave his own conclusion.
"I'll inform you of the results of the 'all-around reality array' through the phone later. Stiyl, Kami-yan, go chase after Oriana. The one holding the 'Apostle's Cross' might not be Oriana, but Lidvia. If possible, capture her alive."
"Wait…"
Hearing this, Kamijou couldn't take it any longer.
"Wait a sec, Tsuchimikado! You can use magic again?"
Tsuchimikado Motoharu couldn't use magic.
More accurately, though he could use magic, once he used it, the inside of his body would explode, because he was both a magician and an esper at the same time. As the body structure of an esper was different from an ordinary human, it'd cause a strong rejection if he used magic 'that was meant for ordinary people.'
He couldn't possibly not know that.
He had used magic once today, causing him to bleed.
And right now, he was saying that he was going to use the 'all-around reality array'. For someone who had already used magic once, he might be in critical condition if he was to use magic again.
But, he didn't answer Kamijou's concern.
Tsuchimikado didn't answer, and even Stiyl didn't reply.
Seemed like Stiyl wanted to shut Kamijou up, as he said loudly to Tsuchimikado,
"…Are you sure you can do it?"
"I don't know; why are you worrying for me nya? I'm a magician, a specialist who can use magic? And Kami-yan, if you want to complain, I'll listen to you while I'm on the hospital bed. If you're visiting, please bring some honey dew and apples."
"TSUCHIMIKADO!!"
As Kamijou shouted, the phone was cut off.
Stiyl placed his phone back into his pocket.
"Hm. The next time that guy calls again, it'll be after he activated the 'all-around reality array'. We can't let that guy's efforts go to waste. Let's not have any unnecessary thoughts now, Kamijou Touma."
"Damn it!!"
As Stiyl mentioned this, Kamijou couldn't help but slam a fist into the concrete wall.
"That's superfluous."
Stiyl didn't seem to like it as he said this, taking out another cigarette from his coat.

One minute later, Stiyl's phone rang.
It was from Tsuchimikado.
The contents of the conversation were that he was going to a place where nobody was around to activate the 'all-around reality array'.

Oriana's shoulders trembled.
(Oh—this…is the same as the spell used before. Are they mocking this nee-chan who can't use the same spell again?)
She thought as she walked down the middle of a path in the fifth school district.
The enemy's searching method was to use Oriana's flashcard to find Oriana's whereabouts — more accurately, it was the unstable magic text 'original' that had maybe the smallest handwriting in the world that she thought of writing on the go.
But for Oriana, she changed the activation and deactivation of a spell to the 'activation and self-destruction of an unstable original.' As Oriana's own magical power was needed, and the card had the function of 'sensing Oriana's orders,' they could track down where she was through this reverse process.
If so,
(This nee-chan's card…what do they call it over there? Never mind, anyway, it's related to this nee-chan's magical power, so when the enemy does anything to the card, this nee-chan will be able to sense the changes.)
Thinking about this, Oriana hastened herself.
There existed spells that ignored distance. Especially in assassination, attacks that nobody could escape from even if they ran to the ends of the world were highly valued.
But,
(This is different.)
When the ball was burnt in a fireball, she felt that her pursuers pulled away from her in fear. If the spell could ignore distance and do a global search, there was no problem if she walked slowly.
(If so, the better method would be to walk further away…even so, it's still troublesome. How far should this nee-chan go, and in which direction?)
Oriana tilted her head, and passed through wave after wave of people.
(Now, where should I go?)
She thought as she looked up at the airship floating in the sky.

Kamijou and Stiyl dashed up the stairs leading to the surface, running out of the subway station.
The fifth school district was different from the seventh district that Kamijou stayed in, as there were many colleges and universities. Though the rows and rows of buildings did form a similar sophisticated feeling, the restaurants and clothes shops had a more mature feeling compared to other districts. To high school student Kamijou, it was an atmosphere that he couldn't get familiar with. It was like he was thrown into a world famous symphony performance that he had no interest in attending.
But right now, he didn't have time to notice this.
Kamijou and Stiyl were running around, spoiling the atmosphere of the entire street.
Stiyl's phone showed where they should be heading to.
He continued to run hard.
"…Oriana…she sensed it. Her movements suddenly changed…she's now heading towards the northwest direction. The distance is around 300 to 500 metres…wait a sec, I'll get a lock-on soon."
The voice stopped several times, but it was not because of network problems. The contact, Tsuchimikado, may be bleeding all over, enduring this strong pain as he used magic.
Stiyl slightly panted,
"500 metres? Sounds near…but it's going to be difficult for us if we're going to run over and catch her. Let me confirm this, can you use the 'Red Spell' artillery strike?"
"Impossible nya…if I have to do that, I'll need to stop the 'all-around reality array' and focus on the 'red spell'. But if so, we can't locate Oriana while she continues to escape, and thus the accuracy would be much less."
"More importantly, we can't add onto Tsuchimikado's burden!!"
Kamijou said as he ran, while Stiyl gave an irritated look. He shook the cigarette in his mouth and said,
"The effective range for the 'all-around reality array' is about 3 kilometres. We'll be out if she moves for another 2.5 kilometres. Even if we have to add on to someone's burden, we have to close the distance."
"I know that…!!"
The two shouted at each other as they run on the path on the side of the road. They ran into a small alley and through this zigzag path, exited to another road, ran up an overhead bridge, and ran down the stairs on the other side.
"…Response, got it…from where Kami-yan's facing, Oriana's…still in the northwest position…the distance is now 309 metres to 433 metres…anyway, it seems like she's moving in a straight line…to escape this detection nya…hurry up, there's still around 1.7 kilometres of effective range."
Like a marathon runner getting a drink, Kamijou grabbed a free guide brochure that a Judgement member was handing out.
"Northwest, 303 to 433…WA!"
As he was reading the guide while running, Kamijou nearly knocked into a cylindrical security robot on the road. Kamijou frantically avoided it as the security robot behind him gave off a warning alarm.
"Maybe, it's that…? Around 800 metres from here, there's a monorail station. That one goes around the whole fifth district. If she gets onto it, she'll pass 3 kilometres easily."
Though there were 800 metres for them, there were only 400 to 500 metres left for Oriana. If they considered the amount of time needed to buy the tickets and wait for the monorail, how many minutes did they have? Since the monorail company would likely increase the number of trips in conjunction with Daihaseisai, the next train might arrive in around 2 minutes.
But, on the other side of the call, Tsuchimikado suddenly said something strange,
"No, wait a sec…Oriana suddenly changed direction."
The sound of pages could be heard. Tsuchimikado must be confirming his spell with the information on the Daihaseisai tour booklet.
"Heading towards that monorail station…she turns around a corner…Oriana doesn't seem to be heading towards the station—!! What, she actually increased her speed…!!?"
What? Kamijou frowned as he ran.
Stiyl, who was running beside, was listening to the sound that was coming from the phone in his hand.
The surroundings were rather noisy, their footsteps and panting were as loud too, but Kamijou felt that there was a long silence deep inside his ears.
The other side of the phone went silent. Maybe Tsuchimikado was controlling the spell, as the sound of fingers rubbing against the ground could be heard. A monotonous tone gave the feeling that time was distorted.
"Damn it, where's she heading to…it hurts! Damn it, to think at this time…"
Seemed like trying to maintain the spell added on to Tsuchimikado's pain. Just as Kamijou was about to say something, Tsuchimikado said,
"No…problem, Kami-yan…Oriana's position, I'll get it soon—oi, NO WAY!?"
His tone seemed to indicate that he was rather surprised.
"This path…damn it, so this is how it is. THAT ORIANA, DON'T TELL ME THAT SHE'S—!!"
With Tsuchimikado's exclamation, noise suddenly cackled from the phone. The sound of a cutting board being ground could be heard from the microphone, and with this unnatural noise, the line was cut off. It felt like radio contact was cut off out of necessity.
Kamijou started to get anxious. Without Tsuchimikado's directions, they couldn't tell where Oriana was heading. Even if they felt that they might have closed the distance, there was a likelihood that they may end up adding some distance.
"What now? Oi, Stiyl, how's the handphone antenna?"
"How come I can't make a call now? Hold on, Kamijou Touma."
Stiyl suddenly grabbed onto Kamijou's collar. As he reined in, Kamijou, who was running beside Stiyl just now, could only stop obstinately. Stiyl ignored Kamijou, who was beside him and coughing violently, and said,
"…We've been had."
"Ahem! You…what are you doing, idiot!"
"Even if Oriana finds out about her being tracked by the searching magic, she probably doesn't know 'how far she should run.' In this situation, she can't set the tactic of where should she run off to. Then what should she do? She should probably get the answer rather soon."
"Oi."
Kamijou had a bad premonition.
The unnatural way that call ended and Tsuchimikado's cry inexplicably rang in his ears.
"Like how you imagined it, Kamijou Touma. In order to escape this searching magic, Oriana chose not to widen the distance, but to close it…to destroy the man at the centre, Tsuchimikado, which is also another winning condition for her."
"Wait a sec, wouldn't she…!?"
"There's no 'wouldn't she', there's an 80 to 90% chance that she's heading towards Tsuchimikado."
"Then we should hurry up and get there! That guy forced himself to use magic, and now his body is almost broken up! Where is Tsuchimikado!?"
"How would I know?"
Facing Kamijou's shouts, Stiyl reported honestly.
Then he added on another sentence,
"That's why I'm looking for him now."


Part 3

"Gack…gack…!?"
Tsuchimikado Motoharu tumbled two to three times on the marble-like surface. The impact caused the handphone in his hand to fly out and smash into a nearby pillar.
He was on a road that linked several underground streets together. It was 8 metres wide, and about a 100 metres long. As there was a famous underground street that was commonly used as a shortcut, including the store owners, there was almost nobody there. There were large cylindrical pillars that split the place into north and south zones, and the hidden side of the pillars was equivalent to the blind corner of the security camera.
The bus that Tsuchimikado had taken couldn't proceed due to the 10km race. He hastily looked for a place where there were no people, and activated the searching magic 'all-around reality array'.
A rough sound was heard.
The 'all-around reality array' that he had drawn on the ground was trampled by someone and scattered all over the place.
"You can't be too careless, you know. You intended to find this nee-chan's whereabouts through things that are mine. On the other hand, you seem to forget that this nee-chan can also sense you as well. Oi, boys who do things their own ways might be hated, you know?"
A teasing tone.
And at the same time, an opponent with such strong power.
Oriana Thomson.
A different look compared to before. She had already changed out of her work clothes, and was now wearing a dark-coloured mini top and a light-coloured long skirt that had vertical slits like curtains. As the skirt could not function like a normal skirt, there was a Sarong skirt that was used for covering swimming attire, now wrapped around her waist. But her fluffy blond hair and beauty, that beautiful impression of sweet curves that seemed to melt like sugar inside a mouth, could not be overwritten so easily just because she changed clothes.
She played with the flashcards that had a metal ring passed through them.
"Of the people I've met up till now, it seems that you're the most clear-headed, and at the same time, the most dangerous one. So this nee-chan is here to take care of you."
"Cheh…"
Tsuchimikado got away from the circular platform in the middle as he stood up.
If he didn't know that the enemy's attack could be prevented by something blocking, the walls and the pillar—would become obstacles for him.
"…Everything will be alright if you hurry up and hand over the 'Apostle's Cross' and surrender with Lidvia, or do you want to be a mollusc that has its bones wrecked?"
"Ah, even if I tell you that I have no interest in fighting, this nee-chan likes to play some exciting games. I'll play with you until your waist breaks."
Oriana gave a happy look as she answered, but in fact, she was calculating the distance between her and Tsuchimikado. Tsuchimikado grit his teeth as Oriana pinpointed his position.
(Kami-yan and Stiyl…)
From his temple to his flank, and including his limbs, blood was seeping out. This wasn't caused by Oriana, but the rejection his body did when he used magic.
(…Can't rely on them. Though the walking distance is only about 10 minutes, I didn't tell them exactly where I am. Besides, I chose to come to this place where no one will come to.)
He gently gripped his fingers, and released them, not letting Oriana realise this. Maybe it was caused by the devastation of his insides, Tsuchimikado's movements were as stiff as a puppet. Though in a real battle, he couldn't use his full powers…it was also bad when he fell onto the ground because of carelessness. One could sense anxiety in his calm and collected thought process.
Even so,
(How can I…)
Tsuchimikado rubbed away the blood flowing out from his eyes, and looked in front.
(…retreat now?)
He exerted some pressure on his fingers that were slightly uncoordinated.
(In order to chase Oriana, Stiyl got hit by a counterspell. Because of the British Puritans, Kami-yan got involved in numerous unexpected calamities.)
He clenched his fist.
(So how can I retreat? I, who lured them onto the battlefield, how can I fall back now!? Even if the situation isn't advantageous, even if my entire body's covered in blood, it's alright. I can't let the goodwill of those idiots who assisted this traitor to go to waste!!)
A burning passion was in these eyes covered by those sunglasses.
"…Fallere825, 'the back-stabber'—remember this, this is my sorcery name."
Hearing this, a slight smile appeared on Oriana's lips.
As a fellow magician, she knew the determination of the man who announced his name.
"Hoho, then it's disrespectful for this nee-chan to not say her own name."
Oriana's eyes revealed a serious expression.
It was her nature as a magician.
"My name is Basis104, "From the foundation to carry."…now that I've declared it, I have to win. This complete introduction should be proper manners for your determination."
Tsuchimikado didn't reply.
Oriana didn't say anything either.
It seemed that starting the battle early would be the greatest respect to the 'enemy'.
The two magicians instantly clashed with each other.
Tsuchimikado Motoharu covered the distance of 10 metres at one go, making the distance between them become 0.
During this time, Oriana Thomson placed a flashcard inside her mouth, and bit onto it.
Out of mid-air, thick ropes appeared on her arms. The ropes entangled with each other, and like a net commonly used in an obstacle race, wrapped around her arms.
Just as Oriana was about to use that net, Tsuchimikado swung his fist forward first.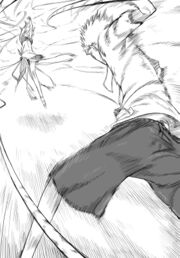 He thought that his right fist would be blocked first, and thus faked his punch to the chest, and then when the opponent was stuck, he would swing in a left hook to break through the wrist that was used for defence. At the same time, he'd stamp onto Oriana's foot with his sole. This was a tactic that was used for immediately disabling the enemy's limbs, and removing all their mobility.
But,
Oriana seemed to realise his intentions as she moved her right foot that was about to be stepped on back. She used her arm to block Tsuchimikado's first punch, and using the instability caused by the punch and her stepping back, she fell backwards and increased the distance.
The left hook that Tsuchimikado intended to break Oriana's wrist missed.
Her back on the ground, Oriana swung her right hand that was covered with ropes.
A gust of wind was caused.
In that net that was formed by many ropes, like bubbles being blown, the sound of air could be heard.
However, appearing this time wasn't soapy bubbles, but sharp blades that could cut rock.
"!!"
The blades, totalling about 20 of them, flew towards Tsuchimikado.
Facing this volley of blades that was fanning out like a shotgun, Tsuchimikado moved sideways and got onto the ground. Several pillars behind him were knocked down, and the lights on the ceiling were dropping towards him. The wall and the ads posted on it were ripped apart, and the marble floor looked like it was farmed.
Tsuchimikado didn't get up, his four limbs still on the ground, as he leapt towards Oriana like a beast. If it was close range, this could shorten the time needed to get up and run.
"Haha, this nee-chan doesn't hate such a wild, youthful presence!!"
Her back on the ground, Oriana could not dodge, but she gave a kick towards the approaching Tsuchimikado. Tsuchimikado grabbed her foot with his right hand, his left hand onto her calf. As long as he could twist the ankle into a right angle, he would get the upper hand.
"Ho!!"
Tsuchimikado inhaled, ready to twist the ankle.
Just as Oriana was about to be controlled completely, with her ankle as the pivot, she turned her body around, and with her free leg, slammed it from the side into Tsuchimikado's face like a hammer.
"GYA…ahhhh!!"
Tsuchimikado's body rolled hard to the left.
Oriana got up and tore another flashcard with her teeth.
From her hands, an intangible force was released, moving towards Tsuchimikado. Tsuchimikado corrected his body posture while rotating and jumped up, his back slamming hard into the wall. A weird cracking sound could be heard from his body, and Tsuchimikado could taste blood.
(Damn…it!)
Tsuchimikado continued to jump aside, dodging the array of light bullets that Oriana was shooting at him. The white balls that were as large as basketballs exploded upon touching the walls.
Tsuchimikado again felt that shockwaves from the explosions, as he slammed into the floor.
Tsuchimikado, who was on the ground, slowly got up.
He wiped the blood on his lips with his hands.
(Though it's only a bit, my movements…are really slow…if it was the normal me, I would have broken a few bones of the enemy…!)
"Hn? You're not using magic for a magician. Is this your style? Well, I don't particularly care how people play their game, but at this rate, you—will—die."
Oriana seemed to look uninterested as she placed the flashcard near her soft lips.
"If this is your real ability, then you won't be able to escape the next hit. If this is how far your determination goes when you declared your sorcery name, this nee-chan won't want to play with you anymore."
She seemed to be sighing that the outcome was a bit too fast.
It was like spending lots of time studying to prepare for an exam, only to find the questions too easy. It seemed like all her efforts were wasted.
"…To expect outside help at this time, it's a bit stupid. This nee-chan has already set up a tactic to divert forces. Right now, this underground street is protected by a boundary. Nobody would think of approaching this place, and won't find anything strange. News of whatever that happens inside won't reach outside. Not only can it hide magic flows and magic movement, even the sixth sense, on the occasion that it works, will respond rather slowly — even a professional magician won't approach this place so easily."
(…)
Hearing these words, Tsuchimikado looked up.
He felt that those words weren't right, but what? Even if there were some contradictions, a slow mind wouldn't be able to pick up, that was just what the enemy said. Maybe it was some wrong information to scare him or shake him up.
"So you'll be defeated here. I'll let you regret declaring your sorcery name to this nee-chan with this level of determination," she said.
Oriana Thomson bit onto another flashcard.
It was like pulling the plug off a grenade.
(…What now?)
Oriana's flashcard fell onto the ground.
(Seeing how injured I am now, I won't be able to take it the next time I cast magic. But, even if I want to use the 'red spell', there's no time to chant it!)
While the flashcard landed on the ground, at the same time, a giant mallet suddenly appeared from the ground beside Oriana. The pentagonal-type mallet was about a metre thick as it rushed towards the ceiling.
(If this is how it is, in this situation, if I want to deal the biggest blow to Oriana…! Damn it, I have to hurry! Got to hurry!)
Tsuchimikado grabbed a coloured piece of paper from his blood-stained uniform.
With machinery-like speed, he folded up the wrinkled piece of paper.
"Everything begins from this signal! Follow the light and sharp noise!!"
"Too late."
The moment Oriana said this, the giant mallet broke apart like an ice sculpture.
This storm that had billions of shrapnel seemed like it was about to bury the road as it headed towards Tsuchimikado. It was like it was going to swallow this small human called Tsuchimikado Motoharu, stuff it into a main cannon, and fire it.
The sound of insects moving about could be heard later.
(I have to make i—)
Just before Tsuchimikado could send his request,
This metal tsunami that destroyed everything rushed forward, all the way to the end.


Part 4

The entire road was destroyed.
From where Oriana was standing, all the pillars to the end of the passage were destroyed. Seemed like those pillars were just decorations, as in reality, they were not used to support the ceiling. Well, at least it removed the danger of collapsing the ceiling. The walls, the ceiling, all the decorations on the floor, were ripped apart like a gift package, and even the materials on the ground looked like they had been ploughed through. In front of her, there was no flat surface at all. The ground was all fragmented and the sprinkler hoses in the peeled ceiling were all damaged; water was flowing out like a faucet being completely open.
"…"
Oriana stared at the devastation that she had caused.
(I damaged a surveillance camera? Security's going to be tighter from now on.)
The opposing magician seemed to have dodged into the blind corner of a pillar, and lowered his body to avoid further damage. However, this level of dodging wasn't going to prevent him from getting hurt. On the back of Tsuchimikado, who was sprawled on the floor, there were 4 metal pieces pierced into his body. Each piece of shrapnel, that were several centimetres long each, were as sharp as a knife. Several pieces of rubble from the damaged pillars had also slammed into his body, and each of these concrete slabs were as big as a honey dew.
"It's over, huh?"
Oriana would normally keep the number of sacrifices she made to a minimum and quickly leave the scene, but it was different for a magician who had declared his own sorcery name. In Oriana's mind, a sorcery name was what kept a magician alive; ignoring it was the biggest insult to a magician. Whether it was done to her, or when she did it to others.
Thus, Oriana didn't like it.
Even though she knew that she had to remove the danger in the shortest time possible and get away from it, even though she didn't like to go all out, she was still unsatisfied now that victory was so easily decided.
(Should I deactivate the boundary I set around here and get away? Though nee-chan likes to leave some finishing touches.)
Interrupting her hasty thoughts and coming to a conclusion, Oriana looked around. If she wanted to remove this boundary, she'd have to use some sort of a code to deactivate it, and let the unstable 'original' self-destruct.
However,
"…?"
Oriana revealed a surprised look. Though it was just the twitching of eyebrows, such a change was enough for her to reveal her inner thoughts.
The boundary had been removed.
Oriana Thomson hadn't given any commands at all.
(What's going on? Though it's unstable, it's still an 'original'. There's no magical interference, so it can't be destroyed at all. Or, have his allies arrived…?)
Oriana moved to the front and back entrances to check, but there was no one there. A destroyed boundary would mean that the owner of the destroyed boundary would know that it was destroyed. As there was no way for anyone to use surprise attacks, when the boundary was destroyed, one would normally use a blitz attack.
The puzzled look on Oriana's face became even more obvious.
She suddenly thought of a possibility.
"Don…don't tell me…"
Her movements suddenly froze, and then she turned around.
She was staring at the magician on the ground that had four pieces of shrapnel pierced into him. He was still the same as before, but Oriana suddenly spotted something.
Tsuchimikado, who was sprawled on the ground, had a blood-red paper-folded bird beside his hand.
(At that critical moment, he seemed to be setting up some sort of spell…maybe he wanted to destroy the barrier? But why? Facing such a hit just now, why didn't he defend, but do that sort of thing…?)
Destroying the barrier wouldn't result in Oriana's defeat, as that was just a countermeasure.
That meant…his aim was…
"Seems like…it's a spell…that I can break."
Oriana was shocked by that voice.
That 'enemy' that was definitely buried together with his sorcery name wasn't dead.
"I can't really see it…you can endure this strenuous exercise, huh?"
Oriana refused to admit defeat. Hearing this, the enemy magician on the ground slightly moved his lips, and smiled.
It was like he wanted to smile to show that he was alive.
Tsuchimikado Motoharu moved these lips that were bloodied, and happily said,
"Oriana Thomson, didn't you say that in this boundary, 'nobody from the outside will know what happens inside?' I'll be troubled if that's the case."
"What…"
Oriana suddenly realised something.
Since it was an enemy one couldn't defeat, then what would the person think of first? Of course one would call for allies.
Realising what the enemy was thinking, the tension on her shoulders disappeared.
It was a tad too sad to rely on this.
"Idiot. Aren't those comrades of yours those two that are chasing after this nee-chan? Those two don't have any real threat. Even if those two work together, I won't even be gasping for breath."
"I'm not referring to them."
"What?"
Oriana couldn't help but ask back.
Right now, there were only three direct enemies that she could see.
"You're really an idiot. We're representing the British Puritans, the religious power of a country. Think, would there be only three members? If so, isn't your mind a bit too simple and peaceful? They might as well go wash their hands in the golden basin of the magical world and go sell flowers? Just think, how many 'Necessarius' members are there? For us who're supposed to be hiding our identity, how can we let the National authorities, who are living such a peaceful life that they're almost stupid, realise this?"
This wasn't true, Oriana concluded.
Oriana hadn't come to sightsee, so she hadn't checked the schedule of Daihaseisai, but she had checked with Lidvia before, and thus she knew there was a delicate balance of power between the science side, which had Academy City as centre, and the magic side.
Academy City, especially during Daihaseisai, couldn't possibly let in too many magicians who belonged to the same organisation. If they did so, the relations between the science side and the magic side would worsen.
The plan this time was to aim between the crack in relations between these two sides, and set up the 'Apostle's Cross'. Thus, she couldn't possibly believe the exception that Tsuchimikado was talking about, especially for the British Puritans, who were supposed to be in charge of the magic side's security.
Thus, Oriana could respond with confidence.
But she didn't completely know it — caring about Tsuchimikado's words showed that there was some sense of insecurity.
"If it's true, this nee-chan would be troubled. But this is impossible. The British Puritans and Academy City won't allow this sort of stupid thing to happen."
"Why would we need their permission?"
"…"
"You forgot my sorcery name? I should have asked you to memorise it. I'm the back-stabber; which side am I backstabbing in the first place? The state of the British Puritans? The state of Academy City? So what? You think that my mind is so peaceful and stupid that I'll ignore the minor details and let victory run away?"
Oriana felt that there was a rather irritating silence surrounding her.
She slowly exhaled.
"I can do anything just to get the victory. I can do anything just to hide in the darkness. As long as I can sneak onto the enemy, I'll think of anything to get the victory no matter what. Watch it, Oriana Thomson. As long as I am willing, I can defend against all these metal shrapnel no matter how many are they. However, I won't be able to get my victory like this, so I used a bigger trump card. That's all."
"…You think that I'll believe this bluff? If you had plenty of comrades, why would you be working alone? When you used that searching magic, you should have gotten more people to protect you, right? Even if this wasn't the case, at least two people would be working together."
"If you like to talk, then I'll accompany you for that. To me, I can gain some time like this. When the boundary was broken, I'd already sent the message. It won't take long for the enemy to get here. Because that person is serious, that person will not hesitate to declare her sorcery name just to prevent someone from dying."
Tsuchimikado extended out that blood-stained arm that was resting on the ground just now.
There was a simple piece of paper in his hand.
It was a piece of paper that was shaped like a talisman that's sold at a shrine. In the middle, there were Eastern words written in a straight line. Instead of saying it was written in ink, it looked like the words had been formed by burning the paper.
"'Sealed Scripture' – on first look, it looks like some sort of Shinto talisman, but in yinyang terms, it's actually a cursed tool. This causes someone far away to hallucinate, creating internal conflict inside the person…if I reduce the power, it can be used in peaceful ways. That's…"
"Don't tell me that it's a communication spell?"
"Bingo. This thing is made into a bag-shaped thing, and inside it is a wooden piece with somebody's name on it. Very classical, eh?"
Tsuchimikado grinned,
"Come to think of it, in this situation, who would be my most likely contact?"
He slowly said.
Though he was covered in blood, it was like he was blackmailing his prey.
"It wouldn't be fine if the thing you're transporting is the 'Stab Sword'. Since we know that it's not that, we can let that person join in the battle without any hesitation. Or should we say, since there's no 'Stab Sword', there's no need for that person to remain on standby. Besides, that person's greatest weakness is gone."
Oriana's throat unknowingly dried up.
She had heard of it before.
In the British Puritan 'Necessarius' department, out of the 20 Saints in the world, there was a Saint among them. She had tremendous power, and would swing her sword to prevent anyone from dying. Oriana Thomson was originally a British citizen, and her main base of operations was in England, so she knew about the Saints. Once she met a Saint, she'd lose; it was said that only a real God or Angel could beat those monsters.
"That's right, it's Kanzaki Kaori."
The glow in Oriana Thomson's eyes became sharp.
She licked her dry lips.
"Since I know that you have the 'Apostle's Cross' and not the 'Stab Sword', you shouldn't be surprised when you consider the scale of this situation, huh? Kanzaki was a central character in the conflict between the British Puritans, Roman Catholics and Amakusa Catholics ten days ago. Isn't it possible that she's still staying in Japan? Also, there are people that Kanzaki is familiar with living in Academy City. She can be seen as a special guest, and even if news leaks out, there won't be a problem."
Tsuchimikado added on,
"You should know, Kanzaki owes a debt of grace to me. Think about it, when she first came to England, who was the one who took care of her? Of course a fellow Japanese would be suitable. To me, it's a rather trivial matter. But that person is rather sensitive about this sort of thing. If she knows that something like this is happening, she'll immediately rush over."
(Cheh…)
Oriana started to make her own calculations.
Seeing Oriana like this, Tsuchimikado seemed to treat her like an idiot, and continued,
"Oh my. Don't tell me that you intend to destroy the 'Sealed Scripture'. Let me tell you, that's impossible. This thing is like an alarm, once it sends the signal, it's over.
Saying this, Tsuchimikado seemed like he wanted to prove that it wasn't a hoax, as he pinched on his own hand-made talisman that he used as a communicator.
"…"
Oriana slightly adjusted her breathing.
Right now, she couldn't tell whether 'Kanzaki Kaori' would come here or not. Even if that Saint was to arrive, Oriana didn't think that she'd lose. As long as she could set up an effective strategy, ready to sacrifice her limbs, she could probably kill one or two Saints in battle. But this wasn't appropriate. Compared to a simple one on one battle, Oriana Thomson had to achieve a higher goal and not hurt anyone else.
(If so,)
Anyway, she chose to kill Tsuchimikado, who was using the searching magic, and got out of here quickly.
"Hoo!!"
Tsuchimikado, who was on the floor, squeezed his last ounce of strength, pulled a bar away from the rubble, and threw it onto the devastated floor. The gray dust was floating around like curtains.
Visibility had become zero.
"!"
Oriana suddenly moved towards where Tsuchimikado had fallen, and stamped onto the ground hard like she was going to break her ankle.
However, she could only feel the hardness of the floor.
(He intends to buy some time!? Why must he work so hard…)
To this point, there was no 'anyway' now. The enemy could still fight, though it was somewhat troublesome to make a comeback in this dust. From the looks of things, Oriana had to spend quite some time before she could even kill Tsuchimikado. In other words, there were only two options.
If she assumed that Kanzaki Kaori wouldn't arrive, she'd take her time to beat Tsuchimikado down.
If she assumed that Kanzaki Kaori would arrive, she'd abandon Tsuchimikado and quickly get the heck out of there.
The dust in front of her could be dispersed by a flashcard. But if this was to end up being the signal that began the battle, she'd have to stay behind and fight until Tsuchimikado died.
It was not that Oriana didn't know what to choose.
It was that she would regret whichever option she chose.
(Anyway, this nee-chan has already destroyed the searching spell, my objective. It's not worth it if I get injured because I was fighting against this troublesome boy…)
Oriana Thomson pulled her tongue back and ran to the exit of the subway.
If his words were true, the Saint of the British Puritans 'Kanzaki Kaori' would join in the battle. Oriana thought that if this was so, she should have made use of the rumour that it was the 'Stab Sword' even more. If she could set up a strategy, she might have been able to beat the Saint, but a Saint was not someone who could be taken down without taking damage.
Of course,
She didn't want to admit defeat.

"She…"
Left behind and alone in the damaged subway, Tsuchimikado muttered. When Oriana left, he checked to see whether the enemy had left behind any flashcard spell.
The dust had scattered.
Tsuchimikado was sprawled where Oriana had first done her flying kick. Now heavily injured, even if she was to use all her strength, he could only move this distance. In other words, he removed the visibility of the enemy, using it to cause anxiety in Oriana, causing her to be unable to 'confirm it calmly,' and barely escaped from this predicament.
"I can use the communication spell 'Sealed Scripture' and summon Kanzaki Kaori when I'm in trouble, huh?"
Tsuchimikado blankly stared at the ceiling.
He moved his lips, mocking himself,
"It'd be great if this sort of thing really existed nya…"
Of course there wouldn't be any reinforcements. The only people who were chasing after Oriana and Lidvia were all in Academy City, Tsuchimikado, Stiyl and Kamijou, only the three of them.
He looked at the folded paper talisman that he made.
"This talisman and spiritual tool, 'Sealed Scripture'—forget about yinyang, it doesn't even exist in the world." Tsuchimikado concluded that Oriana wasn't versed in Eastern magic, so he just folded a piece of paper. Of course, there was no magical meaning behind it, and there was no wood piece that had Kanzaki's name on it.
(A 'seal' and a 'scripture' have the meaning of a 'love letter'…it's really like a curse anyway, being seriously in love is like being cursed nya.)
Before this, Stiyl had mentioned dejectedly that 'I have no knowledge on Eastern magic at all, so I can't do it by myself.' To think that it'd come in use now.
In other words, Tsuchimikado gambled on the possibility that 'Oriana wasn't familiar with the incantations of yinyang,' so he just confidently showed her a piece of paper that had kanji written on it.
But,
(If the enemy believes it, at least they'll proceed slowly with their actions, but they probably won't delay it. It'll be great if I can get my revenge…)
Tsuchimikado was lying on the ground as he looked at the devastated subway.
(The magic array is destroyed, the flashcard is gone, and even my phone's split. Now, how can I do my recovery nya… To be honest, I can't activate the 'all-around reality array' again.)
He wanted to get up, but his entire body was aching really badly.
He was hurting so badly that he wanted to roll on the floor, only to realise that he didn't even have the energy to do so.
His body was so cold, yet so heavy.
Even if he breathed, he might not breath in oxygen successfully.
"First…"
Tsuchimikado thought about the power that existed within him as a member of Academy City.
Level 0 Auto Regeneration.
It was a self-recovery process that created a film on vascular ruptures.
"…With such a broken up body, I have to think of an idea nya…?"


Part 5

Tsuchimikado Motoharu finally called. Because the number was different, Stiyl was suspicious at first when he saw the screen. He seemed to be calling using a new phone.
Hearing Tsuchimikado's words, he had definitely been attacked by Oriana. In the end, his phone and the spell 'all-around reality array' were both destroyed. Right now, his body condition was such that he couldn't use magic twice consecutively. Most importantly, Oriana's flashcard that was needed for the 'all-around reality array' had been destroyed.
"…"
Though Tsuchimikado said 'I'm alright,' if he was really alright, the magic array wouldn't have been destroyed so completely. And upon hearing Tsuchimikado's weak voice, one could sense his pain.
Stiyl shook the cigarette in his mouth,
"Then, what do we do next? If we can't use the 'all-around reality array', we've basically no idea what to do now."
"About this nya…but, I do know…that Oriana is acting carefully now, and will want to erase any doubt in her heart. 'Anyway', she might keep her distance from us. Bluffing…seems to be rather effective nya. Now, she won't be walking. I guess she should be taking an auto-bus that has a fixed route, or an underground train, a tram, a monorail…anything that can get her to the end point straight away…"
His breathing was rather shallow, as his voice continued on and off.
"Right now, Tsuchimikado's in this subway…"
Kamijou flipped through the tour guidebook of Daihaseisai.
It was the map of the fifth school district. The nearest underground passageway to Tsuchimikado was still the underground station. They had to get onto the line that went from the fifth school district to the seventh.
"…Since there's no other lead, we can only check on this. If we know which ride Oriana's taking, we might be able to carry out our search with a better method…"
"It's because we don't know about this that's making this troublesome for us. Anyway, let's go, Stiyl."
"Nya…I'll also…sneak in and check on security…if the enemy is anxious, so careful that she'll check the security cameras…it'll be great nya."
The trio said what they wanted to say, and the line was cut.

Oriana Thomson as on an underground train.
(If I get onto this train…)
This underground line moved from the fifth district to the seventh district. The distance wasn't long, and if she wanted to gain some distance, she'd have to switch to an auto-bus later.
(Should I run far away? Or should I wait and see? Or should I set some traps and wait for the response?)
Oriana's mind continued to think of several solutions. Though it was troublesome, if 'Kanzaki Kaori' really took part in this battle, she'd likely get hit back if she was not careful.
(Until a good countermeasure appears, I wish I have the time and a place to think of this carefully.)
Through the windows, there was nothing to see in this underground setting. Oriana sucked her tongue.
After a while, she finally reached the end of the line, the entrance to the seventh Academy district.
When the auto-doors opened, she sprinted out onto the platform, ran up the stairs that led to the surface, slid her ticket into the ticket gate, and dashed out of the station.
Her next destination was the auto-bus station that was somewhat far away from here.
The sports day atmosphere of Academy City was still prevalent. There were many people around, families with children holding balloons, elderly couples there to see their grandchildren, everyone looked like nobody was hurt. But Oriana's mind wasn't peaceful enough to confirm that she was safe just like this.
She had to follow a special procedure to confirm whether there was an assassin.
(Hm, I don't have to mind about it if I'm so easily tricked by that guy. But this is really irritating. I really want to get this over with.)
She looked around and walked into a lane that was a bit far from the road. Because this was a combination of tall buildings and narrow streets, though the weather was fine outside, sunlight couldn't shine in, and may even cause people to feel chilly.
Right now, Oriana's intention was to walk into an alley that no one was in to confirm whether there were any assassins after her.
Of course, if the assassin was to follow Oriana into the alley, he'd be alerting his presence to her. Thus, the assassin would have to work hard, like contacting several allies to set an ambush at the exit of the alley, or activate a spell that had a surveillance effect. Oriana wanted to look for those minor 'action signals' that the assassin may show, and check whether she was being followed.
(Hm, though we're basically tricking each other, I'll have think of new tricks if my actions are revealed. Isn't this too troublesome?)
Like Oriana, the assassin may purposely send a fake 'action signal'. The idea would be to make her think that she got away, and catch her when she was off guard. As a courier in the magical world, chasing after people, as well as being chased, it was a response that she was very familiar with.
No matter what, even with the tiniest movement, as long as there was a response, it meant that someone was following her.
She exhaled.
(It's going to take some time for the preparation of the 'Apostle's Cross' to be complete. What should I do? Hm, it's much more interesting to think of ways to counter Kanzaki's spells. But then, in this situation, what's the point of 'getting one over' that Saint? Should she run away, should she hide…or should she go and bury the opponent?)
As Oriana was thinking of this, she overlooked something.
There was a fork with an even smaller path on the road.
Somebody was walking out from the path.
"Himegami, we'll be late if we don't take a shortcut—YA!!"
"!"
Both sides collided with each other.
The petite girl that was like a primary school student jumped back after knocking into Oriana's abdomen, only to knock into a black-haired P.E. attire clad girl that was moving backwards.
Oriana immediately got ready to tear a flashcard, but she held onto it. The one who knocked into Oriana was a 135cm tall girl who was wearing a cheerleading uniform.
Because of the impact caused by the cheerleader girl, the plastic cup that originally had fruit juice in it was knocked out of the black-haired girl's cup. With a soft 'wa' sound, it landed on her hair. The fluid that wet her shirt dripped onto the petite girl's head.
"Komoe-sensei, you really like to look for trouble."
"So…sorry! But sensei is all drenched herself! Ah, this lady, are you alright?"
The drenched cheerleader girl looked up at Oriana, looking slightly worried as she asked.
(Magician reinforcements…maybe not.)
From the attire and actions of the girls, Oriana simply hypothesized.
She revealed her normal smile.
"Ah, this nee-chan is alright, I'm more worried about you instead. It'll be rather exciting if you're to walk on the streets like that."
"Ah! Himegami's drenched as well."
"Komoe-sensei too. Something pointy is on your chest."
Komoe-sensei frantically covered her flat chest with both hands. Seeing Komoe-sensei blush, the black-haired girl again looked at her chest.
At this moment, Oriana saw it.
The chest of the black-haired girl.
The short-sleeved T-shirt was now transparent, thanks to the fruit juice that had been splashed on her. One could see that she was wearing a pink based green butterfly knotted bra.
However, she was not concerned about that.
On the inside of her P.E. attire, there was something else. The thin chain hanging around her neck looked like a necklace. That chain was in her P.E. attire. Fastened at the bottom of the chain was a large, silver…
—Colt's Cross that was refined by the British Puritans.
Oriana didn't know what that Cross did.
She also didn't know what abilities that black-haired girl had.
In this situation, she only knew one thing.
(A magician that's allied with England!?)
In Academy City, there might be counterfeit Crosses being sold as decorations. Some children may wear Cross earrings and necklaces without understanding the meaning behind it. Thus the Cross itself wasn't rare.
But,
It was not strange for the world renowned Roman Catholics, but for the British Puritan Cross to exist in Japan, where a Church didn't even exist, that was another topic in itself. To specially import it from England, the circumstances should be abnormal. Normally, ordinary people didn't possess some sort of spiritual barrier. Besides, the name of that barrier was—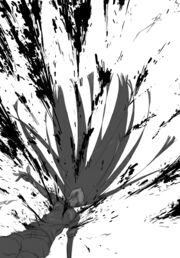 (The British Puritans'…'Walking Church'!? To think that she has the same type of defensive mechanism as that Index Librorum Prohibitorum? This monster—!!"
Her hands immediately geared into action.
Oriana put a flashcard that was sealed by the thin metal ring near her mouth. She bit it and tore it down in one go. The red words 'Soil Symbol' appeared on the paper, as the unstable magic text 'original' started to activate its magic.
BOOM!!
A blunt explosion could be heard.


Part 6

Kamijou and Stiyl got out of the underground station, and onto the surface.
On the bustling streets, there was no sign that the heat would dissipate soon. Kamijou wiped the sweat off his forehead, hastily looking at the Daihaseisai tour guidebook.
"…The nearest interchange from here is…an auto-bus terminal 300 metres north."
"300 metres…?"
Stiyl pulled out a cigarette and answered bitterly.
"The next bus will arrive in 10 minutes time! We can make it if we rush there!"
Both of them exclaimed as they got into the crowd. There was a seven minute distance between them and Oriana, the situation was extremely urgent.
"If possible, I hope that we can at least capture Oriana. We have absolutely nothing on Lidvia Lorenzetti!"
Stiyl passed through the space as he looked forward.
Though their destination was 300 metres ahead, the road in front extended to both left sides and right, and the buildings blocked their view.
On the side of the zebra crossing, a green pedestrian signal continued to flicker. Kamijou and Stiyl dashed over to the other side of the road.
There were many more people on this road than as compared to before.
The rows and rows of buildings looked like a giant wall; if they wanted to get to the bus stop, they'd have to walk through a small gap between some buildings. If not, they had to go in a roundabout way.
Kamijou and Stiyl started to look for a gap between the buildings as they continued to run on the extremely crowded road.
"You said that there are no clues, are there really none? Weren't you on the phone with someone when we were at the park just now!?"
"Ah, that's from London. I requested some people from the British Library to check something for me."
Looking around, they couldn't find the entrance of the alley. Compared to running in a straight line, the actual distance could be surprisingly long. It'd be great if Oriana was in a similar position.
"Are they looking for information about the 'Apostle's Cross'?"
At this moment, Kamijou saw a crowd gathering somewhere.
"Yeah. But…the progress isn't very successful because there's too little information. Right now, we only know that keeping the 'Apostle's Cross' would require a security vault, sealed windows, two doors and no light is allowed in…that's all we know."
Stiyl puffed out the cigarette smoke from his mouth.
"Just like that?"
Kamijou ran towards the crowd.
Stiyl answered back,
"Don't anger me. Later…damn it."
Stiyl suddenly coughed. It shouldn't be due to running, but due to him smoking quite often.
"It's too troublesome to explain it. Tell me your mail address, I'll send Orsola's e-mail to you. You can read it when you have the time."
To think that Stiyl and Orsola actually used e-mails…Kamijou was impressed as he gave his e-mail address to Stiyl. Come to think of it, wouldn't Index, who couldn't even use electronics, be the strange one?
Kamijou continued to run as he looked at the text that was sent to him.
"Vi riporto qua le informazioni che ha trovato nella Biblioteca Britannica…"
(Who…who can even read it!!?)
Seeing this wall of text on the screen, it seemed to be a language other than English, but he couldn't tell. Let's ask Tsuchimikado later, Kamijou thought as he closed the screen.
Stiyl, who was running behind him, irritatedly said,
"Cheh, forget about the grammar and language. Just grasp a rough idea of the pronunciation…don't read it if you can't, it's nothing major anyway."
"…Never mind, basically, we're in quite a predicament, huh. Damn it."
"That's right, this is why we have to find Oriana Thomson in order to get our lead. Just like this— eh?"
Stiyl frowned as he ran.
He looked at the crowd in front. They were blocking them, with a group of students at the centre. Their gazes weren't facing Oriana, but at a dark alley that was away from the road.
"That seems to be the alley that we're looking for…I have a bad feeling about this."
"What?"
Facing this surprised Kamijou, Stiyl shook the cigarette in his mouth.
"It's the scent. This is a bad scent. When a certain group of people are nervous and excited, the feelings will spread out like smell. And this…is the scent of someone seeing fresh red blood."
Hearing such terrifying words, Kamijou's hairs started to stand.
In this to-and-fro situation, Kamijou and Stiyl reached the back of the crowd. They then reached the crowd, where some of them were straightening their backs to see what was going on, and some were even jumping.
(What…?)
Kamijou frowned. Right now, he didn't have time to confirm it. He half-forced his way past the human wall and tried to get into the dark alley.
At this moment, on the other side of the human wall, there was an unexpected voice.
"PLEASE…PLEASE MOVE ASIDE! EVERYONE, PLEASE MAKE WAY! HIMEGAMI? ARE YOU ALRIGHT, HIMEGAMI!!?"
"MOVE ASIDE!!"
Kamijou suddenly rushed into the crowd, and arrived at the front. Most of the crowd moved aside, and though there was a rather angry atmosphere, Kamijou ignored this as he moved to the front.
Kamijou didn't slow down as he ran into the dark alley.
What he saw…
It was blood.
It was a narrow alley.
Because of the combinations of tall and short buildings, it was supposed to be daytime, but the sunlight couldn't shine in. The damp road looked dark, and there was a stagnant flow of smell.
This dark alley
Was dyed another crimson red.
"Ka…Kamijou!!"
The familiar voice belonged to Komoe-sensei.
But, those small hands, and that soft face, and the sleeveless cheerleading vest and miniskirt, they were all dyed a crimson red. Tears rolled down from her large eyes, mixed with the blood and rolled down to her chin.
But it was not her blood.
There was a girl lying beside Komoe-sensei. The black haired girl, Himegami Aisa, was lying in a pool of blood. Compared to the fresh red blood, her face and limbs had gone pale green.
The top half of her shirt was tattered.
She was bandaged up at the top. From the collarbone, to the top of her navel…every part of it was wrapped. To an amateur, it was pretty well done, but the seeping fluid continued to dye the bandage red. The originally smooth curve of the girl seemed a bit uneven now.
"…!!"
Kamijou wanted to know the reason, but he immediately regretted it.
Amongst the pool of blood, there was a piece of flesh with skin attached that was like a boiled egg that was failed to be peeled.
Himegami remained motionless.
Maybe he was thinking too much, as he could still hear light breathing.
Kamijou felt a strong impact in his head.
He saw it before.
This feeling.
It was the same feeling as when Accelerator was attacking the Imoutos.
"Why, how…Himegami, she…? Sensei, what happened! Who did it!?"
"I…I don't know."
Komoe-sensei, who was still trembling, looked over here.
"Sen…sensei knocked into a woman around here…then sensei did apologise to her. That person smiled as she also forgave me. But suddenly, her face looked very terrifying, in an instant…Himegami…!"
"It's Oriana, right?"
Stiyl shook away his extremely long cigarette, and in annoyance, pressed it against the wall.
"To do this in this situation, there's a high chance that it's her…that person, she'll really do things that are despicable."
"Why?"
Kamijou looked confused,
"Why did she do this? She has no reason to attack Himegami! Himegami has nothing to do with this!!"
"It's that."
Stiyl pointed at the floor with his cigarette.
In the pool of blood, there was a blood-stained Cross. That was a little boundary that the British Puritans had sent over as a decoration for her to wear in order to seal off her 'Deep Blood' ability.
"This 'walking church' spiritual tool is a special tool that was also given to me, Tsuchimikado and Kanzaki. Seeing this, it's not weird for Oriana to assume her to be a magician of importance that's of the same level as Index Librorum Prohibitorum. In Academy City, where science is the main subject, it's strange itself to have a British Puritan spiritual tool. Oriana must have thought that there were strong pursuers chasing after her, so she wanted to take the pre-emptive."
Kamijou knew what this meant, as his facial muscles started to twitch.
"She…made a mistake…?"
His throat bobbled strangely.
"Just…like that? She'll go to this extent, and land Himegami in this state; the reason is…she made a mistake?…Th…at…she…what the hell—!!"
Kamijou couldn't help but hammer hard into the wall. Now still crying, Komoe-sensei's shoulders inadvertently trembled.
Stiyl looked bored as he exhaled, and pulled out some runes from his coat. After tossing them, the cards stuck on the wall like there were magnets on it.
"Let this place be hidden."
Saying this, the crowd that was blocking the dark alley now moved back onto the road like a plug being pulled out.
This should be Stiyl's 'Disperse by-standers'.
"To carry out such emergency procedures, you probably called for an ambulance. If so, it's better to wait at the entrance of the alley. If you're to keep staying here, the paramedics won't be able to see you. But at least it's better than letting the bystanders stand around here."
In order to chase Oriana, Stiyl headed into the inside of the dark alley. If she wanted to get to the bus stop through here, she'd continue to move forward.
Thus, Stiyl moved forward without hesitation.
He stepped past Himegami Aisa, who was lying in the pool of blood.
"HOLD IT RIGHT THERE!!"
"What, what are you expecting now? Are you going to stay here and scream, or are you going to continue chasing after Oriana Thomson, and end this quickly?"
"It's because of us that she got involved! How can we just leave Himegami behind without taking care of her?"
"Kamijou!?"
Komoe-sensei looked up, speaking in a soft voice.
She was clearly one of the affected parties, but as nobody had told her what was going on, she couldn't understand what they were saying.
"Then, what can you do?"
Stiyl stood beside Himegami, who was not moving at all, and stared straight at Kamijou's face.
Then, he extended out his hand that had a ring on each finger.
"—STOP GETTING ALL HIGH AND MIGHTY, YOU AMATEUR!!"
He suddenly grabbed Kamijou's hair and forcefully pulled it down. In front of Kamijou, was a girl lying in the pool of blood, breathing weakly.
"In front of this injured girl, what can an amateur like you do? Even a specialist like me can't do anything, NOTHING! Will staying with her heal her up? Will grabbing her arm cause her pain to go away? If you believe so, fine, then do it, right in front of me! During this time, this cold and hard reality will only rob her of her strength! Right now, we can only chase Oriana! And if we are to do that, we have to step past her! If you're not willing, then just stay here and mope all you want!!"
Stiyl roughly let go of Kamijou's hair.
Kamijou took a few steps back.
"…You think that you're the only one angry, Kamijou Touma? Anyone will feel something by just seeing this. Even if it's Stiyl Magnus, he will feel it. The girl that I risked my life to save from 'Misawa Cram School' is now injured to such an extent; you think that I can remain calm!?"
Stiyl pointed his index finger, with the shiny ring on it, downwards.
"Step over it, Kamijou Touma. Step over her and chase after Oriana! This is our world. Terrible, isn't it? We can't treat this girl: this fact will not change. If you want to protect others, clench your fist. There's a limit to what we can do in the first place. Your right hand has the ability to break illusions, since when did it have the ability to protect an illusion?"
"…Damn it."
Kamijou lowered his face as his bangs blocked his view. He was gritting his teeth so hard that his molars were about to break.
In this hidden regret, was it directed at Oriana, or was it the fact that he couldn't rebut back?
"That…bastard…!!"
Kamijou let out a roar that sounded like he was going to cry. Then, he lifted a leg, as that trembling leg was about to make a first step. Instead of staying behind to look after Himegami, he chose to chase after the escaping Oriana.
"—"
The magician, Stiyl Magnus, narrowed his eyes as he saw the ritual in front of him.
It was when Kamijou's foot was about to step past Himegami Aisa's body.
The priest saw it.
It was Tsukuyomi Komoe, who was slightly far away from Himegami Aisa, now drenched in blood.
Her hands, face, clothes, all dyed a crimson red thanks to the blood. Komoe-sensei was sitting on the floor, not caring about her skirt or the ground, as her butt directly sat on the ground.
But, that wasn't the focus.
She slowly began to collect the surrounding pieces of rock and cans and stacked them up like she was playing with toy bricks, arranging them. But she was not placing them anyhow. It looked like a lame miniature model of the buildings.
"Wait a minute."
Stiyl suddenly said something.
Kamijou, who was about to take a step forward, lost his balance as he stepped backwards. Stiyl completely ignored him, as he just stared at Tsukuyomi Komoe's face.
"What…are you doing?"
"That time…"
The female who was only 135cm tall looked at the magician with her reddish eyes.
"…Didn't it work for Sister-san the last time? So, this…this time…I…should…be able…to do it. The last time…sister-san…was slashed in the back, she was bleeding profusely. But…if sensei follows…what Sister-san…instructed…"
"No way…"
Stiyl Magnus suddenly thought of it.
When that Index had first come to Academy City, Kanzaki Kaori had accidentally slashed Index in the back. Kamijou had carried that injured girl to Tsukuyomi Komoe's apartment.
But,
Index and Kamijou couldn't use magic. That was not a technical problem, but a physical one. Then, the one who had used healing magic on Index was—
"Don't tell me, it was you…?"
Stiyl said in a low voice that was full of surprise and respect.
The petite girl didn't notice his transformation.
"…Before, everything was alright after I did this. Sensei…remembers it very clearly? I really…followed what…Sister-san…instructed…! Why? Why, isn't Himegami healed…!? Himegami…just talked about the night tour, she wanted to go out with Kamijou. She checked the tour guidebook a few days ago. WHY…MUST THIS HAPPEN…!!"
Such an outcry wasn't directed at anyone.
And Stiyl and Kamijou could only listen to her sobbing.
What Tsukuyomi Komoe was doing was a healing spell, one that required delicate mixing of a magician-made hakoniwa (Note: A hakoniwa is a miniature piece of art. It may be a miniature garden, a landscape or a bonsai. Places in a box or a basin.) to a fixed amount of space. By using this method, if one was to patch up a ragged doll, the person could heal an injured person. But, if one didn't separate a fixed perimeter and just completed the 'hakoniwa', there wouldn't be any effect. Not just in the physical sense, the caster had to consider the magic symbols and the way the Angel's power was to flow in.
It wasn't a simple process that any magician could do.
Even for Stiyl, who could flexibly control the runes and the Christianity, he could only heal burns.
Though it was a recovery spell, due to the differences in sects, rules and spells, just chanting the incantation wasn't enough to heal. It was like how flu medicine was not going to heal a fracture: if one didn't carry out the appropriate spell, it wouldn't have any effect on the injured person.
Moreover, if they wanted to heal laceration, beatings, fractures, and internal injuries, they needed a specialised caster. If there was a person with knowledge that was of Index's level, maybe even an amateur could do it. But such a condition may be too unique.
Like he expected, Tsukuyomi Komoe's spell wasn't complete.
Of course, it was a different case when she had been instructed by Index to activate the magic spell. But for this kind of 'hakoniwa' that was made when she just learnt a bit of, it was a bit too loose, and there were no magical symbols at all. This was expected, as Komoe-sensei, who was from the science side, didn't understand how the spell works in theory.
But, she had called an ambulance.
And she did all the emergency procedures that she could do.
Tsukuyomi Komoe tried every single method that she could think of, but there was no effect at all. In the end, she had to seek help from the 'magic' that she had no knowledge of.
She may not know how outrageous this thing that she did was.
She may also not know that she was betting on such a lousy contraption.
Even so, she was just doing it for…
A girl in front of her who she wanted to save.
"Damn it…"
Stiyl Magnus inadvertently looked away.
This female called Tsukuyomi Komoe was very similar to a certain girl.
A petite figure, extremely naïve, one who got angry for others sake, one who cried for others sake, one who had magical knowledge, but was unable to use magic, that crying look when she got dyed in other people's blood.
Stiyl felt this unhappiness in his heart as he couldn't help but narrow his eyes.
He inhaled, and tossed the cigarette aside.
"—Nope, it's not like that."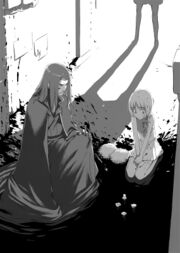 Eh?
Tsukuyomi Komoe looked up.
Stiyl pulled out several rune cards that had complicated symbols on them from his pitch-black coat.
"Like using a bucket to store seawater, first, we have to set the 'hakoniwa' area. Also, it's too little to just think of an Angel. We have to set where the Angel is to come in, and where is it going to stay. You just need to imagine it. We're not really summoning an Angel that has wings, we just need some sort of force."
He immediately bent down.
Facing Himegami, who was wrapped in bandages and could only let out feeble breathing.
He faces the girl who he had just stepped over.
"Kamijou Touma, go and chase after Oriana."
"What?"
"I'll tell you Tsuchimikado's new number. Even without me around, it'll be troublesome if you can't contact him."
"Wait a sec. That means…you'll…"
"Don't expect too much. I'm pretty much an amateur in this aspect."
The magician, Stiyl Magnus, said unhappily.
"I can only heal burns; loss of blood and fractures will require another type of spell. Also, this is a territory which I've never stepped into before. To heal such a serious injury…even those that specialises in surgery may not be able to do this…"
But he continued,
"…This person seems to know something that's part of Index's knowledge. I'll borrow some knowledge from her to confirm this theory. I can't even memorise Tsuchimikado's 'all-around reality array' and 'divination circle array'. To be honest, I'm a little worried…but we can still gain some time before we send her to the hospital. After this, we can only hope for a highly-skilled doctor to heal her."
"Eh, ah…?"
Tsukuyomi Komoe forcefully rubbed her eyes.
Seeing her like this, Stiyl couldn't help but look away.
"Wait till my instructions are over, then get to the road to call the paramedics in. Kamijou Touma, you go ahead and chase after Oriana. If even you stay behind, that right hand contraption of yours will destroy this healing spell completely. When this is over, I'll immediately talk…let me repeat this again, if you want to settle all these, hurry up and get out of here."
"…Got it."
Kamijou stared at Himegami's face, her body lying in the pool of blood.
He then exerted some strength into the five fingers of his right hand.
"I will, if this will solve everything. So Stiyl, I'm leaving Himegami to you."
"I should have said it before, but don't expect too much."
Stiyl heavily exhaled as he said this.
He then said in an extremely irritated tone.
"I'm not used to this either. In this world, I wish that I could use magic that's not used for attacking others."


Between the lines 5

(Why…)
Himegami Aisa was lying on the icy floor as she silently thought.
(Why…did it…end up like this?)
In the afternoon of this cruel September heat, only this alley was so cold that it penetrated the skin. Maybe it was because the sun was unable to shine in here all year long. The walls and what was on the ground, everything looked black.
She knew that her pulse was still beating.
The top of her chest to the bottom of her abdomen exploded.
The pain was at the point of saturation, such that she started to get numb. Thus, she looked around, and on seeing the blood that flew out and the scraps of skin and flesh, her thoughts were about to cause her head to explode.
But,
The even painful truth was in front of her.
The two boys were beside her. In this blurred vision of hers, they seemed to be arguing.
"—STOP GETTING ALL HIGH AND MIGHTY, YOU AMATEUR!!"
A voice that saddened people.
Even so, there was a sense of resilience in this voice.
"In front of this injured girl, what can an amateur like you do?"
You can, Himegami wanted to say.
But her lips were dry, and her voice couldn't come out.
"Even a specialist like me can't do anything, NOTHING!"
These words hurt the other boy.
Every time she heard this, she knew how twisted the young man's face was.
"Will staying with her heal her up? Will grabbing her arm cause her pain to go away?"
It's alright, she wanted to say.
Her wounds may not be healed, her pain may not subside. But, she could say this, that this didn't mean that there wasn't any effect, not so.
"During this time, this cold and hard reality will only rob her of her strength!"
Why? Himegami thought.
Why must this world be so cruel?
She just needed to deny it. The boy didn't need to give such a hurt expression.
Her lips couldn't open.
Her tongue couldn't move.
Her throat couldn't even make a sound.
The two boys seemed to be arguing over something, or more accurately, one side was attacking the other. This was a form of verbal violence. Every word that was said, the boy's face looked hurt, like his feelings were skinned off him.
She didn't want to see that expression.
To be honest, she wanted to be with him. It didn't necessarily need to be only two people. She wanted to take part in the matches together with everyone, to cheer for her friends together, to shop together, to go for the night tour together, to create happy memories together, to laugh happily together.
This was just what she wanted.
"…let me repeat this again, if you want to settle all these, hurry up and get out of here."
No, Himegami wanted to say.
"…Got it."
No, don't, she wanted to say, but she couldn't let her voice out.
"I will, if this will solve everything."
After this, the boy stepped over her body and ran into the alley. She was unable to convey her words, as the other person, back facing her, was running further and further away from her.
Why must this world be so cruel?
No matter how hard she prayed for it earnestly, her request wouldn't be granted. No matter how hard she tried, she couldn't make any voice. From the beginning till the end, all her hopes were taken away by the world—
"I'm sorry, Himegami."
Even so, she heard something.
"Before the night tour begins, I'll visit your room, so just wait for me there."
At this moment, she felt that she was smiling now.