Toaru Majutsu no Index:Volume10 Chapter5
From Baka-Tsuki
Chapter 5: An Intermission on a Thread of Tension. Resumption_of_Hostilities.
Part 1
"Magicians have invaded Academy City."
The British Puritan priest Stiyl Magnus said.
"Right now, we know that the 'Tracking Sealer' Oriana Thomson and 'Mardi Gras' Lidvia Lorenzetti are involved in this case. They intend to set up a large-scale spiritual tool deal in this city nya."
The magician, Tsuchimikado Motoharu continued.
In Academy City, where it was already noon, high school student Kamijou Touma recalled what they had said. Because of this special sporting event 'Daihaseisai' that the whole of Academy City was hosting, there were crowds on the streets.
"Though security is normally rather tight, as Academy City is hosting Daihaseisai, don't you think that they have to open a window to some degree? They must have exploited this tiny opening in order to get into Academy City."
"It's like this, nya. If the Anti-Skill and Judgement members of Academy City catch a magician from the magic side, there will be a problem. But at the same time, we can't just let in so many magicians just to pursue them. Not all the magicians are friendly towards Academy City nya. Both the science and magic sides have noticed what Oriana and Lidvia are doing, but for various reasons, they can't take action."
About 80% of the populace here were students, and today, there were many adults, a rare sight. These adults were parents who were here to see their children actively perform. They were staring at those rotating blades that were generating electricity using wind power, and the automated cleaning robots. Of course, espers like Kamijou were also part of the attraction.
"Thus, the only ones who can take action are us."
"If we can't prevent them from dealing this 'Stab Sword', we may end up having a war within the magic world nya."
Kamijou continued to walk among the crowd.
The people around were kids holding helium balloons, walking together with their parents, and the elderly who were holding what looks like foreign Daihaseisai tour guidebooks and confirming the schedules.
"The magical groups who are outside Academy City will move in on the excuse that they feel some magic flow moving through Academy City when it actually happens. They should have set up some sort of searching spell."
"No spell can involve the entirety of Academy City, so their search should be focused about 1–2 kilometres around Index. The reason is that most of the magic cases happened around her nya."
"In other words, if that child gets near the centre of this incident, the magic that both Oriana and I release may be detected. On the other hand, once we get the child far away from this incident, the probability of this being detected would be much lower."
"The one most suited for this job is you, Kami-yan. Besides assisting us in this case, if you can lure Index away from the scene, it'll be of great help to us."
The global faction around Kamijou that was peacefully living didn't sense any abnormalities.
Including what was going to happen in Academy City.
And that there were people who were going to prevent that from happening.
"Peh, the spiritual tool that they have isn't the 'Stab Sword', but the 'Apostle's Cross'! By setting it at a place, whether it's physically or mentally, the land would be forced to be that of the Roman Catholics. This dominated land would be favourable to the Roman Catholics, and everybody will gladly accept that without any hesitation. Imagine what would happen if they're to use it in Academy City, which is against the religious side…if one says that 'getting Academy City to be part of the Roman Catholic Church' is the most beneficial thing, it might actually happen!"
"The 'deal' that Oriana and company said isn't just about the spiritual tool itself, it also includes 'Academy City, where the spiritual tool was set up.' Academy City is the leader of the science world. If somebody controls it, it's equivalent to gaining the power of half the world. If the Roman Catholics, which is the largest side in the religious world, is to obtain Academy City, which is the largest force on the science side — this world would be controlled by the Roman Catholics."
"We're certain from the start that the delivery involves Oriana and Lidvia, which in retrospect, the target of their deal is unknown. Actually, they never intended to hand the 'Apostle's Cross' to anyone. This is a deal that they are dealing to their own Roman Catholic Church!"
Kamijou Touma was walking in Academy City.
On this busy street, it looked like an intense battle between espers, but in reality, magicians were hiding among them.


Part 2

Daihaseisai.
It was a 7 day unique sporting event held by Academy City, an esper power development centre that occupied the west side of Tokyo, and right now, it was halfway through the first day. All the events stopped at 2pm, as it was lunch break. The large number of students who were either participating in the events or cheering for their classmates were now all on the streets, and together with the tourists from outside Academy City, the population density couldn't be belittled.
"Index?"
Kamijou was walking on the crowded streets.
He had changed clothes before, but right now, he was in an ordinary short-sleeved P.E. shirt and shorts. For some reason, there were some bruises on his arms and legs, there were even bandages on his face, and there was some dirt and damage to his clothes. But this was Daihaseisai, where espers battled it out, so it was not too eye-catching.
For some reason, even when lunchtime was almost over, he hadn't eaten lunch yet. He moved his famished body, searching for the girl who was extremely likely to be as famished as he was.
(That kid should be around here somewhere…that zero-yen phone that I gave her can't work now because it has no power. Tsuchimikado said not to allow her to get near the scene, so I got to watch over her.)
Kamijou looked around.
He thought: now that the magician Oriana Thomson and the Roman Catholic Lidvia Lorenzetti are actively working in the darkness, how can I be so relaxed?
But Tsuchimikado and Stiyl strictly warned him.
"If the objective of those ladies is to use the 'Apostle's Cross' to dominate Academy City, why can't they do it themselves? Maybe there's a reason why they can't do it at the start? The spiritual tool is extremely powerful, so if one wants to activate it and control it to stabilise it, it can't just be chanting something only. For example…yeah, the caster has to spend a long time to purify the Cross with fire and holy oil in order to prevent the Cross from reading any thoughts other than that of the caster, which will cause the command to go haywire. One must set a special enchantment…anyway, if they don't settle these rather complicated conditions, they won't be able to use the 'Apostle's Cross'."
"By knowing the 'usage conditions,' we can strike first nya. Anyway, investigating this spiritual tool is our job, Kami-yan won't be able to help."
They had said so.
Thus, Kamijou's priority was to accompany a certain girl.
He was look for that girl called Index — a slim green-eyed white girl. She had long silver hair that extended to her waist, and wore a pure white nun robe that was laced with gold embroidery that looked like a teacup.
As Academy City and Daihaseisai were rather famous, it was not uncommon to see a foreign girl around. Kamijou would occasionally brush into a green-eyed girl, and wouldn't end up recognising the wrong person.
…Even so, he still couldn't find Index.
What was going on? Kamijou tilted his head.
"Touma…"
A cute familiar voice rang inside Kamijou's ears.
He looked in the direction of where the voice came from, and in front of him, there were just people, people and people. The crowd formed a human wall, and he couldn't confirm everyone's face. From the corner of his eyes, he saw something with long silver hair and stared at it. The girl was wearing white pleated skirt and a light green sleeveless vest.
Index couldn't possibly be wearing that.
"Touma…"
He heard the voice again.
Kamijou looked around, and yet he still couldn't find that magnificent white nun robe around. In front of him was a silver-haired green-eyed girl who looked like Index, wearing cheerleader attire, and carrying a calico cat.
"I say, Touma!! Why didn't you look at me straight in the face just now!?"
"Wa!!"
From who knows when, the cheerleader girl got near to Kamijou, and shouted into his ears, causing him to fall backwards. The other person seemed to be looking for him as well.
He suddenly thought of it.
Oh yeah, I think Index was changing into cheerleader clothes with help from Komoe-sensei…
"…Touma, Touma. Are you thinking about something strange? Why do I feel that you're delighted?"
"Sin…since when? I'm not."
Kamijou frantically shook his head.
"Come to think of it Index, where are your nun robes?"
"They're with Komoe-san."
Index said unhappily.
Wha…what was she angry about? Kamijou felt insecure. Even if he stared at the calico cat, the cat would only give a bleary-eyed response and yawn. Kamijou saw the serene look on the cat's face, thought about something for a while, and said,
"Ah, I know. You're hungry, right, Index? We'll be meeting with otou-san and okaa-san to have lunch, so just bear with it for a while longer."
Once he said that, Index's small fist smashed down onto Kamijou's head.
"It's not that, Touma you idiot."
"It hurts! What's that for?"
"I wanted to come cheer for Touma, so I changed into this cheerleader attire and asked Komoe-san to teach me the moves! But where did Touma go!? It seemed like you weren't around during the 'Bread-eating contest' and the 'tug-of-war!'"
Kamijou recalled it.
For some reasons, he had skipped those events and taken some actions that were different from his classmates, but he couldn't explain that to Index.
"Ughh…I…I thought I could be with Touma, so I worked so hard for it. Now that Touma ran somewhere else, what should I do…?"
Index dejectedly muttered.
To her, being in a large-scale event hosted by Academy City that she was so unfamiliar with, it was like someone feeling helpless when he stumbled into the wrong party.
Kamijou inadvertently scratched his head,
"Ah, sorry Index, I…I thought that like usual, that you're just hungry."
"I'm not! I worked so hard just to cheer for Touma, but you didn't even see it at all, that's why I'm so angry! Basically, being panicky when I'm hungry is something that's unrelated to being a humble nun, stupid Touma!!"
"Oh really? You look like you're thinking about food ¾ of a year…wait a sec, I'm wrong!! It's my fault for saying my true thoughts…no, I'm wrong, there's quite a few reasons—!!"
Kamijou tried to justify himself, but Index's anger could not be pacified. She used her small fists to smack onto Kamijou's face and chest. Though it was cute, Kamijou felt that it was a bit strange.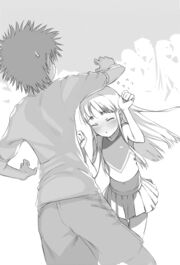 "…? Eh, Index. Why aren't you biting on me like usual?—IT'S NOT THAT! YOU DON'T HAVE TO FORCE YOURSELF TO DO THAT!!"
Although Kamijou immediately added in the last part, Index unexpectedly didn't retort back. Not only that, her small fists which were hitting him stopped moving.
Kamijou looked at Index's face.
He couldn't help but let out an 'uuu' sound.
Index suddenly lowered her head. Not just her face, even her ears were flushed red. Her shoulders were trembling slightly, her small lips seemed to say something, only to suddenly stop. Maybe the calico cat realised something was up as it raised its head and mewed, but Index was so tense that she didn't hear it.
Index, who was all stiff now, remained silent for a while, and suddenly let out a sentence,
"…Touma's so perverted."
"What kind of nonsense are you talking about!? Aren't you the one who'll always bite me, Index!? Kamijou nii-chan has been calling you to let go of me all the time, so the one perverted should be you…uhh WAAAAAAAAAAAAAAAAAAAAHHHHHHHHHHHHHHHHHHHHHHHHHHH!?"
Just as Kamijou retorted back, the fist that forced him to shut up came over.
The other person was unexpectedly serious.


Part 3

Oriana received a double-layered ice-cream from a staff member wearing a cute uniform.
Her shaggy, curled blond hair, white skin, blue pupils, tall height, and such a good figure, she completely fulfilled what the Japanese expect of a Westerner.
Right now, she was not wearing the work clothes that she had been wearing a while back. She was wearing a dark-coloured mini-top and a light-coloured skirt below, with thin sandals to go along with it. Though her skirt extended towards her ankles, there was no sense of purity at all. At every 10cm interval on the skirt, there was a vertical cut downwards. As it couldn't cover her underwear completely, she had to wrap a Sarong skirt for swimsuits around it.
Every step she made, one could see her thighs through the skirt like a curtain. The flesh of her legs continued to fade in and out through the fabric that was supposed to be used for covering the lower body. This sight just basically denied what people normally think about skirts.
In Christian Society, clothes were items that signified one's position and authority, from the Archbishop's holy robes to the uniform of a prisoner. Among that, how badly torn the clothes were—especially when cutting off parts of a woman's skirt—was a sign of her authority being taken away from her. The people who were treated this way were the 'shamed' who were not worthy of being protected, and should be viewed with contempt by society. Of course, those people who were viewed like this were all sinners.
"Sinner."
Oriana licked the creamy ice cream with her bright red tongue.
"A sinner…huh? Hohoho, hohohoho."
"What are you laughing at?"
Another voice was heard.
It was the clear voice of a woman.
There was a thick piece of flashcard stuck on her right ear like a pen clip. The thick piece of paper trembled slightly, letting out a 'voice'.
"It's alright, nee-chan just wants to say that we've finally made it all the way here. Lidvia Lorenzetti."
"Didn't I tell you not to call me by my real name? Also, it's too early to talk about this. Or should I say, this is where things are going to begin."
"I know, I know, this nee-chan won't forget her own mission. Even if it's a 'sinner' like me, if I can get some points here, I might be able to hold down those stubborn factions. This way, your position would be much better."
"…You don't have to bother about me."
"Just accept this nee-chan's good intentions."
"Compared to me, shouldn't you be the priority of concern? Are you alright over not resting at all? I think that you should at least—"
"It's more interesting not to rest. Come to think of it, Lidvia, were you discovered? Though the lead that's performing on the stage is this nee-chan, and you only need to act as the supporting cast, the whole mission will fail if you can't move at all."
"Relax, I'm different from you, I'm resting in a hotel lounge."
"How elegant, this nee-chan also wants to leisure around inside a hotel. Working out inside a hotel isn't a bad idea."
"…Did I not tell you to watch your wretched choice of words?"
"Eh, you're thinking too much, you know? Modern hotels have swimming pools and gym facilities. Oh my, Lidvia's so perverted!"
"——"
"Eh? Wait a sec, you're not saying anything after I made a little joke, Lidvia-chan?"
After saying this, Oriana saw a balloon hanging on a tree in front of her. An ordinary Japanese's height shouldn't be able to reach it, but to her, it was easy. She tiptoed slightly, grabbed the string of the balloon, and looked around. Standing nearby, a young child was staring at her.
Oriana bent down and gave the balloon. The child grabbed the string on the balloon, and without saying a word, ran away.
"…Didn't I tell you to try not to interact with the people?"
"I did try my best to avoid them, but that situation just now was unavoidable."
A sigh came from the other end of this communication-type spell.
Oriana didn't mind as she licked the ice-cream with her tongue.
"Even so…"
She looked at the airship in the blue sky, and said,
"…I know, waiting is something that's hard to do."


Part 4

"Wa, Touma. I seem to be hungry…"
"…You're saying this, but why do you smell of sauce and mayonnaise, Index?"
Kamijou brought Index to a small, neat coffee shop. Maybe it was the preference of the shop manager, since it was hard to tell which was which, from the menu to the opening/closing sign. Anyway, the atmosphere seemed to be that no one wanted to serve any customers.
However, this shop was full. The reason was simple—it was not 2 PM, so it was still rest time. However, the 2.3 million population of Academy City and the 'outside' tourists who exceeded this amount were gunning for the food and drink stores, so just like this, there were a lot of people gathered at this kind of shop.
Kamijou walked into this shop that doesn't have any waiters, shocked by the chaotic state of the shop—
"Oi, Touma! Over here! Here!"
"Ara ara, you don't have to be so loud."
There were familiar faces at the four-seater table near the windows. They were Kamijou's parents, Touya and Shiina. Touya was wearing a shirt with its sleeves rolled up, and slacks, whereas Shiina was wearing a thin sweater and a western skirt that extended to her ankles. Instead of calling them husband and wife, one could call them a Missy and a chauffeur.
Once Kamijou and Index got to them, Touya spoke up,
"Every year, I've been thinking, Daihaseisai is really amazing. It's already hard enough to get seats, it's like we're competing together with the children."
Daihaseisai was different from ordinary sporting events in that they couldn't just book a place. The arenas differed for each event, so the parents had to follow the children and book their places multiple times.
It was the same with lunch, as after the events were over, all the competitors and spectators would be out, so if they wanted to get lunch, they had to get their seats.
Kamijou absent-mindedly thought about this.
"Ah, that's it. It's like the entire city is raiding the stores."
"Un, as expected of Academy City. We can't sit down without squeezing in."
"Ara ara. Firing a 'Fried waist and meat sandwich' into the crowd is rather interesting as well. Let's try that tomorrow. Ara ara, imouto-chan, come sit here."
Touya and Shiina emptied their seats. Kamijou sat next to Touya, and Index sat next to Shiina. Shiina smiled at Index, who was so famished that she was lying on the table, as she placed the basket on her lap onto the table.
Though it was a breach of customs to bring bentos into a restaurant, Daihaseisai wasn't about ensuring what kind of food people eat, but about people finding a place to eat. Maybe they actually knew about this special condition, or maybe they were just not interested in working, but the store manager at the counter didn't say anything. Basically, when Index brought in the calico cat just now, he didn't seem to notice that someone brought an animal in.
(Strange, why would Dad and Mum accept Index without any awkwardness? Ah yes, they've met at the seaside resort.)
Kamijou tilted his neck; the other staff members didn't seem to mind as well. However, if it was this group of people, anybody would accept them.
"Ah look. Today's lunch is rice sandwich. Ara ara, the shape seems to be off, it's a bit crushed."
Shiina said as she opened the basket.
On hearing the food's name and smelling it, Index and the calico cat immediately gave a quick response, as they forcefully raised their heads.
Kamijou gave a look that said: I can't stand these two…
Suddenly, he felt that there was something amiss in his vision.
He looked around the store.
The store's interior had a slightly aged feeling, but it was not like any ordinary chain stores, as the positions of all the wallpaper and chairs were fixed. However, it was not like an old shop where the owner would add in his own personal tastes…so it was somewhat of a suffocating feeling. It felt like a 'café' that ordinary people would expect. Basically, it was just a counter that was manned by one person, and the table that Kamijou and the rest were sitting at. The path besides the table was rather narrow, and the guests who were sitting in the adjacent table beside Kamijou were a female college student who was wearing a light gray shirt and thin black pants, and opposite her, was a middle-school student who was wearing a jogging shirt and shorts that a track and field competitor would be wearing. The girl, who was raising her leg, was staring at him — a Level 5 esper, Misaka Mikoto.
Kamijou blinked his eyes, and said,
"Come to think of it though, Wha-what's with this menu! Would the coffee in this shop be that cheap!?"
"HOLD ON A MINUTE!! WHY DO YOU ALWAYS IGNORE ME? ALSO, DON'T THINK THAT IT AIN'T GOOD QUALITY JUST BECAUSE IT'S CHEAP, IDIOT!!"
Mikoto inadvertently stood up suddenly.
Kamijou looked irritated as he turned his eyes away from the menu,
"Ah…it's not that, I just so happened not to see you."
"It…it's not that! Say…is there anything that'll happen around you naturally? Who's this girl, what kind of person is she, and where's she from?"
Eh? Index, who had been mentioned, looked up.
"You're asking who she is, she is—"
Kamijou carelessly blurted out, before stopping short. It was somewhat dangerous to reveal in front of his parents that he had a girl living in his dorm.
Just as the pure and innocent Kamijou Touma didn't know what to do and was racking his brain,
"That's right, Touma, who's this girl? She came along during the few days we went to the beach. However, at the seaside resort, you craftily escaped Dad's question."
"Eh!?"
Just as Kamijou was about to erupt, Mikoto interrupted,
"THE…THE SEASIDE! AND YOU STA…STASTASTASTASTAYED THERE FOR A FEW DAYS!?"
The piercing scream entered Kamijou's ears. Seeing Mikoto act like this, the college student opposite of Mikoto sighed.
"No…no I don't mean it like that, anyway, why must I explain it to you!?"
Just as Kamijou was about to say this—
"That short-hair, where's she staying? What kind of person is she? Is she Touma's girlfriend?"
The authentic Westerner Index looks dumbfounded as she said this. She should be referring to an ordinary friend, but the real Japanese Misaka Mikoto's shoulders started to tremble significantly.
"NO WAY…PEH, JUST SHUT UP!!"
Mikoto started to act violently. In contrast, Index just looked uninterested. She turned the calico cat around with both hands, and looked distracted as she stared at Shiina's bento that was on the table.
"Touma, Touma. I'm somewhat hungry. Did Touma make any bentos today?"
"Ara ara, today? Then what is it like normally, Touma?"
Seeing Shiina's slanted smiling face, cold sweat broke out from Kamijou's back.
"No, no, it's not that, mother! This girl just so happened to be living close to me, and she can't cook, so for various reasons, I'm cooking her meals—"
"Eh, that's not right, Touma. It's shouldn't be nearby…"
"Let me explain this, so shut up! As a girl, don't you feel embarrassed over not being able to cook?"
"But then, I can't do it means I can't do it."
"Damn it, you really intend on eating huh, Index!? Come to think of it, can Mikoto do housework!?"
"Eh? That…that…I'm still learning, so I can still do a bit. I know how to patch up a Persian carpet, and repair some gold plating, though I'm not really good at them."
"Mikoto…there's no Persian carpet or gold plating needed in an ordinary Japanese family. That's not housework, that's art and crafts, right?"
The female college student explained tactfully, and Mikoto exclaimed,
"Ugh!? That…that's because the Home Economics module of Tokiwadai middle school is really…"
Seemed like in the land of the ojous, reviving an antique was like a simple assignment of patching up a shirt.
Anyway, at least he had skilfully changed the topic. Just as Kamijou was feeling relieved, his father Touya stared at the clock on the wall, and said,
"Okay, let's eat. Touma, say thanks to those two ladies. They haven't eaten because they were waiting for you."
Oh really? Kamijou turned around. Mikoto gave a 'ugh' sound as she shyly sunk her body into the back of the chair. The college student sitting opposite Mikoto who Kamijou had never met before smiled and said,
"Okay then, the people we're waiting for have arrived, so let's eat. Hm, your name is Kamijou Touma, right?"
"Eh? That's right. Then, you're Misaka's sister?"
"Nope. My name is Misaka Misuzu, Mikoto's mum. A pleasure to meet you."
…………………………………………………………………………Mother?
Everyone at Kamijou's table stopped what they were doing.
"MUM?"
Everyone shouted out in unison, especially Touya, who was extremely embarrassed.
"But…but didn't you mention college just now?"
"That's right, because I thought of studying again recently. It's rather exciting when there's so many things that I don't know about even at this age."
Really unbelievable. Now that she mentioned it, it did make sense. Also, when both father and son turned around to look at the petite Missy Shiina—
"…Well, I guess it's not strange for this kind of thing to happen in this world? How about you, Touma?"
"Well, now that you mention is, our family's the same as well, so I guess there's no need to be surprised about it…right?"
"It's already strange! Touma is surrounded by adults like 'Komoe' and 'Shiina' who're so young it's too unnatural!! What's with this youthful sense in this world? Don't tell me it's a theme park where Peter Pan is the tour guide?"
Index tried hard to retort, but her body could be considered rather small. In this context, the words of this cheerleader girl in front of him weren't really convincing.
However, this was nothing to the Misaka family, as Misuzu and Mikoto didn't mind at all. Mikoto reached out to grab the menu on the table corner,
"Let's see, it's a bit late now—Mom, what did you order?"
"Nothing. You see, I've prepared bentos as well. So, Mikoto, ain't I acting more like a mother now?"
"…It's not 'more like a mother,' it's if you don't play the role of a mother well, it'll be nerve-wrecking for me! What's inside that bag?"
"Hehehe, don't be surprised when you see it."
Misuzu rummaged through the bag, and pulled out a large piece of cheese that was as big as a Christmas Cake, some white wine, a silver brass circular pot, and a mini gas stove.
"Qiang qiang!! Today's menu is cheese pot!!"
POW!! Mikoto smashed onto Misuzu's head. Luckily, she was not using electricity. In comparison, Misuzu was like a mature woman who could control her tears, as she purposely made her eyes watery.
"Wa, to be hit by my own daughter. However, if a girl's appetite is large enough to eat an entire pot full of food, it'll be better for your development. Though exercising is important, you won't grow much if you're only eating such a small bento. Also, your nutrition won't be enough to develop certain areas that you wish to develop. Really, why do you think that I prepared so many dairy products? Aren't they for my daughter?"
"What, wait…what grow, develop? Why are you talking about this all of a sudden!?"
"Did I? What are you talking about? I'm talking about developing healthy bones, so you need to take in enough calcium…don't tell me that Mikoto is thinking of growing a specific area? Why are you wishing for that part to grow?"
"Shu…shut up, stupid Mom! Oi, stop staring at me like that!!"
After shouting like that at Misuzu, Mikoto, who was flushed red now, glared at Kamijou for some reason, not turning away. Misuzu opened her mouth slightly, revealed a not so temperament smile, and said,
"No matter whether dairy products are important, it's common knowledge in biology that you grow more when you eat more. Whether you're growing vertically or horizontally is another matter. Some people get obese by eating because they're too lazy to manage their own bodies. By controlling the calorie intake and amount of exercise, one can grow places that they want to grow. Isn't the food culture of the Western world great? They can eat an entire vat of rice, and yet they're able to develop their physique better than Japanese. Life would be rather beneficial if your breasts are large."
Misuzu said this as she 'ungh' raised both hands and stretched herself lazily. She bent her back like a bow, purposely emphasising her rather huge assets. Mikoto, whose breasts were still developing, cowardly retreated, and said,
"I…I don't care about it. Saying what eating a lot means that the body will grow bigger, it's just a superstition — Say, WHY ARE YOU STARING AT ANOTHER PERSON'S MOTHER!!?"
Kamijou, who was singled out by Mikoto, turned around at the speed of sound. But when he forcefully turned around, the cheerleader girl Index was in front of him, looking rather unhappy. Maybe it was because of her empty stomach or the issue on breasts.
"…What now, Touma? Why are you staring at other people?"
"No reason."
Kamijou bitterly smiled,
"Eating a lot can help a person grow, huh? It'll be good if that's true."
"!!"
Hearing Kamijou's words, Index instantly responded. She opened her mouth wide, ready to bite onto Kamijou's head, but stopped halfway through. Looked like she was mindful of touching others with her mouth. Her face was flushed red as she slowly returned to her seat, and shrunk up.
(Hm. This is rather awkward…)
Kamijou thought, though it hurt when he was bitten, he didn't feel comfortable when he was not bitten. What was with this feeling?
At this moment, from his surroundings,
"To…Touma. Don't tell me you did something to that girl? Just now, you talked about playing a penalty game and letting that girl obey your orders, and now this!?"
"Ara ara. A girl is angry now, and yet we're able to change the topic like this, this mum seems to have seen that somewhere before."
"…That's…that's right. There's something suspicious about you two. Humph, I was right."
"Wa! Our Mikoto is already so mindful about this, and yet she pretended to not be interested in this, so adorable. Truly an unfortunate girl who hasn't realised her own feelings."
"…Touma is…a big idiot."
(Ugh! SUCH MISFORTUNE!)
Hearing the ruckus around him, Kamijou inadvertently wrapped his hands around his head.


Part 5
"How troublesome."
The magician Stiyl Magnus placed the handphone next to his ear.
He was sitting on a bench in a park, and there was no one beside him. There was canned tea and a sandwich that he bought from a convenience store beside him. After drinking some red tea, he swore deep inside not to drink it a second time. No matter what though, he was a citizen of England, the land of red tea.
However, the reason why he looked so bitter was not because of this.
The reason was the lively voice coming over from the other end of the phone.
"We have checked the records of the British Library. The 'Apostle's Cross' is a spiritual tool that the Roman Catholics refused to reveal up till now, so even with these details that are open for public access, we can't guarantee that it's accurate."
The owner of this voice that either sounded like a male or a female was Sherry Cromwell. The decoder of the British Puritans, and at the same time, Index's enemy. They were both from the same group, and may cross swords because she was of a different faction, but if it was a situation or problem that involved England, she'd help without any hesitation. Sherry was in such a complicated situation.
Because of the attacks she carried out on September 1st, she was now under a religious trial held by 'Necessarius. As a key combatant, shutting her in and letting her do document arrangements to reflect on her actions had a rather deep meaning. However, Stiyl suspected that Archbishop Laura Stuart would issue a 'generous disposition.' Because this incident involved some complicated background in England, and they couldn't just easily give up on Sherry Cromwell's decoding and combat capabilities. That incident had caused quite a few causalities in Academy City, so Laura should have conducted some tense negotiations with the leader of the science side, Aleister, in order to settle it.
To Stiyl, he didn't even care about this. Just the fact that Sherry had once attacked Index made him want to attack her with a flame sword before talking to her.
"Speaking of the 'Apostle's Cross', as a former Roman Catholic, I have never seen it before. So this can be classified as a secret weapon. It'll take some time for us to find its weaknesses."
The other person who was speaking in a relaxed tone was Orsola Aquinas. Like Sherry, she specialised in decoding anything magic-related. Because of the incident when she tried to decode the magic book 'Book of the Law', she had switched from a Roman Catholic to a British Puritan.
Right now, Stiyl was getting information from the huge number of records sleeping inside the British Library, which was independent of the British Museum, as he tried to find the conditions for the 'Apostle's Cross' to be used. Based on specialities, they should let those familiar with codes to manage the collections of information on these antiques. Thus, Sherry and Orsola were in the same department.
"Duru duru…oh my, wait a sec, Sherry! Sherry! There's handwritten information regarding the Vatican security on this page."
"YOU! Didn't I tell you so many times not to eat muffins in the library?"
"But it's already this time now. Want a light snack?"
"IT'S NOT ABOUT WHETHER I WANT IT OR NOT! I SAID NO EATING ALREADY, SO STOP CHEWING ON THAT MUFFIN!!"
"But this is the muffin that my Amakusa friends specially made for me. It includes food rituals that heals my wounds and replenishes my energy. My body hasn't recovered yet, you know."
"Ch, stop changing the topic—idiot! Don't tell me that that dropping food scraps on the floor is also another important part of the Amakusa—"
Stiyl inadvertently sighed.
No matter what, the personalities of these two people were completely different. After some crackling sounds were heard, the phone on the other side was dead.
(Really…)
Stiyl folded up his handphone and slipped it into his pocket.
(…Since when did 'Necessarius' become so harmonious?)
Up till now, the atmosphere in 'Necessarius' was like walking on a spider web. On the other side of hope, was despair. In order to add a comrade, they had to kill another. They had to shed blood in order to prevent shedding of blood — it was such an organisation.
The only reason he could think of was of a certain boy.
Many magicians had interacted with him, were affected, and reconsidered what their purpose in life was.
Even Stiyl himself was one of them.
"…Though I don't want to admit it."
After saying this, Stiyl tossed the shortened cigarette stick next to his feet. The moment it touched the ground, the cigarette vanished into a puff of fireworks. He held onto a new one, and without touching it with his hand, a flame appeared on the tip. He puffed out some smoke.
(Tsuchimikado said that he's going to check on the security of Academy City, he feels that it's not so reliable over there. Then…)
Stiyl leaned onto the bench, looked up at the somewhat disgustingly blue sky, and puffed out some smoke like a chimney.
"?"
Someone was staring over.
From the top, he tilted his head down. In front of him was a female that was 135cm tall.
Her name was Tsukuyomi Komoe, right?
Near the end of July, when the girl named Index had first snuck into Academy City, she was the one who had hid Index in her apartment. She looked like she was around 12 years old, but it was said that she was a teacher. For some reason, she was wearing a pale green sleeveless shirt and a white pleated skirt — seemed like a cheerleading attire.
She was staring at Stiyl's face.
(Oh. Such a relaxed country, and yet there are people who can manage a crisis.)
Tsukuyomi Komoe probably hadn't been involved with the core of this situation, but because of what happened the last time, she could still sense that something was strange with Stiyl Magnus.
Stiyl revealed a cynical smile.
"Sorry, can I help you?"
Stiyl said as he shook the cigarette in his mouth. It had been a long time since he last felt that sense of fear and rejection that reminded him of the atmosphere in 'Necessarius'.
Komoe-sensei pointed her index finger at Stiyl, and said,
"Hey! It's forbidden for anyone to smoke on the roads of Academy City!!"
…An answer that was completely expected.
Stiyl speechlessly blinked,
"Sigh…"
"Wh…why are you giving such a tired expression!? This Komoe-sensei is seriously warning you! I'm seriously preaching to you, you know!"
Seeing Komoe-sensei, whose eyes were watery now, Stiyl slightly frowned. Komoe-sensei didn't care about the look on his face, as she looked at his face closely before saying,
"Humph! Pardon me, how old are you? Komoe-sensei feels that you're underage."
"So what?"
"Of course I'm scolding you! Ah really, listen to me. LOOK AT ME! DON'T TURN YOUR HEAD AWAY!!"
Komoe-sensei was angry as she snatched the cigarette from Stiyl's mouth, and reached into his coat without any hesitation. She rummaged through the coat, and pulled out a cigarette pack.
"…"
Stiyl looked like he got some spasms on his face. Basically, he wouldn't attack anyone that was unrelated to magic (except for a certain boy who had a special right hand.)
Komoe-sensei looked at the brand of the cigarette pack that she confiscated, raised her eyebrows, and said,
"And yet you chose such a brand to show off. Did you learn to smoke because you yearned to be a movie star or something!?"
"It's just that in my country, that's the most famous brand…"
"Really! Anyway, I'm confiscating this! You're not allowed to smoke. Nicotine and tar will affect a child's growth!!"
Looking at Komoe-sensei, who was staring back at him, Stiyl inadvertently looked away.
(…So troublesome.)
He thought.
Tsukuyomi Komoe was similar to a certain girl.
They didn't mind about the difference in physiques, ignored the distance between people, and get into other people's hearts.
They did things that most people wouldn't pay much attention to, but they were doing it for the good of others.
They'd keep scolding others to prevent others from getting hurt.
—Several years back, every time Stiyl smoked, the girl would angrily scold him.
"Really…"
"Wha…what's with that helpless expression!? I, Ko–Komoe-sensei, am really angry now! Ah, there's still more? Today, sensei's going to confiscate them all—wa…wa! Stop playing with the cigarette pack like you're playing with a ball; hurry up and hand it over to me!!"
Stiyl turned to look away from Komoe-sensei. Even as he was not paying attention to the shouting Komoe-sensei, he didn't intend to leave.
That was right, she was really stubborn.


Part 6

Lidvia Lorenzetti was at a lounge in a hotel.
She was wearing an old, torn and faded monastic robe, and under the backdrop of this modern surrounding landscape, it was rather eye-catching. Her hair and skin were as damaged and dull as her robe. From her look, she should be a beauty, but from head to toe, she was like an old movie, her entire colour was gone.
The robe that she was wearing was a generation older than those worn by the Roman Catholics, and it had the unique characteristic of having different variations. Among them, the robes Lidvia was wearing were white, with a red cross on it. It was the symbol of St. George, and also the symbol of the British Puritans. During modern times, she had been mistaken for a British Puritan many times just because she was wearing a robe that had a symbol similar to that of the British Puritans. But Lidvia chose this dress-up not only because it was handed down from her grandmother, but also because of her belief. She believed that 'even if they were sinners, as long as they had some sort of talent, she'd extend her hand to them.'
In terms of world ranking, the hotel where she was at now wasn't exactly a famous hotel. In terms of history, one could only describe it as 'shallow.' It couldn't be compared to those large hotels in Italy that had an antique value…but the prosperity of this hotel was much superior to all the other hotels in the world.
Maybe this was the effect of an international sporting event like Daihaseisai, Lidvia wildly guessed.
Academy City, which was normally sealed up, didn't really need a hotel except if they want to hosted VIPs from other schools. Thus, facing such a large-scale event, tourists from outside would gathered at the few hotels that Academy City had. All the guestrooms were fully booked. With so many tourists, business must also be bustling for hotels outside Academy City.
The surrounding crowd started to move about quickly, as Lidvia slowly moved forward.
This gave the feeling of a distortion that excluded both time and space.
(Then.)
Lidvia Lorenzetti left the hotel through the rotating glass door.
The bright sunlight of the hot day beat down on her.
She squinted her eyes.
(Oriana's working hard now, so I should get to work now.)
As Lidiva thought this, a broadcast about Daihaseisai could be heard. She looked up, and saw an airship floating up there. The big screen on the bottom of the airship was airing the weather report. The report said that there was going to be clear weather. The weather was good alright, thought Lidvia as she looked away from the light shining down on her.
The entire street looked peaceful.
Lidvia Lorenzetti passed through the gap in the crowd, and vanished among them.


Part 7

2:20pm.
Lunchtime was over.
There was still some time till the next event that Kamijou would be participating in. However, they had to book their seats beforehand, so the group of parents, Kamijou Touya, Shiina and Misaka Misuzu quickly headed to the next arena.
Thus right now, the three people walking on the road in front of the bus stop were Kamijou, Index and Mikoto. As Mikoto was from a different school, she had to meet up with her own schoolmates.
(Hm, anyway, let's…)
Kamijou was hiding behind the two girls, as he heaved a sigh of relief deep inside.
They seemed not to notice the events that were happening in Academy City. To Kamijou, as Fukiyose Seiri had gotten involved just now, he didn't wish to involve anyone else, even if Index and Mikoto were the perfect fighting strength that he needed.
Mikoto didn't seem to notice that there was something strange with Kamijou.
"…I've been feeling strange about this, why are both of you always together?"
Seeing Mikoto look at Kamijou and Index's surprised expression, Kamijou was shocked.
Actually, Kamijou didn't know it himself.
Because he had lost his memory. Before he knew it, and that was when he was conscious, Index had been living with him. And he had been hiding the fact that he lost his memory.
Thus, Kamijou thought that he could just 'give a vague answer and leave it for others to interpret it,' or 'try to change the topic' and slip by.
"Then why is short-hair always with Touma?"
Index asked this question faster than Kamijou could say anything.
"What?"
Mikoto flinched slightly at Index's counter-question and said,
"What do you mean 'always'? There's no way I spend 24/7 with this thing! That's balderdash. Even I am not crazy enough to squander my leisure time for this idiot."
"…Wa, to think you'd give me a double attack of 'this thing' and 'idiot.'"
Kamijou lifelessly said, but the two girls didn't bother.
"Hn—"
Index pondered for a while.
"Now that you mention it, that would be the case for me as well."
"WHAT? IS THAT SO???"
"Hn. Touma will abandon me the moment something happens. If it's a case of life and death, he'll stubbornly run to the front like an idiot…I guess it has something to do with short-hair, right?"
"I…I don't know."
It was true that Mikoto was involved in several of the cases, but not to the 'all the time' extent.
If so, what was going on? As Index and Mikoto were thinking about this, they both turned towards Kamijou at the same time.
"…Touma always ends up in the hospital after making a promise. What's going on behind the scenes?"
"…You, you do this sort of thing every time? Speaking of which, you did help those children and Kuroko the last time…"
Kamijou, who was feeling cowardly, inadvertently retreated back.
In a certain sense, what they were saying was true. But thinking about what was happening in Academy City now, he couldn't just simply answer them.
Thus,
"You…you're both really irritating! It's just that, you're just seeing this part of the year where I'm enjoying life the most! It's not a feeling that lasts for a whole year. About that…guess humans have to do two or three cool things in a year!!"
He shouted out, but got cold responses,
"…Is it really two times?"
"I don't think there were only three times."
After that, Kamijou got scolded badly by the two of them. The two girls seemed to feel much better after venting their doubts on Kamijou, and they continued with their normal walking pace.
"The next match is going to start…ah, in the end, I'm still unable to get a good rest. And my body cooled down too much thanks to the air-conditioning, though it's good that my muscles aren't stiff."
"…You're really up for this. What now, don't tell me there's a showdown between two ojou schools."
"…"
Mikoto suddenly stopped her stretching exercise.
"You…don't tell me you forgot about that penalty game."
"What? You said that the loser would be the one whose school has the lower position, and will have to listen to what the winner says. No problem, no problem. Have you seen the points table? Our school isn't far away from Tokiwadai."
"To…to think that you're still so relaxed! Humph! Our school is the most famous for coming back from behind in the second half. So you…your attitude will be quickly…HEY! WHY ARE YOU WALKING AWAY WITHOUT CARING ABOUT WHAT OTHERS ARE SAYING!?"
Mikoto continued to fire electric shots at Kamijou, and though the distance was close, his right hand managed to reduce them to nothing.
He himself wanted to shout out, "IT'S SO SCARY! WHY ARE YOU DOING THIS ALL OF A SUDDEN!?" and tremble in fear, but after getting hit directly by one of the only seven Level 5 espers in Academy City, he was still unscathed. The pride of the esper was trampled, as even when Mikoto continued to exclaim "WHY DON'T THEY HIT!!" she was ignored, and ran away at an exceptionally fast speed. Seeing this, Kamijou was worried that her warm up wasn't enough.
Index, who had been holding onto the calico cat up till now, said,
"…listen to what the winner says?"
"It's not that. Even though we said that we'll listen to what the winner says, there's still a limit, Index! It's definitely not that kind of perverted development that you're thinking of, so please relax!!"
"Wa! I'm not thinking about that!!"
Index opened her mouth, but froze halfway through. Index didn't know whether to leap onto him or not, as she could only open her small mouth wide.
Kamijou trembled as he thought,
(Cheh!! Though it's irritating to get bitten, it's awkward for her to have such awareness! It's unbearable to be in kind of attention where nothing is happening. How can I break this deadlock!?)
Taking this opportunity to remove her bad habit of biting others was a way, but if things weren't successful, it wouldn't be good for this awkward situation to continue. Why do I feel like I'm having some dilemma, like I'm confessing to my childhood friend!?
Kamijou was perplexed.
On the other hand, Index's body was stiff now, as she was probably looking to avoid the topic of biting others as she said,
"To…Touma, I'm a bit thirsty, I want some fruit juice over there."
"…Such an unnatural way to change topics."
"That's not important! I said I'm thirsty now! And I want to drink!!"
Index tugged onto Kamijou's hand as she said this. Kamijou thought that since biting was a no-go, grabbing others on the hand was okay? Right now, Kamijou was unable to understand what she was thinking.
"That…wait a sec, Index, didn't you just finish lunch? If you're going to continue eating like this, you're going to grow fat."
"Wha…"
Index, who was wearing a cheerleader attire, let the calico cat in her arms drop onto the ground. The kitty landed on the ground with agility, and jumped back into her arms.
Index was flushed red so badly that she was about to emit steam out of her head.
"No…no way will I grow fat! I definitely eat more than an ordinary person by a little bit, but against your predictions, I haven't grown fat at all!!"
"Real—ly? Have you measured your weight, body fat and waist circumference before? Maybe you haven't noticed it before, but there's quite a few layers added onto your defence."
Kamijou stared at the area around Index's stomach.
Compared to her nun robes, the thin cheerleader uniform pressed down on Index, revealing all the curves of her body. Because she was wearing a sleeveless vest, even her navel was exposed.
"If…if you don't believe it, you can measure my stomach! I'm prepared anytime!"
"I'm not mentally prepared yet! Also, who would bring a measuring tape along with him all the time, Index!!"
"You don't need it! Touma just needs to wrap his arms around my waist to tell!!"
"WHAT!!??"
Kamijou widened his eyes.
"Hurry! You better try it quickly!!"
The girl's thin hand forcefully grabbed the boy's stiff wrist.

(Damn it…I forgot to convey the message. Seems like I was too agitated just now.)
Mikoto, who had separated from Kamijou, ran along the path she just took.
On the Daihaseisai tour guidebooks that Academy City released, the schedules for all the events were written, but those were the 'pre-arranged' ones, as there would be changes on the actual day.
The time for the 'Bread-eating contest' that Tokiwadai Middle School was participating in had been changed before lunch. If she didn't inform her mom, Misuzu, she might be waiting at an arena where she was not involved in the competition.
Mikoto left her handphone in her bag that was with the bag storage group of her 'student dormitory,' and there was no public phone nearby. Thus, she was running around the streets just to pass off a few words.
Suddenly, someone was running alongside Mikoto, who was running in a graceful manner.
On an adjustable competitive wheelchair, covered in bandages, was a girl, Shirai Kuroko. Because she was an injured person, and also a spectator, she was wearing a short-sleeved shirt, a thin white rice-coloured sweater and a gray pleated skirt, the summer uniform of Tokiwadai Middle school. Her twin butterfly-knotted ponytails were floating behind in the wind.
"Onee—sama, if you're in a rush, do you want to use my 'spatial teleportation?'"
"…Before I even answer that question, you'll be hugging me without any hesitation, so I'm prepared."
"Heh! As expected of onee-sama, to be able to read my thoughts! I even wanted to add on that I haven't had enough of onee-sama during these few days when I was in the hospital!!"
Mikoto suddenly felt a chill down her spine, and kept a distance from Shirai. Shirai, who was smiling, said as if she suddenly realised something,
"But where is onee-sama rushing off to…? Don…don't tell me! You're going to run back to that corrupted apeman and go cheer for him!?"
"No…no way, idiot! I'm now enemies with that guy."
"Oh really? But that mister seems to be in front of you."
Ah? She's already back there? Mikoto inadvertently looked away from Shirai, who was beside her, to the front.
In front of her was…
A certain boy who was with the silver-haired green-eyed girl.
He was kneeling down, wrapping the cheerleader girl's waist with his two hands, and bringing his face to her tummy.
What…!?
Mikoto was so shocked that she couldn't say anything.
Though it was Daihaseisai, there was no one else on the road besides them. Thus, that guy was taking this opportunity to hug this girl's waist that was thinner than himself by one or two rounds. It was already perverted for a boy and girl to hug each other while facing each other, and what was the reason for him to of specially brought his face close to her?
This made Mikoto speechless.
At this moment, Shirai, who was beside Mikoto and was on the sports-type wheelchair, cried out with an exaggerated tone that was definitely acting,
"Wa, does this feel likes she's a few months pregnant? Or is it she can feel the baby kicking in her tummy…huh? (sniggers)"
Hearing such an exaggerated voice, Mikoto's body started to tremble. Thunder roared as blue and white sparks were emitted from her body. Even if she released a lightning strike, it'd be ineffective against that boy.
It seemed that even the railgun wouldn't hurt him.
But, Mikoto still clenched her right fist tightly.
"GO…TO HELL!!!!!!!! YOU PERVERTED MONSTER——!!!!!!!!!"
She suddenly arrived beside the boy, raised her fist, and beat down with all her strength.
"WOAAAAAAAAAAAAAAAAAAAAAAHHHHHHHHHHHHHHHHHHHHHHHHHHHHHH!!!!!????"
Kamijou, who was suddenly hit by a flying punch, left Index as he rolled on the ground. He felt pain from the back of his head, which hit the ground, and his limbs, which rubbed against the ground.
His face felt the amazingly soft feeling of the girl's belly, the small amount of sweat, the sweet smell, and the warmth. As Kamijou was rendered giddy by all these factors, he was now awake since Mikoto punched him. Also, at least he was able to physically separate himself from Index. Kamijou thought that it was killing two birds with one stone, but why wasn't he happy?"
"Eh?…I hit him?"
However, Mikoto, who got a hit in, exclaimed loudly.
Kamijou lay on the ground, trembling as he said,
"Uuu…ugh…no, this is good. I'm definitely unable to escape that mysterious pink atmosphere that surrounds Index and me by myself. But, no, however…why can't the world use a gentler way of solving this!!"
Kamijou was almost crying as he rubbed his eyes. But, it was not the hands that he was so used to touching, it felt like a thin piece of cloth. A smooth fabric, maybe satin, what was this? Examining it carefully, it was a white piece of cloth. It was like those paper fans that were used to beat people in a boke and tsukkomi routine on television that were folded in several layers.
It was a pleated skirt.
Index's cheerleading uniform.
"………………………………………………………………………………"
The vertical zipper on the side of the skirt was ripped, and now it was a rectangular piece of cloth. As he was wrapping his arms around Index's waist, he seemed to have grabbed onto the skirt. When he had been hit in that state, he had pulled it along.
(Then…)
Kamijou timidly looked away from his hands to the front.
In front of him was Index, whose face was now completely red. She was still wearing the cheerleading uniform, but what remained of it was only the pale green sleeveless vest. The skirt that should be there was now gone, for it was in Kamijou's hands.
Forget about her navel, the underwear and thighs of the silver-haired green-eyed girl could be seen completely. No, strictly speaking, she was wearing a tennis underwear-shaped pants type apparel. Maybe it was just his imagination, but the creases on the underwear-shaped apparel was showing on several parts, but of course, there were some places where he couldn't look (Though Kamijou still explained them in detail).
"!!"
With the two hands that were holding the calico cat, Index hastily covered her lower abdomen, but of course, she couldn't cover it completely. Now flushed red, Index tried her hardest to look away from Kamijou's gaze, but the attitude seemed to be a bit too sensational.
Looking at the scene in front of him, and the smooth skirt in his hands, Kamijou thought,
(—I'm dead. In five seconds, my skull cap will be crushed to bits by Index's front teeth…no, even her canine molars are itching to bite me! …Hey, wait a sec. Right now, Index seems to be mindful about biting others! So maybe there's a chance to escape!?)
In desperation, Kamijou was looking for hope, and just as he was about to run away,
"…Hold on, you bastard."
"…Long time no see, mister."
The cold voices of Misaka Mikoto and Shirai Kuroko were heard.
"…"
As Kamijou cowardly looked at them, the girl that was emitting blue and white sparks pulled out some arcade game coins from the pockets of her shorts, while the girl on the wheelchair brazenly flipped her skirt and pulled out terrifying metal spikes from her thighs.
"Hmph, though I have no need to help that girl."
"But onee-sama's enemy is my enemy."
Though their tones didn't seem to be energetic, the voltage of those two seemed to have reached the highest. Index, the only one who could save him, was now hiding behind Mikoto, her face all red.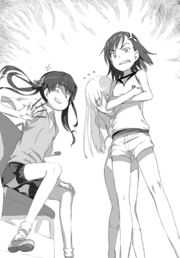 (My…my life's at its end.)
Now tired and weary, Kamijou placed his hand on his forehead, as he finally said, like he was not giving up,
"But, in this situation, the most important thing is to stop this useless war. How about everyone work together to solve the problem about Index's skirt? Can we use a peaceful method of settling this? I guess not, huh? I'm sorry…"
Kamijou, who originally intended to justify his actions, could not maintain it.
At the same time, the two girls seemed to treat this as his final words, and jumped on him.


Part 8

Kamijou was nearly beaten into a pulp by the railguns and metal spikes, and because he was tired over running around for that long, he was now panting as he rested on a bench. Index was taken by Mikoto and Shirai to replace her skirt (or so it seemed, as while he was running away, he seemed to hear those words from Mikoto). Looked like he had to do something else now.
(This…)
The display on his watch read 3pm.
There was no contact from Tsuchimikado Motoharu or Stiyl Magnus.
Considering that Oriana and Lidvia's objective was not 'to hand over a spiritual tool in Academy City', but to 'activate it inside', they might be hiding somewhere to avoid being pursued. So it was hard for them to carry out the tactic of capturing Oriana and Lidvia while they were moving to prevent this deal that was proposed before. This was Stiyl's suggestion.
Right now, they were looking for the conditions to use the 'Apostle's Cross'. Now that they had lost track of Oriana and there was no clue that could lead them to her, they could only rely on finding this out.
Tsuchimikado's view was that: If the Roman Catholics' aim was to take over Academy City using the 'Apostle's Cross', then there was no need to wait, so why hadn't they used it earlier? Since they had not done so, perhaps there were some special conditions to be fulfilled?
If 'there were no special conditions, they couldn't possibly use the 'Apostle's Cross'', so by destroying that special condition, they could prevent Oriana's objective from being fulfilled. Since it was impossible for them to just chase after her, in order to counter those women who were hiding in Academy City, the only thing they could do was to look in this direction.
However…
"…They're so slow."
Kamijou couldn't help but mutter.
It should be a few hours since he had separated from Oriana. Though there was nothing that Kamijou could do, he was worrying about whether he should be idling around. In this situation when they didn't know how the 'Apostle's Cross' could be used, they felt rather anxious about it.
And the thing that made Kamijou even more worried was,
He had the best trump card with him.
(Index…)
She was a person with complete memory of 103,000 magical books, a living magical library. Among that vast pool of knowledge, there would definitely be information about the 'Apostle's Cross'.
The easiest way was to ask her. If it was Index, whether it was about the 'Apostle's Cross' or anything else, if it was any question related to magic, one would get the answer within 5 seconds. The original reason why 'Necessarius' had set up this 'Magical Index' position was because of this.
They'd immediately get the answer once they asked her.
However, they couldn't ask.
('External forces' outside Academy City?)
There were major and minor magical groups outside Academy City. Once they found out that there were magic-related incidents in Academy City, they'd rush in.
However, not all of them were friendly to Academy City. Among them, some even wanted to barge into Academy City, which normally prohibited entry, to do some sabotage work.
Most of these groups were outside Academy City, using 'magic searching' spells. And most of their searches centred around Index, as there had been quite a few magic-related cases in the past. Thus, if something happened, she was the biggest suspect.
Thus,
(If we let Index get near the core of this issue, the searching magic can find Oriana's magic. Thus we can't afford to get Index involved the case, nor can we allow her to get close to it. It'll be dangerous the moment she realises that something's amiss.)
Index had a vast amount of knowledge about magic. Thus, she couldn't possibly miss any magic-related presence. And once she got the slightest clue, with her personality, she'd immediately jump into the situation even if Kamijou told her not to.
"Really, the clue's right in front of me, and I really want to ask. But we're doomed if I ask a question. Damn it, I'm in a dilemma."
Kamijou couldn't help but sigh as he muttered.
"What do you mean by a dilemma?"
On hearing a voice beside him, Kamijou suddenly trembled. He timidly looked around, and there was a girl with long black hair sitting on the bench for who knows how long. The girl was wearing P.E attire, Himegami Aisa. Under the school regulated attire of short-sleeved shirt and shorts, there should be a silver Cross hanging around her neck. Right now, there should be a thin chain under the black hair that covered all the way from the neck to the clavicle. This necklace extended from her neck to inside her shirt.
"Hi…Himegami? Why are you here…?"
"There's a troublesome situation, so I'm here looking for you."
What's going on? Kamijou tilted his head. Himegami Aisa was a girl whom lacked facial emotions, so it was normally hard to tell whether she was angry or sad. One could still believe her when she said 'I'm hungry,' and no one would question her when she said that 'I want to raise a cat' as well.
Thus, Kamijou asked honestly,
"What's the troublesome thing now?"
"Ngh, Komoe-sensei had a bit of trouble. She looks rather angry."
"???"
After hearing this, Kamijou decided to follow Himegami first. Himegami grabbed Kamijou's wrist, and pulling him along and saying "Here, here."
Kamijou saw that the two of them were holding hands. Seeing Kamijou stare at the hands that were held together, Himegami slightly frowned.
"Is there a problem?"
"Oh, it's nothing. Himegami doesn't seem to mind at all."
"—"
At this moment, Himegami suddenly let go. She was still stoic, but it seemed that she was a little red now. She pulled the hand that had been holding Kamijou's hand near her chest, and covered it with the other hand. Though one couldn't really tell, it seemed that she was mindful about it.
Himegami Aisa brought him to a rather large park.
Maybe it was because lunch break was over that there were very few people around. Today's main event was Daihaseisai, so the competitors and spectators were headed to the crowded arenas. So many people were walking on the streets, and they were basically either moving from one arena to another, or were buying souvenirs. Especially those tourists from the neighbourhood nearby who'd buy entrance tickets in order to sightsee around Academy City, everyone was busy attending the events, and there was no time to slack.
In this deserted park, there was a bench.
On the bench, Komoe-sensei, who was wearing a similar cheerleading attire, was rather angry. She was passionately talking about a smoker's etiquette and under aged smoking.
On the other hand, treating these words as a mere distraction was the magician Stiyl Magnus. His face didn't show a frustrated look just because he was being lectured, but he was showing a smile that made him look somewhat tired and bothersome.
Komoe-sensei was trying to confiscate the cigarette packs from Stiyl's hands, but Stiyl was tossing it around like a ball, and Komoe-sensei couldn't catch up. From afar, the way she continued to leap and miss was like a dog chasing after a plastic ball.
"It's there, there. The man who saved me the last time is arguing with Komoe-sensei. I don't know what to do."
Himegami looked at the scene in front, seemingly finding it awkward. To her, though Komoe-sensei was her saviour, but originally, in the 'Misawa Cram School' case when the alchemist was highly active in the shadows, Stiyl Magnus was also her saviour. She probably didn't want to see both sides arguing. But, on seeing that priest, who had the smell of perfume all over him, Kamijou showed a look of irritation and disgust that he had been feeling.
"I say…Himegami, there's no need to stop them. For that guy's good, he should let Komoe-sensei scold him badly."
Hearing Kamijou say this, Himegami looked troubled, and said,
"But, that smoker man has been staring at us. He looks disturbed."
"That guy is now so happy because a little girl hooked up onto him, it's alright even if we don't bother them."
"But, Komoe-sensei's face is all red now, it seems that she's so angry that she's tired now."
"That sensei would be even happy on seeing a bad kid; no need to worry about her."
Seeing Kamijou shaking his head nearby, Komoe-sensei didn't stop trying to grab the hand in the air that was holding the cigarette pack.
"Ah, Kamijou!! What are you standing around for, come and help sensei!! This child is a terrifying heavy smoker! I say, can you help me get that cigarette pack and hand it over to me!?"
At his wits end, Kamijou could only approach Komoe-sensei and Stiyl.
Kamijou first stared at Komoe-sensei, then turned to look at Stiyl, who was sitting on the bench.
"…How nice, there're still people who are willing to be angry because of you."
"I'd like to agree with you on this, Kamijou Touma, but I'm a bit busy now. She's really noisy."
Stiyl said.
He tossed the cigarette pack high up, and at the same time, in a manner like he was arranging his work tie, he pointed to the phone strap in his chest pocket. This tasteless skeleton-shaped light was flashing, indicating an incoming call. He let Kamijou see it, again caught the cigarette pack naturally, and continued to play 'toss the ball' with Komoe-sensei.
The contact that the man was contacting…should be a member of the British Puritans. If it involved information about the 'Apostle's Cross', he definitely couldn't allow Komoe-sensei to hear it.
"Ah! You tossed it to the other side!"
Just as Kamijou was thinking about this, with Komoe-sensei's words, something flew over from the corner of his vision. He frantically grabbed it and examines it, it seemed to be a brand that was commonly seen in movies.
Stiyl ignored Komoe-sensei's words, as he made a gesture with his index and middle fingers, and brought them to his mouth. Don't tell me it's a disgusting kiss!? Kamijou readied his guard before realising that it was a sign that he wanted a smoke.
Kamijou, who realised this, shifted the hand with the cigarette pack over to Himegami, and asked,
"Himegami, do you have a lighter?"
Eh?
Compared to Himegami, who was slow on the realisation, Komoe-sensei turned around at quite a speed.
"Kamijou! What kind of useless fighting spirit are you trying to use! Himegami, you should be stopping him too!!"
Komoe-sensei approached at a very fast pace. Seeing this, Stiyl pulled out the handphone in his chest pocket, put it near his ear, turned and left.
(It's great if it's information about the 'Apostle's Cross'. If not, it'll be useless if I ticked off by Komoe-sensei. I don't want to smoke at all, so how should I explain this misunderstanding!?)
Seeing Komoe-sensei start to tear up due to pure rage, Kamijou started to panic. At this moment, it was his phone that rang now. Who was calling now? Kamijou tilted his head as he reached for his shorts' pocket.
"Kamijou! Shut your phone when sensei is lecturing!!"
"Wa!!"
Being pestered by Komoe-sensei, Kamijou inadvertently fell backwards. Komoe-sensei grabbed the cigarette pack that Kamijou accidentally let loose into the air, and at this moment, Kamijou grabbed the phone in his pocket. He saw the screen; it was from Tsuchimikado Motoharu.
(For that guy would call at this time, it means that there's some activity going on from Oriana's side? …Damn it, that means that I can't straggle around here, and I can't let Komoe-sensei hear the contents of the conversation…)
In front of Komoe-sensei, who shouted "KAMIJOU!!", Kamijou suddenly darted behind Himegami. The black-haired girl blushed upon being grabbed on the shoulders from behind, but Kamijou, who was behind, didn't notice this.
Kamijou thought about his strategy as he wondered how to settle the situation.
"Hey, Himegami, I'm handing this over to you! I've already done what you requested, to break Komoe-sensei and Stiyl's argument, so the rest is up to you!!"
With an almost desperate cry, Kamijou ran away from the scene. As Komoe-sensei was about to chase after him—
"Wa, Himegami! What are you doing! Why are you hugging sensei out of a sudden!!"
The other person seemed to be fulfilling her part of the deal as she prevented Komoe-sensei from moving forward any further.
Deep inside, Kamijou was swearing that he'd treat Himegami Aisa to some okonomiyaki from some stalls later as he rushed out of the park.
It should be something important, as the phone continued to ring for quite a while. Just as Tsuchimikado was about to leave a message, Kamijou pressed the call button.
"Oh, Kami-yan! Stiyl's phone seems to be busy, I can't contact him. Is he with you nya!? If you know where he is, can you help me pass a message?"
"What?"
Kamijou pondered for a while,
"…Ah, someone seems to be contacting him just now. Is the thing you're going to talk about related to Oriana? Did she do anything bad again!?"
"No, the situation's not that serious…ah, it's better for Kami-yan to know. I'm using a unique way to check Academy City's security, the method that Anti-Skill and Judgement members use nya. As machines are unable to handle magic, I didn't expect too much from it — I found it."
Hearing this, the fine hair on Kamijou straightened up.
Tsuchimikado continued,
"Around 3 minutes ago, at the fifth area — I found her walking out of the entrance of the 'Seibu Hill Station' in the next area, but she's gone after that. She must have used a spell that blocks visual information, or she's hiding in the blind corner of the cameras. I can't tell as of now."
"3 minutes ago…that's kind of hard."
From here to the fifth area, the shortest distance was around 4 kilometres.
If they were to head towards the station in question, Oriana might take this chance to escape.
"There's no need to pursue Oriana completely. Once you reach Seibu Hill station, ask Stiyl to use the seeking magic. You just need to grab the correct coordinates and take her down, thus ending everything."
The seeking method.
He remembered that it was called the 'all-around reality array'.
It was originally Tsuchimikado's spell, but now Stiyl was using it. It was a spell that could carry a search of radius 3 kilometres with the caster as the centre. The condition for using it was that it required a magical item 'spiritual tool' of the search target in order to work. Right now, they had Oriana's flashcard.
"If the enemy heads forward by 3 kilometres, she'll leave the search vicinity. If so, we have to move forward by 4 kilometres in order to carry out our search. Can we still make it!?"
"That's why you have to be quick, Kami-yan. Even if you have to use an auto-bus, you have to make it to where Stiyl is!!"
The line was cut.
If they couldn't find out the conditions and weaknesses of the 'Apostle's Cross', this might be their last chance. Rather, they had to treat it as game over the moment they couldn't find them.
"Damn it! Stiyl!!"
Kamijou shouted out. He returned to where Himegami and Komoe-sensei might be—the park. Right now, the only one who could use the 'all-around reality array' to sniff out Oriana was Stiyl.
Kamijou was looking around quickly. The good news was that Oriana might not have realised that she was spotted. If she ran away, they might not make it in time.
The enemy was walking, while Kamijou was running.
He could only use this speed to make up for the difference in time.


Between the lines 4

Fukiyose Seiri was sitting on a long chair in the hospital waiting room.
The frog-faced doctor said that all the necessary procedures were completed, so it was alright for her to walk about in the hospital. The nurses were laughing, saying, "This is truly a miracle, one won't be healed that quickly." They were really gossipers.
Fukiyose got off her bed. In order to confirm her condition, she decided to walk around in the hospital.
"…Ugh."
She pressed on her temples with one hand, gently shaking her head.
Arriving in front of the elevator, she felt a slight headache. This was the reason why she had been assigned to a hospital bed — in other words, it was not just a simple checkup, but rather she had been told to stay in the hospital for one day.
The symptoms of a severe heatstroke, a severe headache or a strong rejection, could be cured by a doctor, but she could only slowly recover the energy lost. Though there were no obvious wounds or symptoms, Fukiyose's body wasn't exactly in healthy condition.
She saw a small button that was in her hand.
It was a mechanical box that was as big as a matchstick box. It seemed to be a portable nurse call. As electronics couldn't be used in a hospital, it might be a modified version of an alarm sold wholesale. Just holding such a thing told her that her body's condition wasn't good.
Fukiyose Seiri looked around.
There was a space that also doubled as a smoking area. It was an area that was near the lifts, and it was not separated by any walls. There was a ditch on the ground of the entrance and an air vent of an air purifier formed a curtain of air. In this rectangular area, there was an even small rectangle-shaped bench, with a circular ashtray placed in the middle.
She ignored the smoking facilities and just stared at the corner with her giddy head.
There was a row of four vending machines that sold drinks.
"…Do I need to drink these drinks in order to replenish my strength?"
Her words lacked the domineering attitude that she normally had. The moment she got up from the long chair, a slight pain could be felt from the right side of her temple to the left. She was not going to be able to take part in the afternoon events.
Fukiyose frowned as she slowly moved towards the vending machine. She placed her handphone, which could be used as a wallet, on an electronic reader, and lights appeared, indicating the buttons that could be pressed.
"Let's see, the most ideal one should have…glucose, amino acids, minerals, and…ha…HACHOO!!"
As she thought, she suddenly sneezed.
After shaking her head, her forehead slammed hard onto a button on the vending machine. Klang klang. A drink that Fukiyose didn't intend to drink rolled out.
Enduring the sharp pain on her head, Fukiyose confirmed what she got. It was a strange drink with the words 'condensed milk soda' written on it.
"…This is way too unhealthy."
She couldn't help but say this as she held the drink with one hand, but she couldn't just throw it away like this. Fukiyose Seiri didn't know what to do, as she could only walk back along where came from and back to her room.
The inorganic corridor that she walked along just now looked like a Silk Road in the desert.
She was already like this indoors, and it was hard to imagine what the feeling would be if she were to run under that hot, cruel and unbearable sun.
(Really, when…can I…)
Fukiyose dragged her body along, and sighed,
(…Can I return back to my work? I don't know what kind of trouble that guy will end up getting if I'm not around.)