Toaru Majutsu no Index:SSVolume2 Chapter8
From Baka-Tsuki
[edit]
Chapter 8: A Kunoichi is Someone who Appears Unexpectedly. The Fourth Friday of May.

(Dammit, Komaba. Why get so fucking serious and say that I would replace him as the leader of Skill-Out if anything happened to him?)
Hamazura Shiage, an Academy City delinquent, was in the middle of his usual battle with the keyhole on a sports car's door using a number of wires.
"...Hamazura-shi."
Upon suddenly hearing a female voice, Hamazura stopped working and looked around. However, he saw no one in the area of the parking lot the sports car was parked in.
He decided he must have been hearing things and started moving the wires again.
"…Hamazura-shi."
(What!? Is there some strange fountain spirit here or something!? Is water going to come pouring out of a nearby manhole and I'll be asked whether it was a gold sports car or a silver sports car that I dropped in the fountain?)
"Hamazura-shi!!"
Suddenly, a mysterious figure popped out from beneath the sports car like a mechanic.
"F-fwa!? I dropped a normal sports car!! Ah, wait!! I didn't drop anything at all, so that isn't being honest either!!"
"?"
The mysterious figure slid out from under the car with its head tilted to the side in puzzlement.
It was a girl.
She may have been wearing a yukata, but she was not a Yamato Nadeshiko at all. While her hair was black, there was some brown in it around the bangs. She also had ornate hairpins of various colors with beads on them in her hair and glittering nail art on both hands. She had a lace glove on one arm. What she wore on her feet were more like a type of sandals than geta and thin straps stretched up to around her knees. For some reason, she had what looked like a metal shackle around one ankle.
The bright yellow mini-yukata she was wearing would make an old strictly-traditional artisan do a spit-take. Her dazzling thighs were completely bared and the left arm was sleeveless up to the shoulder for some reason. The wide obi was made of a transparent material and the yukata itself bared her midriff to match. She had two thin leather belts wrapped around over the obi and, on top of all that, she used a long chain as a decoration.
To a delinquent that had no choice but to wear a collection of cheap clothes like Hamazura Shiage, it seemed a waste that such high quality materials had been used for that yukata.
(…Wow, I'm surprised I have enough of a Japanese heart left for this to piss me off.)
Hamazura was surprised that his Japanese heart would appear in a negative way like that, as it usually only showed up during the Olympics or the World Cup.
However, this was hardly the time for love of his country to awaken within him.
"You're Kuruwa-chan, right? If you're looking for Hanzou, I haven't seen him either."
"Kh, so he has forestalled me. But if you do not know of Hanzou-sama's whereabouts, where is he…?"
"…"
Her manner of speech was as odd as her outfit.
(Well, she's got a nice rack and that's what matters.)
In actuality, Hamazura didn't know very much about the girl known as Kuruwa. Apparently, she used to be a friend of Hanzou's who he would rather not have had who hung around with him a lot. Hamazura's first time seeing her had been only a week before, when he and Hanzou were forcing open the door to a safe they had stolen and Kuruwa came by looking for Hanzou.
It seemed Hanzou was avoiding Kuruwa and she was coming to Hamazura and Komaba Ritoku now that she had lost his trail.
(Dammit, Hanzou. Why avoid someone with tits like that?)
Hamazura stared at the bulges pushing up on the front of the thin summer yukata and gave a slight groan. However, Kuruwa's excessively modified yukata looked more like a kunoichi's outfit than a type of kimono.
"Hm?"
That was when Hamazura had a thought.
A kunoichi.
A female ninja.
A ninja chasing after Hanzou.
Hanzou.
"Ah hah hah. Hattori Hanzou! Just kidding." Hamazura muttered without really thinking. "Ha ha, yeah right. Hattori Hanzou? Damn, I'm an idiot." He resumed working on unlocking the sports car.
"I-I-I-I-I-I must…I must eliminate Hamazura-shiiiiiii!?"
"Gwebh!? What kind of obvious foreshadowing is that? And that's a pretty stupid reaction for a ninja!! …W-wait, is that really true? Is Hanzou the surviving descendant of a near future-like Shinobi Soldier!?"
From Kuruwa's flustered reaction, he seemed to be on the right track and an odd image came to his mind.
(The descendant of a ninja? Don't tell me he uses mysterious ninja techniques or something…)
"Wait? But then why is he being pursued by a kunoichi?"
"Uuh!?"
"If Hanzou is from the Hattori family, then what group do you belong to, Kuruwa-chan?"
"Uuuhhh!?"
"The term Hattori Hanzou brings an ultra important person to mind, so is there some a conspiracy involving some ninja faction that's going to plunge Hanzou into some kind of miracle battle!?"
Hamazura snapped his fingers while he imagined the crisis his friend could be in.
Sweat was dripping from all over Kuruwa's body and her gaze shook.
"…If you know that much, I truly cannot let you return alive!!"
"You've gotta be kidding me!! The conspiracies in your world are pretty cheap!!"
Hamazura buried his head in his hands, but Kuruwa seemed to truly be at her wit's end. Hamazura started wondering if he should give up on the sports car and run for it when Kuruwa pulled a black piece of metal from within the right sleeve that was so long only her fingertips stuck out of it.
The kunoichi girl spoke confidently.
"Tah-dah, it's a handgun!! Prepare yourself, Hamazura-shiiiiiiiiiii!!"
"Ehh…?"
"Wh-what kind of unmotivated reaction was that!? This is serious!! C'mon, don't close the door to your heart! Come a little closer!!"
"But…is it really okay for a ninja to use a handgun?"
Hamazura was assaulted by an absurd sense of disappointment and the modern kunoichi girl must have felt some guilt because she started hurriedly explaining herself.
"A ninja is always armed with the latest equipment! So it's fine!! The ninjas who fought from the Warring States period into the Edo period used arquebuses camouflaged as staffs and inro!! So it's perfectly fiiiiine!!"
"That's not what I meant. I don't care about what you know about how it worked historically. Just don't destroy people's dreams!! I want to see you split into multiple versions of yourself in a puff of smoke!! I give up! And yes, I know I'm the idiot for having weird misconceptions!! Just let me go over by the river and cry!!"
"W-wait! Please wait!! Ahh, don't run away with such a sorrowful look in your eyes!!"
The atmosphere between Hamazura and Kuruwa was like that of a husband and wife hugging just before they got divorced.
(Tch. I thought I could get away like that.) was what Hamazura thought on the inside.
Kuruwa didn't seem to have realized Hamazura's ulterior motive and she had completely forgotten about searching for Hanzou.
"O-o-o-okay! I'll show you! Onee-san is going to show you a ninja technique now!!"
"…Ehh? Quit making shit up."
"I'm serious!! I'm going to show you a true ninja technique!! O-oh, you really are lucky, Hamazura-shi. A chance like this doesn't come along often!!" Kuruwa's expression was the half-smile and partially tear-filled eyes that were characteristic of someone driven into a corner. Hamazura was a little interested at the idea of seeing a real ninja technique and he entered a back alley when Kuruwa invited him in with a waving hand.
"Oh, so I take it you can't let your secret ninja technique be seen in public."
"There's that, but it's also embarrassing."
"Hah?"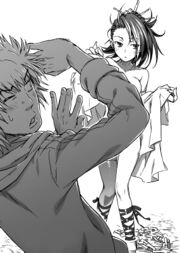 He heard the sound of sliding cloth.
And before him, he saw…
"Eh? W-wait!? What the hell are you doing!?"
"But, Hamazura-shi, you said you wanted to see a kunoichi technique."
"This isn't what I said I wanted to see!! But, wait, you'll show me? You idiot, you're really going to show that to me!? Gwaah! Daddy isn't going to let this go any further! Wait, why are you twisting your hips like that!?"
"Isn't that obvious? I just move this part like this and then…"
"Fwaaaahh!? Ah! This…this is…!! What, at that angle!? I can see but I can't see but I…geblch…fwaaaaaaaaaaaaaaahhhhhhhhhhhhhhhhhhh!?"
"Ah hah, an opening ☆!"
By the time Hamazura realized something was wrong, it was too late.
With the thick sound of an impact, Hamazura Shiage collapsed to the ground.