Sugar Dark
From Baka-Tsuki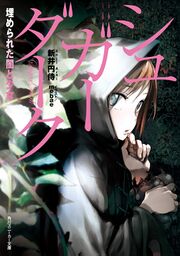 Sugar Dark: Umerareta Yami to Shōjo (シュガーダーク 埋められた闇と少女) is a light novel series of the dark fantasy genre. It is written by Enji Arai and illustrated by mebae. Dark Sugar won the 1st Sneaker Grand Prize since Haruhi.
[edit]
Story Synopsis
The story follows a boy named Muoru who has been falsely arrested and sent to a cemetery to perform forced labor. There, he calls himself the "grave keeper" and meets a beautiful girl named Meria. Muoru becomes fascinated with Meria as he spends his days digging a hole for the undead monster named "The Dark".
[edit]
Updates
13th December 2011

Sugar Dark teaser project initiated.
[edit] The Sugar Dark series by Enji Arai
Teaser
[edit]
Volume 1 - The Buried Darkness and the Girl
Hole 1: GRAVE DIGGER

Chapter 2
Chapter 3
Chapter 4

Hole 2: GRAVE KEEPER

Chapter 1
Chapter 2
Chapter 3
Chapter 4

Hole 3: GRAVE ROBBER

Chapter 1
Chapter 2
Chapter 3

Afterword

Teaser Hole 1 Forum translation done by EusthEnoptEron
Teaser Hole 3 Forum translation done by Teh Ping as part of the "a translation a day" initiative
If you enjoyed the teasers, why don't you tell us in the Sugar Dark Feedback Thread
[edit]
Project Status
Project Status: Teaser