Shakugan no Shana:Volume8 Epilogue
From Baka-Tsuki
[edit]
Epilogue
The clean-up work in Misaki City is basically to spread lies that people would accept to remove any traces of damages made by the Crimson Denizens. The one leading the charge to clear up is the elite and highly rated Flame Haze 'Manipulator of 10,000 ribbons' Wilhelmina Carmel.
It seemed that this was all Margery's plan.
The moment she was tasked with clearing up, she did demand the neighboring Outlaw branches to 'get me Wilhelmina Carmel'. Luckily for her, she managed to contact Wilhelmina through phone. At that time, Margery seemed to have said this.
"I heard that brat was raised by you, right? Right now, she looks like she's about to sink into one deep hole."
From Margery's words, Wilhelmina realized that something's not right, and is shocked by the many events that happened in Misaki City. She then ran over without thinking, and finally, she detected the trace of the 'Enpatsu Shakugan no Uchite'. Thinking about whether Shana may stray down the wrong path in the future, she rushed in.
"As I felt that there was something abnormal, I stepped in de arimasu."
"Emergency evacuation."
The moment Wilhelmina's words ended, the one who added on is the 'persona' headdress hogu that's on Wilhelmina, expressing the will of the Crimson Lord 'Crown and Sash of Fantasies' Tiamat.
They look at Shana's chest...with a rather cold look.
"Flame of Heavens, why did such a thing happen even with you around?"
"Insufficient supervision."
Both of them criticized this Crimson Lord mercilessly.
"...No, I understand how you two feel, but a lot of things happened."
Alastor argues back with a weak tone in the face of those two's lectures.
Right now, Shana realizes that she did all that with Yuji in front of Alastor, and even Wilhelmina and Tiamat saw them do that. She blushes.
Just when Yuji's staring at the blushing Shana in surprise, an expressionless face suddenly appears in front of him.
"WAH!?"
Just when Yuji jumped back in shock, Wilhelmina looks up and down at this boy like a businessman prospecting something.
And right now, Shana looks like a kid whose prank was found out as she lowers her head uncomfortably and peeks at the situation in front of him.
"Well..."
Yuji doesn't understand what's the reason between this huge difference in emotions Shana's showing, from the delight she showed just now to the insecurity now. However, it definitely seems that she knows Shana well, so he wants to ask this woman in front of her.
"About that..."
Just when Yuji hesitates, Wilhelmina and Tiamat cut him off.
"Today's events have nothing to do with the Mystes de arimasu. Please leave."
"Immediately."
On hearing their lack of pretense in chasing him off, Yuji turns pale.
Right now, both of them are giving stern looks of refusal at Yuji, and Yuji can tell that he can't even ask a question, let alone resist. There seems to be a force that doesn't allow any refusal, blocking Yuji like a wall, and he can only stand around and watch, not even able to give any suggestion.
"WILHELMINA!!"
Shana's shout is also unable to break through this wall.
"From now one, we'll be proceeding with a meeting between Flame Hazes de arimasu."
"People uninvolved, please leave."
Facing the heavy impact of the meaning behind these icy words, Yuji can't say say anything, and can only take the basket from Shana.
"Yuji."
"That'll be all for night training."
(I guess I'm showing the same expression as Shana right now.)
Thinking about this, Yuji said this as he looks at Shana who looks like she's about to cry, and turns around as he leaves this Flame Haze meeting.
Seeing the girl who watches that figure move further away, Wilhelmina sighs and then says,
"...Isn't that the Mystes with the 'Reiji Maigo' within him de arimasu?"
"Extremely weak-willed."
"Wilhelmina, why, why did you make things difficult for him?"
"Shana."
Alastor lectures the contractor who's getting out of hand with a low tone.
"..."
Wilhelmina feels like the 'Flame-hair burning-eyed hunter' got corrupted ever since she got named, and feels a surge of unreasonable rage (even though she knows that it's unreasonable.)
She starts to analyse the girls that happened to this girl who lived in this urban life.
How gentle.
There's a huge difference from the girl who became the contractor to the great Crimson Lord.
"Maybe--"
Saying this, Wilhelmina is secretly grateful for the advice given by the 'Choshi no Yomite'. She kneels on one leg and faces the cold black eyes of the girl.
"--Yes, this is just ill intent that's not of innocence."
"Reasonable indeed."
As Shana's guardian, Wilhelmina doesn't deny that she has ill intent, but there's a real reason about this.
Realizing this, Shana tries to buck herself up and reaffirm her will as a Flame Haze.
On seeing her action, Wilhelmina nods her head and enters the main point with a flat tone.
"There's another reason why I came here beside to clear up."
"Reiji Maigo."
Hearing what Tiamat said, Alastor muttered.
"...Un."
"Because of several reasons, only a few number of people knew of this de arimasu...during these few years, I continued to research on the extremely dangerous 'Lord' who would appear after a few hundred years de arimasu, and right now, there are a few colleagues who are handling this for me de arimasu."
Even when annoucing such an important thing, Wilhelmina said all that in a flat tone.
"Right now, we're investigating if Bal Masque is involved in this de arimasu. However, one day, that person will find out about that Reiji Maigo, and so the current situation is rather delicate de arimasu."
Realizing the meaning behind her words, Shana starts to have a bad premonition about this.
"That 'Lord' who will appear again... don't tell me."
"Yes, that's one of the 'Engaged Link' de arimasu."
"!!"
Shana starts to feel the chill with regards to the rage that's coming at her."
"One way you can protect that Mystes is to continue fighting...however..."
Why must she add 'however'?
Hearing this, Shana's premonition becomes fear, and the fear becane reality.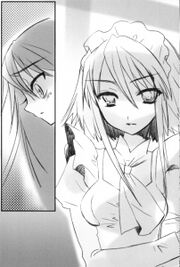 "We have a more definitive method that can stop that Crimson Lord and Bal Masque's indecent intentions...I'm here to tell you the method de arimasu."
Shana started to tremble.
"...Wil...helmina..."
"Yes, that method is to destroy the Mystes and transfer the Reigo Maigo de arimasu."