Shakugan no Shana:Volume22 Chapter1
From Baka-Tsuki
[edit]
Chapter 1 - The One Summoned With the Wind
The amber winds blew on the battlefield.
(Please use everything I have as an exchange, and let both Sakai-kun and Shana-chan chose even though they don't want to— )
With Yoshida Kazumi's wish as the source—
(Become something that's not supposed to be there!)
The breeze felt her thoughts and formed a storm.
The strong flow of amber quickly expanded like an explosion, compressing, slamming and shaking everything inside. Yoshida Kazumi's body shook, and then, the scene changed as according to what she hoped for.
Right below her, the huge tower 'Shinsensha' nearly collapsed as it's barely supported by the 'Shintetsu Nyoi', but the sudden tremendous pressure caused it to let out a cracking sound. Numerous 'Denizens' who were flying inside the Fuzetsu were blown around by the storm.

Closest to her was the 'Flame-haired burning-eyed hunter', Shana—
(Kazumi used that treasure tool!?)
The representative of the 'Snake of the Festival', Sakai Yuji, who was a tad too late—
(How did it end up like this!? Using that thing when the time was about to arrive!!)

Fighting in the air was 'Manipulator of Everything' Wilhelmina Carmel—

(So she came...what are they intending to do...!?)

Enduring it and standing upright on the tip of the 'Shintetsu Nyoi' was 'thousand changes' Sydonay—
(Really, one after another...is this what they call Murphy's Law?)

Everyone who was battling there couldn't respond in time, and were immediately blown away.
Yoshida Kazumi was the only one standing unharmed in the middle of the explosion.
The gentle breeze stroked her hair.
Why.?'
A calm and deep voice came from afar.
The answer will never ever change.
"!!"
Feeling the fatigue that was corroding her body and burning her flesh and blood, Yoshida tried her best to widen her eyes as she resisted.
The thing that she summoned will not benefit either side—
And it's likely that it would create a situation both sides did not choose.
That was why she had to look at the situation now careffuly.
At this moment, that powerful voice was closing in—
So you're the same as well.
The voice came from the Greek Cross 'Giralda' that she was holding tightly onto in front of her chest. Right now, there was no need to inquire who was the one talking to her.
The person who surpassed life and found the ultimate form of love is calling me
The 'Lord' who gave the Cross-shaped artifact to her--'Colorful Whim' Pheles.
You had to put the person you yearn for first, even if it means self-sacrifice.
That voice was without the icy and empty feeling like how the treasure tool was handed over to her..
You had to use the strength within you to form a pillar that would never fall.
Like the wind, the energy that was born of sadness and passion didn't stop as it continued to rush out.
Perhaps it may be a coincidence, but this would be the important condition to activate the treasure tool.
The wind gradually became stronger, and the amber color became thicker.
The soul...that' similar to the place where this is blown from, and blown back to.
The echo became gradually clearer, vibrating her eardrums.
The position...that follows my own principles, and uses the gathered strength I had.
As the girl listened, a pair of hands grabbed her shoulders from behind unknowingly.
"So the treasure tool we gave you had the name—'Giralda'."
Their faces were sticking to each other near her right hand, and the whispering beautiful face was there.
"Pheles...san."
Maintaining the consciousness that would flicker out anytime, Yoshida continued to gasp as if she wanted to keep her own wish.
"Pl, please..."
"It's alright. I heard it clearly, very clearly."
Pheles turned to her and answered.
"....Pl, please..."
The gentle wind carried the girl up just when she wanted to continue talking.
"About 100 years ago, there was a similar miracle."
This tone has a calmness of a lecture, but without the cruelty of abandonment as she contineud.
Like how it is with your situation, I once placed it in the hands of an old granny, and warned her that she'll die if she used it, but she really activated the treasure tool. That old granny...died after she left her last words for the man she loved and admired with me."
On the exterior of the gentle yet clear voice, the wind with both the persons at the center started to change.
Pheles' shoulders seemed to have large ornaments that looked like a bird and yet like a large human face. Instead of blowing out winds on both sides just now, it ended up absorbing wind from the right side and exhausting out from the left side.
"This 'Giralda' was a treasure tool that was meant for humans to use as well. The condition to activate it was to use the 'Power of Existence' of the user, since this was already stored inside the treasure tool. It was a condition that was far more difficult than giving up one's own life...using spells like the 'Denizens."
She did not pause because she had too much to say.
Pheles accurately grasped the locations of the people she blew away in the midst of the storm, and while using a strong torrent to prevent them from passing through, she created a passage of wind that allowed her to move freely.
"We 'Denizens' can use our own spells freely like breathing, whether for good or evil, but to the human consciousness, it was overly complicated. You humans couldn't do the simple task of reciting it out, so normally, I would warn the human when I hand this treasure tool over that they had to pay with their own life to get rid of the other thoughts."
Pheles had her eyes half-opened as she got into position to rush to the winds.
And Yoshida had her eyes half-opened too as she tried her best to resist the allure of sleep and asked,
"Then, granny...why, why did she die...?"
"She was old and fragile through all these years of hard life, and her body was unable to take the abnormal power of the spell. The granny gambled on her life to create a miracle...one I thought wouldn't happen, and the treasure tool we gave to her in a joking-like manner fulfilled it."
The 'Lord' who recalled and retold her past memory felt the intrigue of the girl and told her.
"Your body's full of lively youth and has developed some resistance to the 'Power of Existence' because of the many battles in this city. In other words, you—won't die."
On hearing the last sentence that seemed to relax her, Yoshida, who had her eyes closed, couldn't help but ask for the kindness of the other person.
"So you handed the treasure tool to me...because you knew about it..."
"Quite the contrary."
However, the indifferent and unscrupulous Pheles opened his eyes and answered,
"At that time, you were the most useless existence, thinking that you couldn't do anything, so you were definitely unable to summon me. It was because of that consideration that I handed the 'Giralda' over to you."
Then, Pheles smiled at Yoshida.
Her attitude was as carefree as the wind.
"Even so, you summoned me when you weren't needed and felt completely, summoning me to mess the situation up when everything was predetermined."
Pheles smiled and patted Yoshida on the head while Yoshida was hugging her.
"Then..."
On noticing that the girl who was released from her extremely anxiety and falling asleep--
"I will respond to this miracle that happened again, and let you see them separated."
Pheles swore with a loud clear voice and rushed into the tunnel between the winds.
"And then, ah yes...I..."
Her mouth let out a vow she made that was even determinted.
"I want to fulfil the undesirable vow I had with Johann."
The amber winds went through the escape tunnel.
The chain imprisoning Yoshida Kazumi, 'Tartaros' was severed, and she activated the summoning tool 'Giralda', causing 'Colorful Whim' Pheles to appear.
The sudden changes happened one after another, and Yuuji used his hand to block the amber storm that proved this. His heart couldn't help but waver.
(The thing that sliced thine 'Tartaros' easily and allowed that treasure tool to be used—)
The Snake sighed in a 'matter-of-fact' manner, still keeping the rationality Yuji had.
(--so, it's that 'Nietono no Shana that wouldn't be affected by any spells.)
In the consciousness that both of them were merged into, the nodachi that represented all that the girl had appeared in his mind. That was a truly high-class piece of art that was created to slice everything up
(From this, I can tell that Shana got her power back. It's because of this God's overconfidence...no, I'm basically pushing the responsibility to God, right?)
He wavered because of this rationality that wasn't just about him, and inadvertently clicked his tongue.
(And she even summoned that person here.)
His consciousness, and even his body started to feel something bad reviving in him.
When Sakai Yuji was merely a 'Mystes' back then, as the thing in hidden his body was awakened by the 'Colorful Whim' Pheles, he nearly ended up having his own existence erased. That time, the terror that had materialized as the silver armor when it crawled out from his chest, and the loss over becoming someone else worried him more than any dark power he had faced when he fought against the enemies—
The strong urge to run away formed in him,
(Who knows what the enemy will do. Got to be cautious.)
Forcing him to emphasize on something he could understand without thinking about it.
That's right. He knew what that 'Crimson Lord' would do.
If he wasn't careful, the entire plan would be ruined. There can't be any openings Yuuji thought as he motivated himself. He definitely couldn't allow this to happen.
(But even so...)
Yuji noticed the surroundings and frowned.
The large amber area that covered the skies seemed to cause a loss in sense of direction as it blew about wildly, blocking his sharp senses and preventing him from grasping the location of the person inside it.
(Speaking of which, I did hear Shana mention it before.)
As the raging storm had her presence in it, the wind spell Pheles controls could disrupt flight and also has the special attribute of making it harder for the opponent to detect presence and launch attacks.
(I remember the name was called 'Inverna')
They met twice before, and both times, Yuuji was depressed that he was about to disappear too. Thus, he panicked without knowing her abilities. However, he decided to remain calm this time.
"--!"
Just when he was thinking about this, the other party appeared.
The one who broke through the thin screen of wind in front of him,
The one who wanted to destroy him,
Wasn't Pheles.
"--What!?"
It was really unexpected.
Yoshida Kazumi was thrown out.
Her unconscious body was falling down without any warning,
It'll be dangerous if he didn't catch her.
(Yoshida-san!!)
It's unknown whether it was because she was a part of the plan or simply because of pure compassion.
Yuji reached her arms out at the girl in reflex before he even made his decision.
And the hand that wasn't holding the broadsword 'Blutsauger'--
"Got you."
Was grabbed gracefully by Pheles who appeared behind Yoshida like a wind. Her face was showing—something that would terrify Yuji—a comfortable smile, and she pulled herself to him.
"...Ku!!"
Just when he was unable to dodge it and feared the moment, Pheles used the hand she grabbed as the pivot to round behind the object that contained the man she loved. She placed her palm gently on Yuji's back like she wanted to push him down, and gently muttered,
"It's time to wake up, Johann."
Her mission was half-done with just that. Pheles even refused to hand this girl over to this instrument as she used the recoil of the palm strike and pulled herself with Yoshida away from his back. Just like as she had sworn to the girl, the vessel Sakai Yuji was now changing rapidly and mercilessly in front of them.
"Ugh, gu...."
The 'Power of Existence' that shaped Yuji's body swirled, and it seemed like a weak numbness spread through his entire body. At that moment, Yuji tried to resist that electric-shock like feeling as he did not want to experience that again,
"It's useless. You can't do anything no matter how many of the 'Spiral Organ' countermeasures you use."
"You're..."
He ended up speaking in a voiceless manner to the other person.
"That's right. I've seen through everything inside you. Once your cards are all exposed, you don't have any advantage playing them. That's a rule of this world?"
"But even so...why at this time...!"
The explosion of mental strength inside him activated what others would call a resistance.
In other words, under his clothes, the tattoos that covered his entire body were spells that were able to prevent his existence from being forcefully transferred. It's because of those spells that were spurting out of his body in black flames that he was able to maintain his current status as a vessel.
As the spells were successfully activated, Yuji wanting to use this opportunity to nab Pheles behind him, turned around—
"Yo."
"!?"
Like a mirror reflection, a boy suddenly appeared right in front of him.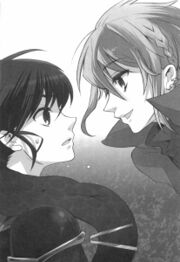 "Isn't that right? Once preparations are all set, I can use that large 'Power of Existence' you have to make such an imitation."
That was a boy in casual clothes; his blond hair was fluttering together with the wind, and his black pupils were glittering. The long body gave a destructive feeling of pulsation as if it was an embodiment of a wonderful life. He's the 'Eternal Lover' Johann.
"Another body was formed!?"
While Yuji could only express shock—
"That's the case. There's a possibility that I can recreate bodies by using all the elements of the 'Power of Existence', no matter whether it's one or two, as long as it's in a certain number. We've met for the first time, Sakai Yuji...and 'Snake of the Festival'-san."
Johann smiled at them.
"It's a little rude to do this after these formalities, but please return this to me."
As he smiled, the hands of the two similar looking mirror-like faces, which were held together, are gradually separated away from each other.
Then,
"Ku...guu!?"
Realizing that something important was about to be removed from deep inside him, Yuji's back went stiff as if frozen. Even though he tried to exert all his power, he couldn't shake away or get rid of the palm that's stuck to his own. He couldn't move at all, whether it's the hand holding the broadsword 'Blutsauger' or the dragon tail behind his head. It felt as numbing as a binding spell.
20cm between the palms, the black and amber flames shot out and quickly dissipated.
Next, what his eyes could see was a certain thing that had an exterior made of gear-shaped things.
"Thi, this is...!"
"Mn, I believe it's the first time you have seen it, right?"
That gear continued to spin with the heartbeat, continuing to bite at the eternal heart that has jags on it.
This was the first time Yuuji saw this object, this eternal mechanism that could interfere with the phenomenon of time.
"The treasure tool, 'Reiji Maigo'."
As Johann moved his hand, that thing started to separate bit by bit.
"Are you going to take it away?"
""Fufu, how about I put it like this— Isn't this good? This belonged to me anyway.."
"Guu...!"
Yuji wanted to use this mockery and the wavering resistance as his power as he tried to stop Johann. The 'Reiji Maigo's the insurance for his plan to succeed, and also, it's the source of existence that allows his existence as a Torch to exist. Even if he was the original owner, Yuji couldn't just hand it back to him.
(Damn it, where's Sydonay...)
Thinking about it halfway through, he realized that it was a useless request.
Right now, as the huge tower 'Shinsaisha' was about to collapse, the 'thousand changes' Sydonay, the general of the 'Trinity', was using his spear 'Shintetsu Nyoi' to support it. It's obvious that he couldn't leave the core of the ritual he had to protect—the palace at the top of the 'Shinsaisha'. The vessel was just a puppet controlled by the leader. If things went bad, Sydonay wouldn't have any reason to follow him.
(That's true.)
It wasn't just Sydonay. Amongst the entire army of "Bal Masque' and the 'Denizens' who swarmed in from all over the world, none of them will risk their lives to save Sakai Yuji. They worship that black snake that was above the storm, outlining the 'Endless Boundary' that would become paradise.
All the people he used to work with became his enemy, and now, he didn't even have a real comrade with him. He was all alone.
(Yeah. I understand. Isn't this a good understanding?)
Facing this cold fact, Yuji didn't feel angry, remorseful, lonely or sad.
(The one who would really worry about this would be Bel Peol.)
He merely used the facts he knew of into material for himself so that he could control his feelings well.)
(So what worth would this pitiful state of mine be? Thinking, taking action...why do I fight?)
The self-loathing was the trigger he needed to surpass his limits.
(If I can't even take this, can't overcome this...what's going to happy to me in the future!?)
The 'Reiji Maigo' that was slowly moving out bit by bit between their hands stopped.
Johann's smile had a hint of admiration.
"Oh? So you can still resist it?"
"That's right...this is Sakai Yuji."
Yuji decided as if he was hinting at himself.
(Not anyone else, nobody else, just me—)
At that moment, that person dropped in as if the vow that was made just now was broken.
The girl opened her crimson red wings with tremendous speed.
Another person appeared in this world, taking Yuji completely aback.
(—Shana!?)
Before he could even say it out, his eyes met the burning red eyes.
Yuji could tell from that alone, that she—only she would come over to help him.
Even though she showed an antagonistic attitude, she was the only one who stepped in in this situation.
"!!"
The crimson eye that appeared behind Shana's back, the 'Shinban', sensed the foreboding of an attack, and as she launched the attack, a strong gust of wind brought a new current right beside her. The 'crimson' that appeared on the other side of the black coat 'yogasa' was shining radiantly as it activated in reflex.
The amber strike landed hard at just a few millimetres away from the solid 'shinku' surface.
Shana, who wasn't hurt in any way, had to change her course because of the tremendous impact—
"Don't you dare!"
From not too far away, Pheles swung her right fist that's covered in a flimsy looking armor. The storm of amber flames raise a ball that's 2m in diamater as it covers Yoshida who's sleeping like a feutus.
As they faced each other, Shana continued to remain in the air as she glared at them with her burning eyes.
"That's my line."
The 'Lord' summoned the girl and made her a hostage, leaving Shana speechless and burning the flames of anger inside her. They just had a relationship where they would make use of each other, and will not trust each other (even though it seemed to be different from Wilhelmina). She knew that Pheles was a woman who would do anything for her beloved man no matter how cruel it is. Thus, Shana's rage wasn't about Pheles' antagonistic actions, but also because she was worried about her friend who got involved in this battle.
(From the way Kazumi didn't refuse, Pheles must have coaxed her and said that 'this can save Yuji'.)
At the same time, Shana had a 'just as I thought' feeling.
Before the battle started, she got an urgent report from Tanaka Eita that 'Sakai Yuji took Yoshida Kazumi' away, and everyone knew that this would happen. As for the deliberate trap they set up, Pheles will definitely make sure that she gets summoned no matter whether she has to sweettalk or threaten. Pheles responded to Yoshida's realization and immediately appeared after Shana herself severed the 'Hell's chain'. That was Shana's misjudgement. No matter what, Shana didn't think that the initiative was in the imprisoned girl's hands. Because of this, they gave Pheles this chance she was eyeing...
These guesses were made from the bias she had against Pheles, so even though Shana wasn't feeling happy, this ended up being like what she expected.
Thus, Shana didn't feel surprised or suspicious that this 'Lord' was standing in front of her. Their teamwork up till now was to create the current situation, so she didn't need to worry about Yoshida, and didn't need to feel that she was inferior to the opponent. Of course, she won't hesitate over whether she should draw the nodachi 'Nietono no Shana'.
"You're saying that you still want to make use of us for the purpose, and made use of Kazumi?"
"Yeah."
Pheles answered frivolously with a 'it's because things ended up like this look'.
"I messed the winds nearby to prevent people from coming in, and yet you were able to do so. Is that floating eyes of yours used to spy on my spy?"
As the woman protecting the man, Pheles continued to wait expectanting. As the lover, she tried her best to hold back the feelings of wanting to hug her lover Johann and waited for him to retrieve the 'Reiji Maigo'.
Shana understood that too, and thus, she wouldn't fly over carelessly.
"That's right. I could see them all."
As the girl who wants to protect the boy, Shana held back her emotions from forcing her to rush to Yuji and look for him. As a fighter, she calmly looked for an opening to get past the spirited and sly 'Lord'.
Their conversation soon became a delaying tactic for both sides to look for an opening.
The gold chain with the obsidian that's hanging in front of Shana's chest lit the duse. He's the 'Flames of Heaven' Alastor who used the treasure tool 'Cocytus' to express his will.
"In other words, things are going just as you hoped?"
"Really, I do feel it's it's more like what Johann wishes for."
The mysterious being Pheles answered with extreme delight and some some complicated feelings. She narrowed her eyes, watched the glamorous crimson scene that was brought about by a supernatural power, and smiled.
"What kind of emotion should I use to explain things to you...oh well, I was just being too much of a busybody. This shouldn't be the child's own will. More than that..."
After saying out what she wanted to say, Pheles smiled in a way that wasn't because of something supernatural.
"Don't get in Johann's way."
As she faced the pure delight Pheles showed—
"I want to."
Shana answered her in pure anger.
And 'whoosh', Pheles casually threw the ball of wind that had Yoshida in it.
The ball floated between between them. Shana couldn't tell the intention behind her action, whether Yoshida was a hostage, a reward, or an obstacle Pheles intended to use for battle.
However, Shana could tell from Pheles' actions that she was ready to fight...it's because the flimsy gauntlets on Pheles' hands were tightly wrapped into a fist.
"Shana, haste is—"
"A taboo...I understand."
Alastor's advice made her notice this self-explanatory logic.
The relaxed voice where they just talked and looked for an opening was long erased.
Now she has to find a chance in the tough battle.
Both women were planning for their own men.

At the same time, those two men—
"You said that you've looked inside me?"
"I did say so, so what?"
They continued to hold onto the 'Reiji Maigo', and the deadlock hadn't changed.
Occasionally, the black and amber flames would head towards the treasure tool and cross by each other. In contrast, it seemed like those two were concentrating the cores of their bodies at a single point in the air.
Yuji didn't use any integrity to even convince, but stubbornly tried to force the opponent into submission.
"Then, you should know what this Sakai Yuji wants to do, right?"
"Most likely, two things. So, do you want to tell me to smile and make us hand over the 'Reiji Maigo'?"
Johann smiled back at the direct request of that fellow 'Denizen'.
Yuji's burning black eyes had power that looked like he could raise some flames.
"That's right. I've decided to do this for this objective, no matter whether I have to force my way or use violence…and once I've decided on it, I must do it."
"I see. It's not that I can't understand that. Who asked us to be so similar?"
Johann looked like he understood well, but he suddenly changed.
"But I still can't agree to that."
Facing the boy, the one who was also a 'Mystes' of the 'Reiji Maigo' had a smile that had an obvious dissatisfaction.
"Forget about the means first, I don't like that outcome."
The unexpected refusal caused Yuji to frown.
"Outcome?"
"Yes. I'm obviously not talking about the god, but about Sakai Yuji-kun, you know?"
Seeing Yuji looking all confused, Johann again brought his face in like he wanted to knock into the forehead. Johann looked into Yuji's burning eyes, but Yuji didn't look terrified.
"This is some admirable oath, but that's all. It's stupid and boring, and also, it brings about misfortune to everyone around here. I'm really so not grateful to help you for something like that."
"I DIDN'T DO THAT JUST TO PLAY ALONG!!"
Feeling that he was mocked, Yuji exerted even more force into the hand that's absorbing the 'Reiji Maigo'.
Johann, who never intended to mock him, didn't expect his response. Thus, he said to that serious face as if he was teaching him.
"Sakai Yuji-kun, you're overly passionate in solving every single problem. It's because of the excuse that you had to do this, and there's no other way that forced you to this situation. How foolish—"
"Doing all I can and accepting all the punishment for my deeds. What's wrong about this?"
"It's not right to make the person who likes you suffer."
"U—"
He couldn't say what he wanted to say.
It was useless to continue arguing back. That was his subjective view.
Yuji felt that the real threat was right in front of him.
He undoubtedly did all these for Shana.
"You kept saying that you're doing it for her, yet you're pushing the suffering to her. Isn't that conflicting yourself?"
But in terms of the outcome, he caused Shana to gain the opposite.
The one who's threatening him wasn't a powerful foe, and not the means to stop the plan.
But this outsider who knew about everything and stated his thoughts without any restraint--
That's an objective point of view.
"Besides taking my punishment and fulfilling my plan, I have no other way to move forward with Shana."
He finally managed to argue back, but he was unable to move Johann.
"Fuuun, so punishment and aim were the same thing. That's really inflexible…no, it's more like impractical. Maybe that god who could fulfill other people's dreams took note of that aspect about you."
Even though Yuji may have become aware, the heart that was shrouded by excuses and mission was dug up mercilessly and shown right in front of him. It's true that he used this self-imposed view that having to do this at all costs and used the logic that's easily derived to push everything to Shana and force her to accept this fate.
"Forget about punishment, your plan is a daydream that lacked discretion instead of some grand plan."
"What are you trying to get at up till now? I've already done this, and I will continue to do this. I have no other choices."
Yuji's rebuttal sounded rather anxious.
Why was it that this view he normally wouldn't accept was shaking him up so hard?
Yuji used all his sanity to ponder.
(Is it because I'm in a dire situation that the 'Reiji Maigo's about to be taken away, or is it that the enemy's lecture's causing my heart to reveal itself, causing me to be lost…no, that's not it…!)
And then, he realized it.
The reason was wasn't because of himself, who endured everything, but because of the enemy.
The 'Engaged Link' were the first people Sakai Yuji met who didn't have any shackles on him ever since he became the god of creation 'Snake of the Festival'.
The members of 'Bal Masque' who were below him and the other 'Denizens' didn't really understand in depth the boy who's united with the god of creation.
The Flame Hazes who viewed their mission as forefront weren't acting at the boy himself, but his intentions and actions.
Shana and Yoshida Kazumi were the complete opposite. They were giving all they got to prevent him as a boy.
However, Johann and Pheles were highly revered and feared people to those involved in the 'Crimson Realm'. They didn't care about anything the god of creation does or his created beings. No matter how many excuses he uses to reinforce his armor and rationalize himself, they could barge inside and mess it up without any remorse. They didn't care about anyone other then each other.
It's because of this that he and she were called a pair who could interact easily. They were straightforward without any consequences, and the key between these two now is because he said the truth without any relation to her.
In contrast, Yuji finally managed to declare his will.
"There's no other way."
Though it was somebody else's business, the extremely curious Johann mentioned without intending to hold back.
"If love is the basic reason, I do feel that your actions could be a little more stubborn."
"Shana won't allow that. Right now, she's fighting too."
Even though the truth's right in front of her, Yuji's still trying to counter weakly from another direction.
"Weren't you trying to look for teamwork more than trying to prove everything? You forgot about the most important one while fighting to achieve your aim. What's that?"
Johann didn't attack in a way Yuji expected—in this situation, there shouldn't be any other possibilities, however, his words went straight into Yuji's critical point…but more than that.
"Since Shana's rather sharp, she should be able to understand you, right?"
"…!!"
On hearing Johann mention Shana's name so nonchalantly, Yuji's heart waged a huge tsunami. Thinking that the 'Reiji Maigo' could be taken away once he loses control of his emotions; Yuji then managed to control his emotions to a not quite normal level with exceeding sanity.
"It's not like I can't wait for this without worrying."
As he declared this coldly, he exerted overwhelming force into the palm that's fighting for the 'Reiji Maigo'.
"Or rather, this would end up obstructing the creation of 'Xanadu'. The plan that Sakai Yuji himself outlined is based on success. I won't take the risk even if it's a once in a million possibility."
Yuji didn't drag on, but kept his palm back in a grabbing motion.
And Johann seemed to feel somewhat out of alternatives by his endless desire, and merely shrugged his shoulders.
"Being expectant is a danger, isn't it? You're really stubborn."
And, during this time,
"Speaking of which, haha…I see, I understand."
Johann seemed to realize something as he nodded his head.
"As compared to that noble and self-sacrificial attitude of yours, your feelings for Shana seemed to backtrack by 2 or 3 steps."
On hearing Johann say this name, Yuji increased his grip and heard the following words,

"Seriously, you, are you looking down on love?"
Johann nodded as he said this, definite about his answer. He looked relaxed as he continued to maintain the pulling of the 'Reiji Maigo', and continued to ask.
"There's love, but you're thinking that you shouldn't force your thoughts on others, and that you can't make excuses for your own actions, binding yourself in the process. Isn't your love making the world even narrower?"
It wasn't a lecture.
Neither was it a mockery.
This was a surprise look of an educated meeting a fool.
"Actually, love won't be shaken by the excuses and interests you're fearful of. It can let anyone have the strongest motive in doing anything. It's a really amazing thing."
Yuji's personality couldn't allow him to forgive, and he didn't have the experience and time needed to realize the truth. Thus, he could only doubt and retort back down.
"But how can I believe you if you're only saying so?"
"Haha, I knew that you would say that."
Johann's personality allowed him to feel that this was the only truth. He improves what he felt with his lover, and solidify them as his values. Thus, he was able to make this conclusion.
"As you still don't understand this logic…no, that you feel that you have no right to achieve this happiness, so you cast everything aside and walked all the way here."
"I don't have a reason to hear what you mean by 'walked all the way here'.
Coupled with the anger he had at Johann who was provoking him right from the beginning, Yuji exerted even more force as he grabbed the 'Reiji Maigo'.
As he continued the confrontation, Johann looked somewhat carefree and said,
"No matter whether I have a reason or not, I'm just used to expressing my view."
As he said that, Johann heard the voice of his lover that went through the winds and reached his eyes.
"Well, Johann?"
On hearing this seemingly sweet bedside voice,
"This can do."
Johann easily—lets go of the palm that's absorbing.
"!?"
Yuji's eyes chased the hand that was deflected due to the recoil. Through the 'Reiji Maigo' that was still held in his hand, his checked that he did not let go of his own hand, but that the enemy let it go. Though he knew whether this was a fake or not, but he knew that this gear heart that's spinning became his property.
At that moment, the entire space shook unsteadily. The next moment, the 'Reiji Maigo' disappeared amongst the black flames.
Yuji felt as if some fragments that were lost were taken back, and then, he turned his intrigued eyes to look at the boy who did such an action that's hard to understand, the 'Mystes' who's floating in the air.
Moving away slowly, Johann continued to smile.
"You don't have to be so suspicious. I didn't do anything. Snatching this was just a little entertainment before I find my partner. To us now, it's not something we needed anyway…ahh, that's right."
As he said the word that were hard to understand, Johann's fingers were pointing at Yuji as if he was telling him off.
"As a gesture to our delightful conversation, and also one of the original residents, let me tell you about us as a model couple."
To Yuji, he didn't care about this. He never felt happy about winning this tug-of-war. Or rather, he was worried about Johann's intentions since he managed to get the 'Reiji Maigo' because his opponent let go.
"What, do you want?"
Yuji asked slowly, taking care not to release the presence of his movements, and checked whether he had the broadsword in his hand, whether the dragontail behind his head and his entire body was released from the bind.
And Johann ignored his question and just said what he wanted to say.
"I loved Pheles because she has the power of the clear winds to blow the fog aside and turn everything into a wide horizon. But even because of that, we're just sent to this unstable place because of the winds of miracle."
His smile now had a tinge of mischief
"In other words, if I have to say what I want to say…it's to blow you people who have become stones away."
"!!"
Yuji didn't question any further, and neither did he show a wavering look. He just let his rational mind force himself to take on this threat right in front of him, and the broadsword 'Blutsauger' that he swung hard ripped apart the amber winds.
Facing this wordless slash of his, Johann merely wrapped himself in the wind as he faced him. No matter how quickly Yuji tried to rush in, Johann would float away like a feather, not trying to dodge deliberately as he gently moved his body to avoid the attacks.
From the front of the flying winds, the dragontail on the back of the head swung about in continuous slashes, and with the powerful impacts, it swung over horizontally. The black flames that were spurting out from the dragontail looked like they were trying to burn the feathers.
Johann's smile had some seriousness in them as he used the spell that created a round shield around his right palm, and used the recoil of the collision between the spell and the black flames to pull the distance.
Yuji chased on, and a large number of silver gears and armor bits rained down onto this space from his sleeves and shadows. The large amount of pressure pursued Johann.
Waving his hand to remove the round-shield-shaped spell, Johann reinforced the power of the wind on him and blew the silver avalanche aside. A few seconds of attack and defense continued.
"Come on, Pheles!! It's our turn now!"
Perhaps as he couldn't start alone, Johann called out the lover he loved the most.
Though she wouldn't take action on her own, she would rush over at the fastest speed possible once it's Johann's request.
"Un, Johann!"
Pheles left the Flame Haze who was glaring angrily at her.
Shana, who was left aside, didn't chase up. She was still wary that Pheles may have some sly plot. As the ball of wind that had Yoshida inside was still here, her intentions were as hard to grasp as the wind.
But at the same time, there was something anyone could see through.
That's love, which surpassed all other emotions.
"Johann, I, I have already finished everything, you know?"
"Un, I understand. Pheles…thank you."
The boy's gentleness was just like a child as he hugged his lover and brought his face to her face.
"I hate it, but I really tried. Really, really hard."
"I'm sorry to make you do such a painful thing, but I'm happy because of that too."
Just like that, both of them held hands, right to left, left to right.
At the next moment, as if a gush of unlimited power swelled out, the winds became stronger."
"My most beloved Pheles, there's nobody—"
"Un, Johann, nobody can break us apart."
The amber winds that covered the 'Shinsansha' looked like it was strained through as it became extremely thing, forming a fine line at the top of the tower, and a crazy tornado at the bottom of the tower.
Floating in the middle, the 'Engaged Link' let go of one of their hands, and reached out below.
As if they were inviting a guest in.
What responded to their actions was a road created by a spell.
It was a road that extended out from the two of them, a carpet that has the amber glitter on it.
The road extended down, and finally ends at the base of the tornado.
And at the suraface of the mana river, which is right beside the tower, a large amount of mist was lifed.
And the two of them were surrounded in the tornado.
Shana used the experience she had when she came here and the power of the 'Shinban' spell that was burning on her back to deduce who the two of them brought and what they wanted to do.
(They're going to run away now?)
Yuji used the tornado as a sign that an attack was coming, and became wary. Just when he was analyzing the situation systematically, he found that there was a new abnormal situation instead his body, and stopped his attack.
(What...what's going on!?)
Responding to these two and ignoring the other two behind, a certain thing that didn't match the scene appeared through the thick mist that's giving off the amber glow. It was more like a non-mechanical howl than a roar.
It was a vehicle.
A round mini-van that's driving up the road that's made from the spell.
The flat carhead that's supposed to have a label on it had a wooden rectangular beast hand that's like a mask hanging on the wall. THe beast head clatters as it lets out a reluctant sound man's voice.
"Let's go, Para! We're flying!!"
"Yeaaahhhh!!"
Letting out an embarrassing scream at the drivier seatwas a driver dressed in green clothes and a hat. He used the glasses and towel to hide his face, and the pure white gloves and the wrists that were revealed between the sleeves let out a pale color that looked like a phantom.
"Since people have prepared the path for us, we can't possibly let them down."
Right above on the roof of the van, a person was sitting cross-legged and giving a sharp gaze as he said that. It's a woman who has patterns drawn all over her face, wearing casual clothing and dressed in a weird way. The crossed arms she was holding onto were holding onto a large pickaxe for some reason.
The people who suddenly appeared were the 'Shell of Deep Concealment' Gyukki, 'Coachman of Corpse-bearing Slaves' Para, and 'Descent of Earthly Rules' Zemyna.
They were convinced by Pheles to transport Shana and the rest, who were planning to attack Misaki City, from New York to Japan, and let two of them sneak into the large tower 'Shinsansha'. This is the 'Denizen' transport company who display outstanding talent in hiding and stealth movement--'Hyakki Yakou'.
Ths minivan was actually the 'Rinne' Para was controlling as it quickly moves down the jizaihou path, accelerating as it moves on. The body of the vehicle swayed left and right, rushing to the 'Engaged Link' who're at the end of the path.
"Ku, how did this--!!"
Yuji left the sudden change in situation for the moment as he cursed the weird people who looked like helpers and shot black fireballs at them.
The minivan's wheels stick tightly onto the narrow path as it didn't fight back.
"GUUUAAHHH!!"
While letting out that embarrassing scream, the driver Para's technique was extremely stiff. Though he was driving in a rather roguh manner, he would suddenly turn left, and turn right, and use the difference in speeds to move through the destructive storm.
There were several more fireballs exploding, and the black fireballs burned to block his path. Howerver, Zemyna on the roof of the vehicle kneeled down on one leg, clicked her tongue and swung the pickaxe, opening a hole that's large enough for the van to move through.
This minivan was actually driven by the 'Rinne' Para controlled as it quickly moves down the path created by the jizaihou. The body of the vehicle swayed about as it rushed to the 'Engaged Link' at the end of the road.
"Che, how did this—!!"
Yuji ignored the sudden development that happened to him for the time being as he cursed the weird-looking people who looked like they were about to help out, and shot large number of black fireballs at them.
The wheels of the minivan stuck tightly onto the narrow path as it didn't fight back.
"HHHIIIIIEEEEEEEE!!!"
The driver Para's technique was overly stiff unlike that embarrassing scream of his. Though the vehicle was a little wild, he would suddenly turn, hasten or slow down as he moved through the destructive storm.
Several fireballs exploded in front of them, and the black flames burned as they blocked the path. However, Zemyna knelt down on one leg on the ground, clicked her tongue and swung the pickaxe, creating a hole large enough for the van to move through.
"Tch, Gyukki-san, hurry up and take them back!"
Right in front of the group that's rushing in, the mask on the head of the vehicle, Gyukki, was reaching out his weird-shaped wooden arms from the side of the vehicle. It opened the door on the side and shouted at his clients with a shrill voice.
"Mister, big sis, hurry up and get up!"
The 'Engaged Link' then let go of the jizaihou road from their hands.
"Thanks you for taking care of Pheles."
"Like what we discussed before, it's all up to you."
They gracefully jumped into the side door of the vehicle that came over. Both of them then turned around and said in unison with a carefree voice.
""Bye!""
They bid their farewells and ran off like they were eloping.
And Yuji, who was the target of this farewell, realized the meaning behind this action,
(They met up not to attack, but to escape!?)
He felt a huge sense of danger, but couldn't reach his hand out to stop them.
(I finally got the 'Reiji Maigo', so I should be targeting them, the unknowns, right? If I think about it, I even got attacked by some inexplicable phenomenon—)
As he hesitated, Yuji tried to stop them by firing another fireball.
"—!!"
The fireball got blocked by a large crimson hand that was like a wall at close distance.
He faced the hand as the firedust scattered.
"Shana."
"…"
Shana remained in the air as her wings burned, maintaining her position between Yuji and the vehicle that continued to move up without losing momentum. She looked rather determined, but it felt like she was a little confused like Yuji.
(…Is this really good?)
Her 'Shinban' could see what's going on behind without looking at them directly.
What her instincts were telling her became real.
The vehicle had the 'Engaged Link' and Yoshida on it.
The ball of wind that enclosed her was grabbed by the abnormally-shaped hands that grew out from the side of the vehicle, and disappeared inside like it was swallowed by a monster. The van itself looked like it was waiting for this moment as it closed the side door and continued to accelerate.
(They don't seem like they want to hurt Kazumi, and it's pointless to do that…besides, bringing her away from this dangerous place will obstruct Yuji's plan and bait him to waver.)
She knew all that, but Shana couldn't shake off that discomfort.
The 'Engaged Link' will never lose to Yuji if it's unknown what they're going to do. No matter how Wilhelmina will defend them, Shana's still very suspicious about them. Her biggest worry was that Johann may have had ill intent the moment he gave up the 'Reiji Maigo', however,
(I'll let you two go now.)
In the end, she had to make this conclusion.
(Alastor didn't say anything at all because he feels that this is the most apt strategy in this situation.)
The silence of the pendant in front of her chest made her confirm this correct decision.
Also, there's a realistic problem here. The situation now wouldn't allow her to fight to save Yoshida.
The one who will do a cruel thing at the crucial point of victory to try and shake them will definitely be 'Bal Masque' (whether it's effective or not, they will still try it). If things really ended up like that, it's unknown what Yuji will do. The situation will continue to change, and future developments will become even more unpredictable.
(So we have to get Kazumi further away…either way, there's no safe zone in this battlefield.)
She thought calmly and made an optimistic prediction. The basis was that she had already told Pheles the functions of the 'Shinban' without hiding anything, which will be an insurance, or a threat to ensure Yoshida Kazumi's safety.
In contrast, Yuji could only look at Shana, who was blocking his way, and looked up slight. He could only watch the 'Engaged Link' escape with Yoshida, and even if he intended to block their getaway, their escape was too quick, and it's impossible to catch up.
"Is that your plan, Shana?"
Keeping that cool and clear demeanor till the end, he only showed a slight change when those two sworn enemies were involved. As the girl who was a vital part of his plan was taken away, he was somewhat shaken.
"What do you think?"
Playing a fool, Shana realized something from the crack in his expression due to the sudden change.
(—I see!)
Shana could find the anomaly within the 'Mystes' of the 'Reiji Maigo' she was facing.
While they were talking, the van went into the top of the tornado that was narrowing, and the vortex the vehicle went into exploded all about like a balloon that burst.
Now, all that was left was the tornado that was expanding and gradually becoming thin.
The vehicle, together with the people inside, disappeared just like how they appeared.
Above them was the silver glow and the black snake's body that was creating the egg of the new world.
Shana and Yuji were the only ones left in this sudden ruptured space. Both of them pulled their distances again and looked at each other with wry looks.
"…"
"…"
The one who first spoke up was Yuji, who was really showing a wry smile.
"…After such an unpredictable thing happened, I just continued to think and was too late in my actions. Looks like I still lack experience if I want to make snap decisions.
Seeing the boy give a peaceful expression as he analyzed his weakness, Shana frowned as well and gave a suggestion like the countless times she done so before.
"If you hesitate, you have to straighten up and move forward. There'll be a big difference once you let your body remember to do this. At least it won't let you regret like what you're doing now."
"I see, so I have to bring this realization to the battlefield."
Yuji pointed his thumb to his chest, and his thoughts were spinning wildly.)
(There're 'Denizens' are over. The enemy won't be able to break through easily…I can still catch up.)
The fact that Yoshida was taken away caused Yuji to alter his plans so that he had to capture her. Right now, the silver egg that's above his head was expanding, almost filling the circle of the black snake. The time where many things had to be done were closing in without mercy, including midnight.
The time when it fills was approaching, and to the god of creation 'Snake of the Festival', this was a good thing.
But at the same time, it was a bad thing for the substitute Sakai Yuji.
(There will be some errors in the execution, but I should have some insurance.)
''I should let all my army pursue that escaping vehicle then. Once I can stop this wind, the spell Enwa (far cry) can be used again, and I can just declare them as people getting in the way of the ritual''—as Yuji was thinking of a strategy logically to calm himself down—
"Yuji."
Shana mercilessly declared the change that happened to him since just now."
"You lost your sense of pre-recognition, didn't you?"
"—!!"
The secret Yuji wanted to hide was exposed by Shana's quick attack, and his face stiffened. Shana then smiled at him.
She used the 'Shinban' to accurate capture what happened after they retrieved Yoshida and put her in the vehicle.
The illusion that was created quickly flew up, and the disappeared physical body went down. Both of them split up and headed into different directions, which means that they didn't disappear into the top of the tornado, but in the opposite direction, down to the river surface at the bottom of the tornado.
At the same time, Yuji, who was able to sharply deduce everything that happened seemed to be completely attracted to the escaped illusion for some reason as he looked above…that showed that he lacked his sense of prerecognition.
The reasoning behind Shana's belief was that ever since the two people were holding their hands together to train, Yuji would have a habit of using his thumb to define something that's uncertain…in other words, something strange happened to him when the 'Reiji Maigo' was nearly taken back.
Looking through the eyes, searching for the meaning, collating the results, and arriving at the conclusion.
Yuji faced her irrefutable point, and realized the disadvantage to him in this battle,
"Those people are really too much."
Even so, he still smiled. At this moment, his realization wouldn't shake just because of one or two disadvantages. The reason why he didn't give a clear response was because he still wanted some face.
As a male, Alastor understood his desire to maintain his ego, and asked directly.
"Is it because 'that guy' left?"
"Who knows? Why don't you ask Lamies?"
He looked like he was playing dumb, but in fact, he was buying a few seconds to think, so he used a name that would interest his opponent. He tried to buy time, think and continue to talk.
"Speaking of which, I remember that when Lamies described this layout, he did designate that guy and unknown sense as an unknown factor…oh well, I shouldn't look into this further."
In conclusion, Yuji wielded the broadsword 'Blutsauger' in his hand.
"Hm, we both have things to do."
Shana also raises the nodachi 'Nietono no Shana' with both hands up in front of her.
And Yoshida Kazumi finally got what she wanted, breaking a perfect 'non-expectant manner' choice both of them chose by charging forward and successfully altering the battle such that it ended up 'not being what it really is'…into chaos.

Hiding their presence and heading down in the opposite direction to the water surface of the mana river was a minivan, and there was a large figure in front of them.
It was the giant of rubble controlled by the 'Mobiliser of Ceremonial Equipment' Khamsin, made from the destroyed base of the tower 'Shinsensha'. It trampled onto the ground, causing lots of booms and water to splatter as it trudged through the river. This wasn't because of fatigue brought with the destruction of the tower, but that the 'Denizens' all over the river surface were shooting at him from long distance the moment the amber winds became thin.
There were all sorts of colored explosions, and the 'Shinsensha' that formed the body of the giant was gradually collapsing. Even if every single hit wasn't powerful in the least, those attacks that were far from the riverbank continued to rain down on him in thousands, causing it to be rather unstable.
They, 'Hyakki Yakou', were racing down that path of fire.
Stuck on the vehicle's body was Gyukki, who was in charge of stealth. He frantically shouted.
"Para, it's okay to leave the path Mister created! Just dodge it!"
"No, we're going to use the road and the giant shield to break through!!"
Para's the expert when it comes to driving. He immediately saw a small little gap right between the concentrated fire as they head down between the jizaihou road and the giant of rubble.
The fireballs continued to shoot at the jizaihou road that was moving down at the river surface, but the escape road Johann delicately created wouldn't budge. Para made the decision that if they weren't hit directly on the side, there's a very high chance that they will break through.
His 'Rinne', the minivan, was shaking itself as he turned the steering wheel about, moving its head and dodging the incoming fireballs. A few seconds later, the vehicle went according to plan as it arrived between the giant and the path. At this moment—

The brown glow scattered all over, and the giant exploded.

The large amount of materials that made up its huge body blew up like volcanic ash as it scattered all around. The fragments exploded again, scattering into pellets, and these little shrapnel scatter all over with tremendous force.
The people in the skies above and on the ground below were leveled to death as they were scattered into smoke after being swallowed by the brown explosion. The river surface became a steaming hot scene of massacre.
Though Para was shocked by this explosion,
(I can't dodge this!)
He didn't step on the brakes, but continued to accelerate and make it an all-or-nothing situation.
Perhaps lady luck responded to his courage, or maybe it was pure coincidence, but something unbelievable happened in front of the vehicle. The rubble didn't hit the jizaihou road, and it didn't explode as well.
A path opened right in the middle of the abyss of hell, and the vehicle rushed to the river.
But what replaced the fragments was a person who came flying at the vehicle.
"Woah!?"
Sensing this action, Zemyna raised her pickaxe.
The tip of the pick hit the metal block.
"Who's there?"
Zemyna shouted as she kept her body down as she was wearing light clothing. She used the recoil of the collision to swing another strike with the pickaxe in a swinging motion.
However, she got casually blocked by the rock-like metal block.
Until here, Gyukki finally spoke up.
"Wait, Zemyna!"
"What?"
Zeymyna hid the numbing feeling and got into position, and finally recognized the person who landed on the roof of the vehicle, right in front of her.
The boy who used the metal rod to support himself on the roof was one of the passengers who said goodbye for the time being.
"Ahh, excuse us."
The manipulator of the giant, 'Mobilizer of Ceremonial Equipment' Khamsin greeted unhurriedly.
The bead shaped treasure tool 'Sebia' that was hanging on his hand let out the voice of 'Steadfast Sharp Peak' Behemoth.
"Hm, your way of greeting your guests are rather violent as compared to before."
As they said this, the van landed on the water surface and started to escape from the tower. Khamsin created explosions all around, and it should be able to hide their movement. It's good to head underground, but they won't be able to escape once they reveal themselves. That would have been more dangerous, and Para didn't choose this because of this reason (and the fact proved that his decision was correct).
Anyway, they, 'Hyakki Yakou'had to escape from this Misaki City that's swarming with countless 'Denizens' until their clients are happy. It's extremely troublesome to have someone barge in here.
The leader, Gyukki, popped his head out like a lion dance.
"Forcing yourself to sit here, what are you thinking, Khamsin-ou? We got new passengers, and we have to get away, right?"
"More than that, how did you grasp our whereabouts? Gyukki-san's stealth shouldn't be seen through that easily."
As the bodyguard, Zemyna asked rather enthusiastically.
Khamsin used his straw hat to block his sight and casually said,
"Yeah, I've finished the destruction and chaos near the ritual altar. After that, we decided to do what we felt would be the most appropriate. I just decided to do this based on my decision alone."
"Mn, you're going to run away from the army, right? No matter what it's the new guest or the Missy you picked up, it's better for you to have more escorts, even for you people."
Behemoth answered as well, but he didn't answer the most critical question…how did they grasp the location of the vehicle?
Gyukki was extremely unhappy as he was rather proud of his own highly advanced stealth technique, but the other party was an elder amongst the Flame Hazes, whose fighting ability far surpassed Zemyna, and he couldn't shake them off with force.
"In that case, we don't have a reason to refuse."
He used his eyes to stop Zemyna, who still wanted to argue back, and explained to confirm the other party's thoughts.
"It's good that you didn't say that you want to escape with Missy, because Mister and Big Sis still seemed like they had something they want with this Missy. We'll discuss about alighting once things are done."
"Ahh, okay, I'll leave it to you then."
Saying this, Khamsin casually swung the metal rod 'Mekest' in his hand.
The tremendous force called the surrounding fireballs that flew over to explode before contact. The heat wave and flames were concentrated on the body of the vehicle itself, and the van shook slightly as it moved on the surface of the river.
At this moment, perhaps to check the situation, the members of 'Bal Masque' opened a warning line in the middle of the water, a giant turtle let its head and shell float on the water, and there were many shadows approaching from underwater.
(Tch, as expected of them, to have so many numbers. Their perimeter's flawless…it's dangerous to head underground.)
As Gyukki clicked his tongued, Para hurriedly turned the steering wheel and let the vehicle evade the obstacle that was like a little island.
Even if they could hide their presence and profiles, battling wildly will reveal their position. They have to use their ability to at least hide the vehicle, and this has to be done to the minimum. Besides, being in the middle of a battlefield was an exception amongst exceptions. They, 'Hyakki Yakou' were just a transportation group, so it'll be great if they would deliver their clients safely.
"Don't do things that are too obvious, Khamsin-ou. We'll be scared too."
Facing the leader who showed fear in his voice, the bodyguard told him off unhappily.
"The fireballs just now would have been direct hits if they weren't taken down. Now, both 'Bal Masque', which controls everything, and the other random folks who were sightseeing here are rampaging about. Even at the minimum, there will be quite a few firedust flying…Gyukki-san, place endure for the time being."
Gyukki was dumbstruck by these words, and Khamsin then turned to him and said,
"Ahh, yeah, that's right. If the chaos over there was controlled and the enemy gives an official order, the stealth movement will be extremely tough. Right now, 'Denizens' are swarming in from all over the world. Let alone whether it's advantageous to us or not, we can only take the initiative to a certain extent, open a road and move on."
"Fmm, even so, we don't intend to act rashly. It'll be best if we can fight at the bare minimum level, but with so many numbers on the enemy's side, it's hard to estimate the minimum."
Behemoth calmly expressed the determination as they head into a tough battle.
Gyukki couldn't even let a voice out.
"Eeeh, I got it, I got it. Damn it! I knew this would happen the moment I accepted Big Sis' request. We'll leave the protection to you."
"Ahh, I'll try my best."
Khamsin answered calmly as he pondered about what the 'Engaged Link' and Yoshida were doing inside the vehicle. He looked at his feet with a suspicious look.
The people who were rushing through the winds raced through the battlefield.

The amber winds covered everything like it was a sign of chaos, and until the winds weakened, the general 'Thousand Changes' Sydonay continued to kneel above the upright spear 'Shintetsu Nyoi'.
This treasure tool spear that could change its shape and size at his own will was now support the central pillar of the gradually collapsing 'Shinsensha' after its base was destroyed by the giant Khamsin controlled.
An object flew out from the top of the tower, at the temple where the ritual was going on. That thing could have been mistaken for another tower instead of being merely a pillar, and its actually the real end of the extended spear.
As it was too big, this didn't look like a support at all. Sydonay extended his legs from the top and thought,
(The things over there should be done.)
He was in standby all the time as the 'Engaged Link' created danger and commotion. Of course, this wasn't because he was running away from battle because he didn't have his spear. Sydonay was an extremely powerful 'Lord', and if he wanted to, there would be a respectable outcome if he rushed into the winds.
But he didn't do so.
The reason was simple. It was more important to protect the temple than to support, that's all.
The mission he should finish would be to protect the ritual of the god of Creation. To be specific, it was the silver shadow that's shining at the floor of the temple. This was the projection of the 'Master Throne' Hecate, who entered the world's egg as a live sacrifice, and the only part of the ritual that could be seen.
It'll be the opposite of what he wanted if he carelessly left his position and caused an unexpected interference. And even though he was a substitute, that person was still a tool where his leader's consciousness resided in, and there was no need to save him if there was danger.
(In a personal standpoint, it's nothing much if I want to go down and help. But leader-dono has times when he needs to show off…I still can't do those things when I'm not really interested.
He thought in a half-serious manner and waited for the storm to subside.
(More important, it's a great thing that I can spend my time like this.)
As the storm finally subsided, he could gradually see a figure that was floating. The 'Arbiter of Reverse Reasoning' Bel Peol, who was in the central command room watching the entire scene, let out an 'Enwa'.
''"Were we had? The girl the substitute body still had feelings for seemed like she was taken away by the 'Engaged Link' and the 'Hyakki Yakou' gang."''
"Did you say 'Hyakki Yakou'? No…so that's how it is."
On hearing this unexpected name, Sydonay finally realized it as he felt surprised. Without the help of those people, Khamsin wouldn't be able to break into this tightly guarded 'Shinsensha'.
"But what are they planning by taking her away? That was something that's only of worth to leader-dono. Is there really a need to save her?"
''"Well, I don't think there's any significance other than trying to irritate us…well, leader himself will settle it. More than that, from the way the 'Mobilizer of Ceremonial Equipment's being so active—"''
The general realized the tinge of wariness in the advisor's voice.
"Yeah, that was a feint. There should be others inside. The 'Braider of Trembling Might's busy dealing with the defeat, and from the threatening letter hime-sama sent over, it's either the 'Interpreter of Condolence' or the 'Scatterer of Sparking Light', or maybe both of them are together?"
''"Fmm…breaking through again just when we thought that a hole was filled up. This manner of using different means to achieve the same aim is really unexpected. I'll look through the inside of the tower again according to the chaos, and the outside's yours. Also, what did the chaos just now cause?"''
On hearing her question, Sydonay's sunglasses scanned through the entire battlefield.
Right now, the only threat that happened was the plan of Sakai Yuji as the girl was taken away. 'Bal Masque' absolute advantage wasn't shaken.
The 'Engaged Link' that appeared again was really an unknown factor, but since they escaped from the situation, they probably wouldn't cause too much change in the overall outcome.
The 'Three Gods of Earth' hadn't progressed forward for a long time. These people were world-class crusaders, but the battle numbers this time can't be counted with 2 digits or 3 digits.
As for the base of the tower, the metal giants the professor was controlling finally broke free from the storm and moved out. The two crusaders fighting them had to face an imminent threat.
Sydonay briefly and unhurriedly made a short conclusion.
"There's nothing wrong overall. We just need to take care of the intruders…and the hime-dono whose intentions are unknown."
''"I see. Then, let's reveal all their cards by exerting as much pressure as possible before the time's up."''
Her nodding presence and casual request made Sydonay give a wry smile."
"You're saying that so casually because you're in a safe place. Don't let them do anything strange inside."
He grumbled, but in reality, things were going according to the battle plan he set. He had no right to chide her arrogance.
In this designated plan, the tactic they had to take down Shana, who launched a sudden attack, wasn't to stop her with countless 'Denizens' inside the city, but to lure them to the core, the tower 'Shinsensha' for a direct battle.
It's so obvious that Shana's group's plan was to target the 'Shinsensha' and the god of Creation and the most important world's egg. If a massive battle happened on the outskirts, it's highly likely that the enemy would use this and seize an opportunity, and even more so when they know that there's a large crowd swarming in while they couldn't control it.
Thus, they should force the enemy to reveal the hidden plans like the jizaihou just now, and use them before the time's up.
Bel Peol saw the necessary obstacle that would appear, but still smiled.
''"Then, let's overturn all the bad things then."''
"That's a nice way of putting it, but let's settle what's in front of us first."
Giving a smile with a different vibe, Sydonay sent his voice to another place.
"So I should be up now. Is the tower's adjustment done yet, professor?"
''"STTTOOOPPP THE TIME!"''
A loud screaming voice let out an unknown language through the enwa.
There was no need to describe the owner of the voice. It's the 'professor', 'Seeking Researcher' Dantalion.
He's now at the machine control room, and messing with all sorts of parts to prevent the tower from collapsing after Sydonay pulls out the 'Shintetsu Nyoi'. The sound of machines moving and steam fuming can be heard from the enwa.
''"Ohhh—fuufufufu! Place—and bind, re—pair the broken parts—together! Make it—sturdier than before. No more—collapse—ever again! That's—modification! That's—progress! If—there's a name for it, it's ex—cellent willpower—!!"
He continued to rattle on excitedly, making one wonder how busy he was. However, he didn't answer the question at all. Sydonay immediately felt weak and thought that he should be asking the other person right from the beginning, the professor's 'Rinne' and assistant, the crystallisation of his supreme knowledge -- Cantate Domino 28.
"What's going on, Domino?"
''"Yes, your excellency General! We're now using the 'Seireiden's modified structure, and have finished stopping the spinning parts to the remaining parts from dropping. The hardness calibration and simulation experiments were completed as well! Once we let them operate normally, it should be able to stay there even after feeling a stronger attack OWOWOWOWOWOW~"''
''"Do—mino--!! You actually—ruined my—chance to explain—my glamorous—plan, can you—be considered my assistance like this!?"''
''"HIIIIIIIIIII, sorry professor~"''
Ignoring the manzai routine of these two that looked like it will continue on, Bel Peol prompted.
''"So basically, when will it begin?"''
''"Any—time, anyhow. If you say now—Switch on!!"''
Crack. The tower responded to this strange sound and started to tremble slightly.
''"Ah, professor, his excellency General hasn't removed the spear…!!"''
"!"
Sensing the urgency in Domino's words, Sydonay immediately reverted the 'Shintetsu Nyoi' to its normal size, and the place where the spear was removed from naturally became a complete hole.
However, the tower with its center removed didn't collapse.
The tower remained unnaturally still for several seconds like it was an omen.
And then, the ripples on the surface of the river below the tower moved aside, and the little waves the security iron giants immediately formed large waves.
With some shaking, the profile of the tower looked like it was expanded as it swelled. It was due to the expansion caused when all the parts combined. Unknowingly, the roar of the movements inside the armor plate stopped, and steam gradually moved all over through the gaps.
And a few seconds later,
After pausing for a while, the parts caused an avalanche. The surface and even the insides that were involved started to rearrange themselves. The avalanche rushed into the base Khamsin took away, filling the gap up and quickly assembling. The armor plate covered it without leaving a gap, and the newly constructed material stacked up from the bottom as only the sound of large parts rubbing against each other signaled its birth.
And then, in less than a minute of transformation, the large tower 'Shinsensha' was reborn again. The floating blocks that were forming around, the metal golems were lined side by side with each other as a defensive mechanism, and the tower itself became sturdier as it became even hard, standing prodly in the middle of the Mana river.
Then, the machine control room started coming to the front together with the surrounding equipment.
KACHANG, the impact of the locks caused the professor and Domino, who were there, to recover.
Domino panicks as his gear-eyes started to spin.
"Proproproprofessor!? The machine control room's outside…ah, did we forget to correct our experiments and set it up OWOWOWOWOW—!!"
"How did—I—make—that—kind of—EASY—mistake!?"
The professor used his mechanical hands to pull his assistance, and his voice paused here at this moment.
"Maybe it I stuff this—control room—in, the tower's—strength—will lower by one level! You should say this as purely a self—sacrificial and bright decision!"
The professor continued to bellow loudly as the momentum behind the voice would make one think that he was stating an obvious fact here. And the two people who were hiding behind the shadows of the rocks saw both of them—
"It's out!"
"Yeah, out, how sudden."
While saying that, they sent a quick attack, and blazing lights—this light shone at the professor's eyes, and the hi-speed snipe came flying over in an arc.
"WAAAHHH!?"
DONG!
It wasn't an energy explosion, but a shockwave to stop. As the professor continued to shout, the path of light went to the side, and it was blocked by a bright yellow jizaihou.
"Really…"
A mysteriously-dressed gentleman in a tuxedo floated beside the control room—the 'Golden Palm of Wishful Demands' Mammon, who had a face of an indistinguishable face, sighed.
"Please don't do anything unexpected that will make us worry, professor Dantalion. This is bad for our hearts."
He said that as he played with the light he caught in his hand. This was the spell 'Self-Indulgent Coveting Palm' which allows him to capture anything he likes or push them away.
Domino's gas barrel-like pudgy body collapsed on the floor and thanked him.
"We're, we're saved. Thank you, 'Golden Palm of Wishful Demands'-sama~"
"It's alright, anything other than the heart is easy. More than that, those people will definitely concentrate their fire here. Can you modify the structure such that you can hide inside?"
Facing Mammon's obvious worry, the professor proudly waved his white coat and assured,
"Do—n't worry! The original—control—room is now 'Seireiden' sup—er—modified! The giant—monster's—made fro0m the cabin! Defense—mechanism—is complete!!"
"Monster…?"
Imagining that his own base got modified into a monster, Mammon couldn't help but put his hand on his forehead.
Expecting what the professor was going to do now and getting ready to start the machine, Domino murmured.
"That transformation plan was denied by her excellency, the advisor, but the professor wanted to at least experience it, so he kept some slight modifications and ended up making this mistake OWOWOW~"
"Any—way! Hatch close!"
The professor again pinched his assistant and pulled the yellow and black pole.
Immediately, the sound of metal rubbing against each other could be heard as the armor covers the control room both of them were in. After that, they used all sorts of unnecessary technology to make the armor invisible, and two people could be seen under the armor.
"That—will do! Using the armored golem to turn de—fense into at—tack!! Go—gogo, finish off—those—pitiful failures!"
"Okay! Change mode! Switching 'swinging punch trap' from defense to attack!"
Both of them were enjoying themselves as they got to work.
"Hm. Then, I'll—"
Mammon sighed and crushed the light in his hand. Bel Peol and Sydonay seemed like they were waiting for their conversation to end as they sent an enwa to his consciousness
''"It's been tough on you, Mammon. We'll have to ask you to protect the professor."''
''"The enemy's no weakling. Be careful. I'll deal with the other work on top."''
"Yes, leave it to me."
As he said that, he saw the golems move at the same time. He did not pay much attention to the vortex created from the punches that could crush anything to bits, the sure-kill 'swinging punch trap'. His triangular-hat like head spun and looked at the rock far away. His eyes that gathered light squint as they let out intense light.
Just when it was about to hit.
The targeted rock let out a bright light and was destroyed. The rocks that were scattered all over blocked the numerous lights that came in at millimeters length and dissipates.
"It's here."
Mammon's face gave a twisted smile as the response was exactly what he expected and that a meaningful battle was about to begin.
The rocks that were flying with hear,
Then steam that was sizzling off the river surface.
The destructive lasers that crossed around.
The searching lights that continued to spin and search for its target.
The bright lights that covered everything brought what looked like a fighter jet.
"This is a little different from our original plan, but we managed to bring them out, right?"
"This is way easier than destroying things."
"But we'll end up destroying things anyway!"
It's the owner of the sagittiform type treasure tool 'Zorya', the 'Archer of Aurora' Chiara Toscana.
"And now…we have to finish what may be our most important mission that was entrusted to us."
"Tighten ourselves without being crushed by the pressure.."
Riding on the same treasure tool were two Flame Hazes, her and the 'Puppeter of Devilish Skills' Sale Habichtsburg, who raised his cross-shaped treasure tools 'Renge' and 'Zaite'.
The peaceful state that was brought by the wind was no longer called a 'minor' change, but a large one as the peace was broken again.

Whether it's the amber winds that were lifted or the distorted shape of the 'Shinsensha', there were some people who weren't affected by them at all. That's the participants of the duel to the death in the north, west and east fronts of Misaki City. In contrast to the battle at the center, the battle here were far more intense and large-scaled, but they were just the side battles. They were not fulfilling, not the outcome, just continuing on.
The act itself was extremely simple.
In other words, it's just the slaughter battle between the 'three Gods of the earth' and the 'Denizens'.
But to the people involved, the commanding defense captain 'Denizen' of 'Bal Masque' finally noticed something. Though the opponent 'Three gods of the Earth' looked rather simple in their actions, they were extremely unnatural.
Nobody else would have noticed it at their viewpoint.
The north.
On the surface of the Mana river, the 'Whirler of Great Waves' Westshore was fighting.
That scene wasn't just a melee-a-trois.
Countless 'Denizens' who were gathering from all over the world,
Were fighting against Westshore, who was alone.
It was basically a siege, a sign of despair as many take on one.
However, the situation itself hasn't changed ever since the battle started.
At the center where all the "Denizens' leaped in from all directions, Westshore's beautiful face whose age is indistinguishable showed an expression that looked like she was going to cry as she leaped about slightly.
"Haa!"
With a deep impact, 'boom', she gently stepped on the water surface, creating ripples. Every time the ripples leave her, the amplitude will increase. While it was just a little pothole at the feet in the beginning, it later became a wall block their eyes, and finally, a tidal wave that drowned hundreds of 'Denizens'.
At the same time, the water surface below her feet start to bend down because of the recoil from the surrounding water, sinking down until it was near the bottom of the river. Looking down from the arched place, everything looked just like an aquarium as everything around was composed by the waves that swallowed everything and the countless 'Denizens' who were stealthily approaching.
As they stared at him with looks full of killing intent.
"It hurts, isn't it?"
She was still worried about the enemies who never intended to listen to her as she continued to dance. She just kept spinning around, bringing about ripples under the water and gracefully beating the air slow.
In contrast, there were several black shadows of ill omen swimming to her. A pack of sharks—just when the 'Denizens' were threatened and terrified, they suddenly disappeared, leaving only the glittering white teeth with the same number as the number of sharks.
The 'Denizens' themselves felt had this bad feeling that became reality, but it was too late.
It wasn't just the sharks who were responding to her fance.
The water in the Mana river start to spin with irresistible weight.
The water flow didn't just bind the 'Denizens', but also brought about a massacre of sharp teeth.
It was a killing vortex that's extremely savage, with Westshore at the center as she spun.
The lilac colored teeth pierced through the 'Denizens', moving through the vortex.
The 'Denizens' in the sky were staring in a dumbstruck manner, as that scene looked just like a proudly bloomed flower.
It was a flower that was formed by bubbles after crushing the people that were caught in it, and lets out multi-colored flames.
Of course, the person herself seemed to realize it as she timidly asked her partner.
"Isn't this too cruel…"
"There's no need to worry about the means, 'Whirler of Great Waves'. We have to kill either way."
The wave-shaped stone treasure tool that's hanging on her waist, the 'Totem' lets out the voice of the 'Bell of Cleansing Flutter' Chalciuhtlicue, a sturdy female's voice answered without hesitation.
"And there's no time to talk about this, right?"
She prompted Westshore to take action.
Like what she said, once the vortex stopped and the water surface reverted back to normal, a large number of new enemies went at them. They lunged over, seemingly to prove that al the 'Denizens' in the world are gathered in Misaki City.
If it were just an ordinary battle, a normal scene of massacre should be enough to bring about panic and chaos, but this battle now was completely different from usual.
Even after seeing hundreds of them being killed, none of them backed away.
And they even moved forward without minding.
They continued to move forward to create the haven for 'Denizens', the 'Xanadu', but forgot to wait, fear, stop, tremble and even ponder as they continued to move on.
The group-like feelings caused them to give up on their self-control and sanity to judge. It would be merely fear and chaos if things were seen from such a way.
However, the show of emotions were directed at her.
"I really hope that you can stop here."
Westshore still showed sadness as the numerous vicious and fanatic attacks were trying to rip herself up. She was killing even though she was sad, because this was a mission for what she thought is a warrior of God.

A group of people were a little south, near the 'Shinsensha' on the river surface as they watched their comrades get massacred. They weren't anyone, but the guards of 'Bal Masque' in the north. Standing at the front is the captain 'Fiercely Violent Sadle' Orobas and his lieutenant 'Clothes of Dimmed Light' Lerajie.
"What plan do you think they have, Lerajie?"
"Who knows? Even if there is, I want to move forward until I can at least affect the battle."
Both of them were staring at the woman amongst the 'three gods of the earth' with suspicious stares as she launched her duel to the death.
Right now, none of the people fighting her were the members of 'Bal Masque'. They all came in from outside the Fuzetsu, and they can be said to be outside 'Denizens'.
The northern squadron Orobas and the rest retreated once the battle began, forming a sturdy defensive line. They did that not because they were timid, but because they decided that when fighting the 'three gods of the earth' who had overwhelming power, they should organize themselves.
Thus, once all the members set up a defensive array from the back, they should just add to this current chaotic battle by using human-wave tactics to wear her down…however, that's just a mean to buy time.
However,
Westshore, who continued to remain in the center on this killing vortex, didn't move over. She continued to stand there, holding her ground, killing, killing and killing, continuing on like her mission ended.
"She hasn't came over at all. What is she planning?"
Orobas, who wanted to take her on at full force, couldn't help but show his anxiety as he angrily said this.
Lerajie didn't want to accompany him in showing such intense emotions as she merely spoke to express her feelings.
"I don't think it's because of some cute reason like she was wary about us since she's so strong."
"I finally let our casters act as the front vanguards. Really, what is the enemy thinking!"
Orobas angrily growled with regret as he stabbed the axe into the river surface. Like how he was using a spell to supporting his body, the axe blade suddenly hit the water surface, letting out a dull sound.
"Is she luring us over…we just need to wait for 'Xanadu' to be complete, but they had to harm the leader before the time's up."
"Yeah."
''Even though he looks rather hot-tempered, he did think through it properly''—Lerajie didn't say her thoughts out, but reminded him as a lieutentant.
"There's a possibly that the enemy will break through with brute force. We can't let our guard down."
"Of course, how can we relax now?"
Orobas gave a forceful answer, getting ready for any changes in the situation.
But it still didn't arrive.
The unnatural part they felt before was that the 'three gods of the earth' never looked like progressing. They stepped into the large Fuzetsu that covered the entire Misaki City, occupied a place where they could fulfill their abilities, and continued to remain in the same position. They should be able to break through, crush the guards and pursue the 'Shinsensha'.
Westshore was in a tough fight due to the large number of enemies, but that wasn't just a one-sided torture as she didn't look like she was restrained, but handling things easily. Howeer, she continued to maintain at that position as she crushed her enemies, not escaping nor moving.
He really couldn't understand.
Unable to grasp the enemies intentions, Orobas and his squad wouldn't dare to move in and attack to avoid the trap of the enemy. The enemy didn't have much time left, so they would take action if they're left alone. Thus, even with a powerful enemy, they could only maintain their strict positioning with a conservative attitude.
In this mysterious static phase, the battle was the only thing that continued meaninglessly.
The west.
On the road facing the residential estate, the 'Invoker of Demon Horde' SouthValley was fighting. The situation was the same as the north, but the chaos was even greater.
Or rather, this was a barren hell.
Growls, cries of agony, scorns, screams, curses…voices full of all sorts of negative emotions were echoing in the middle of the battlefield—the buildings that collapsed on the road were jumping up and down, and there were the road blocks the members of 'Bal Masque' originally set up.
Right now, Southvalley was leading an army of undead and occupying that place, and the 'Denizens' from outside were attacking from all around, forming a deadlock like the start of the battle. At the top of the battlefield, Southvalley was sitting on a golden sedan chair.
"It's refreshing to fight against those cute enemies of mine who aren't scared of me, isn't it, my royal god Tezcatlipoca?"
Southvalley wasn't taking part in the battle directly, but sitting crossed-legged as he stroked his chin. His long and thin face is twisted with delight as he watched the streets of Misaki City with both eyes. These abnormal streets were all filled with 'Denizens'.
The 'Pipe of Hesitation and Fear' Tezcatlipoca, who's hanging in the form of a sharp stone plaque-shaped treasure tool 'Totem', lets out a shrill angry voice in response, perhaps trying to let the 'Denizens' who were filling up these abnormal streets to hear him.
"Great, really great! Isn't this about being extremely pure and naïve, our comrades!? We have to invite them warmly, isn't that right, 'The man who leads the way to the dead'!?"
On the top of the collapsed towers that surround the sedan, the real people who were fighting against the 'Denizens' that were climbing up were the dead…mud dolls with golden masks on. They weren't just human, and there were also some jaguars and Llamas among them, devouring the 'Denizens' and turning them into mud dolls, using the large bodies to duplicate and increasing the number of mud dolls, forming an unlimited army.
However, the 'Denizens' continued to attack even when there's the nightmare of them 'being devoured the moment them get near and eaten once they leap over'. They looked like they were gathered as a large organism to cover the land, and thus there was no need to worry about minor losses. They would only revert back to normal only when they were death.
Even so, the words they were saying,
"Haven."
"To Haven."
"To the Haven 'Xanadu'."
"To our Haven 'Xanadu'."
They were all the same.
These words caused them to gather as a single organism as they danced wildly in front of their haven, burning and exploding as they head to their hope, to the hell and nightmare that was trying to stop them.
On the other side, the guards of 'Bal Masque' here weren't attacking too.
They gathered their defensive line from the towr to the 'Shinsensha', lining up and waiting silently. This is because of a logical decision made, that they 'did not have to fight a battle of attrition with someone until the end'.
(It doesn't feel like...we managed to hold the enemy off, or the enemy was holding us off.)
The one who made this conclusion was the captain of the western defense force, 'Burning Agitation' Haborym who looked rather troubled as he moved the head with the gas mask.
(I can't see through his intentions.)
Ever since the start, the jizaihou assisting his allies, the 'Burning Fields' was already gone, and the 'Rinne's cannon attacks from behind stopped. In this current situation, there ddn't seem to be a need to seriously direct and support the army. If he wasted his strength on such a thing and end up unable to take on the enemy's ambush, it'll be an overwhelming loss. Thus, the guards continued to ready themselves from any unexpected incidents as they waited silently.
Even so, Haborym's thoughts still had some suspicions.
(Even if he's the bait, we're way too free here.)
The defense forces were already far enough from Southvalley, and they could turn and break away to assist the 'Shinsensha' instead. At first, they tried to pretend pulling their distance and probe into the enemy's enigmatic intentions, and the undead army continued to defend over there, not moving at all, which caused his plan to fail.
Right now, their distance was too great, and the countless'Denizen's in between were way too much, causing them to be unable to get over. Even if Southvalley used his tremendous power as one of the 'three gods of the earth', he couldn't possibly cause a drastic change in the situation.
In the end, it was a deadlock with neither side being involved with each other.
(Fighting casually in this situation without even trying to break through, what's going on?)
The eyes beneath the gas mask again turn to the undead army.
The first volley of cannons at the beginning caused most of the collapsed buildings to turn into waste, but the golden sedan at the top was still glittering, and the glittering thing over there was the staff Southvalley would swing from time to time.
The undead would follow the orders and devour the 'Denizens' who swarm in. They gather at the top of the building, arranged in a tight defensive alightment and would continue to attack. The copies that continue to divide would also scream about among the enemies to divert their attacks, and then attack the weaker parts before devouring them. The mud dolls used this method to maintain their numbers and keep up this tough battle.
Even if they couldn't fight head on against this vast amount of enemies, the army Southvalley was leading didn't show any sign of wavering.
(It's really unusal.)
Haborym was amazed as a fellow army commander.
Suddenly, a group of people who were good at fighting appeared like a flock of crows flying, and launched an attack together . They gathered, flew down quickly from the top level and let out fireballs.
In the face of that, Southvalley merely swung his golden staff, and several undead exploded out of the buildings, forming four rough and crude large cylinder-shaped pot. A human-shaped figure with its arms crossed appeared on their surfaces, the picture where the judgement of fire fire,
"Offer those in the high grounds as sacrifices!!"
"Together with the fireballs!"
The angry growls seemed to form an intense fire, and the pot lets out a tremendous ivory-colored flame.
The attacks leaped into the fire, and were turned into ash before turning into mud blocks, and scattered all around the building like heavy black raindrops. Even the people who managed to avoid the flames were bitten by the hundreds of golden masks that were mixed in. Also, the golden masks formed bodies as they flew in the air to collect the mud, forming new undead that were able to fly.
The ivory-colored flames and the black mud blocks had the cries and howls of despair. In the midst of this scene of hell where the sky was blotted out, Southvalley and Tezcatlipoca added some mocking and howls.
"HAHAHAHAHA! THIS IS GOOD, THAT IS GOOD, MIX THEM UP! THAT'S A PERFECT SCENE!"
"Yes! This is a day suited for grand fireworks!!"
The undead in the half-damaged buildings were swaying able, lit under the strange flames. This place was practically a pagan altar to the 'Denizens' here, and because of that, no matter how much the enemy showed off his power, no matter how many of them were devoured, the 'Denizens' over here will never leave. They would never stop moving forward if they didn't crush it.
Haborym couldn't help but think that this was a meaningless battle.
The East.
In a certain part of the city, the 'Summoner of the River of Stars' East-edge was fighting.
He was just singing, ignoring the situation anyway here.
"I'm waiting, today."
"Everything shall be accomplished."
The 'Windy Echo of Enlightenment' Quezalcoatl sang along loudly from the round emblem treasure tool 'totem' that's hanging on his waist.
The place they were isolated at was originally the busying shopping street behind Misaki City Station. Slightly further up, starry green flames were burning together with the rubble, and these were the rubble from the building of the station itself. The plaza had now become something that would blow anything and everything away, leaving only vestiges of destruction in its wake.
Even after knowing the significance of this scene, the "Denizens' continued to swarm in. No matter how many of them were destroyed, how many of them were killed, they didn't mind as they continued to move in with intense emotions.
Below their feet,
"Turn into a mighty beast of the land."
"Run wildly in the wilderness, and fight."
Responding to the singing of the duo, at the center where East-Edge was, the ground that was several hundred meters in radius became a glamorous starry sky.
It wasn't an illusion, but a creation by compressing a certain amount the space, forming stars that have power even though they looked like they were in the sky. The gathering of light swallowed the floor and the singing duo and the 'Denizens' who were rushing at them, riding into the singing voice that seemed to come from somewhere,
"I wait till today, and shall become a flying bird."
Everything here spun and flew into the sky like the Milky Way.
"Facing the difficulties of life, and spreading the wings out."
The stars crushed everything as they were flying and started to glow. They changed into the dead's 'Power of Existence', forming a sea of celadon-colored flames.
Amongst them, East-edge was the only one who placed the flame on his shoulders like a coat as he appeared again. He didn't change his position at all, and there wasn't any sign of movement. However, the position he was standing at was different from when the stars were born. It seemed that he moved his hidden body through some means.
Only the deep and clear singing continued to echo throughout the sea of Flames.
"The star I'm staying at is way too small."
"Looking from the starry world, deciding through the heart."
Quetzalcoatl answered with his singing, but it did not affect the priority of destruction.
These two just continued to kill the 'Denizens' that were rushing in. His stern face seemed to made of some hide that's chiseled from stone, not showing a single expression at all. His lips were moving slightly, making songs up.
"And thus I wait, and let out a laugh into the starry sky."
In response to East-edge's voice, a large galaxy again appeared in the sky again.
"Ride down again, and stand on the land you so loved."
In response to Quetzalcoatl's voice, the 'Denizens' who were attacking through the sky were crushed into dust.
This time, it's a celadon-colored flame explosion, mixing with the still-burning flames on the ground, forming a wild hurricane that looked like it was going to burn everything.
Right below the base of the 'Shinsensha', at the roof of a building opposite the station at the shopping street, the defense captain of the east side 'Dashing Earthly Fiend' Ribesal clicked his tongue as he watched the devastation over there.
"Tch, how much must he kill before he's satisfied? And that rapid movement. Perhaps..."
"Hm, maybe he's wary of my 'Evil god'. We'll be lucky if we could poison a Flame Haze of his level, but he can't possibly move over here if he's going about like that. There's still no chance of taking action anyway."
Standing beside him was his lieutenant, 'Cup of Corrupting Indulgence' Pirsoyn, and shook her head as if she gave up.
The eastern defense squadron they were in charge of retreated back once they made contact with the enemy.
The reason what because of this scene in front of them...in other words, it's a bad idea to initiate a direct battle with East-edge, the one with the strongest destructive power amongst the 'three gods of the earth'. If they needed to launch an all-out attack (luckily, they really needed to defend), they would only increase their casualties if they didn't plan things through, and will not be able to get any results.
Thus, Ribesal and Pirsoyn intended to use a battle of attrition against East-Edge by using the 'Denizens' who were coming in against him, and take him down once they had a chance.
But this was an idea they had until a few minutes ago.
Ribesal showed his regret over such a development, not as a commander, but as a fighter.
"It's because we couldn't get the chance that I was setting up all sorts of traps everywhere."
"We shouldn't have tried our best to plan if we knew that this was going to happen."
Pirsoyn couldn't help but sigh at this extremely docile situation.
A few minutes ago, a search warrant was issued to this lieutenant.
It was a search warrant against a group who's highly skilled in hiding, using lots of distractions and hiding near the 'Shinsensha' or getting ready to escape—the 'Hyakki Yakou' and the 'Engaged Link'.
Pirsoyn's infamous spell 'Vengeful Spirit' would be most suited against them, so the superiors sent this order over. Pirsoyn used to hire 'Hyakki Yakou's services together with Ribesal.
As the commander of the east defense squadron, Ribesal couldn't spare time, and was grumbling that his lieutenant was taken away by the higher-ups for some different objective. However, he also knew that it's stupid to send his subordinate to do her mission with a bad feeling, and that he should just say goodbye so as not to cause trouble for both sides.
"Right now, I can only complain that things aren't going as I planned."
After that, Ribesal showed a smile from that beetle face which is hard to tell.
"We just need to plan a strategy against someone like him. I'll try my best to make him think that we're stalling because we can't attack while you aren't around. Don't reveal yourself when you're doing this mission."
Pirsoyn smiled back after seeing that hard-to-tell smile on Ribesal's face.
"Don't bear some bad remarks that you'll do some really stupid things when I'm not around. Haborym-dono and Mammon-dono are both rather magnanimous, so they wouldn't say anything much, but we did embarrass ourselves while retreating."
"Fuu, if you have time to talk back, hurry up and serve the leader. We can't catch those troublesome guys without you."
Pirsoyn felt a little conflicted in regards to a certain term Ribesal used. In this current situation, whether that guy had the authority to command them—this doubt was expressed through his tone.
"The leader, is it..."
"Don't say that. No matter the circumstances, that guy's standing at this position because he wanted to. We'll be punished by god if we don't respond to his realization."
"Mn, now that you mentioned it, I do understand a little here..."
Under the glow of the celadon-colored flames, Pirsoyn kicked that old buddy of her lightly.
"Don't die, Ribesal."
"Yeah, I don't have that intention now that things have came to this."
Ribesal knocked the head of his partner who just wouldn't be honest, and said a simple farewell to her.

At this moment, that's a person...more accurately, two persons in one body. Even as the amber winds stopped, she was still far away from where things were happening.
They're the Flame Haze 'Manipulator of Everything' Wilhelmina Carmel and the 'Lord' who made a contract with her and gave her power, the 'Crown and Sash of Fantasies' Tiamat.
Right now, both of them were imprisoned in a ball of wind that's the same shape as the one covering Yoshida Kazumi, but larger and stronger than part. The other party probably felt that she could break though this ball of wind forcefully if she had the heart. Right now, Wilhelmina was bound in the cage, unable to move.
She was bounded not by force, but by her heart.
(This again.)
No matter how much realization she made, nothing changed at all.
No matter how much she fought relentlessly, nothing changed at all.
(I got rejected again.)
The expression underneath her mask wavered like usual.
And this shaken moment of hers hasn't stopped.
(I wasn't like that, but why...)
The moment the amber winds blew in the battlefield, she got caught in this ball of wind.
Immediately after that, Pheles said something emotional, something hurtful to her.
(Why can't you let me do anything at all?)
It was something that could crush the heavy feeling of betrayal,
"—I'm sorry, Wilhelmina—"
A kind yet painful, sad yet determined rejection.
(I understand the reason why you betrayed me.)
The impulse to shout out accompanied the pain that felt like it was going to rip her heart apart as it went through her entire body.
Even so, she lost all her strength to move just because of this word.
(Even if just now...that's right, even if it was your action, I could understand them.)
What happened after Pheles was summoned—Johann's revival, both of them fading back into recluse—Wilhelmina could still make this conclusion through the faint flow of presence and the fact that she was transported in by 'Hyakki Yakou' even though she was imprisoned in this ball of wind. Besides, she did journey through tough times with them for 2 years.
It's because of this that Wilhelmina understood.
(No, you two...)
The 'Engaged Link' would only look at each other, and would use anything for the sake of each other's love. Thus, they wouldn't want to get Wilhelmina involved in such a situation.
(No, that's not it.)
These two didn't want to make use of Wilhelmina Carmel.
The reason they isolated her like that was because they wanted to protect their friend.
She understood that.
(I would try my best to do what I could do if they just told me.)
Unknowingly, the mask treasure tool 'Persona' Wilhelmina's wearing lets out a crack.
The mask started to show cracks, a sign that the wall that covered the heart would be destroyed by the tears.
(But, but why?)
The sense of weakness struck her.
Always, always, always crying like this.
Though she tried her best to reach out her hand, she couldn't do anything.
Though she tried her best to run, she couldn't do anything.
These were people who were important to her.
A cruel chaos, a difficult separation, an unavoidable death, an unbreakable curse.
The delight of silence, the happy meeting, the precious love, the burning hot love.
She continued to run, continued to stretch her hand out,
She finally managed to catch up,
So near that she's at a distance where the final outcome could bear fruit,
And at this moment, the other party adamantly said,
Sorry, farewell.
(No, it's obvious why things became like that...because I just couldn't do it.)
It felt like the one trace of logic that was fighting against her intense emotions declared this coldly to her.
Right now, like a few years back, a few hundred years back, she did not manage to pass her feeligns.
(I'm always like this, trying to grab anything, and yet unable to do anything.)
Her rationality revealed her weakness without mercy, and the consequence she should get for being weak.
No matter what she said before, left before, these would vanish in the end—that was the outcome.
(That was why everyone thought 'we can't implicate her, we can't add to her burden', and left me.)
In fact, there's still a way for her to break this bind.
Or rather, it was an obvious thing.
She just needed to break through the cage of wind, look at the things around her, and choose the path she expects.
That was all.
But even so, she couldn't do that no matter what.
(I couldn't step forward because I bore too much burden on myself.)
She couldn't choose that path she wanted casually.
That's because to her, there wasn't just one correct path.
An oath made her participant in this battlefield. The oath where she couldn't feel the heaviness of the burden, which was the only thing worth betting her life on, and the choice she should have made immediately—in other words,
(—"To fight for the girl we brought up as she follows the path she chose"—)
She inadvertently reached her hand out for her mask.
There were more cracks on the mask.
It felt like she couldn't hold back those emotions that were raging withing her.
(Yes, it was already decided....but I just kept making mistakes without really remembering them.)
She grabbed the mask with her hand, and slightly exerted some force.
The cracks creaked and then started to fall as bits.
It seemed like she wanted to shake off her hesitation.
(It's to be expected that these two would worry and leave this unstable me—)
As she watched her mask break—
"Freedom."
"—!?"
The two simple words landed on hear.
Of course, there was no need to enquire the source of the voice. It belonged to Tiamat, who expressed her views through the tiara on Wilhelmina's head. That was the first sentence she said ever since they were imprisoned in this cage of wind.
"Mission has disappeared."
"...Mission..."
On hearing the advice of her partner, who seemed to understand her troubles completely, Wilhelmina reflected on it for a while before realizing it. The rejection from her friends, the sadness, the powerlessness to everything, the doubts, the importance she placed on the oath, the anxiety, these weren't the things that caused her to succumb, but a more basic reason.
"My mission, it's gone."
Up till now, no matter what happened, there was a motivation that would force her to barely move forward, a direction that would direct her.
That was the mission of the Flame Haze.
However, this mission scattered with the decree the god of creation made.
Right now, she was really someone who could make a choice for herself.
It's because of that that she was stuck her.
Within the space where her existence reside, her hands were bound by friendship and love. Having lost her footing in a vacuum, she had to bear these important feelings alone, and couldn't help but feel lost.
"I..."
Right now, Wilhelmina Carmel couldn't use the mission of the Flame Haze 'Manipulator of Everything' as a shield to force herself to move forward.
However,
In the end, she was still forced to walk forward,
And she was tripped by another obstacle she made for herself.
This was a key different from the one Tiamat threw at her, the one that represented her true state now.
It was a relaxing feeling that didn't match her, an invitation to move forward on a brand new road.
"I think I have a basic understanding of what's going on."
A voice that suddenly rang caused Wilhelmina to lift her head in shock. The flow of wind in the cage started to grow erratic and burst.
The deep blue round shaped spell blew the vortex of wind aside, showing the profile of another Flame Haze.
It's a bespectacled woman who's sitting on a book that's as large as a drawing board and floating in the air, keeping back the spell she used back into her palm—the 'Interpreter of Condolence' Margery Daw.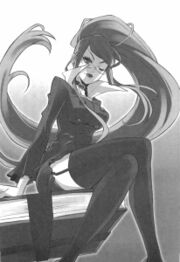 And the book-shaped treasure tool that was yapping away was the 'Fangs of Devastaion' Marchosias.
"SHEKYAHAHAHA! We took care of the remaining problems and came over to meet up!"
"It was really so successfully that there wasn't anything to be added on~ those trash that were all over the place took me quite some time, but at least we managed to make up for it because of that guy's brief explanation."
"He's not just an enemy that would be finished off once. What a passionate kid, hahaz."
"Mn, it's also for that person who came over to help..."
As Margery continued to fake that usual verbal exchange, she saw the lost gaze that was looking at her and sighed as if she felt that it was different from what she thought.
"...It's a little different from what I expected. Give a little response, will you? The situation now doesn't allow for you to be so listless."
"Righty right, this is a plan my useless carriage horse Margery Daw tried her best to come up with."
Margery used her hand to slap her partner and shut him up, gave up her smile and went directly into the main point.
"Anyway, you really wanted to contribute something for the 'Engaged Link', but you had to help that little brat Shana, and now you're here hesitating. You were very disappointed when you were sealed, right?"
"Haha, like they said 'I don't need your help', right?"
Bullseye.
Up till now, Wilhelmina was really disappointed. She was assembling those unreliable words together as she corrected the wrong understanding she had with 'honesty'.
"The order things happened was wrong de arimasu...they apologized as they refused my help...over there."
"Then...were you just stuck there before we opened this thing?"
"You really have guts to even do this in the middle of the battlefield."
Margery and Marchosias didn't show any lecturing attitude as they analyzed the situation calmly. These two then started to wonder how she should motivate this friend of them who had become depressed again. Finally, they naturally thought of the most effective solution, even though it wasn't necessarily the most effective one. That was,
"I don't know what exactly is going on, but we're on a playing field where danger will approaching us if we just stand around. At least that's what that 'Thousand Changes' guy think when he started to take action."
"!"
They used an unavoidable enemy as a trigger.
"You can only take action personally if you don't want her dead."
"!!"
And then placed what she wanted to protect right in front of her to wake her up.
"Also, are you in a casual position where you can make decisions, things became clear once the 'Hyakki Yakou' appeared, right? Even if you want to do something for them, they...you see, there's no trace of presence left on them."
"Missy Kazumi was taken by that old man, and now it's unknown where she is. Now there's only one thing left for you to do, right?"
And in the end, feed her the wrong battle situation.
Finally,
"Let's take immediate action."
Tiamat's words settled everything, and Wilhelmina finally broke the cage that was binding her, carrying a heavy and lost presence from the silent hole out the outside.
Margery shouted as if she was encouraging her.
"Okay, time to move out! You don't want to lose something while you're lost, right?"
"I understand de arimasu."
As Margery prompted her, Wilhelmina went from floating to gliding, and the slow speed became extremely sharp. She slightly covered the mask in her hand with a layer of cherry-blossomed-colored flames and removed all the cracks.
(I can't be lost here. I have to take action...if I don't want to lose anything.)
To her troubles, this answer was an extremely simple one, but at this moment, it lit her heart like fire burning on wood. The Flame Haze 'Manipulator of Everything' Wilhelmina Carmel started to take action.
At the same time, Margery put on her battle coat 'Toca' and said with a clear voice.
"This is an advice for a killer who lost her priority target—worrying is often more terrifying than danger itself."
"You can't tell when you'll be useful at the next moment in this world, GYAHAHA!"
The two Flame Hazes flew as they ignored Marchosias' laughter.
Back to the place they should be fighting at.

The world's egg that's in the clutches of the black snake was progressing towards the creation of Xanadu.
By using the live sacrifice of the witch Hecate, layer after layer of the 'Psalm of Mission' (Taimeishihen) covered the outside, forming a sileer shell, and it's about time before the haven that's surrounded by the snake's body hatches.
Right below its glow, two flashes of flames were lighting about.
The bright crimson flames of Shana and the pitch black flames of Yuji.
They were fighting an aerial battle near the 'Shinsensha' as both of them, one trying to open the way to a new world, and another trying to stop it. Each were fighting hard as if their fates were on the line. But it was more of a messy chaos instead of a beautiful harmony.
Shana continued to spin wildly as she changed her speed, and Yuji was trying his best to stop her. After several rounds of fighting, the advantage was gradually shown.
Shana had the advantage, and Yuji was in a disadvantage.
"HAAA!!"
Shana fanned the crimson wings that were shining brightly, and raised the nodachi 'Nietono no Shana' over her head.
"HAA!!"
Yuji used a tremendous force to swing the broadsword 'Blutsauger' as if it would break the body of the blade.
Sparks flew for a moment.
Shana used the recoil of the clash and let her body leave before the 'Blutsauger' could activate its special characterisitc once it touches the blade. This was a skill that could only be used after she guessed both their force and trajectories when they clashed.
Yuji wasn't planning to fight again Shana head on in swordsmanship, and that slash that could be a critical hit was merely bait. His intention was to swing the dragontail behind his head after the slash, but even so, he just wanted to hold her off, and never hoped to hit it.
After that clash just now, Shana got extremely familiar with his tricks, and to avoid the dragontail slash that was coming, the only way she could choose was down,
"—Swoosh!"
At that moment, one of the crimson wings swung up, and Shana started to spin wildly at the spot.
Yuji's instincts were telling him that something was going to happen.
"!"
Countless bits of 'Silver' came flying out from his sleeves like a flood. Screws, gears, armor bits, they were all gathered in a vortex before spreading out, forming a wide wall in front of him at a very close distance.
Right above Yuji, Shana let out the flame wave 'Hien' that collided with the protective wall at a high pressure. The hot aftermath caused the air here to be ripped away, and an explosion was caused immediately.
At the same time,
Through the spell that was cast on the protective wall and composed of the same type of Power of Existence, Yuji could tell through his clone that several objects that were covered in flames slammed into the protective wall at a speed faster than a bullet, and soon after, the protective wall then scattered like silver fireworks
(That ring that entered the 'Psalm of Mission'--)
He didn't have any time to say out anything like 'did it fly past' or other things that were in his hands. The protective wall immediately broke and scattered, forming numerous 'silvers', and this last-minute method forwards a physical obstacle that prevented Shana from moving up. The golems that were made from all sorts of parts were in incomplete forms as they stretched their arms down below and twist them. There were numerous eyes looking through the gaps, searching for any anomaly, but they were burned to crisps the next moment.
Shana, who was blocked, used the 'Hien' she fired just now and the recoil of the explosion to get away, and both of them did not get close to each other. She continued to look around for chances to launch a new attack.
Yuji, who barely managed to endure the continuous attacks in the stormy heat wave,
(She didn't continue to attack.)
He carefully looked around to check the situation before finally sweating. The slash right at his body, the flame wave that took away his sights, the treasure tool ring that could destroy the world's egg...these threats that followed one after another caused him to shiver—but amongst them,
(Gathering the power of the controlled wings, so that's have that power flame wave was created.)
He used his real weapon, the thinking ability that becomes clearer in tough moments. He continued to control himself, not trying to let himself look completely lost.
(To think that it's so difficult for me to tell the flow of power alone...and if I do it too ambiguously, I'll only manage to catch up barely. This is way too difficult.)
And Shana would never slack off in this battle.
Yuji felt a sharp pain from deep within his heart.
(However, being able to remember the extremely natural feeling in battle is better than nothing.)
The Flame Haze girl who used all her strength continued to launch powerful attacks at the enemy's weakness—the loss of his sharp pre-recognition. In this battle of life and death, it's a normal thing for her to use the most effective method to take the enemy down.
But unfortunately, it's because the enemy's her that Yuji never had any illusions that she would go easy on him, and mustered all his rationality and feelings to fight with her.
(I guess it's about time that Shana will try to break through my method of using the 'silver' as an obstacle. If I don't change my tactics...I did learn of other barrier spells, but I don't know if I can succeed in using this out of a sudden in a real battle...)
Even though the god of Creation 'Snake of the Festival' can get the spell through feeling, he has to search the method out through his vague memories, so this wasn't suited for quick responses.
Also, the 'Snake of the Festival' himself wasn't interested in something trivial like fighting. The reason why he left the basic planning to Yuji was because he was now concentrating on creating the haven 'Xanadu'...simply put, it's like Yuji's allowed to do anything he wanted other than that. Yuji was just like 'a substitute that was created for this'.
"But I don't have a reason to grumble."
Yuji seemed like he wanted to use his own voice to check himself as he said that and quickly shook his elbows.
Perhaps a little test of a new spell in the middle of a battle may cause an added bonus of shaking the enemy. Yuji had this thought as he created an object right in between both of them (this spell may end up hindering him if he couldn't cast it, so he did practice before.)
Shana, who spun down and again faced Yuji, saw that thing.
"!"
It was a simple hourglass that was as large as a human.
There were ancient numerals all around it, accurately showing the amount of time that was left. What's written on it was,
'55:31'
The black flames form the uniformly colored container, and the silver fragments of sand surround the number that was decreasing. The sand remained floating in the air like this. At this moment, the silver sand at the top of the hourglass wasn't much, and there was a pile of it below. This wasn't a certain time that was set, but an indication of the time left before the haven 'Xanadu' was successfully created in a dramatic fashion. Right now, the time left is rather little.
Yuji uses the hourglass to show the critical state of this current situation and lure her to become anxious.
After that,
Numerous flames flew at them like they were attracted to the center that's represented by the hourglass.
The muddy purple flames went at the closest point between both of them, the burning eyes of Shana as she head towards the hourglass.
At the same time, the deep blue and cherry-blossomed flames were thrown at Yuji's black eyes while he was creating the spell and waiting for her.
The first one to make a move, the spear 'Shintetsu Nyoi' grazed past Yuji's face.
"Enough with your impudence!"
The spear extended out, wanting to strike Shana just when she's moving out from the shadows of the hourglass.
However, Shana's wrist was bound by bandage at the same time.
"I apologize for this subordinate's lateness!"
The bandaged pulled Shana away from the spear, placing her on the back of the beast that's transformed from the blue flames.
Already expecting this attack to be dodged, Sydonay used the other 3 limbs that weren't holding onto the spear to form huge dragon heads to attack the enemies. The 3 dragon heads let out continuous attacks like fireballs, flamethrowers and bites.
Margery, who was flying in mid-air, also lets out numerous fireballs from the hand of her Toca and knocks the enemy's attacks down. After that, Wilhelmina used the spinning bandages to deflect the fireballs. Finally, Shana used the fist formed by the 'Shinku' and crushed the dragon head that had bared its fangs, successfully repelling all the attacks.
After the fireworks of the battle were done with, everyone's position relative to the center of the hourglass were all different, but the height didn't change. Margery tried to fly into the air to break the chaos, but was stopped by Sydonay's attack.
Yuuji couldn't help but heave a sigh of relief given that they were still able to maintain the status quo even with powerful Flame Hazes assisting, and turned to thank this somewhat carefree general of his.
"Thank you for helping."
Sydonay realized that the substitue body had more of Yuji's personality, but he pretended not to notice. It would be much more interesting after all.
"At least I managed to get over after dealing with the stuff down there. But that was really an actual threat."
"Yeah. But now even Margery-san's here....what did Bel Peol say?"
On seeing that Yuji wasn't bluffing, but really trying his best to think,
(His thoughts are still so intricate even in the midst of an intense battle.)
Sydonay could only be deeply impressed, and said to Yuji in a respectable manner,
"Even though they showed up outside the 'Shinsensha', the details are still unknown. Bel Peol felt that the 'Mobilizer of Ceremonial Equipment' and the rest set up some mechanism when sneaking in."
"And the investigations?"
"Still ongoing."
Yuji nodded his head. To complete the mission that's given to this substitute and his own wish, he raised his broadsword and got ready to fight until the end while risking everything. He really looked sincere and strong like this.
Sydonay mocked his own strange thinking and raised his weapon alongside the leader.
At the point where his spear was pointing at, Shana was grabbing onto the Toca's unexpectedly soft back, and Alastor, who's hanging on her chest, suddenly asked of their side's plan.
"'Interpreter of Condolences', since you appear here, that means—"
Marchosias opened that moon-like mouth of his and chuckled with Margery, who assured.
"Mn, everything's all settle completely."
"Hehe, we can have all the fun we want, my majin-sama!"
After that, Margery started asking Shana something.
"Was it alright when that person showed up?"
Shana didn't answer, but turned to look at the other Flame Hazde who was flying silently.
Wilhelmina used a voice that was more stiff than the mask and answered in a mechanical manner.
"Just when, when we invaded the 'Seireiden', she told us the plans that could assist us in battle, and even provided the crux to this battle, the one Johann left her with, the secret to changing the 'Psalm of Mission'. In hindsight, I think she didn't have any intention to antagonise us."
"We'll trust her for now."
With Tiamat's overly simple conclusion, Shana nodded her head.
"..."
And then, she subconsciously took a glance.
Wilhelmina, who's in her mask, was flying with her.
Though she was wearing a mask with her expression obscured, she showed remarkable skills as a Flame Haze.
Even so, she was a kin who brought her up, and Shana could still see that there was something strange about her now.
Sensing this strange atmosphere, Marchosias cackled lightly like he was making fun of them.
"We dragged this person over after seeing her standing around in a lost manner."
"What we can do as friends is done. It's all up to you."
Margery then followed up,
"Mn."
Shana let go of the hand that's holding onto the Toca and jumped up. The crimson wings were burning on her back, and she flew between Wilhelmina and Margery. Both of them were headed down the same path, but Shana didn't reach her arms out. Through the burning hair of her that was giving off firedust as it danced, Shana used those brightly glowing eyes to stare at the enemy.
"Let's go, Wilhelmina."
Shana just smiled at Wilhelmina. Her crimson wings then accelerated and flew at the other two opposite.
Yuji and Sydonay were above. Shana, Wilhelmina and Margery were below. Both of them were fighting with the hourglass in the middle. They accelerated and got into an intense battle that felt like they were in the middle of a typhoon.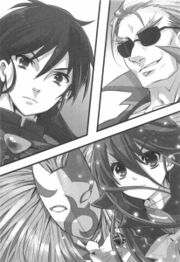 Bel Peol was alone in the control room, the 'Pavilion Shrine'.
Even though the professor completed the reconstruction of the 'Shinsensha', and that the large hole Sydonay made was completely filled up, the 'Gehinnom' treasure tool that was placed in the middle was crushed.
She used her third eye to look at the dust and wreckage.
(If that could involve the recovery ability of the 'Seireiden'—)
Just when Bel Peol was imagining something incredibly stupid, the enwa spell appeared in front of her. From the emblem, it looked like the 'Denizens' who were part of the jaegers.
'This is the 7th squad! We found large-scale explosions in the middle level of area 24! The color is pink!'
On hearing this intel that couldn't be left aside, Bel Peol twitched her eyebrows slightly.
"Have you witnessed the 'Scatter of Sparkling Light' herself?"
'No! We can't get confirmation as the people who made contact were all exterminated! We shall continue to patrol the surroundings!'
The spell vanished with a respectful sound like it was a salute.
"Uu..."
Just when she used her fingers to support her chin as she pondered, another completely emblem came.
'This, this is the 2nd squad! The higher level of the 4th area...someone witnessed purple lightning!'
"!"
Speaking of purple lightning, the only person she could associate that with would be the 'Braider of Trembling Might' Sophie Sawallisch. She has a great relationship with the 'Scatterer of Sparkling Light' Rebecca Reed, the 'Flame-haired Burning-eyed Hunter' and the 'Manipulator of Everything' and so on, so it's not strange for her to act as reinforcements.
(But isn't this way too deliberate?)
When the 'Flame-haired Burning-eyed' launched her attack, the brown colored spell that scattered showed the the 'Mobilizer of Ceremonial Armor' appeared as well. Soon after, they started seeing all sorts of different colored flames, which showed that the enemy still had other reinforcements and have entered the base. Bel Peol couldn't help but wonder if they hoped to be recognized.
(Though this baiting technique isn't really great in terms of methods, we have to continue to search to check out the current situation...in the end, they did cause the command system to be chaotic and delay our aim.)
In other words, this was a trap that was simple yet hard to avoid.
(Fufu, the enemy's not someone to wait around. Looks like I can enjoy my final moments...alright, I'll play with you people as a reward. I can roughly guess what you are going to do.)
After thinking for a few seconds, Bel Peol used her eyes to check the spell.
"You there, where's the 'Braider of Trembling Might' herself?"
'Yes, the platoon that got attacked suddenly went into battle on their own...'
"So there's no value in checking the scene since it's so damaged?"
As expected, it can't be helped then, Bel Peol sighed and muttered,
"Next, we need to check whether there's a trap. No casual counterattacks are allowed. We're to investigate what happened. You people should pass this information to the other squads."
Bel Peol again set a new directive.
'Yes!'
'Understood!'
After seeing the spells that disappeared along with the responses of her comrades, Bel Peol sighed again. Normally, the guards of 'Seireiden' would not need her obvious instructions in this situation.
(Maybe it's because we're getting closer to the creation of the haven 'Xanadu'. The tactics that are being piled are all becoming more and more complicated...either way, there's still a long way to go before we can achieve the final outcome.)
Bel Peol smiled even as she faced this hardship.
At this moment, just when a spell opened right in of her, another spell opened.
'Your Excellency, Advisor, we would like to make a proposal.'
"Oh, what is it?"
'No matter who the enemy is, the fact is that an enemy did sneak in. Thus, we hope to be with Advisor…to act as the guards of the central command room.'
This unexpected proposal made Bel Peol somewhat surprised, but she quickly gave a mysterious smile.
"I understand your kind intentions, but there's no need for that."
'Isn't there?"
Seeing her perplexed subordinates, the kin of the god of creation, the advisor of the Trinity said.
"Yes. My mission's over. There's no need to divide and protect me when forces are thin."
'We, we can't be convinced with this reason.'
"It's already too late. They're about to take over."
Ever since the 'Reiji Maigo' wasn't taken in the abnormal situation just then, her plan succeeded. The mission with an unknown element—his target wasn't the girl or the 'Mystes'—were already fulfilled. What she should do was completely, thoroughly done. This sense of satisfaction made the normal level-headed her somewhat unable to hold back her excitement.
"After this, I just want to supervise whether there's any flaw in the entire process. Mn, this can be a joy of being an advisor…"
Bel Peol didn't look anxious. She looked a little regretful as she floated above the 'Gehinnom' that was destroyed in the middle of the command room, and looked at something.
The three stares looked far away,
'52.10'
On a jizhaihou hourglass that was like the one Yuji created, the time continued to wind down.

It's not a good idea to fight Sydonay with his spear 'Shintetsu Nyoi' equipped.
However, Shana and the other three Flame Hazes still made this tough decision.
As time was limited, they couldn't use any other cautious methods. However, the kins of the god of creation and their treasure tools have the ability to crush all petty tricks. Thus, they could only fight head on, and look for a slight opening in this tough battle.
Shana, Margery and Wilhelmina are amongst the rare few who can find opens in a fight against Sydonay.
Even so, a few minutes have passed.
During this time, 10 or more ordinary Flame Hazes would be killed in this time. As she fought in this battle where she came near death, Shana continued to move herself as if she was trying to grab every single grain of sand.
Finally, a change in situation happened in the battle. Just when there was 10% of the sand left.
The large 'Shintetsu Nyoi' blade flew at the three of them who were flying horizontally.
Shana fearlessly used the nodachi 'Nietono' no Shana' which would not break at all and grazed past it. Even so, she spun because of the extremely high speed both of the had.
"—"
However, she did not steady herself, but fanned her crimson wings, extended the thrust on one of them and caused her spinning speed to increase before shouting.
"—HA!"
Shana used the spell 'Hien' that was materialized in the form of a fist and swung it at the spear that grazed past her. With the acceleration of the wings and the number of spins she made, this hit was harder than ever.
She used a blinding speed and knocked away the 'Shintetsu Nyoi' that appeared in the air like a huge tower.
Of course, Wilhelmina did not let this chance slip away. She extended her bandage and tied the blade of the spear, controlling a tremendous amount of force, and bringing Sydonay over together with the spear that was knocked away before spinning back with even more force.
(Tch, so it's not convenient for it to be a weapon when it's too big?)
Sydonay seemed like he was sucked into a tornado with the 'Shintetsu Nyoi' at the center, and turned his spear back to its original size while looking at it as he spun in a high speed.
And then,
"Take this!"
"Yo!"
Two familiar voices rang from above him.
"!?"
Before he could even look up, the force of the two palms came slamming in, and Sydonay was knocked down from the sky. As he fell, something appeared in his sunglasses.
That was a deep blue chain that was released from the spear and about to burn up.
(So that's how it is!)
After he was thrown out by Wilhelmina, Margery used a spell to create a chain and latch onto the spear. She then used this opportunity to close the distance when the spear reverted back to its original size. That's really a combination attack that made use of their specialties, but he didn't have the time to be impressed by this.
(Tch, leader-dono!)
Right now, Yuji was in the air, preventing the enemy from getting near the world's egg, and Sydonay would handle the attacking. Right now, Margery suddenly closed in and Sydonay was taken down. This would mean that she was right between him and Yuji.
Amongst the 3 powerful enemies now, that 'Interpreter of Condolences' Margery would be the one existence they shouldn't have near the substitute body, Sakai Yuji. One must gain a definite amount of experience when fighting her, and she would also use all sorts of different and mysterious spells. Also, Yuji now had lost his sharp intuition, and during this time, Shana and Wilhelmina were closing in at a fast speed.
However, Sydonay didn't even think about how he should take on.
"UAAAAA!!"
He wanted to block them all no matter which direction they were coming from.
It's because of this kind of situation that he was granted the authority of a kin, the ability to shapeshift into anything. He changed his limbs and became a large tiger that looked like it only used its four limbs and leaped into the air.
The leader Sakai Yuji said,
"Sorry for what happened the last time.
And the attacking Margery responded.
"That was during a battle. Don't mind."
"But we still need to beat you up!"
Shana came flying over with full force.
"!"
"He's here!"
And Wilhelmina was following right behind her.
"Now's the crucial moment."
"We can't slip up."
Sydonay reached his tiger upper body at the three of them, forming a physical obstacle.
That tiger which was the only thing that arrived in front of Yuji moved his hand up. This tiger that wanted to prevent the Flame Hazes' attacks used this to readjust himself and buy some time.
"The pigs are flying!"
They knew that she would do that.
"Oi, the guy in tea-colored clothing!"
Just when Sydonay and Yuji were rising up,
"Yes, we're about to get to you!"
Both of them couldn't help but tremble at the singing."
"Techili, techili, techili, te!"
That was the Flame Haze 'Interpreter of Condolences', ready to fire her powerful spell, the 'Improvisational Poem of Slaughter'.
First,
BOOM!
It was Yuji.
"Guuh!!"
Next,
BOOM!
Sydonay's tiger,
"Woah!?"
Both of them knocked their heads.
What hit their heads weren't any impacts from somewhere,
But a hard and sturdy wall that appeared when they were rising.
The wall that fulfilled its mission broke and scattered into deep blue firedust.
(Damn it—!)
The reason why Yuji didn't hit hard into it was because the dragontail behind his head had an auto-defense function. The dragontail would spiral around the moment it felt like it would hit and softens the impact on the host.
(Not good!)
Sydonay was again shocked by this unexpected move, and then used his ability as a kin to send the tiger movign down on reflex, leaving Yuji, who was somewhat dazed because of the impact above him.
Shana was waiting for this moment.
"HAAAAA!!"
She used the 'Shinban' that now appeared behind her to accurately grasp their locations, and used the nodachi 'Nietono no Shana' to activate Danzai. The scorching sword burned the bandages Wilhelmina used to bind the tiger, and Shana rushed in through the opening.
The target was Sakai Yuji.
"—!"
Yuji didn't even have enough time to shout before he got hit.
One slash, 2 slashes; in his fear, Yuji activated the anti-fire ring 'Azure' that was hanging on his neck, which then gave two flashes of light that absorbed the flames of the 'Danzai', but very soon, it ended up at its limits.
As the boundary was about to be broken–
(...The ring...not good...I'm scared...it's hot...jizaihou...defense...absolutely...Shana...live, on...)
The mixed thoughts rang in his consciousness.
The crystallisation of thoughts mixed in him, and the pure emotions and cold recognition were fighting each other. Soon after, a strong emotion that was based on tough logic and was as strong as a will was created.
Right in front of Yuji was a transparent wall-like—spell.
On the transparent wall, a fragment of spell was lit with black flames. Numerous such blocks gathered together, forming a completely wall, and even fulfilling its role.
The wall blocked the flames of the 'Danzai' from the front.
It wasn't just Shana.
"What!?"
Even Yuji, who created the spell,
"...?"
Was stunned.
Sydonay, who reverted back to human form and wielding the 'Shintetsu Nyoi' again, Margery, who remained in close range to hold him off, and Wilhelmina, who completed the combination attack with Shana, couldn't understand what's with this sudden phenomenon.
And amongst them, the one to first react was Shana.
(Don't tell me that is...)
It did have some of Yuji's original nature, but the most important thing was that Shana could use the spell 'Shinban' to sense the power flow. Through her instincts, Shana's refined thoughts as a warrior allowed her to understand what this means in a battlefield, and she answered with her actions.
(Sakai Yuji's spell!)
She used her eyes to indicate Wilhelmina to hold Sydonay off.
(That's dangerous.)
She quickly flipped out the blackcoat 'yogasa' and threw a treasure tool into the air.
(I have to take action before he gets familiar with using it.)
Floating in the air and giving off a bright light, the numerous rings that were able to insert spells and fire them out like bullets were the treasure tools, 'Chorde'. Inside them is a spell that could change the 'Psalm of Mission'.
(If I can't settle this now!!)

In front of her, Yuji finally recovered and started realizing the change on him.
(Sakai Yuji's...spell?)
It's true that it wasn't taught by anyone, nor was it of any relation to the god of creation.
(No, before that.)
Yuji composed himself again. Now's not the time to waste time thinking about this casually.
(I have to be wary of the rings.)
The rings Shana throws out would cause damage to the world's egg above him, and only the creation of the haven would fulfil his wishes. Thus, he had to stop Shana.
Shana threw those rings gently into the air.
Then, the rings each let out silver glows similar to the 'Psalm of Mission', and were completely ready to activate.
And Shana merely moved before keeping her left hand slightly behind her.
At a split moment,
She opened her hand, swung up and used the 'Hien' spell to create a huge palm, grabbing the numerous 'Chordes' and rose up quickly.
Yuji accurately realized her intention.
(She's going to put those rings into the world's egg!!)
He subconsciously leaped to where the huge palm was going. Of course, he wasn't reckless enough to use his own body to block it.
(If I use that spell just now—)
Yuji immediately remembered that he should be able to cast that shocking spell he casted to block the 'Danzai'. As the feeling was still fresh in his mind, Yuji followed the same manner he did that just now, and released that spell in an unexpectedly easy manner.
(—I did it!!)
But the spell he casted was completely different from what he imagined.
The spell that appeared was a transparent wall that stood in front of the 'Hien' fist.
However, it only stood in front of the fist, and crumbled without even blocking.
"!?"
The 'Hien' fist sent the shocked Yuji flying and continued to rise.
After that, it continued to accelerate and smash into the world's egg.
The numerous 'silvers' that acted as defensive mechanisms all crushed.
The fist went straight into the 'Psalm of Mission' that was materialized as an egg, and exploded.
However,
Only the rings inside the fist,
The 'Psalm of Missions' that were sealed in the rings,
Were hit into the world's egg in a glorifying manner.
Shana faced the tightly-clenched fist and smiled.