Shakugan no Shana:Volume0 Chapter1 Part4
From Baka-Tsuki
[edit]
4. Thousands of Quarrels
Shana, instead of swimming alone in the pool, rested on a bench near the edge of the pool, splashing the water by making kicking motions with her feet. In front of that sight, in the middle of the pool, the Man with Glasses again turned his board around.
A new work is on display. The supervisor, Miki-san, is handling the job of service with vitality.
This scene, as part of the completed version, has definitely increased since the original. Please look forward to more material from the person in charge.
But the title of this work has received a sudden and dangerous suggestion from the one responsible. "Shana of the Everlasting Summer" was to be the new title, was it not?
Speaking of Shana, she's currently submerged up to her shoulders, beads of water flowing down her cheeks as her sweat cools her down.
This is starting to sound a little iffy.
But because this is a service project, going with an easy-to-understand title is not necessarily the wrong way to go. Above the narrator(s), a new shadow appeared.
"Oh my, with how far you've already gone, what kind of service will it be?" asked the person.
The two turned to look at who spoke. They saw a barefooted, attractive woman with model-quality proportions, standing tall and showing off her figure.
Without trying to hype her beauty or coquettishness, this must be the appearance of Witch Reed. She was wearing a brilliant aquamarine bikini with a daring, showy design. She had elegant-looking long hair and a gorgeous appearance. Just by looking at her, you could tell she was a strong and important woman. As proof of the latter, behind her were the figures of her two followers, who were wearing Hawaiian shirts and scurrying to attend to her whims and follow her demands.
"I guess you might get that impression. Still, I'm glad I lived this long," said Satou, one of her followers.
He was carrying a tropical drink on a tray, and had an overjoyed expression.
"To be alive and excessive is wonderful. This is the true shape of the gods," said Tanaka Eita, carrying things as rivers of tears flowed down his cheeks.
"It is good. Youth is so good! Something in the air is blossoming!" said her talking book, Grimoire, as it expressed the words of Marchosias.
Shana, hearing this, did a surprise take and jumped out of the water.
"This isn't for a feeling of height!" said Margery.
She then tapped a hand against her mouth and gave a deliberate laugh. She took advantage of the opportunity to lean back and stick out her chest, showing off the large size of her breasts.
Shana, who was sitting near the edge of the pool, made an uneasy sound.
From the time she was with Yoshida, to compare _that_ to her, she said, stifling the unpleasant thought. She then responded in a low, challenging voice.
"You say that while wearing baggy clothing. Is your pride that strong?"
A blue vein popped up on Margery's forehead and she sighed.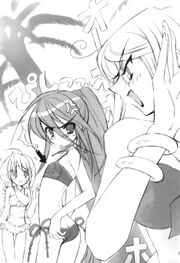 "Loose-fitting. A child like yourself can't appreciate the beauty of this. It's impossible for you."
Shana refused to yield.
"Well, for someone who has lived for hundreds of years, anyone is a child."
"There you go again, childishly stirring things up. Beneath that seedy exterior, you're still just a kid." responded Margery, adding fuel to the fire.
"And your persistence sounds like an old woman's mocking. Or didn't you realize?"
While the two of them argued, paying no attention to their surroundings, a crimson powder or mist appeared and slowly spread around the area.
"There's kind of a dangerous atmosphere now," said Satou.
The Grimoire uttered an unearthly, gutteral laugh, then it quieted down. Sensing something was amiss, Satou snuck into the water, trying not to provoke the angry Flame Hazes who now glowered at each other.
"Um, Yoshida-chan? I think you should get out."
She gave a noncomittal reply.
"I guess, but Mr. Ike is still in the middle of the pool. And it looks like he'll become a sacrifice. I guess I'd better let it go."
Satou turned and spoke to Tanaka. "Now that I think on it, we're always in danger. Why is that?"
As Yoshida climbed out of the pool, behind her, from the center of the float, came Megane Man Aqua, surging out of the width of the pool. The surface of the water exploded with energy.
"This is not right! Maybe if I put on my reading glasses!" yelled an uncomprehending observer.
Running over the wide surface of the water, as if sliding across it, gorgeous like a red lotus flower, shining with energy, with flame red hair and burning eyes, Shana had arrived on the scene.
"This kid! This kid!" roared the monster.
Producing aquamarine flames, the beast formed a fireball at the end of its thick arms and began firing blasts in a rapidfire burst, then stopped to chase Shana.
As if it were a souvenier from Megane Man Aqua, inside the rising mist, the board spun around in circles as if it was dancing.
The narrator observed the scene and spoke. "This scene is like a soft picture illustrated by a gentle artist. Shana's burning face and Yoshida's smile are equally cute. For my journey, and for this project, you have my profound thanks!"
Far away from the battlefield, a man sat in a chair at an open cafe. He was wearing a stifling outfit, consisting of a black suit and sunglasses. He tried to project a nonchalant, unconcerned image.
He then noticed who was sitting opposite him, across the table.
"Oh! Ah, Hecate."
Sitting across from him was a young girl wearing a large hat and a cloak. Her whole body was tightly covered, and her short build radiated power. In that glance, any unpleasant or unfocused thoughts in the man vanished.
"S-sorry. Was there something else you wanted to discuss?" he asked, fumbling over his words.
She remained silent for a moment, and then spoke.
"How about a refill on that drink?"
"Yes, I'll take it." replied the man.