Papa no Iu Koto o Kikinasai!:Volume 3 Epilogue
From Baka-Tsuki
[edit]
Epilogue
The feast continued until late night.
Unknowingly, a crowd of white fairies descended elegantly from the night skies, while the Ikebukuro streets turned into a rare silver world in a flash.
Smiles, smiles, endless smiles.
Hina, whose face was full of butter, was excitedly enjoying the feast.
Usually, it would already be Hina's sleep time, but it was a special day. Sako-senpai stayed at a side to take care of Hina with a look of satisfaction as well.
Miu-chan and Nimura were singing intimately, but I'll forgive that specially for today.
As for me, I was in charge of taking care of Raika-san, whose face was unusually red, while I enjoyed the pleasure of doing so. But for some reason, the task was snatched away by Sora-chan, making me slightly sad.
It was almost like a dream.
Being able to see Sora-chan and the others enjoy Christmas happily like any other people really made me feel happy.
However, time will only flow continually.
Thinking of that, I raised my head to look at the clock and noticed that it was almost time when Cinderella's magic lost its effect.
Well then, now for the grand finale.
After signaling to Raika-san and the others, I made a light cough.
"Okay, let's start."
After I gave such a signal, Sora-chan and the other members of Roary made mischievous smiles one after another.
"Eh? What? Start what?"
"Ah! Hina too, Hina too!"
"Oh, of course Hina is in this as well. Don't you remember that you gave us some of your pocket money too?"
Although it was taken with her permission, it didn't seem like Hina was clear about the situation.
"Ehh~ Only I don't know about this?!"
The considerate blonde second sister puffed out her cheeks in displeasure.
"That's so mean of you~"
"Ahaha! Our apologies. Then let us start right away!"
Sora-chan and Raika-san almost flew to the back of the shop, and returned with a beautiful cloth. It was a kimono with sakura flowers drawn on the black material radiating a beautiful luster.
"Eh……? A kimono? Isn't this Christmas?"
"Yes, it is a kimono, and it is indeed Christmas."
We smiled as we saw Miu-chan's look of puzzlement.
"After Hina's Shichi-Go-San ended…… We didn't manage to locate the photos of your three year old Shichi-Go-San, right? So that made me feel rather mindful of it……"
"Ahaha…… You don't need to be so……."
Probably because it was completely out of her expectations, Miu-chan looked rather flustered.
"So that's when I thought, let's organize another Shichi-Go-San in place of Miu-chan's three-year-old Shichi-Go-San. This is the present we are going to give to you. This kimono was rented by using everyone's money just for today as well."
"Isn't it great? Miu-chan! Onii-chan thought of this idea!"
"Nee-tan! Wear it, wear it!"
Seeing her sisters' excited looks, Miu-chan looked as though she wasn't sure what to do.
"Ah, but…… Um……"
"To wear the kimono, I can help out."
Miu-chan walked behind the shop along with Raika-san's accompaniment.
After some effort, a beautiful blonde girl in a kimono appeared before everyone's eyes.
"Ohoho…… Splendid! Beautiful! Excellent!"
Sako-senpai roared while making a happy noise.
"…… It fits you quite well, Miu-chan. That kimono is the same color of flower as the kimono that Yuri Nee-san wore when she was in primary school. You're the same as Hina-san and Nee-san."
And of course, the person who found the kimono was Sako-senpai. His mobility was quite reliable at these times.
Miu-chan looked at us in turn at a loss of words.
At first, she wore a hesitant expression…… and slowly raised her head after that.
The paper umbrella that we allowed Miu-chan to hold as decoration suited her exceptionally well. She almost looked like a beautiful girl who walked out from a portrait.
"Sheesh, nobody wears kimonos on Christmas……"
Miu-chan slowly, falteringly spoke.
After that, she slowly spun in a circle and showed us a smile, tears filling her eyes.
"But…… Thank you."
Miu-chan wore a radiant smile, teardrops falling from her eyes at the same time.
However, those weren't tears of sorrow.
Even I understood that they were tears of happiness.
At the same time, it was proof that Miu-chan, who usually supported us with her smile, already understood everyone's thoughts.
She, who never expressed a capricious side…… was definitely always pushing herself.
Just like Sora-chan.
Although it might be somewhat strange for one to wear a kimono on Christmas, it was the present that I wanted to give Miu-chan the most.
To me, the daily life that anyone could treat as a given was a rather difficult thing.
My power was just not enough. If not for Sora-chan and everyone's help, not only the Christmas party, I might have even forgotten to buy presents for today as well.
I couldn't even realize the fact that Miu-chan was feeling lonely as she saw us happily fooling around during Shichi-Go-San.
However, we can still come back, we can start over whenever we like.
Because we are still together.
And everyone is by my side.
Family, friends, and those who have helped me.
Thanks to everyone, that was why I wanted to try hard within the range of my capabilities to provide them the happiness that was treated as a given to everyone else.
After all, Miu-chan, Sora-chan and Hina's happiness is my happiness as well.
Of course, it is the same for Raika-san, Oba-san, Nimura, Shiori-chan and Sako-senpai.
Just at that moment, Miu-chan gave me another present.
"…… Thank you, Papa."
Hearing her words, it was like I was the winner already.
Because I heard the most sincere feelings of the considerate little devil young beauty.
I felt like the distance between us shortened once more.
After that, the four of us took a commemorative photo.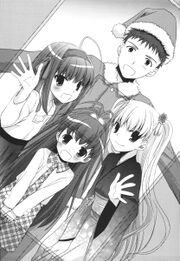 Though the style of the clothing didn't quite match……
However, we are absolutely a true family.
After this, it will definitely come true no matter how much happiness we want.
After taking the commemorative photo, Miu-chan gently leaned towards me.
"Thanks a lot, Oji-san. I'll keep the photo from today in the necklace you gave to me."
And then……
Miu-chan kissed my cheek.
"A- Ahhhhhhhhhhhhhhh!"
For some reason, Sora-chan howled when she saw the scene.
"Whoaaaaa! I want Miu-sama's indirect kiss!"
Sako-senpai leapt at me at the same time as well.
"Wa! Wawawawa! G- Give me a break!"
My look while trying to run away caused the whole place to be filled with laughter.
Like the descending snowflakes, laughter continued to fall between us.
The next morning, a small episode occurred.
When I was brushing my teeth while humming a song, Hina squeezed to my front with a smile.
"Oh! Do you want to wash your face?"
"Nn!"
I started to help Hina wash her face.
"Oi-tan, Hina wants to tell you good news~"
"Oh? What good news would that be?"
"Yesterday, Santa Claus came!"
Hoho, Hina was probably referring to us, huh?
"Santa Claus fulfilled Hina's wish!"
"It's the bunny doll, right? That's great."
"That's not it~ Oi-tan gave that~"
After hearing Hina laugh in delight, I couldn't understand what she was saying in that instant.
"Then when did Santa Claus come?"
"Um……. Um…… When Hina was asleep!"
Ngh, it does seem to be true according to the legends, but even if I couldn't make a chimney appear, should I have prepared socks for Hina?
"Hina made a wish to Santa Claus! Hina said Hina wants to see Papa and Mama!"
Hina's words were completely out of my expectations.
I didn't know how to answer.
As I recall, the wish that the kindergarten asked Hina to write turned out to be a family portrait, causing me to be unable to react for the moment.
However……
"Then, what did Santa Claus say?"
"Sheesh~ Hina said that it came true! Yesterday, Hina saw Papa and Mama!"
"Eh?!"
Seeing my startled look, Hina laughed happily.
"And we talked a lot~ In yesterday's dream!"
After saying that, Hina happily ran outside, looking as though she was indeed in deep happiness.
Hina probably wanted to tell them.
"…… Haha, true parents are indeed powerful."
It seems like compared with the holy night miracle that Nee-san and Nii-san gave Hina, I have a long way to go.
In a happy mood, I stretched forcefully under the winter sky.