Omae o Otaku ni Shiteyaru kara, Ore o Riajuu ni Shitekure!
From Baka-Tsuki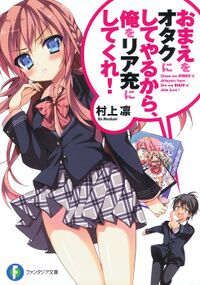 Omae o Otaku ni Shiteyaru kara, Ore o Riajuu ni Shitekure! (おまえをオタクにしてやるから、俺をリア充にしてくれ!)(I'll Make You into an Otaku, so Make Me into a Riajuu!) is a Japanese light novel series written by Murakami Rin (村上 凛), with illustrations by Anapon (あなぽん), published by Fujimi Shobou under their Fujimi Fantasia Bunko label.
Story Synopsis
Kashiwada Naoki was determined to lead his high school life without anyone knowing that he's an Otaku. However, his classmate Bishoujo, Koigasaki Momo, who was rumored among the girls to be a bitch, found him out!? Before the despairing Kashiwada, she said something undoubtedly surprising.
"Aren't you an Otaku? Then, make me into an Otaku!"
The love story of two individuals bounded by an agreement of Otaku and Riajuu starts!!
Blog Review
Blog review for this series available here!
Translation
Teaser translation done by larethian
Those who wish to contribute are asked to first notify a supervisor beforehand via the forum.
Translators are asked to register for chapters they want to work on
Format Standards
Every Chapter (after editing) must conform to the general format guidelines.
Feedback
If you enjoyed the teaser, why don't you tell us in the Feedback Thread
Updates
28-Jul-2012

Volume 1 Chapter 4 completed
10-Dec-2011

Volume 1 Chapter 2 completed
16-Nov-2011

Teaser Created
Volume 1 Chapter 1 completed
The Omae o Otaku ni Shiteyaru kara, Ore o Riajuu ni Shitekure! series by Murakami Rin
Volume 1
Chapter 5
Chapter 6
Chapter 7
Chapter 8
Afterword
Volume 2
Volume 4
Project Staff
Project Administrator:
Project Supervisor:
Translators
Hazue (Quite slow. 1 page per month by slowest, or 2-3 pages per week by fastest.)
Editors
All editors that speak English proficiently are welcomed.
Series Overview