Oda Nobuna no Yabou
From Baka-Tsuki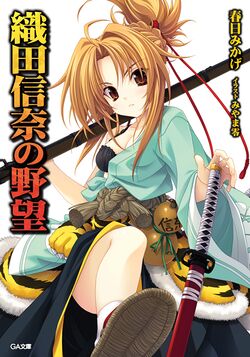 Oda Nobuna no Yabou (織田信奈の野望) is a light novel series written by Kasuga Mikage and illustrated by Miyama-Zero, published by GA Bunko. Currently, the series has 10 volumes and a spin off novel.
An anime of 12 episodes, made by Studio Gokumi and Madhouse, aired from July 2012. It covers the first four volumes.
Alternate translations
The Oda Nobuna no Yabou series is also available in the following languages:
Story Synopsis
Sagara Yoshiharu finds himself back in time during the Sengoku era. During his first day, he was about to be killed in a battlefield. He is saved by a man named Toyotomi Hideyoshi. The famous Daimyo, General, and Politician who unified Japan and ended the Sengoku era, dies while saving Sagara Yoshiharu. With history completely changed, Sagara Yoshiharu tries to make things right again but it seems that history is taking a different course than the one he learned in his time. Oda Nobunaga, the famed Daimyo is now a brilliant but beautiful young girl named Oda Nobuna. Sagara Yoshiharu decides to replace Toyotomi Hideyoshi by taking his place and serve under the command of Oda Nobuna under the given name "Monkey". Rewriting history as he goes along.
Updates
August 5, 2012: Page created
August 7, 2012: Volume 1 Chapter 1 COMPLETED
August 13, 2012: Volume 1 Chapter 2 COMPLETED
August 23, 2012: Volume 1 Chapter 3 COMPLETED
August 29, 2012: Volume 1 Chapter 4 COMPLETED
October 1, 2012: Volume 2 Chapter 1 COMPLETED
December 7, 2012: Volume 2 Chapter 2 COMPLETED
Feb 19, 2013: Volume 2 Chapter 3 COMPLETED
Feb 22, 2013: Volume 2 Chapter 4 COMPLETED
March 06, 2013: Volume 2 Chapter 5 COMPLETED
March 25, 2013: Volume 1 Chapter 6 COMPLETED
March 26, 2013: Volume 3 Chapter 2 COMPLETED
March 30, 2013: Volume 1 Chapter 5 COMPLETED
April 24, 2013: Volume 3 Chapter 3 COMPLETED
May 7, 2013: Volume 3 Chapter 4 COMPLETED
May 12, 2013: Volume 3 Chapter 5 & 6 COMPLETED
May 13, 2013: Volume 3 Chapter 7 COMPLETED
May 23, 2013: Volume 4 Chapter 1 COMPLETED
Translation
Those who wish to contribute are asked to first notify a supervisor beforehand.
Translators are asked to register which chapters they're working on
Format Standards
Every chapter (after editing) must conform to the general format guidelines.
All edited translations are to be done in British English.
Some of these chapters are translations of the Chinese edition of the novels, which are known to have some minor mistakes compared to the original Japanese text. If you have access to the originals and you spot an error, please feel free to make the corrections yourself - this is a Wiki which means it's meant for anyone to fix things (and if you screw up, we can revert back your changes if all deem necessary). We can see the corrections you make, so just go ahead instead of hiding or waiting for permission.
Feedback
Feedback about this series in the forum
The 'Oda Nobuna no Yabou' series by Kasuga Mikage


Volume 3

Volume 4

Project Staff
Translators
ACTIVE
Editors
ACTIVE
Series Overview