Maria-sama ga Miteru:Volume5 Chapter2
From Baka-Tsuki
[edit]
A gift from a rare visitor
[edit]
Part 1.
Without ado, after school at the start of February... A rare visitor appeared at the Rose Mansion.
"Gokigenyou, is anyone there? Well, nevermind that, I showed up because I knew the boutons would be here."
"---"
Yumi had been sent to check on the visitor, and upon seeing that oh-so-distinctive fearless laugh, couldn't help but want to turn around and run back up the stairs. Why was this person here?
"Oh, my, how bent back. Like a puppy with its tail curled into its belly."
"P, puppy…" "We had not yet exchanged greetings. Gokigenyou."
"… Gokigenyou. Welcome to the Rose Mansion."
Yumi said, as she had no other choice. Not that she really wanted to welcome her.
"I've come to speak to the boutons today, are they on the second floor?"
"Um."
"Then allow me in, please."
"Uh."
But she didn't wait for an answer as she helped herself into the building and climbed the stairs. So Yumi quickly followed.
The newspaper club captain, Tsukiyama Minako-sama, showed up very boldly today, for an astonishing change. Normally she sniffed around like a dog for scoops.
You needed to exercise extreme caution around her. Whenever you happened upon a scene, she would always, always be in the area. Was she causing everything, or do happenings call upon her? Anyway, to Yumi, she was like a "god you shouldn't wake up." Maybe she even lives on the northeastern direction from the Rose Mansion – oh, what an un-Catholic thought.
When they arrived at the biscuit-shaped door, Yumi forced herself in front.
"Umm, Tsukiyama Minako-sama."
Maybe she was too hasty as she announced it. Because Minako-sama pushed Yumi's face to the side and peered in.
"How rude. You're like a vassal announcing an enemy attack."
But it's true, Yumi wanted to interject. But the opponent was an upperclassman, and was a guest, too, so she stopped herself.
That's when.
"Indeed. Yumi, you need to calm down a bit."
Sachiko-sama, who was sipping tea while seated, placed her cup back on the saucer, stood up elegantly, and welcomed Minako-sama.
"I apologize on behalf of my sister. Welcome, Minako-san."
It was like a bourgeois wife greeting a visitor at an upper-class party, that was how ostentatious her treatment was. If it was a shoujo manga, she'd have flowers as her background, and if it was a movie, the background music would be baroque, despite there being no musicians in the vicinity.
They didn't have to act so amicable to one another, Yumi thought, as she pouted. Plus, she called her (cute) sister "not calm enough" in front of everyone.
It wasn't fun, but Yumi decided to look at it from another perspective. After all, Sachiko-sama was always strict to those around her, while being gracious to the actions of others. So Sachiko-sama, as Yumi's "onee-sama," was treating her like a close person.
Minako-sama sat down at the chair pulled out for her and crossed her legs. She seemed to have been straining to compose herself with dignity, but sadly, in contrast to the born-and-raised princess, Sachiko-sama, she looked like a monkey's imitation. But that didn't perturb Minako-sama at all.
"Sorry for your intruding upon your friendly chatter."
"No, don't worry yourself. Shall we have tea together?"
The room was filled with the usual members, excluding the Roses, whom were busy with exam studies. Sachiko-sama, Rei-sama, Shimako-san, the three boutons, plus Yoshino-san and Yumi.
The moment Sachiko-sama's glossy lips said "tea" Yoshino-san jumped up, but she then said, "Yumi," so it became Yumi's job. At first, she thought about making super-bitter tea, but that was too immature. What was the point in exacting revenge by making her drink super-bitter tea, anyway? And Sachiko-sama didn't single her out to do something like that.
Please, she said as she placed warm black tea in front of Minako-sama, and then she wordlessly resumed sitting next to Sachiko-sama. Was she watching her the entire time? As she sat down, she locked eyes with Sachiko-sama for a moment, and she felt her heart skip, but it wasn't a throbbing heart. No, it was more that she felt her malicious intent seen through, and became a bit scared. Though, in reality, she didn't do anything to the tea.
To calm herself down, Yumi reached out to her own cup. Judging by the temperature of the cup, she could tell it was no longer hot tea, but rather more like ice-less iced tea. Nevertheless, she was about to take a sip.
"What do you have planned for Valentine's Day?"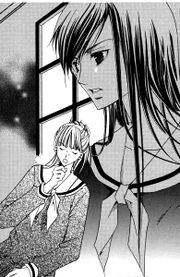 She was about to spew the tea back out because of what Minako-sama brought up.
"Valentine's Day?"
Yoshino-san and Shimako-san and Rei-sama all simultaneously turned to look at Yumi. Tsutako-san would have done the same, too, if she were here.
And of course, Sachiko-sama did not. Never taking her eyes off the guest, she merely raised an eyebrow and calmly asked.
"I seem to have heard you asking about my plans for Valentine's Day, am I right, Minako-san?"
"Y, yes."
She seemed to have wilted a bit under Sachiko-sama's cold gaze, but as you'd expect from the newspaper club captain, and editor of the "Lillian Kawaraban," after a quick, deep breath, she resumed explaining herself.
Of course, she already knew what the students of the Rose Mansion thought of her. "Despite that," she came here, so she must have had her reasons. She wouldn't turn tail and run at a mere gaze.
"Valentine's Day, isn't it wonderful, to express your hidden feelings to people?"
Minako-sama suddenly stood up, intertwined her fingers in front of her heart, and looked at the wall with dreamy eyes. Not that she was interested in the structuring or materials of the wall, but rather, everyone else was seated, so there was nothing else that would be in front of her eyes, so she ended up looking like she was staring at a wall. But her heart was past the wall, in some dream land beyond.
Minako-sama spoke about the religious nature of Valentine's Day, similar to Shimako-san's explanation the day before, and then spoke passionately about how the fourteenth of February, as Valentine's Day, had become a day of confessing love. There were plenty of explanations for why this happened, but the one Minako-sama chose to use was that it was around this season that birds mated. Yumi had no idea.
"We understand Minako-san is passionate about the fourteenth of February."
Sachiko-sama coughed. She looked relaxed, but she seemed to have been straining to remain silent throughout Minako-sama's one-sided discussion. She quickly dabbed at her sweat with a laced handkerchief before continuing.
"But it is difficult to discern how your passionate Valentine's Day has any relation to us."
"My, after all this explanation?"
Minako-sama feigned surprise. She definitely stood out in this room.
"Umm, Minako-san. Please be direct."
Rei-sama cut in, like her paralysis had worn off. Yumi also nodded, deep down. Minako-sama said, "after all this explanation," but at the very least, Yumi didn't know what she wanted to say. And given everyone's puzzled faces, aside from Minako-sama, no one understood.
"Oh, really?"
Finally realizing how everyone felt, she took documents out of a brown envelope she had brought with her.
"Directly, right? Well then, please keep your February fourteenth open, on behalf of the newspaper club."
"Huh!?"
The boutons aside, Yoshino-san and Yumi both shouted. It was direct, alright, but this time it felt like she'd skipped a ton of things and ended up firing a shot from the blue.
"In other words, I'd like to request help on a Valentine's Day project. A joint effort between the Yamayurikai and the newspaper club, to make the day more exciting. Wouldn't you like the regular students to enjoy themselves for day? And judging by everyone's reactions, the Yamayurikai has nothing specific planned."
Minako-sama took it upon herself to distribute the documents among the boutons, as they'd stayed on the table, untouched.
"What do you plan to do?"
Sachiko-sama asked, as she drew the document to her.
There were only enough of the cleanly-printed A4 pages for the boutons, so Yoshino-san and Yumi both looked over their onee-sama's shoulders.
"If you'd take a look at the project plans-"
"'Treasure Hunt: Where're The Boutons' Chocolate!?' … What in the world is this?"
Rei-sama stood up and smacked Minako-sama's plans. Well, of course. Because that plan that was shoved in front of them without any warning included their participation. And not just as a "supporting cast" but as a "main personality."
"Just as it reads. The boutons hide handmade chocolate somewhere in the school. And the students that find them win."
Minako-sama, still seated, smiled up at the standing Rei-sama.
"So there would be up to three winners."
Sachiko-sama's chocolate, Rei-sama's chocolate, Shimako-san's chocolate. They would each hide chocolate, and it would be a game to find them. Minako-sama's plan slowly became understandable.
A treasure hunt. It sounded a bit exciting.
"But I don't get it. Why would the newspaper club captain bring this to the Yamayurikai?"
They'd been bothered enough, why would they end up doing most of the work this time, too? After all, the "Lillian Kawaraban" newspaper had always done things on its own, so it was rather independent from the Yamayurikai. Plus, the Yamayurikai staff labeled the newspaper club as "a bother," so they were still looking at this like there would be a trap somewhere.
"I understand, completely, Rei-san. Unfortunately, the newspaper club has no flowers."
"Flowers."
Rei-sama was still standing, so Yoshino-san said, "Would you like a seat, onee-sama?" and dragged her to a seat.
"Events are more exciting with more participants. And to get participants, the reward needs to be attractive. But we don't have much funds, so it's not like we can buy an expensive prize, right? And that's why we're requesting help from the boutons. Understand?"
So they would pool the Yamayurikai and newspaper club's resources and pay for the event, Minako-sama explained. Well, the event funding would be the ingredients for chocolate and the costs of wrapping. She'd already estimated a figure, and listed that in the plan. Minako-sama was far more level-headed than Yumi had thought.
"And, the newspaper club's merit?"
That newspaper club would never act without something to gain. Knowing that, Rei-sama asked.
"What a direct question, Rei-san."
Minako-sama tilted her head just a bit, and laughed.
"Oh well. I hate skirting the edges, personality-wise."
"Alright. Then, I'll say it 'directly,' as Rei-san wishes. If this event were to come to fruition, the 'Lillian Kawaraban' gets to monopolize the reporting."
An exclusive report on a Valentine's Day event!
"… Sounds like something the newspaper club would come up with."
Exasperated, Sachiko-sama sighed as secretively as possible. And then she placed her paper on the table.
"I appreciate the idea, but we won't cooperate. There are too many things we don't agree upon."
"Tell me them. We're open to changing things to gain your support."
"There're lots, but the definitive problem is chocolate."
"Chocolate?"
"Oh, that stuck me, too."
Rei-sama raised her hand, agreeing with Sachiko-sama.
"I understand they would be as a prize for the treasure hunt, chocolate is no good."
Chocolate is supposed to be eaten deliciously. So the "no good" might have been used by design, Yumi could tell that much. Rei-sama was trying to say that chocolate wouldn't work as the "treasure."
"I get it, because it's too bulky!"
Yumi blurted out what she was thinking. And everyone immediately turned to her. Sachiko-sama wasn't even drinking, but she looked very bitter.
"S, sorry."
But when she quickly lowered her head, her forehead slammed into the table. Now she was definitely in a corner, alone.
"… Yumi, you'll confuse everyone, please be quiet."
"Yes…"
Why does it always end like this? How wonderful would it be if she didn't have to raise her head from the table, ever again?
"Are you okay?"
Yoshino-san asked, suppressing laughter.
"… Yes."
Rubbing her forehead, and on the verge of tears, Yumi answered. Her forehead hurt quite a bit, but the damage to her heart might be greater. She'd embarrassed her onee-sama again.
"Sachiko-sama and Rei-sama are probably worried about the sanitary issues?"
Maybe she was trying to help a classmate, because Shimako-san returned to the subject.
"To be concise, yes, something like that."
"The problem is definitely the handmade part. Even with store-bought chocolate, leaving something people will eat unattended for so long is a problem."
The handsome-looking Rei-sama received plenty of chocolate from students every year, apparently. And the shy ones would leave them in her shoebox or on her desk. And most of those had no names, so even Yumi realized that would be a bit scary. Though up until then she used to think, attractive people got to eat a lot of chocolate every year.
There was nothing wrong with the boutons' handmade chocolate, but if something were to happen, it'd be terrible, and even worse, if someone found it earlier and acted maliciously, well, it was difficult to agree with using food as a "treasure."
But it was amazing they could think that far ahead. Though in a way that's to be expected of the boutons. Yumi couldn't help but respect her onee-sama even more. Yumi had now completely bounced back from her red-faced embarrassment moments earlier. –But that blessedness was a mere fleeting moment. Because the next moment, onee-sama's words seemed to hammer Yumi into pieces.
"Personally, I have doubts about the practice of bringing chocolate to school, in general."
She was saved by being seated, otherwise she may have dived out the window. Sachiko-sama continued.
"I know the teachers let it pass. But I feel sick just imagining the school smelling like chocolate on the fourteenth."
"---"
Sachiko-sama didn't seem to think fondly of Valentine's Day. And the finishing blow.
"Plus, having chocolate pressed onto you is simply a bother."
(… Umm.)
Yumi tried to remain collected as she organized her thoughts.
But no matter how hard she tried to remain cool, she became too agitated, and the answer that came up was always the same.
A bother.
(Then my plan to give her chocolate is futile-)
At first, she simply felt shock, but as time passed, she felt more and more depressed.
"Alright."
Minako-sama nodded.
"Indeed, the idea of hiding chocolate was a bit reckless. After all, with the school filled with chocolate on the fourteenth, it would also become difficult discerning what's a prize and what's not."
Yumi thought she'd give up, then, but there was no way the newspaper club captain would give up that quickly. That might be a trait Yumi could learn from.
"Give me a moment, please."
Minako-sama went into a solo planning time and, staring at her planning sheet, began mumbling to herself. And after five minutes.
"Would you cooperate if we changed the treasure?"
"Change? What are you thinking of?"
"A hand-written Valentine's Card. After all, the original fourteenth of February involved the presenting of cards, rather than chocolate."
Indeed, Minako-sama was thinking hard about this.
-However.
"Is a hand-written card that attractive?"
Shimako-san mumbled. Is it suitable for a treasure hunt prize? The prize for a long, arduous hunt was just a sheet of paper; that did sound a bit weak. But compared to handmade chocolate, it was cheaper and less of a hassle, so it might work.
Sachiko-sama and Rei-sama seemed to agree. Was their own writing valuable enough to attract students, or not? Not being modest, but through calm, cool thinking, they decided, no.
A handwritten letter was lacking in excitement. And the newspaper club, trying to use this for as reporting material, would end up whiffing.
Yumi would have gladly received a hand-written letter by Sachiko-sama, but that would be screaming "sister-obsession" so she kept silent.
"If the boutons agree, then we can move on to the next idea."
Minako-sama's eyes glittered as she spoke. When she looked like this, she was no doubt thinking of something wild, so that's when she was most dangerous.
"Then let's make it more attractive."
Minako-sama seemed to realize this was her chance to become aggressive, so she leaned over.
"Make it more attractive?"
"Like the card being a ticket to the real prize?"
"Real prize?"
What would that be, everyone asked. The card itself wasn't the prize, after all?
"Like, the prize would be a half-day date."
"Objection!!" Before Minako-sama could even finish, Yoshino-san stood up and shouted.
"Objection, objection, absolute objection! That's wrong! Turning personal time into a reward is wrong!"
Yoshino-san, she was in such panic, that she completely shed her weak image. Even if people had gotten a glimpse of her audaciousness, Yoshino-san's myth still stood strong, so people like Minako-sama who'd only seen her from afar might be taken aback. Look, even now, she was clearly more disturbed than when the tall Rei-sama had given her a scary look.
"Yumi-san, you object, too, don't you?"
"Eh."
Well of course she'd object, too, right? Is the glare Yoshino-san shot at her. She wasn't an enemy, so she'd appreciate if she was treated more kindly.
"Uh…mm."
Yumi finally thought about it. Well, she'd been struggling to keep up, so she hadn't had time to consider it herself. To begin with, she was still trying to shake off her failure a few moments ago, and was trying to act as inconspicuously as possible.
Approve, or object.
Well, if she had to answer, she'd probably object. Because, she didn't want her own onee-sama, Sachiko-sama, to be with someone else. Yoshino-san was talking about personal time, but she was probably against the idea of her precious Rei-sama being with someone else. If this was about the Roses instead of the boutons, she probably wouldn't object this much.
(But.)
If she were to think about it as someone who was just helping out at the Rose Mansion? The Yamayurikai were trying to lose the hedge between them and the common student, to make it a friendlier student council. So that the Roses wouldn't become so deified, so they'd become more approachable.
If the next Roses, the boutons, were to interact with the students, wouldn't that be a plus for the Yamayurikai?
But despite that honor student-like thought, a part of her still burned with jealousy.
"There's school on Valentine's Day, though."
Shimako-san asked Minako-sama.
"Yes, so the treasure hunt is planned for just an hour after school. Don't worry. As long as we get enough participants, an hour should be enough to find the treasure, isn't it? If it still can't be found then, then it's hidden somewhere that would take at least half of a day to find. So we would just keep them for an hour after school, that day-"
Even as Yumi pondered, the idea was moved forward. Come to think of it, accepting or objecting was really up to the boutons. Their sisters' opinions were just an example.
"And the date would be on Sunday."
"Objection! Objection!"
Yoshino-san was forcing the issue by constantly shouting. She was completely in hysteria. So Rei-sama placed a hand over Yoshino-san's mouth to quiet her. Indeed, with that sort of "objection!" mantra, nothing would get done.
"What do you think?"
After the explanation was done, Sachiko-sama turned to the other two boutons.
"While the idea of a treasure hunt sounds interesting."
Shimako-san didn't look like she was too happy with the idea.
"The sticking point is the half-day date. I'm not as bad as Yoshino, but I don't like the idea of making humans the prize."
Rei-sama agreed with the person to her right. But Shimako-san's reason for objecting was partly the half-day date, and partly because of Valentine's Day. After all, it was supposed to be a day of commemorating Saint Valentine, rather than a day of confessing love.
"I also object. Then we unanimously turn down the proposal."
When she said that, Sachiko-sama collected the project proposals and returned them to Minako-sama.
"Wait a second."
Minako-san was becoming flustered. Placing the proposal sheets back on the table, she desperately pleaded.
"Could you at least think about it over night?"
"It would feel bad giving you false hopes."
"If you would feel bad!"
Minako-sama looked into Sachiko-sama, Rei-sama and Shimako-san's eyes. Of course, she didn't even glance at the sisters.
"Sympathy for a warrior, could you at least wait until after school tomorrow?"
Sympathy for warrior? What era was Minako-sama from?
"I walked dramatically out of the clubhouse, please don't turn me down right on the spot."
No matter how much she tried to talk her way through, since her opponents were of the same year, it seemed futile. And of course, it didn't work on Sachiko-sama at all, as she received a cold response.
"Then you may keep quiet about it now, and tell them tomorrow."
"Oh, please. The moment I walk back, I'll be questioned until I spill the beans. My little sister is quite persistent."
"That's not our problem."
The closest to a warrior in the room, Rei-sama, had no sympathy for a warrior, either. Sachiko-sama and Rei-sama were steadfast, and that somewhat pitiable Minako-sama turned to Shimako-san, her last hope, and grasped her hand.
"Shimako-san, please."
"… Even if you say please…"
"Your senpai is begging you this much, can't you do anything?"
Wow. If she can't beg, then she threatens. If you can't push, then pull.
"Oh come on, Minako-san, don't you think trying to get a kouhai to help you by pulling the senpai trick is unfair?"
Rei-sama looked angry, as she hated such things.
"Call it what you want, as long as the answer is delayed, I don't mind."
(Eek…)
Yumi, who was listening without standing out, stepped back at Minako-sama's words.
Minako-sama was really a self-serving person. As long as it was for her newspaper, she was willing to do anything. That is one way of living, though.
"-Gosh."
After "call it what you want," there was nothing more to say. Rei-sama lowered her shoulders, exasperated, and Sachiko-sama sighed. And Shimako-san's clear voice sounded.
"Then how about this. Prolonging our answer by one day does no harm, and if that's the case, we can await our decision until tomorrow."
There didn't seem to be any other way to settle the matter. It was Minako-sama, after all, she seemed the type to keep everyone hostage in the Rose Mansion until they agreed. They agreed that they'd leave the final decision until tomorrow, and that they'd be better off with Minako-sama departing earlier.
"Fine. But Minako-san, nothing will change our decision, so please don't hold any weird hopes."
Rei-sama repeated. That tomorrow, she'd hear the exact same answer. But Minako-sama smiled, satisfied.
"I understand. Thank you. I shall return tomorrow, after school."
Before they changed their minds, seemed her purpose, as she dashed out of the room.
"Oh, take the proposals with you."
Sachiko-sama called out.
"Tomorrow, tomorrow."
Minako-sama called back, without turning around, and vanished beyond the biscuit-shaped door. Yumi heard the steps creaking to the tune of skipping.
"What was that?"
Sachiko-sama muttered, and everyone tilted their heads, "Who knows?"
She was that excited with the decision delayed a single day. What was Minako-sama thinking?
"Is it really okay?"
The first thing Yoshino-san said after being freed from Rei-sama was that.
"Okay?"
"Because they're the newspaper club."
Yoshino-san was sharp. After all she'd done, Minako-sama's inexplicable move was troubling.
"But, like Shimako said, there's nothing to trouble us by delaying it."
Rei-sama cackled.
"Indeed. I don't think anyone would change in a single day."
"Yes."
Sachiko-sama and Shimako-san nodded. They were strong-willed people, so they probably wouldn't retract their own decisions that easily.
But, they were underestimating her.
Just a single day.
Just by delaying things a single day, trouble did begin.
In a way, Minako-sama was a Yamayurikai maniac. She knew exactly how to make the boutons act.
[edit]
Part 2.
"Huh?"
After a full day, Yumi heard something completely unexpected as she went straight to the Rose Mansion.
"I said, we're about to have to accept. Don't make me say it twice."
Sachiko-sama was clearly displeased.
"Umm-"
So she was forced to find someone else for an explanation. In the second-floor room, Yoshino-san and Shimako-san and Rei-sama, who'd left club activities, were looking very annoyed, though not to the level of Sachiko-sama, as they sat around the table.
"Minako-sama found way to pressure them."
Yoshino-san said, slamming her fist on the table.
"I knew she was up to something, but still! … It's so frustrating!!" "So, what happened?"
Yumi was still puzzled, so Rei-sama lifted her index finger.
"From above." "Above?"
She looked at the ceiling. Not that she expected something like a hole, which would mean rain would leak through.
"No, no, above, as in third-years."
"Third-years? … Oh, the Roses!"
"Right. The three of them were together today and neatly called their sisters together during lunch break."
"… Ahh."
Come to think of it, Shimako-san was supposed to eat lunch with her at the Rose Mansion today, but come lunch, she suddenly canceled it and vanished. Yumi didn't pay it any mind because Shimako-san was often called out for committee meetings, but that must have been Rosa Gigantea.
"So, then?"
Like a baton touch from Rei-sama, Sachiko-sama continued.
"A command, to accept the newspaper club captain's Valentine's Day project. As their final request, could we refuse?"
"Umm."
Well, no, you wouldn't usually be able to refuse. –Is what Yumi thought. But the first time she'd come into the Rose Mansion, she heard Sachiko-sama yell, "The onee-sama are mean!" Considering Sachiko-sama among the realm of "normalcy" would probably be a mistake, too.
"Anyways, that's why we're having a special meeting. So I'll probably miss club activities today."
Rei-sama had assumed she was the only one being pressured, and thought with Sachiko-sama and Shimako-san vehemently refusing, it wasn't a big deal. So, after school she quickly went to change into her kendo gi and began practice swings. And when Yoshino-san blasted in after running from the Rose Mansion, she finally realized how important the matter had become. Because no one had thought Minako-sama would be able to persuade all three Roses at once.
Right on time, so to speak. Because when they'd finished explaining things, the three Roses arrived with one another.
"Sorry to keep you waiting."
Rosa Chinensis, Rosa Foetida, and Rosa Gigantea. It was the first time they'd been together since the student council election speeches, Yumi thought. And belying their tough exam studies was their sparkling appearances, with glittering eyes, glossy skin, and lovely, silky hair. They were so beautiful Yumi's eyes felt like they might implode.
"Not that we were really waiting in anticipation."
Sachiko-sama said venomously, but she looked cute, sulking the way she was. Even if they'd sown the seeds of annoyance, she was still giddy at being able to see her onee-sama.
"Oh, then I suppose the meeting will have commenced without any stagnation without us."
Excellent, she nodded, as she took a seat. The Roses were in perfect spirits. The five that were in the room originally seemed to be sucked in by their presence, as their determination seemed to be cut in half right at the onset.
"So?"
Rosa Chinensis asked Sachiko-sama, her sister.
That began round one.
"Have you decided on your answer to the newspaper club?"
"…" "Sachiko."
When she was scolded for being silent, Sachiko-sama seemed to explode, letting out her feelings at once.
"If the onee-sama are going to order us like that, then no matter how unwilling we may be, we shall have to consent."
"Oh, how unthinkable. You make it sound like we're forcing you."
"Am I wrong?"
"Yes, of course. The student council election was a splendid opportunity to slide our responsibilities to the boutons. We're living a humble life of retirement. How you wish to manage the Yamayurikai is up to you."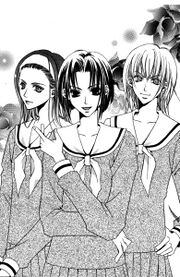 "Then why are you interfering?"
"Interfering?"
"Interfering. You said to collaborate with the newspaper club."
"All I said was to think it over."
"And that is interfering. We made our decision yesterday."
"Stubborn, as always."
"Oh, how wrong of me. But I wonder who chose this inflexible person to be their sister?"
"Me. And that's why I want you to be more flexible. Intermingling with the students, isn't that a splendid idea? You've become so much more open since choosing Yumi-chan to be your sister."
"---"
Sachiko-sama loses by KO.
Onto the second round.
Resting her elbows on the table, then resting her chin on her intertwined fingers, Rosa Foetida narrowed her eyes.
"Rei."
"Yes."
Rei-sama, called upon, looked troubled. It was a bit different from a frog being stared at by a snake, but for once, she looked hesitant. Like she wanted to say "have mercy!" knowing what lay in store. But Rei-sama knew it was a road she couldn't avoid. Also, that it wasn't going to be fun.
"It's almost been two full years since I made you my sister, so I'm sure you can guess what I'm about to say."
"Yes."
Like a balloon leaking air, Rei-sama seemed to shrink every passing second. On the other hand, Rosa Foetida, who looked so bored most of the time, had a glimmer in her eyes and looked excited.
"So may I assume I know your answer?"
"I'll do whatever onee-sama thinks is best."
"Oh, no, you have to decide, on your own."
Say it, Rosa Foetida egged Rei-sama on.
"… I'll help the newspaper cl-" "Objection!"
Yoshino-san said, unable to restrain herself.
"Rosa Foetida, don't you think that sort of pressure is dirty? Rei-chan is Rei-chan, too, if you don't like it, say it!"
She was so excited she forgot to change "Rei-chan" to "onee-sama."
"Yoshino, be quiet."
"That's right, don't confuse her. I'm talking to Rei, outsiders should remain silent."
"Outsiders!?"
Yoshino-san was about to squeal in anger when Rei-sama stopped her, "Idiot, don't let her goad you."
"The more Yoshino screeches, the more persistent onee-sama gets!"
"What?"
"Exactly."
Rosa Foetida smiled victoriously.
"You still have tons to learn, Yoshino-chan."
Yoshino-san still hadn't really fully grasped her "auntie" Rosa Foetida. What that multi-talented Rosa Foetida loved most were unusual things and rarities. And the moment she found something she was interested in, she would suction onto it and never let go, like a soft-shelled turtle. Persistence aside, it was a sight to behold. Knowing that, Rei-sama just wanted to squeeze through with minimal resistance. Because she knew the more she would show she didn't want to, the more Rosa Foetida would begin to act.
But all of Rei-sama's actions just went to waste.
"You'll do whatever I think is best, you said, right, Rei? Then, I'll have you cooperate."
Rosa Foetida was just that kind of person.
Third round.
Rosa Gigantea looked at Shimako-san.
"Well, that's how it is, good luck."
"… Okay."
Well, now that the second-years Sachiko-sama and Rei-sama surrendered, the first-year Shimako-san really didn't have much fighting power to begin with.
But, gosh, Rosa Gigantea. The "good luck" cheer, why couldn't she say that during the student council election?
"Whaaaaaat, Yumi-chan. You look bored."
Rosa Gigantea laughed, looking at Yumi's face.
"Not really."
"Oohh? You should go straight into a fury, like Yoshino-chan."
"Yoshino-san?"
When Yumi turned around, she saw Yoshino-san with an expression that definitely couldn't deny it, as she sat leaning against Rei-sama. Like a child that came down with a cold.
Yoshino-san was brutally honest.
She was steadfastly against Rei-sama going on a date with someone else, so she objected to the fullest extent, and once she lost, she began to pout like that. Intense, but easy to understand and cute. Forcing a smile, Rei-sama was patting Yoshino-san's shoulder.
Sachiko-sama glanced at Yumi. As for why Yumi noticed that, well, it was because she was looking at Sachiko-sama first. She couldn't help that her eyes kept wandering to onee-sama.
After a moment of exchanging glances, Sachiko-sama quickly turned away. If only she would give a quick smile, or something, Yumi thought. Then she'd able to settle down, knowing that at the very least, her sitting there wasn't a discomfort.
But Sachiko-sama seemed to be too busy to bother about her sister.
"Anyways, even if we are to cooperate with the newspaper club, we'll have to add our own conditions and amendments."
She sought agreement from Rei-sama and Shimako-san. Her mind was already working.
"Exactly. Why do we have to do what she says?"
"Agreed."

Rosa Foetida glanced at her wristwatch, and Yumi ended up doing the same. Four in the afternoon.
-And that's when they heard the creaking of stairs. The Rose Mansion was old, so when someone jubilantly went up and down, they could even feel the vibrations.
"Sorry to keep you waiting."
After a quick knock, the door opened, and as expected, Tsukiyama Minako-sama came in. Maybe she waited to allow plenty of time, or maybe it was just a coincidence, but although she could have come earlier, she arrived well after the meeting had come to an end. After all, she glanced at the Roses, seeming to ask, "How did things go?" Clearly she'd gone to the Roses and requested assistance with the Valentine's Day project.
[edit]
Part 3.
"We shall go through the details of your project again."
After waiting for Minako-sama to be seated, Sachiko-sama took a copy of the project scheme that Minako-sama had left the day before in her hand and spoke. She'd apparently decided that it would be a farce to explain why they'd suddenly changed their minds. Obviously Minako-sama knew exactly why, and she, too, didn't seem bothered by the lack of explanation. After all, for the newspaper club captain, the important thing was simply that the boutons were willing to help.
As Yumi and Yoshino-san began pouring tea for everyone gathered, the project meeting went forward.
"In terms of the Valentine's card format, I'd like to hear your opinions. Color, size, any opinions are welcome. However, they will basically be traded in for dating tickets, so the newspaper club would like to reserve a bit of space. On the back, out of sight, is what I'm thinking."
"If the cards are the tickets, they would have to be collected, is that alright?"
Rei-sama asked, as she mindlessly folded the corner of her project plan.
"Oh, good point, how careless of me. It's a precious hand-written card, so how about we think about making something else to be a dating ticket?"
Minako-sama scribbled on her own planning sheet. The cooperating party was the boutons, so the Roses and the sisters of the boutons kept quiet. They kept quiet, but they still paid careful intention. The former out of amusement, the latter out of jealousy.
"Um, are we picking the hiding locations?"
Shimako-san was the one who asked.
"Of course. After all, the fun for the participants is wondering where the boutons would hide them, right? If a third-party were to spontaneously hide them, it wouldn't be as fun. Of course, the newspaper club would need to be notified of the locations beforehand, but otherwise, you may hide it wherever you please."
The prior notification would be so that it wouldn't be hidden out-of-bounds or in a place too easy, because then it wouldn't be much of a game, Minako-sama explained.
Well of course. If it were hidden in the drawer of the principal's desk, only the principal would be able to find it. Of course, it'd probably be impossible to hide it there, anyways.
"I think we should keep things within the confines of the high school facilities and part of the courtyard. We're planning to publish a special edition of the 'Lillian Kawaraban' on Valentine's Day explaining the rules, along with a map of the campus listing where you can and can't go. We can't really be bothering the teachers and the non-participating student body, after all."
"Staff room, reception office, principal's office, guidance office… Well, there're plenty of places we shouldn't intrude on. So we'd have an upper limit of where students can frequent on a daily basis."
"Courtyard, hallways, library… what about classrooms and club rooms?"
"Classrooms and club rooms are out of the question, I think, because people who usually reside in them would have an advantage, and personal belongings are stored there, too. It would also intrude upon students who don't wish to take part."
"Right. How about the athletics related buildings?"
"Well we exclude the buildings that are used for club activities on that day, to begin with. I suppose we can ask for teacher permission with the buildings that aren't being used, and mark them down as 'fair game' on a case by case basis?"
"The locker rooms are out, but the gymnasium bathrooms and the basement passages are in. The gymnasium storehouses that are usually locked are also out of the question."
They'd reluctantly agreed to the plan, but the boutons participated with utmost seriousness in the discussions anyways. Since they were going to participate, they wouldn't stand for halfway measures, they seemed to be saying.
"May I?"
Rosa Chinensis raised her hand, speaking for the first time.
"Yes?"
"How about here?"
"Here?"
Here, would be the table Rosa Chinensis was pointing to. –No.
"Here… onee-sama, do you mean the Rose Mansion?"
Sachiko-sama quietly asked.
"Yes. If possible, I'd like the Rose Mansion to be part of the treasure hunt, too."
"I don't mind, but why?"
"I have just one regret before I graduate."
"And this is it?"
"Yes. The Rose Mansion."
According to Rosa Chinensis, they'd been able to do almost everything they'd wanted to do in their three years of high school life, except for this one thing: opening the Rose Mansion to the student populace.
So that the Rose Mansion wasn't just a meeting ground for one group of students, so that any student could stop by at any time to raise concerns. The Rose Mansion was the student council room, after all, so what could they do to make it a more relaxed, approachable place? -That's what they'd been pondering for so long.
But the Roses were deified more and more as the years went by, and along with the fact that the Rose Mansion was like a separate entity from the school facilities, it'd gradually actually become even more difficult for the students to approach it. And it was too difficult to remove years and years of branding in one generation, so here they were, on the eve of their graduation, without much progress.
"So, just once, before I graduate, I'd like to see the Rose Mansion filled with students. So, I truthfully don't mind how you erect the Yamayurikai in your generation. But I'd like to request this one thing, as a parting gift. Because this is my dream."
Students who'd stepped in once would find it less difficult to step in a second time. Rosa Chinensis must have envisioned that, too.
"Understood."
Minako-sama nodded.
"If that's the case, I'll gladly add it to the list of treasure hunt locations. Truth be told I was hoping to use the Rose Mansion as a headquarters-"
"Headquarter?"
"For the newspaper club and the boutons."
If a student finds a card, there needed to be a place where they could go and report their finding. And the boutons, well if the boutons were found wandering about the facility during the treasure hunt, it would simply spread confusion, so there needed to be a place for them to stay, too.
"You can use it as a headquarters, too."
Rosa Foetida pointed out, stifling a yawn.
"The boutons and the newspaper club won't be too busy once the treasure hunt starts, right? Then, pour yourselves some tea during the event and watch the proceedings. Tea is readily available for self-service for students, too. You can even go ahead and mingle with the students, too?"
"If that many people gathered, it would be hysteria…"
"That's fine. That's Rosa Chinensis' ideal, anyways, isn't it?"
From the way Rosa Foetida sounded, it was clear she was going to come to school on the fourteenth of February no matter what. If something sounded amusing, as long as her body was able, she was absolutely not going to miss out.
"By the way, may I make a request, too?"
Rosa Gigantea stretched out as she spoke.
"This event, can we just say the Yamayurikai boutons are participating in the project?"
"Huh?"
"So, once this is settled, we'll leave the room. Yumi-chan and Yoshino-chan, too." "Ehh!?"
"What do you mean ehh, what's the point in outsiders participating?"
"If the overseer goes away, can you imagine what this could turn into?"
"Yoshino-chan, do you not trust your onee-sama, at all?"
"---" "Pity, I thought it'd be better for Yoshino-chan, too. Oh well, go ahead and get abused like a participant. Minako-san, do you get what I mean?"
"Completely."
With Minako-san's response, the Roses stood up. They giggled. What was so fun?
"Yumi-chan, how about you?"
"What?"
"Would you like to bet on a one-in-a-hundred chance to win a date with Sachiko?" Well, of course-.
"I do!"
Answered Yoshino-san. And as she answered, she leapt out of her chair and dashed to the Roses. Woah, hey, what happened? Rosa Gigantea said "Sachiko," not "Rei."
"Yumi-san, you should come to this side, too."
Yoshino-san, whose mind clearly worked faster than Yumi, had a body that traveled at lightning speed, too.
"… What do you mean?"
"Outsiders can participate in the game, too. Isn't that right, Rosa Gigantea?"
"Yup, right, captain?"
"Yes."
The verbal game of hot-potatoes finally landed at Minako-sama.
"If the sisters of the boutons are also participating, it becomes even more attractive, so I welcome it with open arms. The newspaper club should be sufficient staffing. As long as the boutons are willing?"
"I don't mind." Shimako-san said.
"If that's what it takes to settle Yoshino down."
Rei-sama simply seemed to want Yoshino-san's mood to brighten. A displeased Yoshino-san was an absolute terror, after all. Even the sturdy Rei-sama wouldn't be able to withstand a flurry of "objection!" until the end of Valentine's Day.
As for Sachiko-sama.
"Even though this is where sisters are most needed."
She muttered, but she didn't really have much of a reason to oppose it, so she consented. If she was going to consent anyways, she didn't need to complain. But, you know, Sachiko-sama hates losing, and she's a contrarian, so…
"Then it's decided."
So the meeting ended. The "outsiders" didn't even need to wait outside, because it was already dark, so the students were forced to go home, anyways.
[edit]
Part 4.
"Wow, it's getting outrageous."
As they walked home along the gingko pathway, Yumi spoke to Yoshino-san. The boutons were walking roughly three meters behind them, discussing the details of the fourteenth of February. While the first-years were cleaning up after the meeting, Minako-sama had gone back to the newspaper club room, and the Roses, busy with exam preparations, quickly went home, so they were left to the usual members, but today they were walking in a cluster of three and two.
"I'll definitely find Rei-chan's card."
Yoshino-san raised her mitten-covered fist. As always, she was optimistic and strong and confident.
"Don't worry, Yumi-san. Sisters have their own advantages. For sisters, it's not a one-in-a-hundred chance. You know?"
"Uh, umm."
To be honest, she shook her head mostly because of Yoshino-san's intensity. Because all of a sudden, Yoshino-san's head popped up right in front of her in the darkness.
"First, we know about their preferences."
Yoshino-san may have raised her index finger, but the mitten made it look like she raised four fingers, so it was hard to tell. It just looked like its shape was being ever-so-slightly distorted.
"Why is it an advantage knowing their preferences?"
"Because it's a clue for where they hid their card."
"Oh, right."
For example, Sachiko-sama would never hide a card amongst the gingko pathway, because she hates them. But that's such a rough conclusion.
"Also, they might accidentally let slip where they may have hidden it."
"No way."
That would never happen, Yumi thought. At least with Sachiko-sama, that would be an unthinkable mistake.
"It's not impossible."
Yoshino-san was brimming with confidence.
"… I see."
You could never know with Rei-sama. Of course, she wouldn't tell her deliberately, but if Yoshino-san grinded away at her, she might eventually accidentally let it slip.
"I can tell when she hid it by her behavior, too."
"---"
So, in the end.
The advantage wasn't for being a "sister" but rather because Yoshino-san was Yoshino-san. And because she was confident, she backed off from her stubborn objection. It all made sense now.
"I'm totally not confident."
The big, white puff that blew out of her mouth was a sigh. And it felt like she could see just how unconfident she was.
"Gosh, a half-day date… lucky."
She was envious of that person in the future who would win a date with Sachiko-sama. For Yoshino-san, who was always with Rei-sama, it was probably more a case of being unwilling to let her time with Rei-sama be intruded upon, so the date itself wasn't really much value.
"What do you mean, lucky? Yumi-san, weren't you with Sachiko-sama for New Year's?"
"But we weren't alone."
Forget being alone together, she might have just been one of a crowd to Sachiko-sama. Plus, an archenemy was among the crowd, too.
"I see. If Yumi-san were to win, I was thinking of doing a double-date, but if that's the case…"
Fufufu, Yoshino-san giggled. How dreadful, Yoshino-san was so sure she would find Rei-sama's card that she wasn't even thinking about it not happening. If she were to be beaten, what would happen? Because no matter how confident you are, it doesn't mean everything will work out.
"On a different note, I guess we'll end up like this a lot, until Valentine's Day?"
When they reached the school gate, Yoshino-san stopped and turned to the path they'd walked. There, they saw their two onee-sama and their classmate. The three people who would become the next Roses.
"… Yes."
As she nodded, Yumi absent-mindedly thought, "And maybe more." That this sort of thing might happen even after Valentine's Day.
Once Sachiko-sama became Rosa Chinensis, it would be hard for her to keep looking after her younger sister. A busy year as student council president awaited her, after all.
And then.
And then what was she supposed to do?
As she imagined her own future, all she could think of was to sit there and watch as her onee-sama kept growing.
"What's wrong?"
Sachiko-sama asked.
"Nothing."
Nothing's wrong, Yumi replied. So that she wouldn't become baggage for onee-sama, so that she wouldn't trouble onee-sama so much, she had to grow, too.
"Did our bouton-only talk make you lonely?"
Sachiko-sama giggled, and then she continued, "Shall we go home?"
Rei-sama had run to Yoshino-san, and together they began walking home along the sidewalk next to the school walls. As for Shimako-san, well at first Yumi was surprised to see Shimako-san run like that, but then Shimako-san was simply waving down a bus.
"Sachiko-sama, Yumi-san, hurry."
This bus route was taken mostly by Lillian students, and at this hour there weren't many Lillian students left, so if you missed one, you were in trouble, because the next bus wouldn't come for some time. And so when she noticed the bus lights, Shimako-san had dashed to the bus stop.
"Oh, my."
Sachiko-sama gasped, and she grabbed Yumi's arm and ran. Emulating Shimako-san, the two of them ran to the bus stop and jumped onto the bus.
The bus began moving. When they tumbled into the rear seats of the empty bus, the three of them chuckled to each other, "That was close."
That's why.
Yumi forgot to tell Sachiko-sama.
That if she were lonely, it wasn't because of the darkness. Yes, in truth, she was supposed to have told her that then.