Maria-sama ga Miteru:Volume28 Chapter18
From Baka-Tsuki
[edit]
A Roll of Film
The characteristic smell of the permanent maker accompanied its squeaking sound.
The words I wrote on the roll of film (27 shots) after I'd taken it out of its box were 'Takeshima Tsutako.'
All I'd done was write the katakana that made up her name, but it still made my heart flutter a little. Who knows what would have happened if I'd written out the oh-so-familiar kanji form of her name, instead of giving up on that idea due to lack of space. My heart might have gone from fluttering to pounding, and I may have fallen to my knees.
That'd be no good, no good at all. This was still part of the toilet block, after all, even if it was cleaned every day. Leaning against the wall would be about the limit.
And as for why my heart was fluttering, and why I was holed up, working away in a deserted bathroom after school, all those questions are answered by the one reason.
And that reason is because I am not 'Takeshima Tsutako.' My real name is Naitou Shouko.
And even though I am not Takeshima Tsutako, I wrote Takeshima Tsutako and I did not follow it with the honorific '-sama.' I suppose that would account for the fluttering heart. It's almost the same feeling you get when you write your name next to your bosom buddy's, or you write your first name followed by the last name of a guy you like. Ahh, that's so embarrassing.
It all started with a single statement from a third-year onee-sama (senior).
"Shouko-chan, you'll be displaying something for the photography exhibit, right?"
"Huh? No, don't be absurd."
The onee-samas may have called it a photography exhibit, but it was part of the 'Third-years' Send-off' and a group display that we could either choose to participate in, or not. Since our photography club had responded to the request for participation promptly, we'd already been allocated our space.
"If a newbie like me were to display her work, it would sully the good name of the photography club."
"Oh, but you've been paying such close attention to how Tsutako-chan works, haven't you?"
The five third-years exchanged glances and laughed. I can stand up to them when it's just one-on-one, but it was more intense encountering all of them in the photograph club at once. It felt ominous. Although, having seen the list of photography club members, I knew that not all of them were here yet.
"I don't pay close attention to her, that's absurd. I just take care to make sure I'm not getting in her way."
I backed away, smiling insincerely. It looked like I wouldn't be able to match wits with them, since they were two years older and almost adult women.
"Well. Okay. But about the exhibition. Even though us third-years are participating, it's for the 'Third-years' Send-off,' so the feeling of starting a new chapter in your life is important. We want to be in a position to congratulate our adorable Shouko-chan on her memorable display."
"Haa."
What she was saying sounded plausible enough, but the onee-samas only thought of me as a new toy.
Tsutako-sama was a year younger than them but still didn't hesitate to call herself the 'Photography Club's Ace.' And since they couldn't find a gap in Tsutako-sama's defenses, they instead took great delight in alternatively teasing and caressing (who they thought was) her henchman, ie. me. You could even say it was a warped form of affection.
Like today, they'd banned the second-years from coming to the clubhouse because they said they were going to be developing some photos, but they sweet-talked me into going with them (by saying, "Tsutako-chan will be there too,") when I was walking down the hallway. But when I entered the club room, far from developing film they were having a candy party. At this point, nothing would shock me.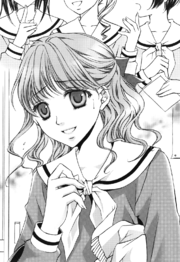 "It's not about good or bad, it's the thought that counts, right?"
Timidly, I sought confirmation.
"That's true."
One of the onee-samas grinned, then added:
"But it can't be bad. Because it's the thought."
She had confirmed my crunch-time guarantee, but that's the sort of thing you'd expect from a wily old third-year student. In the end, no matter how I struggled they were easily able to maneuver me around. It was even their preference that I refer to them as onee-samas.
"Ah, right, right."
When I was about to leave, one of the onee-samas called out to me.
"Like we were saying, you can't ask Tsutako-chan for help on this one."
"Huh?"
I hadn't even thought about that, but it still upset me that they kept warning me not to get Tsutako-sama to help.
"You'll be fine. We'll help you with developing the film. All you have to do is take the photos by yourself, and bring the film here. Of course, those photos have to be ones that prove to us, no, to everyone that sees them, that you took them all by yourself."
I felt uneasy when they gave me an unused roll of film.
"But how will I … "
Be able to prove that I took them all by myself?
"Don't make that face. You'll work it out, if you think about it. There's at least one way of doing it."
"Huh … ?"
A biscuit was jammed into my open mouth.
"Ah."
As I munched on that confectionery shaped like the door on the second floor of the Rose Mansion, I left the clubhouse behind, almost tumbling out the door.
From there I ran to the university store and bought a permanent marker, then returned to the school grounds and entered the toilet block, where I have just opened the box of film that I was given.
The characteristic smell of the permanent maker accompanied its squeaking sound.
The words I wrote on the roll of film (27 shots) after taking it out of the box were 'Takeshima Tsutako.'
For the next couple of days, I'm going to walk around with this film in my camera.
The significance of the name 'Takeshima Tsutako' written on the film is that I intend to fill it with shots of her.
Without Tsutako-sama noticing. Just thinking about it excites me.
At this point, I still don't know what an ordeal it will become.
I can't even imagine the sort of fuss that the completed film will cause.