Maria-sama ga Miteru:Volume19 Chapter3.4
From Baka-Tsuki
[edit]
Masumi
She knew about that person from early on.
For the year of her third year in middle school, Masumi was aware of that girl on the train.
*
She watched from the side, holding the same handrail as always. Of course, not that she thought that way, it might just be a convenient circumstance. She might have been looking at the glass window behind her, watching the changing scenery.
Still, every time she looked up, she met that girl's eyes. Therefore, as soon as they came close to the girl's station, she took a book out of her bag.
On the way home from the station, she stood in the same place. It was near the stairs, so when the arrival chime sounded, signaling that they had reached home at last, she could fly out the open door, was how she saw it.
And for that same space of time, Masumi kept her eyes down on the book. Despite her concentration on any given day, the contents never entered her head.
Once she saw the girl off at M station, with a relieved, not unsatisfied feeling, Masumi would ride the shaking train to the station nearest the school.
As she sat and rocked, she would always think.
What was this feeling?
She didn't know her name. She didn't know her age. All she knew was that she always took the train from the station to Lillian Jogakuen. That's it.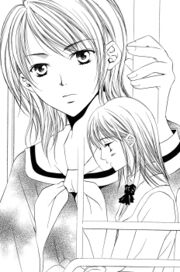 However, did she really need to know more than that? They were two people who passed time every morning in the same train. That's it.
Was that it, really? Every day Masumi's thoughts progressed little by little.
Certainly, it was "this relationship, that's all" for her. Whether or not she could apply it to herself, that was another thing. Just, from the time the door opened and she confirmed that it was her, during the entire time they passed together, she considered the girl's existence, watching her from behind. She seemed to have feelings that were not contained in "this relationship, that's all."
That girl wasn't the only one that rode the same train as her every morning. The salaryman who sat in the seat next to her, the OL that sat across from her, they were unconditional.
However, the only one that interested her was that person.
Maybe it was the Lillian school uniform? Thinking about that, Masumi thought it was close to the answer. When she imagined herself in a Lillian uniform her heart raced.
When it became autumn, Masumi began studying for exams for a school that was attached to a high school. She squeezed into Lillian Jogakuen.
It became spring, Masumi was wrapped in Lillian's pure uniform, it was the day of the New Term Ceremony and as usual, she got on the train a little early. She had time since it was the very first day, but she made herself the excuse that she wanted her uniform figure to be seen by that person.
If it were just some strange girl in a uniform, she probably wouldn't remember a thing but, since it was the same Lillian uniform, maybe she might say "Hey," and become interested. She herself has a sense of incompatibility, since on the other hand she didn't want to expose herself, Masumi thought. If she waited until she became used to this uniform, like any part of her body, she wouldn't have the courage to step out in front of that person.
Masumi sent a message to heaven that, at the entrance ceremony, the homeroom teacher quickly assign her some work to do. And then, a classmate hurt her leg during spring break and she was able to provide support on the school commute. That girl, Tsukiyama Minako-san, and Masumi's house were technically separated by a town border line and in that sense were distant, but in a straight line were about a hundred meters apart.
"Sorry about this, so soon after the entrance ceremony," Minako-san said, while on crutches. "You having to say no to various club activities."
"It's fine, really. There are no clubs I want to join anyway. Any that I'd want to join, I could join any time, I think. There aren't that many clubs that you can't join midway right?
"But, if you want an onee-sama, it's better to get in early. It would be troublesome if Masumi-san didn't meet her fated onee-sama because of me."
"No way."
She hadn't ever really thought about the onee-sama thing. But, when she heard "onee-sama" something popped into her mind. That thing was that person's face.
"So, don't let me hold you back."
"But, it will be hard for you to go home alone."
"This is bad. You coming with me to and from school. For a little while, since you've decided, thank you for kindness."
Because that was the way Minako-san was, they had quickly become friends. When she had moved up from middle school, she knew a lot about the school, so she had taught Masumi, who had come from another school, many things.
In the morning, if you looked forward through to the train cars in front, there were many Lillian students; because she was a little embarrassed to meet that person, it was okay that she was away from her usual train car.
The uniform, which seemed a borrowed thing, sooner or later became familiar to the skin, and the greeting "Good day," too, putting one's hands together in front of Maria-sama became natural, and Minako-san, able to walk without crutches, said "Thank you" to Masumi and gave her a very pretty handkerchief, when she was liberated from the work of holding her bag.
As soon as Minako-san no longer needed assistance, she immersed herself in the activities of her club. It was the Newspaper club.
Then, since she did not need to be with Minako-san, Masumi rode her usual car for the first time in a while. Was the person there? They never passed each other in school. Maybe she had graduated?
However, she was there.
Although she had been riding train cars crammed full of Lillian students for two months, and had gotten used to seeing that uniform everywhere in the school, the absolute truth was that she still could not look at the person calmly.
She felt admiration for the Lillian school uniform. Perhaps, now that she wore the same uniform, the feeling that she felt was merely wanting to go to the same school.
Shirakawa Yasuko.
The name she introduced herself with was kept as something precious in Masumi's heart. She learned she was a second-year student, and something swelled within her, unrestrained. However, as she left the station, that hope withered.
"Onee-sama." Hayashi Asuka, from the same class as she, came running up to Yasuko-sama, waving.
Asaka-san had fallen for her at their first conversation outside school, she had heard from Minako-san.
Asaka-san introduced the two of them. It was revealed that they had already introduced themselves, that that wasn't necessary and with a light greeting, they parted.
No, Masumi ran away.
Watching Yasuko-sama and Asaka-san's relationship while on the swaying bus on the way to school. She didn't think that she would be able to endure that at all.
Rather, she thought about changing the train car that she rode. On second thought, she wanted to do no such thing.
She understood clearly from the moment of Asaka-san's appearance. Masumi did not want to commute to Lillian Jogakuen with her. She did not want to become Shirakawa Yasuko's soeur.
After a week or so of traveling to school two cars behind, on that day, the figure that had not been there in the car was seen.
"Why?" Yasuko-sama had said, standing next to her.
"Are you worried?"
With only those words, she understood what it was that Yasuko-sama wanted to say. However, until Masumi knew how to answer, she would remain silent.
Why did you change the car you rode? Because that made meeting with Yasuko-sama hard.
But in regards to are you worried about Asaka-san, that she didn't know how to answer.
On that day, when Asaka-san, walking on foot, had come to meet her at M station, something had changed.
Yasuko-sama's soeur was Asaka-san, so why did she say she didn't want to be Yasuko-sama's soeur.
The doors of the M station opened, and from behind Masumi Yasuko-sama spoke. "Since you don't want to see me, I'll be changing train cars."
In that case, they would be separated, which might perhaps be better. However, Masumi grabbed Yasuko-sama's arm.
"Please don't change."
"Eh?"
"I won't change either. Therefore—"
Therefore.
And so, the two of them began their secret affair.
Every morning, Yasuko-sama would get on the train car that Masumi was riding. When Yasuko-sama arrived, she would hand her bag to Masumi, and the two would talk, spending the time until the station gazing at each other.
From the station was the bus.
They would embark together, but hardly a word passed between them. If either of them had classmates riding on that, they would separate naturally and speak with them. Even if they didn't meet an acquaintance, when they got off the bus, they would walk a little separate from one another.
They did not consult with one another. During their time together, it was a rule that seemed natural. Masumi was happy enough with that.
Even when it became summer vacation, she did not feel lonely. Yasuko-sama was equally not able to go to school.
Speaking of summer vacation, until last year, when she was liberated from studies, it was a dream period when, as long as she finished her homework every day, she was free to do whatever she wished. Stay over her grandparent's house for a long time, watch several movies in succession, spend a whole day in the pool.
However, this year, no matter what she did, her heart wasn't in it. She wondered where, what was Yasuko-sama doing about now.
A visit to a senior citizen's home, reading books in a children's hospital ward, taking a course in sign language, or maybe she was helping to clean up the public park. Summer vacation notwithstanding, those would be Volunteer club-like activities. Even though at the same time she had made the pledge to be soeur, Asaka-san had entered the Volunteer Club, maybe she was not participating in these activities.
Masumi thought about what it might be like if she had become a little sister. Just like Asaka-san, she would surely have followed her onee-sama and have joined the Volunteer Club, doing activities together with her, no doubt.
When she thought about it that way, she unbearably envied Asaka-san. She totally wanted to be in the position that girl was in, she thought.
However, it is meaningless to envy others. Because the truth was, Masumi could not replace Asaka-san, no matter how much she wished for it.
Lonely, lonely. Still, she did not call her on the phone.
If she called, what on earth would she say?
If it were her soeur Asaka-san, she could probably call with nothing particular in mind. However, she wasn't in such a position.
In the morning, the two of the rode the train together. There was no name for a relationship like that.
On the afternoon of the day that she heard that the Volunteer Club had an activity, Masumi finally came to M station.
Using the same train. Since that was all that connected the two of them, in her heart she prayed silently, as people came and went and were seen off through the ticket barrier.
Checking with her wristwatch, it was just about one o'clock. However, the time she was waiting wasn't wasted. The time she was waiting was wholly consecrated to Yasuko-sama. Each and every second felt as if it were precious.
Before long Yasuko-sama's form appeared at the top of the North Exit stairs. And, when she saw Masumi, she stopped where she stood, her mouth open a little.
She had completely understood, even from the distance.
The complete truth.[1]
Masumi nodded. And then, she ran. From the ticket gate on the left edge to the ticket gate on the right edge. Thrusting the waves of people aside.
Yasuko-sama also ran. Toward the ticket examination and Masumi.
The two of them didn't see their surroundings at all. After a moment, as their extended their hands to touch one another, the ticker barrier prevented it.
"It's no good, you didn't put in a ticket or commuter card." The station attendant said with a smile, his words completely dragging them down from heaven, Masumi felt.
That day, Yasuko-sama had come to M station to buy a pendant in the station building. The teardrop-shaped glass beads with which the show window were decorated were beautiful, and while they were looking at them, she made a present of them. It was an inexpensive item but, she was happy. Although she was happy, she did not smile and say "Thank you very much."
This was the rosary that Masumi took. Therefore, as she thought about the issue with Asaka-san, her chest hurt.
Yasuko-sama also did not smile. The two of them, as they rode the train home together, held each other's hand tightly in silence. The two of them shared this crime.
Masumi came to hate school events. Because when it came to school events, soeur would often act as a unit. The Hakama race during the Sports festival, wandering the school during the School Festival. Being by herself wasn't painful. Yasuko-sama and Asaka-san as soeur, it became ever more unpleasant as she encountered it.
Christmas was coming; Asaka-san brought a ball of wool yarn to school. It seemed that she was knitting a scarf for Onee-sama. It wasn't only Asaka-san who was knitting. Classmates who had onee-sama were beginning to make small articles as previously arranged.
"Masumi-san, why don't you make something too?" Asaka-san said one day at break, to lessen Masumi's boredom.
"But, I don't have anyone to give it to."
"If that's the case, keep it for yourself."
In reality, she did have someone to give it to. However, she would be sure not to hand it over to Yasuko-sama before Asaka-san gave hers.
"Keeping it for myself seems kind of lonely." Masumi shook her head and stood. She looked hatefully at Asaka-san who did not know anything. "May I give it to your onee-sama?" Before those words could fly from her mouth, she retreated.
Heading to the bathroom, shaking, she kept looking over hear shoulder, trying to remember with all her might how many pairs of eyes watched while she and Asaka-san had spoken.
When Christmas was over, she could not relax; Valentine's Day occurred.
Where a scarf was impossible, chocolate that had not reached the mouth was forgivable. In the world, the concept of obligatory chocolate exists.
Today after school. "Won't you come to the old greenhouse?"
Masumi inquired while on the train. Yasuko-sama, who of course understood what was meant, said, "I understand," and nodded.
She could have handed it over on the train, but she didn't like that. She didn't have the luxury of doing it in front of the statue of Mary. Any corner was fine. She didn't know why, but Masumi wanted to hand the chocolate over in school.
[edit]
Translator's Notes
↑

(E: This word is "masumi," written in hiragana, not in the Kanji for Masumi's name.)