IS:Volume2 Chapter1
From Baka-Tsuki
[edit]
Chapter 1:Boy meets Boy
On the first Sunday.
I went outside IS Academy--or more accurately, I went to Gotanda's residence.
"So?"
"So? So...what?"
Ugh, talking to me while we're playing a fighting game! Cheh, UWAH!! A super move on me! Damn you, don't get cocky!
"C'mon, of course I'm talking about the all-girls school. There should be many good things over there, right?"
I've told you so many times, no! How many times must I say it before you get it?
Let me explain. Gotanda Dan here, is a friend of mine from middle school. The day we first met, we kicked it off quite well. Also, during those 3 years, Rin and us were in the same class, so during middle school, the 3 of us often hung out together...
"Stop lying. I can tell that you're lying from those messages! What, don't you have a ticket to that kind of Heaven?"
Who would, you idiot?
The school I'm studying at right now is a special independent High School that's managed by the country--'IS Academy'.
IS--formally called 'Infinite Stratos', is a multipurpose unit that was designed for space exploration, but right now, it's used on earth, and it's even used by many countries for military weapons.
The person who invented the IS was the older sister of that childhood friend of mine, who seems to be hiding something. It's really hard to explain it, so I won't. The thing is that IS can 'only be used by women'.
On a side note, I'm just a normal boy.
But for some reason, I--Orimura Ichika, am half-forced to study in IS Academy as the only 'male' in the world who can pilot IS, so right now, I'm living a dormitory life with all the students, teachers and staff, who are female.
"Speaking of which, about that, it's great that Rin transferred in, otherwise i wouldn't have many people to talk with..."
"What? You're talking about Rin? Rin..."
Hm? What? Why is this he sneering at me? He's so weird.
"Alright, I win!"
"WAH! USELESS STUFF! WHO WOULD USE SUPER MODE TO KILL AT THE END~~..."
On a side note, we're playing 'IS/VS'. It's a game that broke a million sales within one month. Oh yeah, the game uses the second Mondo Grosso data.
...Well, for some reason, Chifuyu-nee's data wasn't included in it.
"Italy's Tanbesta's really powerful! Or rather, really violent."
"You should change characters once in a while. Like England's Milton or something?"
"Nope. That one's ridiculously hard to use, her moves are weak, and even the combos are weird."
Oh yeah, as the company that produced this game was from Japan, one could expect the other countries to voice their discontentment, saying 'Our countries aren't that weak!'.
Thus, the harassed video game company actually increased the specs of each IS in its respective country, and sold them separately in 21 countries. They managed to sell it well just because of that.
Speaking of which, to actually manage to make 21 versions of the same game just by tweaking the specs, they sure can earn lots here.
But in the World Cybergames Tournament, every country wanted to use their own country's version and started arguing over it until the tournament was terminated.
"Then, let's get back on topic. As for Rin--"
Just as Dan, for whatever reason, brought Rin up again, someone interruped him.
"Onii[2A 1], hurry up and come eat already. Lunch is ready--"
Kicking the door down and walking in is Dan's little sister--Gotanda Ran. She's a year younger than him, and is now in her senior year of middle school. She's said to be an honour student in a prestigious private girls' school. Hm, she's really different from her older brother.
"Ah, hi, long time no see. Sorry for disturbing you here."
"I-Ichika...san!?"
As expected, girls dress up like this when they're at home, huh? Ran's shoulder-length hair is tied back with only a hair clip holding it from behind, and she's wearing shorts and a sleeveless vest. It's really a get-up that focuses on functionality.
But maybe I've gotten too used to it, since at IS Academy, I sorta see everyone dressed up so skimpily.

And maybe because the weather's been getting too hot lately, the girls have been wearing clothes with a low neckline, and besides, in such an environment where there's no guys other than me looking, it seems like no one wears any bras indoor, either due to liberty or to openness. To be honest, the awkwardness of having 'girls finding me blocking my eyes while being unable to decide on where to look' can't be described.
"I-It's not that, well, you were here...? I heard that you went to a boarding school..."
"Oh, that's right. I had something to do today, so I went out. I wanted to check up on my house, so I thought that I should drop by."
"I, I see..."
However, Ran's always been like this. Why is it that she would stutter and sound so respectful all of a sudden? That's weird.
"Ran, you could at least knock, right? You'll be considered a shameless woman--"
*Kling!* Ran instantly shot a glare.
Oh! Dan curled up already like Super Ma**o. The difference in battle prowess between those two is obvious.
"...Why didn't you tell me that he would be here..."
"Oh, wait, I didn't tell you? Sorry, my bad. Ah hahahaha..."
"..."
*Klong!* Ran again shot a glare at Dan with the intensity of a knife being thrown at a corpse, and then frantically left the room.
"If, well, if it's alright, please join us for lunch, Ichika-san! You aren't leaving yet, right?"
"Oh, sorry for the inconvenience. Thanks."
"It, it's alright..."
*BAM!* After Ran slammed the door shut, silence then filled the air.
Speaking of which, what about a skit of the 'Hot-blooded Siblings Dan and Ran?' Can't they air it on the Sunday morning timeslot? Most likely not.
"But I have to say, I've known Ran for 3 years, and yet it seems like she won't open up to me."
"Ha?"
Allow me to go off-topic for a while. Don't you feel that guys who call younger girls with a 'chan' are impressive? I can't do it, even if it's my friend's little sister. I have reservations about it, which is why I prefer to call them by their names.
Now that I recall it, the person involved did say 'It-It's okay' and agreed to it.
"That's not it. Don't you find that she's rather courteous to me? She just left the room so quickly."
"..."
Well, Dan sighs, and then exhaled.
"...What?"
"Nothing. Sometimes, I really wonder if you're like this on purpose."
"?"
"Well, it's good if you don't notice it. I don't wanna have a younger brother at my age."
"What are you talking about a younger brother, that came out of nowhere? That's ridiculous."
"Oh well, it's nothing. Anyway, wanna go out after lunch?"
"Oh, that's great. So you're treating me to lunch? Thank you~[2A 2]"
"What are you getting so worked up for, we're eating the leftover set meals."
I see. So we're eating that super sweet pumpkin stew set meal. But even so, I won't throw it away; things like rice are earned with so much hard work, so I have to be thankful to the uncles who worked in the fields.
"Let's go downstairs then."
We left Dan's room and headed downstairs, through the back door and then took a turn to the front door of the dining area.
Even though it's troublesome, Dan did say before that 'thanks to this set-up, our private lives won't be affected by the business'. Normally to people, the definition of a family is just to make the people who're staying in the house feel comfortable. Doesn't anyone feel that a house that's set up so nicely in TV is hard to live in? No wait, the most important thing is that the residents find it comfortable. I'll leave out the rest.
"Eiyah!"
"Hn?"
"..."
Dan let out that voice of disgust, and I peered over from behind him to look.
Our lunch's already prepared and laid out on the table, and someone's already sitting there.
"What? You have some complaint? If you want to, onii can go eat alone outside."
"Did you hear that, Ichika? Those super gentle words make me wanna cry!"
Sitting over there is Ran. And I suppose it isn't really brotherly of me to play along with Dan who's acting like he's wiping his tears off.
"It should be alright for us to have lunch. Besides, there are other customers around. Let's hurry up and sit."
"That's right, baka nii[2A 3], hurry up and sit down."
"Okay okay..."
And thus, I, Dan, and Ran sat down in order at the table...hm? That's weird.
"Ran."
"Wh-what is it?"
"You changed clothes? Are you going out later?"
"Ah, it's nothing. That's because...well, this, that..."
Ran's home get-up disappeared, and she let her hair down, giving off an impressive shine. As it's June, she's wearing a short-sleeved dress. The body that's covered by a thin clothing gives off the radiance of a teenager's youthful legs underneath the dress. As for the black stockings that look like some decoratives, those who are into that should really like this, right? Well, I'm not really sure about it.
"I got it!"
I thought of it, and a light bulb seems to light above my head.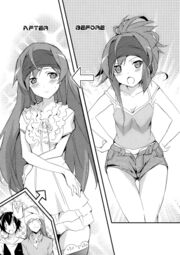 "Are you going on a date?"
*BAM!*
"That's not it!"
Woah! She stood up to deny it! This is bad, did I step on a landmine or something? They say that the Japanese lack awareness in terms of danger; I will die if this is a battlefield. I really lament my own immaturity.
"So-sorry."
"Ah, it's nothing...an-anyway, it's not a date."
"And you say that you're not. As your older brother, that's the last thing I want to hear from you. Besides, it's only once in a few months that you would dress up like that--"
*PA!*
The iron claw strikes over. Is that the so-called shut-up attack? She's actually holding down Dan's breathing; that's a scary technique, where did she learn it from? The famous private girls school even teaches assassination skills to go along with self-defense?
"...! ....!"
"(Klu klu klu!)"
And then, both of them exchange looks. Dan's giving a painful look of a criminal begging for forgiveness, nodding away at Ran, who's glaring at him with an ice queen glare.
Even so.
"Well, you two have quite the nice relationship here."
""HAA!?""
Ohh, their voices finally overlap! On a side note, the word 'harmo' (overlapping voices) came from the word 'harmony'. Well, can't they just use the word 'mony' (resounding voices)? Or if they want to, 'harmy' (overlapping sounds) can do.
"You brats, if you don't want to eat, hurry up and get out."
"Ku, we're eating, we're eating!"
Silently appearing without anyone notcing is the head of the Gotanda family that runs the Gotanda eatery, Gotanda Gen, who's still in great shape despite being over 80. His long-sleeved cooking uniform is rolled up to the shoulders, revealing his muscular biceps. He can move two Chinese woks at one go, and those biceps are tanned due to the exposure to heat after so long. This really feels healthier than going to the beach 100 times.
On a side note, I've gotten punched by him a few times, but the power definitely can't lose to Chifuyu-nee. Well, better start eating.
"Itadakimasu."
"Itadakimasu..."
In order, the ones who said those were me, Ran, and Dan.
"Oh, start eating."
Grandpa Gen nods in a rather satisfied manner as he continues to fry another dish. It seems like some customers ordered a Gotanda's eatery specialty 'Wildfire Roasted Vegetables'--and there's a double entendre to it. *Tatatatatatatata*, the light-hearted sound of the vegetable knife being knocked down can be heard from the kitchen.
With the sound of the vegetables being fried acting as background music, we start to talk while eating. If we continue to eat and talk, the iron wok will fly over, so we have to follow the customs here.
"Oh yeah, Ichika. You said you and Rin...eh, and who else? The first childhood friend? So you reunited with her?"
"Oh, Houki."
"Houki...? Who's that?"
"Hm? She's my first childhood friend."
And so Rin's the second childhood friend.
"Ah, that..."
For some reason, Ran's expression just got somehow stiff. Was there a same-sex repulsion because their names are so similar? Hold on, does same-sex repulsion refer to this?
"Oh yeah, Houki and I once lived in the same room, but we are no longer--"
*BAM!*
"IN, IN THE SAME ROOM?"
For some reason, Ran got confused and stood up without a warning, as the chair behind her collapses backwards.
"What, what's going on? Calm down."
"Yeah, you should calm down there."
*Klang!* With another sharp glance, Dan seems to have shrunk like Super Ma**o.
On a side note, grandpa Gen really dotes on Ran. If we were to flip the chair like what she did, the ladle would have flown over.
"I-Ichika-san? Living in the same room...that means, you ate and slept together?"
It's really an old saying, but Japan has always been a country that values traditions, so Ran's actions can be considered a virtue--report over, I end this report without even understanding what I just said.
"Hm, maybe. Ah, but that was until the end of last month. We aren't staying in the same room now, and that's to be expected."
Today's fried beancurd's really good--
"You, you two stay--stayed together for more than one and a half months?"
"Mn, sort of."
*BAM*... I seem to hear a huge blow, or maybe that's my imagination.
Speaking of which, Dan-kun, can you please tell me why are you sweating crazily? Do you really have skin that sweats a lot?
"...Onii, we'll talk later..."
"Well, I-I'm going out with Ichika later, so...hahaha..."
"Then, tonight."
A tone that doesn't allow any refusals. I remember that Ran's the student council chairman in the school of ojous[2A 4], so she got affected by them? Anyway, for some reason, I find her intent really sharp.
"...I've decided."
Yes, what did you decide on?
"I'm taking the IS Academy entrance exam next year."
*Gakunk!*
"What, what are you saying--"
*Bikonsu--gan!*
Wow! The ladle hit Dan directly on the face, and the floor trembles due to the chair falling backwards.
"Wha? Why do you want to go there? Isn't Ran's school a direct path to university? Can't you get into some super good university?"
It's just that I can't remember the name of that school.
"No problem. I can get in with just my grades."
"But IS Academy doesn't accept school recommendations..."
Dan wavers as he stands up. Though his Hit Points are low, he recovers fast--that's the hidden skill of Dan. However, that's meaningless anyway.
"Unlike my onii, I just need a notebook."
"No, but...that, that's right, Ichika! They have a practical test right?"
"Hm? Ohh, that's right. There's a 'IS initiation test', and it seems like those who aren't suited at all will be rejected."
On a side note, the initiation test basically estimates how the candidate would start, and then uses the result to set the level of the candidate when they enter the school. My battle with the instructor (and apparently, it was Yamada-sensei) was like that.
"..."
Ran silently takes a piece of paper from her pocket, and Dan receives it and opens it.
"Gack!"
What, what just happened? Did Guan Yu just arrive? I haven't even heard the gong!
"IS suitability test...result--A..."
"Problem solved."
Wooah! That's a cool line! I want to say that at least once in my lifetime.
"That seems to be some test for those interested, right? I remember the government used it to gather IS pilots."
"That's right! It's free."
It's free. It doesn't matter whether there's too much of it as long as it's free. Grandpa Gen continues to nod away.
This person really dotes on Ran...
"So, so then,"
Ahem. Ran clears her throat and gently returns back to her seat.
"So, so Ichika-san, please guide me through as my sempai..."
"Oh, okay, that's if you get in."
The moment I agreed heartily, Ran happily stood up.
"Then, it's a promise. You must, definitely, definitely abide by it!"
"Oh, okay?"
I got held down somewhat by her pressure and nodded twice.
"Hey, Ran! How can you just choose to transfer schools like that!? Isn't that right, mom?"
"It's okay, there's no problem. Ichika-kun, I'll leave Ran to you then."
"Oh, okay."
Speaking of which, Gotanda Ren-san's the self-proclaimed mascot of the Gotanda eatery. Her age's a mystery, and it's said that 'my age won't increase after 16'. She still maintains a smiling face--people would say that a smile can make them prettier than their actual looks, and that's true. She's really a huge beauty today.
"WHAT'S WITH THAT!?"
For some reason, Dan was getting agitated alone. Who are you going up against?
"ARGH! I CAN'T TAKE IT! DAD'S NOT EVEN AT HOME AT THIS TIME! IS THIS REALLY ALRIGHT, GRAMPS!?"
"Ran made the decision herself. Nobody else has the right to argue."
"No, but--"
"What, Dan, you have any comments about it?"
"Nothing--"
Ahh, this guy's really weak. If it was me, even if the other person's a relative, I would viciously argue back when I have something to say.
"Do you really think that you can beat your own sister?"
Yes, I do remember how my only relative is like. Pardon me, please allow me to take that back.
"Well, that's decided. I'm done."
Unknowingly, Ran finished her meal, stacks the chopsticks neatly, place her hands together to say grace, and stands up from the seat. Of course, you have to clear your own dishes.
Ohh, Ran may become a good wife in the future. Anyone who becomes her husband in the future should have a good life.
"Ichika."
Dan cautiously brings his face over, and for some reason, whispers to me,
"You better get a girlfriend now, immediately!"
"What?"
"Hah?"
"What do you mean by that, hurry up and get one! This year--no, in this month!"
Why is this guy so agitated all of a sudden? Oh yeah, let me add on. I heard that bulls can't recognise red, right? It's said that humans will get excited by the red cloth, not fighting bulls. I see.
"I have no interest on that."
"You haven't changed at all...you're a withered old man! Because of you, Rin--"
"What's with Rin?"
"No, never mind, Anyway, no matter who it is, hurry up and get a girlfriend! Got it? You hear me?"
What's this guy planning to do? Speaking of which, how did this conversation begin in the first place?
"Speaking of which. Since when were you interested in girls? I know, you're the kind that finds yourself cool and popular, right? Stop messing around, you bastard!"
"What are you getting so angry for?"
"I'm not!"
Doesn't sound convincing. You're the kind who'll shout 'I'm not drunk' when drunk, right? Well, I don't really know myself. I've never drank alcohol anyway.
"Onii."
That's strange, Ran came back. For some reason, I feel the air temperature drops.
"Oh, ooooooo, I'm here, whhhhhaaaattt's up?"
Dan's trembling, is he feeling cold?
Thus, I turn to look at Ran.
--For a moment, just for a moment, I clearly saw an Asura embedded deep in her eyes.
'Don't get involved in this'
Her eyes are clearly saying this. As for the guys who came here to watch, it seems like she can just use a finger--or just a glance to knock them down.
"We-well, I'm leaving then."
Finally recovering, Ran hurriedly leaves.
Dan is stunned. Was he just frozen? Well, doesn't matter, the weather today is warm, so he should thaw out soon.
"Oh yeah, almost forgot. I can't let the food that others have prepared for me go cold."
Though the pumpkin stew's as sickeningly sweet as ever, the flatfish that's cooked together with chili tastes just right. How can I make such a perfect taste? Better get them to teach me next time, I should let Chifuyu-nee try this.
"...The...face..."
"Hm?"
"WHY ARE YOU SO POPULAR!? IS IT THAT FACE? IS THAT FACE THE COOL AND POPULAR KIND? I HAVE THE COOLNESS, SHARE SOME OF THE POPULARITY WITH ME!"
That's enough! Stop uttering rubbish.
"YOU'RE TOO NOISY, DAN!"
"Yes, I'm sorry."
With grandpa Gen shouting, Dan quickly kneeled down on the chair and greets. That's a product of good teaching, or rather, training? Besides, after training for so long, even the king of beasts can leap through a fire hoop.
"Ichika, I'll battle with you later."
"Yeah sure, what?"
"Air hockey."
He actually chose something he has lost 10 straight times in. Is this the so-called not admitting defeat...such he's prepared, no problems!
"Don't think I'm the same man from middle school, Ichika!"
With burning flames rising up behind him, he looks like a dragon who's about to fly into the sky. Expecting a fierce battle, I tightly clench my slightly trembling left hand.  
◇

"Ahh...my hand's all numb now..."
Maybe I thought too much, as there wasn't a rising dragon. Just today alone, I managed to increase my winning streak to 16 times. Speaking of which, Dan, more than half of the wins were suicides on your own part...
"..."
It's past 6 now, and having returned to my dorm room, I'm lying on the bed, resting. I shake my arm that's somewhat tired and naturally look towards the bed beside me.
Houki was still there last week, and now she moved to another room. I guess it's too big for one person.
"Uun..."
But why did she say that all of a sudden?
I remember the day when she switched rooms--just when I thought that she was coming back, she suddenly made a declaration and then ran away like an escaping rabbit like a tornado just swept by.
(And the Individual Division tournament she talked about is in this month...)
I check the calendar that's hanged on the wall.
The individual division tournament--
As its name indicates, it's an individual tournament, and it will be held the entire week. As for the reason why, it's because everyone's required to take part.
Each grade has about 120 students. As there are so many people taking part in it, the scale of this tournament's pretty big. The school will use this chance to assess the talent level of the first years, the growth and learning abilities of the second years, and the in-depth combat abilities of the third years.
The third year tournament is all the more important--forget about the scouts from the IS related enterprises, even the high-ranked officials of all the countries seem like they will be here. This makes me realize and admire that fact that I've really entered an amazing school.
(Well, anyway, got to work hard. I have to be active enough so that I can be at least on a level where I can at least make Chifuyu-nee proud.)
Last month, the class representative tournament was suspended for that attack, and everyone got ordered not to say anything about it. As for me, Cecilia, and Rin, who fought the enemy directly: we were even forced to sign an oath.
(What was that anyway?)
Even though I can't understand it even if I continue to think about it, I still can't stop myself from thinking about it.
Suddenly, I raised the right hand that I used to play with just now and brought it in front of me.
Rolling up the sleeve, the gauntlet that's was strapped onto the skin reveals itself.
That's the standby mode of my IS 'Byakushiki'.
It's really hard to imagine that it's the control for some really powerful weapon. In standby mode, it's extremely quiet, or rather, it's asleep, though I don't really know whether it has the idea of sleeping.
(At that time, Byakushiki told me that 'that's unmanned'.)
Though I tried so hard that I forgot about myself, but I could still feel it. On a retrospective, I recall that there was something that felt like a 'report'. It seemed like Byakkushiki sent it to me.
Even though there's no concrete evidence, I had that feeling.
(Oh well, can't change anything now no matter how much I think about it. Better go get dinner.)
I get up from the bed and walk towards the door. Just as I'm about to put my hand on the door handle, I can hear some knocking on the door.
"Ichika, are you there?"
"Yeah."
The moment I opened the door, I see Rin standing there.
"Do, don't just open the door like that so suddenly! That scared me!"
Huang Lingyin, my second childhood friend. She's the pilot of the personal IS 'Shenlong', and she was my classmate before she went back to her home country. She has the lively twin ponytails and a flat chest--ha, better not think about it. For some reason, my thoughts are often being seen through, so I'm rather mindful about that recently.
"Wh-why are you staring at me like that..."
"Oh, it's nothing, nothing at all."
I said that as there was really nothing wrong, but Rin muttered 'I'm alright with that...'. What does she mean by that?
"Oh yeah, I'm going out for dinner now. Anything you want, Rin?"
"Fufuu, I thought as much, so I intended to get you alone. I'm someone who will bring a stray dog back after seeing it on a rainy day and feel that it's pitiful!"
Am I a dog?
"Well thanks. Let's go to the cafeteria."
"Okay."
Rin and I walked out. As it's dinner time, a lot of students opened their doors and walked out.
"..."
There are still many girls dressed in homestyle, and I really don't know where to look. Shorts, tank tops, and no bras...what should I say? Please be more mindful of how the opposite gender will look at you--
"Oh, it's Orimura-kun. Hello--"
"Whaaa!? O-Orimura-kun!?"
A scantily dressed girl waved at me happily after she found me. On a side note, her name is...eh, Nohohon-san[2A 5] (for the time being). In the dorm, no matter what the time is, she'll always be wearing a wide and large nightgown, and at the moment, she will always use the hands hidden in her sleeves to wear it properly. She looks like she's going to tumble any minute, and that has left a deep impression on me.
"Yo, Orimu--"
"You're using this nickname?"
"It's been decided! Also, you're eating together with me and Kanalin~~"
This Nohohon-san (again, temporarily named as such), will always stick to me about 20cm away from me. This image should be similar to that--a mini puppy wanting someone to play with it and then using both feet to approach the guest.
"Unfortunately for you, Ichika's going to have dinner with me."
"Wa--it's Ling Ling. You're so brave~~
"Do-don't call me that!"
Slightly agitated, Rin's voice sounds somewhat crazy, but Nohohon-san isn't affected at all. Is this what they mean by wasting one's own breath?
Let me add on. When Rin was in elementary school, her name was often a joke among the guys in the class. And since she's a Chinese national, there will be scenarios like 'Ling's' the name of a panda, right? Go eat some bamboo.[2A 6]
Let me add on to that, I ended up fighting against 4 people that day, and of course, I got severely reprimanded.
"Forget about it, Rin. Calm down. It's alright if the 4 of us eat together, right?"
"It's not like I don't mind...but oh well."
Hm? Is this the so-called 'I did not-aru'[2A 7]? Damn it, that's a taboo. Mustn't say it.
"Isn't it strange for Chinese to have an 'aru' behind? Who thought of that!?"
She once went crazy because of it, and once Rin gets angry, she'll be angry for a long time. I experienced that first-hand last month during the class representative battle.
"Speaking of which, where's that girl called Kanalin?"
"Uwa--you're right. She's gone--"
Perhaps since she found the home get-up really embarrassing, she used her arms to cover her body and disappeared into the other end of the corridor.
"Ah--...wait for me~"
And so, that Nohohon-san went off in a certain direction. Uwa! She's so slow.
"..."
"What?"
"Ichika, how is it? You're really popular with the girls aren't you?"
"Huh? How did you derive that conclusion? Everyone's just feeling that it's weird having a guy around."
"Is that so...never mind, it doesn't matter."
Rin's expression doesn't look like it doesn't matter. She just hurriedly moves off to the cafeteria.
Ah, really. Wait for me!
◇
"Hey, did you hear that?"
"I did I did!"
"Huh, what are you talking about?"
"About Orimura-kun."
"Good things? Bad things?"
"The best news!"
"I want to listen!"
"Okay okay, calm down? You can't tell the other girls. Actually during the IS tournament this month--"
As usual, the cafeteria's crammed full of pubescent girls. And Rin and I notice the group of people gathered in a circle at a corner.
"Hm? What's going on over there? There's a lot of people over there."
"Maybe they're playing poker? Or maybe some divination."
But even so, today's a lot more rowdy than usual, and there are even squeals. What's going on?
"WHAAAAT!? IS, IS THAT TRUE!?"
"IT'S TRUE!"
"LIAR--! KYA--WHAT DO WE DO!?"
Did something good happen? I can hear squeals and screams all over the place. Hm, but it's good to be happy. If humans can keep their smiles often, it seems like they won't age too fast. Anyway, we'll be struggling a lot in society, so it's better to smile when we can now. At least that's how I often feel.
"Ichika."
"Hm."
On a side note, my dinner's herbal fried chicken, fried mountain greens, omelet and a red spinach miso soup. The taste of the dried fish cake is great.
Rin's food is mostly the same as mine, but she chose clam miso soup. She continues to drink the soup as she says to me,
"You're thinking stuff that old blockheads would think of."
How rude.
"No, that's definitely right. Whenever Ichika thinks of that, your eyes will narrow. What's that about. Are you in deep thought?"
"Shu-shut up..."
Why is she staring at me? That's enough.
"Don't point at others with chopsticks. People will think that you've been raised improperly."
"Doesn't matter. It's nothing too great anyway."
"That's not the problem. You have to learn how to change your habits. Speaking of which, it's because of that that you got scolded by Chifuyu-nee."
"Shu-shut up..."
As expected, it seems like Rin's still scared of Chifuyu-nee, as she really looks somewhat in pain.
"--Ichika, you."
"Hn?"
"...Oh well, never mind."
What is it? Rin swallowed those words that she was about to say out, and seems like she wants to sink it deep inside as she gulps down large mouthfuls of rice.
"..."
"..."
Now that the conversation got interrupted, Rin and I silently continue to eat.
Unbelievably, the moment we stopped talking, no matter how much we chewed, we managed to finish our dinner.
"I'll get tea. Is Bancha okay for you?"
"O-okay. Thanks."
Though she's just helping me, I'm rather happy that Rin's concerned about me. However, Rin's looking unhappy for some reason, causing me to stutter in my response.
(Un, did something make her unhappy? No wait, got to find some way to calm the atmosphere down.)
Is there something we can talk about? I start to search through the forest in my brain--oh, let's talk about Gotanda. Rin probably wants to listen about the middle school friend who she hasn't met in a long while.
"Ah--! It's Orimura-kun!"
"What, really? Where?"
"Let me ask you, is that rumor tru--suu"
In the corner at the room, a girl suddenly rushed up at me after noticing me--hm? What's that rumor about? A girl did say that, but she got shut up by the other girls...
"It, it's nothing, nothing at all! Really, there's nothing at all! Ahhahahaha..."
"--Idiot, didn't I tell you that's a secret?"
"But he's the main guy involved..."
Someone's blocking me while the others are muttering behind her."What rumor?"
"Hn, oh? What's that?"
"I-I say, we can talk about rumors 365 days, right!?"
No, that's not right. That's too long. It's already a year.
"Wha, what are you saying, Miyo!? It's only 49 days!"
No, that's wrong as well. Speaking of which--
"What are you hiding?"
"We're."
"Not."
"Hiding anything!"
They immediately retreated after launching a combination attack, and the process took only 2 seconds. Even I can't tell what's going on, and can only stare blankly as they vanish.
"What did you do now?"
Rin came back. She's holding onto two cups of hot tea that are letting out steam, making it look good.
"Why are you treating me like a problematic person!?"
"Don't you find that you're one?"
...
"Ahh, the tea tastes good."
"You're just trying to escape."
You're so rude! On what basis do you say that!?
"Fuu...a good tea after a meal sure is soothing to me, soothing."
"...Ah, never mind, it's nothing."
After chilling out for a while after dinner, I prepared to talk about Gotanda. Rin must have missed him--or rather, I should have called him along.
"Speaking of which--"
I start to talk about what happened today, and Rin was attentive to what I said until we started talking about Ran. She started to show a dark expression.
"...So, she's going to study in IS Academy?"
"I guess."
"Oh..."
For some reason, Rin and Ran don't really get along with each other. Is it because their names are similar? Assuming that there's someone with the name Ishika appearing in front of me, I'm not confident enough to believe that I can be good friends with him.
"So when she enrolls here, I have to take care of her."
"Oh...HOLD THAT, WHY!?"
Rin slammed onto the table and stood up. Why, why's she angry?
"STOP GOING ABOUT MAKING PROMISES WITH GIRLS SO EASILY!? YOU DEFINITELY CAN'T TAKE RESPONSIBILITY LIKE THAT, ARE YOU AN IDIOT? I SHOULD SAY YOU'RE AN IDIOT! AN IDIOT!"
Woah, she's really angry! Speaking of which, I got scolded by her last month because of another promise.
"No, that, well? Sorry, Rin."
"Instead of apologizing, why don't you just stop making promises so--"
"Ah."
"Ah."
"What are you 'ah-ing' about--ah!"
What's with this scenario? Three people just went 'ah' for no reason...let me add on. I called out first, then Houki, and finally Rin.
"..."
That's right, Houki. Houki's here. Seems like she's here to have dinner. Looking at the time, it seems like she was trying to avoid me...but it seems that I stayed around for too long. Houki looks rather awkward as she looks away from me.
"Erm, hi, Houki."
"We-well, if it isn't Ichika."
"..."
"..."
Damn it, can't continue on.
--Ever since that declaration last month that seemed like there's some emotions, during the time when she moved out, it seemed to be like this between us ever since then. At first, I would try to look for her and find something to say, but she would often answer 'oh' or 'is that so' and things like that, which makes me really tired.
"What is it? Something happened between you two?"
""No! Nothing!!""
--Damn it, I wanted to deny it and made an immediate response, but we unexpectedly replied in unison.
...In this situation, even I can only think 'it's over, we're dead'. Hold on, will others think about anything else? Hm, maybe I'm really sick.
"Are you deliberately giving me this 'we definitely did something' reaction?"
"How is that possible..."
With Rin glaring at me, I inadvertently try to give an answer that sounds like an excuse. However, it seems like I made Houki unhappy somehow, as she looks away and walks off.
"Ah--..."
Though it's weird to mention it, the way she sways the ponytail makes me unable to explain it[2A 8] Well, I don't really understand what I just said.
"I'm going back to my room then."
"Hm? Oh, thanks for eating together with me."
"...Really, you should at least come invite me once in a while..."
"What?"
"Nothing. Bye bye."
Rin shakes her twin ponytails and walks off in the opposite direction. Let me put on something that can sway, maybe a jacket or something.
(Uu--oh well. Never mind, let's just slowly think through this.)
Walking off to my own room at this point, I never expected what would happen tomorrow.
◇
"As expected, Hazuki Company's still the best."
"Eh? Really? But doesn't Hazuki only focus on design?"
"That's why it's good."
"In terms of functions, I find Myurei's to be really good, especially the smooth and slick style."
"Ah--that, it's good, but expensive."
On Monday morning, all the girls in the class are chatting away happily. Everyone's holding onto a catalog and comparing the products on them.
"Speaking of which, where's Orimura-kun's IS outfit produced? I've never seen that model before."
"Ah, it's said to be custom-made. As there's no male attire, it seems like they got a certain research lab...let me see, I heard that it was some English company's armed-style."
I can really remember quite a bit. This should be the result of studying hard recently. Not bad, not bad.
On the side note, the IS outfit as what its name stands for. It refers to the unique tight-fitting clothing when an IS is deployed. Even without it, I can still activate my IS, but the response seems to be slower. Eh, what's the reason...
"The IS suit will detect the weak electricity on the skin and pass the signals of the user's movements to all the parts of the body before the IS can take action. Also, this suit is really durable, it can completely withstand a mini-caliber gunshot. Ah, but the impact won't vanish. Please remember it."
Yamada-sensei appeared with a clear explanation.
"Yama-chan's really so knowledgeable!"
"I'm a teacher after all...hold it, Ya-Yama-chan?"
"I really have to look at Yamapi differently!"
"Today's the day when everyone has to request for their attire, so I came earlier, hehe...no wait, Ya, Yamapi?"
It's been only 2 weeks, and Yamada-sensei already has about 8 nicknames. I guess that's proof of her popularity, and the result of her personality.
"Everyone, it's not really nice to call a sensei like that..."
"Eh, it's alright, it's alright."
"Maa-yan's really a serious person!"
"Maa, Maa-yan? That's..."
"Really? Do you prefer to be called Mayamaya? Mayamaya?"
"That, that's a little..."
"Well, how about we call you Yamaya?"
"Pl-please don't call me that!!"
Yamada-sensei finally says that with emphasis, showing her refusal. What is it? Does she have some bad memories about the Yamaya nickname?"
"An-anyway, everyone must call me 'sensei', got it? Got it?"
Though everyone replied with a 'yes~', that's just a random perfunctory. As for Yamada-sensei's nickname, I suppose there will be a lot more of them in the future.
"Good morning, everyone."
"Good, good morning sensei!"
The classroom that was noisy just now immediately became a neat and orderly squad (of course, that's impossible, this is just an expression), as the homeroom teacher of class 1, Orimura Chifuyu-sensei appears.
--Orimura Chifuyu, my older sister, who was the IS representative of Japan, and is now a teacher in IS Academy. Her treatment toward herself is the same as others, she stands like a soldier and sits like a samurai, and the way she walks is just like an armored tank--would I be killed if I were say that out loud? I would definitely be killed. Inspection's over.
(Ah, she changed into the clothes I prepared for her.)
When I returned home yesterday, I remembered to bring the summer clothes over, and she seemed to have worn it immediately. The attire's black, and it doesn't look that much different from a mini-skirt, but as the material's really light, it feels rather comfortable. Speaking of which, the individual division tournament will be held at the end of this month, and once it's over, it seems like the students can wear summer uniforms.
"From today onwards, we'll be having practical training. As there are training suits, we'll be using ISs, so everyone must pay attention! Don't forget to put on the school regulated attire before you get your own IS suits. Anyone who forgets will have to wear the school swimsuit and truit! And as for that person, well, he can wear a bikini for all I care."
No, there's definitely something wrong with that! Most of the girls other than me must be thinking that way--besides, I'm the only guy, so it would be bad if I wore a bikini, just a bikini.
On a side note, for some reason, the IS designated swimsuits are actually traditional gym outfits, those deep blue kind. People have been saying that it's facing extinction, but unexpectedly, it managed to survive here. If Gotanda knew of it, he would most likely be elated, but as for me, it's nothing.
(Speaking of which, the gym outfit here for guys are pants.)
Gotanda...I'll omit the rest, please read the front part. Anyway, I'm wearing shorts.
Let me add on. The regulated IS suit has a rather simple design, tight-fitting sleeveless vest and matching shorts. But you may wonder why is it that the school has to specially provide one for everyone when they have their own regulated ones. That's because 100 people can have 100 types of IS. Of course, not everyone can have their own personal suits, so it's really hard to tell how usable their suits are. But at least this is a respect to the girls who love to follow the melancholic girls' hearts? I heard someone tell me that girls are creatures who emphasize on fashion. Let me see, I think Cecilia said that.
On a side note, once one has the right to have a personal IS, the suit will be deployed at the same time as the IS, removing the time needed to change clothes, so it's really easy. And its noticeable that the worn clothes will be scattered into elementary particles and then kept in the database of the IS, or something like that. To be honest, I don't really remember the explanation regarding this, so it's better not to ask too much.
Anyway, it's just 'POW, flash, and transform', extremely easy to understand.
However, this direct mode that also includes the IS really drains a lot of energy, thus, it's better to deploy an IS normally and put on an IS suit unless it's a critical situation.
"Then, Yamada-sensei, please begin the homeroom."
"O-okay."
After the briefing, Chifuyu-nee hands it over to Yamada-sensei, but Yamada-sensei seems to be rubbing her eyes as she frantically puts her glasses back, looking like a panicking puppy.
"Well, today, I'll be introducing some transfer students, and there are two of them."
"Wha..."
"""WHAAAAAT....!?""""
On hearing the introduction of transfer students, everyone in the class exploded. Can't be helped, to the class that feeds on gossip even during their meals, it's to be expected that they would be shocked now that a transfer student slipped past their information network, and there are two of them.
(But why our class...? Wouldn't they be separated into different classes?)
While I was thinking about this really seriously, the door opens.
"Excuse me."
"..."
The moment the class saw the two transfer students, the buzzing quietened down.
That's to be expected.
That's because one of them--is a guy.
[edit]
References and Translation Notes