High School DxD
From Baka-Tsuki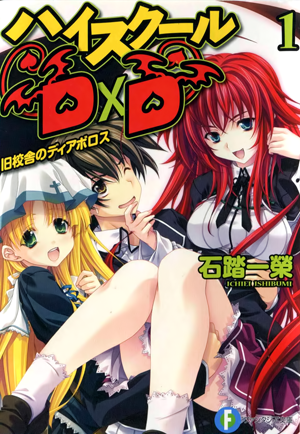 High School DxD (ハイスクールD×D, Haisukūru D×D) is a Japanese light novel series written by Ichiei Ishibumi and illustrated by Miyama-Zero, published by Fujimi Shobo under their Fujimi Fantasia Bunko label.
An anime of 12 episodes, made by TNK, aired from January to March 2012. An OAV is planned on September 2012.
NOTE: THERE ARE PEOPLE COPYING AND PASTING TRANSLATION ON OTHER SITES. PLEASE DONT DO IT ANYMORE.

High School DxD series is also available in the following languages:
Story Synopsis
The story follows Issei Hyōdō, a dim-witted, lecherous second-year high school student, who is killed by his girlfriend on his first date ever. Issei is reincarnated as a devil, and from that day forward he serves as an underling of Rias, a high-level devil who is also the prettiest girl on Issei's campus.

Story Arc 1: Volumes 1 & 2
Story Arc 2: Volumes 3-6
Story Arc 3: Volumes 7,9-12
Story Arc 4: Volumes 14-??
Side Stories: Volume 8 & 13
Characters' Introduction
WARNING: THE FOLLOWING CONTENT MIGHT CONTAIN SOME SPOILERS. YOU HAVE BEEN WARNED.
Kuou Academy
Occult Research Club
Translation
Translators are asked to register for chapters they want to work on
Format Standards
Every Chapter (after editing) must conform to the general format guidelines.
All edited translations are to be in British English.
Feedback
If you enjoyed the series, why don't you tell us in the forum
Updates
16-May-2012

Volume 5 Life.1 COMPLETED

25-May-2012

Volume 12 Life.-3 COMPLETED

26-May-2012

Volume 12 Life.-2 COMPLETED

27-May-2012

Volume 12 Dimensional Boundary, Satan COMPLETED
Older updates can be found on the High School DxD Updates page.
The High School DxD series by Ichiei Ishibumi
You can find the EPUB and MOBI version of the Volumes in the forums here.
Volume 5 - Hellcat of the Underworld Training Camp
Life.3 Cat and Dragon!
Life.4 Buchou vs Kaichou: First Half
Life.5 Buchou vs Kaichou: Second Half
Reunion
Afterword
Volume 6 - Holy behind the Gymnasium
Life 1 The second term has started!
Life.2 Asia-chan's worries
Life.3 The Great Battle!
Life.4 I Love you
Life.5 The Great Red!
New Life
Afterword
Volume 7 - Ragnarok After the School
Life.2 The arrival of the Shitty Geezer from the North.
Life.3 The Joint Army!
Life.4 Two Heavenly Dragons vs Evil-God Loki!
New Life
Afterword
Volume 8 - Devil's Job
Volume 9 - Pandemonium at the School Trip
Volume 10 - Lion Heart of the School Festival
Life.2 A Maiden heart is complicated
Life.3 The start of the decisive battle of the Young Devils!
Life.4 As a servant of Rias Gremory
New Life. (Part 4 only)
Volume 11 - Uroboros and the Promotion Test (Full Text)
Volume 12 - Heroes of Tutoring
Volume 13 - Ise SOS
Short-Stories
Dragon Magazine
November 2008
January 2009
March 2009
May 2009
July 2009
September 2009
November 2009
January 2010
March 2010
May 2010
July 2010
September 2010
November 2010
January 2011
March 2011
May 2011
July 2011
September 2011
November 2011
January 2012
March 2012
May 2012
Project Staff

With suggestions from other staffs, the staff lists will change after 1 or 2 month depending on their contribution on this project due to lack of contribution from certain existing members. Until then no new members will be joining.
Translators
ACTIVE
INACTIVE
Editors
Special Thanks
This is for people who deserve special thanks and are currently not on the Staff.
Series Overview
ハイスクールD×D1 旧校舎のディアボロス (September 20, 2008 ISBN 978-4829133262)
ハイスクールD×D2 戦闘校舎のフェニックス (December 20, 2008 ISBN 978-4829133583)
ハイスクールD×D3 月光校庭のエクスカリバー (April 20, 2009 ISBN 978-4829133910)
ハイスクールD×D4 停止教室のヴァンパイア (September 20, 2009 ISBN 978-4829134276)
ハイスクールD×D5 冥界合宿のヘルキャット (December 19, 2009 ISBN 978-4829134702)
ハイスクールD×D6 体育館裏のホーリー (March 20, 2010 ISBN 978-4829135006)
ハイスクールD×D7 放課後のラグナロク (July 17, 2010 ISBN 978-4829135402)
ハイスクールD×D8 アクマのおしごと (December 17, 2010 ISBN 978-4829135938)
ハイスクールD×D9 修学旅行はパンデモニウム (April 20, 2011 ISBN 978-4829136287)
ハイスクールD×D10 学園祭のライオンハート (September 17, 2011 ISBN 978-4829136775)
ハイスクールD×D11 進級試験とウロボロス (January 20, 2012 ISBN 978-4829137208)
ハイスクールD×D12 補習授業のヒーローズ (April 20, 2012 ISBN 978-4829137499)
ハイスクールD×D13 イッセーSOS (Normal Edition - September 20, 2012 ISBN ???)

ハイスクールD×D13 イッセーSOS (Limited Edition - September 20, 2012 ISBN ???)

ハイスクールD×D14 ??? (Winter 2012-2013 ISBN ???)