Hidan no Aria:Volume5 Chapter5
From Baka-Tsuki
[edit]
Reload 3: Goodbye Aria
I had never heard of the existence of the rule called 'Offside'.
No, it's more like I've heard of it, but I didn't fully understand it.
"Generally, outside of the goalkeeper, passing to your own teammates behind all members of the other team is forbidden." is the rules of offside, it was a rule that I found hard to understand even after asking Shiranui.
But...although the referee wasn't able to see it through all the dust, according to the photo that the Kounan high school students and cheerleaders took...
That play that led to our victory, the pass from Aria to Fuuma, was offside.
It may be that canceling points after the match is extremely rare, but with photo evidence, and the fact that the linesman raised his flag, it was accepted as an exception, and Kounan's appeal went through.
As a result, the last point became void, and the match was counted as a draw.
According to our agreement, Kounan, who had gotten more points in the first qualifying match, won--
And the 0.7 credits that I needed to get at any cost, was only alleviated by 0.6 credits.
Ahhh, Ahhhh, this isn't something that I can 'just let go'...
Because, the summer holidays end tomorrow!
At a complete dead-end, I called my homeroom teacher, Takamagahara, and living up to her reputation as a kind teacher in Butei High, she promised that she would find a way for me to get a commission to get 0.1 credits.
Which means that I--
-accepted the commission that the teacher gave to me out of sympathy, "Clean the Inquesta building."
As such, from the morning of August 31, I started cleaning, all by myself...
But, this is pretty tough work. The Inquesta building has one large lecture hall, four large classrooms and six small classrooms. In total, it's about as spacious as a mixed apartment block.
Doing it by myself, it looks like I'll be working deep into the night.
Trying to find someone to help, I was rejected by Muto for this mysterious reason: "There's no reason for me to help somebody like a protagonist from a galgame." When I called Shiranui, he said: "Isn't there someone more reliable for this job?" laughing, before he hung up.
Although I called Aria, without any other options, she didn't pick up. Shirayuki went to participate in Meiji shrine's rituals, and she's only coming back tomorrow morning. Riko dragged Jeanne to some sort of doujinshi convention.
Fuuma sent me a message that said "The responsibility for the defeat from yesterday lies upon me, I am ashamed of relying upon the fortunes of war, and I am contemplating the phrase, "eternal rest"," written entirely in kanji, giving off the feeling of "I am too ashamed to see Master." And Hiraga-san--because she was accepting another commission, I didn't wish to disturb her.
With no other choice, I, on the last day of the summer holidays...swept the floors, cleaned the windows, passing the time all by myself in the otherwise empty Inquesta building.
(Alone, huh...)
What is this feeling?
This is...loneliness?
I should have been used to being alone already...but recently, the companions by my side have started to increase.
But, in the end, humans are alone.
Those that can stay together forever are probably only those who are married.
(...Marriage...)
This word made me think back...Now that I think about it, Konayuki had predicted this before.
"Tohyama-sama will be proposed to. This month."
...That, right?
There's no need to say this, but I was not proposed to.
The month ends today. And today, I'm already dedicated to doing this boring job.
As expected, Konayuki's mysterious 'Taku', was wrong.
(It looks like she's still pretty inexperienced.)
Yet...as I chuckled, pushing open the door to one of the small classrooms, which I hadn't cleaned.
--*Tap*
The chalk eraser, clipped at the top of the door, fell on my head, sending up clouds of dust.
"Falling for that kind of trap, you're too inexperienced. You don't fit Inquesta at all."
Folding her legs, sitting on top of one of the desks in the small classroom, was...
"Aria...?"
-the person who hadn't picked up my call just now, Aria.
Thinking it was useless, I sent her a mail saying "Come to Inquesta. I'll do anything you ask me to, so help me clean."...
But I never expected that she really came.
Aria, *Tap*, jumped off the table, walking in front of me, who was dusting the chalk dust off my head.
"Uwah. Your face is really horrifying, even if it's always like that."
"You're so noisy."
"My, my, you're very lonely, right? It's written all over your face, you know?...Wanted to meet me?"
Hehe, seeing Aria smirk at me, I couldn't help but purse my lips.
From this, this girl, really is an S. She can really raise her nose and look down at me after finding my weakness.
But, well, if I deny it, it'll be troublesome if she turns and walks away. Let's just agree for now.
"...Well, a little."
Hearing me say this, Aria..*Whoosh*
Not really sure what to do, she smiled, embarrassed.
Why is it that the fact that I acknowledged "Wanted to meet me?" makes you flash an expression of victory?
"Mmm. An honest Kinji is a good Kinji. Then, Aria-sama will lend a hand."
Aria-sama. Write down the distinctions between bad Kinji and good Kinji in a rulebook, please.
Because, once you see bad Kinji, you'll tear my ear off.
"Alright...to be honest, you'll be a big help. If I had to do this by myself, I'd be working deep into the night."
"We'll be able to finish before evening. As long as you finish this, you won't be held back, right?"
"Yeah. As long as I finish it. But, I never thought you'd come, Aria."
"Hmm...? Well...you don't have enough credits...as someone who made you my partner, I'm responsible. Probably around 2%."
Wrong, wrong. I believe that 98% of this is because of you.
I may think that, but seeing Aria cross-legged on the desk, her guns showing, I didn't say anything.
"...Hmm?"
Suddenly, looking at the desk that Aria was sitting on just now, I...
Noticed what looked like a pink line, but it was actually a fallen strand of hair.
"Ah."
Aria had noticed that as well, and she fished a handkerchief out of the pocket of her skirt, brushing the strand of hair onto the floor.
Why is that I feel like she's panicked?
The familiar sweet Gardenia scent wafted over from Aria's waving twin-tails...but within it, there was a hint of shampoo.
"Did you cut your hair? You don't look very different."
"No-not really. I-I didn't go to the beauty parlor--because I was seeing you."
Ah. She said "No-not really". It may have been just for a moment, but she really said it.
The reason I remembered it was because this was something that Riko had said a lot while dressed up as Aria, but she really said it.
Aria's hands twisted her twin-tails, baring her teeth at me, blushing.
"This is just a little trim to straighten out my bedhair. Really."
"Since you were meeting me...there's no need to straighten your bedhair, right?"
Not really understanding Aria, my words made Aria go, "Uguu," falling silent.
...Really, I don't understand this girl at all.
Aria, as if digging her own grave, exposed an embarrassed expression...
Grabbing her mop, *Tap Tap Tap*, she ran straight to one corner of the classroom,
"Kinji!"
Suddenly, *Pa!*, she pointed at me.
"--Let's compete!"
...Compete about what?
"I'll start from here and you'll start from that corner! The person who reaches the center of the classroom first wins! Whoever loses has to treat the other to Ripobitan D! Ready, set, go!"
Aria didn't care about me, who obviously didn't have time to get ready. She seemed like she was trying to cover something up...*Ta Ta Ta Ta Ta!* As fast as a mouse, she started running, *Shhh* using her mop to clean the floor.
It's Aria, after all. If I lose, I'm not sure what kind of inhumane punishments will await me.
So, I quickly brandished my mop, running diagonally to the corner, mopping all the way.
Aria and I ran in a snake-like manner around, getting closer to the goal that we had marked, next to the desk.
Right--Left--Right--Left
Aria was very fast...but because her skirt was caught in one of the desks halfway through, so I managed to make up for how much I had fallen behind in the beginning.
Alright, I can do it. I'm beginning to grasp the trick to this.
Your stance has to be low. Your gaze has to be fixed in front of the mop, while turning, brace the mop against the table and swivel around, it's faster if you only have to turn your body.
This Aria. The fact that you started the battle with a surprise attack wasn't bad, but you didn't predict my massive sense for games that has been cultivated under Muto.
I will take the Ripo D for myself. Even if I don't want to drink it right now.
(Alright--!)
I was slightly in the lead. After I had decided that I would get rid of my fatigue with the sports drink--
*Thud!*
Intuitively staring at the tip of her mop as well, the same trick as mine, Aria's and my head collided.
"--!"
"Ah!"
I saw Aria falling backwards--*Whoosh*
And entangled such that we were embracing, we fell between the desks and chairs.
(This isn't good. I was too focused on the competition...!)
Ju-just now was really effective--Aria, you have an iron head, just like me. I'm already slightly dizzy, and I could feel small stars revolving around my head. Am I some sort of old anime?
No, but...this kind of situation...I have a bad feeling about this.
It's like before, when I pushed Konayuki down--
"...Nnn..."
Little birds flying around her head like a merry-go-round, Aria...
"...!"
--I knew it!
Fa-fa-falling face up on the floor...I was completely on top of her!
And unfortunately, because of the confusion when I was trying to save her--wasn't clutching the mop, but grabbing onto Aria's slender wrist. I really don't know how, but my two hands were grasping her two wrists.
Ho-how did things become like this? That one moment from just now...
Doesn't it look like I pushed Aria down!?
"...!"
*Rumble*
It was an empty classroom. Subconsciously thinking about that, my body froze.
Aria's...body, even smaller than Konayuki's, was complete covered with mine.
Her long twin-tails were spread out over the floor, drawing beautiful curves, and her wrists, clasped by my hands, were curled up, showing her delicate fingers. As I thought--once again, it was painfully brought to my attention that Aria really was a girl.
My mind blanked into a field of white.
--And, that whiteness in my consciousness...
In a heartbeat, was filled--with a certain feeling.
I've thought this many times before, but now, I had no choice but to think it again.
Ahh, she--is really cute, so cute, cute...
I only thought that specific girls were cute, but already, I had become such that I couldn't think of anything but her.
Ignoring that vicious and willful personality, only Aria's appearance was cute...enough so to make me speechless. At least, I felt that this feeling was overwhelming, not leaving me any chance to resist.
If there really is a God, then he has a cruel sense of humor.
He had to place this kind of girl by my side, who has a disease like Hysteria Mode.
"...?"
Aria, who was below me...
Didn't seem to understand what was going on, and she blinked those camellia eyes.
Blink.
Blink, blink.
"...!"
And noticing her position, being pushed down by me,
"...~~~~~~~!!"
Her mouth opened and closed.
Open, close, open, close!
...She couldn't make a sound, probably because she was so overwhelmed with rage or surprise.
I read the movements of those cute lips, just like sakura petals,
"MAKE-A-HOLE!"...
Wh-what do I do?
If I let go of her hands, she'll definitely start the Summer Festival Hole Making Ritual.
My mind...was suddenly filled with images of the Tohyama gravestones at Sugama Honmyouji.
In front of that scene was Shirayuki, who was about to commit suicide out of grief, Riko, who was crying and writing my Kaimyou on the gravestone with a magic marker, and Reki, who was pouring water into the bowl by my grave, expressionless. All of them were wearing funeral clothing.
That overly realistic scene made all the blood in my body freeze up--
*Shh* It dissipated my Hysteria Mode, which had just gotten halfway.
Aah. The only thing that could possibly get me out of this situation alive has been sealed.
No...No, no.
This is good. Kinji.
The me as of right now is alone with Aria in a classroom.
Try going into Hysteria Mode in that kind of situation.
I--will definitely seduce Aria with beautiful words, doing reckless things that could not be made up for no matter how much I try.
I've never done that kind of thing since I was young...but recently, I have been becoming more adult-like, and in that sense--I had a really bad feeling.
I didn't want to think about it, but the reason for this power was so I could leave children behind.
So, the fact that Hysteria Mode was interrupted was probably a stroke of good fortune.
And like that, as the realization that my calm 17 years of life was about to come to an end flashed into my mind like a revolving lantern--
"...?"
I suddenly noticed that Aria's expression wasn't one of anger.
She was breathing in and out, *Haa Haa*, as if she was in pain...
"Ah, hey. Did you get hit somewhere?"
I released my hands, bringing them around her, pulling her up, and Aria, not angry at all, dipped her head--
Her hands were clasped to her flat chest.
She just sat there, *Sshhh*, turning her back to face me.
"...Are you...alright?"
Thinking about how she had totally deviated from the normal pattern, I was...a little worried.
"Ah, mm, I'm fine..."
Aria's deep breaths, which seemed to be trying to calm down her beating heart, faded away.
"...Why? Recently, sometimes...here..."
Talking to herself, Aria looked at her left breast, strangely.
It...looks like she doesn't feel well.
I'm not a doctor, so I have no way of knowing for sure.
"Aria, you should rest a bit. Don't push yourself."
"Ah...No, don't worry. I'm fine already. Alright Kinji, let's not waste any more time and let's start cleaning."
Saying that while fixing her skirt and standing up, Aria...
As if trying to cover something up, she turned her head towards me, laughing, embarrassed.

In truth, her weak appearance from just now didn't seem to be much of a hindrance...afterward, Aria immediately returned to normal, and she grabbed a duster to help me tidy the bookshelves.
Aria and I--talked about a really interesting new movie, talked about the hamburgers we liked at McDonald, talked about the rumors that Assault's Devil Teacher, Ranbyou was going to get married. We really talked about those irrelevant, petty things while we cleaned.
Originally, being alone with a girl would, for me, be an extremely bad circumstance...
But now, I felt that Aria was an exception.
If there hadn't been that sudden incident from just now, to be honest, I see Aria so often that she's a girl whom being with her doesn't make me as agitated as usual.
That upright and unreserved personality allowed me to accept her as if I was face to face with a male friend.
If I were together with someone with a womanly character like Shirayuki or Riko, I would definitely be agitated, for fear that I would enter Hysteria Mode--
I wouldn't just talk with them like this, right?
And continuing to talk the whole day, we continued on that boring job, which seemed to have become a little more interesting...
Cleaning, just as Aria had announced at the start, was finished by 5:00.
With this, I've really fulfilled my credit necessity.
I can finally continue on to the 2nd semester.
I looked around the large lecture hall, sparkling and neat now--suddenly gazing upon Aria--
"..."
Our eyes met.
Aria was gazing upon me as well.
The summer sunlight, having become slightly red, illuminated the empty classroom...the sound of cicadas, vaguely coming from outside the walls, were clearer, in the midst of this silence.
Aria and I looked at each other for a few seconds, in complete silence.
Those camellia eyes seemed to be filled with pain--am I imagining it...?
"...Ah...It looks like we've got some time left."
A little embarrassed, Aria turned her head to one side, *Shh*, straightening her twin-tails.
And, mm, she seemed to be thinking about something...
"Sit over there."
Suddenly, she pointed at one of the chairs in the front row.
"What?"
"Because I'm going to teach."
"Teach?"
"That's right. We'll pretend to be a student and teacher. You'll be the student."
Hey...We're already high school students, playing pretend...
I thought that, but, well, Aria was the person who helped me with this cleaning job after all.
I'll just listen to what she says. There's nobody around, so I won't be thought of as an idiot.
"...Then, you'll be the teacher?"
"That's right, I'll be Aria-sensei. You'll be a student, Tohyama-kun. Then, let's start the exam!"
She's really enthusiastic, this Aria.
She was like this too, when I pretended to be Leopon-kun at Koumeikan in June, it looks like Aria really likes playing these kinds of pretend scenarios. Hey, how much like a kid are you, exactly?
"Alright Tohyama-kun, sit down."
Uu.
Saying "Tohyama-kun" in that anime-like voice...it's embarrassing. Abnormally so.
Aria ignored me, who sat down with a weird look, and *Tap Tap Tap*, she ran up to the lectern.
"..."
But, she was too short, and only her head stuck out above the lectern.
It's almost exactly like showing off somebody's beheaded head.
As I was about to helplessly burst into laughter, I quickly cleared my throat, covering it up.
Aria, mm, just as I thought she was about to get angry, she sat on the lectern...her back facing me. She reached her hand out, drawing something on the blackboard.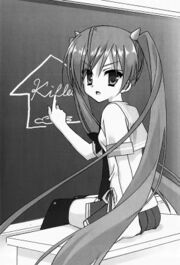 A room. In the room there's a person. On top of the person, there was a label which said "Killed".
Afterward, she twisted around, standing on the lectern, her shoes still on.
"Then, a locked room incident has occurred."
She announced strictly.
"...That?"
"--How did the culprit kill the victim? Alright, Tohyama-kun, please answer!"
Answer?
You've given too little clues, right? Actually, does this question even need a picture?
Thinking this in my heart, I understood that if I angered Aria--hime, who had completely entered her role as a teacher, guns would appear...So, I helplessly started thinking.
"...Does his house have a letterbox?"
"It does."
"Then, poison gas was introduced through there, right?"
"Bu-Bu-"
Aria exposed her canines in a smile, and her fingers formed an X.
Annoying.
"...The culprit entered the room to kill the culprit first, and afterward, he took the key with him."
"Then?"
"He locked the door from outside, putting the key into the mailbox to make it look like a locked room incident. This is a real case."
"Wrong--"
Wrong?
This isn't something that's decided to be right or wrong based on what you feel, right?
"Give me a little more hints. How did the victim die?"
"Mm-. He died from a dagger to the chest."
You just made that up, right?
"...If humans are stabbed in the chest, they can still stay alive for a while. So, the victim was stabbed at the door, and trying to keep the culprit out, he closed the door, and after he locked it--he died."
"Wrong~"
Annoying, Annoying.
"...You're not going to say that the house was built after the person was killed, right?"
"Oh, that's good too. But, it's wrong."
That isn't good at all! Why don't you try answering this kind of adjustable quiz yourself.
"Then, did the culprit pretend to be the first witness to the scene? He hurried to the scene along with the police, pretending to break the lock before opening it. In truth, it wasn't locked, so it wasn't a locked room murder."
"...I don't really get it, but it's wrong."
"...He made a backup key, and after killing the victim he left it locked...there have been cases of a backup key being thrown away, too."
"That's too cunning, right?"
"Yes, that's a characteristic normally associated with murderers."
"It's wrong. Alright, we don't have much time left. *Tick Tock Tick Tock*"
Aria imitated the sound of a clock.
Hey, you're not a teacher like this, you're more like a quiz game host.
Anyways, you didn't even tell me the time limit at the beginning.
Well, after all, it was just decided based on how she felt.
"Beep Beep! Time's up!"
See, I told you.
Whatever.
I don't have the motivation to argue with you anymore.
"...Then? What's the answer?"
Aria, *Bang*, jumped off the lectern, her skirt fluttering, in front of me, who was sighing.
"The culprit escaped by teleporting!"
She thrust her flat chest forward, announcing that.
--Cheated.
Suddenly feeling weak, I slid down my chair.
"That's way too unfair!"
"Yes, that's a characteristic commonly associated with murderers."
Seeing Aria, who was laughing, walking this way, I had nothing to say.
"To tell the truth, I fought with an offender that had a similar ability. So, you have to be able to notice it too, you know?"
*Whoosh* Looking at Aria, who had raised her eyebrows pushing her face towards me--
I smiled bitterly and nodded.
"...Well, that's true. We've seen enough supernatural scenes to last us a lifetime."
Suddenly, Aria's forefinger, which had emitted that magical light before, stabbed directly at me--that finger touched my forefinger, as if trying to pull it back like a magnet.
...Finger to finger.
Those fingers of ours, which had pulled triggers hundreds of times, were together.
Seeing that--I could feel a tremor run through the deepest reaches of my heart.
(...Rakushi[1]...?)
I learned this in Assault.
This movement, called Rakushi, was only performed between Butei in Assault--a symbol of farewell.
Noticing that my face had frozen, Aria closed those double-fold eyelids...
"--There's something I have to say, come to the roof with me."
She said that, softly.

We arrived on the empty rooftop, standing together by the west fence.
--The last sunset of the summer holidays was setting.
The clear and fresh sea breeze, as if making all the exhaustion and fatigue fade away, washed over us.
The days may be hot, but in the morning and at night, it's still quite cold.
--Summer--huh?
A lot of things happened. But, that has all ended.
"...What a beautiful sunset, it feels like we're being sucked into it."
"Then grab onto my sleeve or something. Then you won't be pulled in."
A little unhappy, I made a sarcastic comment towards Aria, who was saying some poetic words...but she chuckled, as if she thought it was funny. Then, she really took my sleeve, gently.
"...Actually..."
Looking around at Tokyo, which was slowly brightening up, Aria's other hand pressed onto the fence.
"Today, I helped you...not only because of your credits, but for two other reasons."
"Two other reasons...?"
"Yeah. The first is, I wanted to have more time to speak with you. There are still many things I need to tell you. But, I wasn't brave enough...and I talked with you about those things the whole time. But, having fun wasn't bad."
"--Something about...the Hidan?"
Hearing me say that, Aria didn't turn her head.
"Well, that too."
"Then after...what was it? Can you shoot that bullet of light and control your hair like Riko?'
I asked directly...Aria, *shh*
She shook her head.
Her pink twin-tails moved naturally, just like normal.
"Actually, I tried. But I couldn't do it."
"...Is that so..."
"Probably because I need to meet some conditions still. I thought that it would be a great counter to Choutei too."
Hearing her say that while shrugging her shoulders--
My heart settled a little.
Buried inside Aria's body is an unknown metal named 'Irokane'...It looks like that enables her to use unnatural abilities, just like Shirayuki and Jeanne.
And this kind of thing, if I were standing in Aria's shoes...I would be afraid.
But from the way she spoke, at least, Aria isn't afraid of the 'Hidan'
"You know...Great-grandfather..."
Hearing Aria's words, I turned towards her.
Sherlock Holmes.
He is Aria's great-grandfather, I-U's leader, the world's strongest detective--
"As he himself said, has disappeared. After that incident, no matter what country it was, there was no news of him. But, great-grandfather has a habit of making everyone believe that he is dead, then reappearing afterward--Reichenbach, Hong Kong, Calcutta, New York. He's done this many times before."
"Are you saying...he's still alive?"
I said in response, and Aria, *Shh*
Nodded violently.
As if saying--That's what I believe.
"I-U...as a group, has splintered. It appears that before, they decided that if the seat of leader remains empty, the "Hidan" given to someone else, they would separate. However, originally, they were only a kind of group that came together for the sake of their own goals."
"Yeah. I know. But in the end, it was far too easy."
Saying this, I felt a little surprised by my own words.
I-U's dissolution was easy...Too easy, so much so that it makes one feel that there's something else...
No--Don't think about that group anymore.
"Also...I've already gathered a lot of evidence from I-U, mother's trial is about to start."
Hearing this, I couldn't help but think about Aria's mother, who was framed by I-U--Kanzaki Kanae-san.
"Because they're using the normal trial isolation procedures, if they're fast, within 9 months she will receive the maximum sentence. As long as she can be sentenced as not-guilty within that time, and we appeal to the public procurators--Mother will be released."
"Is that so...Then you're about to succeed."
"Thank you Kinji. Thank you, from the bottom of my heart. You were the reason I could get so far."
Turning her head, Aria's smile--made me, who wasn't very good with this kind of thing, twist my head away.
"It's nothing, why are you thanking me so seriously? I'm just keeping Butei Charter article 1."
Which is to say, I'm just keeping the 'help each other'. Just doing something like that.
I'm sorry, those people who came up with the Butei Charter.
This time, I'm going to hide behind those words.
"...When mother is sentenced as not guilty, I..."
Aria spoke up to that...then paused...
*Chh*...
Her nose making a soft sniffing sound.
"...?"
"I..."
Those eyes, looking at me...
Were shining in the light of the sunset, which had nearly faded away.
Tears...

"--will go back to London."

Hearing those words, I--
-wasn't surprised.
Because...I knew that one day, this would come to pass. What is happening right now.
"I don't think I'll come to school anymore. Because I'll be busy with the trial, this could be...today could be the last time I'll meet you."
The sounds of the cicadas, reaching our ears from some faraway place, seemed to overshadow what Aria had told me.
"Originally, my contract with you should have only gone on until the end of the 'Butei Killer' case. So, it ended when I received Riko's testimony in June. But...I...still pulled you in forcefully. And because of that, I even caused you to have not enough credits."
...Aria.
You, actually, already noticed...that because of your mother's sentence, you pulled me into your situation...
You really...did care about me.
"But, during the festival in July...when you said, 'So until we completely resolve the matter with I-U, I will always remain by your side.'...I was so happy that I could cry. I felt that, you, Kinji, were such a...compassionate person..."
Aria dipped her head slightly, *shh*, placing her forehead on the fence.
"In I-U, for the idiotic me, you gave all you had, you gave even your life, to fight...At that time, I...understood that you really were my best partner...But...precisely for that reason...I don't wish to trouble you any longer..."
Aria raised her head, once again looking at Tokyo, continuing to speak.
Those eyes, hidden by her fringe, on that head, turned towards me, Aria...her expression was full of pain and sadness--
-But she still forced herself to smile, and turning here, she said in a tearful voice...
"Do-don't make that kind of expression, as if the world has collapsed, Kinji. It's a horrible expression."
"I-I'm not. The question is, what are you crying about?"
"I'm not crying."
Baring her canines at me, from Aria's eyes, *Drip*, tears just began to fall.
Catching them in the air, Aria made an expression which said, "Look, I'm not crying."
According to Aria's rules, it appears that if your tears don't hit the ground, you're not crying.
"So...this 0.1 credit assignment...is our last commission together. Well, this really fits us, doesn't it. Now that I think about it, our first commission together was also for .1 credits, finding that lost kitten in Oumi."
"Aah...That's right, it was."
"Lo-look. Don't look this way, smile! This is a happy end, so you have to smile!"
Aria's hands clasped my face, forming it into a smile.
"Aha, that's a horrible face."
Saying something terrible, Aria appeared to be really amused by my face--
She no longer cried, and "Ahaha," she started laughing.
Doing the same, I laughed as well, and Aria, satisfied, released her hands.
Silence once again settled around us, like a blanket--
"Hey...Kinji, you're going to quit being a Butei in the March of next year, right? It hasn't changed, right?"
From a position half a head lower than me, Aria looked up at me, asking.
I--
-nodded lightly.
Aria answered with "I see", that one sentence, and she dipped her head...And once again, she used those sparkling eyes to look at me.
"Kinji. But, I have a small suggestion."
Straightening her forefinger and saying that, Aria's expression looked like she was joking.
"Before March of next year, come to London Butei High as well. Not only will you be able to train at places like the GBDA and the SAS, I'll teach you English myself."
Ah, hey, hey...That isn't just 'a small suggestion', right? So, you wanted me to study abroad.
It appeared that my thoughts had appeared on my face, as Aria--
"...Just joking..."
Smiling bitterly, she dipped her head.
She had some hopes that I'd accept, right? That expression seemed to be full of regret.
Both our gazes returned to the sunset, which had already sunk to the horizon, in the midst of the high-rise buildings.
As if representing some sort of time limit.
"Also, the second reason I came here today was because...I wanted...memories."
"?" appearing on my face, I looked down at Aria, who was speaking very softly.
But, Aria didn't look back at me.
Her face, looking so red, didn't seem...like it was red from the sunset.
"From the beginning, a Butei that could become my true partner--Kinji, you're the only one. I probably won't be able to find anybody better than you, even if I were to spend my entire life searching. So, I don't want to forget you. And...if it were possible, I wish that Kinji too...would not forget about me."
Aria, hesitated, embarrassed...
"So, I wanted to spend some time with you now...and my memories..."
Saying that, her feet seemed to be moving slightly...They paused,
*Shhh*
*Shhh* Those tiny knees were trembling.
...What's wrong?
"Fa-face that way."
Aria hid her eyes in the shadow of her fringe, caused by the sunset, her gaze fixed on the floor.
With no other choice, I turned away, not understanding anything.
For a little while, the time of silence flowed past...the sun had sank a little bit.
*Shh*...There's something...
Something as light as velvet, something smooth, brushed around the back of my hand.
I turned my head around, only to see that, while she was still averting her gaze away from me, Aria's...
Twin-tail, shining like a pink diamond in the illumination of the fading sunset--was touching my hand.
Aria took a step towards me. Just one step. But in this one step...she had arrived by my side.
Her expression showed that she seemed to be agitated about something, that she was determined about something.
"..."
Aria's gaze, still avoiding mine, looked northwards...looking at the wide 'Empty Island', on the other side of the fence.
That gaze seemed to be filled with some sort of message.
"..."
Seeing that Aria had blushed to a degree that was slightly worrying, I followed her gaze intently...
Over there was the place where the Boeing 737 we had crashed had disintegrated.
My mind thought back to what had happened inside that plane.
It may have been for the sake of my life, but at that time, Aria and I--together, we...
Had had our first...
Kiss.
...I won't forget. I couldn't possibly forget. That memory.
The words that Aria had spoke earlier echoed around in my head, and for some reason, the memories from that time blended together with those words.
"Ki...Kinji, I'm sorry. I-it looks like...I suddenly said some weird things..."
Saying this, Aria, who was by my side...fell silent.
Aria.
What did you want to say?
What meaning does it have? Those memories you spoke of.
...No.
Somehow, I understand. Really.
Earlier, since we did Rakushi...I really did understand.
Because at that time, had we gone with the flow...Our hands would have come together. Probably.
Perhaps, it could be that Aria...wanted me to do so.
But, I already tore my finger away.
--Hysteria Mode--
Because I have that special attribute, which could be called a disease. Because of that.
(...Aria...)
Aria, silent and afraid, was waiting for my reaction. Waiting for my next action.
As I noticed that, I--

...became scared.

(This won't do.)
I heard that voice, coming from the deepest reaches of my heart.
(...This won't do, Kinji...)
I...had forbidden myself to do that kind of thing.
No matter how subtle the movement, I did not wish to do anything that clearly delineated each other as boy, and girl.
Up till now...in battle, there were a few times that I had no choice but to go into Hysteria Mode.
But, I had never had enough bravery to bring myself into that mode when no one was in danger.
My father and Nii-san, even in Hysteria Mode, they won't lose themselves--they can keep themselves from hurting women, touching them. They can control their own impulses, keeping calm.
But, that's only because adults can do that, right?
--And I...
I still was unable to do that.
I had no way of controlling the me in that mode.
If because of that, Aria and I did something that we could never take back...
And in the end, I hurt Aria...
Both of us would regret it as long as we lived.
Once I thought of that, I became scared.
And, not only that, tonight, Aria and I were the only ones here. Shirayuki wasn't here to interfere once Aria and I were together, and Riko wasn't here to do something stupid in front of Aria, angering her.
If in this sort of situation, where there was nothing like a failsafe, Aria took another step closer to me--
I might just take advantage of the night, and push the boulder that was teetering on the top of the hill.
"..."
So, I just remained silent.
And silence could only express my refusal.
One minute, 2 minutes, Aria continued to wait for me in silence...

And--the scarlet sunset sunk beneath the horizon.

Unconsciously filling the air...was the feeling that this was the end.
"As I thought...It's really embarrassing, this atmosphere."

Smiling bitterly and saying those words, Aria shattered the silence.
"...Yeah."
Only able to respond with this, I understood that, in the end, I had still hurt Aria.
The childlike Aria, only because she did not know what to do, had decided to leave everything up to me.
But, I had ignored it all. Not even explaining why.
I felt as if I had humiliated Aria.
(...Aria...)
This...is disgusting.
Using this kind of method, that can only hurt, to end the time that I had spent with my partner, with whom I had tread the line between life and death.
If I don't state my reasons, I'm too irresponsible.
So...
Because this is the last.
It should be fine if I tell her everything.
--about Hysteria Mode.
I turned to Aria, who had started to talk about petty matters while we were living together, and my solemn gaze cut her off--
"Aria. What I'm about to say now...Don't be shocked."
Using that as a basis.
Aria had grown serious herself--and she nodded lightly.
I took a deep breath,
"Actually, I..."
As I was about to--
Confess about Hysteria Mode.
"... ...?"
Aria and I noticed that abnormality in unison.
--We noticed that the sound of cicadas had stopped.
Cicadas, flies, Brown cicadas--the cries of all the insects had stopped.
It's not just because of the sunset, right? Because, those cicadas that had been calling out the whole night were not few in number.
That's right, it feels like every bug in a 2 meter radius...
Had felt something at the same time, cutting their cries--
--The next moment, I felt someone's breathing.
Aria and I looked eastwards together.
On the eastern fence of the roof--
A girl was standing on it, as if it was a balancing log, staring at us, unmoving.
The thing she was shouldering was a shining SVD.
Slender, lightweight, durable, it was a conceptual weapon used on the actual battlefield.
"...Reki."
I called out her name.
She's Snipe's S rank Butei--Reki.
Standing in that kind of place, what is she doing?
No, I should say...when did she start standing up there?
Not only me, even the S rank Butei, Aria, had not noticed her presence at all.
"...Ah, ah...Umm, Reki. Th-that's not it. This is...um..."
Stepping away from me, her footsteps a little panicked, Aria pointed at me nervously.
*Fyuuuuuu*
Even in the darkness, I understand. Steam was rising from those reddened cheeks.
"Th-this isn't anything. We-we're just working together. So, um..."
It looks like she thinks that...Reki had seen us when we were alone together.
No, it might be that that really is the case. Before, Reki had used her scope to spy on my room.
Nobody is perfect. Although it looks like she's very disinterested, Reki might be a peeper.
"..."
Next to me, who was watching Reki, Aria's gait had become completely agitated.
"Ah...Ripobitan D!"
She shouted out as if singing some magical incantation.
"Ju-just now I lost to you, I'll go buy some quickly...!"
Using that as an excuse, quickly escaping from this embarrassing situation, Aria--
*Shh, Tap Tap, Tap Tap Tap Tap!* Not stopping to look back at me, her footsteps continuing without pause, she crossed over the roof.
Afterward, she rushed down the stairs so fast that her twin-tails were nearly hanging in the air.
"..."
Reki was silent.
Behind her, in the sky of the east, as if replacing the scarlet sunset which had already sunk below the western horizon--
There was an abnormally large moon, scattering its rays.
--Scattering a glaring, bright blue light.
[edit]
Translator's Notes and References
↑

Lit. Finger Contact/Connect