Hidan no Aria:Volume4 Chapter5
From Baka-Tsuki
[edit]
Golden Pavilion -Abu Simbel-
--Nii-san.
Murmuring, I opened my eyes.
This is...where is this? I...was lying on a bed...this room...I know it. This is the place Muto and I would always play...Logi's student lounge...
"--Kin-chan?"
It's Shirayuki's voice.
Sitting up, I saw Shirayuki in Miko garments sitting on a folding chair by the bed, cutting apple rabbits.
"...Shirayuki...?"
"Kin-chan, Kin-chan! Seeing you unconscious on the marina, I was about to die from worry! Being able to wake up...I'm so relieved...uu, uwah...!"
In the midst of that sandstorm, I probably fell into the water...
Who...Was it Nii-san who saved me?
Half-crying, Shirayuki was saying, "Kin-chan! We have to replenish your strength! Eat! Eat, eat!" stuffing the apple rabbits into my silent mouth. Uu, guu!
Assaulted by the rabbit army and nearly choking, I--looked through the window, at the bright outdoors, *Ha*, and came back to reality.
The clock on the wall was pointing towards 7:00. And, it's day.
Aria was attacked yesterday evening at 6:00. If what Nii-san says is true, then Aria only has 11 hours to live.
I have to hurry...!
But, where do I go?
What should I do?
I don't know, I don't know--then first, I have to find a clue.
Clutching at my chest, which was still hurting from being hit by 'Invisible Bullets', I...noticed that I had already been changed into a new set of clothes and pants with the Logi emblem.
When I asked Shirayuki about what had happened, Shirayuki said that when Aria had been sniped, Reki, who had noticed that through her scope, ran to Butei High to request for backup. So, when the sandstorm over the sea had stopped, the Logi vehicles that had rushed to the scene had saved me, who was unconscious on the marina.
She also said that, at the same time, Lezzad's diving section were looking for Aria in the nearby sea...
But in the end, they didn't find her.
"Aria was...kidnapped. But...Aah, where is she now!"
Losing all patience, I pounded my fist into the wall.
"...The sea."
Stepping forward to hold me back, so said Shirayuki.
"--The sea?"
"I divined the location of Aria--"
"43 degrees 19 minutes North, 155 degrees 03 minutes East. The Pacific, in the sea close to Urup Island. The GPS that Riko slipped onto Aria confirms the location. Ki-kun."
Hearing that voice, I turned my head--
-To see Riko, waving a PDA around, standing by the door.
She was wearing a nurse uniform that looked like the one on the Mentholatum cream box, and her right eye...was covered by a heart-shaped eyepatch.
"--You've woken up. Tohyama. That's great."
Afterward, wearing a sailor uniform and holding a walking stick, Jeanne walked in.
"I heard those two. Aria's been kidnapped by an I-U ability user called Patra, right?"
I nodded at Shirayuki, who had a very strict tone, looking at Jeanne and Riko questioningly.
Jeanne and Riko looked at each other--
"...Kana, called us up. Follow me[1], Tohyama."
Following Jeanne, who's injury in one leg hadn't healed yet, I slowly walked out, arriving at the floor below in the Logi building, which was full of the pungent odor of gasoline.
"Kana in I-U is the superior of both Riko and me. We both respect him. Therefore, we were willing to do anything to help him, but...Kana only said three things. Aria was kidnapped by Patra. I-U as well as its situation has already been revealed to you. Also, although I found it very hard to believe...he said that you defeated him."
Nii-san...
"Riko and I still haven't openly declared war on I-U. Because of that, we didn't want to tell you carelessly...but, it looks like you understand most of what's happening inside I-U, saying it again would be a waste of time. Therefore, I'll tell you about the curse of the witch who took Aria away--Patra."
"Curse...?"
"This is also the effect of that curse."
Jeanne pointed at Riko, who was pointing at her own eyepatch.
"Riko's right eye is blind. Because she got the curse of one of Patra's scarabs[2], she received an eye infection. Complete recovery will probably take around one week. And my leg, now that I think about it, was also caused by one of her scarabs. But by the time I realized this--it was too late."
"Scarab..."
This familiar phrase could not help but make me frown.
"This scarab is the thing that I drew for Kin-chan before. That's Patra's familiar. The effects are weaker than being cursed directly...but it's still able to transfer Patra's power, bringing bad luck to its affected enemies."
Hearing Shirayuki's explanation, I went "Tch."
On the night of the Tanabata, flying into Aria's yukata behind the shrine, was that bug as well.
Because of the curse of that bug, the engine of Aria's jet ski died while we were still in the middle of the sea...
Giving Patra an impeccable chance to snipe.
(I remember that scarabs...were called the insects of God in ancient Egypt...)
Even though I was no longer in Hysteria Mode, I still went through the sparse amount of world history that I knew.
Now that I think about it, the jackals that attacked us--were very alike to the ones on ancient Egyptian walls. I remember that it's a God called 'Anubis'. Patra must have based her golems off that.
"Jeanne. That girl, Patra is--"
"You should have guessed from her name. Patra is the descendant of Cleopatra. Her head always full of ancient Egypt, she calls herself the 'reincarnation' of Cleopatra, the 7th."
--Cleopatra.
Protecting ancient Egypt with her beauty and wit, the Ptolemaic queen, fighting against the Romans.
...After the appearance of the thief Lupin, the knight Jeanne d'Arc, and Count Vlad Dracula, we've finally come to the Royal Cleopatra-sama? I'm not surprised though. I don't think anything can surprise me, anymore.
"Patra--is a rogue element within I-U."
Walking into the elevator, Jeanne pushed on the button for Basement 2, frowning.
Shirayuki, Riko, and I followed her in. Basement 2, from what I remember, that should be Logi's special dock.
"...Rogue element? Isn't she part of I-U?"
"She was. She used to be the No.2, even above Vlad. But because she would always use excessive amounts of random violence, she was expelled."
Having already said that she herself was expelled, Riko continued,
"Patra is delusional. She truly believes that she was born to rule. She was waiting for the 'Professor' to die so she could become the leader, so she could start a war to rule her own country. First, she would take over Egypt, then from there, she would dominate the entire world. She really thinks this way."
"He-hey...! World domination? That's like the kind of villains from old manga--"
"In I-U, they exist. Outside of Patra, there are a few others. That place really gives people the feeling that conquering the world is possible..."
"Tohyama. Riko and I don't wish for Patra to become the leader of I-U."
"But, if the 'Professor' and Aria both die, she really might succeed the throne."
As Jeanne and Riko were talking--
The elevator stopped at Logi's special docks.

In the elevator hall, there was a silver wolf, lying on the floor, resting, and sitting upright on a bench, was Reki.
Seeing us, Reki brought out a mysterious, large iron case.
"Kinji-san. Are you going to save Aria?"
Being asked this question, I--
-turned my head to look at Jeanne, Riko, and Shirayuki.
They all seemed to want to hear my confirmation.
In my heart, I already knew. Everybody believes that I will save Aria. Therefore, they've prepared to bring me somewhere.
I...nodded at Reki.
"--My comrade has been taken, how could I stand by?"
And...the reason Aria was taken was my carelessness.
"Then, here."
Inside of the iron case that Reki opened--
-was the Armament Set B that I used during Assault, Beretta-Kinji Model...and the butterfly knife that Nii-san left me, already sharpened to a fine point.
Thank you. With this, I can give my all, and fight as a Butei.
Even if I don't know how many seconds I can last in battle against that Sand-Witch Patra.
"This was also in Kinji-san's shirt pocket."
What Reki gave me--was the small hourglass that Patra had given to Nii-san.
Originally, there was something you could use to change the position of the hourglass, but that was removed, and now the sand just falls down In that round shaped glass...*Shh*, more than half the sand had already fallen.
This is probably a timer of how long Aria has left to live.
Nii-san has given this to me.
The one who defeated him, me.
--Go.
Is that what you mean, Nii-san?
"Aren't you going, Reki?"
Putting on the bulletproof vest, the tactical gloves, and the spare magazines onto my body, I asked--
*Shake Shake* Reki shook her head.
"Only two people can go. You, and one of them. Jeanne has an injured leg, so she won't do...Riko has one injured eye, so she can't judge distance properly, and won't be able to be fully effective in battle. Take into account that the enemy is an ability user, and Shirayuki fits. She herself wants to go, anyways."
Looks like...while I was unconscious, they've already discussed who would be the best to go save Aria.
However--
"Only two people can go,...what's that supposed to mean?"
But, Reki stood there like a doll, not answering.
"You'll understand in a moment, Tohyama. This way. Once you've prepared, come."
Probably not wanting to see me changing, Jeanne, her back towards me, pausing in front of the next door, looked at her watch and answered.
"Ki-kun. This."
The thing Riko took out--was Aria's bulletproof uniform, and it was a brand-new summer uniform.
You have to save her. And this probably means that she wants me to bring her back to Butei High as well.
As expected of Riko, who's obsessed about clothes.
"Aria is my prey, so-"
Putting that inside the back pocket of the bulletproof vest, Riko...
"--If you let her die, I'll cry."
*Piki* She used her fingers to form an angle over her head.

This was the first time I had come to the Logi special docks, and it was full of the scent of seawater.
That's to be expected, after all this place was designed so that the sea leads into here, allowing small boats to be deployed immediately.
We continued to go down the long row of boats and jet skis...
"Kinji!"
When we had stopped in front of something with '7th Dock' written on it, Muto, completely covered in oil, raised his head.
However, what's Muto maintaining right now...?
Something like a black and white, horizontal rocket was floating by the boats.
"This is 'Orcus'. The submarine I used to infiltrate Butei High. It was originally able to seat three people, but the modification this time increased the arsenal, so now it can only carry two people."
"Muto, how many knots can it go?"
Hearing this, Muto wrinkled his thick eyebrows, calculating it.
"Well...around 170 knots."
"Amazing. Being able to modify it to such an extent in one night--you're a genius, Muto."
"That I admit to. However, the person who made this is much more of a genius than me. This used to be a supercavitation torpedo, right?"
"Super...what?"
"It's when an amazingly fast torpedo evaporates water and creates a bubble of air, spreading itself around the torpedo's body. Because of this, the water drag will--"
Jeanne stopped Muto with a single hand, who was about to launch into an otaku-level discourse to explain my question.
"There's no time for any detailed explanations. Orcus is a super fast torpedo which had its explosives taken out, turning it into a small submarine that allow people to sit inside."
"...But, we have to go 2000 kilometers. No matter how much fuel we put, this will be a one-way trip. We'll have to go over and pick you up, returning by yourself is impossible."
--Looking at me, Muto...
Looking at his expression, I could see that he knew the situation to some degree.
"You heard about it, Muto. Our...that..."
"--I didn't hear anything. Curiosity killed the cat. That's what it says in the Butei textbooks, right?"
Muto used the idiom that I said to him during Adseard, when we were punching tickets together, glancing at the Shirayuki in Miko garments.
"You're too much, you're so naive about everything. Did you think that we didn't know? Looking at your expression, it's obvious. These few months, you've been doing something very dangerous."
"I'm not an idiot" was written on Muto's face, and coming from behind him...from within the submarine,
"We've all noticed it a little. After all, we're Butei. However--"
As if giving Muto backup, Shiranui strode out.
"--As long as it's the students of this school, it goes without saying that everybody is doing something dangerous. Anyways, Butei Charter article 4--A Butei must learn to become independent. You can not help him if he does not request it. Right? Therefore...we have always been worrying about you from the shadows. And now, when we can finally help, to be honest, I was a little happy."
*Smile*
Shiranui, standing beside me with the same gentle smile as always on his face, and Muto, patting me on the back as if encouraging me, I...couldn't find any words to return to them.
Muto. Shiranui. You guys...
Recently, I've been acting really cold to you two, because of that incident with the mail...
But despite that, you didn't ask me anything, and still you reached your hands out to me.
"...Thank you."
That's all I said.
Why is it that, in this truly happy moment, that was all I could say?

I reached out, helping Shirayuki into Orcus, inside...was amazing...
In this cramped space where even wearing a helmet was impossible, fully digitized was a speedometer, a depth meter, coordinate screen, sonar display, and fuel meter, lined up tightly.
I wedged myself into the small co-pilot's seat--and Shirayuki, who had already learned how to control it, was, along with Jeanne, who was sticking her head in with her hair drooping down, performing the final checks on the instruments.
"Then I'm closing the door. Good luck. Also, bring this."
Said Jeanne, separating her walking stick into two pieces...and pulling out the sheath-less saber hidden inside, she reversed the jewel-encrusted hilt, handing it over to Shirayuki. This is the sword Jeanne called Durandal, a blade of legend...
"Eh..."
Shirayuki--looked back and forth between the sword and Jeanne.
This sword that had been broken by Shirayuki was shorter, but being about the same length as a katana now, it was probably easier for Shirayuki to use.
"Jeanne...Is this really OK? We're already using your submarine...this sword is very precious to you, right..."
"Patra is my enemy as well. The enemy of my enemy is my friend."
"...Thank you Jeanne. You're a good person, after all."
Looking at the honors student Shirayuki, who had openly thanked her.
"Ah...u...I-I'm a witch. Really, I'm very scary. Ah...Go-good luck."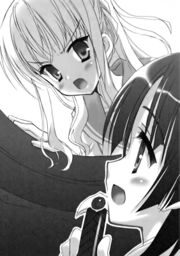 Embarrassed and blushing, Jeanne stepped away from the door, as if running away.
Not long afterward, the door began to close, soundlessly.
All the instruments started up, and within 1 second...as if embracing us, they emitted a glow of light and color.
The watch was sent to Japanese time, 07:15 AM...7:15 in the morning.
The final countdown to Aria's death was--10 hours and 45 minutes.

Orcus burst out from dock 7, just like an actual torpedo.
This was my first time riding a submarine, but I immediately understood that Orcus was a unique, amazing submarine. The initial speed of around 90km/h--was rising rapidly, during the stage where the rocket fuel was being burnt. After a few hours, it was rushing through the water at a high-velocity of 300 km/h, which I couldn't believe. And, it's nearly soundless.
Shirayuki adjusted the joystick, which looked like it came right out of an airplane, but the steering was nearly fully automatic. I-U's technology is amazing.
"Kin-chan. I heard Jeanne say that Patra is rated at G25--the world's most powerful witch."
Wearing a head mounted display that looked like a yellow-green monocle, Shirayuki turned her head at me, who was sitting in the back.
"Also, I heard that if she's beside a pyramid-shaped structure, she can use spiritual energy without limit. Patra is definitely using pyramids as a magical focus to support 'Unlimited Spiritual Energy'. 'Unlimited Spiritual Energy' is a type of magic that ancient Japan had performed a large amount of research on, but because of the magnitude of its power, it was designated as a forbidden art."
"...Now that I think about it, Patra said that too. She said, as long as there's a pyramid, she can use unlimited amounts of power."
"Yes. An analogy would be...Jeanne and I are just normal cannons, but Patra is a tank with unlimited ammo. That witch has that level of power."
A tank with unlimited ammo--
"Can we...really save Aria from the hands of that kind of person?"
Shirayuki, as if avoiding me, who was saying such defeatist things, turned to face forward.
"Kin-chan...you're very worried about Aria, right?"
"..."
"Don't worry. I vaguely understand. For Kin-chan, Aria is a girl that carries a very deep and profound meaning...therefore, I also wish to protect her. Besides, I don't wish to have a victory over Aria this way."
"...Victory?"
"Ah, uu, um, and Patra also used her scarabs[3] to invade Hotogi. I'm afraid that the person who took Irokaneayame, is her. So, Patra is the enemy of the Hotogi as well."
Saying this as if covering her earlier words up, Shirayuki's face reddened a little.
After that, while filling ourselves up with the supplies inside the ship, which were drinks, and rations, which were like white-chocolate, we--continued on course towards the Northern Pacific. On the screen of the GPS that is normally used on ships, the estimated time taken between our coordinates and Aria's coordinates was counting down.
I'm afraid that that Sand Witch--Patra is there as well.

After 10 hours--when the final countdown had only one hour left--
Reaching the general area that Aria was supposed to be, we slowed down and used the sonar to scan our surroundings...and noticed that there were several large structures.
How could this uninhabited oceanic area have so many signals? Thinking that this was weird, I deployed the periscope, noticing that a pillar of water, like a fountain, was visible on the screen. After looking at it for a bit, a pack of white whales suddenly violently jumped out of the water, giving me a fright. Looks like those pillars of water were been blown out by the white whales.
We went through the whales...and on the other side of the fine mist that the water pillar had created-
-impossible.
That--
"...An...Annbelle...!"
Looking at the ship, appearing on the surface of the ocean, I was speechless.
Having seen it several times through photos, I could not be wrong.
That--is the luxury cruise ship, Annbelle.
December of last year...it was shipwrecked in Uraga Bay, the cruise that made Nii-san disappear...as if it had been salvaged, it was floating in the middle of the Pacific like a ghost ship.
It had already undergone extensive modifications. The waterline was very low, and on the deck, which looked like an oil tanker--was an appalling sight that made me "Tch". A gigantic pyramid was constructed there.
It's definitely the focus of Patra's 'Unlimited Spiritual Energy'.
Also, destroying that pyramid would need something like bomber aircraft. It's impossible for us. All we have are puny pistols and swords.
With these kinds of weapons, how do we...!
-destroy that gigantic pyramid that towers above us.
"Kin-chan...I know, I know. I felt it inside there. I felt Aria, and Patra--"
The eyes under her fringe widening, Shirayuki stared at the tip of the pyramid, brows raised furiously.
In the whole pyramid, only the top of it was made of glass, and that section was shining with the light of the sun.
We surfaced, approaching it, and we noticed that a section in front of the Annbelle appeared to be a piece of land made of sand.
This can no longer be called a ship.
Approaching cautiously...almost as if floating along, we drove the submarine, which was nearly out of fuel, until we touched it.
Disembarking onto that beach, we noticed that both sides of the sandbar had two ten-meter effigies of Patra.
"This...may have been changed to a certain extent, but it's an imitation of ancient Egypt's Abu Simbel. Amazing...all this was made using magic. Even the whales appeared to have been summoned through magic. They're definitely here to act as shields against attacks from torpedoes and etc."
Shirayuki's words made me frown.
Magic, magic, everything is made from magic?
Patra's unlimited spiritual energy.
It looks like she'll be the most difficult opponent yet.
Shirayuki and I walked through the legs of the statue of Patra, entering a tunnel that appeared to be leading to the pyramid.
Fishing out the hourglass from the pocket on the bulletproof vest, I saw that the sand inside was nearly completely at the bottom.
Glancing at my watch, of Aria's life--only 24 minutes were remaining--!

Inside the tunnel, there was an extremely wide sandstone staircase. I was worried that, like those old movies, a huge boulder would come rolling down, but such a thing didn't occur.
Let alone traps, this tunnel, full of forks, just like a maze, seemed to be afraid that we would get lost, and bright torches lit the way to the correct staircase leading up. Looks like Patra is inviting us up.
In this manner, we slowly approached the top of the pyramid...
Suddenly, a gigantic door appeared before us. Shirayuki, having studied Hieroglyphics back in SSR, read those bird and snake looking glyphs, saying that this appeared to be 'The King's Chamber'.
"Kin-chan. This is the place. Patra is inside, and so is Aria...!"
Saying this, the human radar, Shirayuki--at that time, took off the white ribbon on her hair.
I've seen this before during the battle with Jeanne. That is the sealing cloth that Shirayuki normally wears in order to suppress her massive magical power.
The door, without us touching it, went *Creeaaaaaaakkkk*...swinging open amidst the deep noise...The interior of 'The King's Chamber' brightened.

Inside--was a hall where everything was made of gold.
The floor, covered with extravagant carpeting, the pillars around the room, the massive sphinx guarding the end, everything, everything, was made of gold.
No wonder this place was shining when we were looking at it from the bottom.
I quickly took in the surroundings--
--It's here. The gold coffin with Aria in it was next to its hands, not paws.
"...You fools from the Orient, do you know why I have let you enter the holy 'King's Chamber'?"
Sitting on a golden throne, encrusted with jewels, Patra--
-held up a huge crystal ball, which had been resting on the armrest of the throne, her fingers spinning on its surface without pause.
Still wearing that bikini which showed off her skin, covered in masses of gold jewelery, Patra was sitting there, her white, slender legs raised.
"I am not letting anybody argue anymore. I am the subject of jealousy of those people in I-U. Even after using my curse to destroy Vlad, they still did not acknowledge my power. They said that Vlad was beaten by three people, Aria and her companions. Forming a group is obviously the nature of the weak. However, if I can eradicate Aria and her companions as well...those idiots will have to shut up."
*Po* Patra threw the crystal ball--
*Crash*
It smashed into the golden coffin that Aria was in, and shattered.
"I-U's next king will not be Aria. It will be me! The 'Professor' has said that if I'm able to defeat Aria and her companions, holding Aria's life within the palm of my fist, then he'll give me his throne."
Standing up, Patra walked down the golden staircase in front of the throne. *Tap*
Wearing the high-heeled slippers she was used to, she folded her arms.
"I always act with the future in mind. This time, I have thought about what I will do after I became the queen of I-U. I--"
Those eyes, heavy with eyeshadow, were staring at Shirayuki, as if appraising her.
"--hate men. Those things make me feel very uncomfortable. When I become queen, I want all those handmaidens by my side to be beautiful women. Therefore, I didn't kill, but sealed with my curses, those women that are to be used for later. First was the battle-hungry Diamond Dust Witch, and then Lupin's descendant, however, I didn't kill them."
Patra's gaze, just like a cobra's, assessing her from head to toe, made Shirayuki frown.
"A Japanese witch. Your appearance is exceptional as well. And with your strength in battle, I can allow you to be my warrior. Tohyama Kinichi--that man, I can dress him up as a handmaiden all the time, keeping him as Kana. Before, that person did some weird things to me--depriving me of my sleep. Tohyama Kinji, I hate you as well. You have the appearance of Tohyama Kinichi."
You can't blame me for that. We're brothers after all.
Patra's gaze, filled with derision and hate, looked at me, who didn't say anything.
It appears that she took her own twisted feelings for Nii-san, and only turned the portion of hate towards me.
"Therefore, Tohyama Kinji. Now, I will kill you."
As if spurred into action by what Patra, who was pointing over here, said-
"Kin-chan, I--can only delay her for 5 minutes. Take that time to rescue Aria."
Shirayuki shouted, *Pa!*
The white sleeves on her two arms fluttered, as if they were the flapping wings of a bird.
"Hihi Hokakumaku[4]!"
From within those sleeves--countless paper cranes flew out.
The paper cranes sped towards Patra, just like thrown stones--
And in the midst of their flight, they blazed into birds of fire.
"--!"
*DaDaDaDaDaDaDan!*
The birds of fire all smashed into Patra, exploding.
The vortex of flame rose, leaving behind a cloud of thick smoke, hiding Patra.
"...!"
*Baaaaaa*--The thing that had been enveloped by the inferno was--a large amount of gold sand.
When I had just realized that, the gold on the floors of 'The King's Chamber' all became gold sand.
Next to me, who was trying hard to keep my balance--*KCCCCCHHHH*
Drawing the legendary holy sword, Durandal from her back, Shirayuki kicked off the gold sand.
Rushing into the thick smoke, *Clank!*
Emitting the sound of a sword blade smashing into something, it bounced off the right.
Defending, Shirayuki temporarily retreated into the shadow of the pillar.
This high-speed melee gave me no chance to interrupt.

There's no time. I have to get to Aria--!
I was extremely panicked, but I could only wait for the sand to settle, waiting for Patra's next move.
If I get sucked into that battle, this pistol I hold in my hand will be completely useless.
In the sparkling, dancing golden dust, Patra's voice rang out from another direction.
"Good. A battle maiden is good. However, you have to show me more. There is no place for weak girls who only know how to run in my handmaidens. If you hide any more, I'll kill you, you know?"
Laughing excitedly, she looked at the golden pillar that Shirayuki was hiding behind.
Inside that hand with red fingernails, was the shining legendary sword, Irokaneayame.
That's the Irokaneayame that was stolen from the Hotogi shrine.
As expected, she was the one who stole it.
"If you don't come, I'll cut you down along with the pillar. Hoho."
Saying that, Patra raised the blade in her hand high up in the air--
*Pa!*
Her hakama dancing, Shirayuki, charging out of the shadow of the pillar, brandished Durandal, assuming a low stance.
*Clank!* She put her whole body behind the blow, smashing Patra's sword out of the way--*Zan*--!
Performing a half-turn, completely surprising the enemy, she brought the sword down--slicing off Patra's right hand.
She...She did it.
Patra's arm, still holding Irokaneayame, fell to the floor.
"Patra. You said something nobody can say. Which is, killing Kin-chan."
Staring with fury at Patra, who was kneeling and clutching her wounded arm...Shirayuki's eyes, beneath her highly raised eyebrows, closed.
--!
There, at Shirayuki's feet.
The gold sand that was thrown up by the falling of Irokaneayame, *ZuZuZuZuZuZ*...started rising.
"Shirayuki!"
At the same time as my cry, the Patra who's arm was cut off turned into gold sand and scattered.
--That Patra is fake!
*Ba!* From within the gold sand, another--the real Patra, picked up Irokaneayame, charging.
Patra, from within the smoke of the explosions from the paper crane, hid above. And on the ground, she left a copy made of gold sand.
"--being surprised like this, how stupid. Weak warriors, I do not need them."
Patra, from Shirayuki's feet, closed in, Irokaneayame--
*Zch!* The chest of Shirayuki's garments--it pierced through the middle of it.
Shi-Shira...!
...!
All words left my mind.
Shirayuki--
Holding Irokaneayame, which was stuck through her chest, as if trying to swat Patra away, Shirayuki took Irokaneayame back.
Afterward, one step, two steps, she retreated to the pillar she was hiding behind just now.
"Uu...UUUU!"
*Zu...Zch*
Releasing a sound full of agony, she drew Irokaneayame out of her chest--
--*Hyuu Hyuu*
-and along with Durandal, she threw it backwards.
"--?"
My face twisted into a frown, in front of my eyes--Shirayuki disappeared, just like an illusion.
Immediately after, *Hyuu*, a white piece of Japanese paper, cut into the shape of a person, was left there, floating.
*Hyuu Hyuu* The paper, fallen on the ground, had a hole in the middle of it, looking like it had been stabbed by a knife.
A fake...! This too!?
The two weapons, flying through the air in a perfect arc--
*Pa Pa*
-were caught by the real Shirayuki, appearing out of the shadows.
"--Catching someone in a trap then being caught yourself, how stupid. I don't want to be subservient to a weak king either."
Just now, when Shirayuki was hiding behind the pillar, she used a paper person to make her own shikigami...making her own substitute.
And for the sake of not revealing that, she even let it hold the real holy sword, Durandal.
"Weak...? Did you say, I'm weak?"
Having thought that she had won the battle, Patra seems to be relatively easy to provoke--
That voice, already half-mad, was trembling.
The gold sand under her feet, making a *Shiii Shiii* sound, danced into the air, forming several daggers.
Those floating daggers were all pointing towards Shirayuki.
"I am the king! Not only the king of I-U and Egypt. But I am an existence who is meant to be the queen of the world! Witch of Japan! Repent for your blasphemy against the king!"
Countless daggers, like bullets, sped towards Shirayuki.
"Hotogi Soutenryuu...Fuujyouhatsushi[5]!"
Holding a katana in her right hand, and a sword in her left hand, Shirayuki frowned and ducked her head, charging towards Patra.
Afterward, her whole body spun. *Clank! Clank Clank Clank! Using her the katana and sword in her right and left hand to deflect the oncoming gold daggers, sending them flying, she continued to speed towards the enemy.
When the two razor-sharp blades, dancing and spinning around, exactly like a hurricane, were about to cut into Patra.
*Ba!* Like a blooming peony, the whirling blades burst into flame, wreathed with a crimson inferno.
"Hinokagabi - Souko[6]"
Rotating like a mixer, the blazing blades--
*Clank! Clank Clank!*
-were blocked by Patra, who had conjured up a shield of gold sand at the last moment, using them to deflect the blows.
At the same time, *Shaa!* A shower of gold sand enveloped Shirayuki's blade--making the inferno around it, die in an instant. Like the usage of sand to smother grass fires, sand, is scared of fire.
"--!"
*Ku!* Shirayuki gripped the handles, injecting raw spiritual energy, trying to revive the fires--
-but that breathing was obviously more erratic than a moment ago.
While Shirayuki was using the massively overpowering Kidoujutsu, all her energy had been drained, as if running from her.
Those kinds of vicious attacks can't be sustained for a long time, right?
But on the other hand, the expression Patra had on her face was a smile.
Within a pyramid, her spiritual energy has no limit. It's infinite.
If she acts after Shirayuki is out of stamina, we're finished--!
I can't delay any longer.
I have to bring Aria back immediately...!
Having been waiting for this opportunity all along, I stepped forward on the sand.
"--Hihikagutsuchi - Homurafutae![7]"
*Saa!* As if breaking a tile, the multi-layered gold sand roundshield was cut into two pieces,
"Ho, Two layers of Amenhotep's Sky Shield were cut."
While Patra was laughing, making a third shield above her head to block the blow.
I charged.
--Since it's this way, let's bet on this!
Taking advantage of this moment, when Patra was preoccupied with Shirayuki--
Trying to get past Patra's back, I raced towards Aria's golden coffin--
*Pata*...*Patapatai*...
(...!?)
I could hear the sound of sand particles hitting my Armament Set B.
What is this...?
Once I noticed--wind was twirling around my body, restricting my movement.
"Tohyama Kinji. Right now, I am still enjoying my battle with this girl. Don't make any troublesome moves. Stay in the midst of the wind, and watch quietly."
Patra's words were seemingly directed behind her back at me, who was in the midst of choking on the whirlwind of gold sand.
The gold sand, hitting me at high speed, left countless small cuts on my face and fingers.
*Zch* *Ba!* A large piece of gold smashed into my face, making blood spurt everywhere.
I...can't move! The wind was about to pick me up...
"Kin-chan! Run!"
Shouting, Shirayuki--
-slid her katana and saber to her waist, *Pa*
And drew two large fans from out of her sleeves.
"Hotogi Fusen--Fuujinbaku![8]"
Shirayuki opened those white fans, which looked like billboards, and with a violent posture, she started waving the white fans around, nearly blowing herself back.
Fuah! The hurricane that Shirayuki created dissipated the whirlwind of gold sand beautifully.
When I had touched down from my former position, legs slightly off the floor, I immediately started to advance.
Aria--
"Kin-chan, run! To Aria--!"
"Commoner! Don't think you can touch the coffin!"
Patra shouted this way--
*Zuu, zzzzz*...!
The gigantic sphinx statue whose foot Aria's coffin was next to, started moving.
Th-this thing...can move!?
Because it was sitting out there in the open, it made me careless.
Looks like this--is a gigantic golem that Patra had set up for ambush.
Reciting something from out of an Egyptian scroll, the sphinx, standing up, was more than 10 meters tall. It was almost like a gigantic robot from an anime, a dinosaur from the Cretaceous period, a true monster...
My Beretta and knife won't do anything to this!
"I knew that it was going to move..."
Shirayuki drew her katana and saber again, holding them horizontally at her sides, just like wings.
And as if trying to hide the blades from a frontal point of view, she brought them behind her back.
"So my last attack--was reserved for that Sphinx[9]!"
*Paaan!*Her eyebrows below her fringe were raised and closing her eyes, accumulating power, Shirayuki--
"Hotogi Soutenryuu, Secret Art--Hihi Hotogigami - Futae no Nagareboshi--!![10]"
Crossing the swords like a cross, Shirayuki, exerting all the strength in her body, swung the blades outwards in a blazing arc!
*ZHAAAAAAAAAAAAAAA!*
The deep red light that was emitted out of the blades flew by my head--
-becoming an X-shaped blade, colliding with the head of the Sphinx.

*DGAAAAAAAAAAAAAHHH!*

I rushed into the vortex of flame, and countless fragments of the Sphinx's head were turning back into sand and falling onto my head--
In just one step. In just one leap, I can, reach Aria's coffin!
My watch--the time left on it was just 5 minutes--!
"Halt! Tohyama Kinji!"
That hysteric voice made me turn around--
...!
Right now, Patra was standing on Shirayuki, who had fallen down on the ground...!
"Uu...!"
Crouching in the desert of gold, moaning with pain, it looked like Shirayuki...
-Because of that blow which destroyed the sphinx, she had used up all her spiritual energy.
"...Shirayuki!"
My gun pointed at Patra--
But, from the body of the fallen Shirayuki, *whooosh*...smoke, reminiscent of steam, started rising.
"Throw that away and leave the coffin, Tohyama. Otherwise, this girl will become a mummy."
"...What...?"
"The human body is something that is just like a bag of water. I hold the holy secret technique of sucking out all that water."
Hoho. Below the foot of Patra, who was cruelly smiling, the rate of steam rising from Shirayuki was getting more and more quick.
"Ah....Aahh...."
Shirayuki's voice, full of agony--
"Wa-wait, Patra!"
-made me place my gun by my feet.
I couldn't help but put it down.
"Hoho. This two person team of yours is pretty good. Not only did you manage to break the sphinx, but you also reached the coffin. But in the end, these are just the techniques of mere people. There's no way to fight against the fact that I am the one who holds the power of the Gods. The power that I hold, along with the pyramid[11], is infinite! Those without limits will win over those with limits. This is the truth. Commoners like you trying to overturn the truth--impossible. Impossible, impossible, impossible, impossible, it is impossible."
When Patra was boasting, and the bracelets on the hands on her arms started ringing--
my body also, with a *whoooosh...*, started to release smoke.
This isn't sweat. As if pulling the life force out of me, all the water was being sucked out.
Uu...Uuu...!
I opened my mouth in agony, and as if I had been smoking a cigarette, smoke started pouring out of it.
My throat was dry, the surface of my tongue became rough, even my eyes were releasing smoke...I can't see in front of me...

--*Clang!*
This sound came from outside of the pyramid.
*Clang Clang Clang Clang Zch*---!
From my hazy vision, I couldn't see anything different.
However, there was the sound of something climbing the pyramid...close to me...?
"--!?"
*CCCHHHNNGGG!* The glass behind me broke. Turning my head, I could only see a red Orcus crashing in--
It was probably because Patra's concentration had been interrupted by this shock, but the smoke stopped pouring out of Shirayuki's and my bodies.
"Then-"
The Orcus was lying there silently...when the door opened.
"Let me break the impossible."
Was my Beretta bugged? Facing the owner of that voice, who seemed to have listened in on that conversation just now--Patra went *Gaaaah* Not only was she abnormally angry, but her pale face started blushing immediately.
"...Tohyama, Kinichi...! No, Kana!"
Kana!
When I just had had that reaction, daggers, made out of gold sand--*Kch Kch Kch Kch Kch*
-thudded deeply into the hull of Orcus.
But, I saw it.
During that moment, jumping out of the door of the submarine, Kana--

*PaPaPaPaPaPa!*

Her long tails flying, Kana performed a magnificent flip, and around her--
-six points of light, flashed, nearly simultaneously.
A continuous six "Invisible Bullet".
Patra bent desperately, until her waist was about to touch the ground, but--
*Sha* On the knees of Patra, who was kneeling on the ground like a cat...two streams of blood ran down.
Patra, for the first time, was injured--!
*Tap*
In the hands of Kana, who had dropped to the floor--
-was the same model of gun that I had broken, a Colt Peacemaker.
Kana. Nii-san.
Even without words, I understood. Just now, he had shot at Patra.
Which means that again, Nii-san...
-had decided not to kill Aria. That he had bet on the "second chance" to defeat I-U...
"Exodus 34:13 --But you shall destroy their altars, break their images, and cut down their groves--"
*Ba*
Reciting a verse from the bible and throwing six bullets into the air, Kana--
*Click!*
--waved her pistol went from left to right, towards the bullets in the air.
*Click!* The revolver, a Colt Peacemaker, went back to normal, the six bullets loaded.
Air reload. That's what Nii-san called this technique that was almost like magic, something that could only be done during Hysteria Mode.
That's right. The Nii-san that has become the woman of unparalleled beauty, Kana, can sustain his Hysteria Mode for long periods of time.
"Kinji. The dagger that I gave you, you still have it, right? The scarlet butterfly knife, that is."
I nodded at Kana, who had turned her head slightly to look at me.
"--Hold that dagger, and while doing so, place your lips on Aria's."
What...?
Pl-place my lips on Aria's...?
Why? Why do I need to? Why do I have to do that kind of thing to the near-dead Aria...?
Not even giving me time to question the meaning of his words, once again, Kana assumed that formless stance.
And, she used that gait, just like flowing water, to walk towards Patra.
"Patra. The me as of now--even if you're a girl, I won't hold back."
"...Kana, Kinichi. Don't come closer. I, wo-won't fight you."
Patra, sitting on the floor, blushing, shuffled backwards.
"Patra. You may look as ferocious as a wild beast, but actually, you're a very intelligent girl. Someone who's able to write different words with her left and right hand at the same time, able to control the movement of several different things at once. However, that concentration has a limit--"
Facing Kana, who was speaking as he was walking--
"Don't act as if I'm an idiot! I-I like you---Ah, Uu, I-I can like somebody like you!"
Gritting her teeth and saying this, Patra conjured up six of those UFO-like shields.
They numbered six. She had obviously made them to block "Invisible Bullet".
The aggressive Patra, actually used the gold sand to make defensive weapons against Kana?
"You can't be only this powerful, Patra. Use all that you can."
Said Kana, *PaPaPaPaPaPa!*
Not in points, but in a line of muzzle flashes, he fired towards Patra.
Patra moved. Frowning with a *Kyuu*, she just managed to use the six shields to defend herself.
"I-I hate you--!" Swaying without pause, Patra used the gold sand in the surroundings to make a gold eagle. (Not a golden eagle.)
Not only were their beaks sharp, but with wings also like razor blades, seven, no, eight eagles appeared. They sped towards Kana from different directions.
"Hmph. Eight. I thought that you could make more."
Saying that gently, Kana--
*Spin* Her tail sprang up, swinging in place.
*Clank! Clank Clank!* All the eagles that were attacking had been sliced in half.
And, this was a completely invisible slash.
"It's not over!"
Once again, Patra made gold eagles, and this time, 20 or so appeared at once, but some of them were missing feet, some of their heads were as small as quails, and some of them were crooked... however, their battle potential still remained the same.
"--!"
One eagle, after it had been slashed open by Kana, who had spun again--cut open the ribbon tying that hair.
*Bara*--
Her hair hanging loosely, Kana flashed an expression which meant "There's no other way."--
*Kch KchKchKch!*
In a moment, she assembled the separated metal pieces that were hidden in her hair.
Apparently, every time those metal pieces with bits of slender wire hanging of them touched, they would stick together. It was probably designed to put it self together using those wires. In the blink of an eye, the pieces of metal had became a huge curved blade--immediately after, Kana took out a metal pole that resembled a three-section-staff from her clothes, putting them together.
The thing that Kana was carrying in the midst of the whirling wind pressure--
"Well done, Patra. Making me use this, you're the first one. It's called, Scorpio--this name really fits the desert, right?"
That was the same thing that the Western Reaper carried, a scythe.
And to keep the blade from being noticed amongst her hair, it was dyed with camouflage dye.
In the face of that gigantic scythe, which would make anybody cower--
"I-I am a--pharaoh! Don't think that...Don't think that commoners like you can defeat me!"
Hesitating for a moment, Patra made many more leopards out of gold sand, pythons out of gold sand--and from the sky, coming from the bottom and top, bees, to attack.
Opposing this, *Hyuu HyuuHyuuHyuu!*
The arc of the scythe, far faster than the speed of a double jumping rope, appeared around Kana. It didn't differentiate between the attacks from up, down, left, and right, merely a whirlwind of death, creating a spherical border after which nothing went past.
Kana's finger...with just that, he was able to control the handle of the entire Scythe. Using just the smallest flick of her finger, the smallest possible input of energy, she continually increased the speed of the scythe's motion.
*Bang! Bang Bang! Bang!*
The tip of the scythe started to create noises akin to that of gunshots.
That is the sound of the scythe blade breaking the sonic barrier.
The water particles in the air continually collided into it, condensing, and with *PaPa PaPa*, water droplets started swirling around in a conical manner. With an appearance like that of sakura petals, they continued to float around Nii-san--
*Pa! PaPa! Pa!*
Before the golden enemies even contacted the blade, they had already been ripped to pieces by the enormous wind pressure.
"--These sakura petals, floating around me...try to scatter them?"
With a gentle expression in his eyes, and a smile aimed at Patra, Kana could not help but keep my mouth dry.
--Strong.
Like this, no matter how many there are, they won't be able to approach Kana.
As expected, the Nii-san that has become Kana is amazing. Invincible.
An ally of justice will show his true powers after his transformation. That's true, after all.
"...Uu..."
Facing Kana, who continued to wave the scythe in a dance of death--
Patra continued to retreat.
Is she forsaking her ability in favor of taking a hostage? She seemed to be searching for Shirayuki to that end...However, Shirayuki, holding one katana and one saber, had already left Patra's side, hiding behind the throne.
And distracted, Patra--*Kch!* Nii-san's scythe passed over the floor, flinging the gold sand everywhere, just like bullets.
*Clank!* The circlet on her head struck by a piece of the golden sand, Patra could not help but turn her head.
"Uwaah!"
"Don't look away, Patra. Right now, just look at me. Directly, directly--"
Seeing Kana whispering, as if using hypnotism, I--
-tore my gaze away from her, and looked at Aria's coffin.
--If there's a time to take her back, it is now.
Patra is already unable to concentrate on this area, she's been suppressed by Kana.
She's completely ignoring Shirayuki and I!
This time, I can definitely take Aria's coffin.
(--Aria!)
Kicking the gun on the floor into my hand, just like in soccer, I--*Pa!* turned my back on Patra, and like scoring a touchdown in American Football--
-I charged towards Aria's coffin.
I did it.
I did it.
I--got the coffin!
Looking at my watch, only 1 minute was left.
In the 1 minute that's left, I have to open this, and save her...!
The gold lid was extremely heavy. However, it didn't appear to be locked. Returning the Beretta to its holster, I pushed it with all my strength, pushing it out of its groove--
I saw her. I saw the face of Aria, lying there as if asleep.
"...Aria! It's me! Aria...!"
I shouted, pushing the lid farther off.
*Zzzzz* The sliding lid--*Shi* Tilted, leaving a large space open.
Leaning over, I...
"...!?'
Paying attention, I noticed that the coffin was tilting as if it was about to sink into the gold sand--My feet had also been buried by the sand.
...Quicksand...!
Set up in this place was a device. If anyone was to get too close, it would cave in, just like an ants' hell.
This isn't Patra's magic. This is just a trap--!
The sand already up to my thighs, I climbed up onto the coffin.
I tried to pull Aria out of the coffin, but I hadn't opened the lid enough.
"...!"
Fuck.
How could this be. How could I...fall into such a basic trap!
*Clank*
The coffin started to tilt even further, above the sinking gold sand. One foot on the tilted lid, all I found myself stepping on was air--and I fell into the coffin.
"Uu!"
This time, once again because of my weight, the other side of the coffin started to sink...*Shiii* The quicksand had pushed the lid back onto the coffin.
"...!"
This isn't good. The people who come into take the mummies shouldn't be the ones to become mummies themselves.
I was imagining weird things, but my body was unstable, just as if I was floating.
The coffin was falling, falling towards some place deeper underground--
In the pitch black coffin, trying to protect Aria, I clasped her to me tightly.
Aria.
Aria!
It's me, I've come all the way here. Aria! So--open your eyes!

Aria!
[edit]
Translator's Notes and References