Hidan no Aria:Volume3 Chapter1
From Baka-Tsuki
1st Ammo: Quadras Under the Moon
What will you do.
What will you do Kinji?
"Ki-kun, hug me."
You're the one hugging me...
---Riko Mine Lupin the 4th.
I called the name of the girl who pushed me down onto the bed.
"Sniff... Haahh... Ki-kun's smell... It's turning me on..."
Riko hugged my head and buried her face to my hair.
What squashed my face is none other than Riko's chest. Her well-grown bust has an unbelievably huge volume unbefitting of her small stature.
T-this is bad.
"Ki-kun. Ever since our last encounter, Riko couldn't get you out of her mind. It felt like she had experienced her first true love. Ki-kun, Ki-kun, I love you..."
Riko lowered her head.
Her round eyes, full of bliss, rapturously stared at mine.
Her honey-colored waving hair entwined with mine. From her soft skin emitted a vanilla-like aroma.
A sweet, feminine fragrance that made my head devoid of thought.
"You don't need to think about anything Ki-kun. All you have to do is accept my love."
Riko repeatedly uttered the word 'love' as if to brainwash me.
However...
Riko is the girl who seized my brother.
And the same girl who tried to kill us during the ANA 600 hijack incident.
Not only that, this girl lured me into this room, pretended to be Aria, and deceived me.
And even forced me into Hysteria Mode, despite my resistance.
Can you trust the words of a girl like that?
"...You're getting better at jokes, Riko."
That's right. I am currently in a state called Hysteria Mode.
I somehow switched into this state after some physical contact when Riko was disguised as Aria a few minutes ago.
With my enhanced physical ability right now, I can effortlessly thrust her away.
But if possible, I don't want to use force on ladies.
Riko had probably calculated this.
"Ki-kun, you're mean. You don't believe my words. I'll prove it then. See those costumes? I'll let you dress me. Choose whatever you like!"
Riko pointed to the lump of clothes lying on the ground. Or more specifically, to the maid uniform, nurse suit, grade-school uniform and the likes. The sort of maniac types.
"I'll wear them, and then you're free to do anything, Ki-kun. Yes, anything."
"In that case, give me some time to talk things out first."
"That's out of the question, Ki-kun! My head is already filled with you! I'm so turned on that I can't wait anymore!"
Riko, with flushed cheeks, raised her upper body, but still stayed sitting astride my stomach.
"Wait, Riko---"
As if to interrupt my words, Riko grabbed her uniform's tie and untied it. It slipped down below her.
"Don't worry. I took a bath beforehand."
"Y-yeah. There's nothing bad in cleanliness. But what I'm saying is---"
"Forgive me Ki-kun for being forceful. I know, Riko is a bad girl. She will steal anything that she wants. Why? Because I'm a thief! Even if you're Aria's property, I will steal you from her!"
"But Riko---"
"What is it~?"
"You stole my brother's life as well."
Riko chuckled.
"...You still doubt that he's alive?"
Riko is about to lift up her white blouse.
"What do you mean?"
Thump. I pushed my index finger against Riko's chest, as a sign of protest against her undressing.
"Ahhn!"
Maybe she felt ecstasy just by being touched, Riko's body jerked. Her longing eyes narrowed.
"It's exactly what it means. Well, your brother was my boyfriend before I became crazy for you. Ah! But don't worry. I didn't do these kind of things to your brother."
She's... probably telling the truth.
Nii-san, is a person who can't do these kind of things.
"So Riko is still a virgin! An undefiled lady!"
"Do you have proof?"
"You'll find that out after we're done."
"No. I mean if you have proof that Onii-san is still alive."
"...H, S, S."
!!!
A rush of electricity, like lightning, raced through my back.
"Riko hasn't killed a soul yet. That's why you can't say that I have stolen a life before. More like I stole their body, in other words, abduction. The name 'Butei Killer' is misleading. Riko should have been called 'Butei Kidnapper' instead."
Riko Mine Lupin the 4th, who was labeled as 'Butei Killer', in the past, had erased various exceptional Butei's existence.
One of her victims was my brother, during the seajack that Riko perpetrated.
But it was highly unlikely that Nii-san had told Riko about HSS at that point.
HSS is usually what Nii-san uses to refer to Hysteria Mode, a shortened name for the psychological term, Hysteria Savant Syndrome. Nii-san, just like me, strictly hides that from other people.
---But Riko knows about these things.
Theoretically speaking, knowing this fact doesn't prove one bit that Nii-san is still alive.
However, it's enough proof to consider the possibility.
Nii-san is still alive.
Just with that possibility...
"It's question time!"
Riko, still sitting astride on me, prodded both her cheeks with her index fingers.
"Ki-kun, will you accept Rikorin now? Yes or No? If you choose Yes, after the H-scene, Riko will tell you everything she knows."
Riko giggled. She put her hands down on the bed a second time and drew her face to mine, a distance close enough to feel her sweet breath.
"Ki-ku~n. Make Riko your girlfriend. Riko is a very meek girl. She'll do anything you order her and she'll always be waiting. You want to do it outside? That's fine! It doesn't matter. You are free to do anything to her, whenever or wherever you feel like doing it."
Riko drew her lips close to my ear as to complement the temptation.
"If you do that, HSS... is that what you call it? You can always turn into that cheaty state," Riko whispered.
What will you do?
What will you do now, Kinji? A serious question, this time.
If I choose not to accept Riko because of what she had done to us until now, I'll probably lose my only possible source of information regarding Nii-san.
Conversely, if I choose to accept Riko,
(...Then I can get a clue about Nii-san's whereabouts.)
Ahh. Nii-san.
My idol. My lifesaver. And the person who flipped my life 180 degrees after his sudden disappearance.
Ahh. This is bad. Really bad.
When things came to Nii-san, I couldn't make a sound judgement.
Even being in Hysteria Mode doesn't help at all.
Riko. As what you would expect from the person who carries the blood of the legendary thief, Lupin.
Even knowing the feeling that I had for my brother, which is almost like an adoration, she presented me this choice.
(...Dammit...)
My finger keeping Riko's uniform on was slowly losing strength.
Riko made an "I-did-it!" face.
As if to show it off, Riko flipped up her uniform. Her attractive navel, shapely waist, and her fine breasts enveloped by a yellow bra became apparent.
At that moment, Riko's petulant face had manifested.
"But the thing that Riko hates is the Harem Route."
Shattering sound.

"What do you think you're doing stealing someone's slave!!"

Aria H. Kanzaki kicked the glass window like a SWAT member.
She used a grappling hook to get in here from outside.
Riko descended off the bed as if twisting her body.
Aria disengaged the grappling hook from herself, and with an acrobat-like motion, drew the twin guns from under her deep-red skirt.
Bang! Bang! Bang!!
A series of muzzle flashes. After split second delays, .45 ACP bullets were released.
Swoosh!
Riko dodged the bullets with a skillful roll of her body. She grabbed a red ransel (a school satchel) that was mixed among the costumes sprawled on the floor and placed it on her shoulders as she stood up.
"I can't believe it! And I thought it would take longer until Aria got here."
Riko drew a big pocket watch, as she said that.
"You filthy thief! How dare you steal my property!"
For now, let's drop the matter regarding Aria treating me as property. Aria, standing with her two legs open above my face, has had her face dyed all-red since her entrance.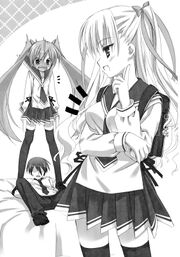 Blush Mode to the max.
A degree that could emit vapor from her head.
I reckon she had been listening to our conversation prior to her intrusion for quite a bit of time.
"Aria! Don't you think the scenario's a bit messed up if a different heroine appeared in the middle of the H-scene?"
Riko pouted her cheeks.
"I just got Ki-kun's consent. Weren't you watching? Ki-kun removed his finger that's keeping my uniform on. It was 3 seconds scant and Ki-kun could have been engrossing himself with my breasts!"
"E-Engro...!?"
For the Aria who has no tolerance with these kind of topics, she obviously has become agitated. She trembled insofar she might drop the gun she's holding.
Hey, what are you imagining?
"That's right Aria. No man can resist the temptation of a girl's breasts. Oh, right..."
Smirk. Riko sardonically narrowed her eyes, and continued,
"There may be an exception."
...then looked at Aria's flat-surfaced chest.
Aria's jaw dropped.
Her sudden loss of words was probably caused by too great of a shock.
Aria's brows instantly shot up.
"T...T-That's it... You asked for it! I'll make an airhole in your face!!"
Bam! Bam! Bam!!
Aria repeatedly stamped her foot on the bed.
Whoa, take it easy there! You're gonna hit me!
"Not only breasts. Riko knows a lot of things that guys like which I learned from playing a lot of games. Riko, unlike the grade-schooler Aria, is a master of pleasuring men."
Riko put two index fingers above her head to form horns.
"I was gonna put it into practice, but here you came and interrupted me. I'm so mad. Rawr!!"
Then... Riko threw the pocket watch that she had been holding into the air.
"!!!"
The pocket watch before Aria's eyes...
Boom!
Turned into a mini-sized sun.
The flashbang filled the entire room with white.
---We've been had!
Flash Grenade.
A device that contains alloy powders of aluminum, titanium, and magnesium. When detonated, the ingredients create a chain reaction that will emit light and the sound of a explosion to neutralize the combat effectiveness of foes. In the Assault department, it is a popular weapon of choice for support. It seemed this one was an improved version from the absence of sound.
According to what I had learned from my lectures, any person who has directly seen the blast will be momentarily blinded and stunned. You can then take advantage of that chance. However in this case, it was us who had the advantage taken.
"Kyahh!"
Even the S-Rank Aria couldn't oppose the reaction of her body. Her body relaxed and slumped down.
You can guess what will happen. My face was squashed by Aria's butt.
After a few seconds, Aria regained control and got up to her knees.
"Ri-Riko! Where did you go!?"
Thanks to Hysteria Mode, I regained control as well sooner than I thought. I got up and scanned the room but Riko's figure is nowhere to be seen.
"There had been no traces of opening or closing the door, I think."
I remarked and checked the window. From above, I saw Riko's figure elevating herself towards the roof of this building (all-girl's dorm), using a dynamic grappling hook.
"I found her! She's heading towards the roof!"
"Let's go after her Kinji! I'll make her pay for insulting me. A thousand airholes won't be enough!"
We had a talk while we were ascending the emergency stairs. According to Aria, she coincidentally came across Mutou and Shiranui and they had told her: 'It's fine bringing Kinji in to a girl's dorm, but make sure the teachers won't know about it'. This event happened some time after I was asked by Riko (who was disguised as Aria back then) to come to the said place.
Aria found it odd. She promptly asked Informas for info and investigated the girl's dorm in question. She saw me through a surveillance monitor, and soon ferreted out my location.
This supreme intuition and initiative, is what you expect from the descendant of the Great Detective Sherlock Holmes.
"Riko!!"
Bam!
Aria kicked the door to the roof. Up there--
Was Riko, perching herself on top of the roof's fence with her feet kicking back and forth like a child.
The full moon glittered in the night sky.
The moonlight lit up Riko's bewitching smile.
"Ahh... Tonight is a good night. There's a guy, there's also the smell of gunpowder. I like both a lot."
Riko moved her gaze. Those eyes that reflect the moonlight seemed like it left a trace.
It's the eyes of a predator with prey in front of her.
It is the same eyes I saw from that hijack incident.
"Riko Mine Lupin the 4th, I will apprehend you this time! I'll make you atone for my mother's false charges!"
Aria aimed the white-silver Colt Government towards Riko.
Kanae Kanzaki, Aria's mother, the same woman in the cameo engraved on the grip of Aria's gun, had been framed by the I-U organization.
Aria went around the world in pursuit of that organization.
And finally-- met Riko Mine Lupin the 4th. One of I-U's members.
"Make me if you can, Limey."[1]
Riko grinned, showing her white teeth. She jumped off of the fence and landed on the roof.
"I'll make you, Frog."[2]
The two slandered each other with weird nicknames.
And thus another 21st century Anglo-French battle between Holmes and Lupin began.
Not to ruin the atmosphere but as a Tohyama descendant, Japan (in other words, myself) will also be participating.
The moment when the heavy June clouds concealed the moon...
Riko started.
She's fast!
"Kinji! We'll go for Aru=Kata battle. Cover me from a distance."
Aria ordered, firing two shots as she charged towards Riko.
Riko evaded the first wave of bullets by sidesault, however, by doing so risked crossing with Aria at the center of the roof.
Landing sound.
Riko did a moonsault subsequently and flew over Aria's head.
The ransel that Riko has on her back opened in midair.
From inside appeared two hand pistols ---Walther P99, which she caught with her tiny hands.
Aria, swiveling her head, shot from behind. Riko also fired after landing.
Four gunshots were heard.
Both bullets passed by both sides.
Their gunfire lit up the darkness of the night like a stroboscope.
(Aru=Kata battle, huh...?)
Close quarter combat between Buteis is different from a normal gunfight. One of Butei's laws prohibits killing by Buteis regardless of circumstance. And as battles between Buteis are inevitable, they circumvent this law by using a skill called Aru=Kata.
Each one wearing bulletproof armor as a premise, Aru=Kata is a skill that uses bullets as a blunt weapon instead of piercing.
Aria spun in place, and shot at Riko from a low posture. Following her body's movement, her long twin tail casted a duplex spiral around her.
"Hahh!"
Riko, as if to graze Aria's forehead, did another moonsault.
Riko landed behind Aria.
"I'm here~ Catch me if you can!"
"Y...You!!"
Aria rolled on the ground, and attempted to fire again...
However... *Kachin* *Kachin*
Her twin guns were out of ammo.
Aria's Colt has an advantage over Riko's Walther in terms of power, however, they lose in bullet capacity.
She released the magazine catch.
With gymnastic-like movement, she did a back-flip in the air with her petite body...
*Locking sound*
...and reloaded both at the same time with spare magazines hidden from under her skirt.
"How cute! Aria, your battle figure is so cute! I'm moe-d! Aria, moe!!"
Riko, who had pronounced those fast-paced words...
...was laughing.
That girl. She's enjoying this fight.
There were people like that in Assault section. But that adrenaline intoxicated countenance was an expression of a typical gun-monger.
"Entertain me more, chibi-chan! Don't let me get bored! Hahahaha!!"
"Don't make fun of me!"
The two figures continued launching fire at each other, keeping both sides in check. Bullets were released from the muzzle like rays of light. Yet, neither one had landed a successful hit on either side.
Honestly, I had never seen such a high level gunfight like this before. Using two guns, and furthermore, using Aru=Kata.
They're good, those two. Aria, who jumps off of the sofa in excitement in the midst of watching a TV animal show and Riko, who reads doujinshi hidden behind her textbook during class. You can't imagine that they are the same people.
From my observations, both are even.
The firing sound had ceased.
Both sides must have used up all their ammunition. They distanced themselves from each other.
Spinning both handguns like a windmill, they placed them back in holsters under their skirts.
Subsequently... they respectively drew double kodachi and double knife.
"By the way. I didn't notice this until now because of your ugliness."
..said Aria, forcibly stretching her back to look down upon Riko.
"You put back your hairstyle as it was before."
She was probably striking back from being called Chibi a while ago by throwing a sarcastic remark.
Aria was talking about having severed part of Riko's hair during the hijacking incident. Riko's hairstyle was, like Aria's, twin-tailed. However, only a part of them was tied. Riko was using the hairstyle that she had before.
"Look carefully, descendant of Holmes. The tail got shortened a bit, and it's all of your fault."
Aria laughed purposefully on Riko's words.
"Oh, my apologies."
"You said it, Chibi."
"What's that, ugly-face?"
"Chibi! Chibi!"
"Ugly-face! Ugly-face! Ugly-face!"
"Chibi! Chibi! Chibi! Chibi!"
"Ugly-face! Ugly-face! Ugly-face! Ugly-face! Ugly-fweeh..!!"
Aria bit her tongue.
I commented silently.
Now was a good time. I pulled out a handgun with one hand and whipped out a butterfly knife with the other.
Some time has passed since I entered Hysteria Mode, but due to watching the fight between the two wearing skirts without short leggings, it hadn't left me yet.
Aria and Riko's attention was fixed on each other. Using that chance, I closed my distance to them. Bending my knees to have the same level as their small height, I wedged myself in-between them...
*Clashing sound*
Aria's kodachi clashed the non-sharp edge of the butterfly knife that was in my right hand, and at the same time, I pointed the Beretta in my left hand at Riko's side.
"...Kinji!?"
Aria, baring her fangs, shouted in surprised because of my unexpected action.
Riko just said, "Hmph!"
I looked down, avoiding meeting gazes with the two, and said...
"This is sad."
...in a low, sorrowful voice different from my usual tone.
"Ha!"
I can hear Aria gasp. Her heartbeat throbbed clearly as if you could hear it say, 'Dokun'.
"K-Kinji!! Y-You're in that thing again...!?"
This is the fourth time she had seen me in Hysteria Mode.
Aria had noticed my transformation. And as if a natural reaction to this, she started blushing.
Does my Hysteria Mode really cause such an embarrassment?
"Hold back for now Aria. Besides, it's not my hobby watching two lovely kittens fighting each other."
I took a side glance at Aria. Her lips stammered speechless words. She wanted to say something but couldn't.
"K...K-ki...k-kitte...tte..?"
She let out a voice that couldn't form a word.
The grip on her kodachi was gradually losing strength as well.
This girl should be fine. Let's move on to the next one.
"...Riko."
Riko replied no answer to my call.
"A half-hearted affection and a half-hearted fight. Don't you think both are kinda dull?"
Riko wasn't really serious.
If she were, she should have used her hair as an ultimate weapon, the same weapon that she used during the hijacking incident. She should have made Aria suffer more.
However, she didn't. Why was that?
I questioned Riko with my gaze.
Riko opened a distance from us. Her eyes were filled with sorrow.
"Half-wrong. Riko is serious about Ki-kun though."
Riko shook the ransel and opened the cover. She picked up the two knives dropped on the ground without looking. She shook her head, put the knives inside the bag, and closed the cover.
The wind slightly fluttered her loose perm hair.
"But half-correct. As of now, I am not in a perfect condition to fight seriously. That's why it's not the right time yet to settle things with Aria."
"I see."
I stretched my knees. Spinning the butterfly knife with my hand, I concealed the blade part.
"Aria, refrain from fighting Riko for now."
"K-Kinji!? D-did Riko brainwash you or something!? Why are you stopping me!?"
Aria snarled. She must be making a hasty conclusion that I switched sides.
"I don't want you to commit a crime, Aria."
"As expected of Ki-kun! You understand the situation well! Do you get it now, Aria?"
Riko clapped her hands as she did a one-spin in place.
The hem of her skirt floated up as if to ridicule Aria.
"Not only are our bodies perfect for each other Ki-kun, our hearts are as well!"
"Isn't it?", smiled Riko, just tilting her head to look at me.
Aria, perplexed by the conversation that is happening between us, made an anxious expression.
"Commit a crime? What do you mean by that, Kinji?"
*Glare*
The gaze from her camellia eyes sharpen.
She hadn't sheathed her kodachi yet, but she seemed to choose to hear out my part first.
"Plea Bargain. Am I right?"
"That's correct! I have already made a plea bargain regarding that April incident. Kyaha!"
Plea Bargain.
It is a common agreement in American law that if the criminal agreed to cooperate in various things that help solve cases, like helping in criminal investigation, confessing accomplices, etc, it will abate their punishment. It is a law that diminishes, if not completely erases their crime.
This compromises fairness of course, as this law risks people giving false testimony, or framing up other people in return to escape their predicament. It is a dangerous system, but it has been implemented in Japan recently due to inability of handling the influx of crimes.
"In other words, if you arrest me, it will be a false charge!"
Tsk, tsk.
Riko clicked her tongue as she swayed her upward-pointed index finger from side to side.
In reaction to this, Aria, that is in front of Riko...
...gnashed her teeth. The hands holding the twin kodachi trembled in anger.
"That can't be true! Do you think you can pull my leg with that joke?"
"It might be true, it might be not. Who knows? Right now, we can't confirm that."
I stopped Aria for the reason that if Riko had already done a plea bargain and we continued fighting her, we will be accused of assaulting and illegally arresting her.
If that happens and we were sued, we won't be able to save Kanae-san. I will also lose the chance to talk to Riko to extract information regarding Nii-san.
Aria seemed to understand that.
Although letting out a vexed grunt, she somehow managed to restrain herself.
(I'm sorry for this, Aria.)
There is the plea bargain thing, but the main reason I stopped you is because Riko knows things about my brother.
About that, I am truly sorry.
I atoned inside my heart as I felt the Hysteria Mode leaving my body.
Still, it didn't stop Aria from pointing the blade towards Riko.
"But the false crime brought about my mother is a different issue, Riko! I'll have you testify in Supreme Court!"
"Sure."
"And if you don't cooperate, I'll make you do it by forc... E-eeehhh!!?"
Aria opened her eyes wide from Riko's unexpected acquiescence in the middle of her speech.
"I'll testify."
"R-really!?"
Riko spoke the second time. Aria, although dubious, couldn't hide her joy.
Basically, Aria doesn't know how to doubt people's words.
She's the type that will be deceived by bad men until she hits rock bottom.
"Aria, you really love your mama. Riko too, loves her mother as well... That's why I can understand. I'm sorry Aria. Riko... Riko..."
Saying those words until that, Riko concealed her face.
"Mother.. Mother... Fuwee..."
Drip. Drip.
Glittering tears started dropping by her feet.
"...Waaaa.. Waaaaahhhhhh...."
Riko suddenly wailed.
She wiped her tears with the back of her hand.
Seeing that Riko, Aria...
"E-eh? Eh!? Eeehh!!?"
Couldn't comprehend what was happening in front of her, Aria was flustered.
She made a troubled face like, "What!? Did I make her cry?"
"W-wait a minute! Why are you suddenly crying? Come on, tell me."
She hid the short daggers on the back of her uniform. Probably stimulated her motherly sensation, she pacified Riko. Her voice became gentle.
Really, she's the type that is easily fooled.
Hey Aria, look carefully. Riko has a grin on her face.
But well, whatever the case, this had erased the presence of fighting for now.
The case is closed for the time being.
(Riko... what is your true intention?)
I knit my brow at Riko, who was being patted by Aria on the back, while letting out a sigh of relief.
Why did Riko nonchalantly appear before us?
As if to answer my doubt, Riko, while crying, spoke...
"Riko... Riko was expelled from I-U because of Aria and Ki-kun's doings. Not only that, I lost my precious treasure after losing to Vlad."
The atmosphere surrounding us suddenly became tense.
I turned to Aria. Upon hearing that, Aria's eyes smoldered with killing intent.
"...Vlad? You mean that 'Endless Sinner Vlad'...? Isn't that I-U's number 2!?"
Number 2...?
"Yes. I want to retrieve the treasure that was taken from me by Vlad. That's why I'll ask you two Please help Riko."
Riko looked at us with teary eyes.
"Help...? How, in particular?"
I asked Riko.
Riko, wiping the tears with the back of her hand the second time, continued with a deliberate monologue, "Don't cry Riko. You're a strong girl. So smile, just like the usual cheerful you."
With the full moon appearing again from the dark cloud in her back---
"Ki-kun. Aria. Let's---"
Regaining her smiling face, Riko continued,
"---become thieves together!"
Translator's Notes and References
↑

Note from EnigmaticRepose: "Lupin is a French thief, and the French are well-known for eating frogs; Holmes is a British detective, and limey is slang for a British person. And Frog is an actual insult from an Englishman to a Frenchman, anyway."

↑

See above.