Hidan no Aria:Volume2 Chapter2
From Baka-Tsuki
2nd Ammo: Edge Catching
If you want to ask what happened to Aria and Shirayuki, it's obviously separated like light and darkness.
Labeling her 'One should learn everything by searching by oneself', Aria started to explore the secret of life creation by men and women, and seems to acknowledge that her physiology knowledge is wrong. That is why for a period of time after, she constantly acts strange every time she sees me, blushing. However, since she's the forgetful kind, she quickly returned to the one who furiously kicks, fiercely stamps, and often shoots multiple bullets at me for trivial things. Hah, please forget me.
And on the other side......after that event, Shirayuki is clearly avoiding us.
Before, whether I was bothered by it or not, she would always take care of me, and since the battle against Aria, every time she sees me, she becomes like a bashful animal with a great sense of vigilance, and quickly hides.
Like this, one day, during lunch.
"Tohyama-kun. Can I sit here?"
While I was eating my steak enthusiastically in the school's canteen, and while Aria was eating her peach bun which she brought, a cool guy in front of my eyes asked me.
It was a bright handsome guy who asked.
His face showing an elegant smile, he appeared in front of me, the Assault's Shiranui Ryo.
In the past, he was often in the same team as I.
His Butei level is A. Even though there are different aspects involved in an A ranking, Shiranui's integration capacity is high. Barehanded, dagger handling or shooting aspects can all be relied on. The reliability of the gun he chose is very high, a Mk.23 MODO with an installed laser aiming lens.
After Shiranui sat down, he replaced my plate, which he had pushed with his own when he placed it down. And he didn't forget to apologize, nodding to me. He's really a good guy.
......Also, this Shiranui guy, is very popular with the girls.
This can't be helped, since not only is he cool, but he is also a rare polite person in Butei High.
Although that's weird—before I was tied up with Aria, while I was always sticking together with Muto and Shiranui after school, but I never heard that he had a girlfriend.
"Kinji, I heard that you're called. If you dare escape I'll run you over."
Another one pushed aside my plate, and then with thorn-like hair, put his plate on the table. He is Muto Gouki.
He is the ace of Logi, and is renowned for the transport tools, a skilled driver that can operate anything from a car to a nuclear submarine.
Also, for the ease of maintaining it, this guy chose to use a Colt Python revolver. (T/L note: .357 magnum caliber).
Although the gun's loading capacity is small, and it cannot equip a suppressor, so normally no Butei would use it.
Additionally, no girl likes Muto. Even though he isn't a bad guy, he's too wild.
"What 'called'?"
"Kinji, did you have a fight with Hotogi-san?"
...No wonder this is Butei High.
Reports, no, trivial affairs spread abnormally quickly.
But Muto, why is your face showing displeasure.
"Hotogi-san looks very depressed, what actually happened?"
"What could happen between Shirayuki and I... by the way, Muto. You, did you see Shirayuki?"
"This morning, Shiranui said that he saw her doing flower divination in the greenhouse."
"What does 'flower divination' mean?"
"It's pretty popular,"
Shiranui's handsome eyebrows eased and said.
"I don't know. Do you know, Aria?"
Aria, who was sitting in front of me, shook her head with an 'I don't know' expression on her face when she was asked.
Her pair of twin tails move like the drumsticks of a rattle drum.
By the way, I'd like to tell everyone why Aria looks so calm. It is because her mouth is full of peach buns.
"Tohyama-kun, you should've heard about it. It's taking a flower and peeling off the petals one by one, counting while saying 'loves me-loves me not-loves me-loves me not'...that kind."
Aaah. It was actually that.
I didn't think that there would be people nowadays who still did the things like they were done in the Showa era.
That Yamato Nadeshiko is really a rare product from heaven.
"Even though she noticed me seeing her, the preparation bell for the first period rang...so the divination was interrupted. But it seems that she cried... Tohyama, why did you two break up? Did your love towards her already cool off?"
Wuuu, the sound of Aria choking on the peach buns resound.
...Love shouldn't be a subject that can't be easily mentioned.
It would make that brat overreact.
"Say... I don't know how things became like this, but the relationship between Shirayuki and me isn't that kind. We are only childhood friends."
"Childhood friends, is it? This has often been the reason to get rid of the other one. I heard that Kanzaki-san was furiously jealous, and shot at Hotogi-san. Based on my deduction, Tohyama-kun and Kanzaki-san were progressing smoothly, and so, the two girls fought against each other...is it? Because of Kanzaki-san, we are all talking about Tohyama-kun in Assault. And very cheerfully, it seems."
Woahwoahwoah!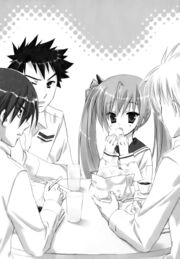 Kanzaki H. Aria's cheeks turned red instantly, and she swallowed the peach bun in one gulp.
"You, you, you---PERVERT!"
For some reason, she punched me in the face.
Hey. That move is too weird.
If you want to beat up someone, it should be Shiranui.
"I'll clearly tell you. It wasn't because I was jea-jealous that I chased out Shirayuki. Kinji and I are only companions. It isn't something about love. For sure, for sure, for---sure, it isn't like what you said. These are my real heartfelt words."
You don't need to deny it that forcefully.
"Ah, so it's like that. That means Tohyama-kun has an opportunity of reconciling with Hotogi-san?"
"What do you mean by reconcile? Say, Shiranui, you just spoke about when the preparation bell rang, but I saw Shirayuki in the normal campus walking in the hallway, and that time she didn't even salute me and entered the women's bathroom. You surely saw wrong. Also, reconciling or not, I don't need your advice."
"You're right. I'm sorry."
Shiranui made a godfather-like smile and apologized to me, and that made me stop investigating any further.
He turned his head, and whispered in Aria's ears 'Tohyama-kun is really in a bad mood' or something like that.
As for the other one, Muto...his face showed that he wanted to ask something, but it was difficult to say. Well, Muto's face being weird is something normal anyway.
"...Oh, Shiranui."
I didn't want to be asked about Shirayuki, so I decided to change the topic.
"You, what are you going to do about the Adseard sport event. Haven't you been chosen as a representative?"
Adseard sport event—a yearly international Butei competition, and at the same time an international high school competition, similar to the Olympics.
Although it is obviously different from the normal Olympics, since this competition has Assaulters and Snipers, it's overflowing with the smell of gunpowder.
"I shouldn't appear on scene, since I'm only a substitute."
"Are you helping out with the festivities? What do you want to do? That's something you can't do."
"I still haven't made my final decision. What should I do?"
Shiranui released a listless sigh that could make girls fall for him.
And opposite of him, Muto had his mouth full of Yakisoba bread, and still had some fried noodles around his jaws. (?)
"What will you do in the Adseard competition, Aria?"
"I won't be participating in it. Even though they chose me as a member for the gun team, I refused."
"So will you help with the festivities? What have you decided on?"
"I'll be a cheerleader during the closing ceremony."
"Cheerleader...? Oh, you mean Aru=Kata."
Aru=Kata[1], it's the Italian word for [Weapon] fused with the Japanese word for [Form]. It's slang for Butei, a combination of swordsmanship and marksmanship in a cheerleading routine, as well as a parade.
And the girls in Butei High, not knowing the meaning of the word 'Taboo', called themselves 'Cheerleaders'.
"Kinji is my partner, so you should help me. You don't have anything else to do, right?"
"Ah, ahh..."
This festival was originally supposed to make 'Butei' more popular among the people who didn't like them.
It could be that the organizers thought that if the dancers were cute, it would turn out better. So, all the dancers are girls, dressed up like cheerleaders.
And the boys play instruments in the back, inconspicuously.
"Music, huh. Although I'm average...it's as good as anything."
"Ah. If Tohyama-kun is doing it, then I will too. Why don't you come too, Muto-kun?"
said Shiranui, flashing a smile as gentle as the spring breeze, while looking at Muto and me.
Hey, you always just go with the flow like this...
"A band? It shouldn't be too bad. Alright, I'll do it."
Muto agreed too.
You two, you never have any plans of your own.
Well, I'm in no place to lecture them.
"But...Kanzaki-chan, it's a shame that you refused to be part of the marksmanship team. This may be common knowledge, but did you know? If you get a reward at Adseard, then you're set for life. Not only will you receive a scholarship for Butei University, but you'll also be employed more often. You could easily join a Butei Section, or even start your own private Butei office, you know?"
"I don't need such things that are so far in the future. There's something I need to do right now. I can't take my own sweet time to practice for the competition."
Something she has to do.
From her firm voice, that's...
Probably saving her mother, Kanzaki Kanae-san.
To save her mother, Kanae-san, who carries false charges, Aria carries the heavy responsibility of tracking down and defeating the real culprits--the 'Butei Killer' that we fought earlier, Riko Mine Lupin the 4th is one of them--she has to spend all her time and constantly risk herself to capture them, a cruel fate.
Also, for me, who is her partner--I carry the same fate.
Riko, who regrettably managed to escape from us during the plane-jacking incident, is the person who killed my brother.
For that matter at least, I will finish it. I will take revenge.
And Riko...said my brother, who should have died, is alive. Although I feel that that was just something she said to provoke me, to be honest, I have some doubts.
"Other than Adseard,"
Aria, who continued to speak, clutched her arms to herself, and stretched her upper body backwards.
She appeared to be trying to gain some height so she could look down on me properly. It's a shame that you're only 1.42 meters.
"Kinji, tuning you is more important."
"...Tu-tuning? Are you two playing some sort of weird game...?"
Muto's face started twitching, he looked back and forth between Aria and I.
"...You're saying exactly the same thing as Shirayuki. And Aria...why can't you just say training in front of other people?"
"Shut up, you're my slave, of course I'll call it tuning."
Hey, didn't you say I was your partner just now?
Once you're happy then I'm demoted back to slave?
"Anyways, how do you plan on 'tuning' me?"
"About that...Mmm-. From tomorrow onwards, you'll exercise with me every morning."
*whisper*
Aria, who appeared to have just thought up this amazingly horrible idea, happily whispered "Mm, good idea," to herself.
Damn it. I brought this upon myself. I shouldn't have talked about Adseard.

The morning of the following day, 7:00 AM.
I followed Aria's orders, who had put two guns to my head last night, and came to the agreed place extremely early...
"Who am I?"
I turned my head to face Aria, who had just covered my eyes with her hands, staying silent.
So-
So cute.
"Aah, really. I didn't expect that you'd be caught so easily. You're full of openings."
Aria, who had dropped down on her heels with a thump, and with her hands placed on her waist...
Was in a cheerleading outfit.
Butei High's cheerleading outfit had a rarely seen black design.
On the sleeveless blouse, there was a hole at the chest area, and I could see Aria's creamy white skin through it. Normally, this opening would be a heart, or a star. However, as expected of the Butei High uniform, it was bullet shaped.
I carefully looked down at her skirt. It was so short that it would definitely show off Gunchira (the moment where one can see the guns hidden beneath the skirt. The creator was Moron Muto).
"Th...that outfit, what is it?"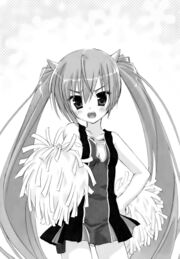 "Isn't it obvious? It's a cheerleading outfit of course. There has to be a limit to your stupidity, you know?"
"You have no right to tell me that. I was asking you, 'Why are you dressed up like that'?"
"Then why didn't you just come out and say that, idiot? This was for the cheerleading practice that I'll be doing while tuning you. If I do both at the same time, we won't waste as much time, right?"
Aria said, looking around the room otherwise devoid of people, with a satisfied expression.
This is--a place in one of the corners of the artificial island where Butei High lies, called 'Signposts'.
It's a narrow piece of land between the back of Rainbow Bridge's huge signpost and the stadium.
I didn't think that Aria, an exchange student, would find a deserted place like this to train me so quickly. Also, she decided to solve the matter of her own training at the same time.
"...Then, what am I going to do?"
"Ahem."
ChiAria[2] postured gracefully, and cleared her throat.
Though really, she's exactly like a child.
She may be extremely cute, but it also annoys me a little.
"In my heart, you are an S rank Butei."
"Only in your heart."
"Don't just interrupt me."
Seeing Aria reach for her guns, I shut up, for the sake of my continued existence.
"An S rank in Assault also carries the connotation that, you 'as one person, have the same abilities as a person in special forces'."
How is that possible?
"You have those skills, and you're able to use them sometimes. However, you don't have a way to draw out your latent power. So what we need, is a 'Key' to unlock your abilities."
Aria said with the air of a teacher.
Although, I knew that even in her dreams, Aria couldn't possibly guess that she herself, is that key.
"So, according to my investigation after the plane-jacking--you have schizophrenia."
Schizophrenia, huh?
Hehe, you guessed wrong.
Hysteria Mode isn't something like a psychogenic effect. Rather, it's one that affects the nervous system.
Which means that it's completely different from schizophrenia.
Though...I pretended to be listening to her intently, deciding to let her continue on this line of thought.
"Isn't that right? You should be able to understand now."
Oh Aria. Please continue to investigate in the completely wrong direction.
"I learned about this on the internet and in books. It's pretty interesting. So, you probably received some trauma when you were young that caused you to create another personality, and you can only change into that during the heat of battle."
"So that's what it is."
"You changed during the bike-jacking and plane-jacking incident, after all."
"That's right."
"So--the first stage of our special training is to constantly put you in a situation where you feel the pressure of battle!"
Aria finished speaking, and although she was dressed like this, she drew the wakizashi hidden in her back with a *CHI!*
"--Ah, Hey, wait!"
"What? I'll use my guns on you later, don't worry."
"That isn't it! If you slash me with that I'll be cut into pieces!"

"Anyways, in your head, at most, you have but a spoonful of brains. However, that got me thinking. I've got to do things in order, right?"
Aria said those infuriating words casually.
"This training involves putting pressure on you, who is in Idiot Kinji Mode right now, until you wake up and fight back. A methodical training."
"Fight back...?"
"You still don't understand? You're hopeless. Then I'll explain this step by step, so just stand there and listen to what I'm saying, while crying and cleaning out your ears, OK?"
If somebody really cries and cleans out their ears at the same time, they've got to be insane.
"1: You, who is in Idiot Kinji Mode right now. 2: will awaken in combat. 3: and then fight back. That's what I think, and is the ideal order of events."
So, that's how it is.
This is the plan that allows you to be so patronizing? Your naivete is at the level of mental retardation.
If she declares herself as the descendant of the world famous detective, Sherlock Holmes the 4th...then I'm sure that the English government would investigate her DNA for the sake of the country's reputation. Really.
"So, what you should learn is, counter skills."
"Counter skills?... What's that?"
"First up is 'Edge Catching'."
Aria's voice had just faded when she held up her wakizashi.
"Wai--"
She swung faster than I could shout "Wait!"
Kich!
The sound of the blade slicing through wind brushed past my ear.
Now, Aria, using a speed which I couldn't follow, sliced down towards my shoulder with her wakizashi.
--However, she withdrew the blade before it touched me. I didn't see it at all.
Fu.
That light Gardenia scent, following the wind that Aria's movements created, wafted towards me.
"Alright. First up, imagine the scene just now 500 times. You have 10 minutes."
Aria looked up with those camellia eyes, at me, who was speechless.
"...Imagine?"
"That's right. Think of the slashing movement just now, and imagine catching it in your hands. It's like image training for boxing. You can move your hands in reality, if you like."
Fyuu, Kich.
Aria, with a sophisticated flowing movement, returned the blades to the sheath on her back.
"So...it's just like image training?"
"What did you think? Did you think it would be imagining pimples appearing on your face?"
"I got it, I got it. I won't be able to do it anyways."
I sighed heavily, and without any other options, I started to imagine catching Aria's sword.
Aria, observing me, nodded, finally satisfied.
"Alright. Kinji is much nicer when he's obedient. Good boy. I-U, which got my mother arrested, apparently has an expert swordsman in their ranks. Edge Catching is a basic skill for Butei, anyways. You have to master it, OK?"
Aria said, smiling like an older sister.
...Being treated like a child, looks like I'm really hopeless.
"Alright, I'm starting the countdown: 9 minutes and 59 seconds, 58."
"I'm doing it, I'm doing it."
"You're banned from saying anything unnecessary. As punishment, I'm decreasing your time by 30 seconds!"
...Are these Aria's rules?
You're exactly like a dictator.
"...Anyways, well...I'll do as you say."
I lightly sighed.
I don't care about the key to Hysteria Mode...
After all, I've made this decision before.
There's no way that I'll become an Ally of Justice.
(I'll just do what Aria wants.)
However this seems like I'm just urging myself on, I'm not doing it because she's cute, or because I like her. It's only because 'Great men keep their promises'.
Therefore, the other thing I decided on--changing to a normal school, and living as a normal person, with a normal life--I haven't given that up.
While I was thinking this and doing image training.
Aria took an iPod out of her skirt...
I turned to look...on the touchscreen of the iPod, a video was playing.
That was a video of a demonstration of Aru=Kata. Now that I think about it, I, who followed Aria's instructions, and signed up for the band, also received a video from the Adseard Preparation Committee.
"Mmm...that's cute."
Aria said to herself, and walked a little away from me, she turned around...
Tap.
Tap tap.
She started dancing, all alone.
Ooh! She's pretty good.
Although I'm not interested in cheerleading routines, nor do I understand them, but with her strawberry-blond hair shaking, Aria's movements made even an amateur like me think that she was an awesome cheerleader.
This dance starts off the same as a normal routine--Tap, tap tap.
While slowly, the movements turn into Martial Arts [Kata], becoming fierce.
Since that's the case, letting the cute Aria dance while wearing a cheerleader's uniform...she's pretty attractive.
Aria, continuing to switch from swords to guns, kicked one leg towards the sky, forming a POSE.
It seemed as if she wasn't embarrassed, since she was wearing bloomers, not panties, so she continued with her movements casually. However, she really is amazing at whatever she does.
Pui pui pui. Pui pui pui.
Aria raised her Pom Poms, and flashed a [☆] smile.
Those Eichornia eyes which are always flared in anger, and even though she's just smiling as part of the performance, the effect was twice as that of normal. Even if I'm not sure what exactly it's affecting.
On the other hand...Aria, practicing her cheerleading...
If I just look at her appearance, It really makes me think that she's just a normal girl.
I thought that even if she were practicing in a normal high school, nobody would think she's abnormal. They would just think she's slightly willful, yet full of energy.
"Hey...Kinji?"
Aria suddenly stopped, and those camellia eyes bore into me, her twin tails swishing in the air as she stared back at me.
"Why were you staring at me so intently just now? How filthy."
Hmph! Aria put her hands, still holding Pom Poms, on her waist. However, she noticed that her skirt was a little uplifted, and she used her hands, still holding Pom Poms, to fix it.
"I'm not juggling, you know?"
I'm not sure why she became embarrassed, but her cheeks started reddening.
"If you look at the principles, a cheerleading routine is like juggling, right? And anyways, I don't really want to look at you dancing."
Actually, after having been staring at Aria so long, I felt a little bad and turned my head away.
"Then why are you looking?"
"Wh-why do you care?"
"...This is also..."
"..."
Ah-
What's with this atmosphere?
"Let's forget about that for now, did you do your image training properly? There's only 5 minutes left before I start the reverse edge training."
"Reverse edge?"
It would still hurt a lot.
It's like being hit with an iron bar, after all.
"We'll start slowly, don't get scared. But, we will slowly get faster-"
Hehe. Aria said, while smirking sinisterly.

"Ouch..."
I massaged my muscles, which were still painful even after school, and exited the Inquesta school building.
Damn it. Aria, that sadist. Even if she used reverse edge, she still beat me up so mercilessly.
I think that a lot of English words and History dates were knocked loose by her.
"Kinji."
Aria came running out of the sunset.
It appears that she was lying in ambush at the Inquesta entrance again.
"I'll say this in advance, but I won't be training with you after school. I still have some subject-related work to do."
"I didn't say anything yet."
"Also, I won't return to Assault. If you force me to go back to that suicide squad, I won't be your partner anymore. Before I switch schools next year, I'm going to stay in Inquesta and continue my peaceful life."
"I still haven't said anything."
Aria pretended to not hear my cutting remarks, and turning around, she went to the bus stop.
Although, turning her head, she flashed a brilliant smile at me, saying,
"But, we're going to train tomorrow too, you know."
...Well, I'm fine if you say things like that.
After all, I'm your partner.
Also, if I refuse her three times, then she'll definitely 'make me some holes'.

"Ah Kinji, today, Assault had a practice session against throwing knives--"
Aria, who was pouring an endless stream of chatter about dangerous objects which I had no desire to hear about in my ears, seemed to be quite happy, recently.
The reason was very clear.
Probably because I'm acting more and more like her partner.
Just like that famous detective, Sherlock Holmes, who had John H Watson by his side, Aria's bloodline--the Holmes family--all thought that they could only draw out their full power with a partner by their side.
Therefore, this girl who was called an [Aria]...this Aria who was always alone, looked everywhere. Plus this isn't an exaggeration, she really looked all over the planet.
And, she finally found one in Tokyo's Butei High.
--The me in Hysteria Mode--
Although I can't always activate that power, but I'm the only one able to be her partner.
"Hey, Kinji."
"What is it?"
"Ahh, never~mind."
"You're annoying..."
The sailor uniform's skirt would flutter from time to time, as we walked up the road. Aria, who like just now, would turn around to check whether I was still there, was driving me crazy.
"Anyways, shouldn't you start looking for another companion...? Wouldn't it be better to find at least two, maybe three people and form a squad?"
Moreover, I was hoping she would find someone able to protect this girl.
"I don't need any companions. Also, I'm not good at getting along with others." That I know too well.
"Also, I was originally able to fight alone, as long as I have a partner that can keep up with me, I'm fine. So, once I finish with your tuning, I'll be satisfied. I'm fine with just you."
Damn it.
Doesn't that mean, I'm going to have to take care of this girl forever?
Faced with this unavoidable fate, I...
"...head hurts. I got hit by you so many times."
"You'll be fine if you take an aspirin."
"The only thing that can cure my headaches and colds is the Yamato product 'Special Pueraria Syrup'."
"Special? What does that mean?"
"It means they concentrate the original ingredients. They add Pueraria, a common herb of the Ephedra family."
"Drinking that kind of thing, you're exactly like an old man. Then go drink some. I'm going to hit you tomorrow too, you know."
"I'm out... Also, that can only be bought from Ameyoko. Going there is extremely troublesome too. The pharmacy is right between Ueno and Okachimachi, it's very far from either railway station."
"Kinji."
Aria suddenly called out to me.
I should've known that she wouldn't listen to what I was saying. She stopped in front of Masters.
"Look at this."
"...What?"
I looked at the public notice that Aria was pointing at...

"Calling a student 2nd year SSR B Group Hotogi Shirayuki"

The Masters want Shirayuki to drop by?
...That's certainly rare.
I didn't expect that the averaging above 75-honors student, student council president, gardening club president, arts and crafts club president, the Shirayuki, who other than from the event where she assaulted Aria, had a completely and utterly perfect life...would be summoned.
"Aria. Di-did you report the assault from Shirayuki to the masters?"
"--I'm nobility."
Aria's camellia eyes stared at me.
"I wouldn't do something low like complaining to the teachers about my own problems. Even if she's the one who provoked me. Don't underestimate me."
Ah--.
Like Aria said, that really is worthy of praise.
As I was feeling a little surprised, Aria, by my side, used her slender finger to press her mouth, and she said,
"Kinji, this is a good opportunity to get away from that crazy girl."
Placing her own craziness on the shelf...no, on the roof, she turned towards me.
"--We have to investigate this matter, and find her weakness!"
You...didn't you just say that nobility wouldn't stoop this low?
"Weakness...what are you thinking of doing? Shirayuki hasn't approached you since."
"...Are you serious?"
Huh?
"Recently, every time I'm alone, I can feel something from a different door. I can feel somebody hiding there, and my phone calls are broken off as if somebody is listening in--"
....
"At the bottom of normal stairs, water will suddenly start pouring down, a dart will come out of nowhere, and there's even traps!"
...Hey...
"I received a letter with 'VIXEN!' on it, as well as a picture of a fox drawn on it!"
I still think that that's a little cute.
"--Anyways! That woman hates me to the very soul! And Kinji, not noticing this at all...you're way too slow! You piece of trash!"
"So that's how it is..."
"That's still the good part."
...Good?
"Not long ago, I opened a drawer on my wardrobe, and then I noticed that there was a device set up with piano wire! And also, knowing that--well, because of my height...--I wouldn't be able to get my clothes without reaching inside, they put the trap exactly where my head would be!"
That...isn't a joke anymore.
If the small Aria didn't notice, and reached her head in then with a 'KCH!'...
That kind of dangerous device is only learned by those in Assault year 3 or Lezzad...
"Kinji. While Shirayuki is summoned by the Masters, you and I are..."
Facing Aria, who was in a rage, frowning at me--
Ordered me to do something, the most horrifying thing yet.
"Going to infiltrate Masters together!"

Tokyo Butei High is dangerous no matter where you go, but inside there are the terrifying '3 danger zones'.
They are,
Assault.
The underground warehouse.
And, Masters.
Well, you might ask, why would Masters, the teacher's department, be so dangerous?
The answer is simple.
The teachers at Butei High are all...dangerous.
Well, you'd probably expect that that is the case. After all, people that could be teachers at this crazy place could not possibly be normal themselves.
From what I know, the teachers here were in the special forces, the mafia, and mercenary forces, as rumored assassins...
At any rate, it could be said that this is the gathering place for dangerous people, who certainly won't listen to reason.
Of course, departments like Inquesta and Connect have more normal teachers, but that's a horribly small minority.
"Kinji. I can't reach it. Lift me up."
The person who whispered this is Aria-sama, towards me, her slave.
Now, we've already entered the tiger's den - Masters.
"...OK, OK."
Well, if I were to refuse, Aria would probably beat me to a pulp before starting to make some holes in me.
Looking from that perspective, maybe it would be better to risk the teachers, even if they would sooner kill me than look at me.
I had already resigned myself to this horrible fate. We were currently trying to sneak into Masters' corridor, so I was helping Aria into the vents leading up into the ceiling.
If I hold her properly, she'll probably say I'm molesting her again, so I, in a method reminiscent of holding a child, helped Aria reach the vents on the ceiling.
"Alright. A little farther-higher."
My resigned voice whispered, when,
"I'll make a hole in you!"
Bang!
Aria's knee, covered in her black knee-socks, drove deep into my chest. At least 10 centimeters in.
"....Uu...Ku...Oh...!"
She ignored my moaning, and pulled her body up into the vent. The part between her skirt and knee-socks, (I remember now, this is what Muto said was 'Zettai Ryouiki', the completely revealed section of the thigh) flashed before my eyes, and with a *tap*, she stepped on my head, climbing into the vent.
Afterward, Aria turned around and helped pull me up, then continued to crawl forward.
I was lingering behind my twin-tailed master's skirt, since I felt that there would be some danger of going into Hysteria Mode, however--I was saved by the fact that the vent was so dark. I can't see her Zettai Ryouiki, let alone her skirt.
Kch Kch.
Kch Kch Kch Kch.
I looked forward...
CHIIIIIIIII.
Only to see Aria crawling forward at an abnormal speed.
Only at a corner, exerting myself, could I catch up to her.
"Aria."
"What?"
"You're crawling really fast..."
"I'm good at this. I'm the fastest among the girls in Assault."
"That's to be expected."
"Why?"
"There's nothing restricting your movement."
"What're you talking about?"
"Breasts."
Bang!
Aria, who had already spun around, planted a foot on my temple.
At least 10 centimeters in.

Shirayuki--found her.
She had been summoned to one of the teacher's rooms.
We peeked from inside the narrow vent.
This left Aria and I with no other choice than to stick our heads together.
If this is misconstrued as physical contact...and Aria starts raging, I'll be the one that suffers. So, I pushed my head away, and glanced to the side...watching Aria.
Watching Aria, who was extremely close, scan the scene down below through the vent entrance...
--Urgh.
Damn it.
She's breathtakingly cute.
Although acknowledging this makes me angry, but Aria is really amazingly cute.
Not only does she have a refinement akin to a doll's, but she also is full of emotions.
She can smile, she can be hurt, and like her focus now, they all grip your heart, an attractiveness similar to the stars in Hollywood. Having expressions like that...that's cheating.
"Hotogi..."
The woman inside the room softly called Shirayuki's name.
The homeroom teacher of 2B as well as the head of department of Dagula--Tsuduri-sensei was sitting on a black leather seat while crossing her legs, outfitted with boots.
Shirayuki was sitting opposite her, dipping her head.
"Recently, your grades have been...slipping..."
Fu, expelling a smoke-ring, Tsuduri-sensei, even inside the classroom, was wearing a jet black coat.
The way she was wearing the coat was scruffy, reminiscent to the way Mad Scientists wear their coats in manga.
The black leather holster between her thighs showed off her jet-black gun, a Glock 18.
Tsuduri--even among the teachers in Butei High, she's particularly dangerous.
First is that expression, always staring straight at you. It looks like she's always on drugs. Also, that smoke...freely wafting over to you, the smell of tobacco that is most definitely not available through legal means, is it really alright to freely smoke that in Japan?
Tsuduri's black-gloved hand crushed the butt of her cigarette into the ashtray.
"Ah...Well, studies don't mat-ter any-ways."
Hey. You're a teacher, should you be saying that?
It's because of teachers like you that Butei High's average grades don't exceed 50.
"It's...hmm...ah...right, your change. It's your change that I want to know about."
The fact that Tsuduri was able to forget such a simple word is extremely worrying, but don't let her simple looks deceive you. In one way, she's one of the elite Butei.
And that 'way' is, interrogation.
In this art, she's one of the best five in Japan.
I'm not sure how she does it, but no matter how firm the offender, after Tsuduri's interrogation, they won't stay normal, and it seems they start referring to her as Queen or Goddess.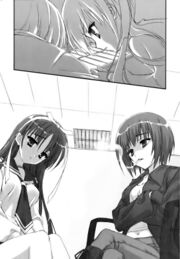 "Hey-, I'll just ask you directly. Hotogi, have you come into contact with that guy?"
"Do you mean, Durandal?"
Hearing Shirayuki's words--
Aria's eyebrows shot up.
Durandal.
I only saw this on one of the notices...but I remembered the name.
I remember, he only targeted those Butei with special abilities - 'Choutei'--for kidnapping.
However, news of Durandal's existence has been spread around for a long time already.
Also, nobody's ever seen him. So, for those Choutei that have been kidnapped, well, they've actually gone missing for other reasons, right? Most people take this view.
So now, nobody really believes that he exists, turning that offender into something of an urban legend.
"I haven't. Also...even if Durandal really exists, he won't come find me, he'll probably go after better Choutei, right..?"
"Hotogi. You have to have more confidence in yourself. You're the ace of Butei High, right-?"
"Ho-how is that possible?"
Shirayuki, extremely embarrassed, looked downwards.
"Hotogi, I've said this many times, but why don't you just have me assign you a bodyguard. Lezzad has sent a report saying that there's a high chance that you've been targeted by Durandal. And the SSR also said something similar, right?"
"But...a bodyguard...that..."
"Is there a problem?"
Tsuduri tore up some paper that looked like an English dictionary, and rolled up a mysterious herb, putting it in her mouth.
"I wish to take care of one of my childhood friends...if someone is always by my side, then..."
"Hotogi, the Masters are worried about you. It'll be Adseard soon, a lot of outsiders will be inside the school. If only for that period of time, find an exceptional Butei to be your bodyguard. That's an order-"
"...But, isn't Durandal a non-existent offender..."
"This is an order-. Because this is an extremely important case, as a teacher, I'll say this twice. However, if I have to say it for the third time, things will get scary-"
Tsuduri lit her cigarette, and with a *fuu* she blew a mouthful of smoke into Shirayuki's face.
Hey, Tsuduri.
I don't care about you, but what happens if Shirayuki does something stupid again?
"Ke, ke. Ah...OK. I understand."
Shirayuki, teary eyed from the smoke, finally nodded.
(...)
Hearing their conversation, I finally understand why Shirayuki was called in.
Because the Choutei Shirayuki, could be targeted by 'Durandal'...and also she seemed to have received a warning from the school, recently.
Therefore, Masters ordered Shirayuki to obtain a bodyguard.
...That kind of thing, it's not like I couldn't do it.
Since in Butei High, there are a lot of students that receive such warnings.
Although most of them have never been attacked.
And also, the SSR's predictions are extremely suspicious, Lezzad makes a lot of mistakes too.
Furthermore the enemy, is possibly the non-existent offender, Durandal.
Which also means--
This is just Masters' over-protectiveness.
The honor student Shirayuki is one of the hopes of the Masters, so they can't let anything happen to her. So they'll react so heavily to such unconfirmed reports, issuing an order to make her acquire a bodyguard.
Poor Shirayuki. Being played around with by those adults, it must be horrible.
While my mouth was shaped into the [へ] character...

Crash!

Aria.
She kicked open the grate of the vent.
"Wa...! You..!"
Aria kicked me away, who was trying to hold her back by pulling on her clothes--and dived down!
She rushed out of the vent, her skirt fluttering as she descended into the room.
Shirayuki, Tsuduri, and I opened our eyes in shock.
Now that I think about it, although I was unable to see it from my current position, but in that movement just now, the view under her skirt must have been fully exposed, right? No...I don't actually know what was exposed.

"--I, Kanzaki H. Aria, will be her bodyguard!"

Aria shouted out as she hit the floor, making me extend too far in shock-
Rumble, rumble.
"Uu...uwaahh!"
Thud.
I fell onto Aria, who was directly beneath me.
"Uwaah!?"
"Uwaah!?"
Aria, whose back buckled from the impact, recovered and pushed me to one side.
"Ki-Ki-Kin-Kinji! Don't stick your idiotic face into weird places!"
Aria, shouting while blushing, was captured by Tsuduri, holding her like a cat.
And I, standing up--Ku, was picked up by the scruff of my neck. *rattle*, *thud*.
Together with Aria, I was thrown against the wall.
He-hey, you did that way too hard, Tsuduri.
"Hmm-?--What are you two?"
Tsuduri stuck her face in front of Aria and I.
"Oh? Isn't it the couple from the plane-jacking."
Shi-, she took a deep drag of her cigarette, and blew it out with a "Fu." She looked up, a weird smile on her face, her throat working. Woah...she's really...scary.
Also, don't call us a couple.
"This one is Kanzaki H. Aria--she uses a pair of Colt M911s and 2 kodachi. Her title is 'Quadra'. An S rank Butei stationed in Europe. However--everything you've done up till now, from the reports, seems to have been solo missions from the London Butei Section. Because you have no coordination at all. You really are an idiot."
Tsuduri picked up one of Aria's twin-tails, examining her while spouting out her record.
"Le-let go of me, it hurts. Also, I'm not an idiot. A noble does not show off her accomplishments. Even if others claim the accomplishments as their own, I won't deny it!"
Aria, who wasn't afraid of Tsuduri at all, bared her canines while replying.
"Ah-. Such a pointless position. I'm glad I'm just a commoner. Anyways, your weakness... now that I think about it, you can't sw..."
"Uwaah--!"
The thing Tsuduri was about to say led Aria to start screaming to block out her voice, waving her hands violently.
Also, she was so agitated she started blushing, her mouth opening and closing repeatedly.
Can't sw...what?
"Tha-tha-that isn't a weakness! I'm fine as long as I have a life ring!"

Oooh, so that's how it is.
Aria, you've exposed yourself.
Shirayuki seemed to be taken aback by what had been happening, so she didn't really understand, but I understood very well.
You--can't swim.
Haha. I've learned something good today.
Tsuduri, GOOD JOB!
"Mm--"
Tsuduri released Aria, who was at her wit's end, and looked towards me, who was lovingly fantasizing about Aria drowning in a kiddy pool.
"And this one is, Tohyama Kinji-kun."
"Ah-...this wasn't my idea, I was forced by Aria..."
"He's antisocial. He has the tendency to distance himself from others."
Tsuduri, who was trying to remember while speaking, appeared to have remembered the statistics of all her students.
"However, a lot of the people in Assault look up to you, so you're respected as someone with a lot of potential. A sort of charisma, I guess. The missions you have solved...I remember, you went to Omi to find a cat, and the flight ANA600 plane-jacking incident... Hey, aren't those two things too far apart?"
"Please don't ask me that."
"Your weapon is... an illegally modified Beretta M92F."
Panic.
"It can fire in bursts of three or full auto, you nicknamed it Kinji Model, right?"
"Ah-, that...it was broken during the plane-jacking incident. Right now I'm using an American gun as a make-shift replacement. It's completely legitimate."
"Hehe. You've already made an appointment to get it modified by Amdo, right?"
Bullseye.
"Uwaah, that burns!"
Exhibiting the art of smiling while extremely angry, Tsuduri's cigarette touched my hand!
Th-this is too weird. Although it was only for a moment, and I didn't get burned, but as a teacher she's burning her students...
Damn it. Why does she know everything?
"Then? What do you mean by 'being her bodyguard'?"
Aria, faced by the short, black-haired Tsuduri, stood up, unafraid.
"Exactly what I said. I volunteer to be Shirayuki's bodyguard, and 24-hour duty as well!"
"Ah, hey Aria..."
Wh-why did you declare yourself to be Shirayuki's bodyguard?
You were attacked by Shirayuki, after all.
I tried to ask her through my eyes, but Aria seemed to be set on doing it.
"...Hotogi. I'm not sure why, but an S rank Butei has volunteered to be your bodyguard, you know?"
Seeing Tsuduri's jet black coat turn towards herself, Shirayuki--
"I...don't want her! Staying together with Aria all the time, that's horrible!"
The eyebrows under her fringe shot up, exhibiting the reaction I had predicted.
"--if you don't let me be your bodyguard, I'll shoot him!"
Whoosh!
Aria suddenly reached beneath her red skirt and drew her silver M911, aiming at my temple.
Hey, hey! Butei Law article 9! Article 9!
Butei can't kill people, Aria-sama!
"Kin...Kin-chan!"
Ah! Shirayuki covered her mouth with both hands in shock.
And just like I thought--on Aria's face was an evil smirk.
"Uu~...so that's how it is! That's what you're going to do-. Well? Hotogi? What are you going to do?"
Tsuduri seemed to be having a lot of fun, smiling while observing the situation.
Should you really be doing this?
At least remove the gun from my head...
"I-I-I have a condition!"
Shirayuki's hands hung downwards, powerless, her tear-filled eyes closed. She yelled,
"Kin-chan has to be my bodyguard too! And on 24-hour duty as well!"
From inside me...
Hyuu.
Something carrying my soul suddenly flew out of my listless body.
Translator's Notes and References
↑

Italian word for weapon is Arma. Arma written in katakana is Aruma. Japanese word for form is Kata. Therefore, Aru=Kata.

↑

Pun meaning cheerleading Aria and chibi(tiny) Aria.