Hidan no Aria:Volume2 Chapter1
From Baka-Tsuki
1st Ammo: Armed Shrine-Maiden
Shirayuki Hotogi is a Yamato Nadeshiko.
She is a modest classical Japanese girl with long and smooth black hair.
She's great in cooking, any kind of housework and would be a good wife and a great mother to everyone.
...It's what she should be.
She would never be the kind of girl waving her Japanese sword while screaming:
"I'll kill, kill, kill Aria and then I'll commit seppuku!"
...Normally.
"Why me?! You got the wrong person!"
Even the famous detective Sherlock Holmes the fourth, Lady Kanzaki H. Aria, seems to not understand why someone would take her life.
But that's to be expected.
Even I, who is her childhood friend, don't understand her.
I quickly thought about the clues leading up to this incident:
Shirayuki, who returned from training asked me: "Is it true that you're living with a girl?" and sent me a total of 49 mails to my cellphone
Shirayuki herself rushed in here
Shirayuki became like this immediately when she saw Aria
...No
I don't understand.
I can't think of a reason why Shirayuki would be that angry!
"Shirayuki! You, what did you misunderstand?"
Dong!
I just said half of the sentence when Aria suddenly kicked my back hard.
I, who had been kicked out directly on the wall of the corridor, fell down.
"Kinji, think quickly about a solution to this! If it's not your fault, why would this kind of thing happen?"
"Don't, don't blame this on me!"
"No! Kin-chan isn't wrong! It's Aria who's wrong! It's surely Aria who's wrong! Aria, you, this kind of person, disappear for me--!"
That's, that's not good.
Shirayuki--she has already lost herself in anger.
In fact... although I don't understand for what reason, Shirayuki has been occasionally like how she is right now, in front of my eyes, since she was young.
According to my experiences, if she turns herself into that state, she won't let it go. The victims don't even know--the victims were all girls--why they were beaten up so miserably.
"Great Punishment---!!"
Shirayuki let out a shrill scream and charged towards Aria, producing a clanking sound with the wooden sandals she's wearing.
Woosh!
A downward slash, heading straight towards Aria's head.
How, how can it be?!
She, she really has the intention of killing someone!
"Owww!"
Aria screamed with a high-pitched voice like a rare cat.
Paaa--!
Aria stopped Shirayuki's sword with two hands.
(Bare, bare hand edge catch)
It's the first time that I saw someone use this in a real fight.
Aria, there's no doubt that you're the combat skills master.
Hey, Kinji, it isn't the time to admire this.
"You idiot woman!"
Aria tightly held the sword with both of her hands.
Tong! Shaa!
Aria's skirt leaped and she immobilized Shirayuki's right arm with both of her legs.
And, with a furious throw, twists Shirayuki's right arm up.
"Valetudo!?"
Shirayuki seems to see through Aria's school of fighting and right away, the clogs stomp on the ground with a 'dong'.
And 'bing'.
Aria finds herself wrapped around her own backhand, and roughly smacked to the floor.
Hey hey, my floor has already sunken down!
"Wuuu~ Disappear! Disappear, you fox demon! Disappear quickly in front of my Kin-chan!"
Shirayuki's legs fiercely send Aria flying.
"Ah?!"
Aria rolls out heavily, and 'bing', she collides with the room's sofa, buried underneath.
"S-Stop! Both of you stop!"
Sooo!
In front of the me who was screaming, under the destroyed sofa--.
Finally Aria, fired up, sends bullets flying from her pair of guns.
DangDang!
Although Shirayuki, very naturally blocks the bullets with her sword.
"I'm angry! I'm angryyyyyy! --I'll make you a windhole!"
Ping!
Aria, as if she was launched by a catapult, dives out from the sofa's wreckage with great speed.
While shooting until the cartridges are empty, Aria rushes close to Shirayuki-because the bullets were all blocked-
Shhh, Kla!!!
Just like her nickname, she takes out two short swords, and collides against Shirayuki's sword.
So, kla, klakla, klaaaaa--!
Both sides are on the defensive.
"Kin-chan, stab this woman from behind! That way you'll never get to see her again!"
"Kinji! Quickly come cover me! You're my partner!"
Being asked for help from the two of them at the same time--
I already...don't know what to do.
"...Do as you please. Fight until you two are pleased."
I hold my pained head, and...walk out of the room.
I pass by the two of them glaring at each other, open the ground window, and go to the balcony.
You ask me, why do I come to the balcony?
Because there's a cabinet here. And it's bulletproof.
"Kin-chan!"
"Kinji!"
I ignore the screams of the two of them, opened the cabinet and...went in.
Shirayuki the mad warrior.
The fighting genius, Aria.
This kind of monstrous battle, can a normal high school student like me stop it?
The answer is obviously NO.
That's why...I...
Decide to close the cabinet's door, escaping from this impossible reality.
If you want, you can call me a spineless guy. Do as you please.
But wouldn't anyone cherish his own life?

Hotogi mikos are also known as armed-shrine maidens.
It is said that no matter which place's shrine, ancestral post or shrine maiden, there are always people shouldering the mission of the gods. Although in Shirayuki's house, the Hotogi shrine, there seemed to be a problem and it turned into an armed protection agency.
As you see Shirayuki, you understand that the mikos of the Hotogi are very strong.
That's why Shirayuki can carelessly block bullets, something I have only done once before in Hysteria Mode.
And her source of energy, which is still not completely understood, because it is so difficult to analyze, seems to be some kind of 'supernatural ability'.
...
...Supernatural.
You don't believe me?
I don't want to believe it either.
Nevertheless users of supernatural abilities should technically exist. It seems that they are trained by the secret researchers of the special institutions in every country. So even in Butei High, there's an SSR.
So Shirayuki, who is already a gifted student, is currently developing an ability that surpasses those of normal humans.
A butei who uses supernatural abilities is called a 'choutei'[1]. Even though there's still some doubt about them, supernatural abilities are becoming more and more important to Butei.
Haaa.. I sighed heavily.
--It's too abnormal.
I still want to go to a normal school and then become a normal adult some day.
Though recently, because of Aria, I have been pulled deeply into the supernatural world.
The battle outside seems to have stopped...to check whether it is over, I close my cellphone, put it in my pocket and quietly ...quietly sneak out from my bulletproof cabinet.
The scene of my room almost made me pass out.
The walls are all marked by bullets and sword cuts, and my furniture is all scattered in pieces on the floor.
It looks like an earthquake and a typhoon hit it at the same time.
And the earthquake and typhoon girls' hair is all messed up, their clothes are in chaos and their bodies are covered by dust and sweat. These two great bishoujos are both wounded and exhausted.
"Haa...Haa...You're really...stubborn, fox, fox, fox demon..."
Shirayuki uses her sword to hold herself up, barely standing, and panting heavily.
That's why her sword is stuck in my floor.
"You, it's you...who should quickly, quickly go down...haa, haa..."
Both of Aria's knees are on the floor, and she uses both her arms to support her body.
"Huh, is there a winner yet? It looks like a tie."
When both sides stop fighting because of exhaustion, a third party comes as a mediator. Those are the world's rules.
That's how I think, and now I'm urging them to make peace.
"--Kin-chan-sama!"
Shirayuki, who finally seems to notice me, sheathes her sword, and dizzily sits on the floor.
Her eyes that look like beautiful Obsidian, start to moisten, and she holds her face.
"I, I'll die as apology, if, if Kin-chan-sama abandons me, I'll immediately kill Aria and commit seppuku, as an apology towards you."
The way she speaks makes it harder for me to understand.
And also, what the hell is 'Kin-chan-sama'?
There are two honorific suffixes.
"I, I say...what's that...to abandon or not?"
"But, but even if you put male and female mice in a basket, the number will still increase!"
"Not only do I not understand, but also you skipped too much!"
Shirayuki quickly lifts her crying face after she hears me say these impatient words.
"A-A-Aria only wants to play with you, Kin-chan! Absolutely!"
"Hey, don't grab my collar."
"It's my fault, I don't have any courage, that's why Kin-chan you have, by a woman outside, and not inside, been..."
"He would be the same even if you were braver."
Aria says viciously from beside her.
"You, don't think that because you look like lovers you can do whatever you want, poisonous woman!"
Shirayuki says this while throwing me away -clang!- and takes out a chain sickle from her sleeve.
"Lo-Lovers!?"
Shla! the chain sickle that Shirayuki took out wraps Aria's left arm that holds the black M1911.
That way the two of them use all their strength and the chain sickle becomes tense.
"Don't, don't say rubbish! I, I-I-I-I, don't care about something like love!"
Aria, who is greatly scared about topics related to love, her face -huu!- became completely red as she shouted loudly.
"The kind of things like love--it's simply wasting time, I didn't do it, I didn't even think about it! I've never looked forward to it, and never looked for it! I don't even look forward to it!"
Why did you need to say it three times?
"So what's Kin-chan to you, Aria! Isn't he your lover?!"
"We don't have that kind of a relationship!"
Says Aria in a high-pitched tone.
"Kinji is my slave! He is only my slave!"
"S-S-Slave...?"
Shirayuki's face becomes completely white after she hears this, her mouth opened widely.
Afterward, she thought about something similar, and her face becomes as red as fire.
In fact her temper is also urgent.
"You, you actually...already with Kin-chan, played these kinds of forbidden games--!"
"You, youyouyou, what the heck are you saying! It's not like this!"
"It's definitively true! I already thought about the same thing the other way, so I know it all!"
"Nononononononnnn-ooo--! Kinji!"
Shaaa!
Aria, still fighting over the chains with Shirayuki, with her purple eyes, glares at me fiercely.
"It is 100% your fault that this weird woman became mad! Quickly think of a solution to this! Or else you'll regret it!"
I'm already doing it.
"...Uhh, that. Hey... Shirayuki, you first."
"Yes."
Shirayuki immediately let go of the chain and sits in Seiza before me.
Tong!
Because of what Shirayuki did, Aria fell to the ground and looked towards the sky. It's better to ignore her for now.
"Listen to me, Aria and I, we are only forming a temporary Butei team."
"Is it?"
"Yes, Shirayuki. You, you should know what's my nickname? Say it."
"...Misogynist."
"Yep."
"And, inept."
"It's got nothing to do with what's happening now."
"Ah, yes."
Don't say superfluous nicknames. It will make things more complicated.
"Now you should understand. Your anger, which I don't understand, is only a misunderstanding, without any meaning. How could I, with this kind of dwarf elementary school girl, - windhole - have that kind of relationship?"
Aria interrupted me in the middle of my sentence, but has still been ignored by me.
"But, but...Kin-chan."
Hmm?
The always obedient Shirayuki, rarely talks back to me.
"What?"
"That one..."
She raises her slender jade finger and points to my pants' pocket.
That..., it is the doll I caught with the doll-catching machine, the cat-fan animal, 'leopon', the cellphone attachment, was exposed.
This doll is a little bit big, so even if it's placed in the pocket with the cellphone, it'll still be exposed.
But... What's the problem with it?
I only see Shirayuki's finger, turning toward the already sitting Aria's skirt pocket.
There... it was as if the leopon was saying 'hello', also has his claws and head exposed.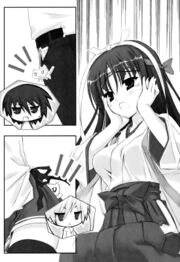 "It's actually a pair-look--!"
Shirayuki starts shouting, Waaaaaaaaah!, and tears start spurting from both eyes like a fountain.
"Pair-look?"
Without realizing that this century had anglicism, Aria's eyebrows slightly frown.
"Pair-look is what lovers do between them! I, I, I too have dreamed of it numerous times!"
"I--say--! Didn't I just tell you that my relationship with Kinji isn't that kind of thing! With this idiot, I don't even have one micro-micro-gram of that kind of relationship with him!"
Aahhh...
The peace talk can finally begin.
But I say, what does micro-micro-gram mean?
"Shirayuki."
I turn to Shirayuki, put my hands on her shoulders, and look straight into her eyes.
"You, don't believe what I just said?"
Shirayuki, seeing me act a bit serious, wipes away her tears that could not stop falling.
"N, No. I believe, I believe in you..."
Finally, in our third denial, her attitude softens.
And, wiping her tears, she raises her head, looks at me, and then looks at Aria.
"So, so, between Kin-chan and Aria, you two didn't do that kind of thing?"
She asks us coolly.
"What's 'that kind of thing'?"
"For example, kiss..."
Kiss.
Is it?
Is it kiss?
"..."
"..."
Aria and I look down, and turn slowly with a stone-like expression.
Aria's face looks like messaging red traffic lights, flashing, and flashing.
Speechlessly, she opens her mouth and closes it, stares hardly at me.
Ah, hey. Don't turn the hard questions to me.
That--in accordance with the truth, I should answer 'Yes', but it was only an emergency measure in the battle against Riko, it wasn't because of love...
"You...did...it...didn't you...?"
Shirayuki's pupils, while saying this, enlarges.
Her expression disappears in front of my eyes, and makes a Ha Ha, Ha Ha Ha, Waaaahahaha laugh.
Hey, hey Shirayuki!
That action right now is Rated-R!
"I-It's true we did that kind of thing... BUT!"
Shaa!
Lady Aria, from the other side, stands up fiercely for a reason I don't know.
And, forcefully, straightens up her fake chest that wouldn't become bigger anyway.
"B-but, don't, don't, don't worry!"
Don't worry?
"I just checked it yesterday! I, I-I, I..."
--I?
"I DIDN'T GET PREGNANT!"
Finishes Aria's sentence.
As if, I heard that.
...Clang...
The funeral clock rings.
...Why...would...she become pregnant...
Aria confidently folds her arms together, making a 'How is it?' expression.
Shuuuu.
A soul that looks like Shirayuki flies away from her body.
"--Shirayuki!?"
Gong!
Like this, Shirayuki falls down behind while sitting.
"A, Aria, you--why would you suddenly bring pregnancy into the conversation!"
"You...you irresponsible bastard! Don't you know how I was stressed in the dark after you did that?"
"Why would you be stressed!"
"Be, because father he, when I was young, said that you would get pregnant after you kiss."
It wouldn't be!
Hey, everyone from the Holmes family!
At least, you should give your child a sexual education!
"This kind of thing couldn't result in you being pregnant! Even an elementary schoolgirl would know that!"
"What's that!? Then tell me how you would get pregnant!? Say it!"
"Who, who, who would tell you, stupid!"
"Surely you don't know!"
"I know!"
"Then tell me!"
"Devil would tell you, stupid!"
While we were fighting with our faces blushing and our ears red, Wuuuu!, the foreheads close to hitting together.
Shirayuki, which I don't know when she regained consciousness--
Like smoke, she vanished from the house.
Hey, hey...
This affair, how did it turn into this?
Translator's Notes and References
↑ In Japanese "Chounouryoku" means "supernatural ability" or "super ability" and can be also translated into "psychic ability". The "Chou" from "Chounouryoku" is combined with the "tei" from "Butei" to form the name "Choutei" (ie: Superbutei).