HEAVY OBJECT
From Baka-Tsuki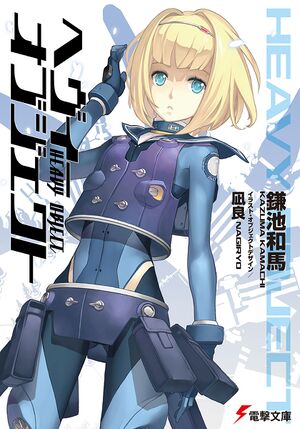 "HEAVY OBJECT" (ヘヴィーオブジェクト) is a science fiction series by Kazuma Kamachi (鎌池 和馬) and illustrated by Nagi(凪) published under the Dengeki light novel label. Currently six volumes have been published. There is also a manga adaptation previously serialized in the monthly magazine of Dengeki Maou.

The Heavy Object series is also available in the following languages:
Story Synopsis
In the end, war couldn't be extinguished. But, there was a transformation. Even in the heart of a worthless accomplice in murder who was indifferently continuing his task, there was a transformation. The massive weapon "Object". This was a weapon that changed the whole definition of war. An exchange student named Kwenser, who was dispatched to the battlefield, met at the base a girl with a strange aura. The girl, dubbed "Elite", is the pilot of "Object". The near future. This diminutive boy had come to take on the role of standing up against the strongest weapon "Object" for the sake of the girl. This was the motive for their first meeting.
Translation
Translators are asked to register which chapters they are working on
Format Standards
Every Chapter (after editing) must conform to the general format guidelines
Feedback
If you enjoyed the series, why don't you tell us in the Discussion Thread and give the project a vote
Updates
July 23, 2011: Project Page Created. Forum translations by DNK uploaded.
February 22, 2012 Heavy Object Vol.1 completed.
April 16,2012 Heavy Object Vol.2 started.
July 2, 2012 Heavy Object Vol.2 completed.
The "HEAVY OBJECT" Series
Volume 2: Adoption War — An Audition War (Full Text - PDF)
Volume 3: Shadow of the Giants — Global Shadow
Volume 4: Treasure of Electron Mathematics — Theoretical Vein
Prologue
Chapter 1 - The Ocean Should be Pure Blue >> Illegitimate Battle in the Loyauté District
Chapter 2 - Christmas on a White Sand Beach >> Furlough Garrison Battle (?) in the Oceania District
Chapter 3 - The Treasure of the Sea Dyed Deep Red >> Defenseive Battle in the Solomon District
Epilogue
Afterword
Volume 5: Festival of the Dead — Purge of Technopics
Prologue
Chapter 1
Chapter 2
Chapter 3
Chapter 4
Chapter 5
Epilogue
Afterword
Volume 6: Path to the Third Generation — The Coming of Third Generation
Prologue
Chapter 1 - The War Broker Closest to Heaven >> Intelligence Battle in the Cook Islands Addition District
Chapter 2 - The Team that Carries Out Dirty Jobs More Painful than Hell >> Transportation Battle in the Athabasca District
Chapter 3 - The Conspiracy Bank that Motivates Human Greed >> Bombardment Battle in the Amazon District
Epilogue
Afterword
Project Staff
Project Administrator: N/A
Project Supervisor: N/A
Translators
ACTIVE
Editors
All editors who speak English proficiently are welcomed.
Series Overview