File:UtsuroNoHako2 3.jpg
From Baka-Tsuki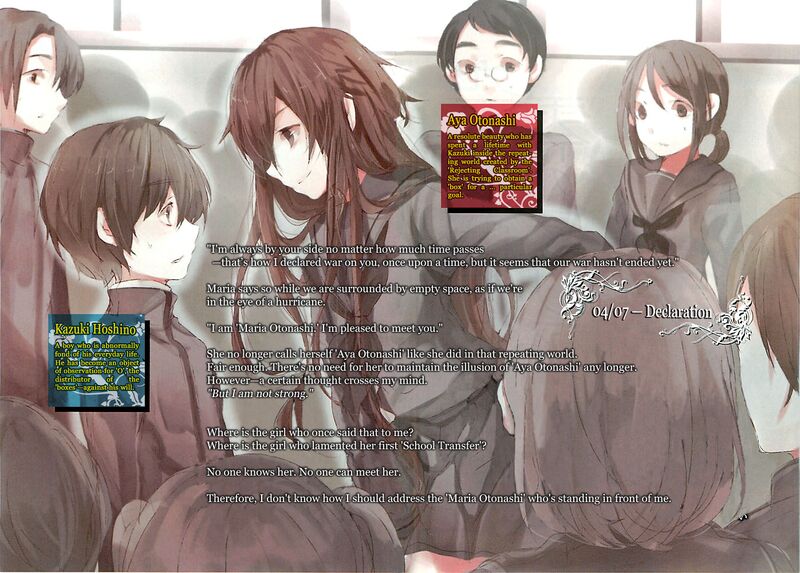 Full resolution
‎
(1,397 × 1,000 pixels, file size: 329 KB, MIME type: image/jpeg)

"I'm always by your side no matter how much time passes—that's how I declared war on you, once upon a time, but it seems that our war hasn't ended yet."

Maria says this while we are surrounded by empty space, as if we're in the eye of a hurricane.

"I am 'Maria Otonashi.' I'm pleased to meet you."

She no longer calls herself 'Aya Otonashi' anymore like she did in that repeating world.
Fair enough. There's no need for her to maintain the illusion of 'Aya Otonashi' any longer.
However――a certain thought crosses my mind.
"But I am not strong."

Where is the girl who once said that to me?
Where is the girl who lamented her first 'School Transfer'?"

No one knows her. No one can ever meet her.

Therefore, I don't know how I should address the 'Maria Otonashi' who's standing in front of me.
Maria Otonashi
A resolute beauty who has spent a lifetime with Kazuki inside the repeating world created by the 'Rejecting Classroom'. She is trying to obtain a 'box' for a ... particular goal.
Kazuki Hoshino
A boy who is abnormally fond of his everyday life. He has become an object of observation for the distributor of the 'boxes'―'O'.
File history
Click on a date/time to view the file as it appeared at that time.
File usage
The following 7 pages link to this file:
Metadata