Durarara!!:Volume 1 Prologue
From Baka-Tsuki
[edit]
Prologue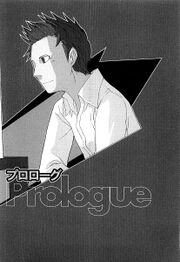 This is one twisted story---
"Hey hey hey! Are you there, Seiji-san? I dropped by again today! Aw, you locked the door by accident again? This means I can't enter!"
Alert, alert. The stalker is invading my home, and has been hammering away at the house door since a little while ago. She won't even press the doorbell? What the hell's she thinking?
"The door's locked! You're not sleeping, right? Kyaa! This is the first time I've visited a boy who's sound asleep!"
Warning, warning, warning to the me of last week. The me of last week rescued a country bumpkin from two delinquents. It was only after I asked that I learned they'd be attending the same high-school as me, beginning tomorrow, and somehow or another it ended up like this. And the other girl was clearly one of those polite, obedient types!
"You know… Actually… I've always liked Seiji-san! Do you remember? During the entrance exams, I was sitting next to you! Because the guy on my right had a very grandiose name of 'Ryuugamine'*, I wanted to check out the name of the person on my left, and with just one look, it was love at first sight! And from that day on, I've always remembered the name! Although I wasn't brave enough to confess to you then… you rescued me, and then I thought… 'Ahh, this must be fate!' Do you know how much courage this gave me? So that's why, please let me see you, Seiji-san! I want to see you all energised and rearing to go, Seiji-san! Please please please, with a cherry on top?"
Ryuugamine: peak of dragons
Caution, caution. After rescuing this gal, she secretly followed me home, and after that has come by almost every day. She won't listen even if I tell her to go home. And that load of bull she shouted just now? I've heard it at least two thousand times before.
"Could it be that you don't feel well? You feel ill, so you can't respond? Oh no! Please open the door quickly! Ever since the day of exams, I've been asking around about you, Seiji-san! I know all about stuff like your birthday and your relatives!"
Police, police. 'I'm gonna call the police.' It was only after I said it that she backed down for the day.
Three hours after the assault. Hazarded that girl should've gone home, I decided to go to the convenience store under the apartment block to buy something. Holding toothpaste and newspapers, the features of that denpa-girl once again flashed through my mind.
Denpa: literally 'electro-magnetic waves' or 'radio waves', this term refers to the genre of mysterious girls who may or may not have powers related to waves. These powers are usually psychic in nature, for example being able to read someone's thoughts by detecting e-m waves or electricity.
My first impression of her was a beautiful girl, but with a touch of sophistication- or perhaps using the words 'beautiful lady' would be more accurate. But why'd such a lovely girl have no boyfriend?— the answer would be what I had already experienced today.
No matter how cute that denpa-girl is, I will still refuse her politely. If I was eager for a girlfriend, it'd probably be different — but my current self doesn't have the slightest shred of interest. Because I 'already have a girlfriend'.
But what about the opening ceremony tomorrow? I returned to the floor I lived on and idly mused over this question as I walked down the narrow corridor.
If I have to see that girl when going to school everyday, I might as well just not bother going at all. Ah… That's right, since I have a girlfriend anyway. She, so tranquil and beautiful, was a far cry from that girl. As long as I'm together with her, it's not a big deal even if I can't get into high school. I'll just go work at Sis' office, and being a reform student or whatever was just fine.
Aah, I remember now. I finally recalled why I saved the girl to begin with. Although now that I mention it, it feels way off, but I saved her because she looked like my girlfriend. Now that I think about it, I really did do something retarded. I ran off to rescue someone because they look similar, only to discover their personalities differed so much afterwards.
Reflecting on the matter, I inserted the key into the lock of the house door.
Eh? Strange.
---The door's open.
Alarm, alarm, alarm— alarms went off along the whole of my body.
The sirens wailed--- I opened the door and saw a pair of female shoes.
"Se-Seiji… san..."
I entered my room, to see that female stalker standing there, rooted to the spot.
I realised I was abnormally calm despite facing a girl who had trespassed into my room. Because I was watching the expression on her face at the same time.
And so, I coolly forced out a few words, so coldly even I was taken aback.

"So you saw?"

"Um… er… I… you see…"
The expression on her face was completely different from usual, filled with apprehension and fear.
…What's this? So she makes these kinds of expressions too.
At the same time, I had become certain. Certain--- that this girl had indeed seen what should not be seen.
"Um… Um, Seiji-san… I… Yeah, I won't tell anyone! Despite this, I still like Seiji-san. Er… So… That's to say… Don't worry! No matter what your interests are, I can match them, so ah… um… you see…"
The tides have reversed. Seems like it's my turn to make her unable to fight back.
"It's okay."
"Seiji-san!"
Hearing my reply, hope once again welled up in this female stalker's voice.
"It's okay."
"Seiji... san?"
She appeared to have noticed the icy look in my eyes. In the blink of an eye, a film of unease clouded her hope again.
I wanted to let her expression change to one of complete despair, so I repeated once again:
"It's okay."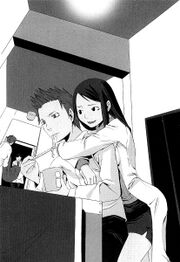 "Seiji!"
When Sis brought two underlings back home, I was just eating cup noodles in the sitting room. Those two underlings nimbly slipped that female stalker into a duffel bag and carried her out. Sis surveyed the entire room, saw the blood-stained walls and then hugged me tightly.
"It's okay, it's not a problem."
Although Sis' body heat gave me a little warmth, I only found it inconvenient being hugged this way while eating.
"Seiji, you don't have to worry, your sister will take care of everything, do you understand?"
"Sis, I don't care about that girl--- I'm only worried about 'her'."
"So it really was Seiji who took her out… Never mind, let me take care of her as well. It's okay, as long as I'm here, I'll definitely keep Seiji safe and sound… Not least those damn cops, I'll never let them take you away, never, so you don't have to worry about anything."
With that, Sis issued a few orders to her underlings and left.
Perhaps it's best I didn't go to work at Sis' office. Because Sis seemed to be hiding things from her company, secretly dealing with all sorts of people. Like these underlings Sis brought along- they were clearly looking at a dead person, but they did as they were told without a word of complaint; this couldn't be good.
I don't want to work with these bad people, or else won't I become a bad person myself?
If I became a bad person and was taken away by the police, she'll definitely be very lonely. I definitely can't let this happen.
Watching Sis' underlings expressionlessly scrubbing at the bloodstains on the wall, I slowly shoved the soggy noodles into my stomach.
Eh, these noodles are disgusting.

This is one extremely twisted story.
---A twisted… love story.