Campione!:Volume 1 Chapter6
From Baka-Tsuki
Chapter 6 - Whirlwind in the Darkest Night
Part 1
Yuri and Amakasu spent dozens of minutes before they escaped from the area of pitch darkness.
They were lucky enough to stop a taxi that hadn't noticed the abnormality of the area yet, and managed to return to the Nanao Shrine besides Shiba Park.
Within the premises of this shrine was a simple, single-story service building.
Yuri had kept the Gorgoneion for safekeeping inside this place. It was a room that had been especially prepared for her, so she could use it freely.
She left Amakasu waiting outside in the courtyard before entering the service building herself.
When she returned with the Gorgoneion, Amakasu was reporting their current situation through his cell phone, to whom was likely to be a member of the History Compilation Committee on the other side.
"So the artifact that's causing the problem is the Representation of the Serpent; talk about a troublesome item."
Amakasu said after hanging up his phone around three minutes later.
The meeting with Kusanagi Godou, the appearance of the self-claimed lover from Italy, and the arrival of the Goddess Athena --- Amakasu had reported all of these recent events.
Everything had developed so quickly that Amakasu had revealed just how much of a 'do things my way' attitude he had.
But even though he was someone like that, he was still an agent of the History Compilation Committee.
To understand sorcery to some degree, trained in a few martial arts, and knowledgeable about supernatural and deific matters of past and present... it was expected for him to be like that.
"I still can't believe that an artifact like the Gorgoneion had been excavated from Africa; it's just too odd considering its connections with a Greek goddess."
Yuri asked without any expectations.
She only hoped to receive some hints that might lead to an answer.
"Oh no, it's not strange at all. Plato[1G 1] once wrote in his dialogues that 'the Greek Goddess Athena and Libyan Goddess Neith were the same deity'."
"Plato's dialogues?"
As she watched Amakasu answer her effortlessly, Yuri couldn't help but see him in a new light.
As expected of a member of the History Compilation Committee, his wealth of knowledge far exceeded that of her own.
"Correct, if I remember right it was in the Timaeus[1G 2]. It was a well-known story in ancient Greece. Even Herodotus[1G 3] once wrote something similar, that 'most Greek Gods had been adopted from foreign countries'.
Yuri felt admiration as she listened to his explanations.
As a miko, Yuri had received some western cultural education. But even though she was far more knowledgeable than other girls of her age, she still didn't know much about Classical Greek culture.
"Of the Greek Pantheon, many of the deities were assembled from various parts of the ancient world. Their places of origin included Egypt, Libya, Babylonia, Syria, and many others. It was the result of merging many regional and ethnic gods into their own mythology."
"That's how... I didn't know at all."
"Don't worry; this is a lacking for Japanese in general. Because we've always been a closed island country, we're rather oblivious to the cultural changes brought in by immigration. For example, even the one Kusanagi defeated, Verethragna, could trace its origins to the bible."
"Ehh!? Really?"
The Persian God of War that supposedly had ten forms.
How did such a god from Central Asia appear in the world's most famous book?
Strictly speaking, it would be an ancestor of that god. I once mentioned that Verethragna had been equated with Heracles[1G 4] as a god of victory. But Heracles had been a god created by unifying several other gods, and his oldest source would be Ba'al[1G 5], the storm god and ruling deity of Canaan[1G 6].
"So are you saying that the African god Neite was later referred to as Athena... like that?"
Amakasu revealed a vague smile to her question.
"About that, who knows? Regarding something like this, I don't think I should comment on it when I'm just a layman. Honestly, this is a difficult part of Athena; the goddess had a profound link with not only Neite but also Medusa."
"I remember the one who defeated Medusa was Perseus, the hero who received divine protection from Athena."
Yuri thought of the renowned story from Greek mythology.
With dozens of snakes as her hair and the ability to petrify people with her gaze, Medusa had met her death when Perseus cut off her head and offered it to Athena.
"That mythology introduced the relationship between Medusa and Athena. Did you know that Athena had always kept the severed head of Medusa with her after receiving it as an offering? Ever since ancient times, the shield of Athena[1G 7] would almost always include a portrait of Medusa.
Medusa had stayed in this form besides Athena ever since.
It wasn't appropriate to call them partners; more like strong bonds of fate had linked them with one another.
"Incidentally, if you trace Medusa's origin, you'll find that she was an earth goddess that came from Africa. She really wasn't a monster."
Deities from other cultures were often introduced as evil mythological monsters to suppress their status. Of course, they were always defeated in the end.
Legends of defeating evil and vanquishing monsters like that could be seen everywhere in mythology.
"Furthermore, Athena was also linked to many other goddesses other than Medusa. There were simply far too many in similar roles."
"What do you mean by similar roles?"
Yuri asked Amakasu, who was normally too lazy to explain.
The subject had digressed completely from the main topic.
Even though she knew this, she still felt that the current topic was of unparalleled importance. Not because of curiosity, but because her miko instincts were warning her so.
"Goddesses with names similar to Athena also come from Southern Europe, Northern Africa, and Orient regions bordering the Mediterranean like Turkey and Syria; the number of gods who share the same name as her are unnaturally high. There's Athena, Atana, Atona, Anata, Asherat, Aset, Ath-enna, and so and so on. Even Ba'al, whom I just mentioned, had a goddess of war sister named Anat, also a similar name.
"Goddess of war... sister..."
Yuri's mind couldn't stop spinning.
The Pantheon ruler's sister, daughter, and wife. The Goddess of War. The Serpent Goddess. The Goddess of Life.
"All those names that seem similar in pronunciation and linguistics cannot be disregarded either. Although they were originally the same name, they continue to circulate between different cultures, becoming more enriched every time... that's the way we ought to think of them."
A bitter smile appeared on Amakasu's expression; maybe he thought they had gone off on a tangent for too long.
"Some say that Athena was the embodiment of owls; this spreading darkness probably had something to do with that. I had just asked for an investigative report from the scene during my phone call.
"The scene --- you mean within the darkness zone?"
"Yes. Athena was currently moving towards the central Tokyo expressways through the Chiba region. Her goal must be that Gorgoneion, spreading her darkness across the area while moving and calling upon flocks of owls... they'll be in like a typhoon."
Just after Amakasu nonchalantly made a joke.
The premises of Nanao Shrine was completely enveloped in darkness.
Even though this place was encircled by the woods, it was still in the heart of the city, and the skyscrapers that surrounded the area were always bright sources of light.
Other than the street lights, there were also dazzling neon lights from the department stores.
Normally, this place would be brightly lit even in the dead of night. But right now, the darkness that encompassed the area felt endlessly deep and impossibly dark.
Only a half-moon was left in the skies to shine hazily upon the ground.
"Ah, this place has already fallen under the goddess' influence... since things have gotten like this, we can only pray that the devil king would step in quickly, otherwise this will become impossible to handle."
Amakasu muttered to himself within the darkness-covered shrine.
Part 2
"This is the god of darkness' presence... and the Gorgoneion with the imprint of the serpent was an artifact associated with the earth. So the goddess that governed both earth and darkness..."
Yuri looked towards the skies from within the shrine.
The night before her was darker than black pearls.
"Owls are the messengers of Athena; they are birds of misfortune that only appeared during the night, and are considered bringers of ill-omen. But they are also sacred birds worshiped as symbols of wisdom, and had represented both sanctity and calamity since ancient times. Putting 'snake' together with 'owl'--- just how do we interpret that?"
Amakasu muttered unhappily.
Although his figure couldn't be seen, both his sound and breath were very close.
There were also other people within the shrine who had sensed the abnormality and fled to this place.
It made them seem unreliable, but that couldn't be helped; there weren't many people within this country who could stand up to a [Heretic God].
Even those of them who were close were at a loss over what to do.
Yuri couldn't help but tremble.
Originally, humans were supposed to fear the night, but ever since the advent of lighting, humans had mostly discarded this fear, but it was still a natural instinct.
It was the same a while ago, when they had to use a lot of effort to escape the area of darkness.
To walk under faint traces of moonlight, guided only by keeping a hand on nearby walls and railings, even a completely normal path would seem distressing.
People huddled closer together with one another during the dark night regardless of where they came from.
"See, we can still do something as long as there's some light."
Suddenly, a warm, orange light ignited.
Amakasu had used his lighter, but the flame was immediately extinguished.
"To give off light --- that meant the fire lost strength, right?"
"Correct, a frighteningly powerful darkness trait... as expected of a [Heretic God]."
Regardless of the era and country, humans will always bestow names and mythology upon gods.
Powerful gods not only threatened man, but also belittled people.
They were still nameless during prehistoric times.
But mankind soon found the presence of gods between heaven and earth, viewing hurricanes and floods as the gods' anger, and worshiping powerful, dangerous beasts as their incarnations.
Over the passing of the ages, people would name the gods and weave all sorts of myths around them.
For example, the earth creator El; the war god Ogmios; the goddess of wilderness Artemis.[1G 8]
Or the battle and blacksmithing god Ogoun; the berserker god of destruction Tezcatlipoca.[1G 9]
There was also the heavenly wanderer Susanoo; the god of twelve incarnations Vishnu.[1G 10]
They were as numerous as the stars.
All of them originating from the hands of man.
One could say that this was a ritual created by man to ward off the overwhelming might of the gods.
The gods who received names and mythology should not stray too far. Whether it was granting favors or taking revenge, these gods should not exceed the scope of their authority.
Thus, it was possible for people to respond to the threats and blessings of gods.
However, if a god wanted to exceed their name or the meanings behind their mythology.
If they returned to their original form, before they were bound by the limitations of mythology.
Such a god would be named a [Heretic God].
After turning their backs on the mythology given to them by humans, they would descend upon the world. Some circulated between the nations that granted them their name, while others drifted to faraway lands.
Regardless of which, [Heretic Gods] would bring disaster upon mankind.
If a sun god descends, the world would become unbearably hot.
If a sea god descends, the world would be swallowed by the ocean and sunk underwater.
If an underworld god descends, pestilence will spread through the world, bringing death to every city.
If a judgment god descends, the people will receive all sorts of penalties and punishments.
Bringing forth unbalance and change merely by journeying across a world, these gods of calamity acted on their whims and sought to create their own status --- they were the [Heretic Gods].
"But the darkness just now didn't just snuff out light, it even stopped the vehicles; how did that happen? Thankfully there were no catastrophes, but..."
Yuri prompted her earlier question once again.
Motor vehicles traveling across an expressway that suddenly lost all lighting were bound to cause accidents.
If every district Athena went across became like this --- just thinking about it was scary.
"Lucky break caught within this misfortune. The darkness banished both light and fire, so everything relying on these two stopped working. Athena's power shut off not only the lights, but also vehicle engines; some car accidents are still inevitable, but thankfully they aren't tragedies."
Amakasu then listed all the items still capable of releasing light or fire --- in addition to lighting, equipment that used gas or oil were also unusable.
However, phones, wireless equipment, and devices like air conditioners could still function normally.
The darkness had already swallowed between one-third to half of Edogawa, Koto, and Central Tokyo districts, and was now expanding into the port district.
Under its influence, Tokyo's east city metro had also been stopped.
"...Even though this was to be expected, isn't this a little too exaggerated?"
"Since Athena isn't a hateful, evil god, even though she brings trouble upon us, nothing catastrophic should happen. With her power, spreading mass destruction won't be hard at all... so it's only a matter of time how long this will keep up."
Amakasu's worries were spot on.
They needed to resolve this quickly.
However, Yuri's inner doubts were growing.
Several hours ago, Kusanagi Godou had left to meet the goddess Athena, but he still hadn't returned. Instead, Athena had come to Tokyo.
She not only revealed herself, but was also wreaking havoc.
Her actions were far too careless. What if there was a godslayer nearby? Shouldn't she be a little more careful?
"Unless, Kusanagi-san had already lost to Athena?"
Yuri felt uneasy, worried that something like that might have happened.
Even though he had the power of the devil king, he didn't seem reliable at all --- Godou merely looked like a student of her age, with nothing special about him.
Before she met his true face, she had felt anxiety, fear, and even the urge to run away.
But afterwards, forget anxious, she had felt relief instead, and even ended up lecturing him, telling him to be more cautious.
Towards the opposite sex, no, even to those of the same gender, she had never spoken words like that.
When she was with Godou, her emotions felt inexplicably relaxed, and then become careless --- maybe there was something similar between her and Godou.
Thanks to her sixth sense, Yuri could usually tell if she could get along with someone upon their first meeting.
As soon as she thought of that, she started shaking her head.
He already had such a lowlife for a lover, so she definitely shouldn't get close to him. Yes, definitely, even if the world was flipped upside down.
"---F-first we should try to reach that person. Amakasu-san, could you lend me your cell phone please."
"Of course, go ahead. If possible, could you request him to help us defeat Athena? Eh, we already don't have any other solution left."
He didn't even wait for a response before putting his rectangular cell phone in Yuri's hands.
It was uncertain if it was due to Athena's influence, but the LCD screen seemed bleaker than usual. But according to Amakasu, its talk functions should work normally.
When they separated, Godou had written his cell phone number down on a piece of paper and given it to Yuri.
Since she had already memorized it, dialing it had been quick... after a few rings a response came.
[Eh~~?]
"It's me, Mariya. Kusanagi-san? Where are you right now!?"
Yuri called out after hearing a familiar voice.
[Eh... around the Kasai Arakawa area. All cars and metro have stopped. Oh yeah, something I need to report, Athena is moving towards the Gorgoneion, and any place she passes by will render light and fire unusable, so be careful.]
"I already know about that. What are you doing right now? Is Athena already in the port district!?"
[....It's a shame but, Athena had gotten the better of me; I have just returned from death's door.]
"Death's door!? Are you okay? If you can't move, I'll go get---"
Yuri was distraught over the sudden and serious development.
Yuri's intuition told her this wasn't a joke, that Godou wasn't the type to make jokes at moments like these. She wasn't sure why, but that's what she believed.
[Ah, I'm alright, don't worry. Did you know? My body is unbelievably tough; there's no way I'd die that easily. Besides, I could use this to lie to people.]
[Lies --- please stop saying stupid things. After receiving such a serious injury you still run around all over the place; that's way too reckless, even if Kusanagi-san's body was stronger than usual...]
Yuri couldn't help but get worried, and ended up divining him.
She had a feeling that something might happen if she left this guy alone. Yet, Godou's next comment had eased Yuri's worries.
[Kay, it should be fine since I'm no ordinary human, so you don't need to worry. But there's something I need your help with. It's fine if you want to refuse, but please hear me out first.]
"...What is it? Is it something I can do?"
[Yes, more like I can only rely on Mariya-san for this. But it's really dangerous, so I really should ask for your answer --- but if you could, please wait and ambush Athena.]
"Ambush!?"
Ambush the powerful [Heretic God] --- Athena.
That was simply suicidal. Just what did Godou Kusanagi want from her?
[If Athena gets near your place, just call my name. This way, I should immediately fly to where you are --- I think.]
"Fly?... Is that another one of Kusanagi-san's powers?"
[Yea, should be. If someone who knows me by face calls for me, then I can fly to that person's side --- I think that's how the power works.]
"...You keep saying uncertain words like 'should' or 'I think', did I hear wrongly?"
Since Yuri felt odd about it, so she asked Kusanagi.
[Eh, actually I'm not sure, since the conditions still need to be verified, and even then it may not work every time. But it seems to be that we need to know each other's appearance, realize that the other has fallen into danger, and both be exposed to the outside winds... I think satisfying these conditions should allow me to use it.]
"You sure?"
[I think so... I just don't know how much danger the other side has to be in, but I think meeting a god should qualify.]
"Why would anyone agree to such a dangerous and uncertain thing!"
[Yeah, I thought so as well. Sorry for making an unreasonable request. It just doesn't seem like we can catch up to Athena, so I've been trying to figure out another way... are you in any danger? Forget the Gorgoneion, just get away from there and leave Athena to me.]
Godou gave a straightforward reply just as Yuri became anxious again.
Kusanagi-san didn't want to do this either.
But if they didn't use such a method, it would be very hard for him to catch up to Athena, Yuri just realized.
If it was something that must be done, and it was something that only she could do---
Then didn't that mean she had to do it?
"I understand; I'll wait here with the Gorgoneion until Athena comes... I'll definitely call your name; you have to come; I don't want to die in a place like this."
Death, that wasn't an exaggeration at all.
Meeting such a powerful [Heretic God], who knows what could happen. It was possible Yuri would lose her sanity just by meeting her eyes.
Such was the difference between humans and gods.
[...Really? Mariya-san, even though I requested this, please don't make any rash decisions.]
"There isn't any other way, right? If there is, you wouldn't make such a request. Even though you're a frustrating person, you aren't the type to play this kind of cruel joke."
[Eh, I'm happy you say that, but we only met today. Is it alright for you to trust me like this?]
"I am a hime-miko of Musashino after all. I know these kinds of things --- I'm only going to help you this once, so you better get here quickly."
Yuri hung up the call without waiting for a reply.
If she heard any more arguments from him, the firm resolution she mustered might start to waver.
Would Godou Kusanagi keep his promise? Yuri's intuition didn't have an answer.
Yuri suddenly raised her head.
She just noticed that Amakasu and everyone in the shrine had gathered around her.
"...Yuri-san, when did you get so close to Godou Kusanagi?"
"Amakasu-san, please don't joke like that. Just when did we sound 'close' during that conversation. Anyhow, I must bring the Gorgoneion to outside the shrine."
Facing the surprised Amakasu, Yuri faintly countered.
"Kusanagi-san has the power to return here, but I have to become his guide. However, we can't lure Athena here; we have to draw her towards somewhere with less people --- so everyone, please take care of things afterwards."
Yuri ordered with all the dignity of a hime-miko.
Although she said it respectfully, it was still an order. There was no room for refusal.
"That's way too risky; let me lure Athena in."
Amakasu suggested.
Under Yuri's powerful glare, everyone had kept their silence, with the exception of this man.
"No, Amakasu-san won't be able to call Kusanagi-san here. Only I can fulfill this condition, therefore I must go alone."
Since the opponent was Athena, it was useless to bring more people; going alone should at least avoid any unnecessary casualties.
Yuri smiled faintly as she tried to reassure Amakasu.
"Everything will be fine; Kusanagi-san promised he will come. That person will only keep his promises in this kind of situation, that's what my intuition says."
Part 3
Yuri hurried through the streets enclosed by darkness.
She could only rely upon the moonlight, starlight, and her eyes, which had finally gotten used to the darkness.
Normally it would be bright even during the night.
Along the commerce streets, there would always be light pouring from the windows of high-rises, as well as many street lamps lighting the way.
But now, there weren't any man-made lights.
Utter darkness had overwhelmed the entire area.
Looking down at the hands of her watch, it was already 11pm.
There wasn't a single person around.
Without any night shift workers, the number of people wandering around shopping streets late at night would be far less than those around during daytime. But there were also residents living nearby, and there should also be some people still on the way home from overtime jobs.
It shouldn't be this lifeless and desolate.
Everyone had stayed within their homes or their workplaces, awaiting the arrival of morning.
Even if they came outside, only an endless abyss of darkness awaited them.
In these conditions where not even flashlights worked, the only person who dared wander around outside was only Yuri herself.
These streets were supposed to be familiar.
Normally, there would be no way to get lost here, but tonight was different.
Yuri kept her hands on the structures and railings to ascertain the situation before her, advancing under conditions where she wasn't even sure of what was just a few meters ahead.
Under these circumstances, her sense of direction was completely useless.
It was no longer possible to grasp just where she was.
Yuri continued to walk like a blinded insect. Her goal was a place with even less people than the commercial street - Tokyo Bay.
Within the bag in her hands she carried the Gorgoneion.
Just carrying that already made it impossible to escape the pitch black city, which had already fallen into Athena's grasp.
But Yuri wanted to bring the fight between Godou Kusanagi and the goddess to a sparse area before they begin. She focused all of her thoughts on this, and it was the only thing that kept her going through these dark streets by herself.
Since Yuri still wore her miko outfit, many curious onlookers would have focused their sight on her during any normal night.
But right now, there weren't a single pair of curious eyes.
Yuri suddenly felt an inexplicable sense of loneliness, just as she was about to cross the road.
The situation had caused everyone to abandon their cars and flee, so there was no need to mind traffic laws.
Yet, someone called Yuri to a stop from behind.
"---Thou miko who servest the unknown gods, hand over the relic of the [Serpent]."
The night lay quiet.
The night was surrounded by unnatural stillness and silence.
The voice was like the night wind, leaving the silent night undisturbed.
"Athena is my name. Daughter of Zeus, traveler of the side, coming to retrieve the [Serpent] in thine hands. For disrespect toward followers of foreign gods, one must apologize now."
Filled with an aura of divinity, the overwhelming presence closed in one step at a time.
She looked around.
One glance was all she needed to realize that the slowly approaching girl was Athena.
Immersed by the moonlight, the goddess looked thin and slim, yet emanated unusually powerful might.
Her hair billowed in the night breeze, pouring off the sense of ill-fortune.
Strands and strands of sparkling silver hair seemed like countless snakes within Yuri's eyes.
"Ancient [Serpent]--- finally found; with this one can return to being the old Athena, the defiant Athena. Miko, take one's story of three goddesses awakening within one and carry it down to the ears of future generations."
Athena merely extended her tiny palm forward.
With just that, the bag in Yuri's hands sprang open, the Gorgoneion inside flew to Athena's hands.
"Such is the ancient [Serpent], one finally retrieved one's past."
Athena smiled faintly.
Albeit the engulfing darkness, Yuri could clearly sense her joy.
Then, the goddess sang towards the skies:
One sings, the carol of the trinity goddess. Connecting skies, earth with darkness, reincarnation with wisdom.
One sings, the melody of the demoted goddess. Born as queen yet seen as snake of forbiddance, to the queen's grievance.
One sings, the ballad of the traumatized goddess. Disgraced by the esteemed father, fell to humiliation as the mother.
One named Athena, daughter of Zeus, patron of Athens, maiden of eternity.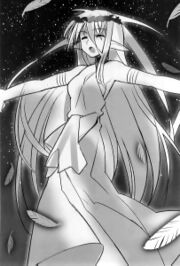 Past, is the nurturing earth mother of all things!
Past, is the dark mistress of the underworld!
Past, is the spreading of heavenly wisdom from the enlightened goddess!
One pledges, Athena shall soon return to the Athena of origin!

Divine songs weaved forth from the mouth of Athena.
Like hymn, like prayer, like praise.
With the chant's continuation, Athena's figure began to change.
Her height increased, her limbs lengthened, and the looks of a delicate girl gave away to a lady of divine excellence.
The immaturity vanished from her features.
From appearances alone, she looked like she was seventeen or eighteen, her modern clothes having transformed to white robes of antiquity.
"Defiant... Athena---!"
Seeing Athena at such a close range, Yuri's instincts realized Athena's nature.
Here was the descendant of mother earth.
Here was the dominating leader of death and gloom.
Here was the forlorn goddess of the skies, the earth, and the darkness.
Even so, she must still be resisted, because this street was not owned by the gods, but built by the people, as a city for humankind.
"Athena! Please stop joking. You still have an opponent here!"
Yuri ignored her trembling body, frightened by the prospect of challenging a god, and shouted with all her strength.
"O miko, thy words amusest me. Speakest his name, for one may think the same."
"The one to fight you is the personification of godslaying, one recognized as a king of mages --- Kusanagi Godou! Until you defeat him, please stop abusing causing trouble as you please!"
Facing the amused Athena, Yuri suppressed her fear to answer.
Yuri had received the special education of a hime-miko since childhood, so she understood divine might more than anyone. Despite this, she continued on without holding back:
--- No.
Her trembling wasn't caused by fear.
Yuri realized that her temperature was dropping, because she stood near the Athena who now had the Gorgonieon.
Affected by the chill of the underworld that spread from the goddess, Yuri's body was nearing its death.
"Ah... truly apologetic; although one retrieved the strength of antiquity, full control has yet to be regained."
Athena's voice contained her amusement.
Compared to earlier, the spiritual power held within her words were immeasurably stronger.
"Yet, this baptism by death's breath, thou receivest not alone. Kusanagi Godou has already experienced. If he can escape the abyss of death to stand before one, one may yet grant thy wish---"
"If that's so, then there's no problem. That person is still alive. For my sake--definitely, to protect me, he will definitely arrive soon! Just watch!"
Her legs were trembling so much that even standing was difficult.
Yet Yuri continued to stand with all her strength.
She hadn't received a response from Kusanagi-san; she only told him to hurry here before hanging up the call.
Plus, she didn't know if his power could actually be used.
If it could, Godou Kusanagi would fly here. If not, she would hopelessly die here.
Just which was it? Should she trust him? Should she not?
Casting aside all confusion, Yuri shouted with all her strength:
"Kusanagi-san! Kusanagi Godou! Come! Athena and I are here! Hurry up -- your strength is needed now. Hurry!"
The wind began to blow.
The gentle night breeze quickly rose to a mild wind, then grew to a powerful whirlwind.
Athena was stunned.
Within the whirlwind stood the figure that caused her expression.
--Kusanagi Godou
Kusanagi Godou had arrived with the wind.
Her sight had connected with his sharp eyes.
As Yuri saw the devil king that was her age, she collapsed onto the ground as her knees gave out below her.
The most surprising thing was, Yuri wasn't nervous at all.
No matter how immature he was, no matter how troublesome he was, he would accomplish what he had to do.
Protect those weaker than him, rescue his friends from danger--without such a will, it would be impossible for a normal person to receive the Campione title.
Godou would definitely come.
That was what her intuition had told her, and she calmly nodded towards Godou with her trust.
Part 4
Before this, Godou had been at the West Kasai station.
Athena sought the Gorgoneion, so she should be moving towards the Nanao Shrine, thus he rode Anna's crazy car once again, hoping to return to Tokyo in haste the entire time. But...
Kasai area had already fallen under Athena's influence.
"I sleep for just a bit and this happens, such a troublesome goddess."
Godou complained.
Within this district consumed by darkness, lighting equipment and cars were unusable.
As they arrived on the edge of Kasai, Anna sharply stopped her hellishly fast car. Although he had been lucky to stay alive, he must still press on.
Vehicles lined up around them, every one of them disabled; they were no different than steel boxes with wheels.
"Eh, regarding the relationship between owls and Athena... because they were birds of wisdom, so they became the messengers for the goddess of wisdom... right?"
A tiny shadow flew past just as Godou looked out the window.
Since he had very good night vision, he knew it was an owl.
Most Japanese had only seen those birds on illustrations or on TV, so these were probably summoned by the silver-haired goddess.
Athena seemed to have the alias of 'Brilliant Goddess'.
Meaning 'one whose eyes sparkled with light'.
But Godou had finally realized that this alias really meant 'one who possessed the eyes of an owl'.
"That's not all. The nocturnal owls were seen by people of ancient times as the embodiment of the death gods, who traveled from the underworld to the real world. So of course they would also become the servants of Athena, who had once been a god of the netherworld."
Erica responded smoothly.
...So that was how it is. Godou's felt like an examinee who only knew half the answer.
"You can't defeat Athena if you don't even know something of this level. We've been rushing so much that I didn't get to teach you much this entire time."
"N-no, that's alright; the current situation is way too disastrous."
Godou hastily separated himself from the disgruntled Erica.
Thanks to his partner, Godou at least learned quite a bit of knowledge regarding Athena.
The information passed into his mind through [Endowment] will eventually disappear, but it should at least stay for one day, so there were no immediate problems.
The problem was that the information wasn't complete.
It was probably enough to summon the [Warrior] form, but not completely, and there was no way to bring [Sword] to its full potential.
Because the car was shaking violently, it had been impossible for him to concentrate on the learning.
"Anyhow, Anna-san, I'll get off here, thank you very much."
Godou thanked as he opened the rear door and got out.
He would get to Nanao Shrine even if he had to walk there; it was better than shuffling about here.
"Alright, I wish you good luck. Godou-san, please return safely. If you do, I'll make delicious meals for you again!"
"I can't wait already; I'll have to trouble you then."
Anna bid goodbye to Godou with a smile. She really was a lady that served knights.
Even at a moment like this, there were no tears in her eyes, only hearty smiles as she made promises for next time.
"...I'll say this now, if you wish to eat Arianna's personally cooked meals, you have to go alone; I won't be tagging along."
Erica said after following Godou out of the car and moving to stand beside him, with an expression that claimed her response to be expected.
Her serious tone made Godou's feelings waver.
"That's to say, you once said that she couldn't stew vegetables; is it really that bad?"
"No, Arianna's cooking is very good, but if you let her make pot stew then it'll be dangerous, guaranteed to give you an unprecedented feeling of peril. Since it would be a meal to celebrate your victorious return, of course it would be a hot pot stew[1G 11]."
Erica, who was afraid of neither gods nor devils, was this cautious in regards to Anna's meals.
It must be really serious.
But, rather than worrying about a meal in the future, they should be worrying over the situation right now. Erica and Godou continued to walk, neither of them bothered by the darkness.
"...Anyhow, seems like Athena had already started doing whatever she wants."
"Maybe it's because she already won once, so she no longer feels the need to guard herself against you."
They walked down the pitch black streets one step at a time; this was going to be a boring journey.
--- Or not.
As Erica moved closer to Godou, he changed his mind. With this person around, it was impossible to be bored.
"To stop Athena's brutality, we should make more preparations for the [Warrior]. So let's get back to what we were doing."
"No need! This is already enough. You see, I'm not going to fight, I'm just going to negotiate for her to leave, so I only need enough to make her wary of me."
"You're far too naive. You think Athena will care about any weapon that couldn't kill her?"
"If you really believe that, then tell me some more about Athena."
"No, too bothersome. Godou, why don't you just say that you want my lips; do it passionately, let my heart flutter. Come on, hurry~~"
"There's no way I can say something so embarrassing! If our foe wants to bring trouble to these streets, we could use [White Stallion], we can do something either way!"
Earlier, Godou could vaguely feel the direction towards [East].
It was an instinctive feel, like that of migratory birds.
This made it possible to use Verethragna's third incarnation. But even though he could, it wasn't a power he wanted to use, since it was an overwhelmingly powerful technique.
Therefore Godou was able to calmly reject Erica's tempting jokes.
Even though it was better to have more armaments, it couldn't be helped. That preparatory method was far too exhilarating in Kusanagi Godou's opinion, and could only be used with considerable emotional readiness.
--- The two of them continued to talk as they walked.
As they arrived at the West Kasai station, they realized that the place was even more rowdy than usual.
There were far more people than any other place here.
Since the metro stopped, many people were stuck and couldn't settle down.
Since nobody knew how the power cut, the East-West line and the Sobu line were both temporarily stopped, while station workers and security tried to explain the situation using their microphones.
People in the middle of their way home gathered about, anxiously listening for an explanation.
"Power outage; that excuse is stretching it."
"Forget it, at least radios and phones still work, but how are they going to explain this if this happened in Italy or Europe?"
Erica and Godou chatted as they watched the gathering crowds.
Gods who descended and revealed themselves always brought odd phenomenons about. To normal people who knew nothing of mages, this was nothing less than a disaster.
"They could claim it's a tornado, earthquake, or viral outbreak, and warn everyone to stay inside. But regardless of the explanation, people will always sense that something was abnormal, even after they calm down."
"Sense?"
"Europe--- especially Southern Europe, Eastern Europe, and England, are all places where magic is widespread, and could be considered the homeland of the devil kings. If a [Heretic God] or godslayer appeared, it would be known quickly, because there would be tons of unusual events."
Even in Europe, mages wouldn't dare expose such events openly.
But most cities had secret organizations similar to Erica's [Copper Black Cross], and most people connected to magic had an organization they belonged to.
There were many people within the cities who knew of how to connect with these organizations.
Erica said that they would spread their knowledge on how to recognize other mages, as well as their fear of gods and godslayers, through the cities as rumors and folklore.
"But won't Tokyo become like Europe in the future? After all, Godou was here, and now even a [Heretic God] has come."
"I don't want the people of Tokyo to become aware of such things."
Godou replied nonchalantly as he wondered if there was a shortcut to Nanao Shrine.
Without any other means of mobility, he could only rely upon Verethragna's power.
"...Of course the best method is to use [Wind] power, but I still don't completely understand it, so I'd rather not use it."
Verethragna was a god of victory, yet also a god that dominated over kings.
Under the widespread worship of Parthian and Sassanid Empires[1G 12] in ancient Persia, Verethragna had become a patron saint of the people. Yet the incarnation that most represented Verethragna was [Wind].
Transforming into a gust of wind to protect the people -- especially travelers.
It was said that ancient Persians would often recite the prayers of Verethragna to pray for a safe journey, or place small figures of him on the streets for protection.
"Can someone call upon you by using the power of [Wind]?"
"I think only Mariya-san can, although I don't want to give her any trouble. What should I do...!?"
Just as he answered Erica, Godou's cell phone began to ring.
"Eh?"
[It's me, Mariya. Kusanagi-san? Where are you right now!?]
Just as he spoke of Mariya, the actual person called him.
After reporting his status, he wanted to see if he could obtain Mariya's help, yet she unexpectedly agreed.
Even though he was relying on Mariya, he could only accept success from himself right now. Failure was unacceptable, and the responsibility was heavy.
"Was the call from that woman?"
Erica asked Godou who was looking glum.
"Don't say 'that woman'; her name is Mariya Yuri, say her name properly."
"I know I know... her name should be Bait. I never thought that girl would have so much courage."
"You say it's courage, but I think it's more like her sense of responsibility... I regret it now. I really shouldn't have said anything. If she dies in vain like this, I'll have to carry a cross on my back for the rest of my life."
I could imagine Mariya Yuri sighing deeply while taking it upon herself when no one else was in the position to play such a potentially disastrous role.
It was because she was a very serious girl with a strong sense of responsibility.
Although they had only met for a short time, he had a very clear understanding of this fact.
"Hey, Godou, I guess I should take this opportunity to tell you something. Despite how I look, I'm a very generous and open-minded girl."
"What? I really don't have time for chitchats right now."
"I'm just offering you my generosity. Although I'm your lover, I could still turn a blind eye if you want a second lover. You're still young, so it's not surprising for you to be attracted to other girls."
Erica spoke these strange words.
Just what was she talking about?
"Wait a second. I don't even have a wife... could you speak frankly?"
"Then I'll be blunt, you should try to make that Mariya girl your second lover. She really is a rare talent, has a compatible personality with you, not to mention plenty of courage. You should spend some time developing her, you know?"
"...What?"
Godou froze as he stared at Erica.
The blond devil was advising him with a completely serious face.
"It's rare to find such a powerful spiritual seer... later on, if we have to fight a god whose origin we don't know, that girl's spiritual sight would be able read the god's various divine attributes. She's a gifted individual that would make your [Sword] even more effective, so make sure you don't lose her."
"Don't joke about something like that! How can I ask Mariya to do that kind of thing!"
"I'm serious, otherwise who would make this kind of stale joke? Ah, I'll state up front, she can only be your second lover at most. No matter when it is or who it is, your number one lover should always be me--- Erica Blandelli, remember? If you forget, I won't forgive you."
Erica nagged on as she held onto Godou's hand.
I didn't know why, but my feelings felt like they were just captured by a pair of cuffs.
"If you forget... I think I will definitely kill you, so never ever forget that. I may be generous, but I am not patient."
Erica said as she smiled softly.
Unlike her usual devilish grin, her smile was completely innocent.
Godou found this cute smile deathly terrifying; it was so innocent that it only made him feel like he would truly be in mortal peril.
"Eh, wait up. Haven't you already attacked me seriously before!"
"That was merely a game. If I really hate you, I'll definitely seize just the right moment to kill you. There will be no escape, followed by a single sure-kill strike. Simple, isn't it?"
Erica moved even closer as she continued to speak.
Godou hurriedly pushed Erica aside, an act of immaturity as his fear overcame his conscience.
"D-don't say stupid things and leave me; I'm going to use the [Wind] power now. Since I'm still unfamiliar with this incarnation, I need to concentrate."
Godou sat down on the nearby railing.
He closed his eyes and focused his thoughts.
He must make his ears more sensitive than ever, not to miss a single sound from the distance.
A middle-aged man complained angrily about the metro being stopped.
A small child was crying.
The people nearby were comforting him.
A person was whining to the police about a completely unrelated matter.
--- Godou ignored these voices. What he needed to hear weren't these sounds, but a voice from far away, the voice of someone he must protect.
How can I let such a serious and nice person die? I must save her, I must hear the sound of her call.
What I needed the most now was concentration. The greatest concentration, to leave not a single voice unheard.
I must succeed.
He had never lost to a single person since he started playing baseball.
There were plenty who were much better at batting, and just as many who were better at scoring homeruns; but he was usually the 4th batter, the one who would win the game.
Step up to the plate when it's your time to bat.
To make the impossible possible, to focus all concentration forward even when facing insurmountable hardship...
"Kusanagi-san! Kusanagi Godou! Come! Athena and I are here! Hurry up -- your strength is needed now. Hurry!"
Godou finally caught the voice as it flew across.
The shout that originated from far away.
He stood up from the ground. All conditions had been cleared.
Verethragna's first incarnation, [Wind].
Legends said the war god had appeared as a body of fierce winds before the Prophet Zarathustra[1G 13] and spoke to him: thou art strongest, thou leadest an invincible army of the battlefield, capable of destroying any human or demon who dare show hostility.
"Let's go, Erica! Hold on tight!"
Godou called his partner over as he transformed into the embodiment of the [Wind]
Tornado-like winds coiled beneath his feet.
Catching onto Erica's hand as she leaped over, the two soared into the air.
---

"----Thou art alive still, no, thou hast finally awakened, Kusanagi Godou, with true power to behold! Now worthy of being one's hated foe! With the unspeakable title of the devil king!"
He could hear Athena's prayer-like voice again, only a few hours since the last time he did.
As the winds dispersed, Godou and Erica found themselves standing on an unfamiliar road.
In front of them was an unusually thin Yuri and a silver-haired girl.
...[Heretic God] Athena
Godou recognized with but one glance that facing him was the Athena who had retrieved the Gorgoneion.
Translator's Notes and References