Campione!:Volume 1 Chapter4
From Baka-Tsuki
Chapter 4 – Enemy from Afar
Part 1
The minute Godou stepped off Shobakouen Station, he went looking for a map. That is, the 'YOU-ARE-HERE' sort that decorated the front of any passenger stop.
After the phone call yesterday, he found out the location for their meeting; it was quite possibly the most obscure Shinto shrine ever. At least, he had never heard it.
Although he had already made sure to know the closest bus stop and the walking route, it would probably still take him a long time to actually reach the shrine, it was that remote.
After confirming his destination again on the large map, Godou again set off.
————————————
"Why a shrine? There are so many better places to meet… And since we even study at the same school, couldn't she just meet me at school?"
"Now that you mention it, I remember someone saying that she was working at a shrine somewhere as a miko. And that she wasn't doing it for money, but to gain some life experience in the 'real world'. So… maybe that's why she likes shrines so much?"
Last night, the brother and sister pair was considering the strange request.
After Shizuka told him that, Godou's worries grew exponentially.
"Okay then, let's decide what you'll do tomorrow. Onii-chan, when do you plan on visiting? How about straight after school?"
"…Why are you arranging my schedule? I can decide by myself, thank you."
"Because Onii-chan is a boorish and insensitive boy, I can't let you go and meet a naïve and pure Ojou-sama, can I? So I'm going to go with you."
"That's enough, Shizuka— I'm not a primary schooler anymore, I don't need a chaperone."
"Hmm… What's wrong with me coming along with you? So, you're going to do questionable things to Mariya-sempai after all ——"
After a long and painful conversation, Godou finally persuaded the adamant Shizuka not to tag along.
————————————
In the end, Godou decided to first return home and change into casual clothes, then went alone to the meeting place. Of course, he also brought the Gorgoneion with him in a bag.
Perhaps that thing was even more dangerous than he imagined?
The reason why this Mariya wanted to talk outside school, was perhaps so that the other students would not get involved by accident… This was definitely not due to a sense of paranoia.
Godou felt justified in the end… He should never have let Erica force that bloody thing on him!
He once again felt a huge sense of regret as he walked on. Eventually, he arrived at the shrine entrance.
This long, arduous flight of stone stairs was his last obstacle.
Somewhat tired, he began his assault of the steps, and finally reached his destination —— Nanao Shrine.
Passing under the torii[1E 1], he entered the temple grounds.
The person who came out to greet him was a girl dressed in miko garments.
"We are immensely touched by your arrival to this humble shrine, Kusanagi Godou-sama. Your very presence is an honor to us. May you forgive me my insolence, in begging a respected, noble Campione such as yourself to step into this place."
The miko bent into a deep bow.
The brilliant contrast of a scarlet hakama and furisode worn over her white kosode dazzled and stupefied him. When she rose from her bow, Godou immediately understood why Shizuka constantly used 'amazing' to describe her.
"My name is Mariya Yuri. Concerning the phone call last evening to your honored person, I must sincerely apologize."
Her dark brown hair swayed as she moved.
Mariya Yuri – truly, she was as beautiful as the rumors said. And it wasn't just beauty; her face projected an air of refined nobility, her eyes shone with clear intelligence.
Of all the people Godou knew, Erica Blandelli was pre-eminent in her looks.
However, the maiden Mariya in front of him was certainly an equal.
If one considered Erica to be a large Camellia flower, this outstandingly well-mannered Ojou-sama would be a blooming sakura blossom, attracting the affection of others.
"You're also one of those sorcerers, aren't you? Just like the ones in Europe— but I have to say this is the first time I've met you guys in Japan."
"That is correct… Although I do not wish you to equate us with them, there is no severe difference between us two. I am assigned to this shrine, serving as a miko protecting Musashino, and although it is nothing more than superficial knowledge, I do know some magic."
In other words, she is working at this shrine after all.
Godou nodded his head and looked around.
"Err… Is Mariya-san the only one here? Is there anyone else?"
If possible, he would really prefer if there were other people present.
As far as Godou was concerned, it was far too difficult to be alone with such a beautiful girl.
"Your Lordship is most perceptive— I am currently the sole person at the place— and in like fashion, if I offend your honored person for any reason, it will only be me that is to be blamed. I beg your Lordship to forgive the inadequacies of my humble service, and assuage your dread rage on my body alone ——"
"…Umm, Mariya-san? Somehow, what you just said seems a bit strange?"
"My only wish is for a tyrant such as you to appease your anger with my death. I beg of you, please do not torture and execute hapless citizens at your pleasure. The display of compassion and tolerance is the only paragon for the noble Lord; whatever previous mistakes they have made, I am willing to suffer the punishment alone."
Yuri thus declared in a respectful fashion.
…Could this possibly be words of advice? Wasn't it just like the scenes in period dramas[1E 2], where a loyal minister is willing to die so that his tyrannical or muddle-headed King can be persuaded?
Godou suddenly realized things took a turn for the worse, and hurriedly corrected Yuri:
"There are too many things to correct in what you said, but let's start with the first one— What sort of person do you think I am? I'm not Nero[1E 3], not Dong Zhuo[1E 4] and definitely not Oda Nobunaga[1E 5], I'm not going to kill anyone!"
"…So you mean that simply killing isn't enough to satisfy you?"
The beautiful hime-miko once again said something completely wacked out with a serious expression.
Why did things turn out like this?
This girl looked calm and intelligent, yet couldn't understand a word of what Godou said. She really was a high-born lady; her way of thinking truly was different from everyone else.
"That's not what I meant. Listen carefully; I'm a civilized person, and don't take pleasure in doing those sort of tyrannical deeds. I hope you understand what I mean by this."
"…Yes, I understand completely. However you wish to toy or violate me, I'm willing to acquiesce to my Lord's wishes. Your meaning was that you will not allow a quick death, isn't it?"
"You didn't understand at all! I really don't have some strange fetish of torturing girls!"
Godou suddenly realized something felt wrong.
Even if she was a sorcerer, very few people actually knew he was a Campione.
The grandmasters he met a few days ago in Rome were the same. Until he had dueled with Erica and displayed his strength, they all were suspicious about his claims to the contrary.
"How do you know that I am a Campione?"
"Because of my ability, these eyes of mine are clairvoyant, able to read the secrets of the spiritual plane. Once, long ago, I had the fate of meeting a compatriot of yours, the Marquis Voban. Hence I will never mistake a Campione – a Rakshasa Raja."
Yuri's words were filled with self-confidence.
Godou finally understood. So this girl had actually once met the legendary Devil King of Eastern Europe!
"Is, is that so— I've also heard his name before. He puts on an antiquated, tyrannical attitude, and is a stubborn and temperamental old man, right? I think he is the only Campione that acts like that, so please don't treat me the same way."
Godou himself knew another Campione.
He was an incorrigibly hopeless fellow.
On the surface, he looked like an open and carefree Latin knight; but he was capable of smiling broadly while seriously hacking at you with a sword. He was definitely not normal, but it had to be said that he was very good at dealing with people.
"Your Lordship is too humble. I am most clear as to your deeds at Sicily, Milan and Rome, done in rage; all those scenes of destruction could be nothing but the deeds of a Campione. Truly dreadful…"
"It, it's not like that, I really didn't do it because I got mad. Anyway, Mariya-san, can you please stop speaking so formally? We're classmates at school, so it's fine to simply talk casually— and I'll do the same."
To be addressed so respectfully by a girl for so long, Godou simply felt very uncomfortable. But Mariya looked flabbergasted at his suggestions.
"I am extremely sorry; it is because my speech fails to match my meaning. I am most apologetic… However, what is the meaning of 'simply talk casually'?"
What the…? Was it possible that in the world of princesses and high-born maidens, there was no 'normal' way of talking?
Godou realized just how different their lives and worlds were from each other.
"I mean, stop using that respectful tone of voice. I'll just call you Mariya, and you can just address me by my name. I don't care if it's Kusanagi, or Godou, or you can even make up some nickname— anything is fine."
"How can I… I'm sorry, I can't do it. After all, your Lordship's station and mine are so different, and besides, I have never directly addressed a boy by name."
Yuri blushed and declined.
Godou only grew more certain that the two probably didn't even come from the same country.
"My station… who uses that word today? And I'm not some amazing person anyway. Forget it, if you're not comfortable with it I won't force you to— but please just relax when you're talking. And please, please stop calling me 'your Lordship'."
"Yes… I will make an effort… Kusanagi…-san."
Watching Yuri paying careful attention to her words, Godou nodded his head.
That was a hundred times better than seeing a girl his age calling him 'your Lordship'.
"I have something I would like to request of you, Kusanagi…-san. Could I please borrow the divine object you brought from Rome to look at it?"
Yuri recovered her serious manner and requested.
"I have no problem with that, but how do you know about that thing?"
"Kusanagi-san, you are too humble. Someone who could be a Campione went to the country of origin for all sorcery – Europe. To their colleagues in Japan, rather than saying that they are interested in what you obtained, it is probably more correct to say they were worried. That, of course, is natural."
"Worried… have I been watched all this time?"
Godou was genuinely concerned.
He never suspected that such a group existed.
"I don't know if they were actively trailing you, but I can at least confirm that there were Japanese investigators sent to Rome. According to the reports from the investigation, after they found out that the Italian mages pressed a certain object onto you; they sent their files to us."
"And who sent the investigators?"
"Of course it would be the History Compilation Committee… do you not know them?"
An extremely long title emerged from Yuri's lips.
That said, Godou recalled that he had heard it somewhere before. Godou recalled the event from the murky depths of his memory.
Erica did mention before that all mages across Europe were in hiding, and although he felt that was simply absurd, there was also a sense of awe.
She also said that Japan would certainly also have its own mages' associations.
The difference was that, unlike Europe, because mages in Japan were organized, monitored and directed closely by the government, the average citizen simply didn't know of their existence.
The name of that association, if he remembered correctly, was…
"The History Compilation Committee, yes, I've heard of them before."
"They are a secret organization, controlling and manipulating gathered information by means of mages and spiritualists. It comprises the Ministry of Education, Culture, Sports, Science and Technology, the National Diet Library, the Imperial Household Agency, the Religious Affairs Agency, the Metropolitan Police department among other influential organizations. People like me, miko with spiritual ability or agents of the gods, have been pressed into aiding their efforts."
Magic, Sorcery, Divine Aid —— infinite numbers of strange powers and confusing abilities.
All these matters are not considered part of 'proper history' in Japan.
The Committee was founded in order to preserve the desired attitude amongst the population, and so called the 'History Compilation Committee'. At least, that was how Erica explained it.
"It was also on the Committee's orders that I meet you here today, Kusanagi-san — so that I could confirm whether you really were a Campione. It was also because we study at the same school, and that I am good friends with Shizuka."
"You're also a victim, huh…"
Having heard this, Godou began to sympathize with Yuri.
Perhaps it was because of the impression he received from the carefree attitude of the Latin mages, he felt that Yuri, who was filled with custom, to be a pitiable sight. For this, if nothing else, he should maintain a positive relationship with the Committee.
Having decided on this, Godou took out the Gorgoneion from his bag.
A crest on a dull black rock, the engraving of a woman with snakes for hair —— the moment Yuri saw it, she was so stunned she couldn't say anything.
"So this thing really is very dangerous, huh?"
"I'm afraid so— it has a very, very ancient seal of a godhead impressed therein. A serpent god, the mark of the great serpent… No, it likely has an even older root, the helix seal of the encircling Earth Mother ——"
Yuri closed her eyes and said this.
"Although it is only my intuition, I believe this seal came from North Africa. Egypt, Numidia[1E 6]… I'm not sure why, but my heart tells me those countries are most likely."
"Your heart tells you? A friend of mine calls this the Gorgoneion, do you know about it, Mariya?"
"No— I know almost nothing about the gods of Europa or Africa. I only relied on my clairvoyance and intuition to somewhat 'feel' it out, and then said it."
But what she just said was exactly the same as what Erica divulged.
Godou was deeply impressed.
Whatever it was, Mariya's spiritual ability was definitely an extremely accurate intuition.
Of course, she could simply be telling a big, fat lie, but Godou wasn't prepared to doubt the girl, who was speaking so solemnly and with such a sincere gaze.
—— Although the mention of Africa was certainly startling.
The Gorgons, Medusa etcetera – weren't they Greek myths? Well, the hero Perseus did save a gorgeous beauty called Andromeda, and she was said to be a princess of Ethiopia. So what she said did make sense…
"Kusanagi-san, I'd like to ask you a question."
Godou, who had sunk into a deep pondering, was suddenly jerked out by Yuri's sudden question.
"This is obviously a tool for a [Heretic God]— as a Campione, there is no way you could have not noticed it, is that correct?"
"Well, you're correct. Yes… This thing is something troublesome after all…"
"If you knew that, why bring it here! Do you want to invite some apocalyptic god into Tokyo! What do you take the safety of this country's citizens for?!"
A sudden ringing voice, out of the blue.
Just as he was nodding, a thunderbolt like declaration struck him.
Godou once again closely examined Yuri – her confident beauty, until just now still most virtuous in composer and elegant, yet now so alluring in her daring.
She was awe-inspiring, and Godou subconsciously drew back.
"Well, I, err, was also worried about this, but there should be no problem, right? The goddess who wants this thing is all the way back there. For her, I think that she probably doesn't even know the name and place call Japan."
"'There should be no problem?'… Please do not create unnecessary dangers for us. Having read your investigatory report, I immediately realized that Kusanagi-san is extremely uncaring about other people and their property."
Yuri bored through him with a chilling gaze, and Godou stepped back two paces.
This was bad.
Any argument with her was going to end terribly for him.
Godou knew by instinct that his personality was quite possibly the worst match with hers —— to Godou, she was a completely different sort of 'ultimate boss' from Erica!
Yuri may have also discovered this same thing…
Now her previous 'advice' was becoming more like an all-out attack!
"With great power comes great responsibility. And because of this, don't you think that you're being very irresponsible, Kusanagi-san? Unable to withstand your lover's request, you brought this unknown, dangerous object back to Japan ——"
"Lover? Wha, Who are you referring to?"
"There's no use acting dumb, this investigatory folio states it very plainly."
Yuri said while taking out a giant folder.
—— Erica Blandelli, a member of the mages' organization [Copper Black Cross], 16 years of age. Height: 164 centimeters. Three sizes: 86,57,88. Kusanagi Godou's lover.
Listening to her detailed narration of these personal details, Godou was overwhelmed by a sense of despair.
"Mariya, all these horrible things about me are not true— they're all fabrications, false reports. At least listen to my explanation, please?"
"I don't know why you could call them 'fabrications'— are you still trying to trick me when the facts are all here? Using the power of a Tyrant to do what you want to women, have you no sense of shame?"
"What do you mean by 'do what you want'?! it's the complete opposite! I'm the one who's being played with!"
"Oh! I never knew that Kusanagi-san was someone who pushed all the blame onto women— I'm beginning to understand even more as to just how despicable a man you are —— Stop your constant attempts at lying now!"
Yuri's face lit up in a smile, but it was only skin deep.
'She's a raksha.' – Godou was completely sure of this point.
If female rakshas really existed, they would all have smile just like Yuri's. That icy beauty and that mask-like smile.
Godou was browbeaten by the indescribable power that she wielded, and couldn't help but retreat.
…And then he saw.
Fast footsteps which were already hurrying in this direction carried a very familiar silhouette towards him.
Wait, wait, wait, why are you even here?
"If you're thinking of continuing to bully my Godou, can I please ask you to stop? The only person that can love him, torment him, or treat him like a toy, is me, the [Diavolo Rosso]. That is a right given only to me, he isn't someone who you can play around with when you feel like it, you know?"
This woman couldn't be here at this place – and let's not even mention that hearing her voice now should be nigh impossible.
What the dumbstruck Godou saw, was the girl that they just mentioned —— Erica Blandelli.
Part 2
Dressed in a red themed outfit and with golden long hair, she was alluringly beautiful; Erica's looks gave the impression of opulent royalty.
However, it wasn't that alone which attracted the eye.
Her most noticeable aspect was probably the elegant aura which she exuded from each hair of her body.
Someone self-proclaimed as naturally drawing all attention and could not be tamed now faced another who could be said to have a great sense of self-respect. The two girls were in a state of perfect equilibrium, and Erica's face broke into a smile of sheer aggressiveness.
"What's wrong, Godou? Why do you look like someone Medusa stared at?"
Erica spoke so sweetly her tone could probably melt gold.
But facing something that should make any man feel pleased, Godou just sighed.
"That's because someone I thought couldn't appear actually did. Geez, this is Tokyo, not Milan— you obviously didn't just come for a chat, so why are you here?"
"Why? You can be so thick sometimes, Godou. If a girl from a far off country took such a long and painful journey, it can only be to meet her lover, isn't it?"
Erica stepped closer to Godou.
She wore a black sleeveless top with a scarlet woolen sweater, paired with a pair of denim jeans.
This modern, turn-of-the-century dressed maiden appeared in an ancient shrine.
Obviously, the two shouldn't match, but he didn't feel any sense of incongruity; probably because, no matter where Erica went, she was the star of any event.
"Come closer, Godou. Wherever and whenever, the only place you can be is by my side."
Erica spoke while intertwining her hand with Godou's, and pulled him towards her.
"What, what are you doing? Suddenly appearing like this, and even doing something so shameless…"
"So what? You know very well what's going on between Godou and I, right? Disturbing a lover's reunion is something that only an insensitive girl would do."
Facing the raging Yuri, Erica flippantly shot back.
'Oi, stop saying things that will cause misunderstandings!' – Would be what Godou would like to say, but he suddenly felt a chill go down his spine. Yuri's mask-like smile would strike fear in anyone.
"This is a hallowed sanctuary for one to propitiate the gods. May I ask both of you to respect the sanctity of this shrine, and to refrain from such disgraceful and shameless acts —— Erica-san and Kusanagi-san. Are you listening to me?"
"Yeah, yeah, that's right, Erica, we should listen to Mariya and do as she asks— even you won't play around in a temple, right?"
But the customs of the two Japanese teenagers were brushed aside with a smile from Erica.
"'Play around', huh? But it's the same in Japan and Italy— when a couple recognizes their love for each other in a holy place, it's just like going through a wedding, right?"
"This isn't a wedding event! Stop kidding me!"
More to the point, this whole conversation was happening in Japanese.
Erica's Japanese grammar and pronunciation were impeccable. Erica – and other accomplished sorcerers – probably learned languages the same way Godou learned Italian— through magic, they could learn many languages in a short period of time.
More importantly, because Godou and Erica were speaking in Japanese, Yuri was therefore also able to understand what they just said.
—— Actually, no, even if they were speaking another language, the result would have still been the same.
Yuri's eyes were terrifying; her gaze was ice cold and felt as though killing intent was emanating from them.
To be specific, her gaze was directed specifically at Godou's left arm. That is, the part of his body which a certain Italian maiden was hugging tightly and rubbing gently with her chest.
"Kusanagi-san, could you remove yourself from this shrine? I have fully comprehended the true depths of your lasciviousness, and have nothing more to say to you."
"Wait, wait a minute, Mariya! Give me a minute to shut this fellow up."
Godou gravely turned to face the unexpected gatecrasher, then spoke:
"Erica, if you keep being silly I'm really going to get angry— please try to be serious."
"Ahh, at least you've finally turned serious. So different from your previous puppy-dog-like expression – Un, that's more like my Godou."
The smiling Erica let go of Godou.
That rascal probably came here to help him; but even so, Godou wished that she chose another method to do it… That was probably asking for the impossible, but he still grumbled about it.
"I just mentioned to Mariya how you gave me the Gorgoneion. Did you come to Japan because of this?"
"Smart boy! For that, I'll give you an 'A'— but actually, I was chasing the person that came here first, and so flew to Japan."
"The person that came here first… who is it?"
'I shouldn't ask who. That answer obviously isn't going to be good.' –
Although that was what his intuition told him, Godou still asked very timidly.
Yuri's pale, bloodless face made him very concerned; it couldn't be that her spiritual strength told her that it boded ill…
"Of course it's a [Heretic God]!"
"Of course!"
As Erica spoke, Yuri also sighed and said the same.
His bad feelings were realized, and Godou's mood became even worse.
"How did it chase after the Gorgoneion from Rome? I never said anything about where I was going."
To that question, Erica could only shrug her shoulders.
'Well, humans will never fathom the methods of the gods' – was probably what she meant.
"To be honest, that was probably my fault. I was too optimistic, for the gods, crossing over seas and oceans are as easy as talking… Forget it, since it's already here; focus on how you can force it to retreat."
"Don't talk like it's not your problem. You're the main accomplice in bringing the god here."
"Umm, where is the [Heretic Deity] right now? And its name. What would the exalted one's name be?"
Erica nodded at Godou, the expression on her face saying 'all right, all right, I get it' – and then turned to face Yuri.
"I heard your conversation earlier. You seem to have a spiritual sight— that's perfect right now. Please divine the name of the deity that is approaching."
"Divine it? Do you mean oracular prophecy? Can she do something like that?"
"Probably, we currently hold the Gorgoneion, and someone who personally met the Goddess – Godou – is also present. As long as the diviner is a proper Sibyl, it can be accomplished."
It makes a great difference whether one knows the true name of the divinity one is about to face.
Although Godou had no real experience in this area, he had already learnt the importance of knowing a deity's name.
"… And that's how it is, so could you please help us? Ah, of course this whole disaster is our fault, and I know it is very mean of us to ask for your aid, but still— please help us."
Godou words were completely sincere, and he bowed as he spoke.
Of course, it was all done towards the hime-miko Yuri.
Surprised, she looked like she was about to say something, but finally just sighed deeply.
"It's not like I have a choice, do I? I'll just have to try it, please pass me that stone; and Kusanagi-san, please stretch out your hand. You've met that [Heretic Goddess] before, what was your opinion of her?"
Yuri's left hand held the Gorgoneion, her right held Godou's hand, and murmured something softly.
Then she closed her eyes, and began to speak extremely solemnly.
With this serious and grave atmosphere permeating, Godou naturally grew anxious, and his whole body stiffened in the anticipation.
"I believe… is the night. I am unsure exactly what sort of goddess she is, but I feel that she is a deity of the night."
A mother goddess, a snake, a Gorgoneion, Medusa.
So far, all that Godou had heard were key words defining her.
None of them had elicited an instinctive response from Godou. The goddess whom he met in Rome may very well have been a member of the night; her words he felt certain.
"The night… eyes like obsidian, a silver haired, youthful goddess… no, not youthful, rather a goddess stripped of her age and her divine position… hence she is young… hence she is [Heretical]…"
Yuri was muttering out loud details about the goddess which no one had told her.
So this was the power of spiritual insight… Godou was deeply impressed – it was almost as good as omniscience.
"And her divine name is… That is, the name of the [Heretic Goddess] is —— eh!?"
Yuri suddenly opened her eyes in amazement, but was completely silent.
Godou and Erica looked at each other. If she was that shocked, did that mean that someone of apocalyptic proportions had arrived?
"What did you see? Who is it? Could it be a name that even you know?"
"Ye, Yes… But there must be some mistake somewhere. Because, well… this goddess should be an enemy of Gorgons… of all serpentine deities; even I know that much about her."
"A god–head that even a Japanese miko knows… well, what is her name?"
Erica pressed on with her questioning.
Her current piercing gaze had no trace of her previous playfulness.
"She is Athena. The goddess that Kusanagi-san met, the goddess that has arrived at Japan, her name is Athena. But that is impossible, isn't it…?"
Medusa, the devil with snakes for hair, the one whose one look turns to stone.
And the hero who subdued her, Perseus.
And the one who shielded him, who guided him, was the goddess who stood for wisdom and war – Athena. At least, that was what Greek myths said…
Why such a dangerous Goddess appeared, was something Godou just couldn't figure out.
Part 3
Poseidon, the ruler of seas and tempests was her mortal enemy.
Well, the Greek stories had it as such.
That truth was this Athena did not hate the seas, as the seas and the lands were both an intrinsic part of the qualities which were stripped from her, and the source of her existence.
What she really hated was the sun.
The glowing rays, the dazzling brilliance of his aethereal throne; this was the real irritant to this queen of the night.
However, it was just an irritant. At least it was nothing truly threatening.
The sun was also the flame of the spirit, an essential part of both life and death, graciously enduring this brilliance was also part of being a queen.
—— No.
This way of thinking was wrong in propriety, and even wronger in rectitude. Because she was still the [Heretic Goddess] Athena, because she still had not recovered her position of the tripartite queen.
Wafting in the remnants of her memory were the sighs of the mother, the rebukes of the queen, and the wisdom of the crone.
Inside this shattered body, once glorious, only remained the thought of striking against her father – the king of the heavens, controller of the sun, Zeus.
Just a short while longer.
All she needed was to take back the ancient representation of the [Serpent], the Gorgoneion, and she would truly become 'Athena'.
Standing above the wind and the waves, she was seeking any scent of the [Serpent]. Where was it? Where was it waiting for her? In the east? In that far off land to the east, was it with that person?
She gave a shallow smile.
The Gorgoneion was indeed near the scent of a familiar person.
In the end, it was him who stole the [Serpent]. The last time she had met a Campione was such a long time in the past; it was probably hundreds, no, thousands of years ago.
Facing her mortal enemy, Athena, in her aspect as a war goddess, erupted in a bloodthirsty shout.
——————————
"Ahh… Anna-san, thank you very much."
Godou unsteadily crawled out of the back seat of a very scarily driven car.
How fresh was the air outside!
Returning from the brink of death, anyone would believe the same thing.
'I never expected to sit in that mad, suicidal automotive ever again. No, I'll probably be in it a few months down the road.' – Godou had already resigned himself to his fate, but never expected 'The Terror' to come for him after just a few days.
The look on his face had to be horrible.
Even Erica, who just came out after him, was also very pale; an uncomfortable look on her face truly was a rare sight.
"Not at all, being of service to Godou-san and Erica-sama is my pleasure."
Arianna's smile bloomed across her face, and got out of the driver's seat.
She was able to act so nonchalantly after driving like a maniac. So she was abnormal as well.
—— After they found out about Athena.
Godou literally flew out of Nanao Shrine,
Of course, it was to go searching for the goddess. Besides, Erica had probably already found out her location. Asking her, Godou was not disappointed.
As he was about to leave with the Gorgoneion, Yuri shouted after him.
"How can you bring the one thing the Athena is looking for straight to her!? What is going through that skull of yours! Please leave it with me for the moment. Geez… I just don't know what to do with you!"
Yuri sighed in exasperation, and took the Gorgoneion from Godou.
However, what she said was true.
Godou suddenly realized how little real planning he had done for this, and felt extremely bad for Yuri, who was trying to help him.
Leaving the temple, Erica immediately phoned Anna.
'… I guess it was to be expected, huh?'
Of course she would bring someone fluent in Japanese with her.
Godou could accept what was going on up to that point. What broke down was that Anna appeared in a huge four-wheel drive car.
"… We don't have any time. If I had a choice, I wouldn't sit in that death machine either, but the only way we'll get to Athena quickly is by car."
Erica whispered just loudly enough for Godou to hear her. The rare expression on the face of the [Diavolo Rosso] was that of consternation.
"Does Anna-san even have an international license…? Forget that— there must be something wrong with the Italians, giving her a license in the first place!"
"In case you were wondering, apparently, she got her license in Japan."
And so the both of them foisted the blame onto each other. Sadly however, there was no point crying over spilt milk.
So Godou and Erica consoled themselves with the old adage, and entered the back seat. The moment when both put on their seatbelts, the unassuming vehicle suddenly became a flash of lightning.
They were probably in there for about an hour?
Perhaps it was even shorter, but their bodies felt as though they had suffered for that long.
In addition, although this was an automatic, the speed felt no different from Godou's previous experience.
The car, going at almost a hundred kilometers an hour, managed to safely go round the roundabout without causing any accident, and for that Godou almost cried in joy.
'It's been such a long time since I've smelt the ocean air.'
At least, that was what Godou thought as he looked at a nameless stretch of sand that was far removed from Narashino city.
"Athena is somewhere near here. Godou, come with me. Arianna, wait here."
Erica spoke, while taking a chain from the end of a small pocket watch.
Then she wrapped it around her middle finger, and then shook it around the area.
It looked like some form of investigative magic.
Whenever she wanted to find something, Erica would often use this sort of spell; in fact, she probably did the same thing to find Godou at Nanao Shrine.
"I understand. Please be careful, okay?"
Anna bowed deeply, and watched the two leave.
Erica walked towards the coastline, and Godou simply followed behind.
She strode with a definite sense of purpose; it seemed as though she was very sure where Athena was.
"Hey, does Anna-san always drive like that?"
Godou asked when he made sure Anna was out of sight.
It was already past five o'clock.
The two walked on the orange, tousled scrub near the sea.
Although wave-breakers were sticking out into the water and seawalls on the beach so that you couldn't simply jump into the sea, the view was still quite amazing.
"Of course! Arianna is amazing— someone who drives like that and yet has never had an accident or hurt anyone, is in a sense a natural genius at driving."
"I feel the same… although you don't see it at first, isn't she a little bit too airheaded? She has absolutely no idea of it herself."
"There's nothing wrong with that. Arianna is intelligent, dedicated, hardworking and even funny— she's basically perfect. Although she has four flaws, they are only small problems."
… Let's not get into 'intelligent', what do you mean by 'funny'?
When the word 'funny' comes out of Erica's mouth, it means the equivalent of 'deadly poison' to the average person.
"Just out of interest, can you tell me what these four flaws are?"
"Her driving is extremely dangerous, she had no aptitude in martial and magical arts, her stews and soups are bad enough to make a child cry just from their smell, and although her work is regularly perfect, a big accident will occur every three days —— these are the four points."
'…These flaws are things that a knight and a maid can't afford to have, right?'
'But Erica always preferred (at least, that's how I see it) entertaining and funny things over the simple and practical. If it's that way, it makes more sense.'
The two discussed this completely irrelevant subject as they walked along.
The meeting with the silver haired girl —— the [Heretical Goddess], was about ten minutes after that.
They had no idea how she got it, but she wore a thin wool jacket, a miniskirt and knee-high socks, and above her silvery hair she wore a knitted cap.
The sea breeze wafted up her hair which sparkled, as though reflected the brilliance of the moon.
—— There was no doubt about it.
This little goddess always made Godou think of 'darkness'.
"It has been a time, Campione. I am delighted at our reunion."
The girl spoke those antiquated phrase with a clear, feminine voice.
Godou replied unhappily, even coldly:
"Well, I'm pissed, because you guys go around disturbing people's calm and happy lives for no apparent reason. To tell the truth, you're a pain in the ass."
"For a divine child of Epimetheus to take such a moral tone, thou art truly a unique Campione."
She narrowed her eyes in reply.
Although Athena didn't give off an air of combat, it didn't mean that they could now relax. The actions and thoughts of the gods are not fathomable by man.
"Let us first make assay. One carries the divine title of Athena— thou wouldst do well to remember it."
Finally, the name came from the person herself.
Forget Greece, even amongst the states around the Mediterranean it was the greatest amongst the goddesses there. If only she gave another name…
"Campione of the East, reveal thy name. Before our contest of supremacy for the relic of the [Serpent], one requires to know the name of one's opponent."
Dark eyes which were devoid of any feeling.
Athena spoke without emotion.
"I should have no reason to fight with you."
"Thou have taken the Gorgoneion from its ancient metropolis. Those… conjurers set you up to it, didn't they? Whoever takes the [Serpent] away from oneself, qualifies as one's enemy. Our fight is inevitable."
Although Godou was quite sure she was referring to mages, Athena didn't even glance at Erica.
While she had some idea of magical organizations, she didn't care in the slightest who they were; in her eyes, only Godou was of any significance.
"One graciously awaits thy nomenclature."
"Kusanagi Godou, and she is Erica Blandelli. Even if you are a goddess, it's still extremely rude to ignore someone completely."
Godou looked at Erica, and then gave his name.
"Kusanagi Godou— what an unfamiliar name. A masculine title of foreigners, is it? One shall remember it well."
Unsurprisingly, Athena simply disregarded any mention of Erica.
The girl at Godou's side understood, of course, and she slowly but surely created a gap, so that she would not be in the way of Godou and Athena, while softly muttering to herself ——
Godou could see that she was definitely not getting along well with the goddess.
Her gaze was saying, 'stop chatting and just beat each other up already!'
Naturally, Godou ignored it, and glanced around.
No one was around. Even though there was nothing stopping people from coming here, without the exception of Godou and Erica, there were no other humans around —— was this because of Athena?
Perhaps she didn't want unnecessary attention.
A divine aura needs only a thought to affect humans.
As long as Athena was here, people would never come here. As long as gods were around, they could and would change the actions and thoughts of the humans around.
Of course, most divinities would not be in the human realm, but there were obvious exceptions.
Those familiar with the gods called them [Heretical Deities].
"And if it please thee, Kusanagi Godou, one shall ask of thou again. Where does the Gorgoneion now lie?"
"Please… do you think that I'll actually tell you?"
"Nay, but it was necessary to make confirmation. Part of one now yearns to clash arms, confirms thee to be a foe, thirsts to slake the battle-lust. But another part of one, the goddess of wisdom, wishes to make this warning."
Athena's dark eyes spiraled into the abyss, but seemed to flash alight in amusement.
Godou thought he remembered seeing a gaze like that before… where was it?
"Thou truly art a distinctively different Campione, The strength thou seized from one's compatriot ought to be paltry, yet one's wisdom tell one that thou art an exceedingly dangerous foe, and one might suffer surprisingly deep wounds… just as a trap causes one to feel menaced."
An owl.
Godou suddenly had that thought.
Athena's eyes seemed very similar to that of an owl.
The Goddess in human form and the nocturnal avian of course have completely different eyes. Yet, his instinct as a Campione told him that the two were the same —— but why?
"So, one will ask you a question. How thou doth reply shall determine our relation henceforth. One is Athena, the goddess of both martial and intellectual pursuits. Thou may surrender or take up the challenge. Tell one, what is thine reply?"
"If I could, I'd like to solve this peacefully too, but…"
Although it was a surprising compromise, he couldn't just hand over the Gorgoneion.
Godou desperately decided to try another option.
"I refuse both. I have another idea— just give up on the Gorgoenion, and go back. Rather than making us both suffer, this is the more humane option."
One cannot measure the strength of a god.
One cannot describe the power of a god.
Even in the form of a human, the strength Athena kept contained in her body was unfathomable. Even just meeting a god, just talking to one, could cause the hearts and minds of humans to fluctuate.
Facing Athena who was already this powerful, Godou was determined to avoid making her use even stronger abilities.
Even so, Godou still wished to avoid a fight; could everyone find some leeway in their hearts, and come to conclusion without harm for anyone? Facing such a (surprisingly) reasonable goddess, he sincerely presented this idea.
…This was bad.
Facing a constantly nearing Athena, Godou still let down his guard.
"Thou speaketh the truth. Battle between gods and Campione can only bring both to grief— there can be no real result. However, there is yet another way to settle this matter."
They were now an arm's length from each other.
"One's deepest apologies, Kusanagi Godou. Thou art a most compassionate and loving man, for a Campione. However, 'tis undeniable that you are a warrior, and even more sadly, also a king. In thine defense, someday thou might emerge to be a great hero, though it is a day that will sadly never arrive —— please forgive one."
Before she finished speaking, she wrapped her arms behind his head.
What was she trying to do? Godou didn't even have the time to form that thought, when Athena rose on her toes and, with her cherry-red lips, planted a kiss firmly on Godou's own.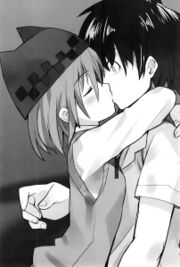 "——?"
He was too shocked to even respond.
"One seekth the Gorgoneion. Restest in repose, Kusanagi Godou. Thy breath, thy very life has been grasped by Athena. Go thy lonely ways to the dark recesses of the earth, the cold, empty halls of the dead."
The moment she kissed him, Athena began her incantation, and with it a deathly chill seeped through Godou's body —— damn.
This was an incantation of death.
He felt his every limb grow cold, and the flame of life began to pall.
No, hang on.
Why would a goddess of battle and wisdom know such an incantation?
Even though gods were a pretty messed up lot, they were all very scrupulous in keeping to their specifications. For example, gods who had nothing to do with fire or mountains couldn't get volcanoes to explode, while those who were not affiliated with water and the sea were unable to flood places.
So did that mean that Athena was some sort of death god?
"Just as the famous trick before the walls of Troy[1E 7], thou truly doth have no defense… Hmm? Even though thou hast received one's gift of eternal sleep, yet thine eyes are so interesting."
Forcing his knees from bending, Godou kept glaring at Athena.
A goddess of wisdom and war, closely affiliated with the [Serpent], a dweller in darkness; Godou could only wonder what the real face of the goddess was.
…That said, he remembered reading something at home before (when he was bored).
In the West, the owl was the sign of wisdom, the messenger and symbol of the goddess of wisdom Minerva, and there was a saying that "the owl of Minerva spreads its wings only with the falling of dusk." [1E 8]
And this Minerva was the Roman appellation given to the Greek Athena.
This goddess related to both snakes and owls —— just who was she?
"A gaze filled with wisdom. How stubborn— or is it determination? But 'tis a pity. Even with thine determination, without the will to take arms all comes to naught. Determination without force is useless on the battlefield."
Athena's tone of voice displayed the entertainment she found from Godou's useless struggles.
…His sight was getting increasingly blurry.
And just as death opened its gaping maw, Godou faintly heard Erica's voice.
"Eloi, Eloi, Lama Sabachthani! My God! Why hast thou forsaken me!"
Erica loudly proclaimed that dirge-like incantation, that strongest of spells.
"Though each bone of my body is shattered, my heartache melts like a lit candle. You shall bury me in the dust of dead earth! Wild dogs surround me, evil company hems me in!"
'She really is an amazing woman.' – Godou couldn't help but respect that.
Even if Erica was a mage, she was in the end only a human, yet she still planned to take on a god.
"O Lord my Savior, I beseech you— aid me! Snatch me away from the weapons of the enemy, snatch me from the jaws of the lion, snatch me from the horns of the bull!"
Even if Erica was a very intelligent person, there was no chance of victory against a god.
And there was no need to ask what her reason was; it was obviously to save him. 'So, I can't die here. I can't let Erica risk death for nothing!'
—— For I am strongest amongst the strong. Truly, I am one that holds each and every victory.
—— I care not whom challenges me, whether man or devil; I may face all my foes and all my enemies. Regardless, I shall crush all those who wouldst stand in my way!
Erica rushed in, her blade flashing, facing an agile, evading Athena.
Godou hazily looked to the battle between the two girls, while reciting the divine verse. In his mind was Verethragna's eighth form —— the [Ram].
Translator's notes and references