Campione!:Volume 1 Chapter3
From Baka-Tsuki
Chapter 3 – A Day in a Lord's Life
Part 1
Not far from the Kyu Shiba Rikyu Gardens and Tokyo Tower, next door to a five star restaurant and surrounded by a school, a television station, a broadcasting tower and an embassy, exist a surprising number of shrines and temples.
One of the districts has a small path winding through it.
Although the path closely follows the contours of the road next to it, the narrow route could be easily missed by anyone who didn't know it existed.
If one followed the confusing and mazelike path, you would somehow eventually end up in front of a flight of steps.
Totaling exactly 200 steps, it somehow felt a bit too long for something right in the heart of the city.
Having climbed the stone stairs, you would see Nanao Shrine[1D 1], which sat at the highest point.
Although, the surrounding wooded groves were certainly not as dense as a nature reserve; the temple, nestled between verdant vegetation, exuded a sense of calm and tranquility.
Inside the temple compound itself, not far from the ante-hall[1D 2], stood a small hut for changing and cosmetic purposes.
And inside one of the rooms, Mariya Yuri was dressing herself.
Wearing a kosode under a furisode and hakama[1D 3], she faced a mirror and combed her long, flowing hair.
Her hair seemed more coffee brown, than black, almost the color of black pearls. She did not dye her hair; it had been that color since birth. Yuri always felt somewhat inferior because of it, but she wasn't too concerned at the moment.
Yes, because the most important thing was that the comb she was running through her hair had snapped a tooth.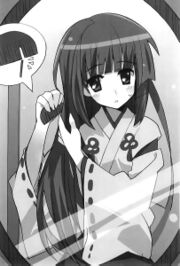 "… Most inauspicious, I pray nothing malign occurs."
She whispered silently an opinion without any logical basis.
It seemed as though it was an ill omen.
If she was a regular girl, she would probably forget what just happened immediately, but Yuri wasn't your regular maiden, and felt there was cause to investigate further.
Having finished dressing herself, Yuri exited the hut.
On her way to ante-hall, she brushed past several clerics.
Facing their bowing and polite greetings, Yuri inclined her head in return. That this reverential manner was directed at a miko[1D 4], 15 years of age, had a reason, of course.
In this temple, Mariya Yuri had a more august and elevated position than anyone else.
"—— Oh, hime-miko[1D 5], nice to meet you! If you're free, want to chat for a while?"
These sudden, frivolous words were directed toward her.
Although he had spoken a respectful phrase such as 'hime-miko', his tone of voice had no hint of respect at all. He was playing the fool, like some clown that came out of nowhere.
The speaker slowly walked towards Yuri. Although he was wearing leather shoes, his feet made no sound at all treading on the fine gravel of the temple pathway.
Anyone who saw his manner of movement would realize that he was no ordinary person.
"… A pleasure to make your acquaintance. And who might you be?"
"Ah, I apologize for my rudeness. Perhaps it's too late to introduce myself, but my name is Amakasu. To see such an elegant hime-miko such as yourself is an honor for me. I hope we get along from this point forth."
Amakasu introduced himself as he held out a name card.
Yuri accepted the card, and gave it a glance.
His full name was Amakasu Touma, but what really attracted her attention was the title next to his name, stating the department he worked in.
"And what would bring a member of the History Compilation Committee to this place?"
Yuri asked suspiciously.
The sloppily dressed man wore a tattered, western suit; he was quite young, probably around twenty years of age, and didn't look very suave.
But one shouldn't judge a book by its cover. He was an envoy sent by the organization which controlled the magical side of the Japanese world. She had to remain serious and wary in her replies.
"A problem seems to have come up, something which could soon become the worst disaster our country has ever seen. It's somewhat of a thorny problem, and so we hope to add your considerable strength to our efforts; this is why I've come, I hope you understand my position in this."
"…This humble maiden has few abilities, and I fear that I will not be of service."
"You are too humble. Although it is true that there are many Musashino mikos, those who are such experts in analyzing spiritual energy, like you, are few. And besides, there are two additional reasons for selecting you."
Japan has always had spellcasters or spiritualists who passed down their skills.
Mariya Yuri was a descendant of one of them.
And as for the term 'Musashino' —— they were the organization of spiritualists who protected the Kanto region, bestowed the honorable title of [hime] from a very young age, and took on the greatest responsibilities given to any miko.
"As a Musashino Hime-miko, your task also comprises aiding the works of the History Compilation Committee. I'm sure you understand this? If you have any other questions, please leave them aside for the moment, and allow me to finish speaking."
"…Of course. And what is it you would have me do?"
"It would be a great help to us if you became more intimate with a Japanese youth, and also to confirm his true identity. His name is Kusanagi Godou, and the teenager whom we suspect to be a real Campione."
"A Campione?"
That was supposedly the title given to the greatest, most evil sorcerers and tyrants of Europe.
Having heard that dreadful title, Yuri's was rooted to the ground in shock.
—— A pair of eyes, blazing like that of a tiger.
The moment she heard the title, the first thing which came to mind was the aged demon's evil eyes.
"I'm sure you have already understood the first reason why we chose you. Since you've met Dejanstahl Voban in your childhood, you would probably be able to confirm whether the boy really is a Campione."
"… Yes. The 'Campione' you're referring to, is just like the appearance of vicious demons in Japanese myth, a reincarnation of a Rakshasa Raja[1D 6], they should be avoided at all costs. But it's hard for me to believe that. For a normal human to become a [King], doesn't he have to kill a god? —— To think that someone could actually do the unthinkable!"
That was something that happened five years ago; Yuri had once seen a Campione at close range, when she was in a certain small country in Eastern Europe.
Dejanstahl Voban.
Merely hearing this name would send European sorcerers to hurriedly cower in some corner, desperately muttering incantations to ward off evil.
Yuri would never, ever forget, those aquamarine pupils, which blazed like a tiger's in the dark.
She found out much later that, that particular devil had an ability which turned any living thing to dust with just a glance of his eyes, which only added to Yuri's fear of him.
"… I feel the same way, and so I too do not believe that Kusanagi Godou is a real Campione. Let me correct that; I do not want to believe it; although with all the evidence I've collated so far, it is extremely unclear."
Amakasu shrugged his shoulders.
"According to the report of the Greenwich Committee, in March this year, Kusanagi Godou defeated the Persian war god Verethragna on the island of Sardinia, and obtained the rights to the [Kingship]. After that, he travelled all over Italy, and each time he appeared in the city, huge amount of destruction would occur. It is clear that there is a connection between them… Have you heard about the disturbance in Rome?"
"You mean even the terrorist attack on the Colosseum was…?"
"On the day which it happened, Kusanagi Godou arrived in Rome. The one who invited him was the supreme commander of the Knight corps [Copper Black Cross], the young Erica Blandelli. And when he returned to Japan, he seems to have brought a holy relic of great antiquity…"
"A relic…"
Yuri was extremely concerned by what he just said.
The spiritual strength which she commanded as a hime-miko —— her extremely strong sixth sense and mind's eye was warning her, that she must not take it lightly, that it was an unhallowed object that would bring incomparable disaster.
"Concerning Kusanagi Godou, I would like to inquire more closely. Has he, like me, practiced some form of sorcery before? Or is he perhaps a master of some martial art?"
Yuri had decided to go through with this task with all her heart, and so she began to find out more.
Of course she was terrified of [tyrants], and if she could, she would stay far, far away. But if she did not force herself forward, thousands of people would suffer for it. If that was so, perhaps being chosen to do this was a sort of fate.
"If we're talking about sorcery or incantations, he seems to be completely useless, and the same too concerning martial arts. All things considered, forget about contesting with the gods, even his background had absolutely nothing to do with divinity —— well, have a look at this first."
Touma took a folder from his briefcase and handed it to Yuri.
She quickly glanced over the material inside.
It contained investigatory information concerning Kusanagi Godou. From his character, personal history, to his events at Italy and abilities as a Campione, all manner of details were placed in the report.
"…If I really wanted to find something abnormal about him, it would be that he was a reserve candidate for Japan, selected to participate in the international youth baseball championships. Apparently he was one of a handful of cleanups in the Kanto district when he was in junior high."
"I'm sorry, but what is this international youth baseball championships?"
"That's an American style baseball competition, mostly composed of junior high students. But I heard that when he was in training camp for the championships, he injured his shoulder, and so pulled out."
"Is that so… I wanted to ask, why was he battling with a Persian deity in Sardinia? Surely even you must think the difference in location and god is strange."
"Concerning this, you should offer Alexander the Great a vote of thanks, because his concept of 'Brotherhood of Man' meant a melding of Greek and Persian races. This gave birth to Hellenistic culture, and gave a common ground to European and Near Eastern culture. This is, of course, far beyond what the average Japanese person thinks about on a daily basis."
Touma so explained with a wry smile.
"In Indian mythology, Verethragna is a god on par with Indra, and actually, under the reforms of Alexander, he was syncretized with the hero-god Heracles, and even given the Greek epithet Artagnes. After Alexander's death, supposedly a group of citizens under the command of Pompey were sent to settle in Sardinia. If one considers it with this knowledge, you can't say that there is no connection at all."
Yuri listened to his explanation while flipping through the folder.
At this point, she noticed a photo of a golden haired maiden clipped to a page… even Yuri, of the same gender, was awestruck by her beauty; it truly was a sight pleasing to the eyes.
"Ah, that girl is Erica Blandelli… she's been identified as Kusanagi Godou's lover, and supposedly she's an unrivalled genius at both swordsmanship and sorcery. I guess you could call her a model mage from a prestigious family."
"Lover!?"
Hearing such an immoral word, Yuri was left speechless.
"It's likely that [Copper Black Cross] realized the importance of Kusanagi Godou before everyone else, and sent her to insinuate herself with him. Even if they used their trump card, a natural born genius, the person still has to create an intimate relation with him. To use a girl for this strategy— I have to commend their thoroughness."
"To, to became a lover just because of that? That's way, way too shameless, way too immoral!! Something like this is completely wrong!! To sacrifice a woman's choice just to gain the power of a devil —— I will never accept it!"
Yuri stared angrily at the photo of Godou in the folder.
Although she was only a miko of little strength, she would never accept a tyrant such as this. Filled with rage and determination, her fear of the Campione incidentally also began to recede.
"…By the way, you did say that there were two reasons for selecting me. May I be privy to the other reason?"
"Of course, in fact, the second reason was something that seemed completely by chance…"
And having heard Touma's reply, Yuri couldn't help but feel some destiny working behind that amazing coincidence.
Who would've thought that at such an inconceivable place, Kusanagi Godou and she shared such a similar fate.
Part 2
It's already been a few days since he returned from Rome.
To be precise, half a week, and being a Thursday afternoon, Kusanagi Godou was currently enjoying his free time after school.
Having passed the school gates, he decided to take a somewhat roundabout journey home.
He'd finally managed to get past the jet lag, and his mood had brightened considerably —— but the minute his mind fell on the Gorgoneion which was resting in a cupboard at home, his mood fell correspondingly.
It should be said, that after he returned to Japan, Godou tried multiple times to destroy that engraving.
But it only ended up being a waste of time.
Having wasted half a day sweating and thinking about it, none of what he tried left even a scratch.
Godou recalled the parting words Erica left him with.
—— 'It may look like a stone, but yet is not a stone. What it is, is a record of the accumulated wisdom of countless godheads. And so it will never wear away, and certainly cannot be destroyed.'
As he once again cursed the idiotic reality that now surrounded his life, his feet kept on towards his home.
The Kusanagi family lived at the edge of Bunkyo ward in Tokyo.
Amongst the many shops that were near a subway station; situated at a corner, was a second hand bookstore that had closed down.
This was the Kusanagi residence. After the death of the shop owner, Godou's grandmother, four years ago, it slowly began to run out of business, and eventually closed for good.
And anyway, when compared to the days when the shop would open and close without a single customer, nothing had really changed.
Especially when one considered there was nothing even approaching a 'manga section' in the store, it was hardly surprising that the bookstore couldn't keep up with the newer shops. Perhaps the store might have survived if it was in Jinbocho[1D 7], but being in a small alleyway, it would have been more unusual if business was any better.
Since four years ago, the Kusanagi family never bothered to restart the store.
And since we're on the topic, the road on which the bookstore was situated, Sanchoume Street, Nazu station, still retains to this day a certain air of an older, downtown Tokyo.
Although Godou didn't think that, having always lived in the area, many other people said so. Indeed, ancient architecture such as this – a shop-cum-residence, exuding a Showa period feel – filled the street.
It was completely different from the streets of Rome, fresh in his memory.
The streetscapes there had few modern high-rise buildings and convenience stores; preserving its original looks, and the whole scene, with all the buildings around, was one of rich gothic grandeur.
Hence the residents there almost seemed like visitors from another city, filled with an imposed sense of vitality.
"Onii-chan, welcome home… though it's really rare for you to get home so early."
Suddenly a voice was heard from behind, addressing him.
Without looking at the source, he already knew who it was; after all, he had already lived with the speaker for more than ten years.
"Shizuka, isn't that really unfair? I've been getting home quite early for these past few days and yet you make it sound as though I stay out on purpose…"
"That's true, but only for the past few days. Last Saturday, you left home early in the morning, and didn't come home till Sunday evening. And then, you even skipped school on Monday. Where did you go, and what were you doing?"
His sister was glaring at him discontentedly.
Kusanagi Shizuka, fourteen years old, a third year middle school student. Coincidentally, she was one year younger than Godou.
Unlike Godou, she wasn't wearing a school uniform.
Both her hands held reusable shopping bags, and were filled with vegetables, milk, fish and other groceries. She probably got home earlier and changed, then went out to buy ingredients for dinner and only caught up with him.
"I already told you, I only went to a friend's house for a night… How many times do I have to repeat that?"
Ever since he returned from Italy on the Sunday, Godou had been repeating that same reply.
Beginning to feel somewhat bound by his response, he nevertheless answered with the same flimsy excuse.
… Although, it probably wasn't right to praise his own sister, it had to be said that Shizuka really had an extremely cute face.
But although she was the younger sister, she constantly used that aggravating manner on her brother; it felt more like a mother-son relationship, being constantly nagged; certainly, a most problematic existence for him.
"It's a friend, is it?... A friend… I see… oh…"
"If you've got something to say, say it. I don't like all this twisting and turning around."
Godou spoke while taking the shopping bags from Shizuka.
He didn't really think about it, but acted almost subconsciously in reaching out his hand. He was probably too well conditioned by his grandpa's own habits. Habits really are frightening.
But Shizuka still glared at her brother with suspicious eyes.
"So let me ask, this so called friend of yours, is it a boy or a girl?"
"…Of course it's a boy."
And now, would his big fat lie be taken as the truth?
Walking down the hallway next to Shizuka, Godou desperately tried to maintain a casual demeanor, but this sister of his merely glanced at him – coincidentally praying to any god he could think of right now – and dropped the next bombshell.
"Oh, I see. And on another topic, what is Erica-san like?"
"——————!?"
Godou gaped. 'How does Shizuka know that name!?' flashed in his mind.
"O, oh, you mean that Erica… yes, well, how should I put it——"
"I never mentioned, but actually, after Onii-chan disappeared on Saturday, this girl called our house."
Her words were cold as ice, and her eyes looked like a hunter about to shoot her prey.
————————————
Last week, the phone rang in the Kusanagi house.
After Shizuka picked it up, the caller told her that her name was Erica, and formally introduced herself.
She said that because there was some pressing business which required her brother's help, she decided to request him to deal with it. She also said that it might take a few days, and there was no need to worry about anything…
————————————
"Her voice was so pleasant, I'm sure the person herself was also very pleasant to the eyes? Would you agree, Onii-chan? And how old is she? And let's make it clear now, please don't try to fool me by saying Erica is a guy now — that's just stupid."
Shizuka spoke frostily, cut off his only escape route at the same time.
'That's why all these girls are so…!'
Godou couldn't help but curse Erica and his sister.
Erica deciding to phone his house was definitely due to some malicious reason. Most likely, she thought that causing an uproar in the Kusanagi household was an extremely funny thing to do.
But Godou would never have known that Shizuka was also a fan of this sort of thing…
'Forget Erica, my sister is also way too scary…'
So for these past few days, she already knew the truth of what he was doing. Yet she didn't confront him immediately about it, and even made him think he was safe by waiting a few days!
"It's because you did something which you couldn't tell anyone — that forced you to lie, right? I can't believe that Grandpa actually managed to guess what you were doing. I'm so disappointed… I never thought Onii-chan dared to do something like that."
"Wha, What's 'that' thing which Gramps talked about!?"
"Something along the lines of 'If a boy runs off to find a girl without telling anyone, there has to be something sneaky and underhanded going on. And on that note, I also had a period in my life like that…' and so on. I can't believe you, Onii-chan! I thought you were a better person than this! Why? An illicit love affair? A one-sided romance? Or could it be a forbidden relationship with an older, sensuous school teacher… whatever it is, it's got to be something like that, right!?"
Shizuka interrogated poor Godou, triumph in her eyes.
Godou was desperately shaking his head to deny it.
"I'm not Gramps! I'd never do anything risqué like that!"
"Hmph! You're Grandpa's only grandson, right? Even your faces look similar; perhaps you just suddenly realized a new part of your genetic makeup, and unlocked Grandpa's female interaction abilities. Something like that could really happen!"
"How does that even work! Gramps' affinity with the opposite sex doesn't even have anything to do with DNA. It's all about a person's personality, just because I'm his grandson doesn't mean you can lump the two of us together!"
'Why do I have to act out this stupid brother-sister argument in front of our house, right in the middle of a street lined with shops?'
All those gazes were piercing all over Godou's body.
Shizuka also grew embarrassed from the silence, and quickly lowered her voice.
"…So why would you lie to me then? If there is no immoral reason behind it, wouldn't it be better to just tell me the truth?"
"It's precisely because I was afraid things would get complicated like this that I did it. You could say that I became friends with that Erica because of my bad luck— and I did actually go visit her, but there were other friends as well. We definitely don't have any kind of immoral relationship… Do you believe me now?"
Godou rested a hand on his sister's head, and ruffled her hair to try and make her feel better.
Shizuka had a very troubled expression on her face, but she finally sighed and accepted it.
"It's not like I don't believe you… but you're not allowed to lie to me again, okay? Even if you try to trick me, I can tell you're lying just by your normal attitude and actions around the house, understand?"
"Alright, so let us just leave it as that, OK?"
Now that the matter was settled, Shizuka gave a somewhat embarrassed smile. If she had that sort of expression most of the time, Godou felt that he could brag that he had an honest and cute little sister.
Contemplating this, Godou smiled wryly.
"It's all because Onii-chan used to be part of the baseball team, and always came home really late — even on Saturdays, you'd be out training from morning to night. Don't you want to join a sports club in high school?"
"… I don't really feel like it right now, I think I'll relax and play around for a while longer."
Because the conversation suddenly shifted to a completely new topic, Godou was at loss to make a cogent reply.
To tell the truth, he was very unsure as to how he should answer that question. He just wasn't sure if he could hide the truth well enough.
Obviously, it wasn't good enough. Shizuka concernedly gazed at her brother.
"Your shoulder… does it still hurt? Umm, even though someone who isn't athletic like me probably shouldn't say this, maybe you can still be a striker even with a hurt shoulder —— Oh, I said something hurtful… I'm sorry, Onii-chan."
Shizuka stopped halfway through her sentence.
'… No matter how I look at it, this girl really is my sister' – Godou unashamedly thought.
Although she looked as though she was a very tactful person, the moment something touchy came up she would say something insensitive – did she have to be like her brother even in little things like this?
"Well, I can't deny you are a little bit too nosy. It's just that I don't feel right in the whole upper and under-classmen relationship that develops in the sport teams, so it doesn't matter if it's the baseball team or not, I don't feel like joining any of them."
Godou gently ruffled his sister's hair again.
Although Shizuka wasn't sure how much she heard was the truth, she simply nodded her head unhappily. Perhaps this sister really was just smarter than her brother; at least she knew when not to say anything unnecessary.
—— However, there was something else that even Shizuka hadn't realized.
That is, after becoming a Campione, the left shoulder, which could only weakly throw a baseball, had already healed and recovered its strength. Of course, it was all due to the incredible healing powers he had now obtained.
When Godou entered high school, he gave up baseball for this reason.
But the reason he didn't start the sport again was for a different reason. Because he now had a supernatural strength and endurance, it was simply a major breach of the sportsmen's ethics.
And the baseball team in his school was also the one which always lost badly in the first round of the inter-district championships.
Although he sometimes still envied his fellow baseball players who continued to chase after that small white ball, if Godou wanted to enter that pathetic team, he would probably not be allowed.
But when one compared that loss to his new chance at life, this little sacrifice was completely acceptable. At least, that was how Godou tried to see it.
Part 3
Godou and Shizuka reached home at around six in the evening.
Because it used to be a bookstore, the front door was a sliding glass door.
The house – a relic from before the Second World War – was a two story wooden building.
Although old, it had been renovated and extended three times, and it could be considered a comfortable home.
The siblings entered the house together, and their eager grandfather greeted them.
"Oh? It's rare for both of you to come home together, isn't it?"
Their grandfather, currently reading an old book from a shelf – Kusanagi Ichirou said.
As said before, this was until recently a bookstore, and so rows of bookshelves laden with old books and works that didn't manage to sell at the shop's last day of business still filled the room. As such, the attic was now crammed with many, many books.
But returning to the main point——
Their grandfather, standing inside what was once the old store, looked exactly the same as usual.
He was always dressed immaculately, both his speech and actions filled with confidence and steadiness. Despite being over seventy, he still exuded a strong sense of charisma; he was so much a refined gentleman it was spooky.
Godou's grandfather had taken care of him in place of his busy, working mother for as long as he could remember.
All the housework he did was careful and practised, and he would cook everyday.
If he just thought about in that sense, there was no problem, but…
"Shizuka, could you possibly have drawn in your net, and trapped Godou so that he had to tell the truth? So, what was it?"
"Well, seems like it's more complicated than we thought. Onii-chan still insists that they are 'just friends', and so from today onwards I'll pay careful attention to see whether or not he's lying. We'll know the truth eventually."
"You two, please stop talking sneakily like that in front of me."
Someone who could grasp the whole conversation just by glancing at his grandson and granddaughter's expressions – that was his dangerous grandfather.
Someone who could openly say in conversation that she didn't trust her brother – that was his aggressive little sister.
And including his currently absent mother – and not forgetting his divorced father, now living far away – that made up the five members of Godou's family.
"But Shizuka, you shouldn't over do it either. I used to be just like him — a boy of Godou's age staying away from home for a number of days isn't that strange, so don't worry too much."
"Shizuka, don't listen to Gramps — I'm nothing like him! Remember when he was a student? He actually dared to build relationships with a widow and a geisha, and even slept over at their place – he didn't even go to school for two weeks. I would never do anything like that!"
Godou shouted out loud, while enduring his grandfather's sympathetic but understanding gaze.
Sadly, what he said was hardly believable.
"Where did you hear those rumours from? Let me tell you, when I was a student, I was very engaged with my studies. Shizuka, don't feel obliged to accept something so blatantly false."
His grandfather grinned, while glossing over Godou's accusation with a toss of his head.
Kusanagi Ichirou – in his youth, he was apparently a wanton and dissolute playboy.
And even at his current age, he was still able to project the same attitude. It must be an ingrained habit.
When Godou had heard of about his grandfather's 'exploits', something immediately came to mind – 'I see, if he led such an amoral life in his youth, it's not surprising that he is now such an unrestrained old man.'
"Alright, since Shizuka has bought the ingredients, I'll start preparing dinner. Could both of you help me?"
Typical of his grandfather's suave attitude, he smoothly diverted the topic once again.
When it came to interpersonal relationships, you couldn't deny he was almost psychic about it.
And because Shizuka also knew this, she didn't bother nagging her grandfather – she knew the level of ability between them was just too great – and so in recompense, she was very hard on her brother.
'I wish I had just half of Gramps' attitude. Then I wouldn't lose to my sister and Erica…'
Sometimes, Godou was simply envious about the things he didn't have.
The table in the dining room was filled with that night's dinner.
Roasted rock cod, stewed octopus and radishes, and fresh salad with home made dressing, to be eaten with rice and miso soup. Certainly an accurate representation of a Japanese meal.
You could say that the chef who prepared their meals was something of a gourmand, and so his dishes were all well made.
Tasting some of his radish and celery miso soup – it was up to his usual standard. The smooth and tangy taste was just perfect.
"Eh? Grandpa, did you pickle these vegetables yourself?"
"How nostalgic — Gran always used to make it herself too."
Heaped onto a small dish were salt and rice bran carrot pickles.
The siblings both picked up their chopsticks, and tried a piece. It was, as they say, delicious.
As mentioned before, these weren't store bought pickles, and definitely looked home made. But they knew their grandfather was never very good at pickling.
"Ah, it was given to by Mrs. Sakuraba, the lady who owns the liquor shop. It's tasty, isn't it?"
The old man didn't even bother to hide it.
But after hearing his words, both Godou and Shizuka looked at each other worriedly. It was inevitable now; from tomorrow onwards there would be a series of escalating battles between jealous women.
It has already been quite a few years since their grandmother died.
They weren't sure when it started, but for those ladies at the shopping district who wanted to become more intimate with a now single grandfather, all competed to send all sorts of things to him.
All of them were either housewives with their own families, or older grannies.
If they – that is, Mrs. Murakawa who owned the pancake shop, Mrs. Endou who sold toys down the road, Mrs. Yamanoi who owned the hardware store, and all the rest – found out that Mrs. Sakuraba had given them pickles, everyone of them would competitively send a dish they made themselves.
If one looked at it as having good neighbourly feelings, there was nothing better than this.
But all those ladies always looked at their grandfather with emotional gazes. For the sake of peace in this shopping alley, both Godou and Shizuka prayed that their grandfather would control himself a little better…
However, there was no point in worrying about it now.
The siblings shook their heads and turned their eyes onto the bounteous meal in front of them, with a lightning speed of both chopsticks and mouths, each dish on the table was thus quickly finished.
Just as all the plates were cleaned, and everyone was preparing to clear the table…
The phone placed in the living room suddenly rang.
"I'll grab the phone ~~ Hello, this is the Kusanagi residence, may I ask who you're looking for?"
Shizuka looked at Godou and his grandfather, whose hands were full of soap and crockery, and then turned to answer the call.
"Ma, Mariya-senpai? Is there anything you need? Why would you specially take the time to call us…"
Seems like it was someone Shizuka knew.
She was still on the phone when Godou finished the washing and entered the dining room.
"Ye, Yes, He is home right now… But why would senpai be looking for Onii-chan? I thought you were in different classes? Ah, no, please don't say that! I, I understand. I'll make sure to tell him that. Yes, alright. Plea, Please have a delightful evening…"
'Please have a delightful evening?!' Godou began to feel very uneasy.
Since she mentioned 'onii-chan' earlier, they must have been talking about him. That was strange enough, but even more worrying was the formal good bye at the end. Just who was Shizuka talking to?
"… Onii-chan, please sit down there."
"But I'm sitting down already. Shizuka, what are you talking about?"
Godou asked his sister, who was pointing at the tatami mat in front of him.
Since he was already sitting cross legged, it was naturally he would ask this.
"I want you to get down and kneel properly! I'm going to ask you a question, and you'd better answer me truthfully —— Onii-chan, when did your relationship with Mariya-senpai become so close?"
"Huh?"
Shizuka – who, by the way, did force her brother to kneel – flung out a completely random question at him.
"Who? I mean, who is she? I don't think I know anyone by that name."
"Are you really telling the truth? …Well, I'll go on for now, we can continue that part of the interrogation later."
My dear sister… the way you casually talk about 'interrogation' is way too frightening.
"Onii-chan, do you know who the most beautiful person in your high school is?"
"I don't… know? Something like that isn't that important anyway. Beauty isn't something you should go around ranking people by."
"You're right, but on our campus, there's someone who's so superior there's no need to compare with anyone else to make a verdict… and that's Mariya Yuri-senpai."
Godou and Shizuka were studying at the same institution – Jounan College had both a high- and middle-school division.
Both portions were on the same campus, and so the two siblings often walked to school together.
The walk would take about twenty minutes, which was very convenient.
But Godou was originally studying at a normal, state middle-school. At his high-school entrance examination, he was lucky to make it into Jounan, and began studying there at the start of this spring. In contrast, his sister Shizuka had been studying at the college ever since the beginning of her junior-high years, and so naturally had been studying there for much longer, and understood more about things and people at school.
"She's my senpai from the tea ceremony club, and is also a first year student like you in high-school. She was well known as a beauty ever since she began in junior-high, and also extremely smart; she is always ranked in the top five each year."
When she said that, Godou vaguely recalled that his sister was a member of the tea ceremony club.
Apparently at Jounan College, it was quite common for both junior and senior high school students to join and participate in the same clubs.
And so, if this 'Mariya Yuri' was both a senior from the same club, and an acquaintance since junior-high, there was nothing strange for her to be calling her. So why did he have to kneel here?!
"And so? What did this Mariya-san say?"
Godou asked with a tinge of asperity. He had no idea how her phone call had anything to do with his current predicament.
He vaguely recalled hearing the girl's name before.
More often than not, it came from the mouths of the boys of his class, but the topic was apparently popular even amongst the girls; saying that she was cute and other things of that sort.
"Alright, I'll get to the main issue. Mariya-senpai, although she thought it was too presumptious of her, would like to meet and chat with you, onii-chan… And Mariya-senpai is not only beautiful, but very intelligent, and also an ojou-sama."
"…Does that have anything to do with her invitation?"
"Of course it does! Onii-chan, could you possibly have taken advantage of the fact that she was an innocent, pure maiden, and so smooth talked, lied and then played around with her?!"
Hearing Shizuka accuse him of so many strange things, Godou instantly retorted:
"How could I have done something like that to someone whom I just put a name too?!"
"So then why did she call our house, and ask to meet you, Onii-chan? That's just too suspicious!"
Even Godou couldn't deny the truth in what she just pointed out.
"But there's something weird about that. If she wanted to find me, isn't it just as strange that she asked you to deliver the message? Since she called, wouldn't she just talk to me directly."
"Maybe it just didn't occur to her? After all, she's a true ojou-sama. Although senpai is very smart, she doesn't usually think about efficiency— and besides, she probably felt nervous talking to a boy over the phone— The point is, senpai is really amazing— when she says goodbye, she can even say 'I hope for your continued well-being' completely naturally."
"…This Mariya-san, does she live in the Twelfth century?"
Amongst the girls that Godou knew personally, no one would greet people that way.
However, the girls around Erica were a definite possibility.
No matter how you put it, it was undeniable that she was a precious daughter of the Blandelli family. She didn't have to try; if she thought about it, she could emanate the whole 'ojou-sama' attitude in waves.
"She's not outdated, just a descendant of an ancient and noble family. Comparing our Kusanagi name to their family, we're just commoners. There's no connection between us at all…"
"And now I'm getting even more confused— why would she want to look for me? Maybe she found the wrong person?"
The more Godou heard about it, the more he came to believe that she was from 'the other side'.
Apart from the sorcerors whom he befriended in Italy, Godou's relationships were all completely normal and even boring. He just couldn't remember what he could have done to come to the attention of a lofty princess like Mariya.
However, Shizuka just coldly glared at Godou and said,
"…Is that so? Recently all of Onii-chan's actions are suspicious. For example, just like the matter about Erica-san."
"…I already said, she's just a normal friend."
"Oh, that's right. Mariya-senpai also said… she wants to see the thing you brought back recently. What is she talking about?"
Having heard that, all the questions he had were answered.
Other than the Gorgoneion, Godou couldn't think of anything else.
—— So that was it. If she had something to do with those mages, it wasn't strange no matter how outdated you sounded; actually you could probably say it was the natural course of things.
Godou finally realised. Even though he had just returned home, he had already been flung into another complicated situation. He just became depressed again.
Translator's Notes and References