Boku wa tomodachi ga sukunai:Volume5 Time Machine
From Baka-Tsuki
[edit]
Time Machine
Upon arriving in the clubroom after school one day, I was greeted by Rika with her hair dyed blond and styled into twintails.
"Hey, changed your hairstyle again I see."
I remembered how just the other day I was told to make sure I point out when a girl changes her hairstyle, hence, I pointed it out for her. I'm such a nice upperclassman, aren't I?
I passed by Rika, who was standing perfectly still near the door while posing like a model, and headed for the table.
Now then, I think I'll do my homework today.
"That's ittttttt!?"
Rika shouted all of a sudden.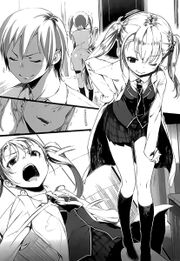 "Man you're loud. What do you want?"
"Eh, loud? Well, um... Senpai... About Rika's hair..."
"You changed it, right? Hehe, I made sure to point it out."
"Don't give me that stupid grin! Well, I mean, it's true that I changed my hairstyle, but! I-isn't there something else you noticed too!? There is, right!? Here, look, swish swish~"
Rika ran her hand through her hair and gently flicked it out.
"Umm... ah!"
"Did you figure it out!?"
"You cut your hair?"
"No, I didn't―― You're just messing with me, aren't you!?"
...Crap, I was only trying to tease her a little bit, but she looks really mad.
"It's OK, I know what it is. I was just kidding around."
"Geez... Senpai you're such a tease..."
I gave a smile to Rika, who cutely pursed her lips, and said,
"You changed your hair clip, right? It looks good on you."
"It's the same damn one as before!!"
...Yep, she's definitely mad this time.
After three minutes spent trying to calm her down, I said,
"...So, why'd you dye your hair blond? Trying to look cool?"
"No, I just wanted to try dying it."
"Oh...? So you worked up the courage to go to a beauty parlor?"
"? I don't know why I'd need any courage to go to a beauty parlor, but no, I dyed it myself."
"Those over-the-counter dyes they sell can wreck your hair you know."
I did a little research into hair dyes a while ago, so I know a thing or two about it.
She's got such pretty black hair too, it'd be a waste to ruin it with some dyes.
"Rest easy, Rika used her own special hair dye."
"Your own special hair dye?"
"Hehehe, I used it when I put that red highlight in my hair before too; I'll have you know I'm pretty confident in this hair dye. There's almost no damage to the hair, and while it doesn't fade at all if you wash it with shampoo, it'll come right out if you use the special removal gel on it. How about it? Amazing, isn't it!?"
"Yeah, well, I guess it's kinda amazing?"
"Hehehe... The day this baby enters mass production, the whole hair care business will be turned upside-down... There might even be beauticians who'll come after my life. The fact that it costs about 300 times more to make than the stuff a typical beautician would use is still a problem though..."
Sounds like the day you can buy it in a convenience store is far off.
"Ah, since I've got it here, would you like to try it too, Senpai? You can turn that caramel pudding part of your hair into a brilliant blond like mine. And if you don't like it, you can always put it back to normal right away too."
"Don't call it 'that caramel pudding part'! ...Anyway, no thanks. I don't have the guts to try out some hair dye just cause it happens to be around."
"I see... You're such a chicken, Senpai."
Rika said, seemingly a little bummed out about it.
"Mu... Still, it's like... your inventions are kinda..."
"Yes?"
"It's like... they're really plain."
"They're plain!?"
Rika looked like she just took a huge shock.
"Yeah. I mean, if I had to say whether they're amazing or not, I'd say that they are, but honestly, they're not the kind of inventions that really make you think of a 'genius inventor,' you know...?"
"...P-plain... plain. You're saying that Rika's hair dye masterpiece, which, after lowering the cost and patenting it, would easily make enough money for Rika to spend the rest of her life doing nothing... is plain..."
"Aside from the hair dye, stuff like a useful computer program, or game development tools, or a semi-permanent light bulb, or a pot that warms up without a heat source, or a poison checker, or a cage that raises rhinoceros beetles automatically... Those might be amazing and all, but they're all really pragmatic and don't have much flair... I guess what I want to say is, there's no real romance to them."
"Then what kind of invention do you want me to make!?"
Rika asked, after hearing my honest opinion on the inventions I listed off that she told me about when I asked her before.
I was a little apprehensive given her display of force just now, but after a little thinking,
"Say, for example... a giant robot like the Gamudan ones you like."
"You want me to do something that'd require national funding!?"
"Fine, then a four-dimensional pocket."
"'Fine' he says. How am I supposed to make that? Hell, it'd be even harder to make than the giant robot."
"It would be? Hmm, then how about a flashlight that can make things bigger or smaller by shining light on them, or a piece of cloth that can fix broken things by wrapping it around them, or a type of konjac that lets you learn any language you want... No, wait, I know! How about a time machine!?"
"Uwa~n, Nuraemo~n! Quick, give me an imagine breaker that can destroy Senpai's 12-year-old boy level sci-fi delusions~!"
☺
...Anyway, the day after that little comedy routine with Rika, I went to the clubroom again.
"And so, I made it. That time machine."
Rika made her ambiguous sentence-fragment of a statement as she stood before Yozora, Sena, Yukimura, and I.
"Huh?"
"Like I said, I made the time machine, just like you asked me to, Senpai. You can now travel through time."
Rika gave a nonchalant explanation to the rest of us, all wearing stupid looks on our faces.
Rika was holding a helmet-like visor device that looked like the head mount display we used when we played 'Romancing Saga' in her hand.
"...Eh... You can go to the past or the future with that thing?"
Sena seemed to be half in doubt... No, I take that back. She was completely in doubt as she asked Rika her question.
"Yes. However it's only your consciousness that can travel."
"Only my consciousness?"
Rika began her explanation to us, who all looked even more confused than before.
According to her, this time machine works like a certain cat-shaped robot's time machine in that rather than actually going back in time, you leave your physical body behind, and send your current consciousness into a you from a different period in time.
She also mentioned something about because only information is sent, there's no possibility of an inconsistency occurring where two of you exist at once.
"This time machine can only go into the past though."
"No no no no..."
This thing is already amazing as is.
"You've gotta be kidding, right? I mean, this is time travel... I read about it in some book once... It said that time travel was completely impossible."
"If you think it's a lie, then go ahead and try it."
Rika wore an utterly serious expression.
Even so, I really can't bring myself to believe that a toy like this can take you into the past.
"OK, I'll try it out... It's safe, right?"
"Yes, it is. I'll set it so you come back after five minutes."
Rika wormed her way over to me, time machine in hand.
"Now come on, Senpai, have a seat in that chair."
"S-sure..."
I moved over and sat down as instructed.
"Aniki..." "...This thing really is safe, right?"
Yukimura and Yozora both wore worried looks on their faces.
"Relax, it's safe. Have a little faith in the mad scientist Rika Shiguma."
"You're not helping."
"Don't sweat the small stuff. Here we go."
Rika placed the time machine on my head.
Having my head held in place, unable to see anything, caused an indescribable feeling of anxiousness to run through me.
"OK then, I'll be starting up the machine now. Close your eyes, and strongly imagine the time you wish to return to, Senpai."
...The time I want to return to... is it......
I still don't believe time travel is possible in the least, but even so, if I were truly able to go back in time, then――
I strongly imagined what happened on "that day".
The next instant, the time machine started vibrating faintly, and I could hear a strange voice near my ears.
I don't know what it's trying to say, but it's a gentle voice that sounds like some kind of therapeutic music.
It feels like my consciousness is going to fly away just by listening to it――...
☺
......――When I came to, I was beneath an orange tinted sky, sitting on a bench.
I was in that park I was all too familiar with.
"...A-are you serious...? D-did I really travel through time...!?"
Rika Shiguma... The word "genius" doesn't do you justice... Isn't it against the rules to be this amazing?
"What are you muttering about, Taka?"
Hearing a voice come from right next to me all of a sudden surprised me so much I nearly jumped up.
Next to me was a single boy―― No, that's not it. The person next to me was a girl who wore men's clothes, a cap, had short black hair, and possessed an intellectual, extremely refined appearance.
"Ah, no, it's nothing..."
What came from my mouth was a pre-pubescent high pitched voice that sounded nothing like my own.
"You're weird. Well, whatever... So it's a promise for tomorrow then, OK?"
The girl, Sora, said before getting up off the bench.
There's no doubt about it... This is that day.
Ten years ago―― The day Sora and I parted with each other.
We both promised to tell "something important" to each other tomorrow, however, Sora never came.
"See ya', Taka."
Sora began to walk away.
I can't let her go. If I let her leave, we won't meet again for ten whole years.
We'll have to wait for ten years.
Yozora will fall into sadness over those ten years.
Even if we can't avoid going our separate ways, we have to at least give each other a proper goodbye.
"Yozora, wait!"
"!?"
A shocked expression rose to Yozora's face as she turned around.
"T-Taka, why do you know my name...!?"
"I know I said I'd tell you about it tomorrow, but I changed my mind! I'm telling you now!"
"Ehh!?"
Yozora's expression became even more confused.
"I'm leaving this town the day after tomorrow―― I won't be back for ten years! The last day I can meet you until then is tomorrow!"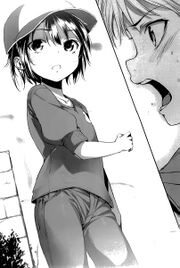 I screamed. I screamed the things I wasn't able to tell her ten years ago.
I'm sorry I never told you. I betrayed you.
Ten years later, I met with Yozora, and we talked about what happened, but that doesn't change the fact that we had to go through this sad farewell. So, at the very least, I wanted to apologize.
"Taka..."
Yozora mumbled, taken aback by my sudden shouting.
"I'm sorry... but I'll always be your friend, even if I'm far away! I'll never forget you!"
That's such a barefaced lie.
I'm the one who forgot all about it until I came back here. I wasn't even able to remember what my friend looked like.
"Sorry... Yozora..."
I deeply bowed my head.
To be honest, I wasn't even sure what exactly it was that I was apologizing for.
In response to my apology, Yozora said――
"――Too bad. I won't forgive you. If you want me to, then die!"
"Ehhh!?"
No sooner had I yelled, than had Yozora come charging at me all of a sudden.
She completely destroyed that bitter, painful atmosphere, and switched to violence!
I barely managed to avoid Yozora's flying kick by dropping to the ground.
I went pale when I saw that the bench behind me was now in pieces after receiving Yozora's attack.
"Wai- Eh- Y-Yozora!?"
"I am not Yozora. My name is Nomikoto Kokuten... I, you, devour!"
Yozora hit the ground with a flyswatter she grabbed without my noticing, causing the ground to shake violently.
T-this is no joke...! She's gonna kill me...!
I ran away from Yozora with all my might. I heard a high pitched "swoosh!" as something cut through the air. It was an arrow that came flying at me from behind, cutting up the sleeves of my shirt.
I turned around, and saw Yozora carrying a super heavy crossbow from Mon Hunt.
"Wait, Yozora, you'll seriously kill me with that thing!!"
"Silence. You―― are simply meat. Writhe around like the scum you are, and then die!"
I desperately continued dodging the onslaught of arrows fired from Yozora's crossbow, screaming like a girl all the while.
"Persistent wretch―― I think it's about time I show you my true form! Asutarou Mode!"
"Your true form!?"
I looked back by reflex, and saw that Yozora's head had turned into a horse's. Her clothes were different now too; she was wearing the white gakuran from Teiritsu Galford Academy.
"Why are you wearing that!?"
"Kodaka... you belong to me!"
Yozora aimed a giant firework at me, and let loose a huge beam.
"Uwaaaaaa! I'm begging you, Yozora, stop it! Forgive me, Yozoraaaaaaa!!"
I was swallowed up by a torrent of multicolored lights―― and then fell unconscious.
☺
"Uwaaaaaaaaaa!?"
I opened my eyes while screaming, and saw that I was in the clubroom.
Yozora, Sena, Rika, and Yukimura were all looking at me full of worry.
"Haa... Haa... Haa..."
My breathing is wild, my heart feels like it's about to jump out of my chest. My hands are covered in sweat too.
"Umm... Kodaka-senpai, are you all right?"
The inventor of the time machine, Rika, nervously asked.
"Y-yeah... I'm OK... I think..."
I answered, still feeling disoriented after everything that just happened.
"Ah, I get it. I came back to the present because five minutes have passed. Thank God..."
Rika made an apologetic face as she watched me breathe a sigh of relief.
"Rika...?"
"I'm sorry, Senpai. I lied when I said this was a time machine."
"Wha...!?"
"It's actually just a machine that uses hypnotism to lure you to sleep, and then lets you dream about whatever you imagined strongly."
I was in utter shock after hearing Rika's explanation.
"Eh... So just now... that was all a dream...?"
So I didn't go back to past at all...?
Rika let her head dangle dejectedly.
"...I was only planning on teasing you a little bit, but... it looks like you had an incredibly bad nightmare... I'm very sorry for what I did."
Seeing her apologize so seriously makes me want to do the same.
"Nah, it's OK... Sorry for calling your inventions plain and stuff yesterday. This thing's pretty amazing, even if it isn't a time machine. ...And besides, aside from the weird stuff at the end, it really did feel like I went back in time..."
It may have only been a dream, but I got to say what I wasn't able to before.
It's nothing more than my own self-satisfaction, but even so, I feel strangely relieved.
"So, you mean that you were able to go into the past within your dream, right?"
"Yeah, to ten years ago."
"Oh...? Ten years ago, is it...?"
......?
I don't know why, but Rika squinted her eyes all of a sudden.
Having someone look at you like they've seen completely through you is kinda scary, so I averted my eyes in response.
After doing so, I met eyes with Sena instead.
Sena was staring me down too for some reason.
"...Hey, Kodaka. There's something I wanna ask you."
"Hm?"
"You just saw a dream of ten years in the past, right?"
"Eh? Yeah. The end was kinda weird though..."
Sena thinned her eyes upon hearing my answer―― and then asked, in an almost accusatory tone of voice,
"...If it was a dream from ten years ago, then why was Yozora in it?"
(The End)