Boku wa tomodachi ga sukunai:Volume5 A Tale of the Unattached and the Unlucky
From Baka-Tsuki
[edit]
A Tale of the Unattached and the Unlucky
And so, it turns out Yukimura was a girl.
After I'd realized that shocking truth, I dragged Yukimura out of the baths in a panic, made her change her clothes in a big hurry, and went to the waiting room.
Obviously, leaving a girl in the guy's bath area was just about the worst idea ever.
I sat Yukimura down in one of the waiting room seats, and stood in front of her.
"Aniki, is there something the matter?"
"Yukimura... I have something important to talk to you about."
I then told Yukimura, who had her head tilted in confusion.
"Yukimura... The truth is, you're a woman."
......
...The truth is, you're a woman.
...I tried repeating it inside my head, but it still made no sense to me, even though I was the one who said it.
Frankly, it was incredibly ridiculous.
Why am I, with a completely serious face, telling someone what gender they are?
I bet if anybody saw us, they'd think we were morons.
In any case, Yukimura's reaction was as follows:
"Hahaha, such jokes you tell."
She said it with a smile.
That face of hers really was insanely cute. It's a mystery how I ever managed to think she was a guy this whole time.
"Uh, no, it's not a joke..."
How am I supposed to explain this...
I tried to explain it as simply as possible so that Yukimura would get it.
However, seeing as how I am a normal high school boy and not a health teacher, giving a straight explanation of this to a girl my age was far too difficult, and no matter how hard I tried, I ended up describing the more specific parts in an exceptionally roundabout manner.
Maria was even standing next to me, listening to my sex ed. lecture with great interest.
"So, you see... Uhh... No matter how hard you try... Hell, how would you even do that... You'll never, um, grow one..."
Actually, now that I think about it, no sex ed. teacher has ever had to explain something so obvious, have they...
Yukimura made a puzzled expression after hearing my explanation.
"As is usual, your stories can be quite difficult to grasp at times, Aniki..."
"No, no, no, I haven't said one hard thing to understand this whole time, have I!? I'm not telling some joke or a scary story right now!"
This is way too hard for me...
I mean, come on, I'm not even good at normal conversation!
And it's not like I have any friends to increase my conversation skills with either!
...Ah, that made me depressed.
But seriously, what am I gonna do with her?
If only Rika were here, she's good at talking about this kind of thing.
"...Haa... She's always around when you don't want her, but the one time I actually need her, she's gone. Rika is so useless, I swear..."
"Why is Kodaka-senpai insulting me all of a sudden...!?"
I heard a surprised voice behind me, and when I turned around, I saw that Rika was standing right there...
"Oh, Rika. Good timing."
"You talk to me just like that!? Even though I just heard you insulting me a second ago!?"
Rika had her eyes open wide as she said some nonsense.
She's as incomprehensible as ever.
"That aside, you got out pretty fast, huh."
We still had over an hour before we were supposed to meet up.
"...That sadist side of Kodaka-senpai that insists on acting like nothing happened actually turns Rika on, haa haa... But, anyways, Yozora-senpai and Sena-senpai both passed out in the sauna. They're sitting in front of the fan in the changing room right now, so Rika came out to buy some Pocarin."
"They went into a sauna of all places in the state they were in...? Knowing them, they probably ended up having a competition to see who could stay in longer, didn't they?" Rika nodded in the affirmative.
"It started over an argument about each of them accusing the other of spraying them with water and flinging soap bubbles around when they were in the middle of washing themselves."
"What are they? A bunch of punks going around looking for fights?"
"And, before I knew it, they were both red as lobsters in the sauna... Those two share a cruel fate where they are destined to fight any time they look at each other."
"It's pointless to try and make it sound cool... But yeah, I guess it really doesn't make much sense to expect those two to get along and relax while they take a bath together, does it..."
I wore a look of defeat on my face and sighed.
"Speaking of that, aren't you both fast getting out as well?"
"Oh, that..."
I had Maria take the Pocarin to Yozora and Sena in Rika's place for now, and then explained the situation to her.
"...So Yukimura really was a girl this whole time?"
Rika heard the story, and was understandably dumbfounded.
"...'Scuse me for a moment here."
"Hyan-"
Rika crouched down in front of Yukimura, and stuck her hand up Yukimura's skirt without any hesitation.
"Wh- Rika!?"
Rika felt around Yukimura's crotch, ignoring me and my shock.
"Ah-... Ahn... Nnn... Nn- Ahh..."
Yukimura's cheeks became flushed, and she let out a set of strangely coquettish moans.
Uwaa...
It was so awkward I didn't know where to look.
In contrast to me, Rika's expression didn't change in the slightest as she felt up Yukimura with a face as calm as a scientist experimenting on a lab rat.
She then drew her hand out of Yukimura's skirt.
"...Sir, there's no mistake. It's a girl."
Rika said to me as though she'd just delivered someone's baby.
"Uh, yeah, that's what I just said."
"...Well, you know, I just had to see for myself."
She looked calm, but I get the feeling she's just as shocked as I am.
"And so, I leave the explanation of this to Yukimura in your hands. You're the only one I can count on for this."
"Even if you only rely on me at times like these, I... Anyway, wait a second. I'll go get my cell phone from my bag."
Rika wore a slight look of disappointment on her face, but in the end, agreed to do it.
After she came back, cell phone in hand,
"Ok, leave hi-... her to me. Yukimura, come over here for a little bit."
"Where are you going?"
"Somewhere we can be alone. This isn't the kind of thing you want other people overhearing after all. It might be necessary to play some rather shocking footage as well."
"...I see. I've got no idea what you're planning on doing, but I'm counting on you."
"Please just leave it to me. Now then, shall we go, Yukimura?"
"Ok..."
Rika then walked off with Yukimura, who was wearing a mystified look on her face.
☺
I lost sight of them, but they returned after about 15 minutes had passed.
"Aniki..."
I'd been spacing out on a chair, and before I knew it, Yukimura was standing next to me, her face as pale as a ghost.
Damn that was scary... I didn't sense her coming up on me at all...
"'Rika-sensei's Birds And The Bees Lecture' was a complete success."
Rika said, standing next to Yukimura, as though she'd just finished some big surgery or something.
It sure doesn't look like she just finished a simple 'Birds And The Bees Lecture'.
"I see... Good work, Rika-sensei."
"Not at all," said Rika, giving me a quick bow.
I still couldn't read Yukimura's face as she opened her mouth and said,
"Aniki. I am... not a Japanese male..."
"Well, yeah, you're not a guy after all."
There were little tears welling up in Yukimura's eyes.
"Uoh!? H-hold on, don't cry, Yukimura!"
"...I apologize for my conduct."
Yukimura bowed her head at me as I stood there, flustered, and then gently wiped her tears away.
...Looks like this was a big shock to her.
"......Hey, um, why did you ever think you were a guy to begin with?"
I wasn't sure if that was something I should ask, but I did anyway.
There must be some complicated reasons for her to have lived her whole life unaware of such a huge mistake.
Yukimura stayed silent for a short while before she began to speak in a tiny voice.
"Family circumstances."
"Uh-huh..."
I wonder just what kind of circumstances she has... I gulped down my saliva as I waited for her next words.
............
......?
"...Umm, is that it?"
"...?"
Yukimura tilted her head, puzzled.
"Eh, that's your whole explanation!?"
"Yes."
Yukimura gave me a firm nod.
"Ehhh..."
I thought that was too short no matter how you slice it, though I guess I was prying into things a little bit too much.
Family circumstances, is it...
Well, they did give her the name "Yukimura" as if she were some kind of Sengoku Era general, so I can see how they might be a little, eccentric...
And apparently they gave her the name hoping she'd grow up to be a true Japanese man like Yukimura Sanada...
I wonder if it's something like... they used to be a famous samurai family, but ended up having to make a girl the next heir since no boy was born...
Anyway, that's what I went with for now.
"...Still, it's pretty amazing you went this long without anyone finding out about this."
Yukimura had always acted completely defenseless. She never tried to hide the fact she was a girl, and even changed in the same room as the rest of the guys like it was nothing.
I know that all the guys ran out of the room when they were changing for P.E., but I still think it's nothing short of a miracle nobody ever noticed this whole time.
"Actually, it seems that there have been people who noticed and pointed it out to her before," Rika interjected.
"Apparently she didn't take them seriously though."
"Ahh..."
That's right, she insisted I was joking when I told her she was a woman just now.
I'd bet anything she reacted the exact same way to the people who pointed it out before.
When you think about it like that, it's kind of amazing how Rika managed to convince her...
"Do you see Rika in a new light now, Senpai?"
Rika must've guessed what I was thinking or something, because she sounded pretty proud of herself.
"Yeah, I do. You're awesome."
"Hau...!"
Rika's face went bright red when I gave her a simple pat on the head the same way I do to Kobato and Maria.
"W-what are you doing all of a sudden!? What are you going to do if you shake Rika's genius brain too much and break it!?"
"Eh, ah, my bad..."
I took my hand off her head, since she looked mad about it for some reason.
She doesn't like getting her head patted... I'll remember that.
I then noticed Yukimura staring over at me.
"...Yukimura?"
"Aniki... Am I still your underling, despite not being a man?"
Those eyes tinged with moistness.
That gaze, staring at me as though hoping for something.
Her nervous voice.
Yukimura, who now looked so fragile she might break at the slightest touch.
...She needs something to support her.
And so, I placed my hand on Yukimura's head, and told her, while gently rubbing her hair,
"Of course you are. You'll always be my underling, both now and forever. I'll be counting on you."
Yukimura stared up at me with a blank expression on her face as I rubbed her head, and then, all of a sudden, a lovely smile bloomed upon her face.
"As you wish, Aniki. I shall continue to serve you, just as I have been."
――――!
Crap, my heart just skipped a beat or ten.
Gotta calm down, this is a guy... Wait, no she isn't...!
...She's not a guy, so... huh? Doesn't that mean it's only normal for my heart to be pounding like this? Ahh, thank God. Phew...
"...Mu! ...Rika would've UNIVERSE'd at this situation just a short while ago... but what is this feeling... I can't describe it."
Rika was standing next to us, and seemed unsatisfied as she looked over at Yukimura and I with one eye half open.
☺
A short while later, Yozora and Sena joined us in the waiting room.
They were wearing rental yukatas, and each was holding an empty bottle of Pocarin.
The both of them, especially Yozora, still looked sick too.
After I told them about the thing with Yukimura,
"...............What do I do? Yukimura looks really cute to me all of a sudden. She might actually be pretty moe..."
Sena gave a favorable(?) reaction, albeit confused.
"M-moe...?"
"Yeah, I mean, she's a pretty girl in a maid uniform."
...You can say that like it's common sense all you want, but I still don't get it.
Sena aside, Yozora seemed to be fairly shocked by it. Her mouth and eyes were wide open, and she looked incredibly wobbly as she went to rub her forehead, and then slumped down into a chair as if she'd fallen over.
".........Kh... How careless of me... I was sure she was just a really cute guy...!"
"Wh- Yozora, you ok?"
Sena called out to Yozora, who was mumbling something with her face down, which caused Yozora to flick her head up and glare at Sena.
"She's cute, and honest, and obedient!! And on top of that, she's serving him as a maid!! This is bullshit!!"
"......!"
Sena gasped and looked like she figured something out after hearing Yozora's cryptic yell for some reason.
Rika joined them and gave a quiet "Hrm..." looking like she just realized something too.
Yukimura herself just stood there, expressionless, with her head tilted.
I had no clue what Yozora was so mad about either.
And it was even more mysterious that Sena and Rika seemed to have guessed what she meant.
As I was wondering about all that,
Drrriiiippp...
A red line started to drip out of Yozora's nose, her face a deep shade of red from yelling just now.
"Yozora-senpai, quick, you've got a nosebleed."
"!? Auu..."
Yozora made a frown on her face.
"Yozora-anego, please make use of this."
Yukimura took a tissue out of one of the pockets of her maid uniform, and handed it to Yozora.
"...And she's considerate too...!"
Yozora complimented Yukimura, but seemed irritated about it for some reason.
"You need to take it easy when you aren't feeling well..."
"S-shut up! Don't look at me, idiot!"
I let out a sigh, and Yozora pointed her angry face down at the ground.
I then heard her mumble something in a nasally voice, almost as if she were crying.
"...I hate this, I can't take it anymore... Why do I have such terrible luck... Why do things never go how I want them to..."
It was an incredibly faint and weak voice, much unlike her usual self.
☺
A little later, around four o'clock, Maria and Kobato came out as well.
Both their bodies were moist with steam rising off of them.
Looks like Maria went in the women's bath too.
"I got to swim a whole bunch~!"
"I told you not to swim in the bath!"
I reprimanded Maria, who was still full of energy, and then added,
"You too, Kobato. Give the swimming a break for once..."
"Kukuku... I did nothing of the sort..."
"I only thought it was ok to swim because I saw the vampire swimming first!"
"Ahh! Why'd ya' tell him that ya' idiot!? I told ya' not ta' tell him anythin', didn't I!?"
Kobato lost her composure after having Maria tell on her.
"Kobato..."
I gave her a scornful look, and she replied by turning her back and saying, "Ku.... Kukuku... Still, I was victorious in our crab-walk competition..." and then made a faintly triumphant smile.
"You did that too? You can't be bothering the other people here like that."
"It's fine! The old ladies all said 'It's nice to see you girls full of energy' to us!"
"Kukuku... They may have been a repulsive bunch of dekepit humans, but I must give them praise for realizing my true power..."
"It was really funny seeing how stretched out all the old ladies' boobs were~! I hope Sena and the old hag's boobs get stretchy like theirs soon too!"
"Kukuku... How foolish of you to be surprised at such trivialities, pawn of God... Old women in the demon realm can spread theirs out and use them like wings..."
Here we have a perfect example of little girl and middle schooler with far too little tact.
I'm not sure which is worse though, the two high school girls who collapsed having a competition in the sauna, or these two.
☺
Afterwards, I grabbed my washed clothes from the coin laundry, and put them on (they were still kinda wet, but I just had to deal with it) before we all left "Hot Springs Paradise".
Soon after we got on the train back home, Kobato and Maria fell asleep resting on each other's shoulders.
A few minutes later, Yozora and Sena followed suit, and started breathing softly as they fell asleep next to each other.
Our two female juniors, Rika and Yukimura, also fell asleep before I knew it, leaving me as the only one still awake.
The new experiences at the amusement park have completely annihilated the members of the Neighbors Club.
They all look like perfectly normal, cute girls when they're sleeping. If only they were always like this...
Sleepiness quickly began to assault me too as I let out a deep sigh.
I've gotta do my best to ward off this drowsiness, otherwise it's highly likely that we'll go right past our stop.
However, today was ridiculously tiring, both physically and mentally, and I quickly reached my limit.
Crap... My eyelids are so... heavy...
Right as I was about to fall asleep,
"......Aniki..."
Yukimura, who was sitting next to me, grabbed on to my sleeve.
I looked at Yukimura's face, surprised, but saw that her eyes were closed, and that there were faint breaths coming out of her slightly opened mouth as she slept.
I could feel her softness through her maid uniform as she leaned her body against me, which prompted me to remember how her bare skin was right up against mine in the hot springs, causing my face to heat up.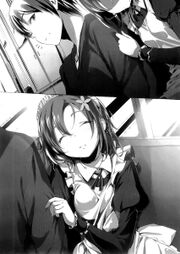 It's true I thought she was a guy, but still... Her um, chest, and... my back...
...I went and did something pretty crazy... (Or maybe it was done to me?)
Thinking back on it, those two mounds I felt pressing against me just might have really been her-... Aguah...!
Although my drowsiness was now long gone thanks to Yukimura, I spent the rest of that train ride home being tortured anyway.